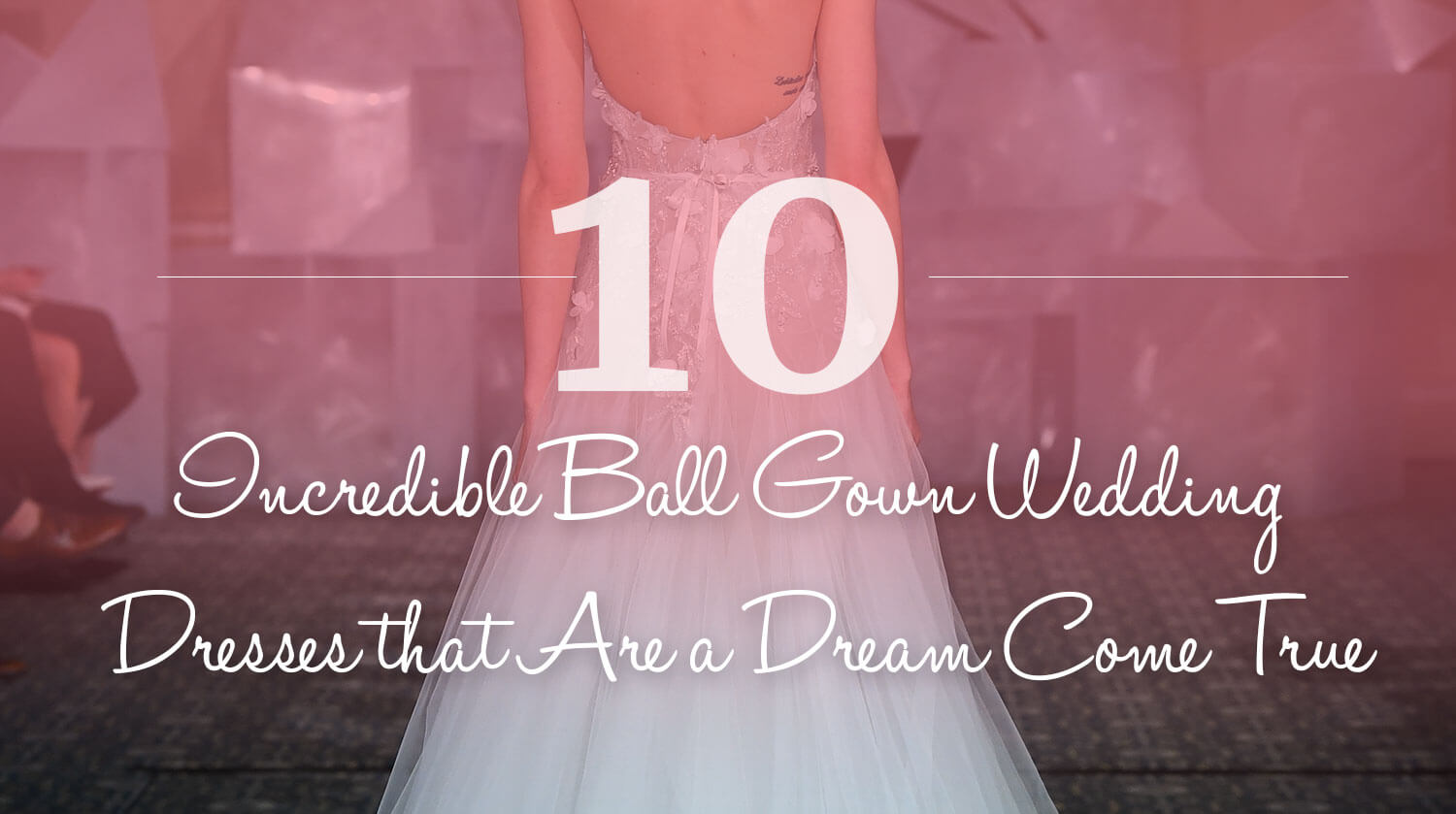 10 Incredible Ball Gown Wedding Dresses that Are a Dream Come True
You're not dreaming: these ball gowns really are like a fairy tale come to life.
Every bride wants to feel like a princess on her wedding day, and nothing fulfills this dream more than a ball gown silhouette. A perennial favorite, this gown consistently wins over even the brides who thought they wanted a more modern silhouette.
It's not just that the timeless style of a ball gown often wins out over the trends of the day, it also happens to be one of the most flattering silhouettes on the market. The structured style usually means extra boning and support through the bodice, while the wide skirts accentuate the waistline.
Even if you're not planning to go with a ball gown for your wedding, this style is worth trying on, just to see what it feels like. You never know—it may surprise you!
1. Blake.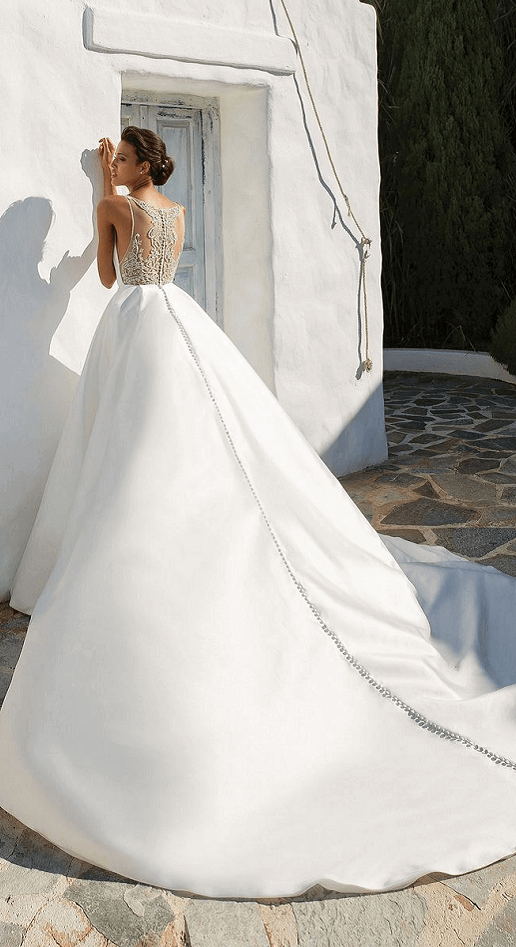 Let's start with show-stopper, shall we? Blake is a breathtaking design from Justin Alexander, featuring a beaded illusion back and a mile-long train. Made from luxurious Mikado silk, this dress needs few embellishments to shine. However, if we could add just one accessory, it would have to be over-the-elbow gloves to complete the glamorous look.
2. Ophelia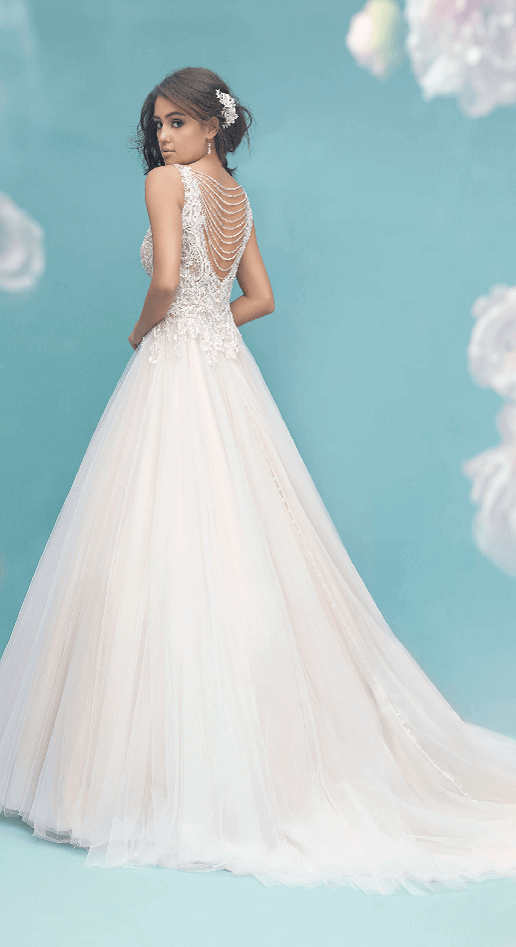 Do you prefer romance to glamour? Ophelia, by Allure Bridals, has that in spades. We love how strings of beads fill in the low back on this dress, while the lace bodice gracefully transitions into layers of foaming tulle. The fabrics and embellishments on this gown are a perfect balance of textures, all adding up to a truly unforgettable look.
3. Ivette.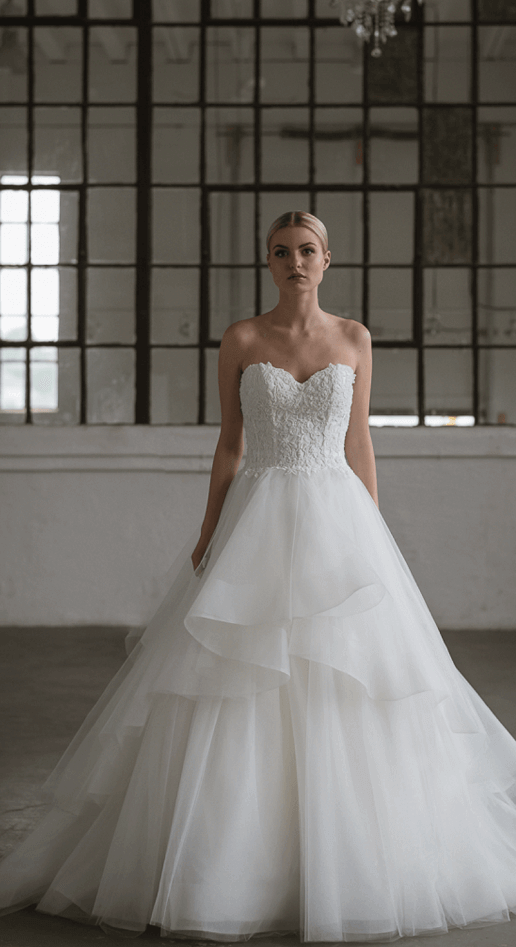 For a different take on lace and tulle, take a look at Ivette. This gown by Lis Simon features a skirt in two tiers, adding depth and dimension to the classic silhouette. The lace corset top provides a structure that neatly contrasts with the airiness of the tulle. We love the simplicity of the gown styled just as it is, but a belt at the waistline would also be the perfect place to add some bling.
4. Marlow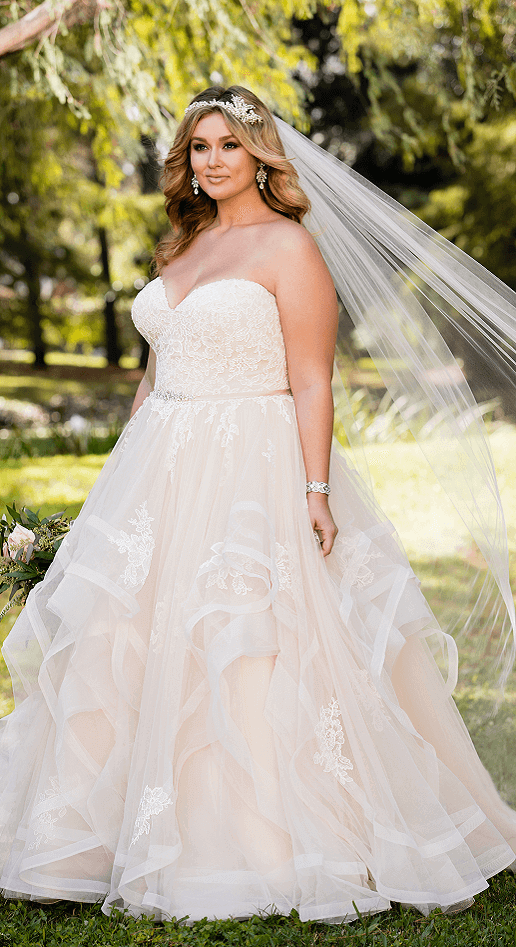 Want to incorporate a little color into your look? We love the warm peach tones of Marlow's tulle skirt. We especially love the multi-layered look of the skirt with tiered hemlines making it look as though the bride has stepped out of a fairy tale. The embellishment at the waistline perfectly accentuates the waist without interrupting the flow of the gown.
5. Scarlet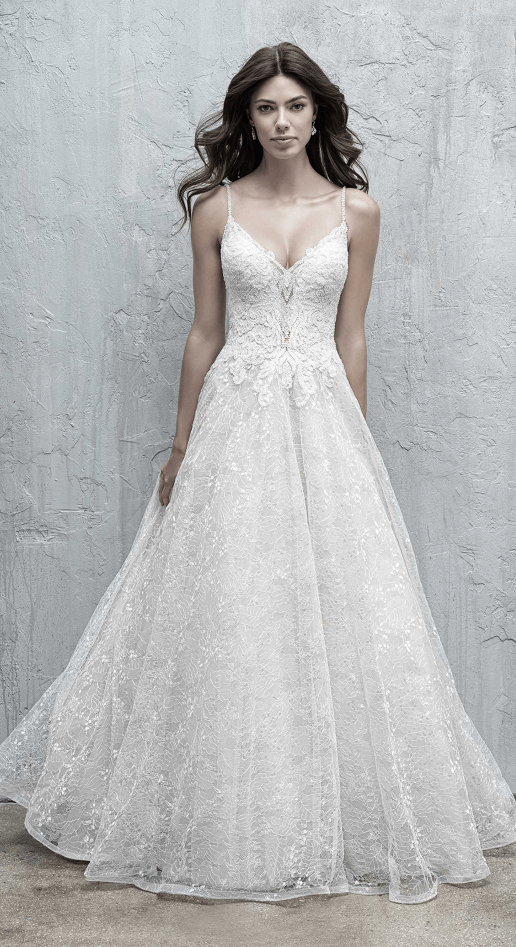 All-over lace is uncommon for a ball gown, but Scarlet from Madison James pulls off this style to perfection. The spaghetti straps on the bodice give this dress a delicate appearance, while the lace overskirt adds depth and dimension. We recommend keeping the accessories minimal for this dress, especially if you're going for a bohemian look for your wedding.
6. Pennie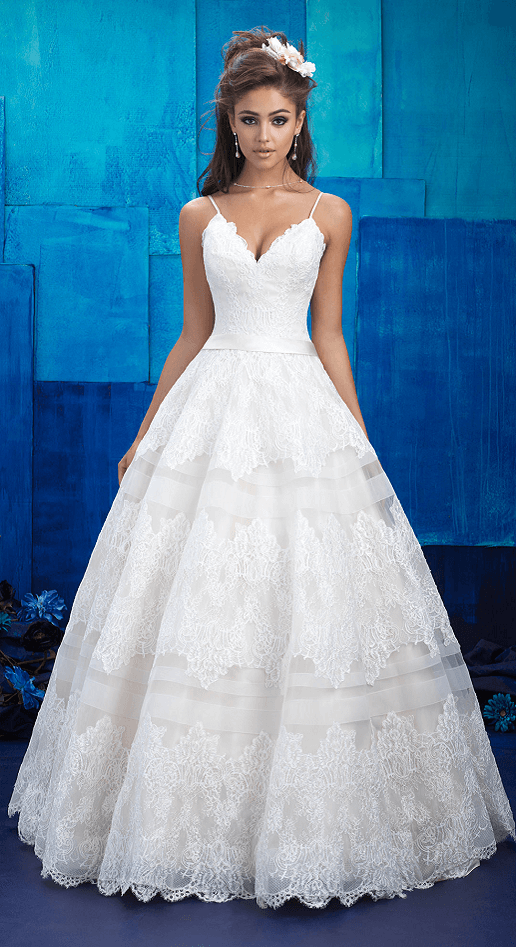 All-over lace, sweat heart neckline, spaghetti straps, boho vibe—on the surface, Pennie and Scarlet have a lot in common, but it doesn't take more than a glance to see that they are strikingly different dresses. In particular, we love the distinct banded pattern of the lace, which is perfectly accented by the satin belt at the waistline.
7. Rosemarie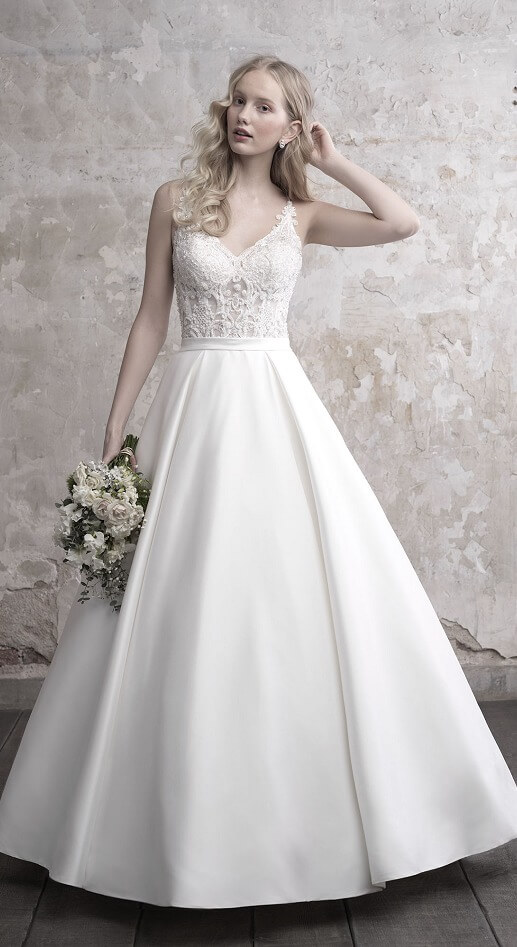 This gown is a study in contrasts. Rosemarie features a boned lace bodice and a skirt of thick Mikado silk that provides all the volume you could ask for. At once delicate and constructed, this gown makes a statement that won't soon be forgotten.
8. Ginny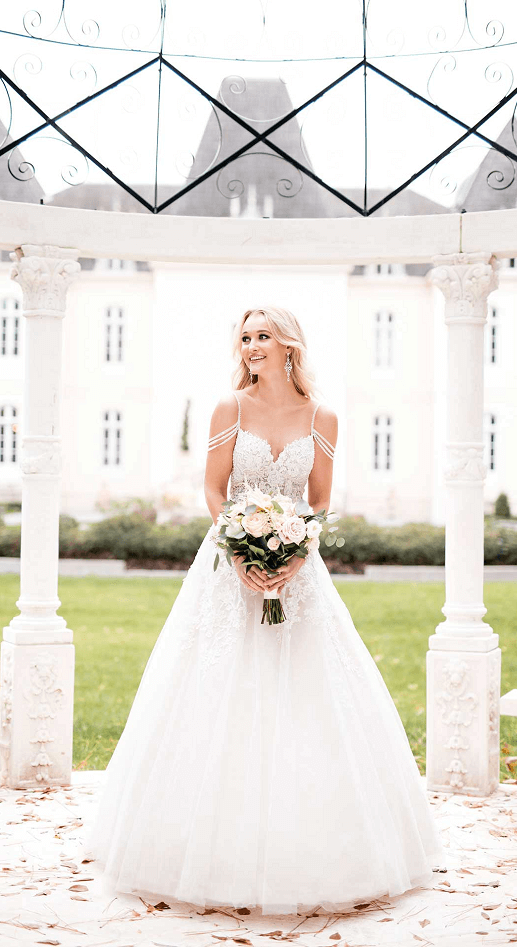 Ginny by Stella York is a vision of lace and tulle, but the detail that really sets it apart is the stacked diamante strings that drape across the shoulders. With a deep sweetheart neckline and a boned bodice, this dress is perfect for brides who want lots of romantic sparkle on their wedding day. Pair with a tiara or chandelier earrings to up the sparkle.
9. Maura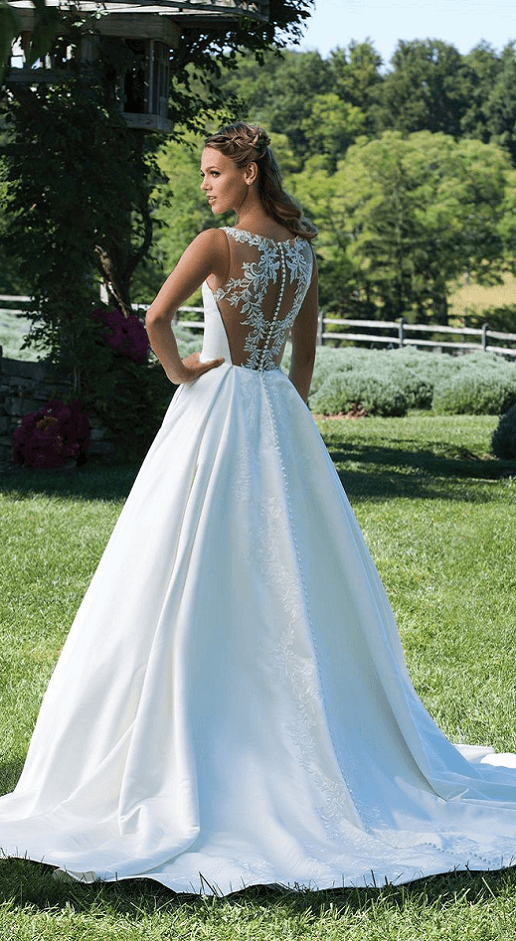 Forget about looking like a princess—Maura will make you feel like a queen! This ultra-glamorous dress combines a brocaded satin skirt with an illusion back for a style that is chic and sexy all at once. A row of fabric-covered buttons run from the boat neck all the way to the edge of the long train. We would love to see this matched with a cathedral length veil for maximum drama.
10. Jodie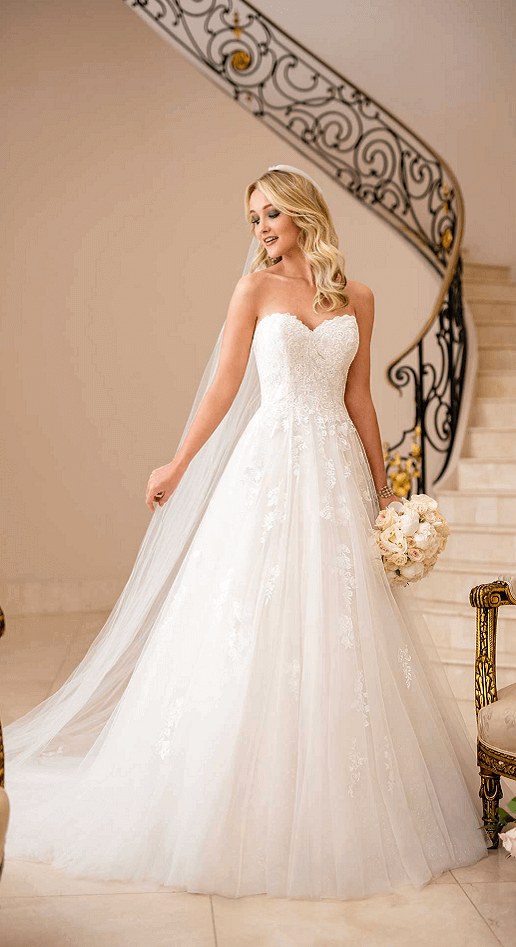 If we had to pick our favorite detail from Jodie, it would have to be the way the lace from the bodice trails into the weightless tulle skirt. Utterly romantic, this dress would be delightful for a spring wedding. Given the style of this dress, we recommend keeping accessories minimal, but a long, light veil might be just perfect for the ceremony.
There's no end to variety when you choose a ball gown silhouette.
For good or bad, many brides, when they think of a ball gown, have one type of dress in mind. Maybe that's their dream dress that they envision themselves wearing as they walk down the aisle, or maybe it's exactly the style they most want to avoid. Either way, what often surprises them is just how many styles of ball gowns there are within that silhouette.
From chic to glamorous to romantic, this silhouette will never leave you short of options. And while they can be dressed up with a range of accessories, ball gowns can also be deceptively simple if the bride chooses a style with clean lines and minimal embellishments.
So, don't cross the ball gown silhouette off your list until you try it. It may just change your mind.