Monthly Archives:
November 2021
Winter sale season is here. Stop into our boutique to check out our Sample Sale (November 16th–27th) PLUS our White Friday & Saturday sale (November 26th-27th only)!
We can hardly believe 2021 is nearly over, but with the close of the year we're running two exciting sales to kick off the holiday season. The coming weeks are a big shopping season, and who doesn't love finding a bargain?
This is especially true for brides on a budget. Wedding dresses are expensive, and sometimes that means brides have to make difficult decisions. But a sale means your budget can stretch just a little farther, putting your perfect dress just within reach. There's a lot of opportunities this month to find your wedding gown, so schedule your appointment while slots last!
Sample Sale: November 16th–27th
First off, we're excited to announce our latest Sample Sale, which will be running through November 27th. Sample dresses are ones we order into the store at the beginning of a season for our brides to try on. But as the end of a season nears, we need to clear out our inventory to make way for the next round of designs.
The good news for our brides is that we offer deeper discounts than usual on these gowns. Plus, because designers discontinue their old designs after a certain period, this may be your last chance to find a classic dress from one of your favorite designers. Finally, we sell sample dresses off the rack, so if you're looking for a dress on a short timeline, this is an opportunity to still have a classic wedding dress.
White Friday & Saturday Sale: November 26th-27th
Next up, we know that the days directly after Thanksgiving are some of the biggest shopping days of the year. That's why we're hosting our WHITE Friday & Saturday sale, where every bride gets $150 off ordered gowns. (Note: Does not apply to Sample Sale gowns, which are off the rack, but our Sample Sale will still be going on, so you can still get a great discount!)
Schedule an appointment with us to break up a busy day of shopping! What better way to start the holidays than finding your wedding gown.
Sales are a great time to score a deal, but if you're not ready to make a decision, just come and enjoy the experience!
One of the joys of running a bridal shop is being part of our brides' big day. We love listening to our brides, consulting with them about the best style, and guiding them toward a gown that will make them feel perfect as they walk down the aisle.
But we also know there are big emotions attached to that decision. Sometimes, amidst all the expenses of wedding planning, finding a gown at just the right price point can be a big win—just a little bit of savings to help put your mind at ease. But other times, the pressure to find a good deal can leave a bride feeling conflicted. No bride wants to feel like they chose their gown just because it was on sale.
That's why we at The White Dress are absolutely committed to making our space a "pressure free" zone. We want you to be able to come in and shop our sales to your heart's content, but if you aren't ready to make your decision, you are still free to walk away and come back later.
Sometimes, you need to try on a few dresses to know what you really want. If you find your dream dress at one of our sales, then everyone wins! And if you need longer to think about it, come in and enjoy the big start to the holiday season. That's a win, too.
We're passionate about wedding gowns, which means we're passionate about the designers who make them. Meet our favorites.
One of the most exciting things about working in bridal is the opportunity to build connections with designers from across the country—and around the world. Every designer we work with is someone we've selected based on the quality of their designs and the uniqueness of their style. Through establishing relationships with a select group of bridal labels, we can bring our brides a selection of gowns to meet any style, silhouette, or price point.
Finding the perfect dress is an emotional decision. Brides are searching for a dress that doesn't just look good, but that speaks to their personal style, or expresses something about their values and interests. Taking some time before your first bridal appointment to learn about a designer and see their latest collection can help you find a gown you connect with on that deeper level.
We're proud of the range of designers we carry at our boutique. More designers means we have more options to offer brides who are still trying to find their vision. And for brides who are already in love with a designer, we can match them with their dream dress. Ready to learn more about the designers we carry? Here (in no particular order) are our favorites.
Lillian West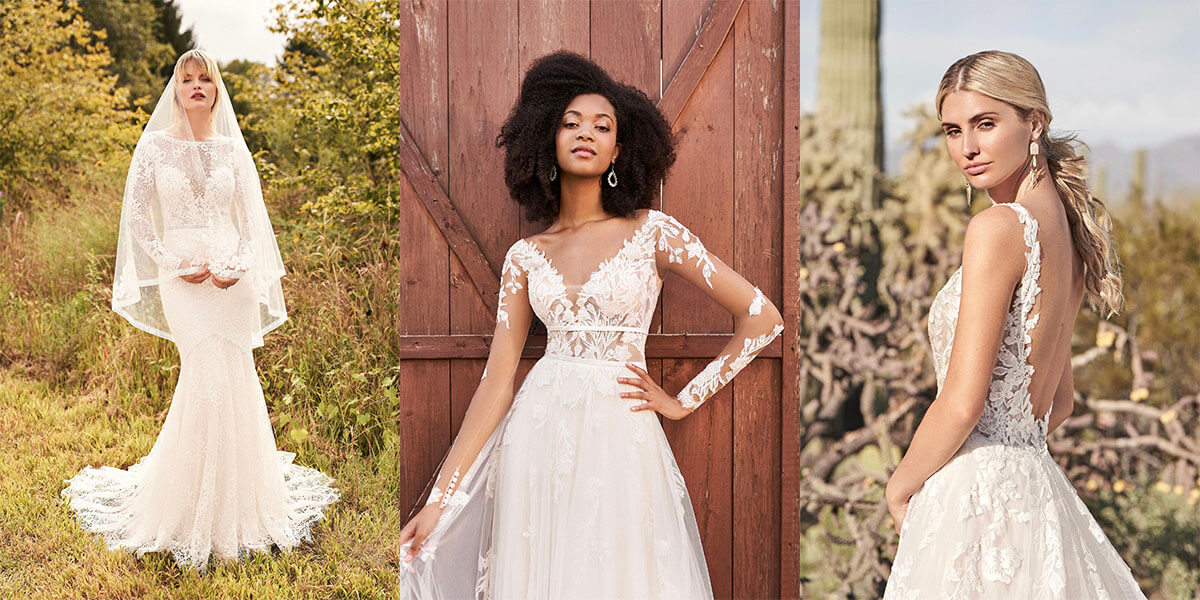 If you've ever wanted to feel like your biggest romantic fantasies had been pulled from your head and turned into a wedding gown, Lillian West is the designer for you. Breezy, lacy, soft, and stylish, these dresses check all the boxes.
Many, but not all, of these gowns fall into the boho trend, so if you want to try something of that nature without going all the way, this is a great designer to check out.
Essense of Australia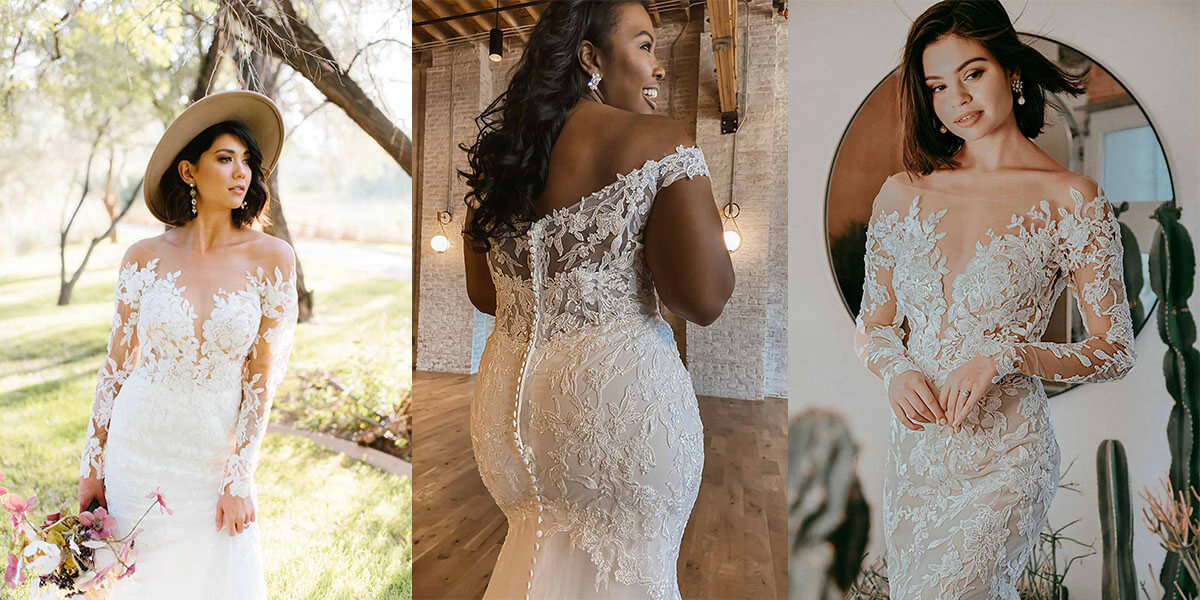 The word Essense of Australia likes to use to describe themselves is "epic," and we certainly see that in their designs. These gowns are truly sensational, showcasing modern takes on timeless dresses.
Whether you are yearning for sparkle, desperate for lace, or have your heart set on a striking minimalist design, there's a dress here for everyone.
Stella York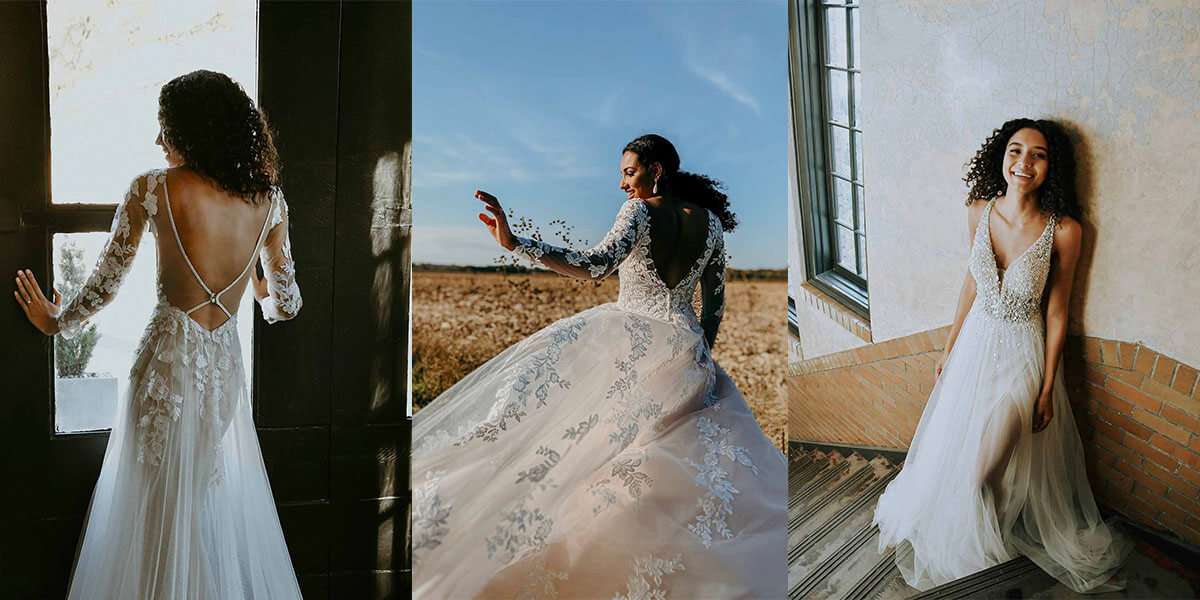 For brides who aspire to be trend setters, Stella York is the designer to watch. These gowns typically reflect up-to-the-minute design trends, from glamorous fashion statements to lacy boho gowns.
We often host trunk shows with Stella York, so if you're eager to get your hands on a one-of-a-kind dress, keep an eye on out for our next announcement.
All Who Wander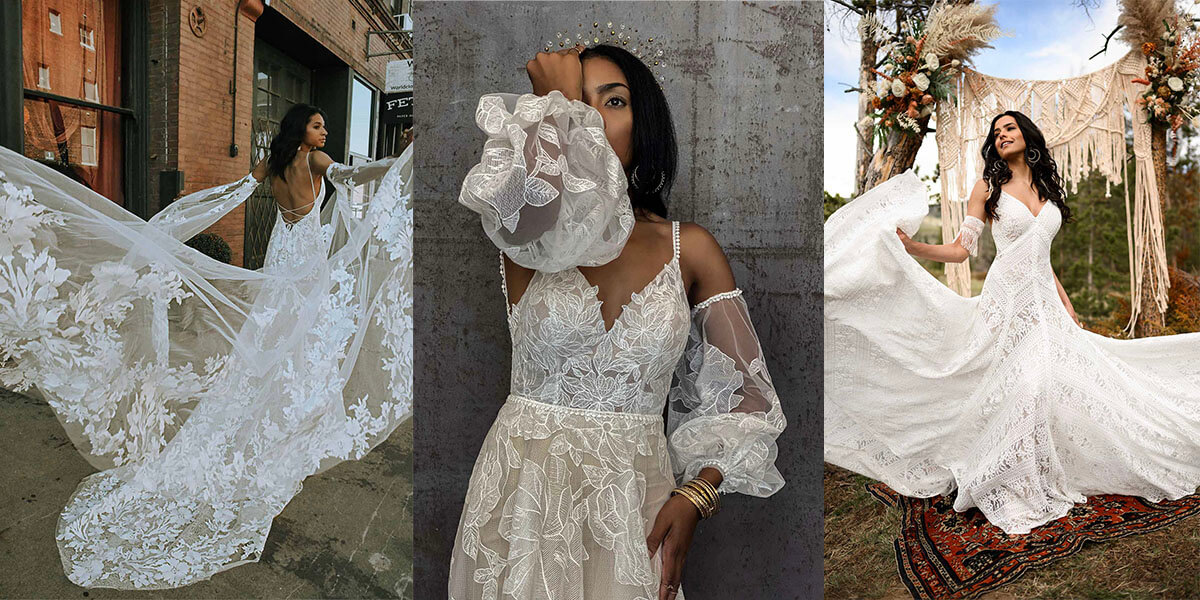 While other labels flirt with boho, All Who Wander goes all in. Get ready for detachable sleeves, tassels, and oversized lace—all on dresses breezy enough to take a hike in. These gowns are for adventurous spirits, fierce women who aren't afraid to make a statement.
You won't be short of variety, either. While these dresses all fit the boho theme, you won't be at a loss for details to obsess over, whether it's the low back, the cutaway side panels, or the removable cape.
Adore by Justin Alexander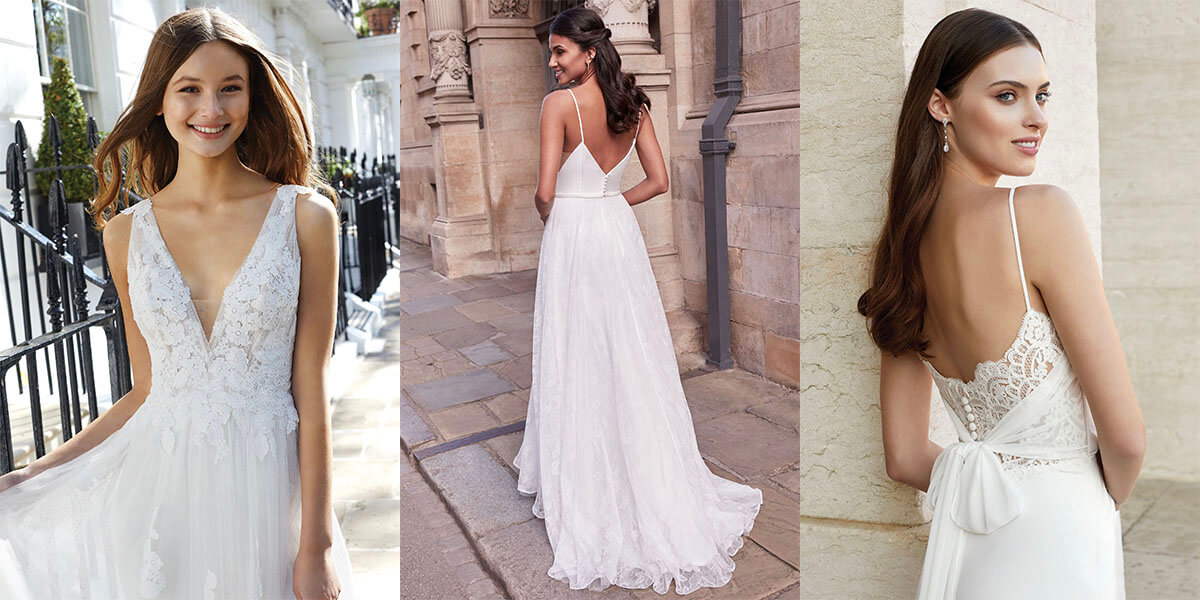 Sometimes a designer comes out with a collection that is so prescient, you wonder if they can see the future. That's what it felt like when Justin Alexander released their new Adore collection. What could be more perfect than a line of simple wedding dresses at affordable price points with fast turn-around times at a time when many brides were re-arranging their weddings and planning elopements.
The best part? Like their name implies, these dresses are adorable. This is truly a case of a designer responding to what the market needed without compromising quality or style.
Lis Simon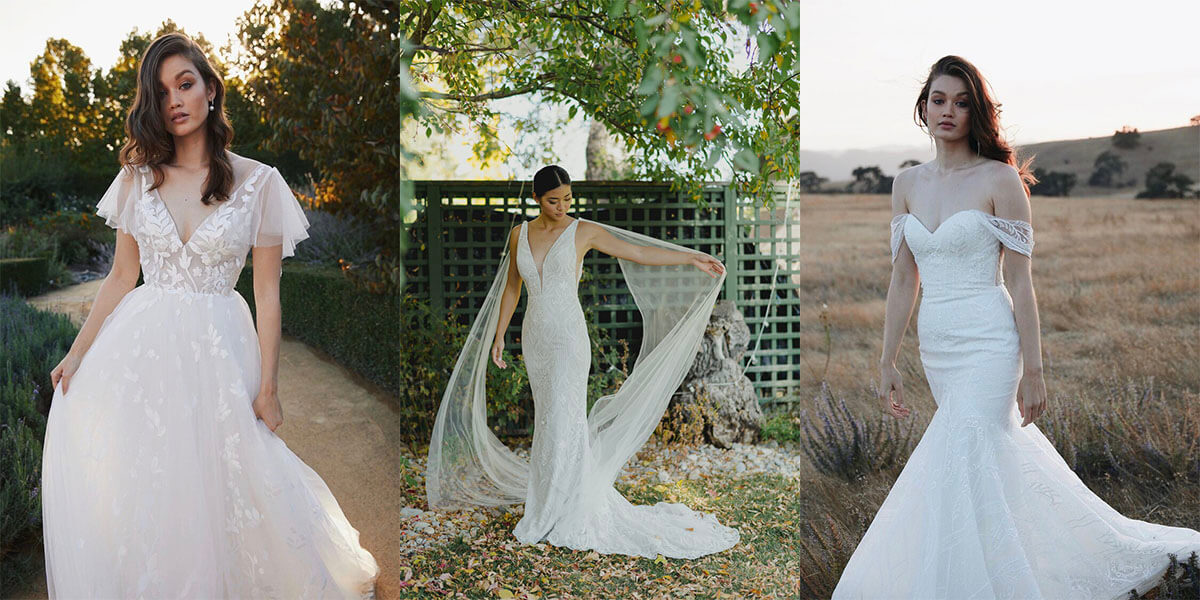 Based in Calgary, Lis Simon is a husband and wife duo who started out of their apartment and grew into an international bridal label. They're the perfect choice for brides who want stylish gowns that blend the modern and traditional.
We've been ultra fans of Lis Simon for years due to their unique take on bridal fashion. Along with their regular line of dresses, they also offer separates that can be sewn together for a mix-and-match gown that is all your own.
Allure Bridals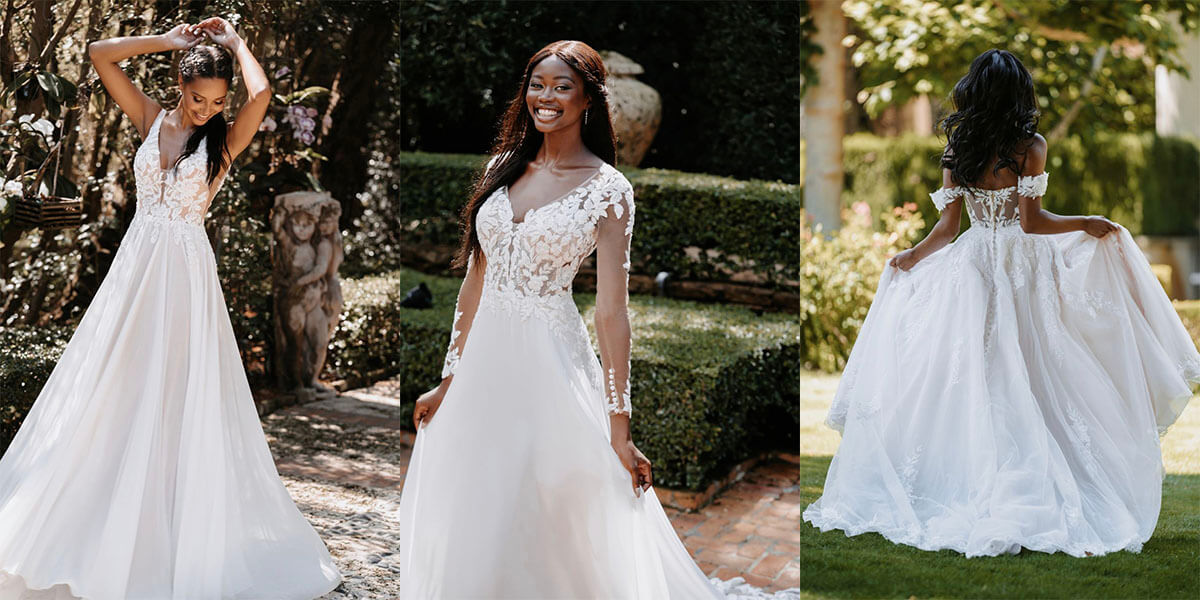 Allure Bridals has been among of our most requested designers for years. Their gowns are a breathtaking combination of decadence and romance, with luxurious fabrics, intricate beading, and delicate lace.
Above all, Allure has embraced variety in their collections, with a style and silhouette to suite every bride. Their creativity frequently comes through on their special collections, which often feature unique fabrics or designs that take their inspiration from a special source.
Abella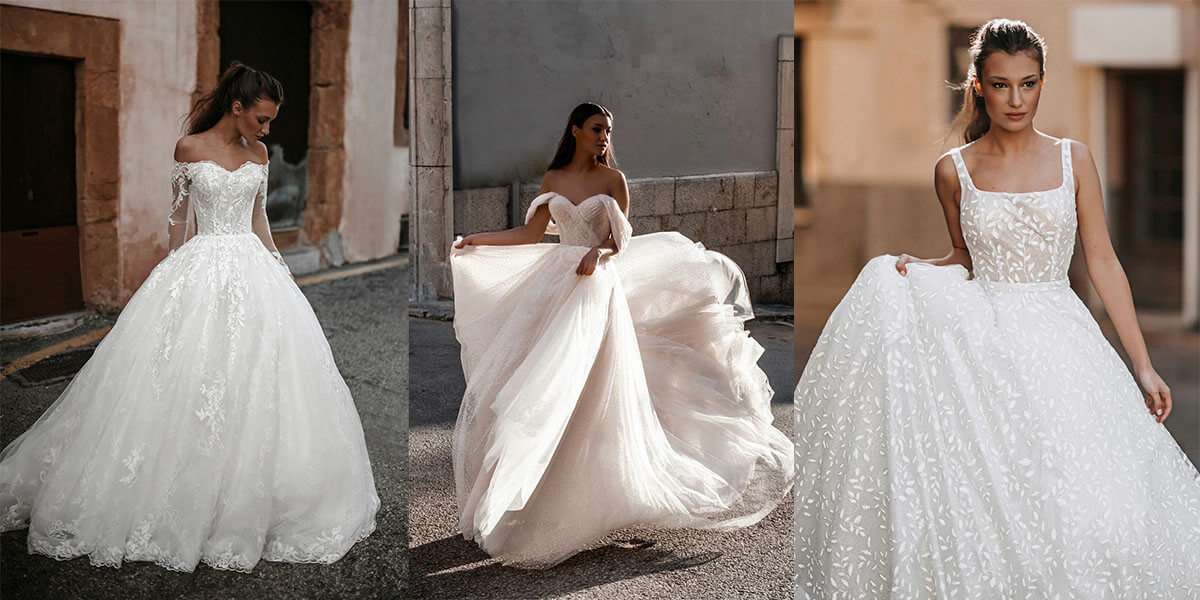 Our designers often come out with new lines meant to deliver a specific look or appeal to a certain kind of bride. Their new line, Abella, has truly blown us away. Their designs bring together traditional silhouettes, exquisite construction details, and modern fabrics to create ethereal gowns that are absolutely unforgettable.
We're proud to be one of the select boutiques carrying this line of dresses, so if you want to try them on, we can make your dreams come true!
A boutique with a variety of designers can help you find your dream gown.
If you aren't sure what kind of dress you're looking for, knowing your designer can help you shop within an esthetic even if you haven't picked a silhouette. On the other hand, if you don't know what you want at all, the more designers a boutique carries, the more options you'll have.
Shopping for a dress is one of the most emotionally involved decisions a bride makes before her wedding. We want to be sure you can have the best experience possible. If there are any dresses from our designers which you would like to try on, we can order them in for you through our loaner program, even if they aren't ones we usually carry in our boutique.
And while you're at it, keep an eye out for trunk shows! We sometimes have the opportunity to showcase a specific designer while they're still fine-tuning their newest collection. It's a chance to buy a dress that is truly one of a kind.
Written by: Kristy
I can hardly believe that we are less than one month away from the 10 year anniversary of The White Dress – December 1, 2021!  What once was a figment of my imagination – a hope and dream – has come into fruition and has evolved and grown in ways in which I never could have even imagined all those years ago!  It truly brings me such joy to go to "work" on a daily basis with an incredible team by my side, all while being able to create amazing memories for our brides – as they say yes to their dream wedding dress!
So, as you may imagine, we have A LOT in store for December – social media contests, giveaways, in-store promotions and savings, a special window display – basically a month long celebration!   This is the THE post that gives you the break down of what you need to know to win, save, and celebrate with TWD!