Monthly Archives:
February 2022
Searching for a timeless style to add elegance to your wedding theme? History is full of gorgeous designs to choose from.
Some brides want the most up-to-the-minute wedding gown, while others want to draw upon their favorite design trend from bygone decades. We love both, and are firm believers in the idea that good designs are timeless. In fact, many of the gowns we carry in our boutique show obvious fashion influences from styles of earlier decades.
If you're hoping to add a vintage or retro flare to your wedding, but don't want to go so far that you feel like you're dressing up for a period drama, we have the selection for you. Each of these dresses is currently in production from our favorite designers, while also showing design trends from previous decades. Take a look and see if any speak to you!
1920s: Drop waists, straight silhouettes, and beaded lace.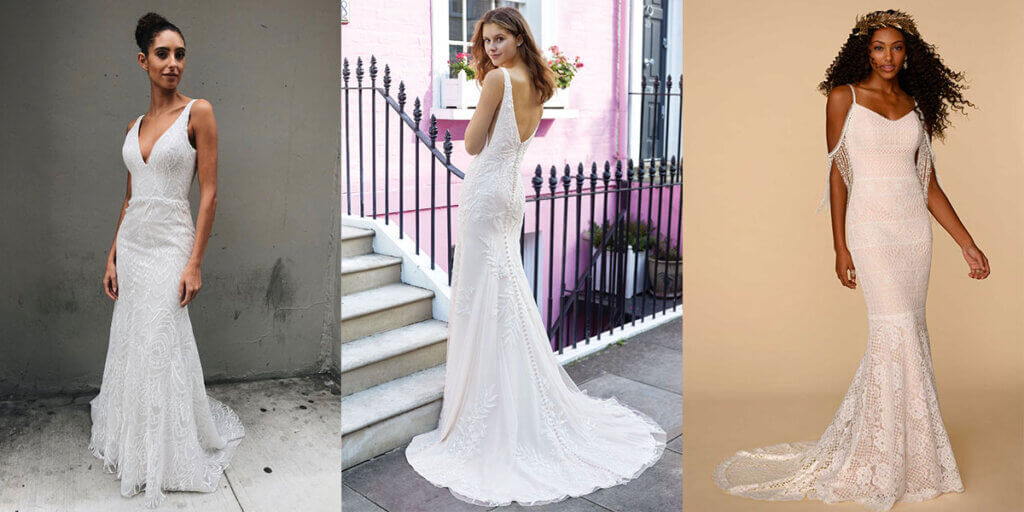 Do the 1920s even need an introduction? The loose silhouettes, geometric lace, and swinging fringe are some of the most recognizable of the past century. Their influence made itself known in the 60s and 70s, when short, A-line mod dresses and breezy, carefree styles came back into fashion, and have even made a revival a century later with many of today's boho styles.
Perhaps the most direct 1920s throwback in our store collection is the Caydence gown, from Lis Simon. The low V neckline, scalloped lace, and sheath silhouette are a direct homage, while the low back gives it a modern edge. For a more subtle reference, Lannie has many of those same style elements, this time with more floral lace. (Imagine how this dress would look with your hair done up in a bob with finger waves, and we think you'll see what we mean.)
For a slightly more "out there" twist on the decade, consider Asher. The silhouette and all-over lace have a little of that 20s look, but what really wins us over are the fringe straps.
1930s & 40s: Hollywood glamour and wartime austerity.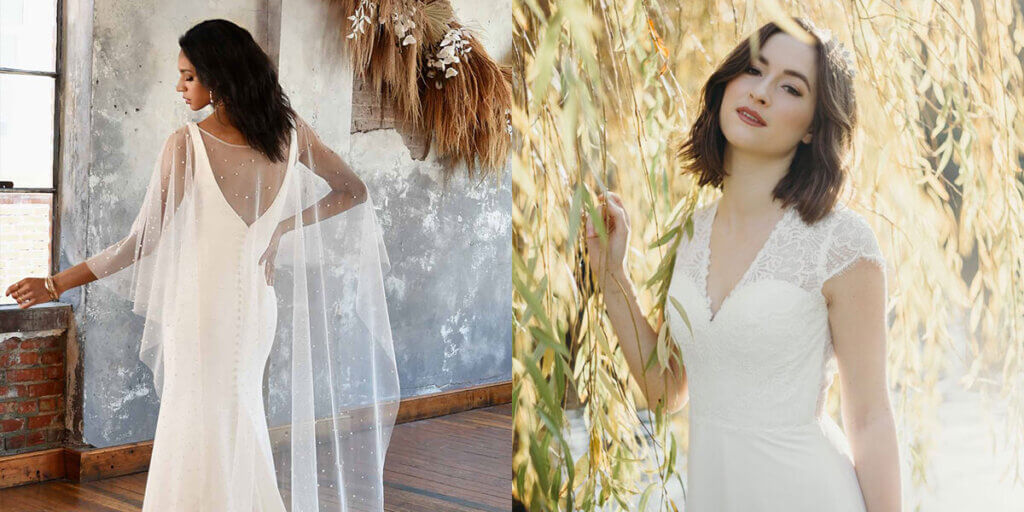 The 1930s is a strange decade for fashion. The Great Depression meant that many women were unable to afford new gowns, and instead wore their nicest dress. But in contrast, the decade also saw the emergence of glamorous Hollywood styles—a spirit which we believe Iona captures perfectly. The clean, figure-hugging lines evoke the bias cut dresses popularized by Madeleine Vionnet, which were iconic for their era.
By the time the 1930s ended, Word War II led to boxier silhouettes, utilitarian styles, and fabric rationing that once more restricted the kinds of dresses women could buy. While it's hard to find a dress these days that hits those exact style points, there's something about Josey that gives us that feel, especially with its illusion sweetheart neckline and lace cap sleeves.
1950s: Dior's "New Look," strapless dresses, and sweetheart necklines.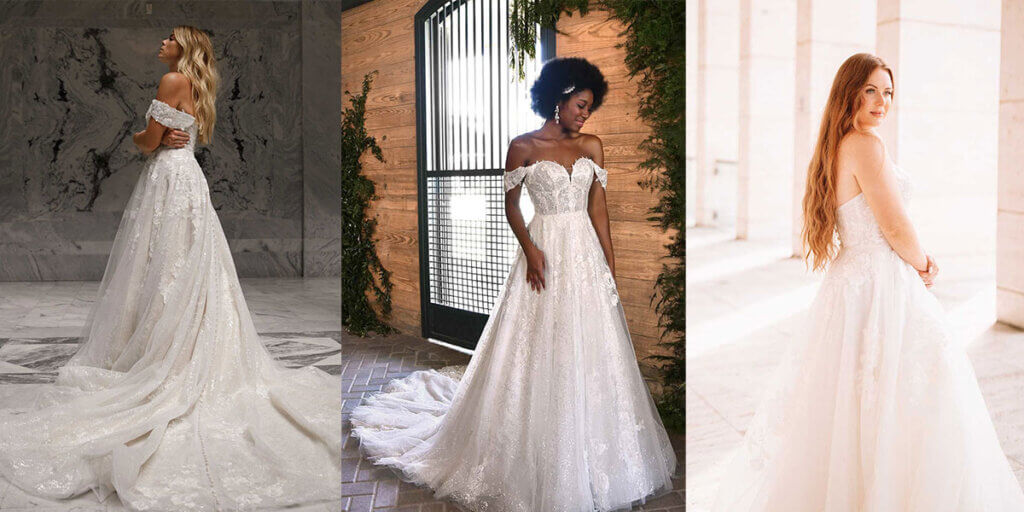 At the end of the 40s, Cristian Dior came out with something utterly different: an exaggerated hourglass silhouette that paired full skirts with cinched waists. By 1951, when Princess Margaret was photographed wearing just such a Dior dress for her 21st birthday, it was clear the style would define the decade.
For our 50s picks, Ferrah drew our attention for the full skirt and double banding at the waist. Meanwhile, if you're keen to imitate Princes Margaret's gown, Hanah is an excellent option, with its sweetheart neckline and romantic, off-the-shoulder sleeves. But, if you're looking for a gown that brings it all together while still looking absolutely modern, Octavia hits all the right notes: full skirt, strapless bodice, and a plunging sweetheart neckline.
1960s: High necklines, princess seams, and clean lines.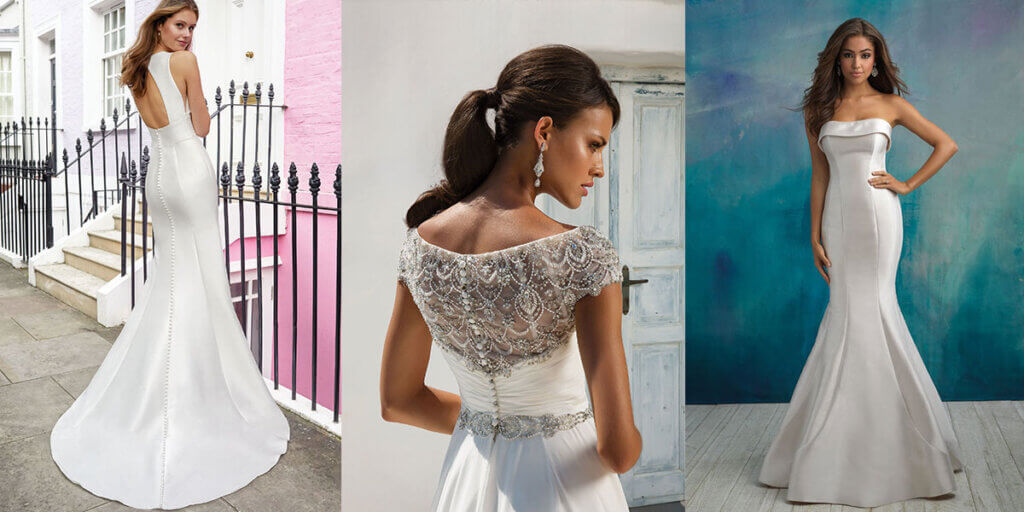 When many of us think the 60s, the dresses which spring to mind are probably short: mod dresses and mini skirts were raising hemlines to unprecedented heights. But those short hemlines didn't necessarily make it into bridal trends. Instead, gowns tended to favor simple cuts, with boat necklines being a common feature.
Edie is a perfect choice for brides that want to embrace the minimalist side of the 60s. With its empire waist and princess seamed bodice, it has the look of a shift dress while still being wedding-appropriate. If you're looking for something more glamorous, the beaded boatneck on Pearl combined with the cap sleeves gives it an Italian vibe while retaining that 60s feel.
Finally, the 60s wasn't all high necklines. Two of Jackie Kennedy's most iconic gowns were strapless sheath dresses, a look which you can imitate with Pippi.
1970s: Bohemian flower power.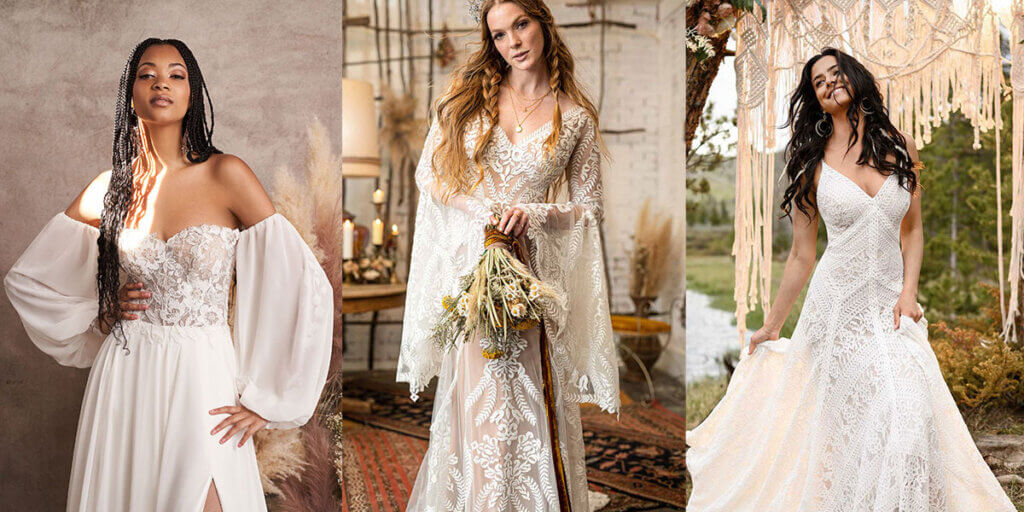 The boho trend has 70s fashion in full revival mode right now, so if you want a gown with that free-loving feel, you won't be short on options. One thing that was particularly common from the era: extravagant sleeves. Bell sleeves, bishop sleeves, batwing sleeves, you name it: if they were long and flowing, they were in.
We love the off-the-shoulder blouson sleeves on Nataleigh, which combine with a thigh-high slit and a flowing chiffon skirt for a dress you'll be able to dance all night in. For oversized bell sleeves, try Lenox, which will have you feeling like a medieval princess. (Definitely pair with a flower crown!) Or, if you absolutely must have some fringe, the removable sleeves on Reece are just what you're looking for.
1980s: Oversized everything.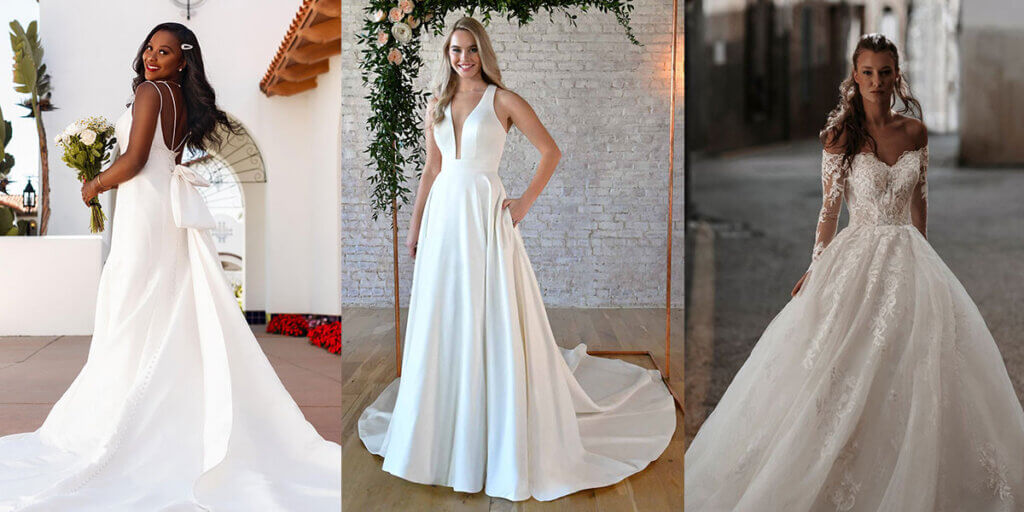 Unfortunately for 80s lovers, two of the decade's most iconic design features—puff sleeves and power shoulders—have yet to find their way back into bridal trends. But that isn't all the decade had to offer, and if what you really loved from this era was the unabashedly oversized statement elements, there are plenty of gowns that can satisfy your cravings.
Let's start with Riah. After Princess Diana's wedding, long trains became an obsession, and Riah's is certainly a showstopper. But what really brings the wow factor is the oversized detachable bow in the back. Not to be outdone, Blythe also features a long train and oversized bow, both paired with a keyhole back. For a different take on the 80s, try Sigrid. While it may not stand out as an 80s dress at first, it is a true princess gown. The long lace sleeves also give it a bit of a retro vibe.
1990s: Minimalism, slip dresses, and understated chic.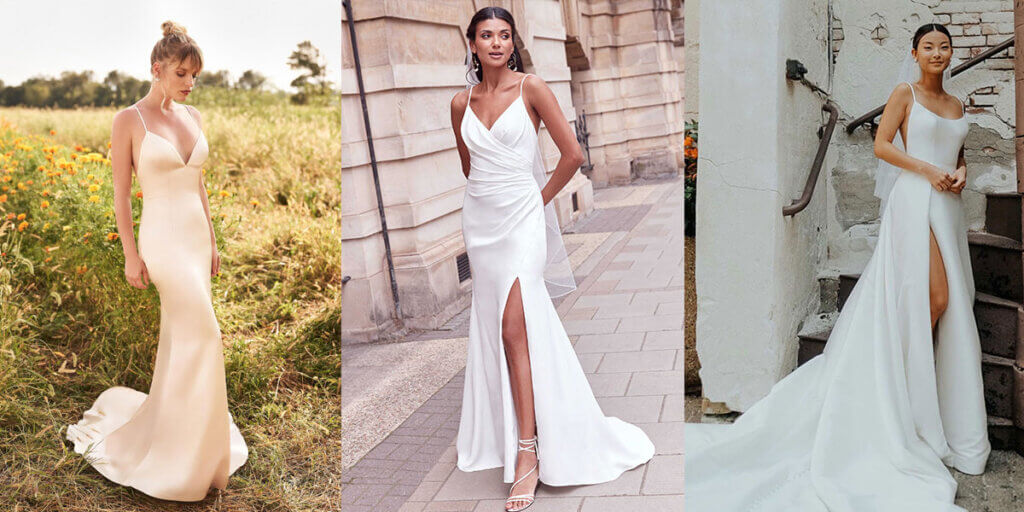 Nothing comes back stronger than a 90s trend, amiright? And of all the 90s trends, nothing was stronger than the slip dress. After the extravagance of the 80s, this decade pushed hard for simplicity. Spaghetti straps were everywhere, and embellishments went on hiatus.
Case in point: Drew. While this gown technically comes with a lace overdress (for those who are in love with boho), you can order the charmeuse slip separately for a sexy 90s look that is perfectly on point. Looking for a dress with more of a twist to it? Luana keeps it simple while also adding a bit of flare with a ruched bodice. Finally, kick things up a notch with Spencer: a scoop neck A-line with pockets and a thigh-high slit. If you're hoping for a 90s rocker girl aesthetic at your reception, try swapping your heels out for boots.
2000s: Strapless necklines, embellishments, and ball gowns.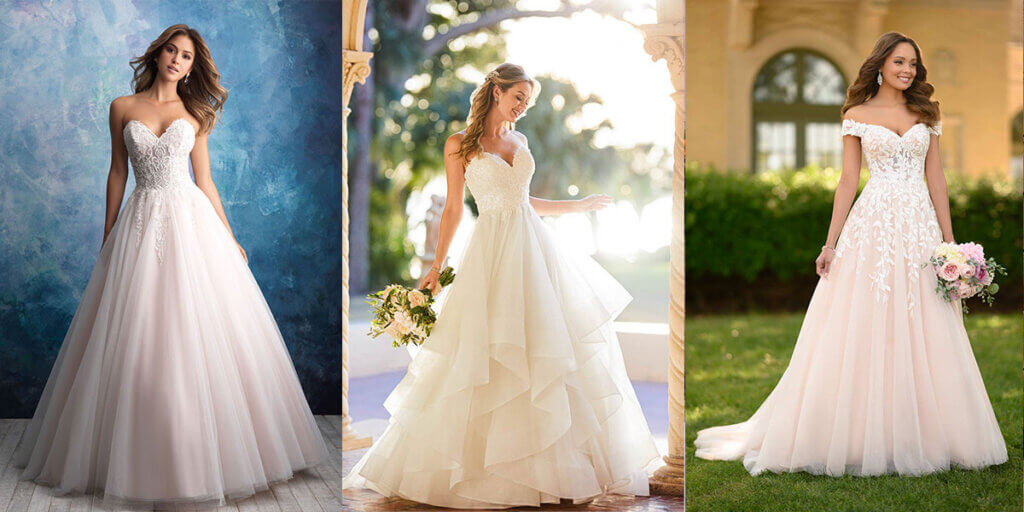 There was a while in the early 2000s when it seemed like straps were nowhere to be seen. Embellishments also made a comeback, and the blush wedding gown trend began to pick up steam, with Gwen Stefani (2002), Portia de Rossi (2008), and Reese Witherspoon (2011) all choosing pink for their big day.
In our minds, nothing epitomizes 2000s style more than Glenna, which combines a strapless sweetheart neckline with an embroidered, beaded bodice, and a soft champagne coloring for a dress that would make Reese proud. If that isn't enough sparkle for you, try Anastacia, which features another early 2000s trend: tiered ruffle skirts. Last but not least, Claudine brings in a touch of boho with its organic lace details. We love the off-the-shoulder sleeves (for those who don't want to go completely strapless), and would definitely order it in moscato.
2010s: Bodycon dresses, illusion backs, and the Kate Middleton dress.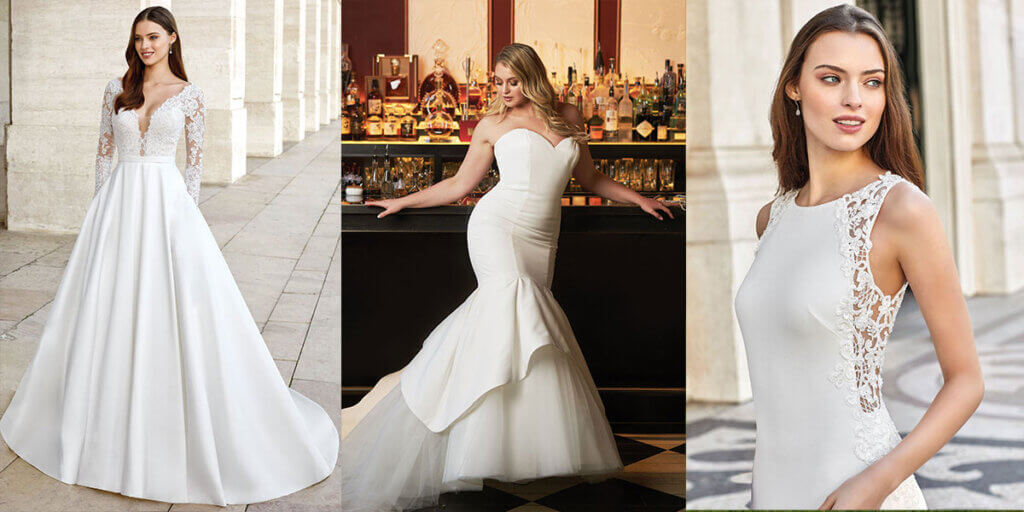 It's often most difficult to spot trends that are closest to you, but if there's one all of us could see coming a mile away, it was the craze for Kate Middleton's dress after the Royal Wedding in 2011. But on the opposite end of the dress spectrum, Kim Kardashian was leading a trend of bodycon dresses that hugged through the hips and showed off every curve.
For those who want a regal dress for themselves, Martha has everything you're looking for: lace sleeves, a full princess skirt, and cloth covered buttons down the back. For a sleek, fashion forward piece, Iskra combines a form-fitting top with a dramatic flare of organza and tulle. Last but not least, Lavinia combines a sleek, understated front with a jaw-dropping illusion back.
Trends change, but the best dresses stand the test of time.
As we move into the 2020s, wedding dress trends favor organic lace, airy fabrics, and subtle sparkle. But throwback dresses are also in vogue, which just goes to show that there are no hard and fast rules about what styles you should draw on for your gown. Whether you long for the dress you fell in love with as a girl, or a style your mother or grandmother wore before you, there are plenty of dresses that can fill those dreams and make your heart sing.
And if any of these dresses looks like the perfect match for your big day, get in touch. We have all these gowns—and more—in our store. Schedule an appointment with us to try them on for yourself.
Don't let COVID-related delays, bridal gown supply chain issues, and other pandemic disruptions get in the way of your big day.
Planning a wedding is one of the most memorable experiences you'll ever have, but it can also be one of the most stressful. In pre-pandemic years, most brides could follow a pretty typical timeline and feel assured that their dresses, veil and accessories would arrive on time. But that was before complications from the pandemic, the current global supply chain crisis, and a surge in couples planning weddings dramatically affected timeline expectations.
To avoid the stresses of unexpected delays, it's important to realize that the pre-pandemic timeline that was typically recommended is no longer reliable. If you want to ensure your wedding planning experience is as wonderful and memorable as your big day, follow this guide for hitting your important dream-dress milestones.
Milestone 1: The Wedding Dress
Finding the perfect dress is one of the most fun and exhilarating parts of the wedding planning experience. You've done your research. You've poured over hundreds of pages of bridal magazines. You've tried on styles that make your figure sing—and maybe some that hit a sour note—but at last, you  found it! This is your dream dress. Now seal the deal. Don't risk unexpected delays that could affect you and your perfect dress from spending your perfect day together.
Before COVID, you could typically have ordered your dress nine to 12 months before your wedding date. Now, you should plan to say "yes" to the dress at 12 to 18 months before your wedding date. If you can order it with even more time, do it. The bigger the buffer the better. You want to ensure your dream dress arrives according to your timeline and with enough time to schedule fittings and alterations. Even if you get it early, that just leaves you more time to sneak into the closet to take peeks at it and dream about your big day.
Milestone 2: The Bridesmaids' Dresses
Part of the fun of picking out your bridal party's dresses is exploring the many colors, fabrics, and styles. The look of your bridal party is an essential part of setting the tone of this very special event. Whether you choose dresses to accent a themed wedding, or decide on a style that makes a dramatic statement, or simply opt for letting each of your bridesmaids express their own personal flair while showcasing your favorite color, you don't want to have to pass on the perfect choice because it isn't going to work with your timeline.
Before COVID, you could typically have ordered your bridesmaids' dresses six months before your wedding date. Now, you and your party should plan to order dresses at nine to 12 months before your wedding date.
Milestone 3: Veil and Accessories
The crowning touch to your perfect wedding-day look is going to be your choice of veil and accessories. You want to give as much attention to these important details as you do to your wedding gown choice. Whether you choose to order your veil and accessories at the same time as your wedding dress, or wait until after you've ordered your gown, keep in mind that you should plan on leaving enough time so that you can do at least one fitting with the complete ensemble.
Before COVID, you could typically have ordered your veil and accessories three to six months before your wedding date. Now, you should plan to order your veil and any other accessories at least six months before your wedding date.
Milestone 4: Alterations
Nothing ruins the perfect dress like an imperfect fit. To ensure you have enough time to get all the necessary alterations and fittings, you have to plan ahead. This milestone is tricky because it's obviously contingent on the dress's arrival date, which highlights the importance of sticking to the guidelines of your other milestones.
Before COVID, you could typically have scheduled a fitting and started alterations for you and your bridal party about two to three months before your wedding date. This would require calling to schedule about a month in advance in most cases. Now, you should plan on scheduling a fitting and starting alterations for your dress and any of your bridal party's dresses three to four months before your wedding date. Ideally, you should call to reserve any alteration appointments as soon as you know the dress's arrival date.
Make memories while meeting milestones.
If the last two years has taught us anything, it's that we have to be ready for the unexpected. When you're planning for your perfect day, it's important to keep some perspective about what matters most. The memories you make during your wedding planning experience will outlive everything else.
You may find yourself facing challenges outside of your control, which is why using an updated timeline like this will help get you to the alter with every needed stitch. But it's equally important to work with an experienced team that can help you and your bridal party navigate life's unexpected curve balls.
At The White Dress, we are committed to giving you a pressure-free bridal appointment. The last thing we want to do is make you feel like you have to buy a dress because of a tight timeline. But we also know that the best way to avoid stress of all kinds is to start shopping early.
If you're planning a wedding but haven't found your dress, we are here for you. Whether you've looked at a dozen dresses or none, we can listen to your wish list and guide you toward a dress you'll be confident in saying "yes" to. Set up an appointment today to get started.