Monthly Archives:
July 2022
Michigan is full of charming, small-town bridal shops. Here's how you should prepare to make the most of your time!
Michigan is a state of small towns. While there are definitely some cities that make for popular bridal shopping destinations (Detroit, Grand Rapids, Lansing), no city holds pride of place as the obvious spot to find The Dress.
This gives brides plenty of range when they're searching for a good bridal boutique, which is especially great for brides who want to enjoy the charm of small town shopping. Our bridal shop in Brighton, MI is a perfect spot for any bride who wants to combine her dress shopping with a stroll around our charming downtown location, which includes a number of cute cafes and restaurants that are perfect for a celebratory dinner, or a pre-appointment brunch or lunch for those who want to make a day of it.
Bridal shopping is the perfect time to make beautiful memories with loved ones, but forethought is important to ensure that your time is stress free. If you're planning to do some wedding shopping in Michigan, here are our top tips for planning your time.
1. Consider where you purchase your dress.
We frequently see brides come into our Brighton shop from as far away as Alpena or Traverse City, because they have family in town and want to go shopping with their mom. Or maybe they've been living here for a while, but are planning to go back up north for the wedding. Either way, we have found that most brides are looking for a Michigan bridal shop either close to where they live, or close to where they plan to be married.
While neither of these options is necessarily better than the other, both can also lead to some practical inconveniences. Whichever option the bride chooses, she'll be traveling either with her dress to her wedding location, or traveling to her dress for alterations. If the bride is getting married in the winter and is worried about a snowstorm blocking up the roads, we would recommend making sure she has her dress with her a few weeks ahead of her wedding to avoid disaster.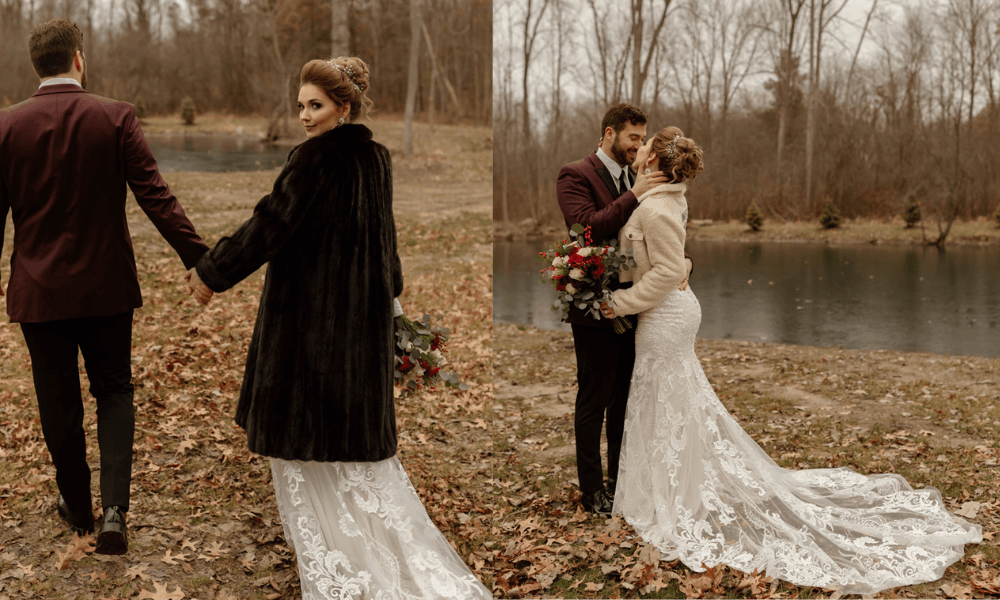 2. Think about Michigan weather when choosing your dress.
Anyone who has spent more than a week or two in Michigan knows how fickle the weather can be. While we do have four distinct seasons, it's common for summer weather to extend well into the fall, or for a surprise snowstorm to hit in mid May.
This may lead you to think that bridal shops carry special dresses for winter or summer. In fact, most dresses work for every season, and making any gown season-appropriate is more about how you style it. You'll probably want to avoid long sleeves for summer dresses, or choose gowns with heavier fabric in the winter, but mostly you'll want to plan for the weather by picking a beautiful coat to go with your dress for outdoor pictures, or bringing a pair of umbrellas if the day looks like rain.
While we don't have seasonal dresses in our store, we do update the inventory with new gowns whenever one of our designers comes out with a new collection, which is usually twice a year.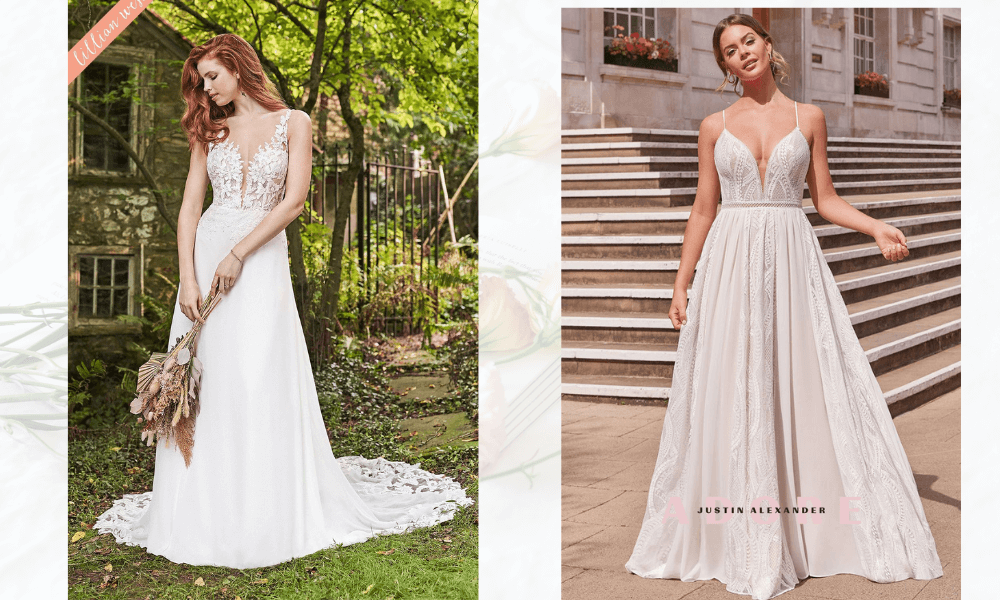 3. Make sure your boutique carries your designer.
Speaking of designers, if you've done your research and have a favorite designer, you should also make sure that the boutiques where you plan to shop carry that designer. Most wedding dress shops are selective in the designers they have in their store, as well as which dresses from each designer they stock. 
Some designers may be easier to find in Michigan than others, and some dress styles are more popular as well. Because of this, it's important to check with your bridal boutique ahead of time to be sure they have what you're looking for. If a boutique carries your designer but doesn't have your dress, be sure to ask if they have a sample program. Some wedding shops, like ours, can order in a sample of a dress from one of their designers, even if it's not one of the ones they usually carry in their store. Also keep an eye on sample sales and trunk shows, which can give you a chance to find a special deal.
4. Think about how many trips you want to do in one day.
Some brides want to do all their wedding dress shopping in one day, while others prefer to take their time. Either option is fine, but you should plan your trips carefully. We recommend not planning to visit more than two or three boutiques, as this is more likely to leave you feeling conflicted. Instead, you may decide to visit one boutique in the morning, take a leisurely lunch to think over what you saw, and then schedule another boutique for the afternoon.
Or you may want to only do one boutique per weekend so that if you find your dress at one boutique you aren't having to cancel other appointments. This option works best if you're planning to go shopping on your own, or if you have a couple people who want to go shopping with you but you also want to keep your entourage small. Which brings us to another point…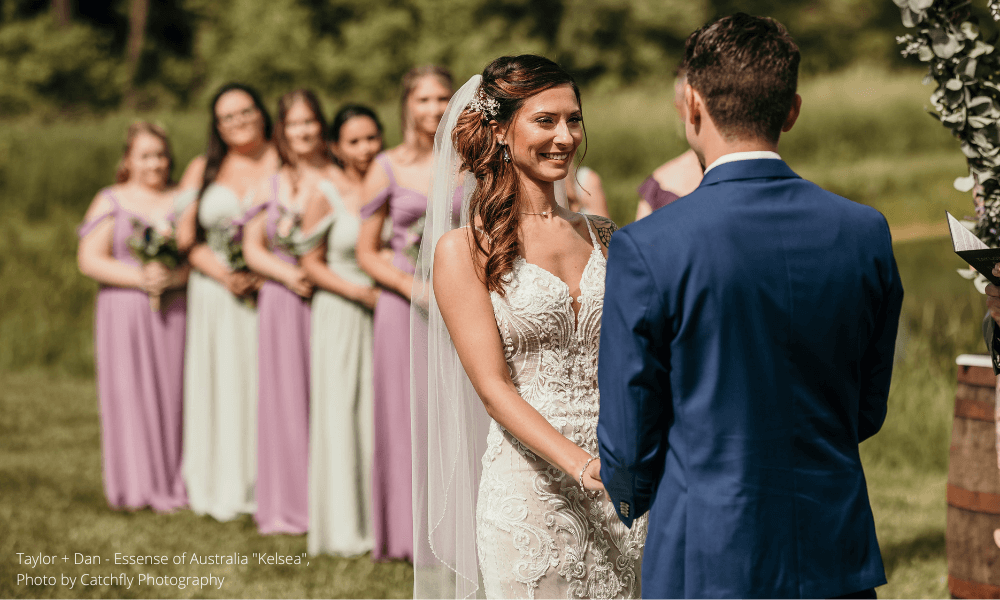 5. Plan your entourage.
Some people prefer to go shopping on their own so that they can make their decision without outside pressure. Others feel like they can't say yes to a dress without key people in their life present—their mother, their grandmother, their sister, or their maid of honor.
The problem is that the more people you have with you when you go bridal shopping, the more likely you are to have conflicting opinions. Because of this, we often recommend that a bride only bring one or two people with her at a time. If you do want to bring more people with you, consider bringing them in for a celebratory appointment where you try on your top favorites and say yes all together, or even plan a separate appointment for picking out accessories with everyone present. The point is that there are many appointments at which you'll be in your dress, so there are many opportunities to bring all the people you need to enjoy the fun and show off your gorgeous gown!
6. Know when to stop shopping.
Finally, you can't keep shopping forever. We've seen many brides who feel hesitant about saying yes to their dress for any number of reasons, from being worried about the cost to feeling anxiety over coming to a final decision. Brides have come into our store as their first stop out of a dozen, or as their fourth or fifth stop with more to go.
Unfortunately, this strategy is bound to leave a bride torn between multiple dresses. If you've already found two dresses that you love at two different stores, it's time to stop. Going to more stores will only leave you with more dresses you love.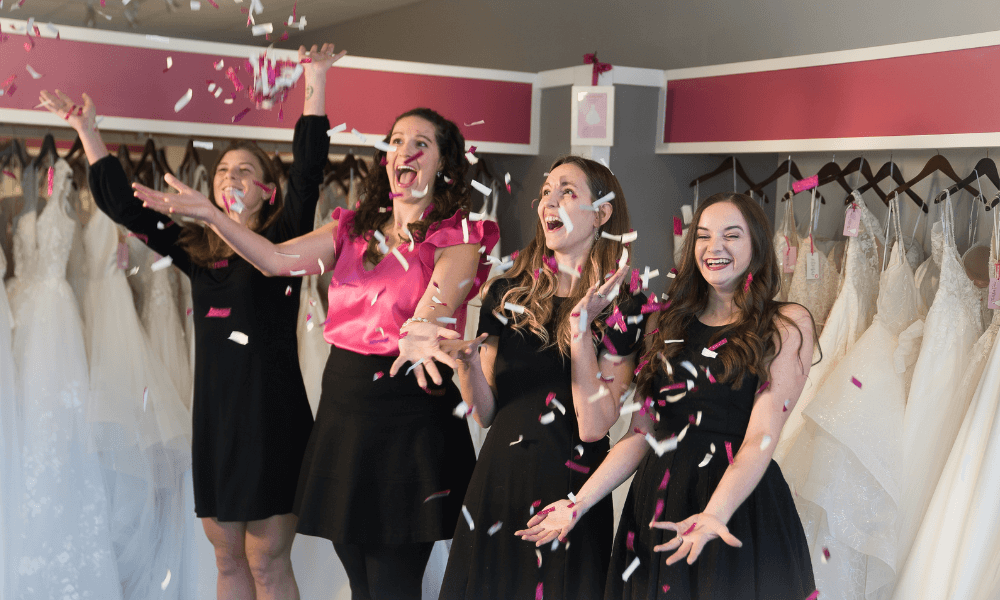 Ready to go wedding dress shopping in Michigan?
If you're looking for a bridal boutique in Michigan, our Brighton store is ready and waiting. Located less than half an hour north of Ann Arbor and forty-five minutes west of Detroit, we're a perfect stop for anyone who wants to enjoy small town shopping in the region. Make an appointment with us today to get started.
How plus-sized brides can feel comfortable at their bridal appointments and find the bombshell dress of their dreams.
Let's be frank. Wedding dress shopping is both an exciting and vulnerable time for almost every bride. Bodies are different, and not every dress will look good on every body type. Most of us will have some parts of our bodies which we want to flatter, and other areas about which we feel uncertain. This makes talking about our bodies and what we do or don't find flattering a personal and sensitive subject for all of us.
But most of us also don't have the rest of the world regularly weighing in on what we should or shouldn't be wearing. For plus-sized brides, a history of dealing with frequent and unsolicited advice on this front can make wedding dress shopping an even more challenging experience. It can even make searching for style advice more difficult, because so much of that advice is couched in language about "hiding" or "covering up," and not about feeling beautiful and looking your best.
At The White Dress, we'd like to throw that vibe in the trash, where it belongs.
Our best advice to any bride—but especially to plus-sized brides—is to keep your focus off whatever it is that makes you feel insecure and on the things that make you excited. We also recommend that you set aside any hard and fast "rules" you may have heard about what types of dress are or aren't off-limits to plus-sized brides. Too many of those rules are based in long traditions of body shaming (subtle or otherwise), and many do not take into account that there is more than one kind of plus-sized body, and that wedding gowns are not made like other dresses.
Few of us have the body confidence of Lizzo (much as we would like to!), but if there's one day where we should be channeling that spirit, it is on our wedding day. Here are our top tips for plus-sized brides to help them find dresses that will flatter their figures so that they can walk down the aisle feeling like the stunning queens they are.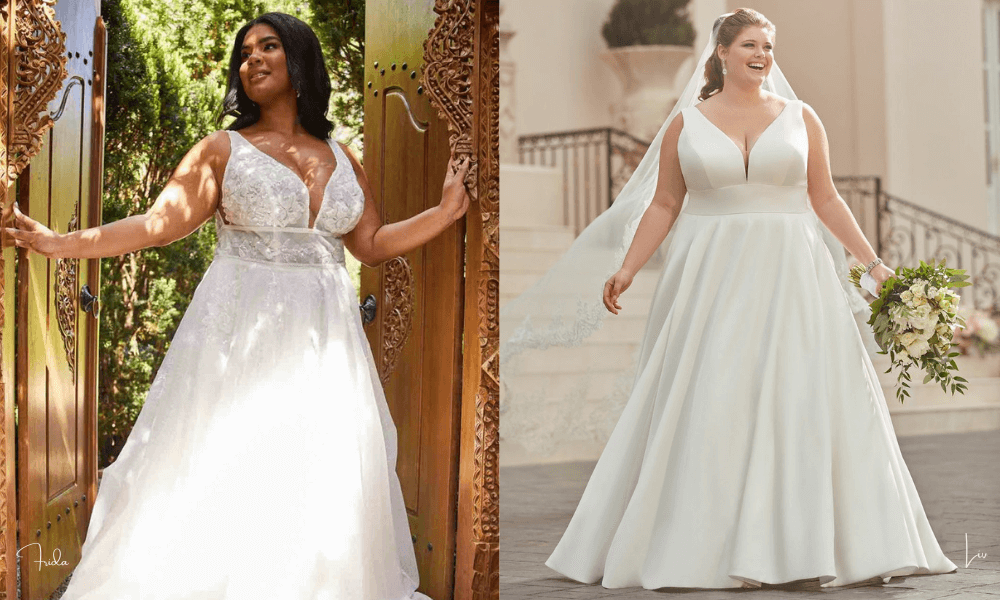 1. Wide waistbands highlight and lengthen the waist.
Many plus-sized women assume that their waist is something that needs to be covered or de-emphasized, but actually this couldn't be further from the truth. It helps to know that the natural waistline for many women is higher than they think—below the bust but a few inches above the belly button. This is the narrowest portion of the torso, so drawing attention to it creates more of a visual hourglass effect, which emphasizes curves.
Our favorites for this look are Frieda, from Essense of Australia, and Liv, by Stella York. Frieda is full glam, with plenty of sparkling lace and a daring plunge neckline. We also love how the waistband is semi-sheer, which calls attention to the corset-like boning in the waist. Liv offers a simpler, sleeker look, with wider straps and gorgeous square backline.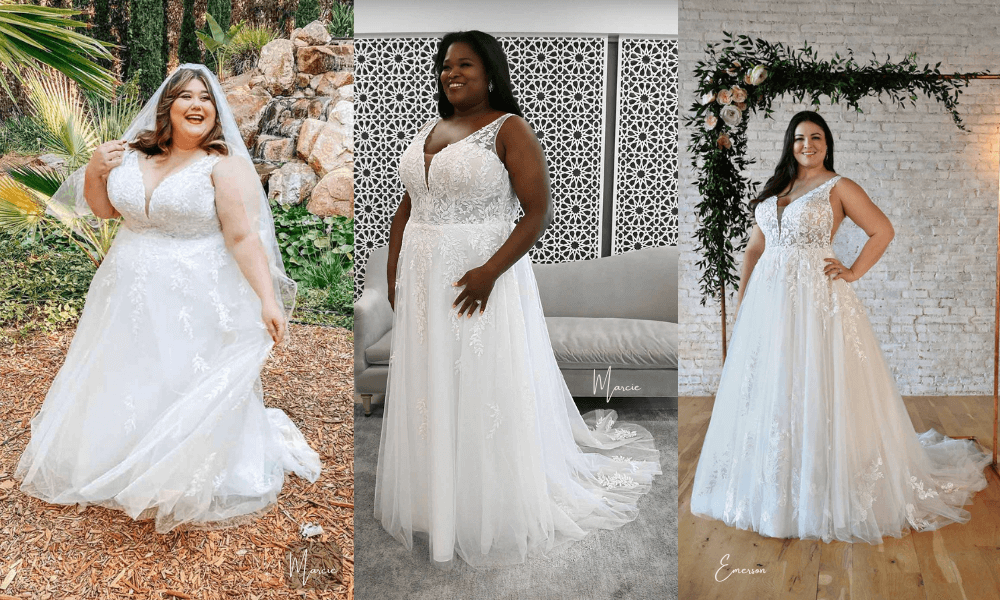 2. Wide straps with a V neck to support the bust and elongate the neck.
Any bride with a fuller bust has well-founded reservations about going for a strapless gown. Fortunately, one of the current bridal trends combines wider straps with deep V necklines—a particularly flattering combination on plus-sized gowns as the straps provide support while the deep V creates the visual illusion of a longer neck.
Marcie by Stella York is a particularly good example of this trend, but we also love it for the illusion lace detail in the back. Emerson boasts an even deeper plunge neckline in the front, while illusion tulle cutouts on the side give it a flirty feel without sacrificing support.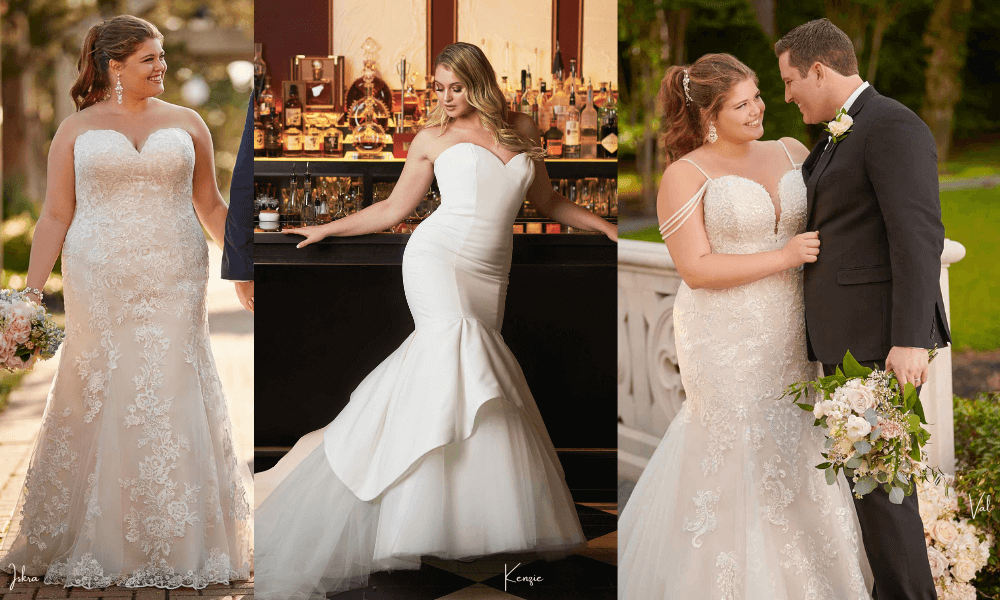 3. Dresses with structure to show off curves.
If you've always dreamed of a glamorous, figure-hugging gown, we're here to tell you that your heart's desire is within your reach. In fact, the benefit of trumpet silhouettes or structured A-line gowns is that the close fit and added boning make these gowns an ultra-slimming choice for many brides. As is so often the case with plus-sized gowns, the instinct to cover up or hide is actually the exact opposite of what would be most flattering!
There could not be a better example of this than Iskra, by Justin Alexander. This ultra-glam trumpet gown pulls out all the stops, featuring a sweetheart neckline and a dramatic skirt of tulle and organza. For a simpler option, the all-over lace on Kenzie elevates the look and gives it a graceful, flowing quality. Finally, while the flared skirt on Val may not be as bold as Iskra, the delicate beaded straps bring plenty of romance.
4. To sleeve or not to sleeve? (We have options!)
So many plus-sized brides come into our boutique looking for long-sleeved gowns because they feel insecure about their arms. Now, we love a long-sleeved wedding gown as much as the next person, but we strongly recommend brides only go for this option if they actually like the look of sleeves. For one thing, sleeves draw attention to the arms, which is often the opposite of what a self-conscious bride wants. But more importantly, sleeves can be very hot in the summer and be hard to move in, depending on the cut of the dress.
Instead, we recommend an off-the-shoulder sleeve for brides who feel safer with something on their arms, but which isn't as hot or constricting as a full sleeve. Even better? The off-the-shoulder neckline is stunning on almost every bride.
For brides who have their hearts set on sleeves, Hallie by Stella York combines tattoo lace with fabric-covered buttons at the wrists for an elegant finish. Halona, also from Stella York, comes in both sleeved and sleeveless versions, so you can see both and decide which you like better.
If you're interested in the off-the-shoulder look, might we suggest Kateri? Don't be fooled by the simple fabric. The plunge neckline gives it a sultry allure that has us head over heels. Or if you're in love with the boho trend (aren't we all?), Constance is an unforgettable gown which unmistakably channels Brigitte Bardot.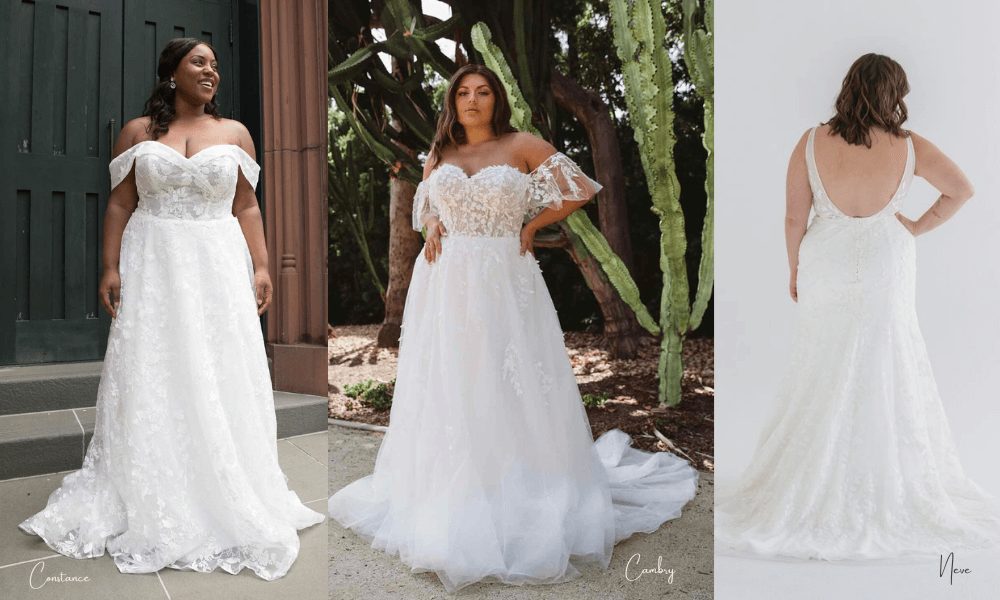 5. Your vision is not out of reach, but achieving it may take some creativity.
Finally—and this is true for all our brides—it's never good to think too narrowly about your vision for a dream gown. For instance, we would always encourage a bride to have a general idea for the look she's trying to achieve, but not to get too hung-up on the specifics. You should know whether you want a boho dress or a princess ballgown, for instance, but it's best not to arrive with a long checklist, because you may inadvertently be cutting your dream gown from your search simply because it doesn't have the long sleeves you thought you wanted.
For instance, a couple of our favorite plus-sized gowns include Cambry, from Essense of Australia, and Neve, from Lis Simon. Cambry combines a sweetheart neckline with the off-the-shoulder sleeves that we love, as well as a fitted bodice that provides support as well as flattering definition. Meanwhile, the straps on Neve provide just the right amount of support while the plunging neckline and low back will have you feeling like a million bucks!
Our TWD-ettes are ready to help you find the perfect plus-sized wedding dress.
If you're ready to try on plus-sized gowns for your wedding, set up an appointment with us. We carry a selection of plus-sized wedding gowns in our store, in sizes ranging from 18–22, and can answer all your questions about how to style or alter your dress to achieve your perfect look. Schedule an appointment today to get started.