Monthly Archives:
January 2023
High-profile weddings set trends and establish the style of an era. Here are our favorites from the past year.
Celebrity weddings have been a source of public curiosity ever since famous people started getting married. Human beings just love to celebrate, and what better reason to throw a big, expensive party than when two people who love each other exchange vows? So it should come as no surprise that these weddings often come to exemplify the fashions of the era, with designers going all out to create a look that will be talked about and imitated by others for years to come.
A high-profile wedding often piques our curiosity because we know that many brides look to them for their own inspiration. And why not! If you want to make a particularly bold choice for your wedding gown, following in the footsteps of one of your style icons can help you feel more confident. (Plus, it's fun!)
2022 was a big year for both weddings and elopements, and not every celebrity chose to make their photos public. We've selected five gowns from our collection to match brides who did share their photos and included two extra picks in honor of a pair of style icons whose sartorial choices on the red carpet have made plenty of headlines in the past. Ready? Here we go.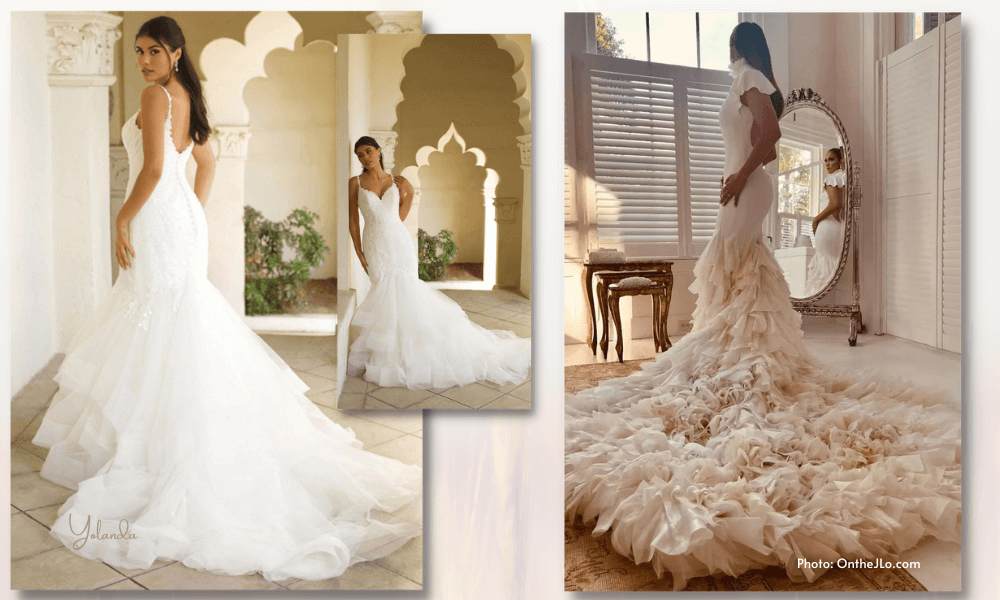 1. Jennifer Lopez and Ben Affleck
It might have been twenty years coming, but Jennifer Lopez and Ben Affleck are married. While they initially tied the knot at a Vegas wedding, their formal ceremony proved to be a more lavish affair. All the guests wore white, while Lopez herself changed between three different gowns.
For our dress choice, we focused on the dramatic ruffled hemline of Lopez's first dress, which reminded us of Yolanda, and it wouldn't be a Lopez-inspired dress without a trumpet silhouette.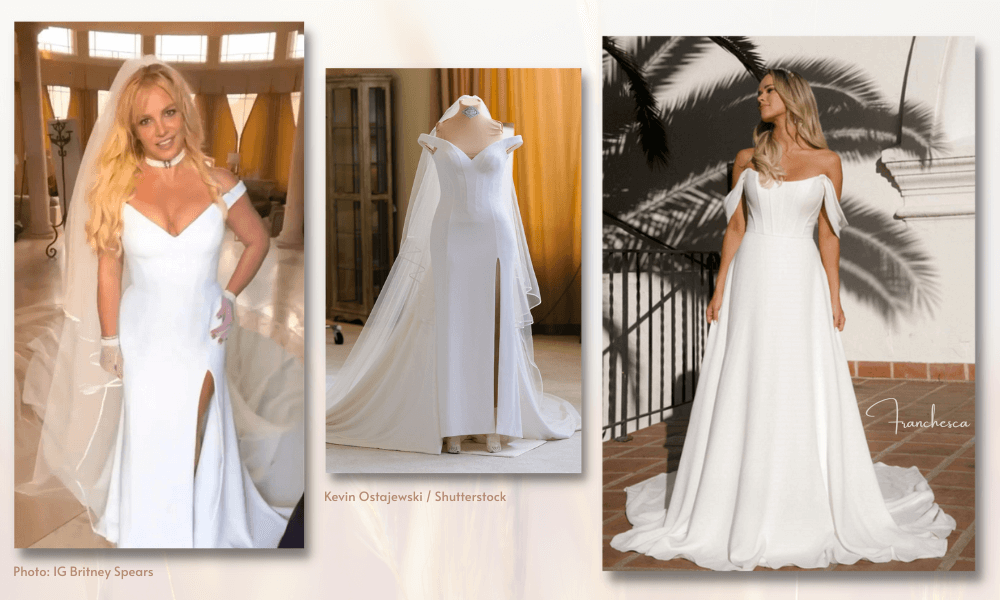 2. Britney Spears and Sam Asghari
Britney Spears also got married in 2022 in the second wedding to make us feel like it's the early 00s again. After getting engaged to her long-time boyfriend in the fall of 2021, Spears held the wedding at her home in June 2022. Her gown, designed by Versace, features off-the-shoulder sleeves, a boned bodice, and a thigh-high slit.
Brides who loved this dress definitely need to give Franchesca a look. The construction of the bodice has very similar seam lines to Spears' gown, and even includes off-the-shoulder straps.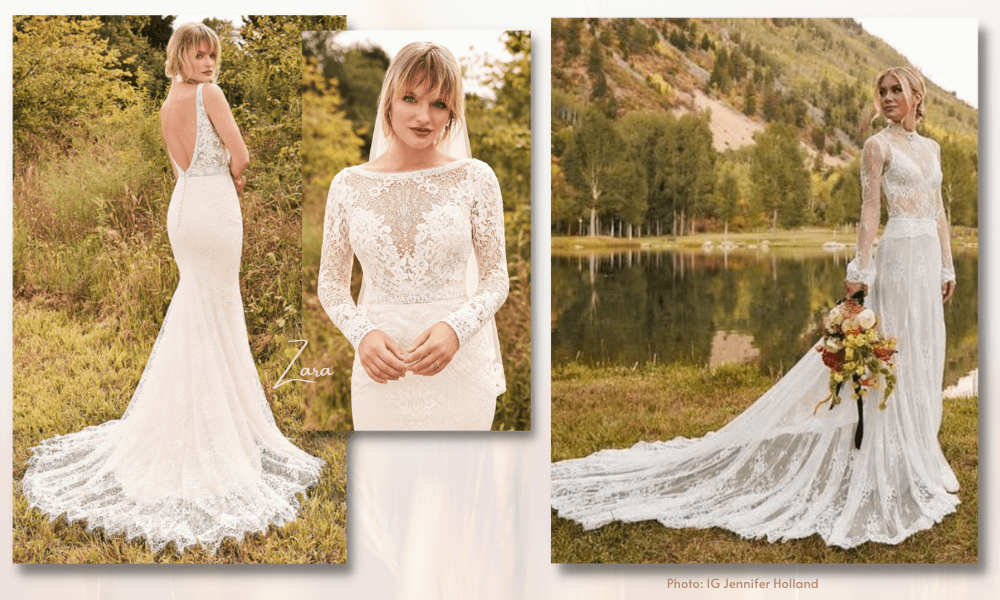 3. James Gunn and Jennifer Holland
After director James Gunn married his partner of seven years, the actress Jennifer Holland, both posted pictures of their Colorado wedding to Instagram. While Holland wore several looks during the event, the dress she chose for the ceremony was the obvious showstopper.
We think her gown is a dead ringer for Zara, which also features a high illusion neckline, long sleeves, and a trailing lace train, while the style of lace is a close match to some of Holland's other wedding outfits.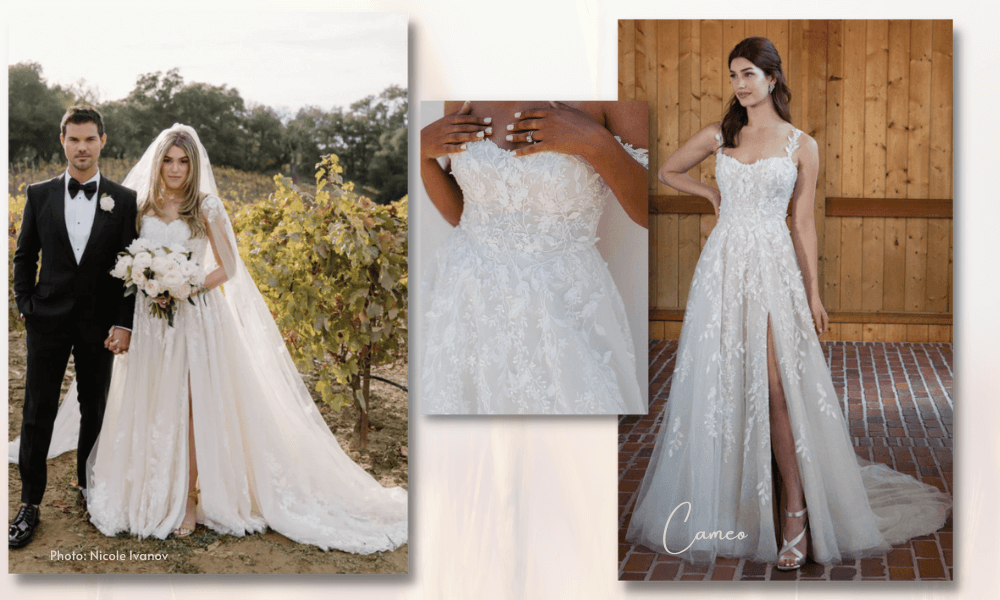 4. Taylor Lautner and Taylor Dome
When Twilight star Taylor Lautner married Taylor Dome, a registered nurse, this November, it was a year to the day from their engagement. Dome chose an all-over lace gown with a thigh-high slit, a sweetheart neckline, and trailing sleeves that hung from the shoulders like wings.
When we saw her wedding dress, Cameo came immediately to mind. The full skirt with layers of tulle brings the boho vibes, while the high slit makes it perfect for dancing. The vine pattern from the lace continues into the thin straps, which can be worn off the shoulder for a more romantic touch.
If you're in love with the trailing wings from Taylor's dress, we can recreate these with a simple add-on from our accessories. We call them Watteau streamers, and they can be attached to the shoulders of any dress, creating that ethereal look!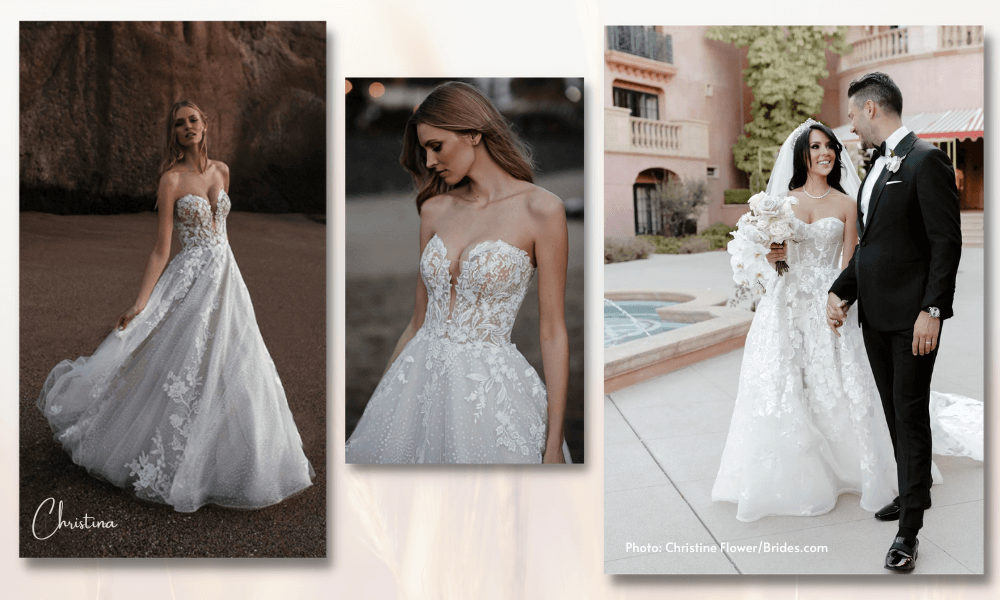 5. Vanessa Villela and Nick Hardy
You don't have to be fans of the reality series Selling Sunset to be invested in the wedding gown chosen by one of its stars, Vanessa Villela. Her style went full glamour, and we felt we would be remiss not to bring you a dress inspired by her wedding.
And for that, our pick is Christina. Did you love the sweetheart neckline and boning of Villela's bodice? Check. Were you in love with the unique lace? Check. Is your heart set on a ballgown silhouette? Check. This dress has all that, plus the sparkle and shimmer we've come to love from the Abella line. Come try it on for yourself.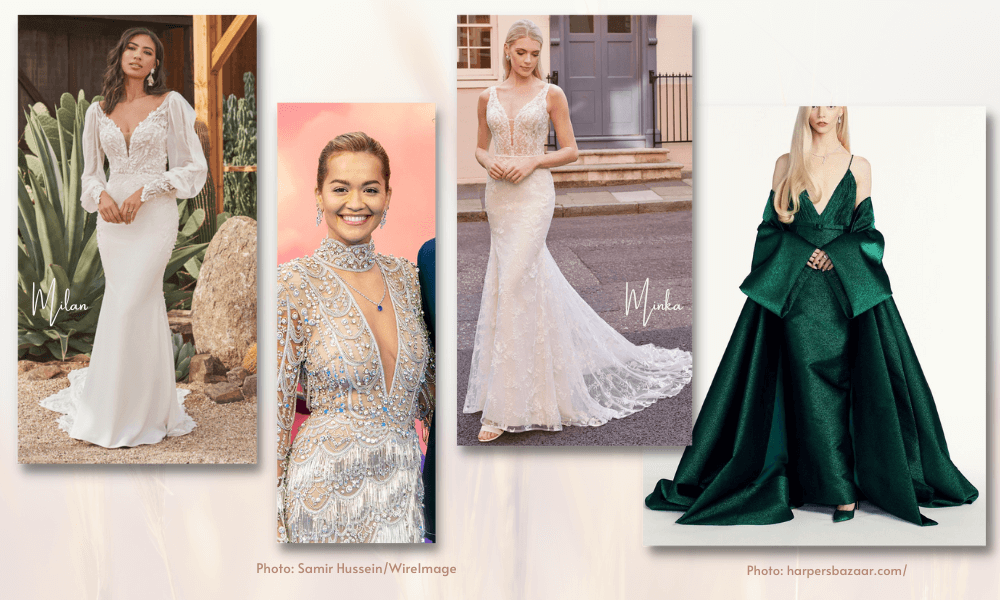 Honorable mentions: Rita Ora and Anya Taylor-Joy
Many celebrities this year chose to elope or held quiet nuptials away from the press. And to them we say: more power to you! Smaller weddings have been growing in popularity since the pandemic, and it's no surprise to see famous names embracing them along with the rest of us.
Two notable examples include Rita Ora, who eloped with director Taika Waititi after a month-long engagement, and Anya Taylor-Joy, who married musician Malcolm McRae in a courthouse wedding sometime last summer. While neither have shared pictures of their wedding dresses publicly, both have been known for stunning red carpet moments over the years, so we picked two of our gowns which we believe best represent their style.
Rita Ora is known for her daring style choices, which range from bold to downright risqué. Some of her more recent looks have embraced a power shoulder, so we took that as our inspiration in choosing Milan, which also features dimensional lace and a low back.
For Taylor-Joy, we chose Minka. The backless bodice and plunging neckline combined with the figure-hugging silhouette bring to mind the iconic emerald Dior gown she wore for the 2021 Golden Globes.
Ready to try these for yourself? Book an appointment!
Did any of our picks strike your fancy? Come try them on for yourself at our location in Brighton, MI. Or, if you have a celebrity fashion icon whose style you adore, tell us all about it and we'll help you find your perfect match. Book an appointment to get started.
If you feel like you're drowning in options, making this decision FIRST can help.
Theme, style, aesthetic… pick your word. Nuances aside, they mostly boil down to one question: What is the unifying look of your wedding? While this may seem like just another question on a pile of big decisions, settling on an aesthetic early in your decision process can make a lot of your other decisions easier, help you stick to a budget, and leave you with a wedding that looks and feels exactly as you'd always dreamed.
This is because an aesthetic, apart from making everything look like it fits together, also helps you narrow down your field of options. If you choose a traditional aesthetic, then you can stop being distracted by cute, rustic venues. If you have your heart set on a vintage theme, homing in on a particular era can help you select the perfect wedding band. And if you're inspired to DIY as much of your wedding as possible, making that commitment early can help you avoid a stressful, last-minute rush.
Remember when we mentioned it helps with a budget as well? Some aesthetics are more expensive than others. Maybe you envisioned an ultra glam venue, and you find one that looks like it will do the trick—until you remember every other line item still to be accounted for. If you blow your savings on the venue, you could find yourself cutting corners elsewhere and feeling disappointed. On the other hand, if you start by choosing a more manageable theme, you can find a more affordable venue while still being able to afford all the little details that make everything seem coherent.
Of course, your dress will also play a big role in making everything come together, which is just one more reason to think about aesthetic before you go dress shopping. To get you started, here are some of our favorite aesthetics, along with gowns that will fit right in!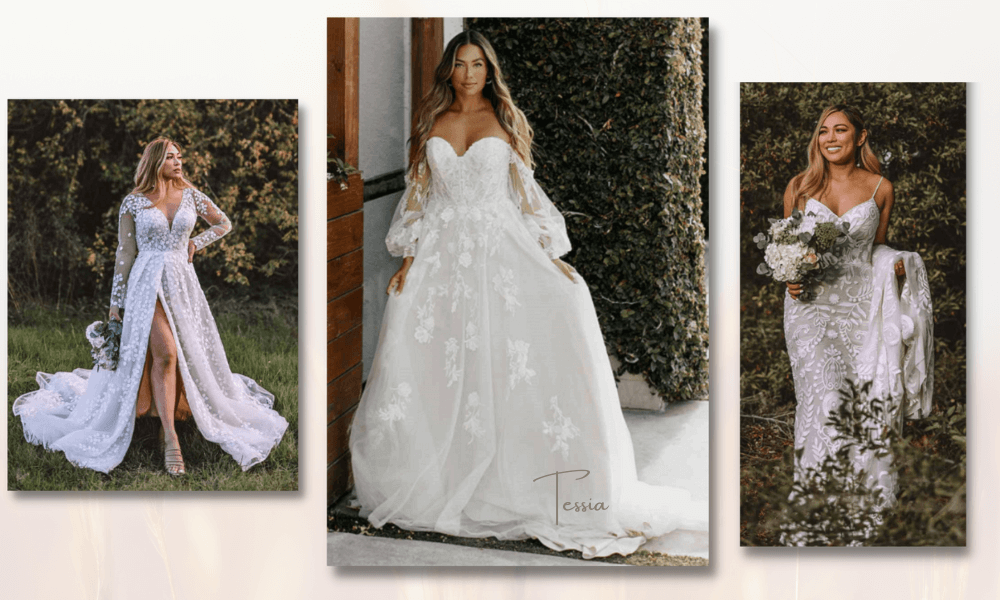 1. Boho: free-spirited and whimsical.
The boho trend took the bridal world by storm a few years ago, and the momentum has not subsided. And why should it? It's a supremely flexible style, able to be dressed up or down, indoor or outdoor, ready to go with the flow, wherever the flow may take it.
Our pick for boho is Tessia. We love the full, off-the-shoulder sleeves, as well as the subtle boning in the bodice. Meanwhile, the lace adds dimension and a unique character to an already one-of-a-kind wedding gown.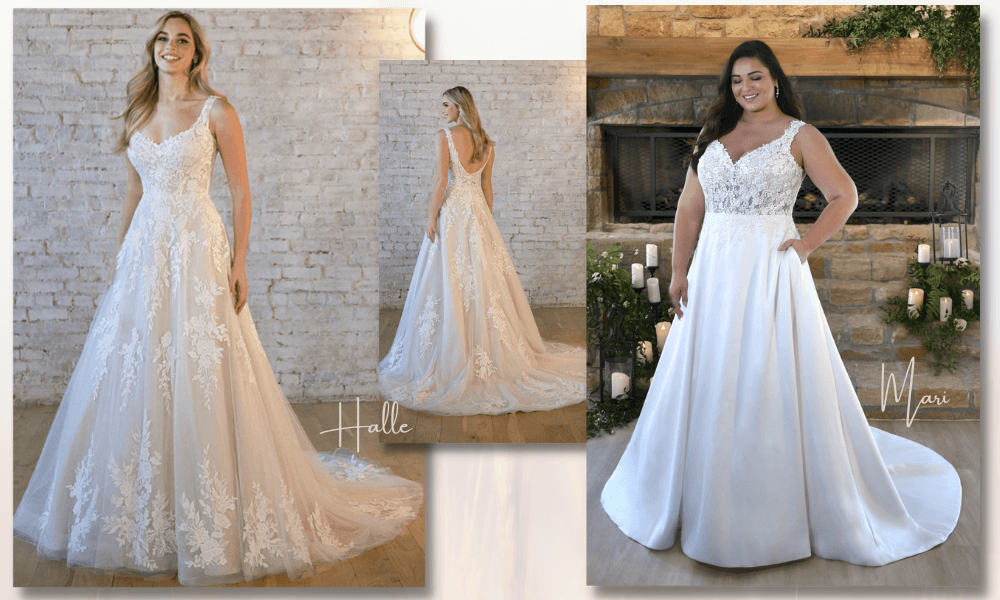 2. Formal: traditional and timeless.
Some brides form an image of their perfect wedding at an early age, and that vision never falters. They want a wedding that hews to all the classic archetypes, from the church to the ballroom. The timeless quality often has as much meaning for the guests as for the bride, reminding them of their own weddings, and creating an emotional environment for everyone.
To go with this setting, we recommend Mari. With a full skirt and gorgeous lace bodice, it's the quintessential princess dress for your perfect day.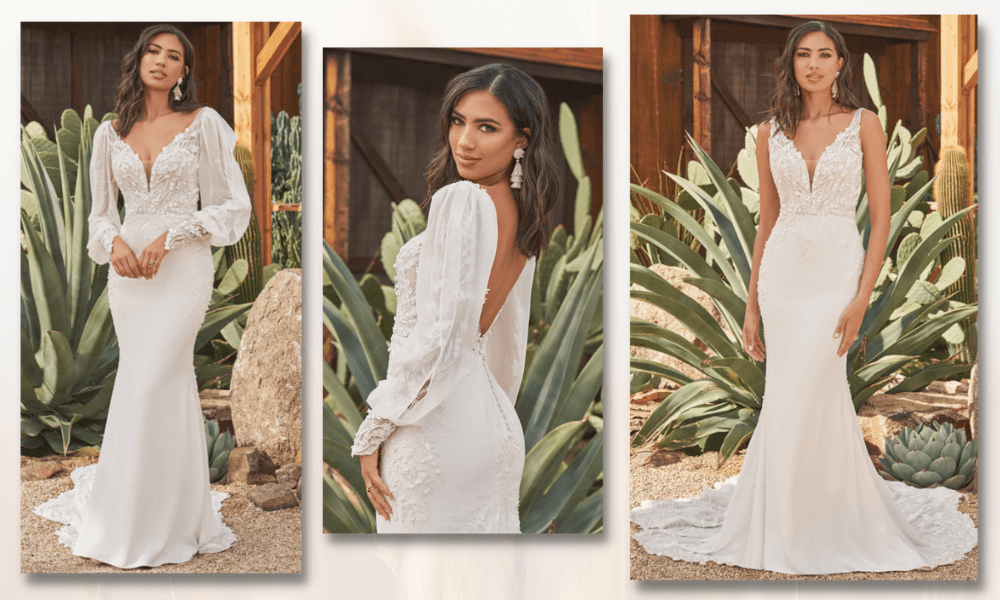 3. Glamorous: sparkly and luxe.
Not one to hold anything back? The glamorous aesthetic is for those who want to go big. This style embraces bling: metallics, crystals, and all things fancy.
If you're looking to make a statement, Milan does just that. The chiffon bishop sleeves on this gown combined with the lace cuffs set it apart, while the figure-hugging silhouette makes it a true showstopper.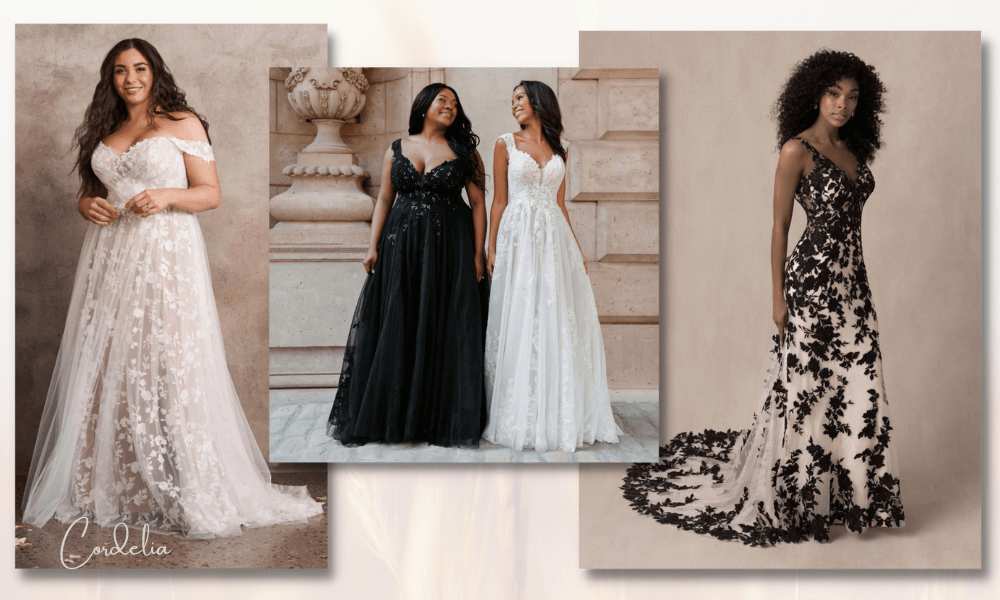 4. Romantic: dreamy and soft.
Yes, all weddings are romantic, but the romantic aesthetic focuses specifically on creating an ethereal ambiance through color, lighting, and texture. Don't feel like you're limited to pastels, however. One of the newer trends has been dark romantic: a moodier take that embraces rich colors and velvety textures.
If this aesthetic appeals to you, we recommend you take a look at Cordelia. The crisscrossed netting over the bodice hints at a more structured top while keeping the overall style practically weightless. And the champagne underdress makes the white of the lace pop, while also opening the door to more alternative color schemes.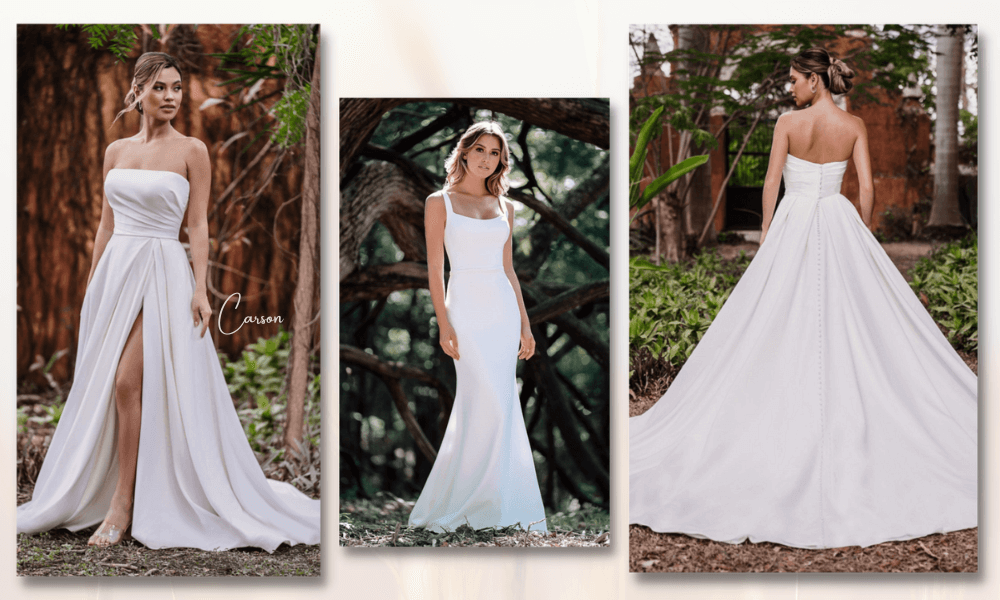 5. Modern: geometric and minimalist.
If you're the kind of bride who likes things simple, the modern trend may be for you. With an emphasis on clean lines and monochrome palettes, the modern style embraces the mantra "less is more."
Case in point: Carson. Fashioned from Mikado, this dress keeps the emphasis on form and structure while still making a statement.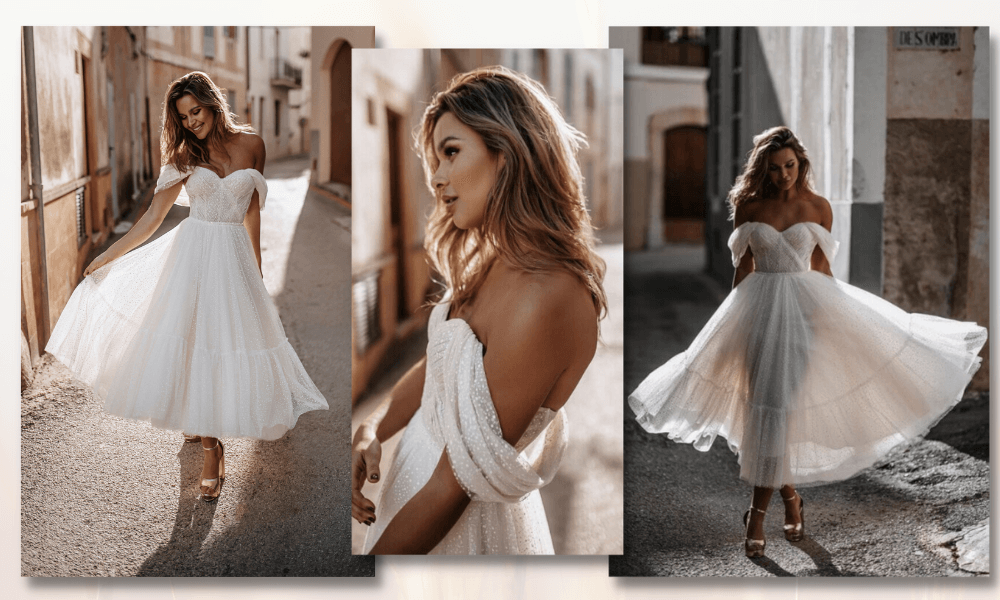 6. Vintage: retro classic.
Depending on your favorite decade from the past century, this theme could take you anywhere. Many brides enjoy this aesthetic as a throwback to a favorite style period, so the aesthetic can range from 1920s glam to 90s grunge. No matter the direction you take it, recreating a decade is a fun way to tap into nostalgia.
We have a dress right now that just screams 1950s. It may be the shorter hemline, or perhaps the fuller skirt, but there's something simultaneously old fashioned and alluring about Gita. Try it on for yourself to see if it takes you back in time.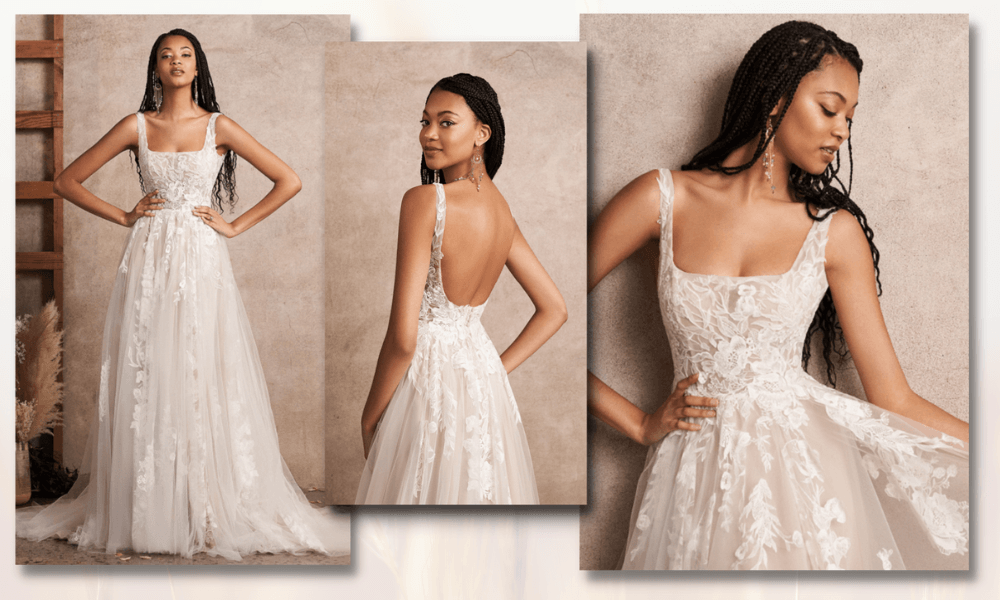 7. Rustic: natural and woodsy.
The rustic aesthetic has been a huge trend in Michigan, no doubt due to the plentiful woodlands and ubiquitous red barns. A rustic aesthetic makes the most of organic elements, with an emphasis on nature and the outdoors.
If this is your style, might we point you in the direction of Brynley? This dress features trailing lace to tie in with the woodland theme, but the square neckline and wide straps keep the dress grounded. You could dance in this all night and not have to worry about any kind of slippage.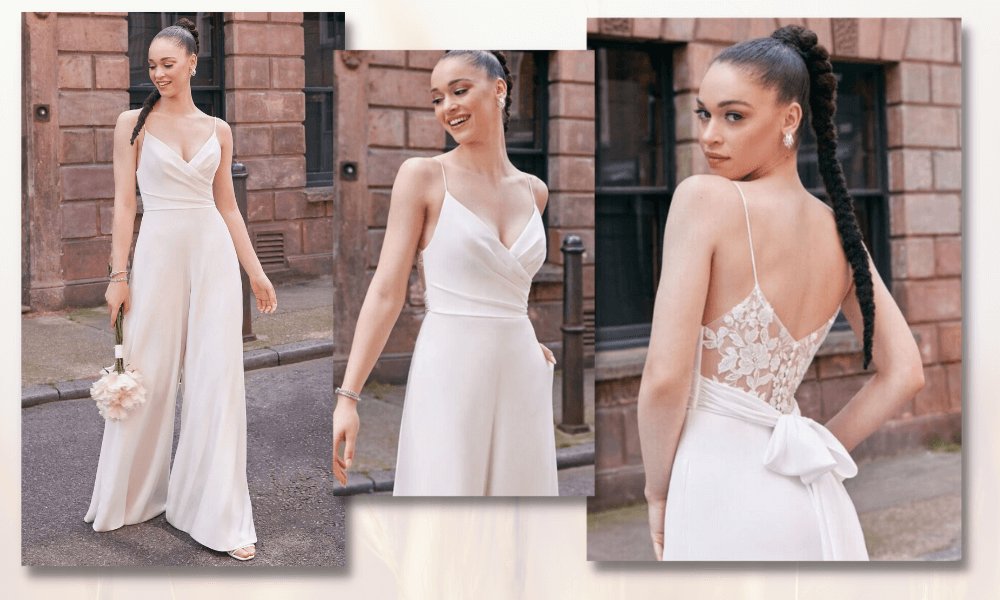 8. DIY: handmade and charming.
Many brides are pushing back against expensive weddings by springing for smaller ceremonies and scaled back venues. Maybe you're planning a backyard reception, with a potluck dinner and flowers from a nearby field. Why not? It's been done before.
As long as you're keeping it casual, why not go all the way? We love the low-key vibes of Kenedy, and a jumpsuit is a perfect match for a more relaxed aesthetic. Meanwhile, the tattoo lace and trailing sash bow keep the back of this outfit looking bridal.
Have your aesthetic figured out? It's time to find your dress.
As you can see, settling on an aesthetic brings a lot of focus to your wedding dress search. If you're feeling like it's brought you clarity, the next step is to come on in and try something on! Tell our TWD-ettes all about your vision, and they'll help you find a gown to match it. Book an appointment with us today to get started!