Monthly Archives:
May 2023
Downtown Brighton is undergoing a major streetscape overhaul. Here's what you need to know!
As the old joke goes, there are only two seasons here in Michigan: winter and road construction. As it happens, road construction season is coming heavy for us in Brighton, and although we're excited for the results, we're also aware that the process will cause some necessary disruption for our business and customers.
We're aware that many of our brides may have questions about how the road construction will impact our boutique. The good news is that we are open and accepting appointments. However, accessing our building will be a bit different for the next few months, and we want to make sure all our brides know what to expect. So, if you're wondering how to reach us, or if you're simply curious about what all the roadwork is about, here are the details!
1. We are still open!
Currently, the section of Main Street directly in front of our shop is torn up and will remain so for approximately the next six to eight weeks. While the construction may seem intimidating, we do still have parking available in the back and are recommending that all our brides enter by that entrance as the front of the store is only accessible by a narrow walkway.
How to enter our boutique:
Our back entrance leads to a lobby rather than directly into our bridal store. To reach us, you will have to go down one flight of stairs and then back up another. For those with accessibility needs, there's a walkway through one of the neighboring buildings, or you can walk around to the front and take the pathway by the construction inside. (See our TikTok to watch all the ways you can get to TWD after you have parked!)
Unfortunately, we've noticed a lot of excess dirt from the construction being tracked into the store, so we're asking visitors to remove their shoes once they're inside. If you're visiting on a rainy day, you may want to bring slippers or cozy socks to wear once you are inside!
How to reach our location in Brighton:
On top of the roadwork happening in downtown Brighton, some of the surrounding highways (most notably Grand River) are also undergoing construction. The easiest way to reach downtown Brighton at the moment is via I-96, Exit 147 for Spencer Rd. You will be redirected from Main Street but will be able to reach our parking area with minimal hassle.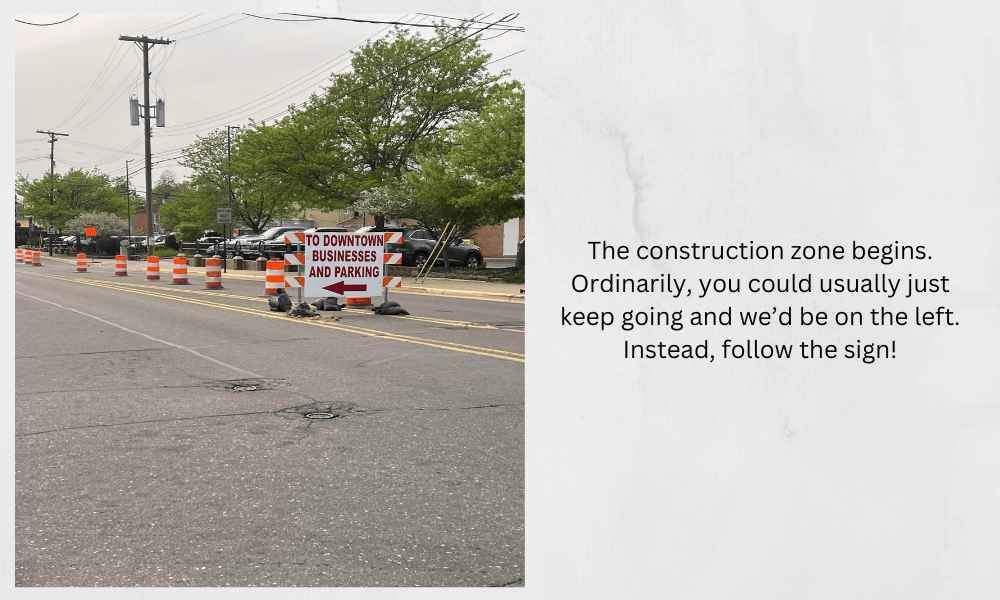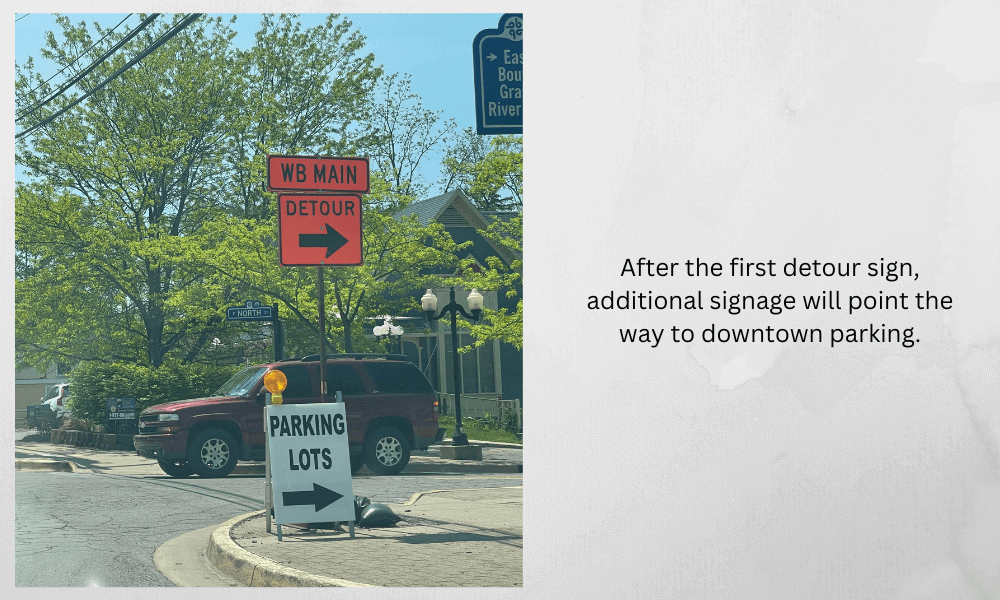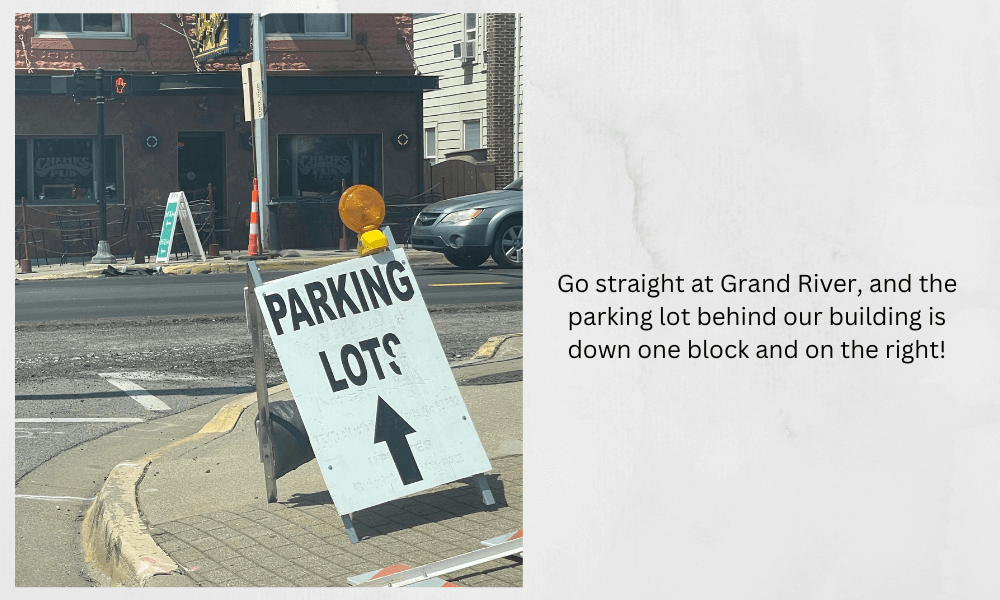 2. Street work is ongoing through November.
Currently the street improvements are expected to continue through the summer and fall, with streets opening bit by bit as road work progresses. According to reporting from MLive, the project is not experiencing any delays in materials so far, and is planned to finish no later than November.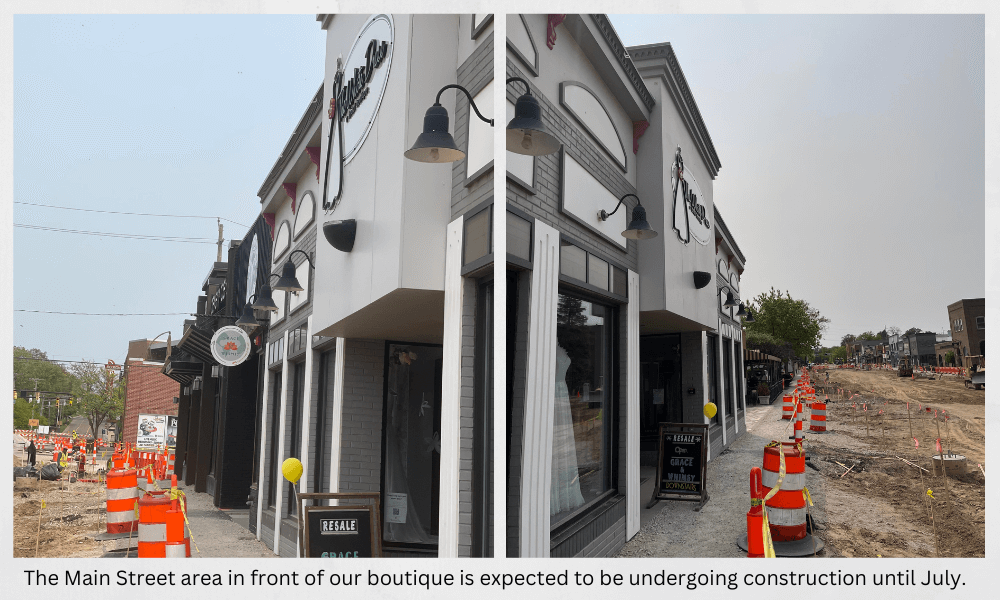 3. The result will be beautiful for Brighton.
While the construction is a temporary inconvenience, we're excited for the changes they will bring to our downtown area. The improvements will modernize downtown infrastructure in several ways. Sidewalks will become broader and streets narrower, creating more space for outdoor dining while retaining on-street parking. New spaces will be created for bike parking, and the street lighting will be upgraded to LED bulbs.
The streetscape plans also include a curbless plaza in front of Mill Pond which will create more flexibility for downtown events and festivals while also creating a pedestrian-oriented zone in the heart of the city, and right across the street from The White Dress! Overall, the designs are expected to revitalize the downtown by providing more accessible, walkable public spaces that offer more modern amenities.
The White Dress Is One of Michigan's Destination Bridal Boutiques.
We understand that no one looks forward to navigating road construction (as if you can avoid it in Michigan this time of year!). However, there are many reasons why The White Dress is worth it.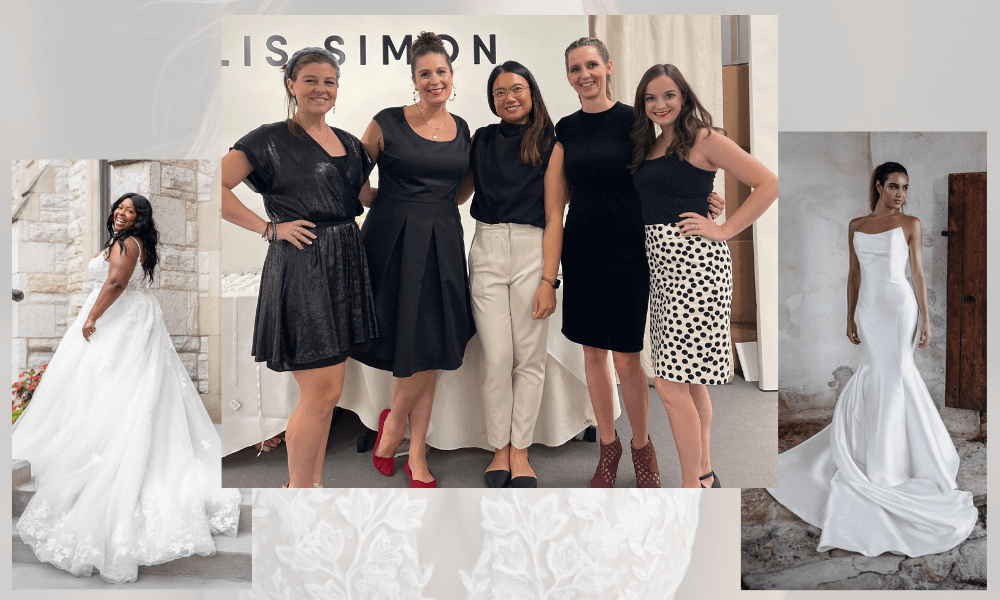 First of all, we pride ourselves on our selection. Our team makes multiple trips a year to top bridal markets to review the selection of dresses available and ensure that our brides have access to the latest trends. Not every boutique puts in that kind of effort, but we believe it is essential for helping our brides find that unique dress they've been dreaming of.
We also have one of the best sample selections for plus-sized gowns in our region. We want to give as many brides as possible an opportunity to try on a dress that is close enough to their size to offer a realistic sense of what their gown will look like on their big day.
Our TWD-ettes are also committed to providing a pressure-free environment. We don't run on commission, because we never want to push a bride toward a gown that she isn't fully in love with. This incentivizes us to prioritize our bride's comfort above landing a sale.
Finally, we will continue offering trunk shows of our favorite designers, where brides can get a sneak peek on upcoming collections, speak with the designers directly, and even request customizations on their dress. So, be sure to keep an eye on this space for announcements about upcoming events!
In the meantime, if you're ready to book an appointment, don't hesitate! We look forward to seeing you in our boutique soon!
Looking for a wedding dress with a short turnaround? Here are our top picks.
Elopements aren't what they once were. In the past, elopements were decisions made in haste—like a Vegas wedding. Today, eloping couples are more often motivated by a desire to cut back on expenses. Large, lavish weddings are on their way out, and smaller, more intimate affairs have gained in popularity.
Just because a wedding is small, however, doesn't mean it's poorly planned. Many couples are still committed to a celebration, and while they don't want to pour tens of thousands of dollars into a venue and wedding dinner, they do want the day to be special—and that often means having a dress and beautiful photos to commemorate it.
What this means is that, while eloping brides often have a shorter timeline than those planning a more traditional wedding, many do still have both the time and budget to purchase a dress. That said, before we get into our dresses, let's cover some quick guiding tips:
It takes several months to sew a brand new wedding dress. The dresses we've picked are perfect for scaled-down weddings or courthouse ceremonies, but they won't be ready by the weekend! The timing on these dresses can range from just 2 weeks to 4 months in terms of a turnaround time, depending on the style, size and color!
If you need a gown ASAP, we recommend looking for a sample sale! At The White Dress, we run a couple of sample sales each year as we get ready to bring in new dresses, and it's a great way to find a really good deal! We also have many off the rack options for brides that are shopping outside of our sale days.
Lots of embellishment = lots of time (and expense!). If you are looking for sparkle, try to find a gown where the glitter is part of the fabric. Lace can also elevate the look of your dress without adding a lot to the sewing time.
Of course, there's nothing stopping you from getting married in the most elaborate ball gown you can find—we certainly won't! But if you're interested in a simpler gown with a faster turnaround, the following dresses will help you feel bridal without breaking the bank.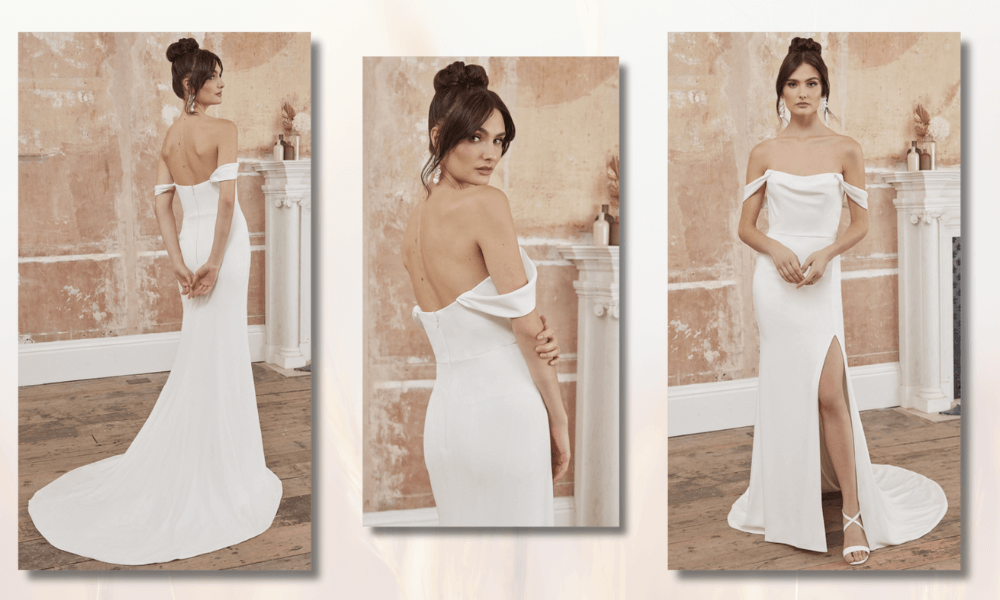 1. Fynn: Thigh-high slit with an edgy style.
There's something about Fynn from Justin Alexander's Adore collection that looks like you might be ready to ride away from your wedding on a motorbike. Maybe it's the slit or the off-the-should straps, but it definitely has a rockstar vibe. We'd love to see this dress in an urban photo shoot, paired with a leather jacket and boots.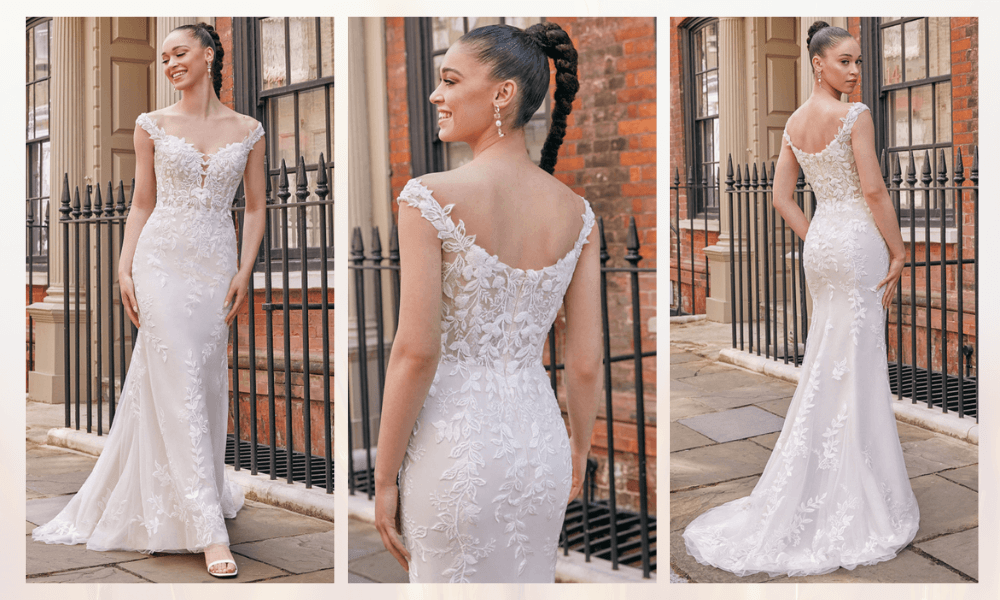 2. Karleen: Trailing lace for an ethereal aesthetic.
Going in the opposite direction, Karleen embodies the boho trend that has been so popular in recent years. With appliqué lace trailing down the skirt and a semi-sheer bodice, this gown would be a perfect choice for an outdoor ceremony in a garden. We can also imagine this dress as part of a stunning photo shoot in a national park or along a beach. Use the lace as your inspiration and get out into nature!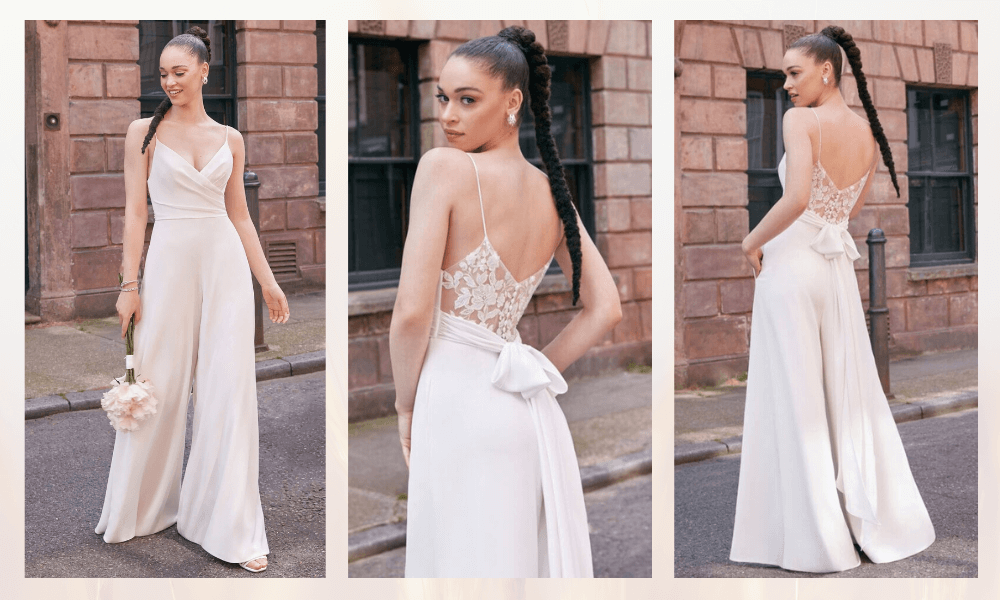 3. Kenedy: A flowing romper for the nontraditional bride.
For brides wanting to keep it cool, nothing says casual chic like Kenedy. The wide trouser legs give the illusion of a sheath dress, while the tattoo lace paired with the large bow at the back give the overall look a decidedly bridal feel. (And did we mention it has pockets?) We've also recommended this dress for bachelorette parties or rehearsal dinners. No matter where you wear it, its versatility will give you options beyond your wedding day.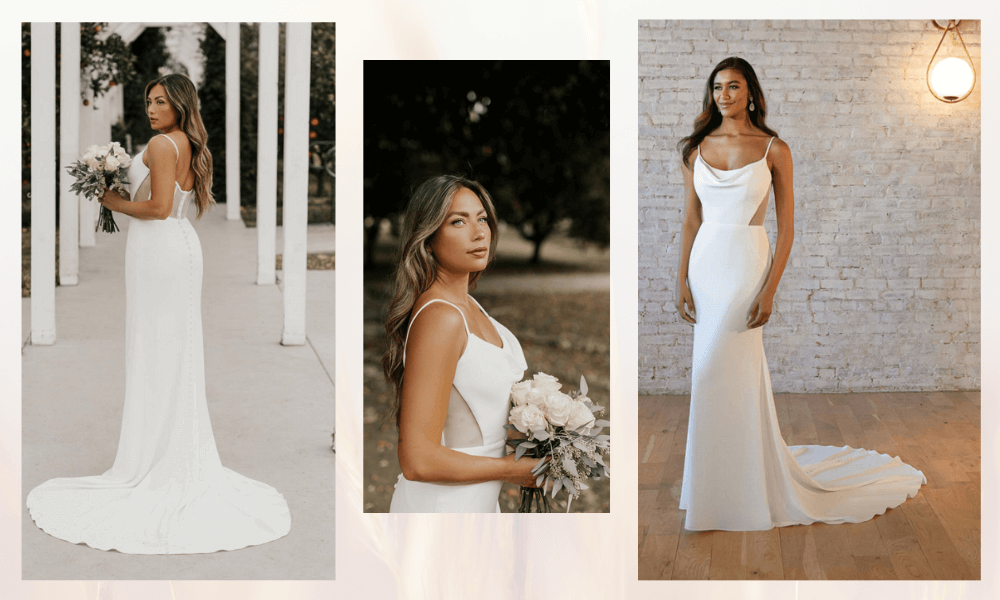 4. Hilton: Statement minimalism with exposed boning.
Interested in something with more structure? Hilton combines a flattering cowl neckline with sheer cutouts at the side and back. We love that the clean lines of this gown allow its construction to stand out. While the style is a little more formal, we think it would still make a perfect choice for brides who are opting for a smaller ceremony.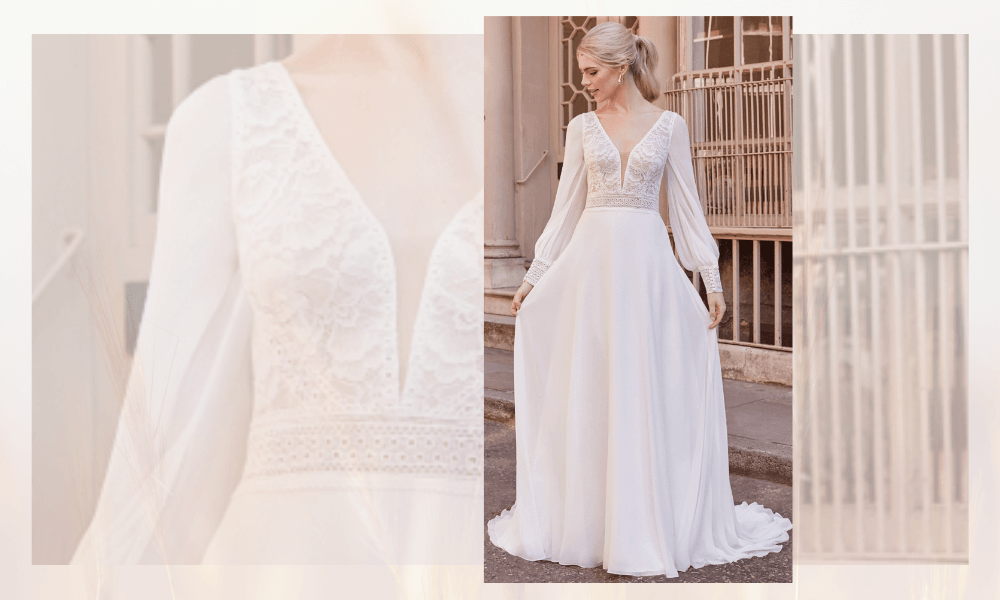 5. Griffin: Bishop sleeves and a graceful A-line.
There's something delightfully delicate about Griffin. Maybe it's the loose chiffon sleeves with the button cuffs, or the different styles of lace used in the bodice, or the illusion plunge at the neckline. Whatever it is, this dress is as romantic as it gets, and a perfect choice for brides who want to have a little bit of that princess feel without going over the top.
6. Drew: A backless slip dress in sleek satin.
If you're in the mood for a 90s throwback, Drew captures the decade perfectly. We love how the extra-long spaghetti straps emphasize the backless design. The lines on this gown are deceptively simple and daring—a little like an elopement! While we're a fan of the plain satin style, this gown also comes with a lace overdress if you want a more boho look—or if you want to change up your appearance during the day.
It's your wedding day. Treat yo self!
We love that modern weddings are giving couples more chances to embrace their individuality, to play with tradition, and to make intentional choices about how to spend their money. If one of your priorities is your dress, come shop with us! We're here to help you achieve the vision you want for your wedding day, and our commitment to a pressure-free environment means that we will work with your budget and not push you toward something that goes against the spirit of your elopement. Schedule an appointment today to see what we have to offer.
Your choice of dress can enhance how your photographs turn out. Here's how.
From disposable cameras to editorial shoots that look like they're straight from a lifestyle magazine, photography trends are changing. Couples are foregoing a setlist of overly posed photographs and instead embracing a more natural approach that better reflects the spirit of the day.
The latest photography trends are in line with this ethos, with more candid shots taking precedence over the usual collection of posed bridal party photos. Many wedding parties are even inviting guests to participate by passing out disposable cameras or ones that use Polaroid-style film.
This doesn't mean the bridal couple don't have any prestige shots. In fact, storytelling has become a greater aspect of a wedding shoot, with couples intentionally choosing a setting or theme that reflects their personality, and then working with a photographer to capture a more creative set of photos. Sometimes these sessions even take place on a different day from the wedding, and not everyone is involved!
As always, we love the creativity and joy couples bring to their big day. And of course, any couple planning to invest in photography will want to consider how their dress will fit into their vision for the shoot. To give you inspiration, we've looked at six trends in wedding photography and picked a dress to go with each style. Take a look at the gowns we chose and let us know what you would choose!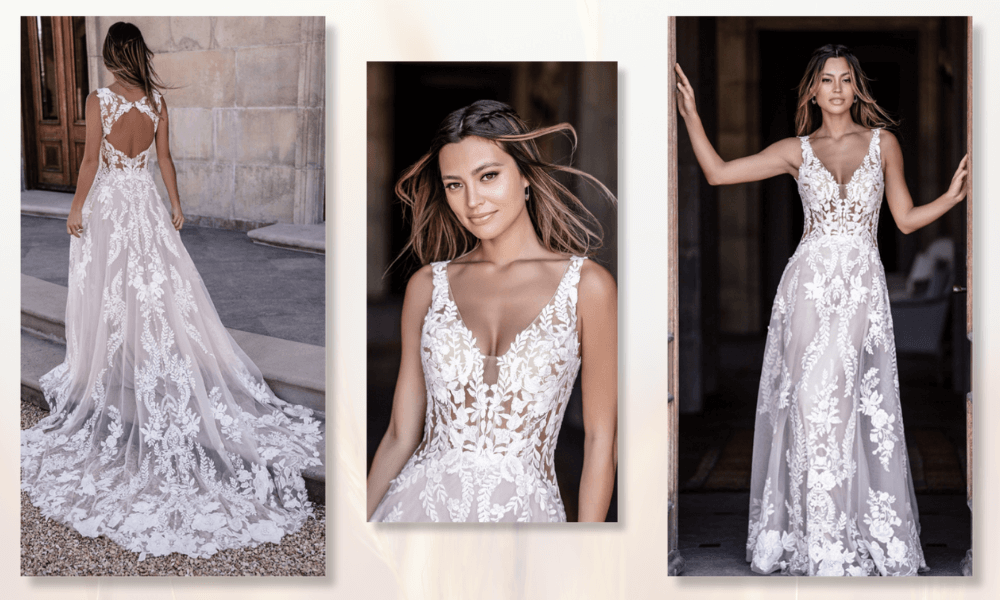 1. Dark Romance.
For years, wedding photography has been bright, almost over-exposed—a literal expression of the happy couple's happiest day. However, more recent trends have taken a dramatic turn, toward moodier images where the bride and groom may be striking a bold or confident pose, but where not every photograph features a beaming smile.
We love the brooding tone, which can lend itself to a more passionate aesthetic. Moreover, the darker filters on the images increase the contrast of the white gown, creating a more dynamic image. Our gown choice for this photography style is Rylan, a gorgeous lace dress with plenty of sheer cutouts and an open back. We carry Rylan in our stores in a plus-sized sample.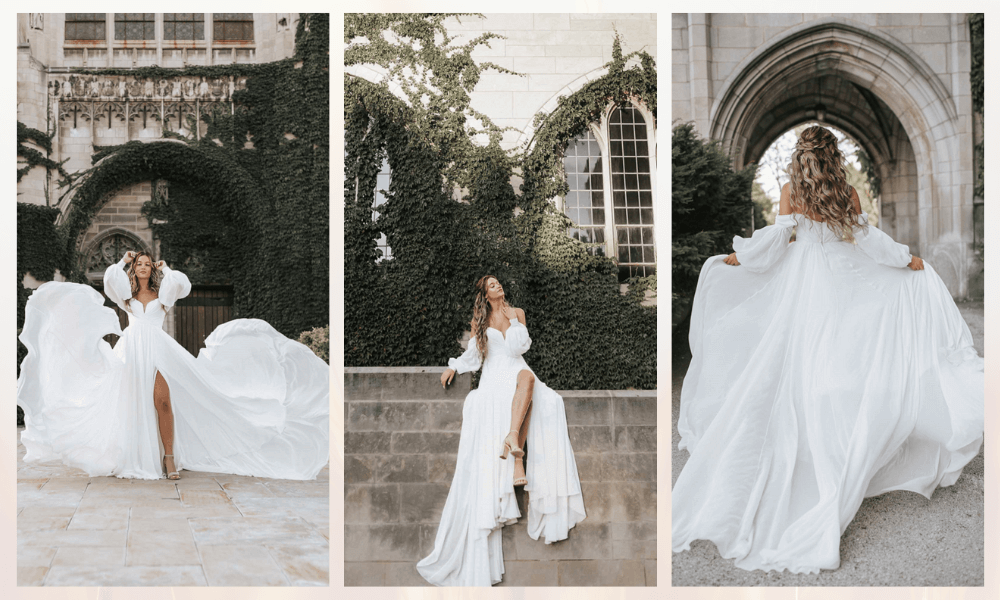 2. Soft Romance.
As fun as an edgier photography style can be, it's not everyone's vibe. For those of a sunnier disposition, soft romance tones down the vivid imagery of ages past into a more natural glow. Brides interested in this photography style may time their wedding shoot for sunset, or ask their photographer to play around with double exposures or blurry shots.
For a soft romantic gown, we wanted to maintain the flowy silhouette and were attracted to Thea for the billowing layers of chiffon. With removable off-the-shoulder sleeves and a thigh-high slit, we can imagine this gown lending itself to any number of gorgeous poses in golden, late afternoon light.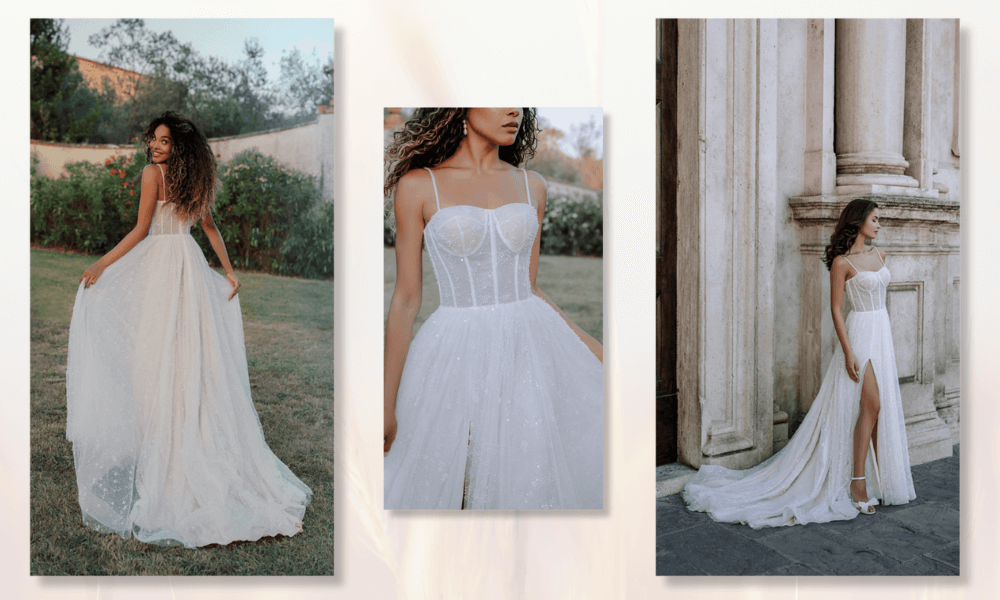 3. Flash Photography.
One of the big trends of the last few years has been an increased use of direct flash to give photos a paparazzi-style glamour. While the bright flash adds a hard edge to some images, it also allows photographers to capture a broader range of nighttime or low-light photographs, which are fun to mix in with the rest of the photography set, especially as the reception moves into the later hours.
We chose Zuma for this trend because we think the pearl-encrusted glitter tulle is perfect for catching the bright light of flash photography. The corset boning and high slit also give this dress a nighttime aesthetic that would be perfect for the dance floor.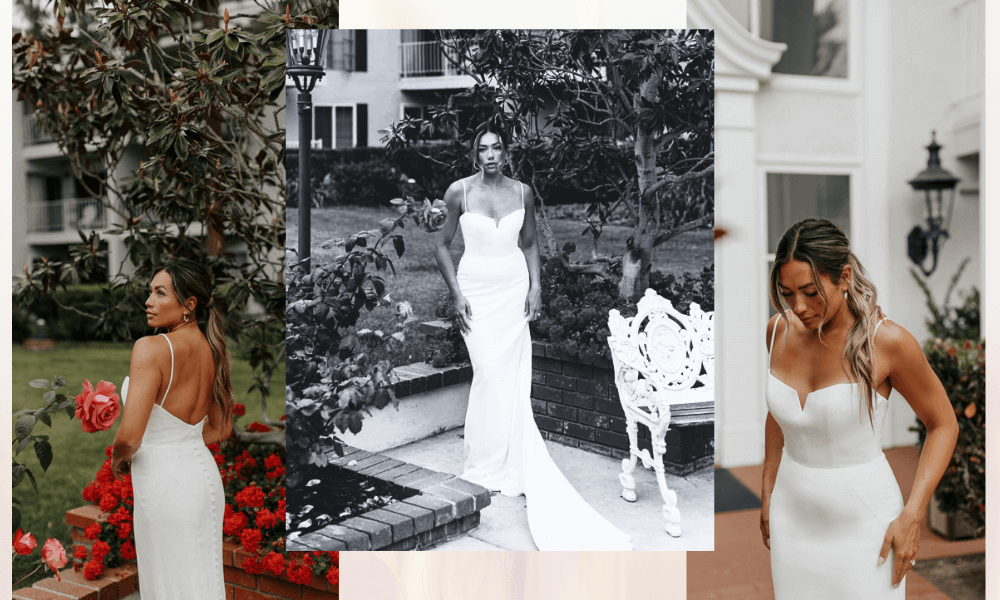 4. Black and White.
Every now and then, photography trends away from black and white—but it can never stay away for too long. It's not just that they feel timeless (a connection to when black and white was the only option), or because they have an unmistakably artistic feel. Black and white simply offers a kind of clarity that full color photographs do not. Sometimes you want the warmth and lush tones of a colored image, and sometimes you want to strip it all away and go back to basics. It's as simple as that.
What better gown to illustrate this point than Vicki, a masterclass in minimalism. As much as we love lace and tulle and sparkles, there's an undeniable draw to crisp lines and a clean silhouette. As with black and white photography, however, the details matter. In Vicki's case, they include a crisp V at the neckline, and covered buttons down the length of the train.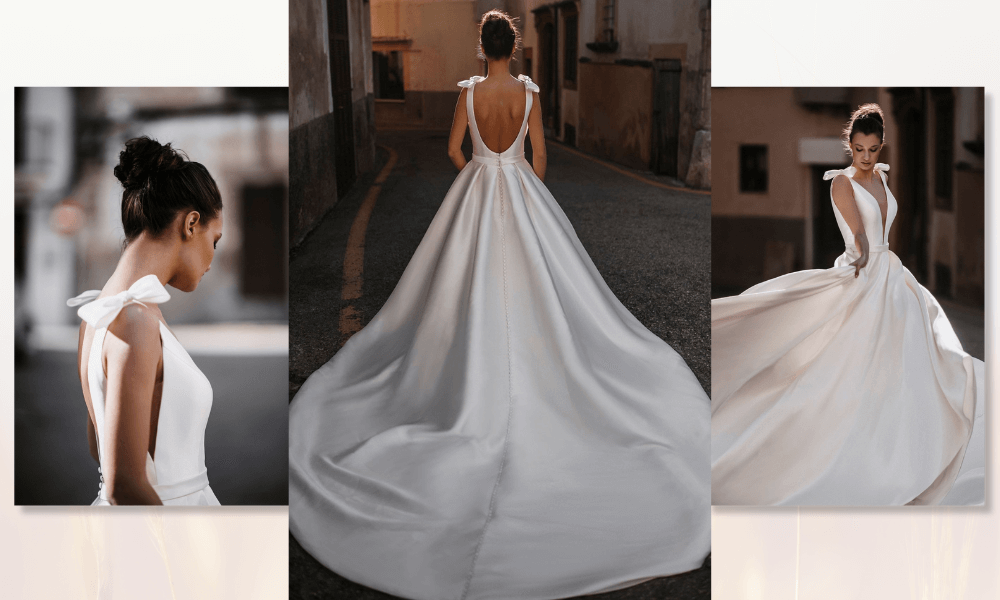 5. Vintage.
We live in a nostalgic era. Gen Z is treating previous decades as a style playground, and even late-marrying Millennials are having fun with trends that would have been popular in their high school or early college days. It's really anything goes in terms of which era you want to conjure.
For us, we love the full skirt on Molly, which we feel is a throwback to the famous 1950s Dior silhouette. The Mikado satin gives this dress structure and elegance, and the shoulder bows are just the touch of charm this gown needs to bring it to life.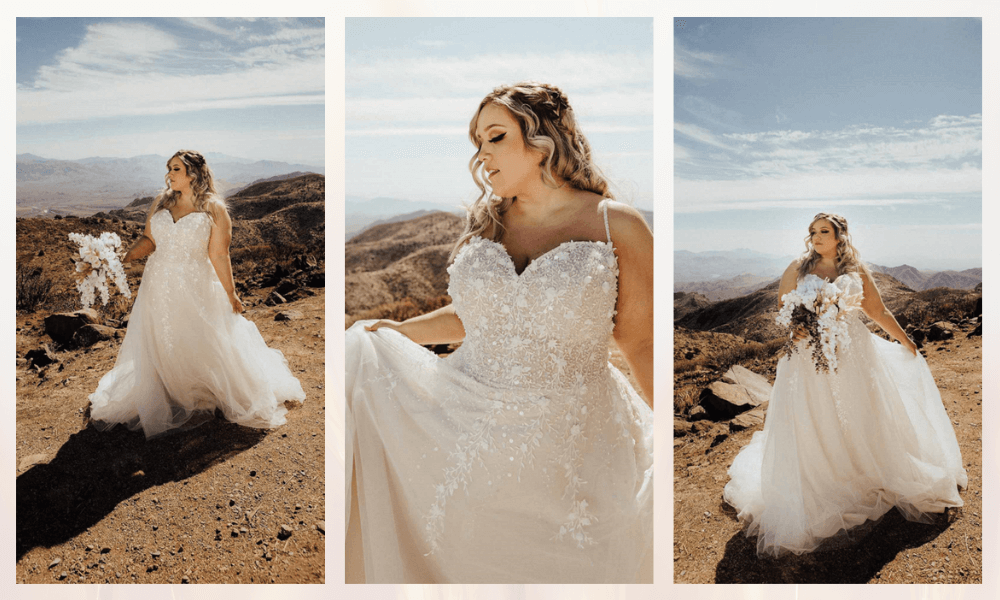 6. Editorial Gloss.
There are all kinds of brides, and as a result, trends sometimes develop alongside each other that may at first seem opposed, but are actually different responses to the same generational shifts. Instagram filters, for instance, frequently create soft or low-res effects while existing on a platform that has trained users to carefully curate and edit their photographs.
So, while some brides are emphasizing soft, candid, or lo-fi photography, others are moving toward a high gloss finish, worthy of a fashion magazine. These are for the detail-oriented brides, who have thought every aspect of their wedding through carefully, and want it all captured in high resolution.
When it comes to details, Calista has everything: layers of lace and tulle, dimensional appliqués on the bodice, sequins and other embellishments for that hint of sparkle, and a flattering sweetheart neckline. If a lifestyle shoot is what you're interested in, she can withstand the scrutiny.
For the visually oriented, photography is a natural inspiration point to begin wedding dress shopping.
If you've already developed strong feelings about how you want your wedding photography to look, that's as good a starting point as any to begin your hunt for a wedding dress. While your photographer will help you achieve your ideal no matter which gown you choose, some gowns will feel more natural with certain photographic styles than others.
That's why we encourage our brides to bring their inspiration photos with them! If you have a specific mood or photographic style you're considering, our TWD-ettes are more than happy to work with you toward meeting that expectation. And if you've recently been engaged, there's no better time to schedule an appointment with us!