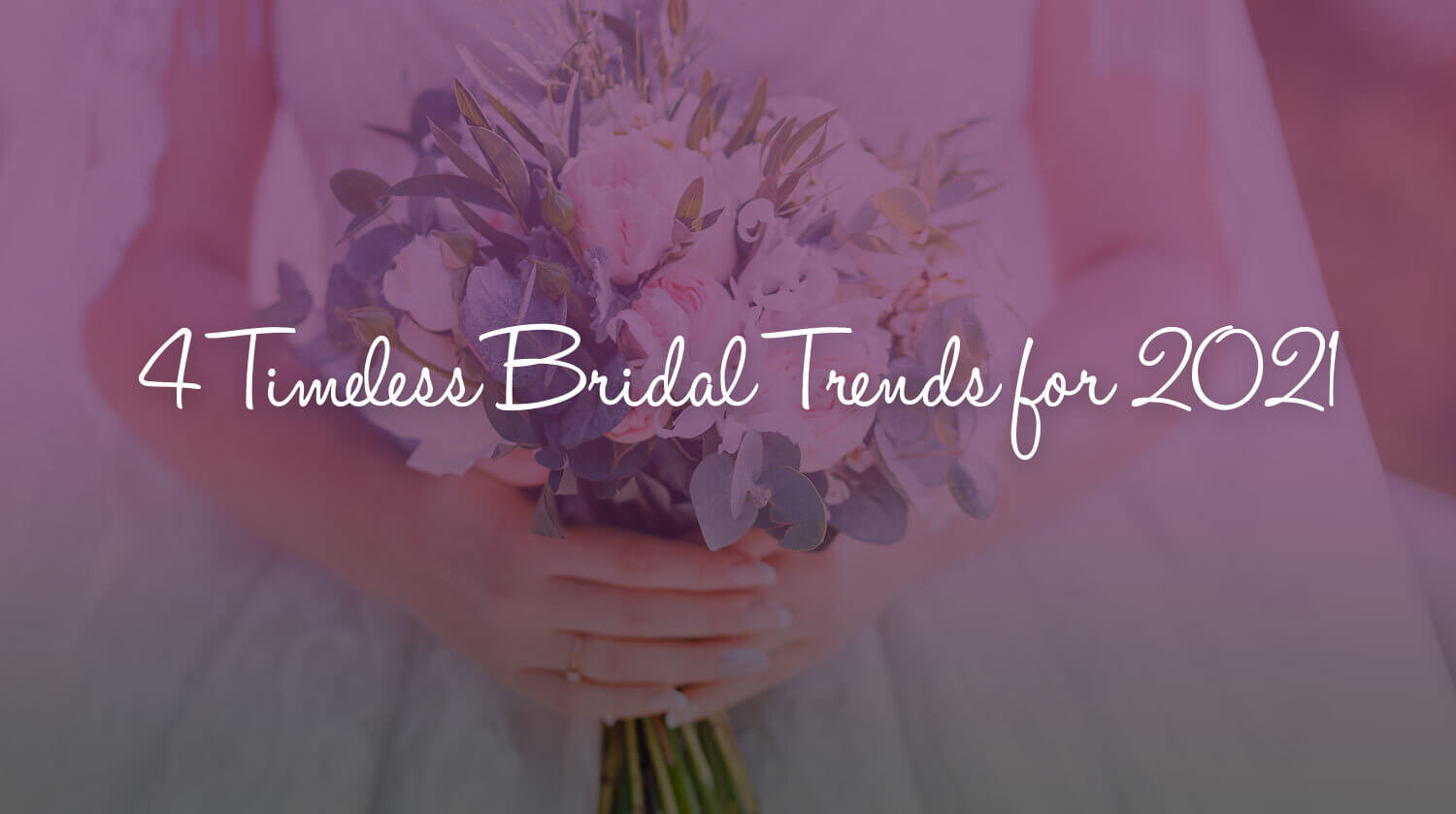 4 Timeless Bridal Trends for 2021
We love a good trend, and the styles that are hot right now are some of our all-time faves.
Bridal styles are ever changing. For many brides, keeping up with what's new is a way to have a look that feels fresh and different, while also hopefully landing on a style that will go on to represent an era. We love keeping track of how bridal trends change over the years, and some of the styles that are popular now are high up on our list of all-time favorite looks. Here's four trends we've spotted this year that check all our boxes for being stylish, trendy, and timeless.
TREND – Sleeves: For a touch of elegance that enhances drama.
Ever since Kate Middleton walked down the aisle, it seems that sleeves have been having a moment. And while Middleton's gown decisions may have had more to do with choosing an appropriate dress for a cathedral, we love how a long sleeve can set off more daring choices elsewhere. Paired with an open back, plunging neckline, or illusion bodice, there's nothing demure about this bridal trend.
Zara, from Lillian West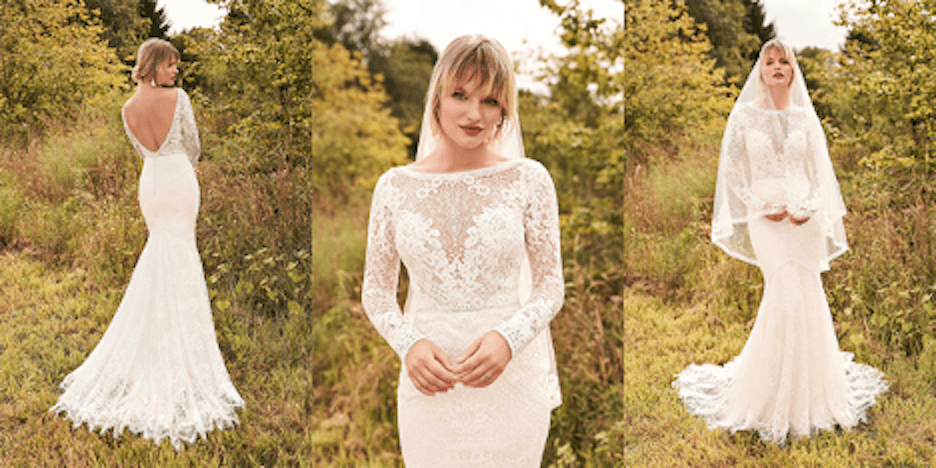 The lace pattern on this dress is stunning, so it's only appropriate to extend it into full-length sleeves, which – fun fact – are removable!  (Perfect for a sleeved look that you can remove for late night dancing at your reception!)  We also love how the open back on this dress balances the high illusion neckline in the front. Paired with a veil, this gown is the epitome of chic.
Elianne, from Lillian West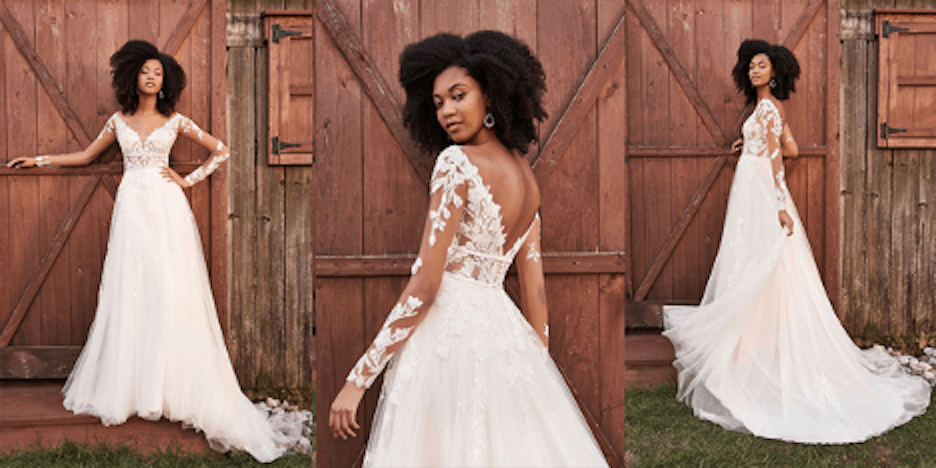 Long sleeves are a trend, but a trend within that trends is to have illusion sleeves with lace appliqués that give a tattoo effect. We love how this gown pairs that look with illusion panels along the bodice.
Martha, from Adore by Justin Alexander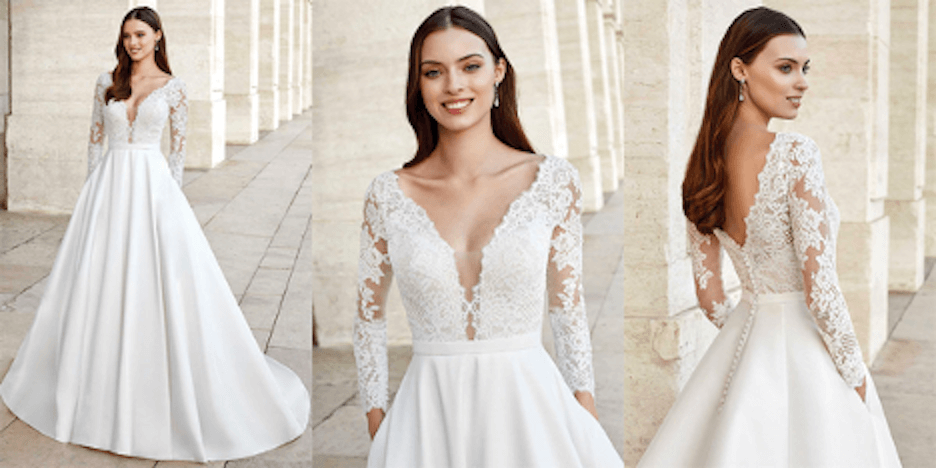 For anyone who really wants that Kate Middleton look, Martha is a regal gown sure to satisfy anyone's ballgown dreams. The low plunging front and the covered buttons down the back add flare to this look.
Farren, from Essence of Australia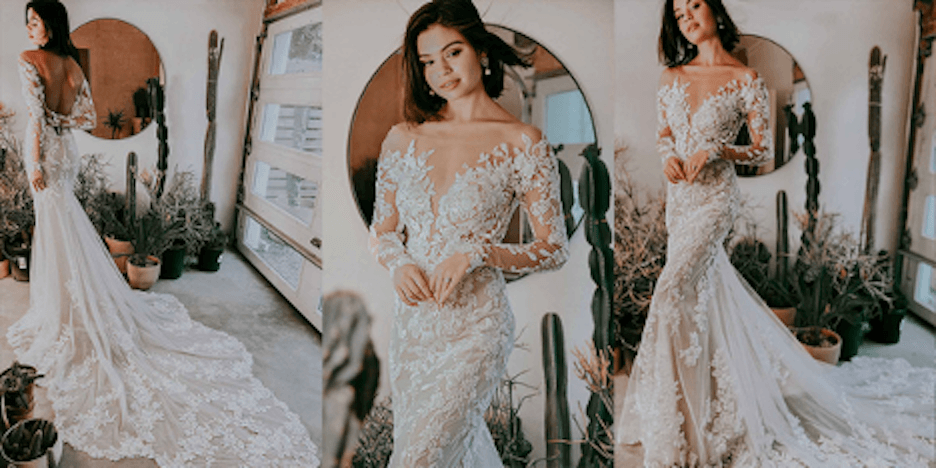 If your heart is set on a sleek and sexy look for your wedding, Farren is the perfect choice. The illusion lace on the sleeves extends through the bodice and transitions perfectly into a lace overlay on a rum-colored underskirt.
TREND – Leafy lace: For a botanical twist that goes beyond traditional floral patterns.
Lacework has traditionally featured botanical patterns, but modern takes have focused on leafy designs rather than the usual floral work. We love how trailing leaves can add an organic feel to a dress without fitting into the expected mold. Leaf patterns also tend to be delicate and understated, for brides who want a subtle touch.
Emmaline from Essence of Australia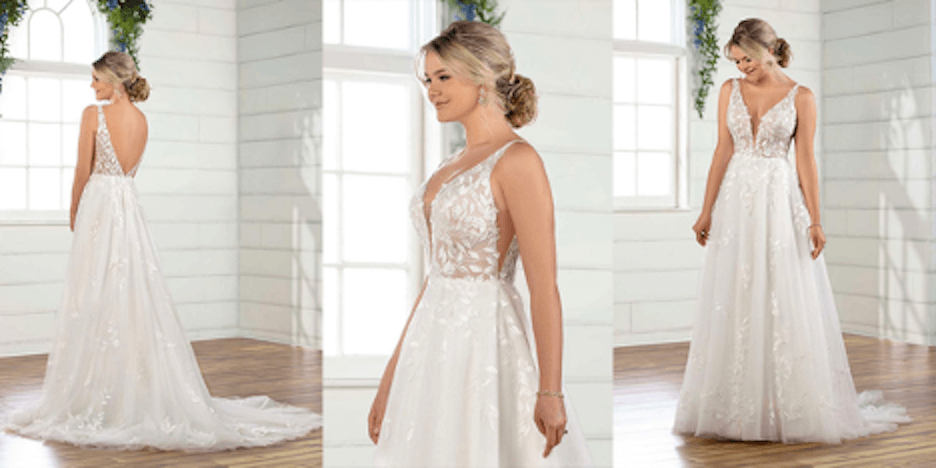 Emmaline is the perfect choice for brides who want a traditional silhouette with a modern twist. The leafy lace on the bodice gently trails down into the skirt, giving the dress a simple yet elegant design.
Raine from All Who Wander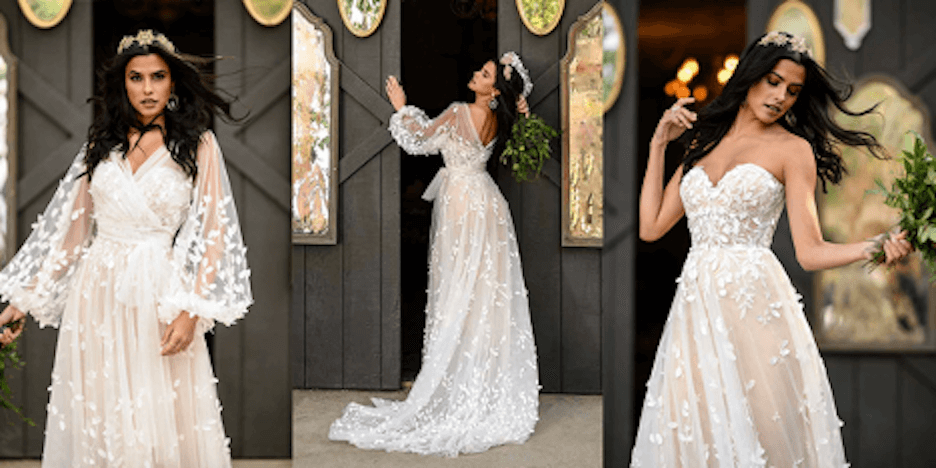 The Raine gown from All Who Wander combines the best of two trends: Delicate, leafy lace with a separate sheer jacket, named Neve. This is the perfect gown for brides who are planning a wedding in the early spring or late fall, and want a little protection against cooler weather. It's also a great way to transition from a church wedding to a reception.
Nessa  from Adore by Justin Alexander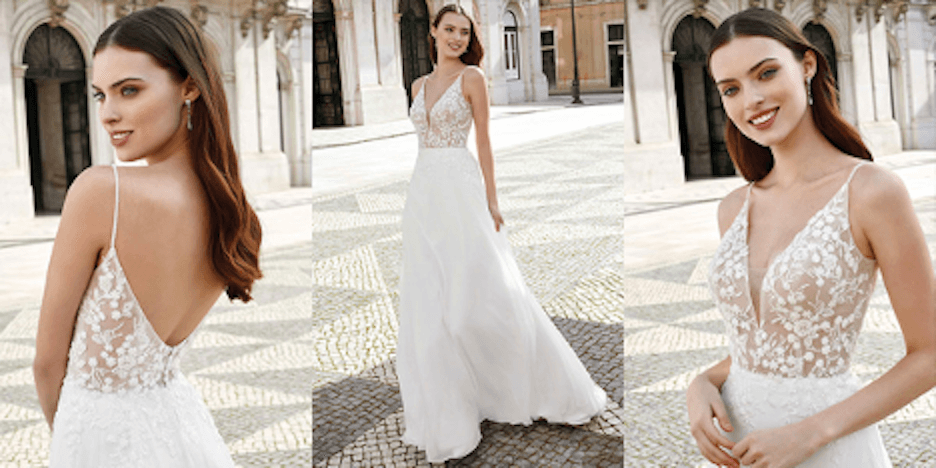 Nessa shares some design elements with Emmaline, with a few twists of its own. We love how the underlay fabric gives the bodice a delicate illusion look, which is perfectly complemented by the thin straps.
TREND: Shine, shimmer, and sparkle: For the newest take on bling.
For many years, "bling" on a wedding dress has meant intense beading, usually with larger crystals and other eye-catching elements. However, the latest trends have incorporated bling into an all-over effect, with fabrics that shimmer all over, sequins that catch the light just so, and dazzling embroidery that adds sparkle to the entire dress.
Luna Leigh from Abella
Like many gowns on this list, Luna Leigh combines two trends. The seamlines and silhouette of this dress are classically simple, allowing the fabric of this dress to shine—literally—setting off the delicate leaf patterns of the fabric.
Mikaela from Abella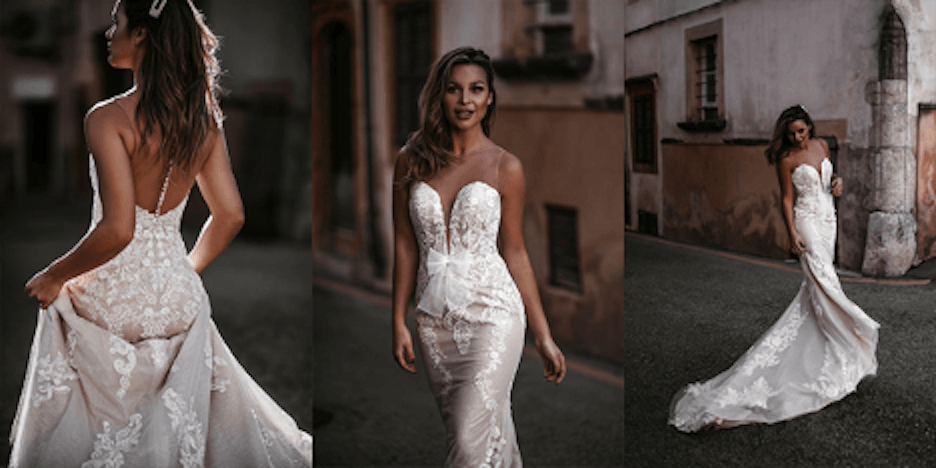 The only thing subtle about Mikaela is the soft shimmer of the dress fabric, which is made of diamond sparkle tulle. The effect this fabric has on the gown has to be seen to be believed.  While we at TWD are true bow lovers, we do realize that not everyone else is!  We added a snap to this bow so that our brides could see this dress with and without the bow.  Come by our boutique to take a look!
Nadine from Abella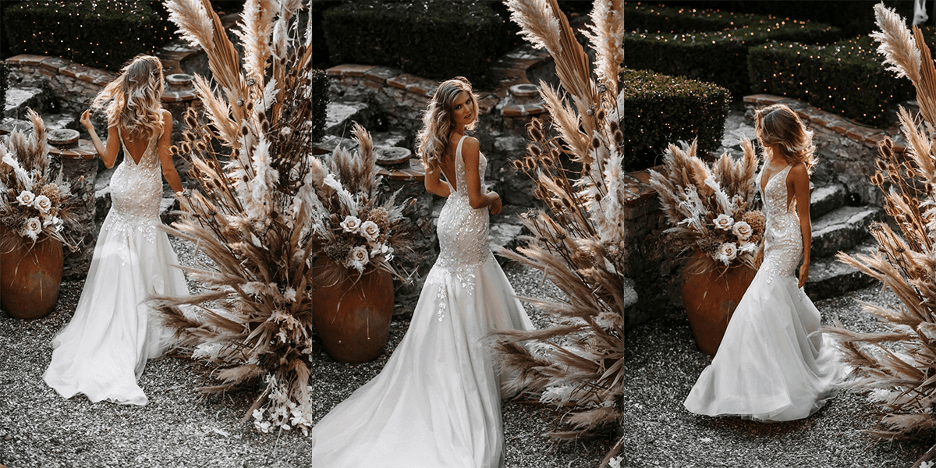 Nadine has the perfect fit-and-flare silhouette for brides who want to show off their figure without sacrificing volume. Featuring sequined lace and sparkle tulle, Nadine is also a stellar choice for brides who want extra glitz and glam.
Crystella  from Stella York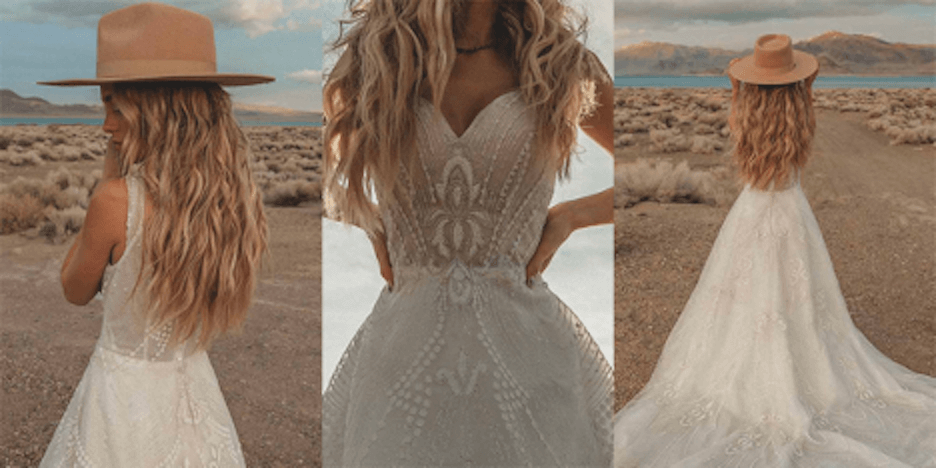 Finally, if you're looking for just the right amount of beading in your gown, Crystella is the boho dress of your dreams. We love how this dress features an embossed design that adds shine to an embroidered pattern that reminds us of art deco designs from the 1920s.
TREND – Large floral appliqués: For an oversized look with a traditional design.
As we said before, flowers have a long history in lace making. In particular, we love how these gowns use large lace appliqués to draw a pattern from the bodice into the skirt. It's a way to take a step back from a head-to-toes lace design without having a hard delineation from the areas with lace and those without.
Eileena  from Lillian West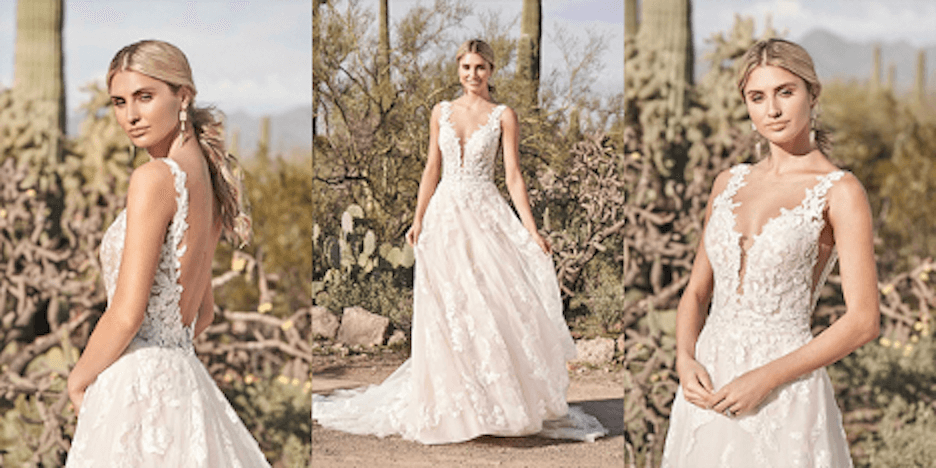 If you love lacework but are more drawn to traditional floral designs, large floral appliqués are another way to combine trends with traditional elements. Eileena is a perfect example, featuring oversized appliqués in the skirt along with a low back and plunge neckline.
Mirabella  from Essense of Australia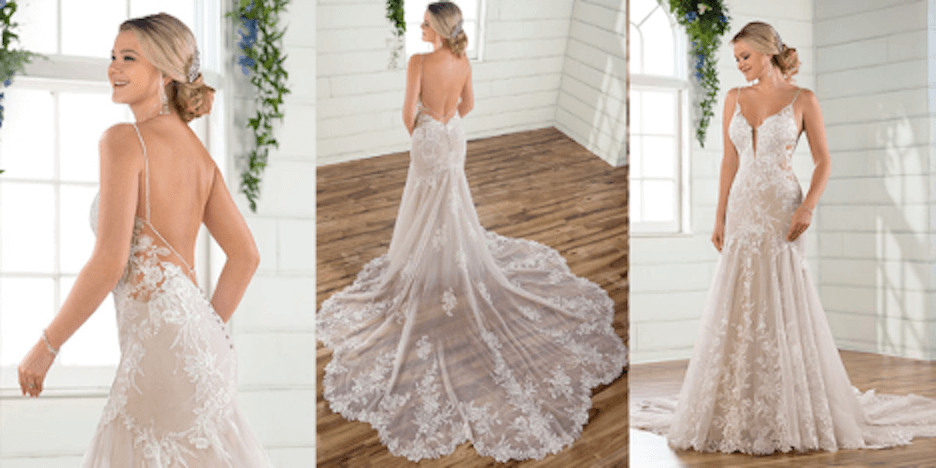 The lace appliqués on Mirabella simply float over the underdress on this gown, which also features a bare back and the most delicate of straps.
Alaina from Essense of Australia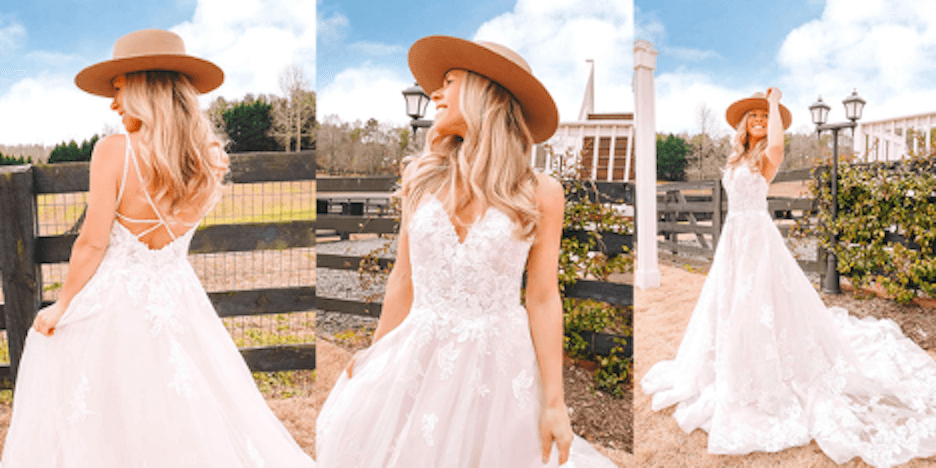 Finally, we love Alaina not only for the large appliqués, but also for the beautiful beaded straps that mimic lacing at the back. This gown is a true stunner that is just as appropriate in a church as at a more relaxed setting with boho vibes.
Find the trends that will be timeless.
We've noticed that many people use the word "trendy" to mean "quickly dated." And for some trends that's the case. But just as often, a trend that captures its moment in history just right will go on to become iconic for its era.
Brides should choose whatever dress feels right for them. But if you're having a hard time deciding whether a trend is right for you, think about how you'll feel about it in a decade. Do you want your dress choice scream "summer of 2022" (and there's nothing wrong with capturing that perfect trend!), or do you want a gown that would be the perfect retro inspiration for the future?
No matter what you want in your gown, we hope you'll try it on in our boutique! Come check out the latest styles and see if any of them feel right for you. Our TWD-ette stylists can help you find a gown that you'll love decades from now as much on the day you wear it.