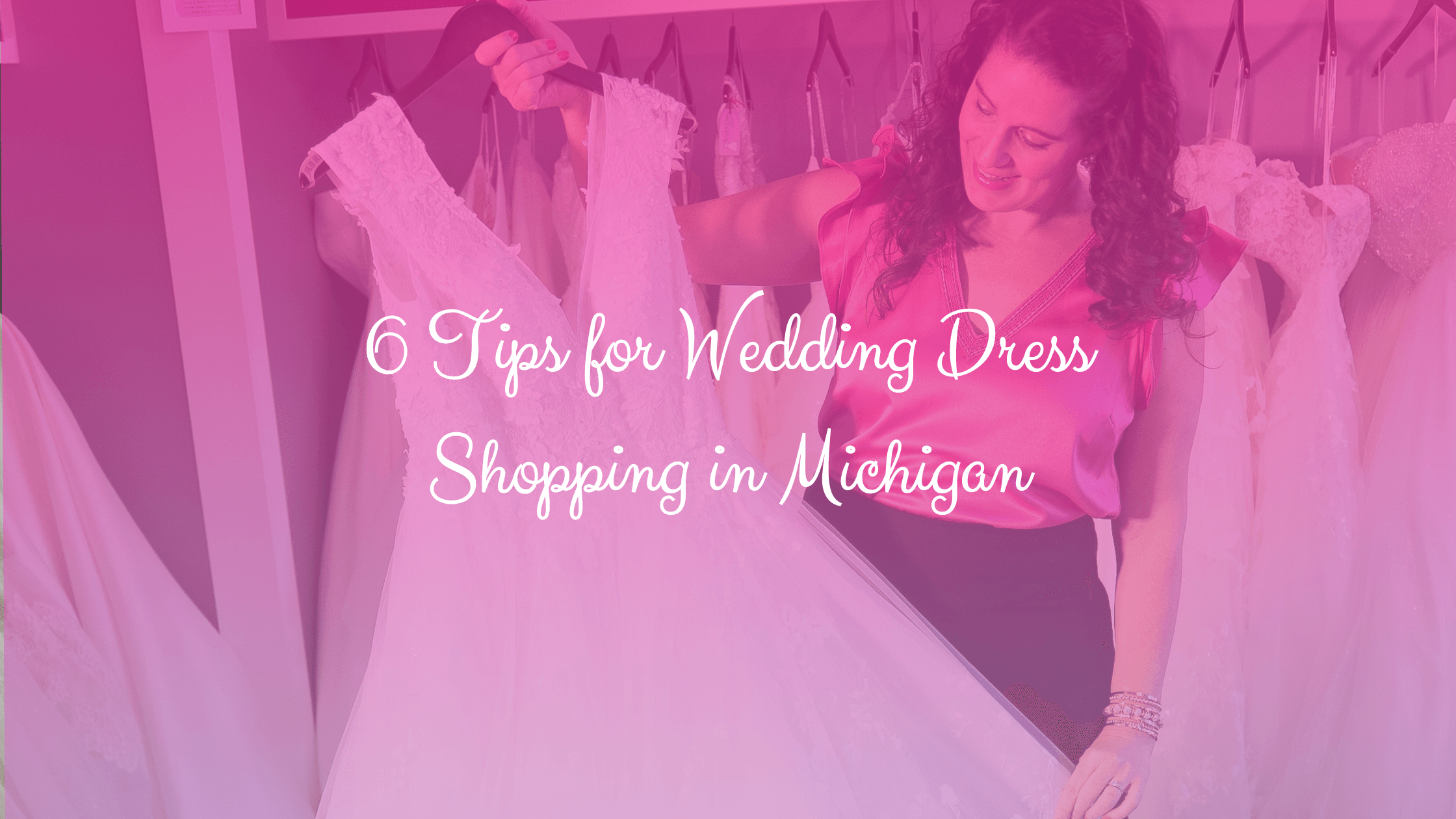 6 Tips for Wedding Dress Shopping in Michigan
Michigan is full of charming, small-town bridal shops. Here's how you should prepare to make the most of your time!
Michigan is a state of small towns. While there are definitely some cities that make for popular bridal shopping destinations (Detroit, Grand Rapids, Lansing), no city holds pride of place as the obvious spot to find The Dress.
This gives brides plenty of range when they're searching for a good bridal boutique, which is especially great for brides who want to enjoy the charm of small town shopping. Our bridal shop in Brighton, MI is a perfect spot for any bride who wants to combine her dress shopping with a stroll around our charming downtown location, which includes a number of cute cafes and restaurants that are perfect for a celebratory dinner, or a pre-appointment brunch or lunch for those who want to make a day of it.
Bridal shopping is the perfect time to make beautiful memories with loved ones, but forethought is important to ensure that your time is stress free. If you're planning to do some wedding shopping in Michigan, here are our top tips for planning your time.
1. Consider where you purchase your dress.
We frequently see brides come into our Brighton shop from as far away as Alpena or Traverse City, because they have family in town and want to go shopping with their mom. Or maybe they've been living here for a while, but are planning to go back up north for the wedding. Either way, we have found that most brides are looking for a Michigan bridal shop either close to where they live, or close to where they plan to be married.
While neither of these options is necessarily better than the other, both can also lead to some practical inconveniences. Whichever option the bride chooses, she'll be traveling either with her dress to her wedding location, or traveling to her dress for alterations. If the bride is getting married in the winter and is worried about a snowstorm blocking up the roads, we would recommend making sure she has her dress with her a few weeks ahead of her wedding to avoid disaster.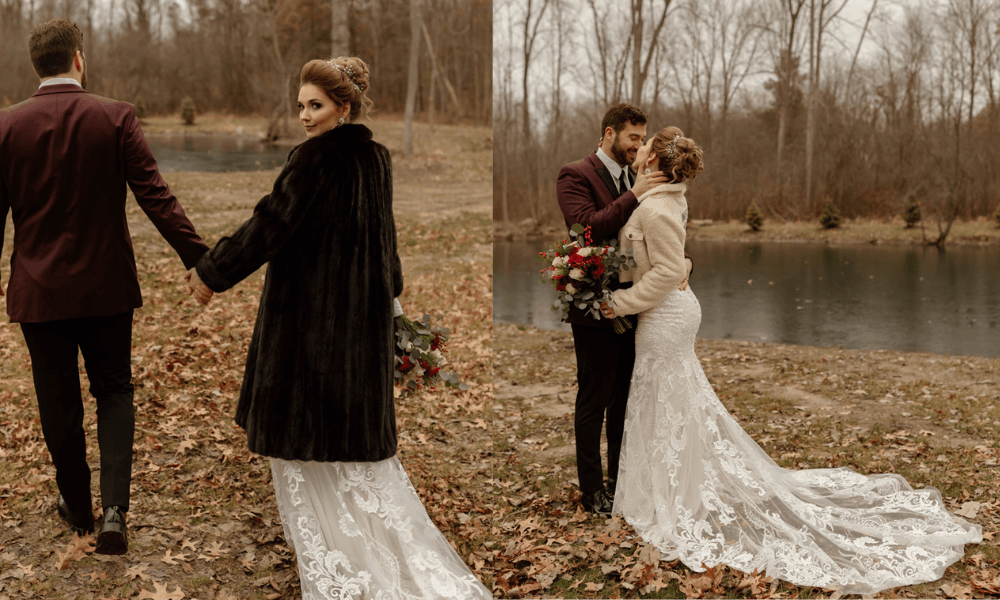 2. Think about Michigan weather when choosing your dress.
Anyone who has spent more than a week or two in Michigan knows how fickle the weather can be. While we do have four distinct seasons, it's common for summer weather to extend well into the fall, or for a surprise snowstorm to hit in mid May.
This may lead you to think that bridal shops carry special dresses for winter or summer. In fact, most dresses work for every season, and making any gown season-appropriate is more about how you style it. You'll probably want to avoid long sleeves for summer dresses, or choose gowns with heavier fabric in the winter, but mostly you'll want to plan for the weather by picking a beautiful coat to go with your dress for outdoor pictures, or bringing a pair of umbrellas if the day looks like rain.
While we don't have seasonal dresses in our store, we do update the inventory with new gowns whenever one of our designers comes out with a new collection, which is usually twice a year.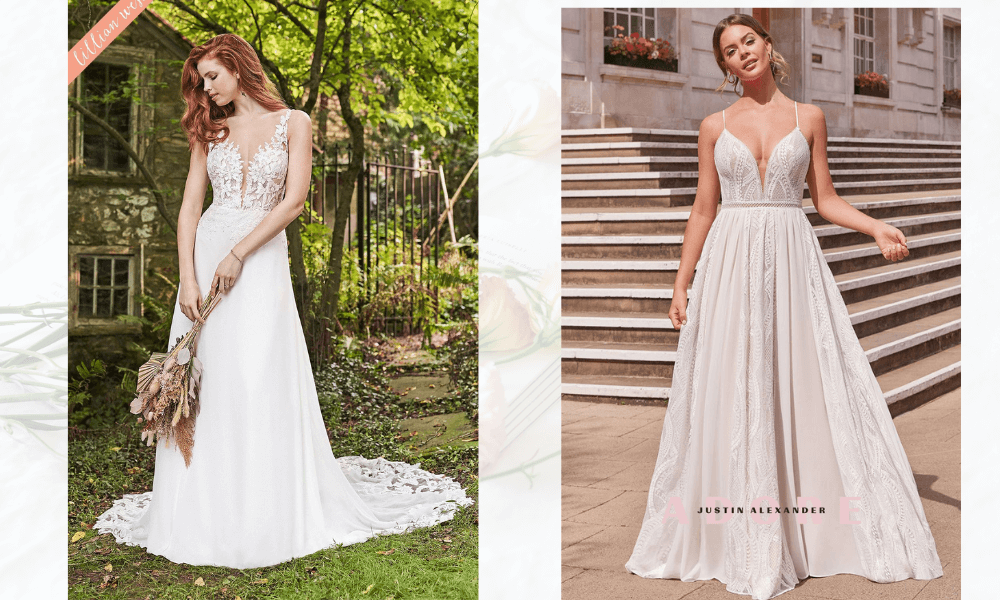 3. Make sure your boutique carries your designer.
Speaking of designers, if you've done your research and have a favorite designer, you should also make sure that the boutiques where you plan to shop carry that designer. Most wedding dress shops are selective in the designers they have in their store, as well as which dresses from each designer they stock. 
Some designers may be easier to find in Michigan than others, and some dress styles are more popular as well. Because of this, it's important to check with your bridal boutique ahead of time to be sure they have what you're looking for. If a boutique carries your designer but doesn't have your dress, be sure to ask if they have a sample program. Some wedding shops, like ours, can order in a sample of a dress from one of their designers, even if it's not one of the ones they usually carry in their store. Also keep an eye on sample sales and trunk shows, which can give you a chance to find a special deal.
4. Think about how many trips you want to do in one day.
Some brides want to do all their wedding dress shopping in one day, while others prefer to take their time. Either option is fine, but you should plan your trips carefully. We recommend not planning to visit more than two or three boutiques, as this is more likely to leave you feeling conflicted. Instead, you may decide to visit one boutique in the morning, take a leisurely lunch to think over what you saw, and then schedule another boutique for the afternoon.
Or you may want to only do one boutique per weekend so that if you find your dress at one boutique you aren't having to cancel other appointments. This option works best if you're planning to go shopping on your own, or if you have a couple people who want to go shopping with you but you also want to keep your entourage small. Which brings us to another point…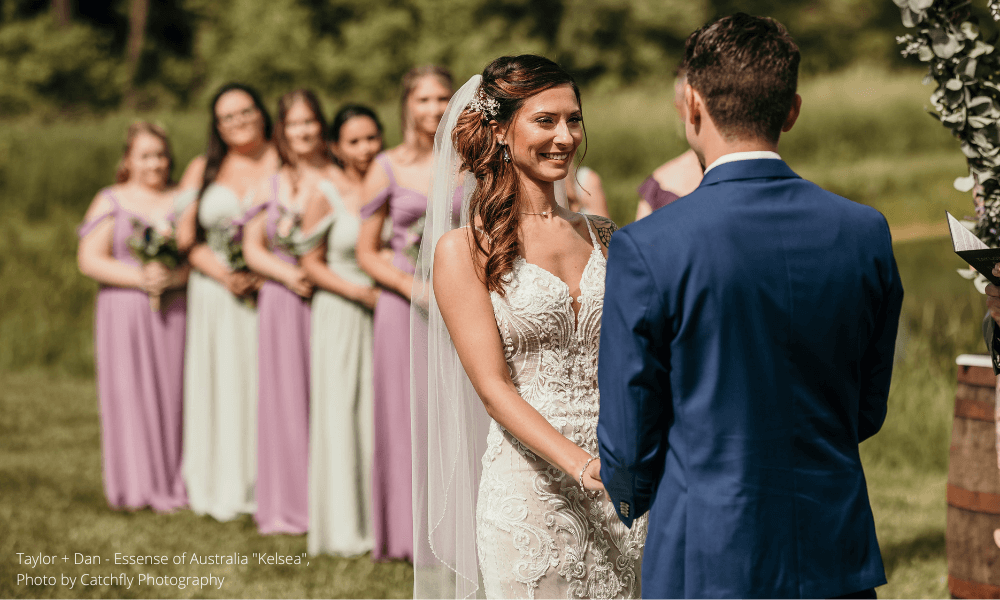 5. Plan your entourage.
Some people prefer to go shopping on their own so that they can make their decision without outside pressure. Others feel like they can't say yes to a dress without key people in their life present—their mother, their grandmother, their sister, or their maid of honor.
The problem is that the more people you have with you when you go bridal shopping, the more likely you are to have conflicting opinions. Because of this, we often recommend that a bride only bring one or two people with her at a time. If you do want to bring more people with you, consider bringing them in for a celebratory appointment where you try on your top favorites and say yes all together, or even plan a separate appointment for picking out accessories with everyone present. The point is that there are many appointments at which you'll be in your dress, so there are many opportunities to bring all the people you need to enjoy the fun and show off your gorgeous gown!
6. Know when to stop shopping.
Finally, you can't keep shopping forever. We've seen many brides who feel hesitant about saying yes to their dress for any number of reasons, from being worried about the cost to feeling anxiety over coming to a final decision. Brides have come into our store as their first stop out of a dozen, or as their fourth or fifth stop with more to go.
Unfortunately, this strategy is bound to leave a bride torn between multiple dresses. If you've already found two dresses that you love at two different stores, it's time to stop. Going to more stores will only leave you with more dresses you love.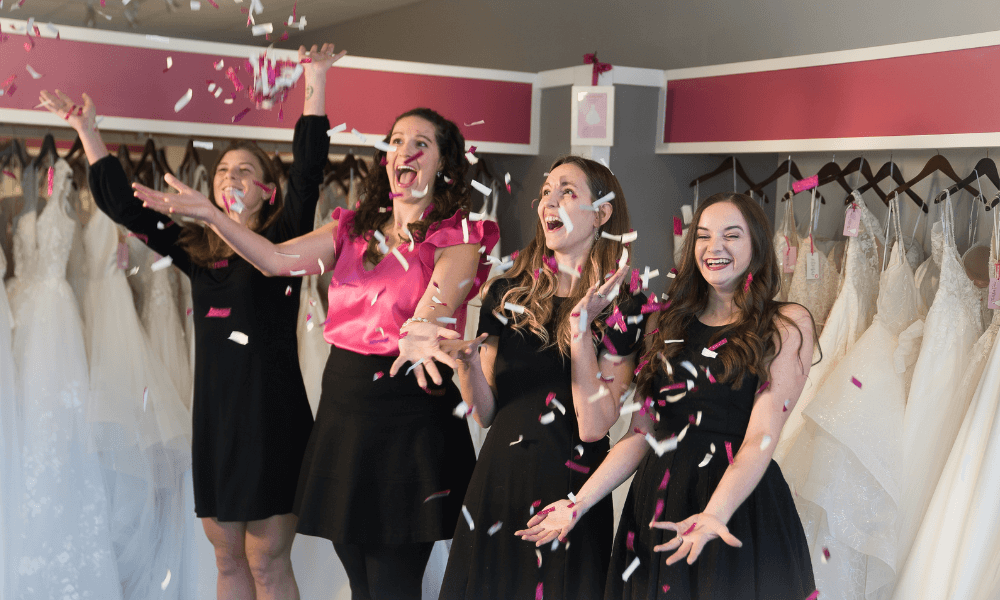 Ready to go wedding dress shopping in Michigan?
If you're looking for a bridal boutique in Michigan, our Brighton store is ready and waiting. Located less than half an hour north of Ann Arbor and forty-five minutes west of Detroit, we're a perfect stop for anyone who wants to enjoy small town shopping in the region. Make an appointment with us today to get started.