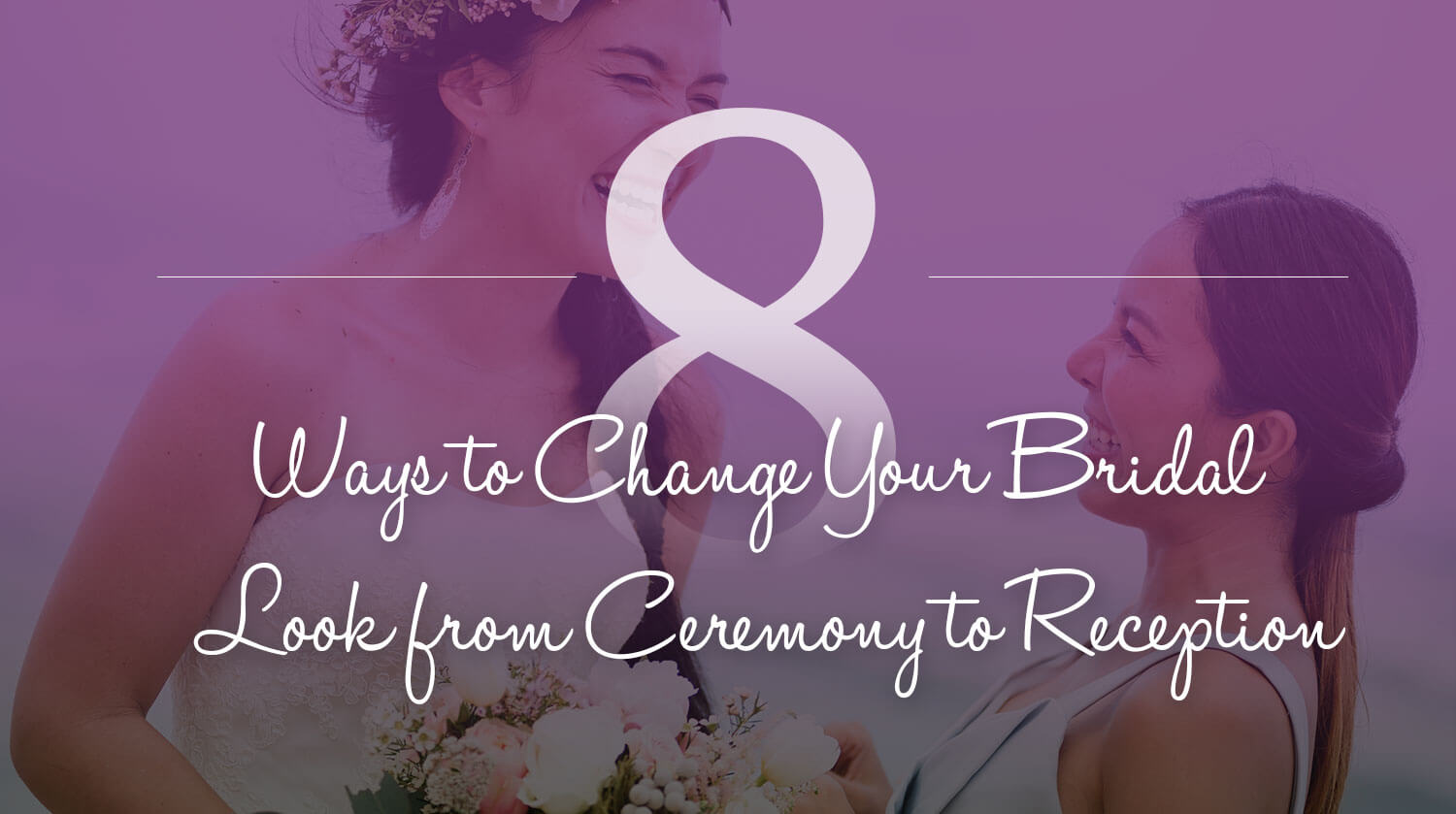 8 Ways to Change Your Bridal Look from Ceremony to Reception
Want to switch up your bridal look without buying a second dress? We've got you covered.
If you've been to more than one wedding, you're probably well aware that the ceremony and reception are two very different events. What works in one—dramatic trains, cathedral-length veils—will quickly become a hassle in another. On top of practical concerns, many brides also feel that the expectations about what they should be wearing are different in each location. Many brides want to wear a more traditional, conservative style in church, and save the more trendy or revealing styles for the reception.
Some brides have gone so far as to buy two entirely different dresses for each venue, but this is obviously an expensive option that is out of the price range for many of our brides. We've also worked with enough brides to know how many of them never want to take off their dream dress once they've found it. Instead, they're looking for creative ways to change up their look from day to evening—and we are here for it.
We've created a round-up of creative ways to change your wedding look between ceremony and reception. And just like your wedding style, these are easy to mix and match!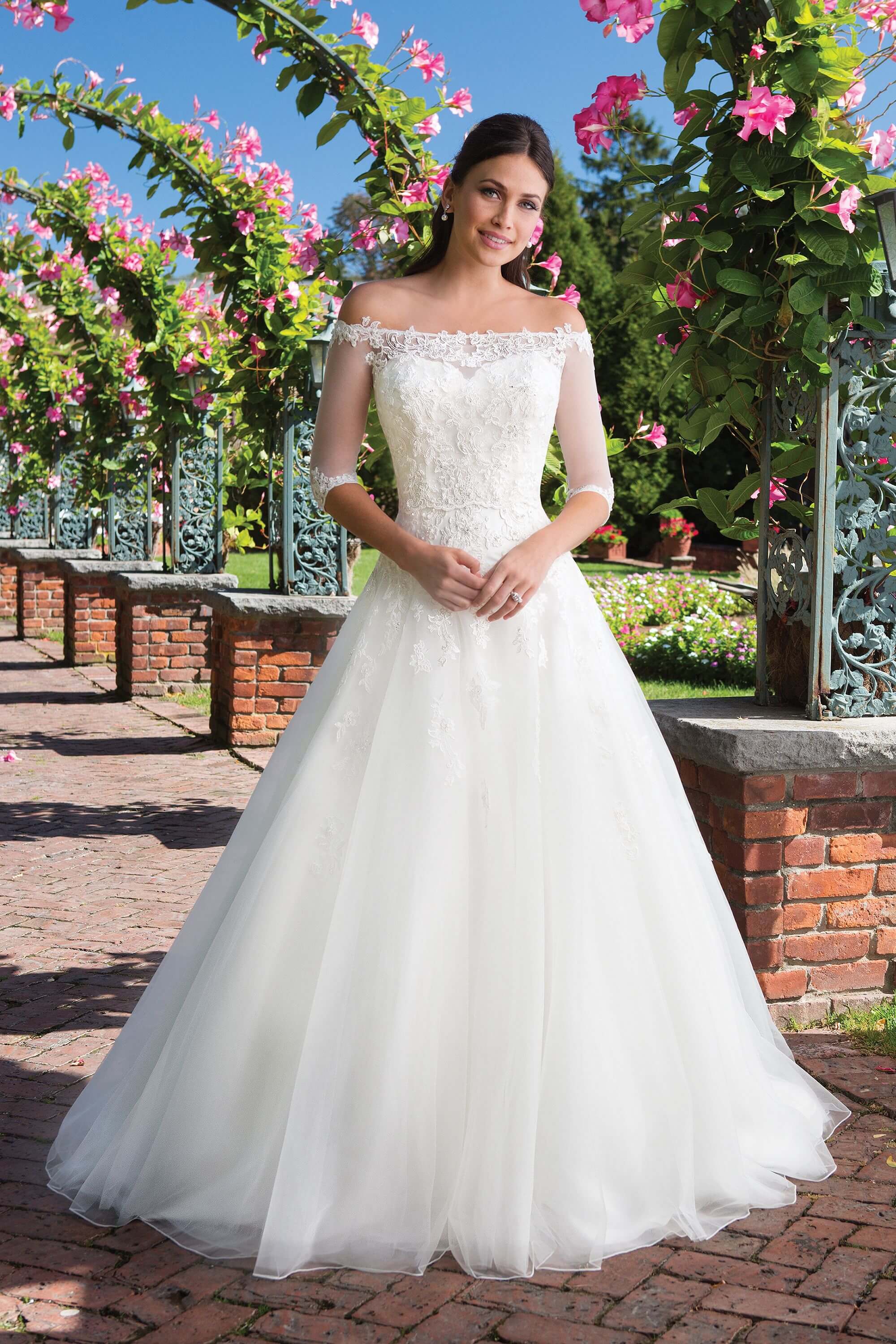 1. Wear a lace topper or jacket during the ceremony.
Your ceremony venue may have a dress code about what is considered appropriate to wear—especially if your ceremony is more traditional or religious. Convention aside, many brides themselves want a more demure look for the ceremony. This can be a problem if you've also got your heart set on a strapless dress with a plunging back. Fortunately, a lace jacket is here for the rescue. We love the look of lace sleeves for the ceremony, but they can be constricting once you hit the dance floor. Lace toppers give you the best of both worlds!
2. Add a splash of color for the reception.
White is the traditional color for brides, but conventions in this regard are beginning to shift as more and more brides strive to incorporate more personal details into their bridal look. While you probably want to keep the traditional look for the wedding, the reception is the perfect place to add a colorful sash, incorporate some of your bouquet flowers into your hair piece, or throw on a bright pair of shoes.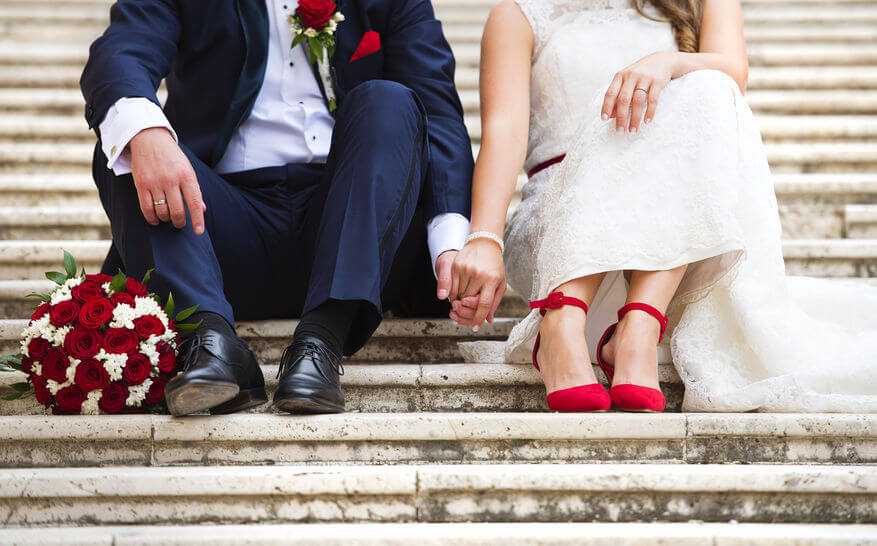 3. Put on your party shoes.
Speaking of shoes, you may want to consider a few different options for your wedding day. Depending on your dress style, you may not see much of your feet during the ceremony, and you may even want to have a pair of boots ready if you plan to hike out into the middle of a meadow or through a field of freshly-fallen snow for your pictures. But once you're ready to dance the night away, you want to be sure your shoes won't let you down. Look for comfort, but also think about adding some sparkle and color to your footwear. Just be sure that you pay attention to heel height, as this will affect the look of your hemline.
4. Glam up your makeup.
Makeup styles often vary greatly from day to night. In broad daylight, simpler, more natural makeup styles fare best, because the strong light is likely to make heavier makeup more noticeable. But once evening falls, that simple makeup may make your features harder to distinguish in the dim lighting. Plus, the reception is just the right time to pop on a bold lip color or add some smoky eyeshadow to your look. Whatever you choose, make sure you practice the two different looks ahead of time so that you know they will work together.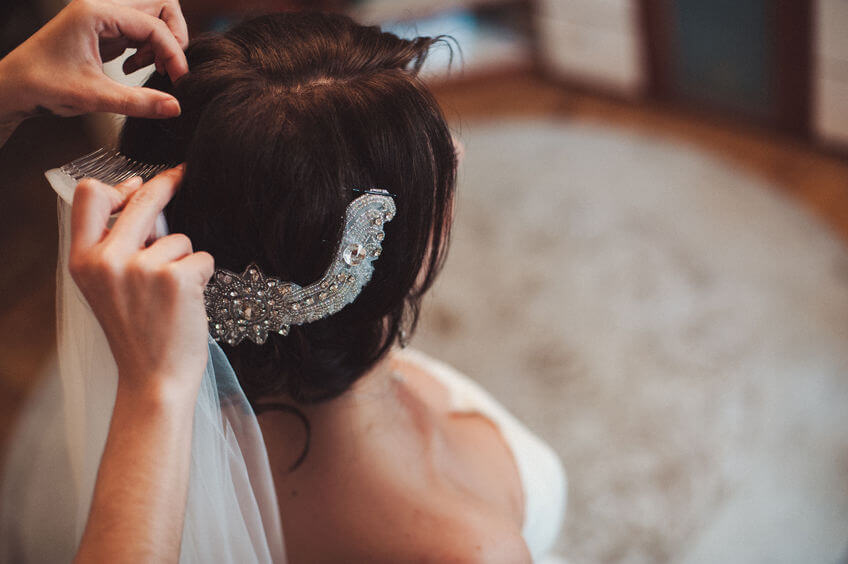 5. Substitute veil for tiara.
Veils are a romantic and dramatic way to style a wedding dress, and one of the key elements to pull the look together for a ceremony. But once the ceremony is over, a long veil can quickly get in the way and become a hindrance during dinner and dancing. Fortunately, it's easy to remove a veil and substitute it with another stunning hair piece. So, if you're torn between a tiara or tulle, why not plan on both?
6. Change up your jewelry and add a bit of bling.
Once you start changing up your look, you may realize that some of your accessories don't fit the style as well as you had planned. Chandelier earrings may be too much with a tiara, for instance, or you may want a statement necklace that would be too much for church. Adding and removing jewelry is an effective way to customize your bridal look and make it all your own.
7. Let your hair down.
Choosing a hair style can be tough. Up? Down? Half up and half down? Why not one of each. Pick a sleek style for the ceremony, then pull the bobby pins out for the reception. Be ready to touch your style up with a curling iron, or have a plan for adding in a new hair piece.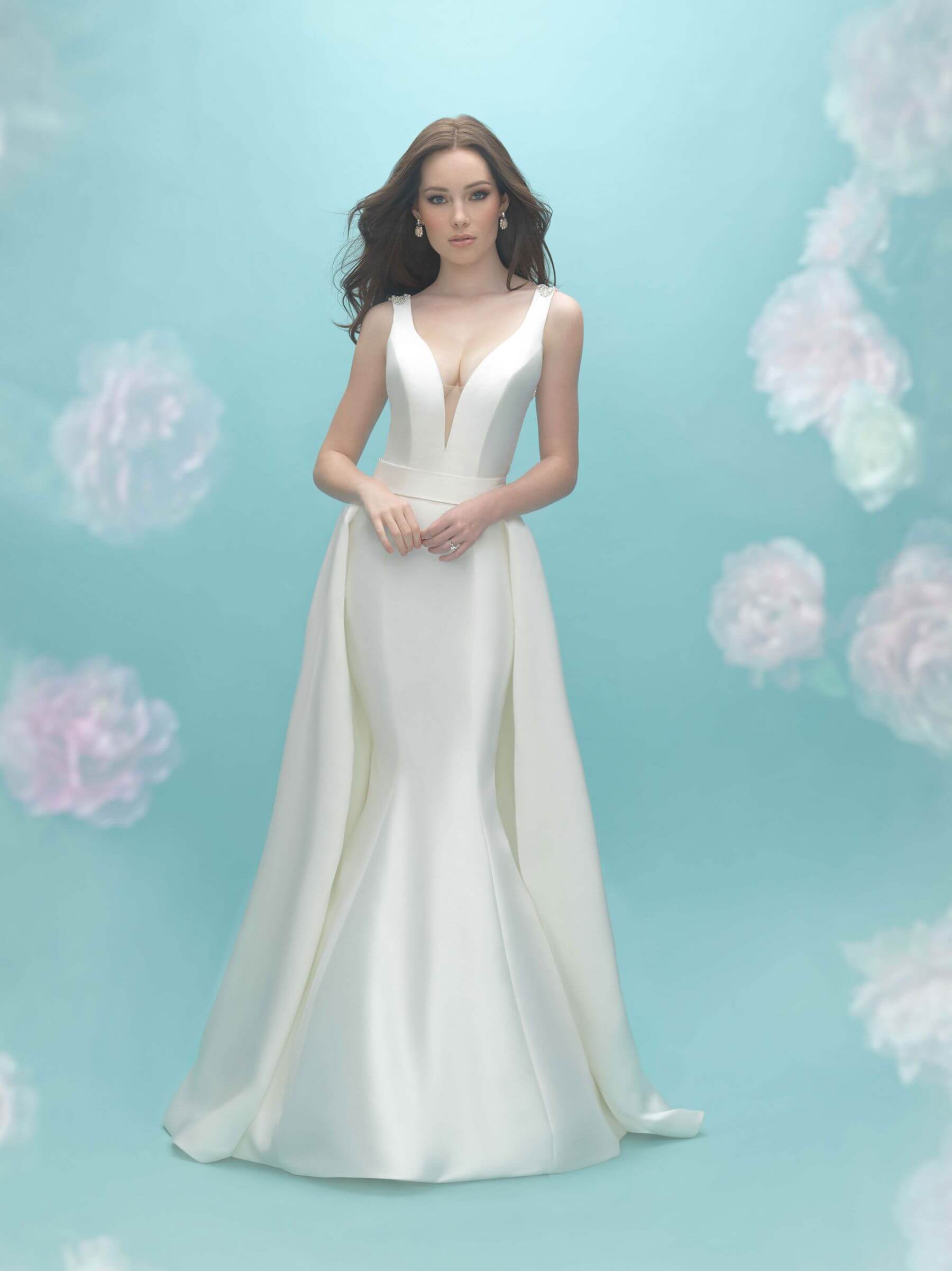 8. Wear a removable train or overskirt.
Two-piece bridal outfits are becoming more popular as they allow brides to switch up their entire silhouette from day to night. Maybe you wanted a full ball gown for the church, but a short party dress for the reception? Have at it. Or, for a similar and faster way to change up your bridal style, try a removable train or overskirt. These are less pricy options that still allow for the dramatic day-to-night transformation you want, and are easier to work with than two different skirts.
There's a lot you can do with just a few changes.
Some brides are interested in a dramatic costume change between the church and the reception. Others want only subtle alterations that make it easier to move around in a crowded room. Either way, altering your wedding look doesn't have to be a major ordeal. In fact, you can accomplish a lot with just a few of the changes we mentioned above.
Whether you choose to keep your bridal look the same or change it entirely is up to you. This is your day—express yourself however you choose.