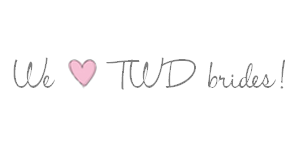 And the winner is . . .
So as many of you know, today is the day that I am announcing the winner of our raffle!  Each bride that found her perfect dress at The White Dress this week was entered into the raffle to receive half off her wedding dress!  And it has been one exciting week – we couldn't be happier with all the events that took place, the people that visited, the vendors that helped out – all to make The White Dress's Grand Opening Celebration one fabulous event!  So, if you visited the shop and/or helped out in any way, please know, from the bottom of my heart, how thankful I am!
So… get to it already, right?!
Well, this lucky bride came to our shop way back in December for the first time and had been anticipating TWD opening since she lived nearby and passed our "Coming Soon!" signs.  Her dress is truly perfect for her, and just so happened to "have" the same name as her grandmother.  So, if that isn't enough hints, I don't know what else to say, except…
Congratulations Lindsay!!  You have won the grand prize of half off your dress!!
Thank you to all the brides who made our Grand Opening Celebration truly memorable!
Happy Weekend!