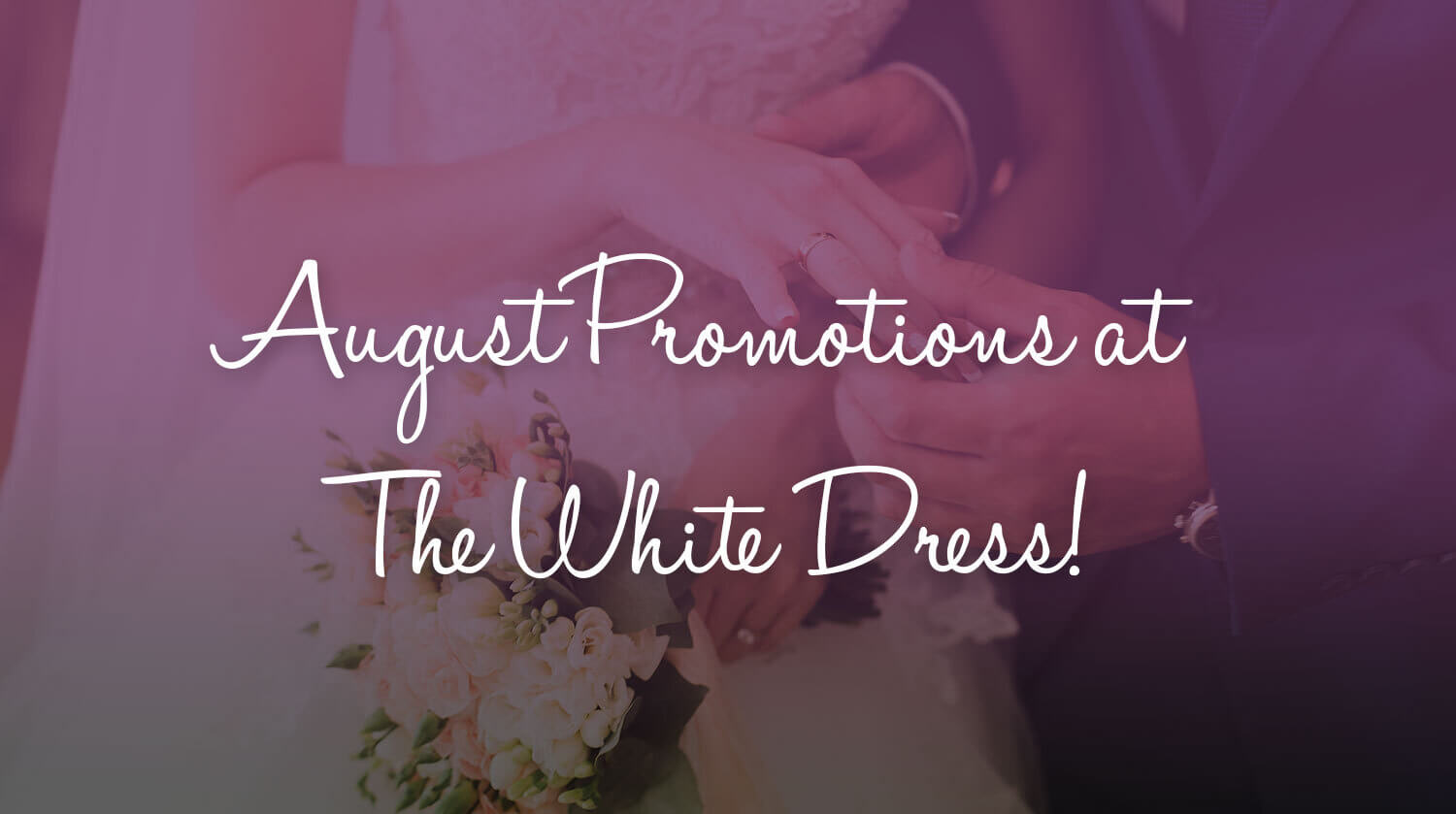 August Promotions at The White Dress!
Every Friday and Saturday this month we're offering special discounts and gift prizes!
Summer is usually a busy time for our boutique, with brides coming in to search for just the right dress for a spring or summer wedding the next year. It's a special season, and we always want the moment a bride finds her perfect wedding dress to be a memory she cherishes for the rest of her life. However, this year the coronavirus pandemic is reshaping their experiences, creating bittersweet moments as the excitement of wedding planning is tempered by unexpected compromises.
Of course we hope brides will come support our boutique as we hold our own against the changes brought on by Covid-19. But we also hope that our events can add to the fun of shopping for a gown, and that our promotions can offer a spot of relief to brides in need. So take a look at what we have planned, and schedule your appointment today!
August 14–15: Support for students and teachers!
We know the upcoming school year is going to be a strange one for students and teachers alike. Many of our brides who are college students are looking forward to a semester of online courses, while teachers and school administrators are putting in long hours to make sure they can support their students during the academic year. It's bound to be a challenging time, which is why we want to do our best to bring some joy to the start of the school year.
This coming weekend, we're offering $100 off any of our regularly priced wedding gowns to our brides who are college students, teachers, or education workers. Whether you're preparing for another semester of hard study, assembling lesson plans for a new grade of remote learners, or creating support resources for parents you deserve to have one less item on your to-do list.
August 21–22: Honoring our healthcare heroes!
Perhaps no one deserves a break more than the doctors, nurses, and hospital staff who are currently working overtime to treat those who have been affected by the pandemic. Trying to plan for a wedding during a time when you may be called away from your loved ones more than ever before is hard enough on its own. When that work also places you at greater risk for infection, it makes the sacrifice even more laudatory.
From Friday the 21st to Saturday the 22nd we'll be offering $100 off any of our regularly priced wedding gowns to those working in the healthcare industry. Come take a look at the selection of gowns we have in our store and see if you can spot your dream dress!
August 28–29: Surprise pop-up shop weekend!
While we haven't been able to have as many trunk shows and featured designers this year as usual, we are hosting a pop-up shop event for the last weekend of August! We will be showcasing select gowns from our designers just for this event, so this is a perfect time for any brides who have their eye on a particular designer to come try something on!
To celebrate this weekend, we will be offering 10% off our line of Olive + Piper jewelry. We're also holding a prize drawing for brides to win a free bridal robe for themselves and for three of their bridal party members! It's sure to be a fun day, so schedule your appointment while we still have spots available!  Be sure to follow along with us on Instagram to see which gowns we will be bringing to the shop that weekend!
Tag us on Instagram for $50 off!
If the above weren't enough, we're also offering $50 off to any bride who tags us on Instagram when they arrive for their appointment! Simply take a picture, use #thewhitedressmi as your hashtag, and then tag us at @thewhitedressmi! We'll take $50 off your dress on top of any other discounts you may have already earned.
Spin our prize wheel to win a special gift!
Finally, we're offering a bit of fun to ALL the brides who come to our store on Fridays and Saturdays in August! Before you leave, give our prize wheel a spin! We're offering special discounts and merchandise, plus an ultimate prize bag filled with goodies to one of our brides.
Our Prize Wheel will vary each weekend and include:
Bride T-shirt
Signature pink water bottle
Discount on veil/headpiece
Discount on jewelry (earrings/necklace/bracelet)
Free garter
Free coffee mug
Special prize each weekend is a Tote Bag, filled with swag!
Appointment spots are limited, so be sure to claim your place today!
We want to be sure everyone who comes to our boutique can experience a safe environment while they try on dresses. Because of this, we've limited the number of guests who can be in our shop at one time, and have also instituted a $50 booking fee for brides who make a reservation for one of our Saturday slots.
The booking fee is completely refundable to any bride who arrives for her appointment, or who cancels her appointment with twenty-four hours' notice—no purchase necessary. The booking fee is not refundable to any bride who does not show up for her appointment, or who cancels with less than twenty-four hours' notice.
We want to accommodate as many brides as possible in our appointment schedule. If a bride makes a reservation but forgets to cancel and doesn't show up, it prevents another bride from scheduling her slot!
We look forward to seeing more brides this August, and we hope many of them are able to find their special dress in our store. But if you aren't able to book a slot, don't worry! September is just around the corner, and we have more events to come. See you soon!