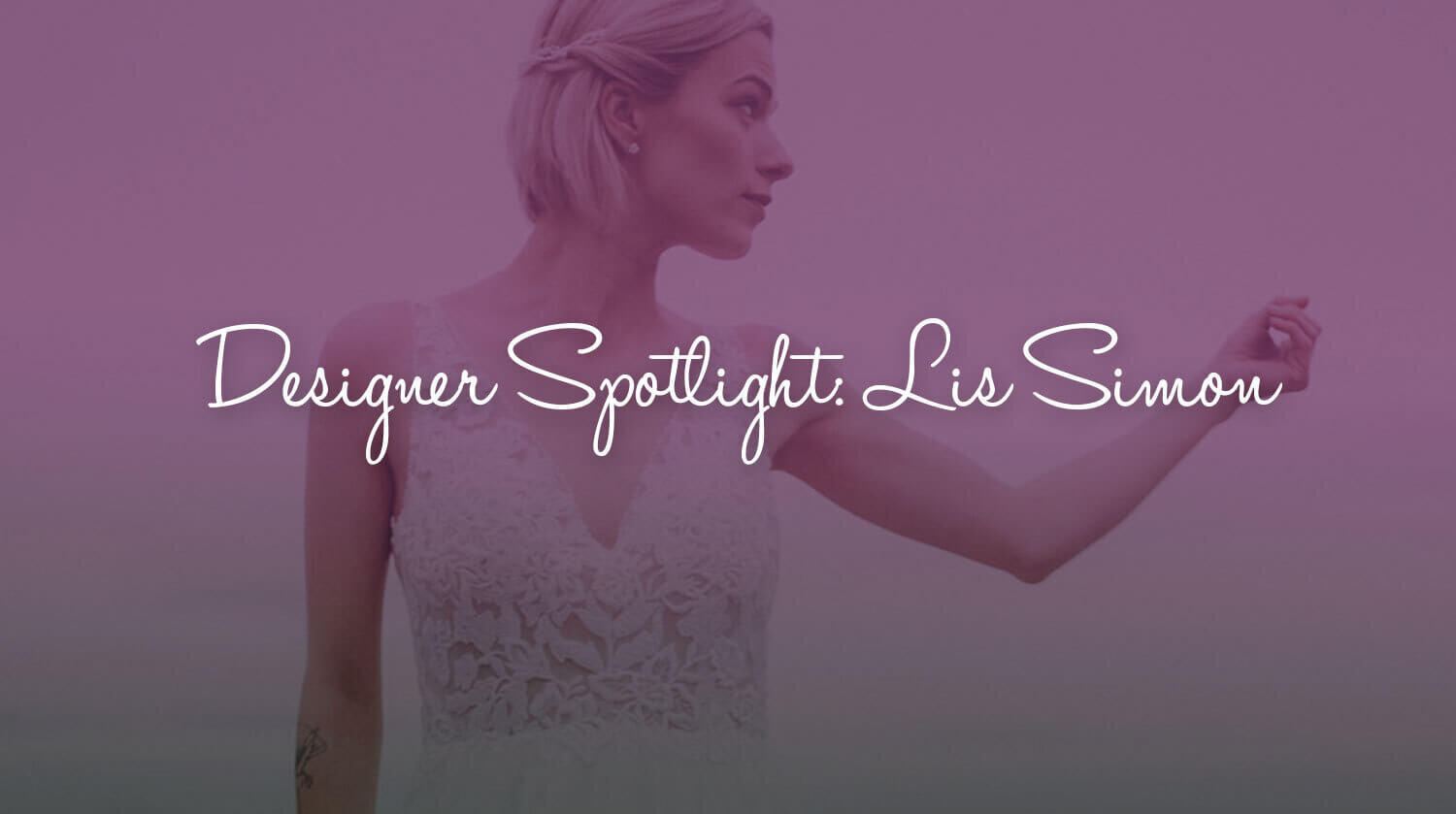 Designer Spotlight: Lis Simon
This Canadian designer has an unmistakable esthetic with unique customizations.
One of the great pleasures of running a bridal boutique comes from getting an inside look at up-and-coming designers who bring with them fresh ideas for bridal wear. We pride ourselves on the care we take in selecting gowns for our store, and when we have an opportunity to cultivate a closer relationship with one of these designers, we take it.
This is why we're taking a moment to feature Lis Simon and her gowns. Since 2009, this Calgary-based husband and wife design duo has grown their bridal collection from their small apartment in Canada to a brand with a presence in select bridal boutiques all across North America.
They've accomplished this by blending tradition with modern sensibilities for designs that feel timeless and current at the same time. The results are unforgettable.
Clean lines with an artistic flourish.
If there's anything about a Lis Simon designer wedding dress that makes it stand out from the crowd, it's the ease with which these dresses can hold the attention of a room—without being too loud or showy in the process. These gowns are graceful, with the emphasis on silhouettes that are striking from a distance and details that only become more absorbing the closer you look.
The fabrics in Lis Simon's collections are also exquisite, with lace designs both large and small that are simply beautiful to behold. Soft and dreamy, they're the perfect choice for brides yearning for a bohemian touch to their special day.
Separates sewn together for a customizable dress.
Another thing that separates Lis Simon from other designers is their line of… well, separates! When ordering from Lis Simon, you can customize your wedding look by picking from a range of bodices and skirts, then mixing and matching till you find just the right combination.
Here's the twist, though: you don't have to wear them as separates on the day! Instead, you can have the bodice and skirt sewn together to form a complete gown for the classic wedding look.
Or, if you're feeling adventurous, you can mix and match tops and bottoms for different looks throughout the day! Try a high-necked bodice for the ceremony but pair it with a lacier top for the reception. Or wear a fitted skirt for your walk down the aisle, but exchange it for a looser number when the time comes to hit the dance floor.
Separates allow you to switch up your style throughout the day without having to purchase two different dresses. Here are a few of our favorite combinations.
Boho romantic.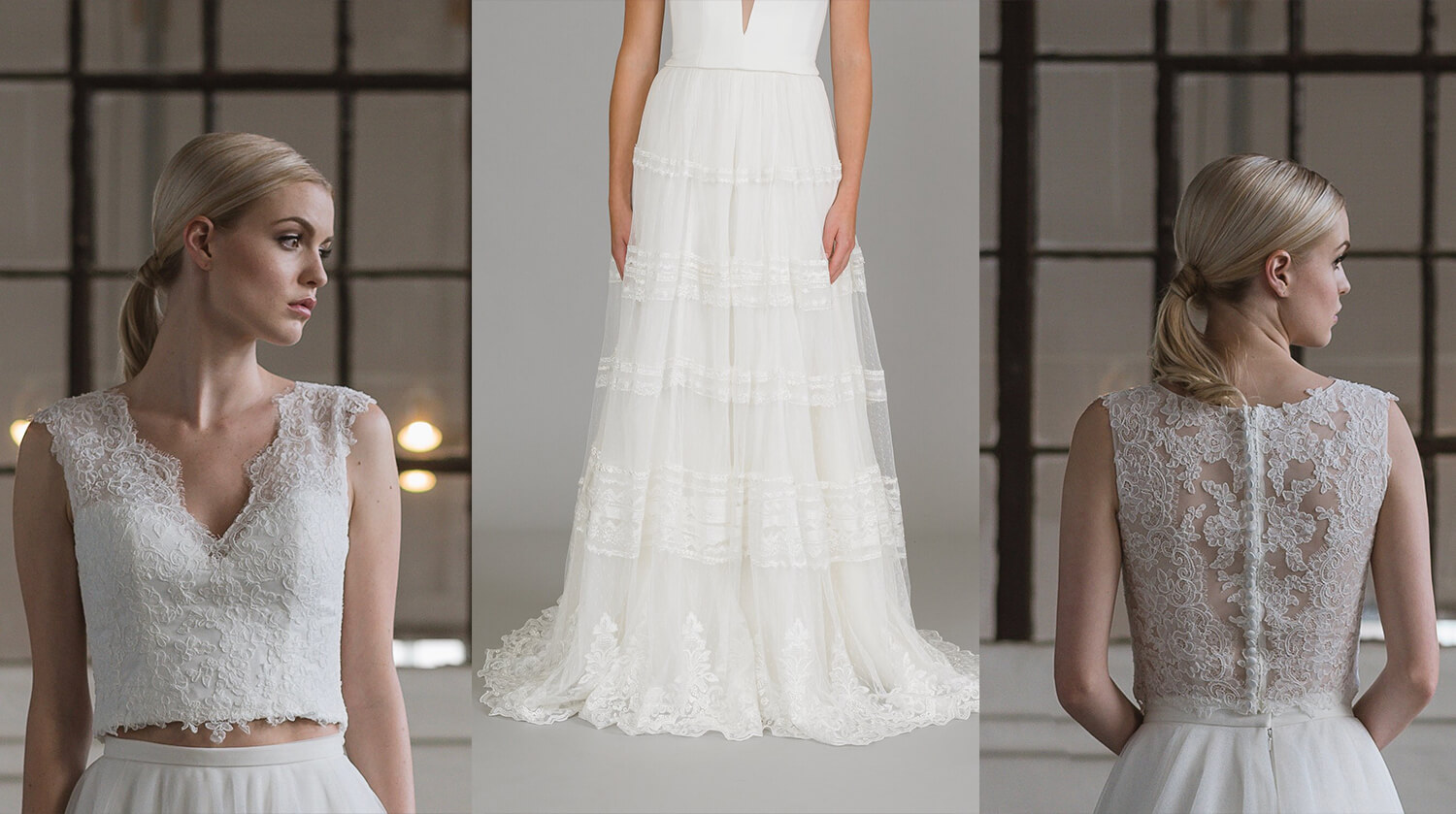 Want a flowing dress in lace? We love how these separates combine a breezy skirt of custom lace with a top that combines a sweetheart neckline with a sheer back. Light and willowy, this style would be a perfect combination for a spring wedding.
Double the drama.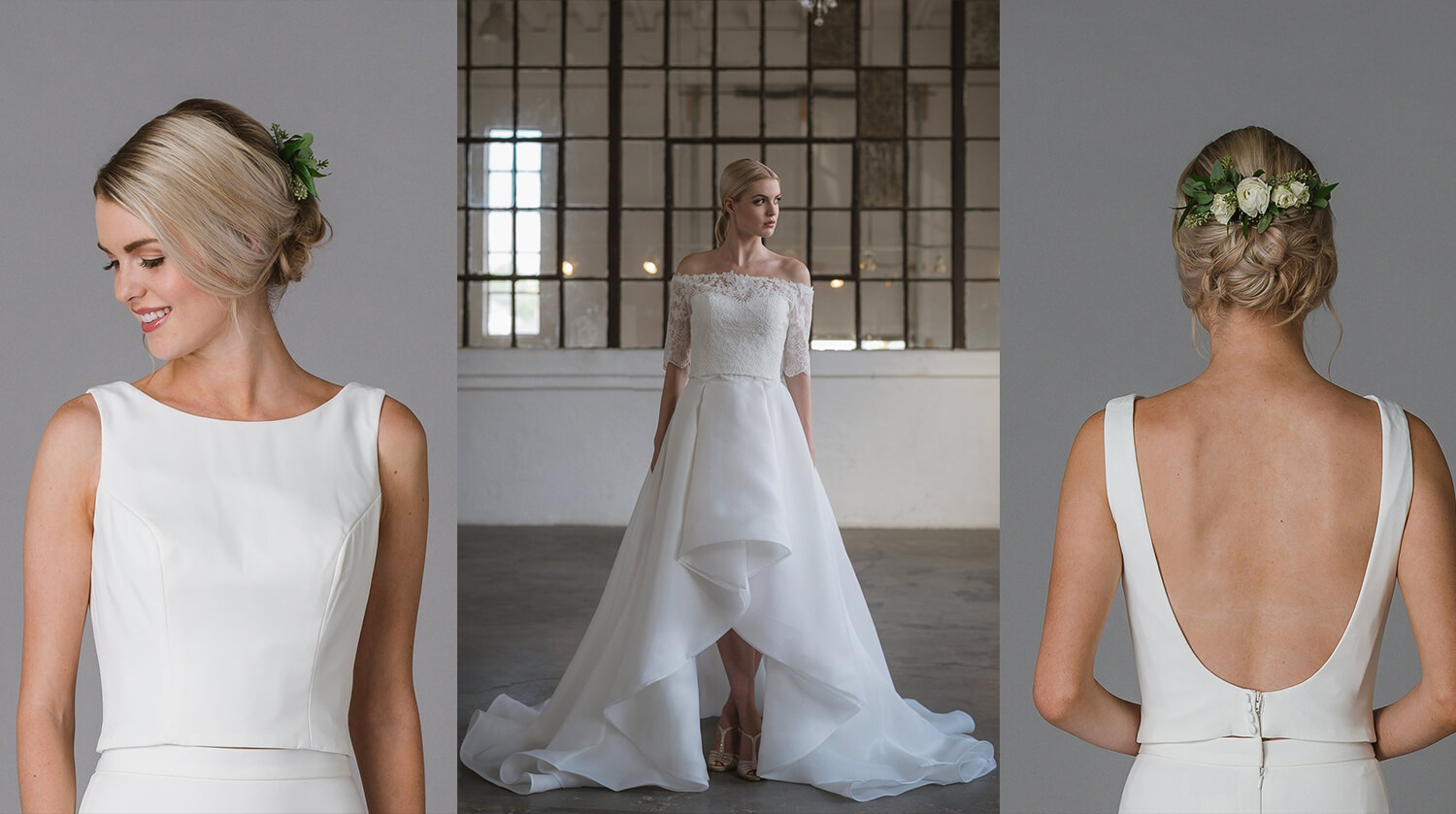 What's better than a dramatic high-low hemline? Pairing it with a boat neck in the front and a plunging back. We love both the bodice and skirt of this separate pair equally, and could see them each paired with any number of styles.
French chic.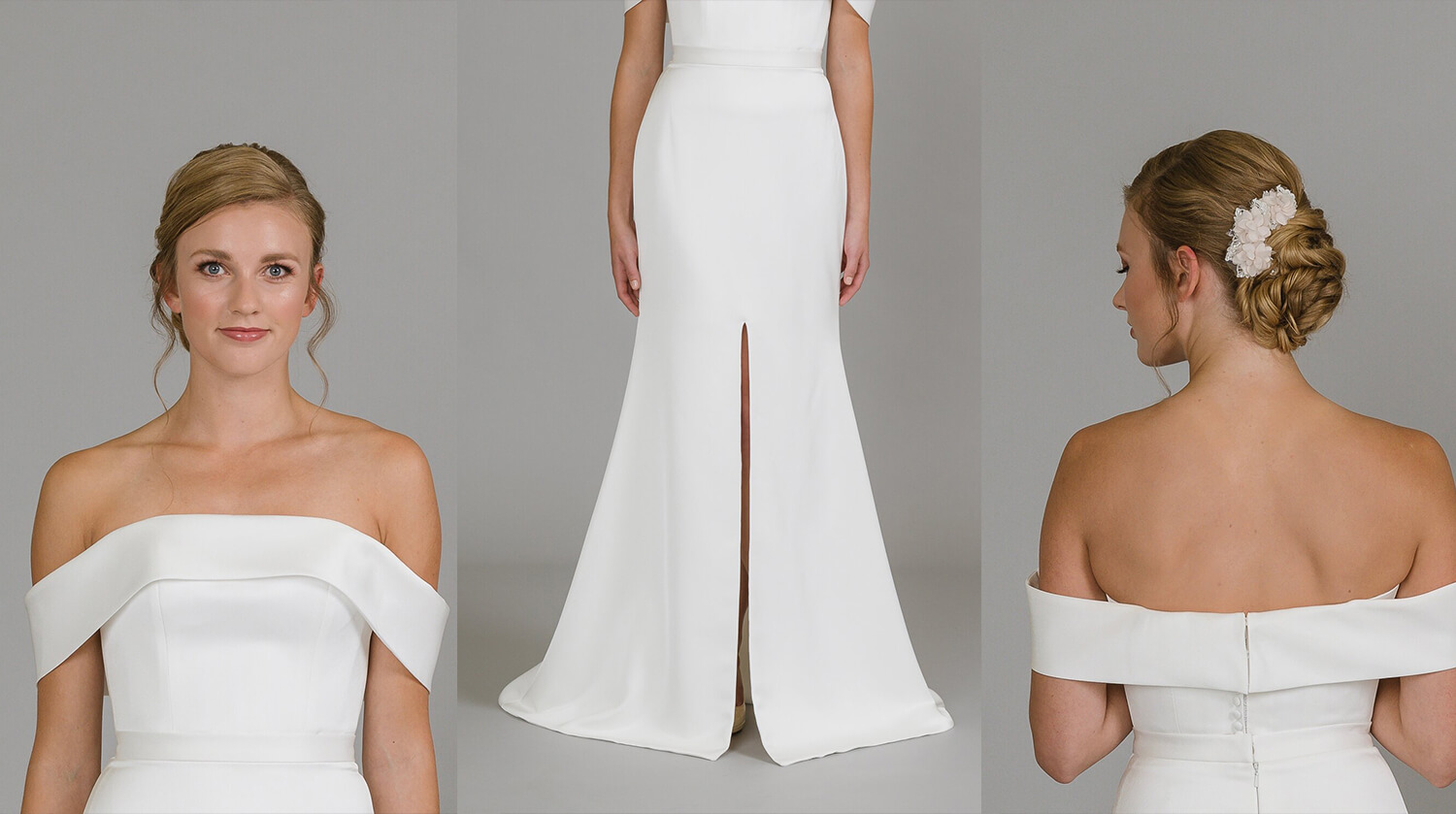 This off-the-shoulder Bardot neckline deserves a stylish skirt to match, and we think this skirt delivers. Fitted through the hips with a long slit in the front, this pairing is perfect for a bride that wants a sleek silhouette that doesn't hinder her movement.
Come take a look at the 2020 collection in our store.
Not every Lis Simon design can be divided into separates. The line also offers a range of traditional gowns that are sold as one piece. Here are a few of our favorites.
Leslie: Long-sleeved spring romance.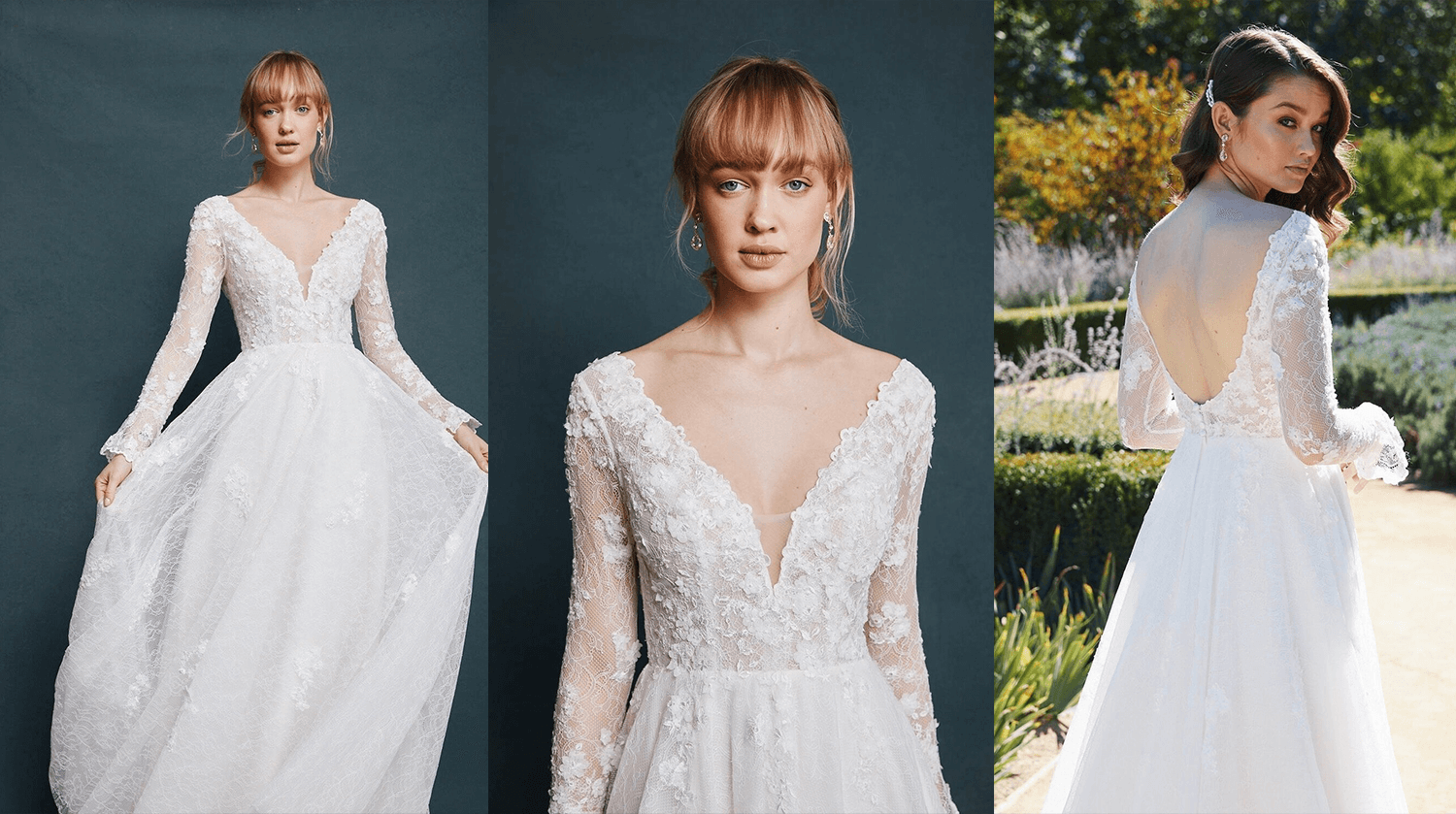 We so rarely see long-sleeved dresses that when we see one as perfect as this we can't help but give it some extra attention. Everything about this dress evokes the light and warmth of a carefree spring day, and the sleeves are perfect for that time of year when the weather could turn suddenly chill while the sky stays sunny.
Lyon: Ball gown drama with statement lace.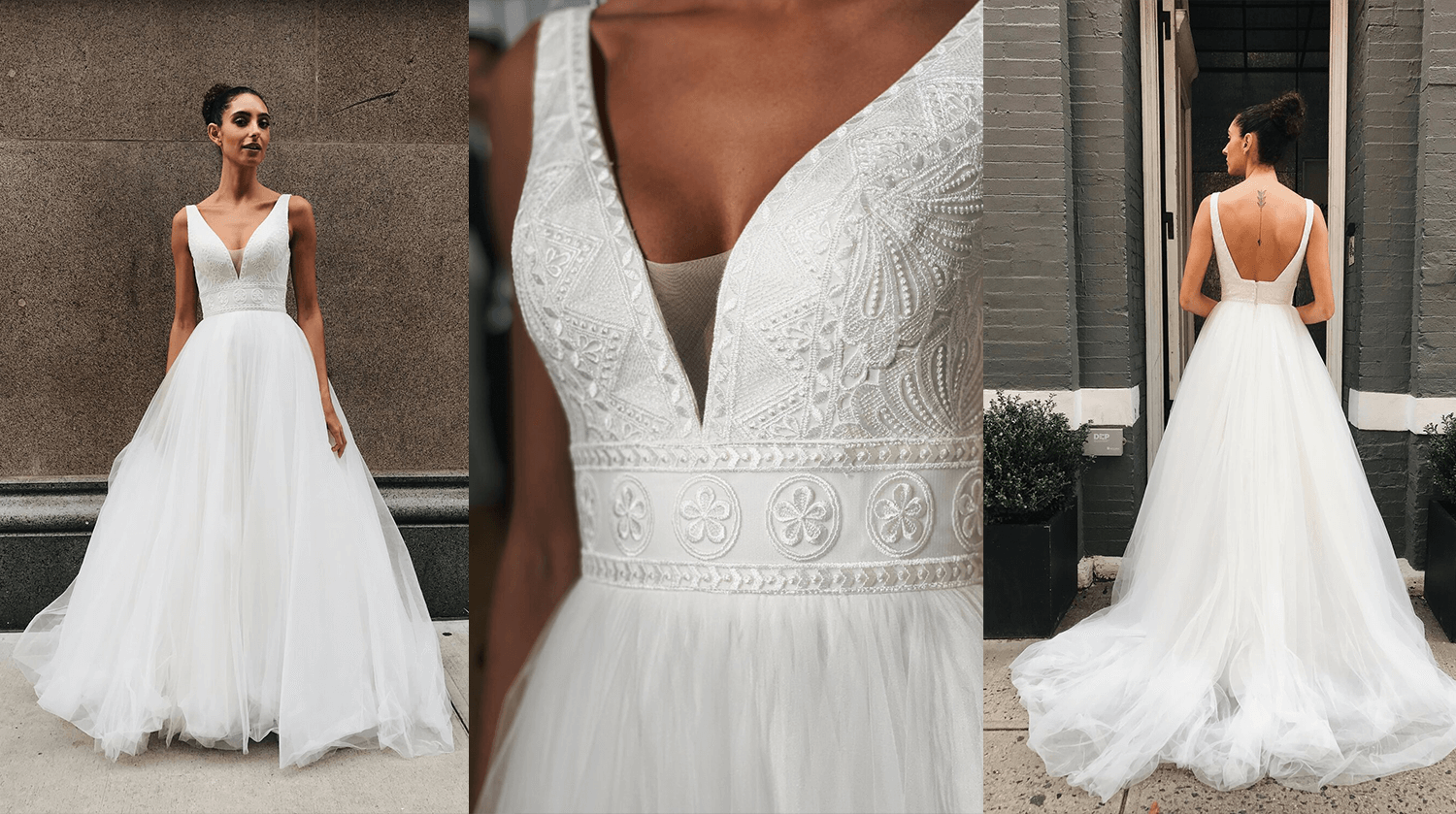 Sure, the silhouette on this dress is amazing, but what really takes our breath away is the intricate lace details on the bodice. This dress combines the ethereal grace of the floating tulle skirt with the modern sophistication of the plunging V neckline and square back.
Lucia: A figure-hugging sheath covered in sparkles.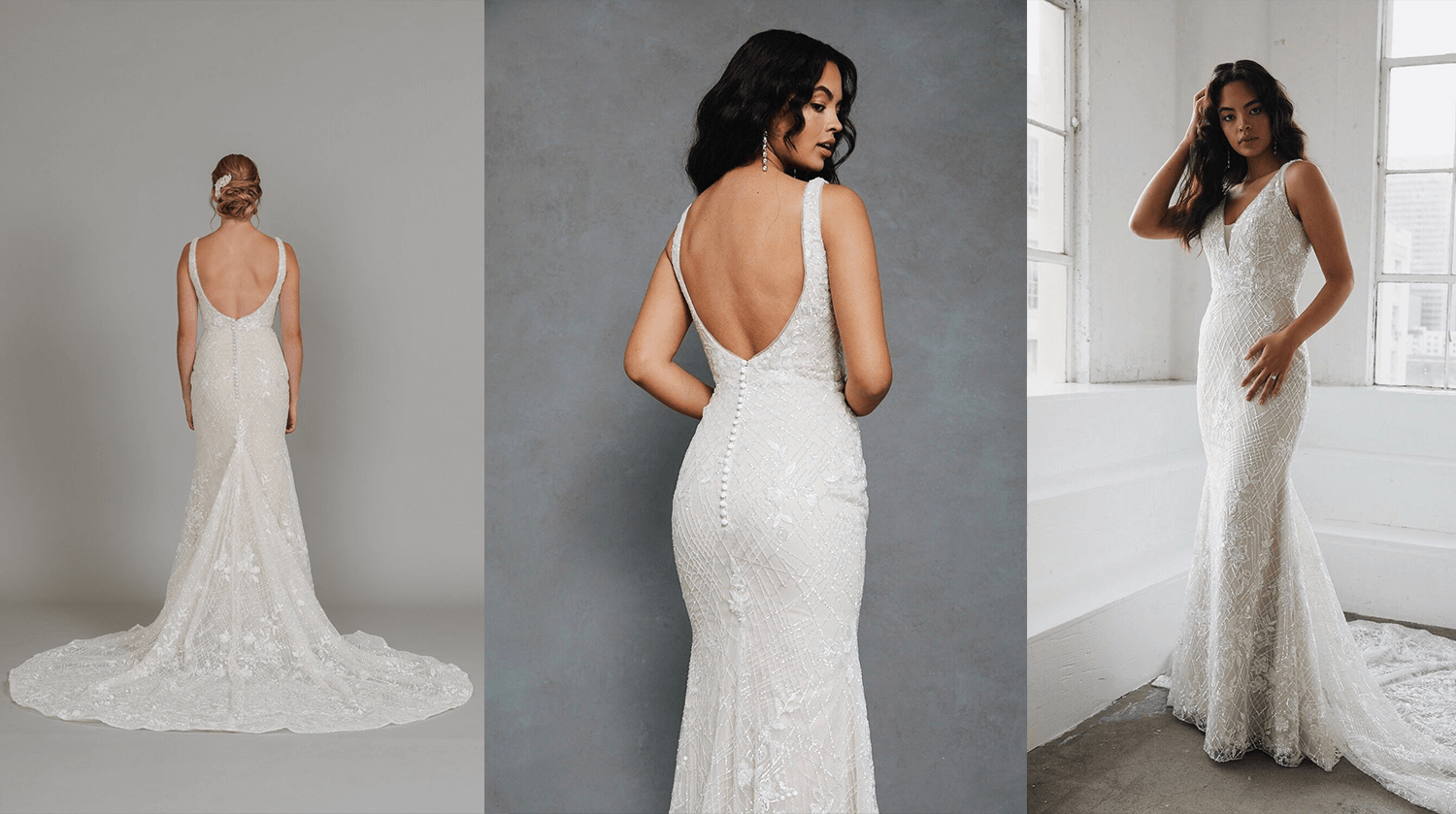 Finally, for brides who love a fitted shape, the Lucia gown combines an alluring, low-cut back with a beautiful chapel train. We love the clean, flowing lines on this fit and flare silhouette, and paired with the lace, the results are simply stunning.
Want to try on a Lis Simon dress that isn't at our boutique? We can get it for you!
Eager to try on the 2020 collection or try your hand at mixing and matching separates? We're ready for you. We have a range of Lis Simon dresses available for you to try on in our boutique, and if you see a dress in her catalog which we don't carry, we can order a sample direct from the designer! We charge a $40 fee to order in dresses, but it is credited against a purchase in our store.
We are currently accepting bridal appointments and are taking extra precautions to keep our brides and our staff safe during the pandemic. While the party size is limited to three (including the bride), we do have one of our windows set up for brides to show off their gowns to family and friends waiting outside. And for brides who want more family and friends to join them, we offer a limited number of bookings for brides who want to reserve the whole store for themselves.
So book your appointment with us today! We can help you find your dream gown from one of our favorite designers.