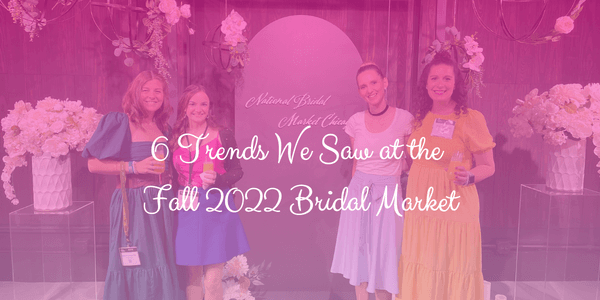 6 Trends We Saw at the Fall 2022 Bridal Market
Bridal fashion is undergoing a big shift. Here are the top six design trends we noticed at Chicago's Fall 2022 Bridal Market.
Fashion is always changing, but it's fairly common to see certain trends take hold and settle in to become a defining feature of an era. Waistlines rise and fall, pant legs go from flared to skinny to relaxed, strapless gowns give way to long lace sleeves, and so on and so forth. But there are times when a major fashion shift seems to happen all at once, when the trends aren't just riffing on current ideas, but introducing completely new elements, and when staying stylish isn't just a matter of replacing your jeans when they wear out, but of updating your entire wardrobe.
Every Bridal Market is a sneak peek at where the industry is headed, and for the past few shows we've noticed small shifts that have indicated an upcoming change in direction. This fall, it was clear that the change had arrived.
While many of the most popular wedding styles are still running strong (boho gowns aren't going anywhere anytime soon), the new trends dominated almost every designer we saw. If you're interested in where bridal is headed, here's what to keep an eye out for.

1. Pearls.
For the past few years, the subtle sheen of pearls has sat back seat to the more dramatic bling of diamonds, crystals, and sequins. Pearls were present, but understated—cascading down the edge of a veil, for instance. This year, we saw pearls everywhere, often sewn onto the dresses as the stand out bead work, or to enhance three-dimensional lace.

2. Solid sequin sparkle.
The emergence of pearls doesn't mean dresses are becoming less sparkly. In fact, this year every designer seemed to have at least one dress that was head-to-toe sequin sparkle. What set these gowns apart was how integrated the sequins were with the actual fabric of the dress. Many brides have some hesitation when it comes to sequins, because even those who are looking for a show-stopping dress don't want to look like they're part of a beauty pageant (especially if they're planning to wear a tiara!). However, we felt these gowns kept the bridal feel while also amping up the glamour.
We thought this trend was just too good so we have ordered our samples in two sizes so everyone can give them a try! We are excited to have them in our store in the coming months.

3. Floral lace: Oversized or miniaturized.
Lace has been a ubiquitous part of bridal fashion for years, especially lace designs that incorporate unique patterns or botanical motifs. The lace we're seeing now is trending in three different directions: larger, smaller, or dimensional.
First off, we're seeing more large scale floral—patterns so large that from a distance they look almost like a print. We're also seeing more dimensional lace, where the lacework is appliquéd with beaded elements to create a design with more depth. Finally, we're seeing micro lace, where the pattern creates more of a texture than a design.

4. Gloves.
If there's one trend that gives us a thrill of excitement, it's the way gloves have taken over the bridal scene. As an accessory, long gloves have often lingered on the border of being either charmingly vintage or awkwardly costume-like. One way to make an accessory seem more genuine and less like an article of dress-up is to bring it into the modern era with a new twist. This is what we're currently seeing with gloves.
While the classic satin gloves can be seen in abundance, the new trend also includes sheer gloves and ones embellished with pearls, rhinestones, and beading. Tiaras also continue to be in vogue, so feel free to channel Audrey Hepburn in Breakfast at Tiffany's to your heart's delight.

5. Black wedding dresses.
If the trends so far have seemed a touch dramatic, wait till you see the new black dresses. Black dresses have been available—although rare—for a few years now. There have been signs of growing interest in black wedding gowns (their frequent presence on Pinterest boards, for instance), but in most cases, the black dresses we've seen have been custom gowns. Rather than full black, it's been more common for dresses to have black details, such as a champagne-colored dress that we carry in our store which has a black lace overlay. It hasn't been until this year that we've truly seen black dresses come into their own.
At Bridal Market, we were excited to see an entire display dedicated to black wedding dresses. We also saw black gowns in a range of styles, from flowing boho gowns with large organic lace, to voluminous tulle dresses with cinched-in waists that looked like they could have come straight from a 1950s Dior catalogue. All of which is to say that if you've ever dreamed of a black wedding dress, your time has come: you have options.

6. Clean fabric.
Last but not least, sleek, unembellished styles are also settling in as one of the popular new looks. Many of the dresses we saw at this year's show managed to embrace the minimalism of a smooth look, whether it be with satin, chiffon, organza, or crepe, in a way that still felt romantic enough for a wedding. Many designers are taking their clean gown designs up a level, through seam placements, cutout lace in the train, or a unique back strap, so that gowns that appear simple at first glance actually do have a standout feature on closer inspection.
In particular, Mikado satin—which is a thicker, more luxurious weave of fabric than traditional satin—has become especially trendy. We bought one of our gowns in black Mikado satin, and can't wait for it to arrive in our store.

New trends coming soon to The White Dress!
One of the main reasons we attend Bridal Market is to see gowns in person and put in orders for what we'd like to have in our boutique. We're very selective with what we stock in our Michigan bridal store, because we know that not every trend is a good fit for our brides. We also know that keeping up on all the emerging styles is part of what sets us apart. Brides who come to our shop know that they can try on dresses that are hot off the runway, so to speak.
There's typically a delay of 6-8 months between seeing a gown at Bridal Market and getting it in our stores, because designers need time to fill the sample orders. However, we frequently post about new arrivals in our store, so keep an eye on this space if you're interested in trying on these dresses.
In the meantime, the gowns we carry in store currently include ones we discovered during our trip to Bridal Market this past spring, as well as wedding dresses from the most recent collections of all our designers. If your wedding date is less than a year away, we encourage you not to put off scheduling an appointment. Wedding dress timelines being what they are, it's essential to get your dress order placed early so you aren't limited in your selection. Book an appointment with us today!