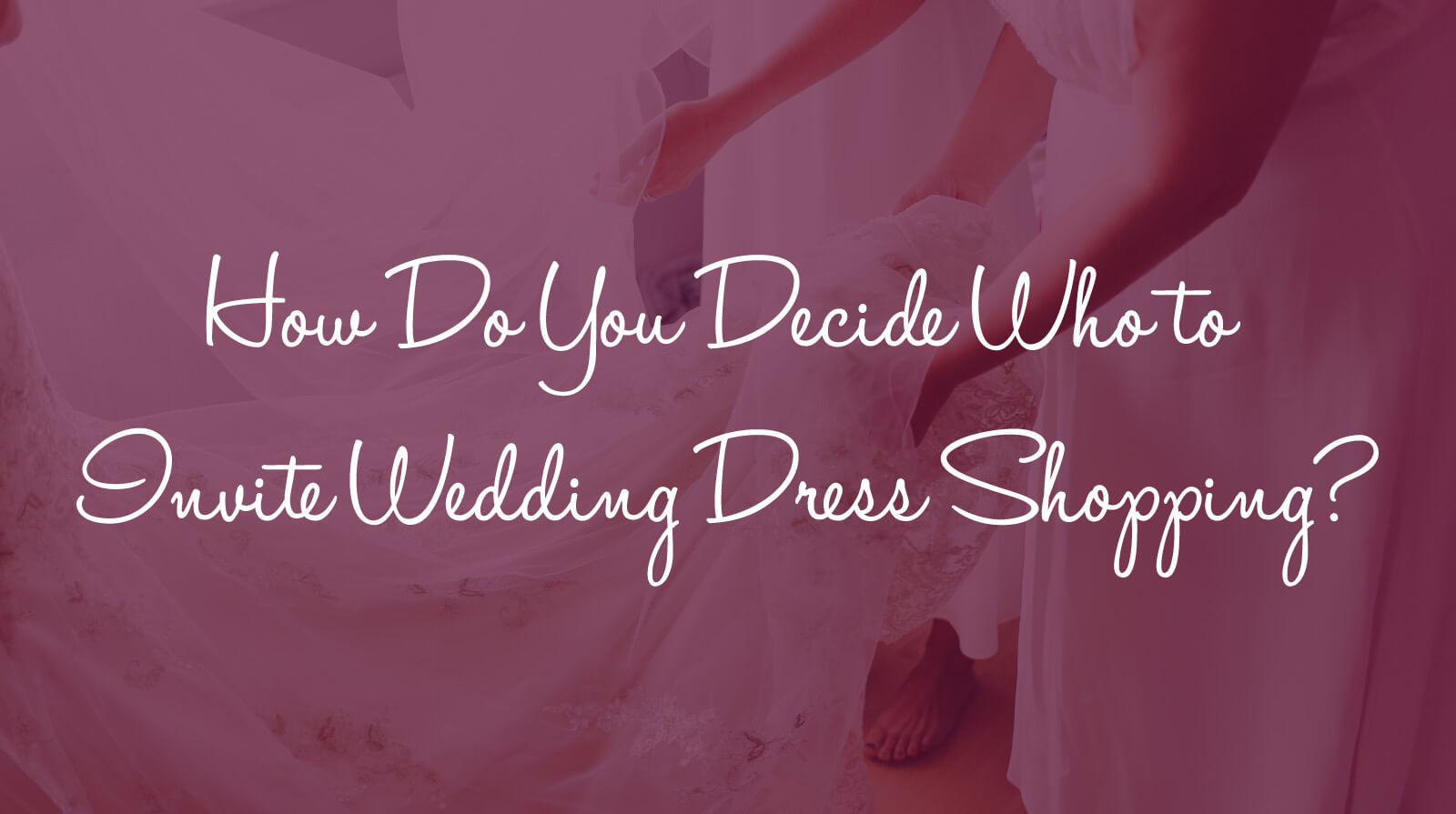 How Do You Decide Who to Invite Wedding Dress Shopping?
Wedding dress shopping: should you go solo, or bring all your bridesmaids?
You've said "yes," set the big date, and now you're ready to find the prefect dress. It's an exciting time for any bride, and wedding dress shopping is often a highlight of their wedding planning experience.
But as eager as the bride is to find the gown of her dreams, it's common for her friends and family to want to join her for the experience as well. With so many people hoping to come with you on your journey, how do you choose who to bring?
Selecting the group for your wedding dress appointment can be tricky, but it's important to have just the right people with you as you try on dresses. Here are a few considerations to bear in mind when inviting guests.
Forget about should: what do you want?
First of all, don't feel pressured into bringing anyone along if you don't actually want them there. This is especially true if someone in your group has strong opinions and isn't on board with the style you've chosen for your wedding; they may spend more time arguing against your choices than being supportive.
Similarly, you may have friends or family who want to join in just to be a part of it. Even if they love every dress you try on, having so many people in the room can change the mood of the occasion. Maybe you just wanted to bring a small group of one or two people, but your cousin has invited herself and half your bridal party expect to come as a matter of course. It's OK to politely draw a line and let your entourage know there will be other occasions to celebrate, but this one needs to be small.
Talk to your boutique about how many people they can accommodate.
Of course, if you are planning to bring a very large number of people with you while you go dress shopping, you should probably ask your boutique how many they can accommodate. Most bridal salons expect the bride to bring one to three people with them on their appointment, and a larger crowd can be an unexpected challenge to the store, and could even cause problems for other brides.
If you're planning on bringing a larger group with you, ask about arrangements when you call to make your appointment. If the boutique only has limited space, you may have no choice but to choose your entourage carefully. However, with advance notice, the shop may be able to fit you in on a day with fewer appointments, and can arrange to have a few extra chairs brought in so your group isn't left standing.
Save the entourage for another appointment type.
That said, large groups are best saved for other occasions. You may find it easier to make your decision with fewer people around. If you want to give your entire bridal party a chance to see your dress, think about bringing them back once you've ordered it for a celebratory "this is my dress!" appointment. You could also set up an appointment to pick out bridesmaids' dresses where you also hang out in your gown. This will give your girls time to enjoy the shopping experience with you, while also giving them something to try on as well.
Is there someone you need to be present to make your big decision?
Some brides, to avoid the above scenario, go bridal dress shopping on their own. Doing so certainly cuts down on the crossfire from conflicting input, and many brides feel it helps them stay true to their vision, rather than making a choice to please someone else.
However, if you know you can't make a decision without input from a specific person, it is better to bring that person with you on your first trip rather than ask them to come back once you've narrowed down your dress choices. It can be difficult to recreate that overwhelming sense of wonder, excitement, and giddiness you feel when you look into the mirror and see yourself in your wedding gown for the first time. If that's a moment you've always wanted to share with your mom, your sister, or your best friend, have that person with you.
The golden rule of thumb: do what makes you most comfortable.
Trying on your wedding gown for the first time and knowing it's "the one" is an unforgettable experience. But making the final choice is a big moment, and many brides struggle to make a confident decision when there are too many conflicting opinions in the room. So, do what it takes to make your experience as relaxing and stress-free as possible.
Whether that means coming along, with your grandma and maid of honor, or with a small group of close friends, the choice is yours.