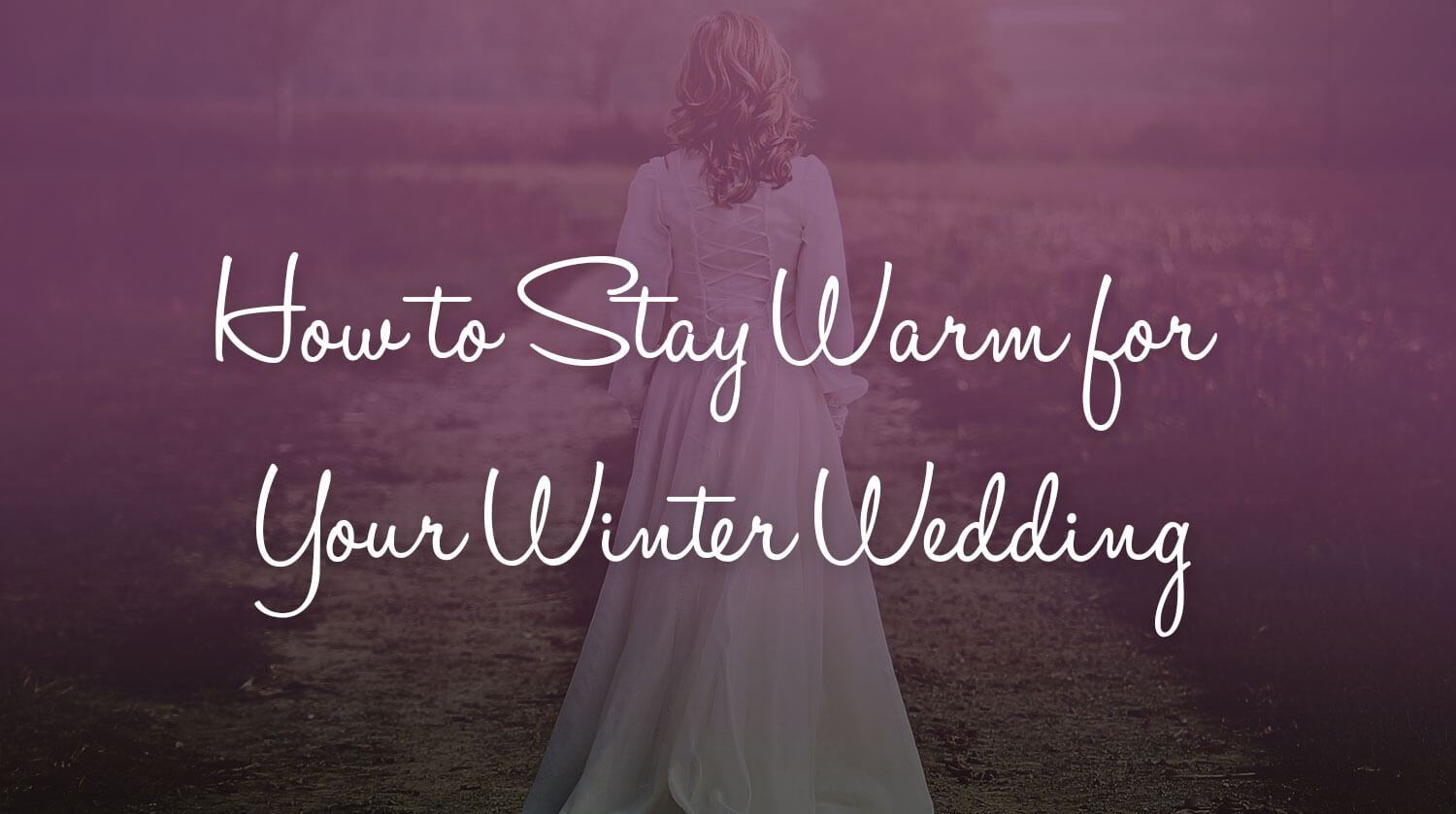 How to Stay Warm for Your Winter Wedding
Furs and muffs and cloaks—oh my!
While spring and summer tend to be peak wedding season, there's something undeniably charming about getting married in the winter. The long, dark nights make indoor reception venues feel cozy, and if you're lucky enough to have snow on the ground, the pictures can be enchanting.
However, there is a downside. Your winter wonderland shoot may look magical, but it will hardly feel that way if you're shivering from tiara to toes. And, while one of our beautiful long-sleeved gowns may help keep your arms covered, it's not enough to protect you from a chill winter wind.
Fortunately, a winter wedding gives you the opportunity to create a unique wedding look that will make your big day one to remember. Here are some of our top style tips to help you nail the look for your winter wedding.
1. Go for the drama: voluminous cloaks.
You want to feel like a princess on your wedding day? Nothing says "regal" like a long cloak. If you plan to have a longer photo shoot outside, a cloak will not only look stunning, it will keep you toasty warm as well. If you choose this option, keep an eye out for one with a deep hood for added drama. This style goes well with many dresses, but we think it pairs best with an A-line silhouette or with graceful, flowing styles.
2. Keep it trendy: short capes.
Capes have been making the fashion rounds for a few years now, and we think they are a perfect fit for wedding ensembles as well. Because they're shorter than cloaks, they balance out the full skirts of a ball gown silhouette very well. Alternatively, a chic cape will fit nicely with a sheath. If you like the look of a cape, you'll probably need to think about the length and style carefully, so that it will complement and enhance the silhouette of your wedding dress.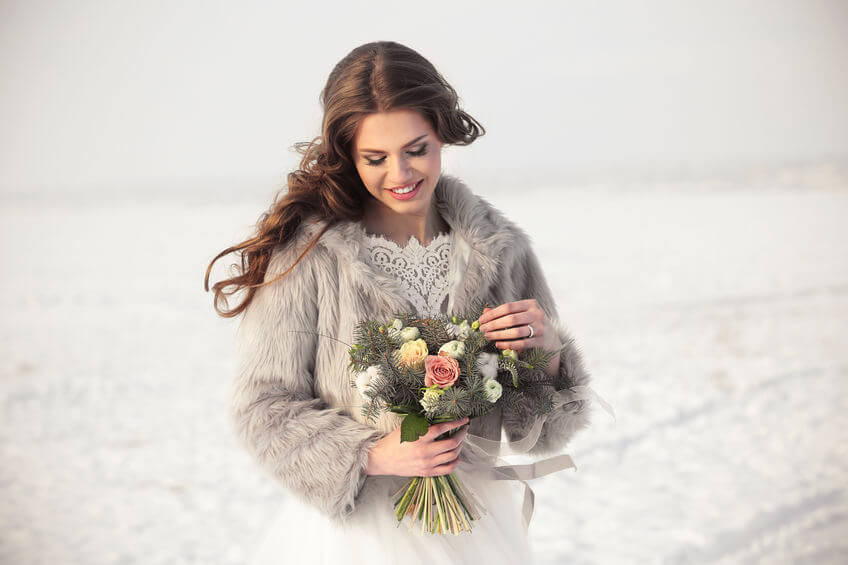 3. Toasty fingers: fur muffs.
Do you know what pairs well with a cape? Muffs. They're cute, cozy, and the fur ads a great contrasting texture to your outfit. If you really like the look, you could get some for your whole bridal party. They're a fun accessory that will keep everyone warm while you capture the perfect picture to remember the day.
4. Ditch the cold shoulder: fur wraps.
While we're discussing fur, let's spare a moment to sing the praises of fur wraps. These are a flexible option for brides that aren't planning to spend a lot of time outside, but still want something to throw over their shoulders to keep off a chill breeze. Best of all, it will compliment any silhouette, so if you're looking for a last-minute option, this is a safe choice.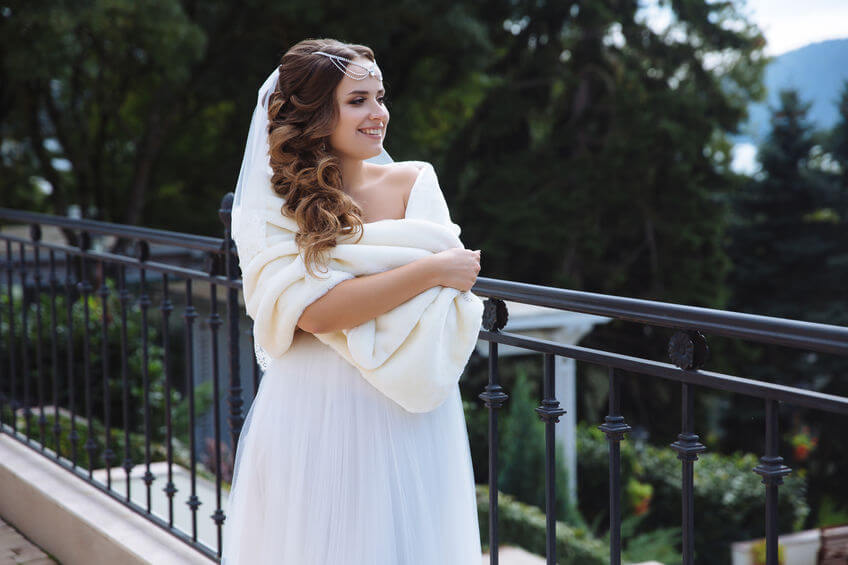 5. Bring the bling: sequined boleros and metallic jackets.
Of course, something should be said of the classic coat. If you're planning to wear a coat with your dress, the cut of your coat is very important. Long, wool coats have a slim, chic silhouette, but they won't pair well with a ball gown.
You may also be thinking of a pure white coat to match your dress, but another option would be to invest in a shorter jacket or bolero with metallic tones—rose gold leather or silver sequins, for instance. It's a great way to bring out some of your accent jewelry, and the sparkle will add a glow to your winter wedding pictures.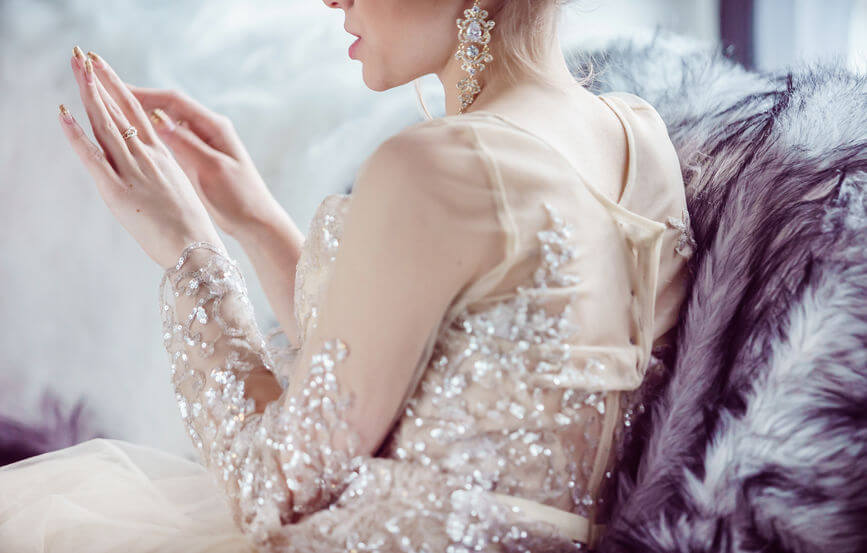 6. Elegant to the elbows: long gloves.
We mentioned earlier that long-sleeved wedding gowns are a popular choice for winter weddings, but if you have your heart set on a dress without sleeves, we have another suggestion for you: opera gloves. These an elegant choice for the ceremony and photos, but they're easy to remove once the reception rolls around and you're ready to rock the dance floor.
7. Don't forget about footwear: boots and tights.
Finally, be prepared to change your footwear a few times as you move from indoor to outdoor locations. While you'll probably be eager to wear your sparkliest heels for your big day, these aren't likely to hold up well in a snow drift. Instead, think about searching for a pair of white ankle boots to fit your look.
Stockings and tights are important as well. Depending on how many layers your dress has you may want to wear something a little thicker than sheer.
Celebrate the winter wonderland wedding you've always dreamed of.
With enough winter accessories to keep you toasty in a blizzard, there's nothing to hold you back from enjoying your perfect day. But before you can decide what to wear to keep warm, you need to pick out your dress. Come schedule an appointment at our bridal salon in Brighton, Michigan, and we can guide you through a selection of dresses in every silhouette and style.