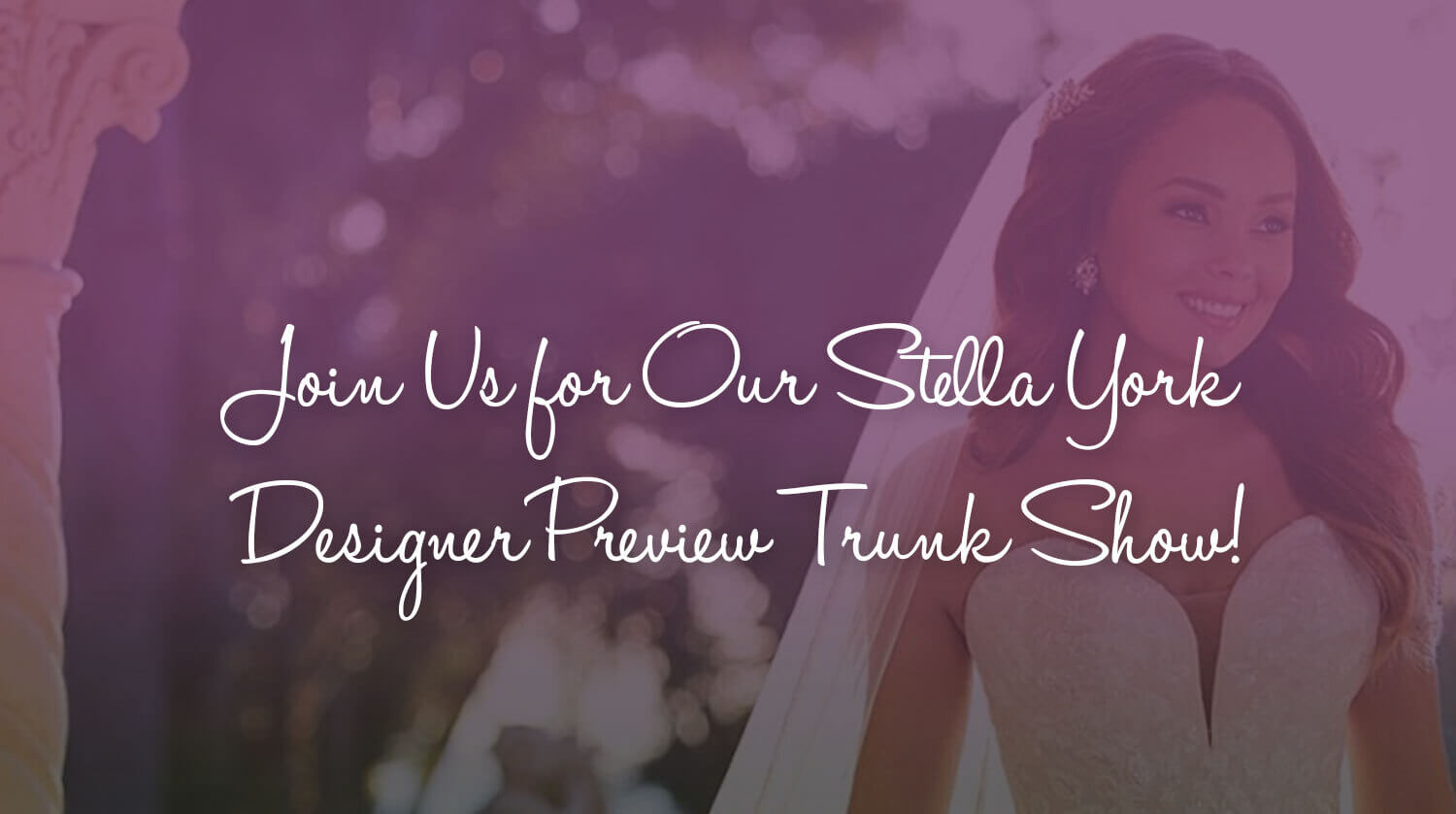 Join Us for Our Stella York Designer Preview Trunk Show!
From June 25th to 26th we'll be showcasing Stella York's newest designs. Come try them on!
Summer is nearly here, and what better way to kick off the season than by exploring the new collection of gowns at our Stella York trunk show! From June 25th to 26th we'll be hosting Stella York at our boutique, where brides can come try on a range of gowns including ones we don't normally carry.
We love Stella York for their ability to balance high-end details at an affordable price point. The result is that every bride can walk away feeling like they have had a truly designer experience without blowing their budget out of the water.
Stella York is also flawlessly on point when it comes to the latest trends. Whether you want that boho bride look, a bit of sheer lace paneling, or an intricately beaded bodice, you can find it in the latest collection.
Needless to say, we're excited. But if you're like most brides, you probably haven't even heard of a "trunk show" before you started gown shopping, but now you're seeing the term everywhere. You may be wondering what they are, why they're so special, and whether it makes sense for you to book an appointment at one.
Those are all valid questions, so to settle your curiosity, here's the details you need to know.
1. Try on gowns you might not otherwise get a chance to see.
As a bridal boutique, we usually carry a selection of gowns from our designers in the store. We choose these gowns carefully, based on the designs we know our brides love, emerging trends, and whatever takes our own fancy. But we don't have space in our store to carry every gown, and that sometimes means we have to make some hard cuts.
Not at a trunk show, however! The trunk show is a chance for brides to see a designer's full range, including gowns that haven't yet made it into the final collection. The designer will also bring gowns from previous years that may no longer be offered in most stores. It's a chance for a bride to try on dresses that she otherwise not see, and perhaps walk away with a unique gown.
And what is even more special about this particular trunk show is that the gowns in our shop are from a collection-in-the-making! The gowns only exist in one spot in the world that weekend – at The White Dress! Which means your dress will truly be unique!
2. Speak to the Stella York team about possible alterations.
At a trunk show, the designer or members of the design team are at the boutique to answer questions from the brides. If you've ever wanted an inside glimpse into how a designer comes up with ideas for a collection, this is an opportunity to hear about it straight from the source.
The designer can also talk through ideas you  may have about how to alter a gown if you find one you love that isn't all the way there. In some cases, the alteration you have in mind might not be difficult to achieve, and the designer can discuss it with you while you still have the gown on. It's a chance to share your vision directly with someone who can make it come to life.
Unfortunately, due to the travel restriction with the designer at the moment, this will not be something we can do live and in person, but our Stella York representative will be available to FaceTime and communicate with our brides on that day as much as possible!
3. Get insights on how to accessorize and style your favorite gowns.
The designer can also help you with other decisions you're making when it comes to your wedding. Torn between a tiara and a veil? Worried that the neckline won't work with the heirloom necklace you wanted to wear? Secretly suspecting you have too much jewelry picked out and don't know what piece to cut?
Our own TWD-ettes are always available to help you work through a difficult style choice, but a designer can give you some additional insights into the vision they had in mind when they designed a specific gown. If ever you needed an expert opinion, a trunk show would be the day to get it.
4. Be a part of the design process and score a one-of-a-kind gown.
Possibly the best part about the Stella York Designer Preview Trunk Show is that it is an important moment for the designer as well, because the trunk show allows them to get in-the-moment feedback from brides as they try on gowns. Because these gowns in particular are still in the design process, they haven't yet made it into the official collection. So the gowns go "on tour" first, to gather feedback from real life brides which will be incorporated into the final collection once it is released.
This gives you a chance to be right in the center of the design process and possibly even snag a completely one-of-a-kind gown from Stella York! Any bride that says yes to a trunk show gown is guaranteed that it will look just like she saw it at the trunk show, but if it gets cut from the collection-in-the-making, then your gown will truly be the only gown like it in the world! This sounds wildly rare, but the fact is that this exact scenario has happened each of the 10 times we have hosted this trunk show over the years!
Reserve your spot today before all the slots are taken!
As you can tell, trunk shows are special occasions for everyone involved, and the Stella York Designer Preview Trunk Show is even more unique and special! Because of this, spots tend to go fast. If you're dying to try on the latest collection from Stella York, don't wait to save your place.
If you have questions about a specific gown, feel free to call our store to ask. We're always happy to answer questions about what styles will be part of the trunk show. If there's a gown you particularly want to try on, we can also check to see if we can borrow it from the designer so that you can try it on when you're in the store.
And if you want to try on a style from another designer in our shop, you're welcome to as well! Sometimes that's the best way to decide if a designer is for you. Call us today to reserve your appointment!