Lis Simon Trunk Show. June 12-13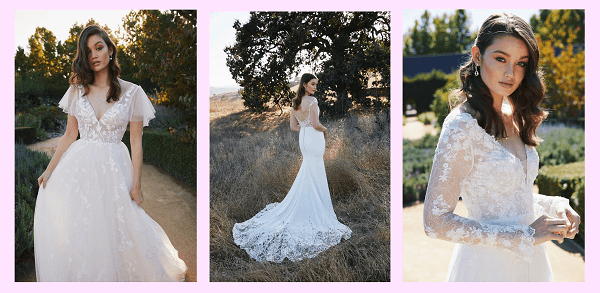 We couldn't be more excited to announce the next trunk show at TWD!  The Lis Simon show will be taking place on Friday, June 12 and Saturday, June 13!  We are so excited to have some new gorgeous gowns in our shop and the TWD-ettes are so excited to help all our new brides find "the one!"  Appointment slots go very fast, so book your appointment as soon as possible….and then read the below to ensure you know what to expect for your appointment during this very exciting event!
If you have never heard or been to a trunk show, let us fill you in on what they are all about! A trunk show is where a bridal shop has an entire collection from one of their designers in house for a limited time.  We are so excited to get the the most recent collection from Lis Simon. This designer is able to do customizations to the dresses that other designers cannot offer, and this makes Lis Simon able to make a dress completely unique to you!
If that fact isn't exciting enough, we will also be offering a discount to all of our brides that say "yes" to one of the trunk show dresses! Not only will you be getting a stunning gown, but at the Lis Simon Trunk Show, you know it will be at a great price! This weekend is the only time that we will be able to offer that discount, so make sure you are ready to say yes if you find your perfect dress!
Here are some tips we'd love to share with you about trunk shows! First off, timing is an important thing to think about when it comes to a trunk show dress. Any trunk show dress will take six months to come in and you still need time for alterations, so keep that in mind when shopping those gowns.  Secondly – and this one is important – because the gowns are in the shop just for two days, it is important to come prepared to say yes!  At the end of the day Saturday we pack up the dresses and send them back to the designer, so they will no longer be in our shop.
So that about sums it up!  We are thrilled to host this amazing event and can't wait to meet our brides and see who ends up with their perfect wedding dress!