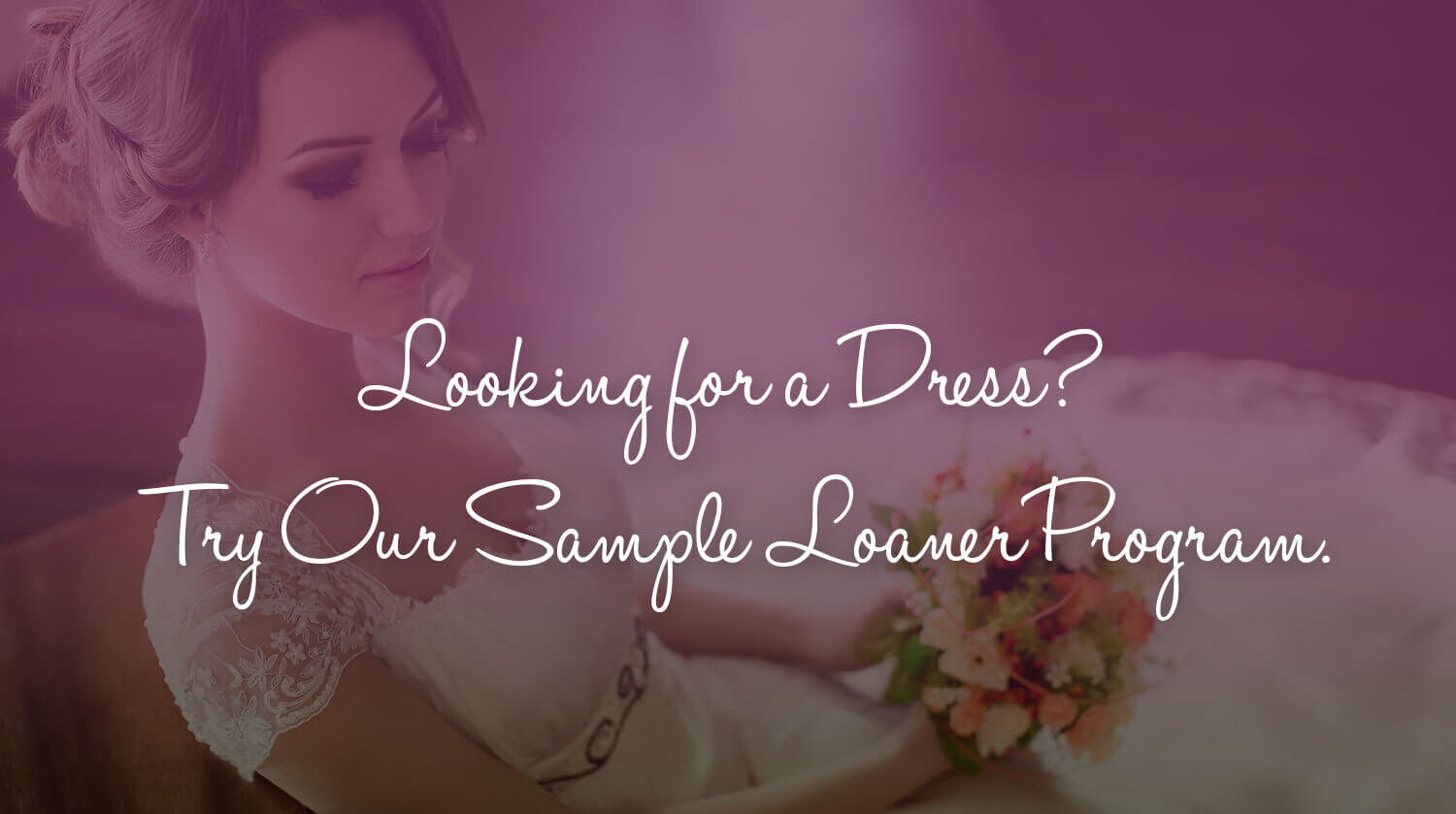 Looking for a Dress? Try Our Sample Loaner Program.
Won't know if it's THE dress until you try on THAT dress? Our sample loaner program can help.
Buying a wedding dress is one of the biggest decisions a bride makes as she plans her wedding. It's also one brides have probably spent years dreaming about. By the time a bride comes into our boutique, we know she's probably spent hours looking at pictures of wedding gowns already, and probably has a pretty firm idea of what she wants in mind.
We love when brides have a clear vision for their dress. But sometimes, while searching, they come across what they believe is the absolute perfect dress. It can be one they love so much that they can't see themselves picking any dress until they've had a chance to try it on.
Unfortunately, finding a specific dress can be more complicated than booking a bridal appointment. The bride first has to find a boutique that carries that designer—and that dress. And what many brides don't realize until they start shopping is that not every boutique carries every designer, or every dress from the latest collection.
So, if she's having trouble finding her dream dress, what's a bride to do?
Our sample loaner program is there when you need it.
The good news for brides is that many designers will work with their bridal boutiques to make sure that every bride gets to try on her perfect dress. While a boutique may only carry a selection of gowns from each season's collection, they've probably had a chance to see the whole collection in person, and will know how to find the gown you're looking for. This means they can contact the designer and ask for a sample for one of their brides to try on.
We have a sample loaner program for our brides, where we will borrow a dress from one of our designers and have it shipped to our store. Simply call us at least two weeks ahead of your appointment to ask about the dresses we carry, and to request a sample loaner if necessary. While there is a $40 fee involved, this fee will be credited toward the cost of any dress at TWD, should the bride end up purchasing a dress in our store.
Don't know what you want? Our stylists can be your guide.
Even if you don't know what dress you want, our stylists can help you find the right gown. Each year, our stylists go to bridal market to see the latest collections from the designers we carry. From the latest line, we will choose which dresses we believe our brides will most like to see.
We make our choices based on price point, the latest trends, the designs of the gowns themselves, and the types of dresses that are popular for our Michigan brides.
For instance, we know that the popular wedding locations in Michigan include along the Great Lakes, or in rustic chic venues. We also know how popular winter weddings are—and how cold they can be! We choose our gowns so that our brides can find exactly the right dress, whether they're planning to get married in a Detroit cathedral or a garden in Kalamazoo.
We're open for bridal appointments!
If you're interested in booking an appointment at our bridal boutique, contact us! While we have special policies in place in response to the Covid-19 pandemic, we can accommodate bridal parties of up to three people. We also offer special reservations for the whole store for those who want to bring in a larger party.
Call us to set up an appointment and ask about a loaner sample while you're at it!