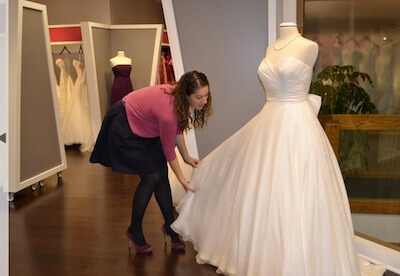 More Press for TWD !
Ok, I will admit it.  I have been silent on the blog for way too long.  And though I may have a good reason for it (ahem, I just opened up shop a week ago!) it still makes me wish I had an extra hour in every day (ok, who am I kidding?  I wish I had 10 extra hours in my day right now!) just so I could blog about all the fun wedding topics that are constantly swirling in my head!  I digress…
Back to the real reason for the post – The White Dress made headlines once again!  I feel so honored to have been featured by two local news organizations – the Brighton Patch and Livingston Daily News.
First, Jim and Gillis from Livingston Daily News came by the shop and conducted an interview as I showed them around.  It was a fun tour, filled with lots of great interjections and questions, which I love since I have been known to be a long-winded chatter.  (Questions help keep me in line.)  Anywho, I just love the article they put together.  Want to read it?  Ok, good…here it is:

Then, a few days later, Nicole from the Brighton Patch stopped by!  (But first, she stopped by to record this.  Eeks, fun!)  We had a jolly good chat about my background and she also got the grand tour of the shop.  We had a lovely time getting distracted by gorgeous dresses, but she still managed to get all her questions answered!  And here, my friends, is the fab article featured in the Brighton Patch:

So, what do you think?  Do you like them as much as I do?  Ok, that may be stretching it, but all I can say is that I am one happy bridal shop owner over here!
Chat soon friends!