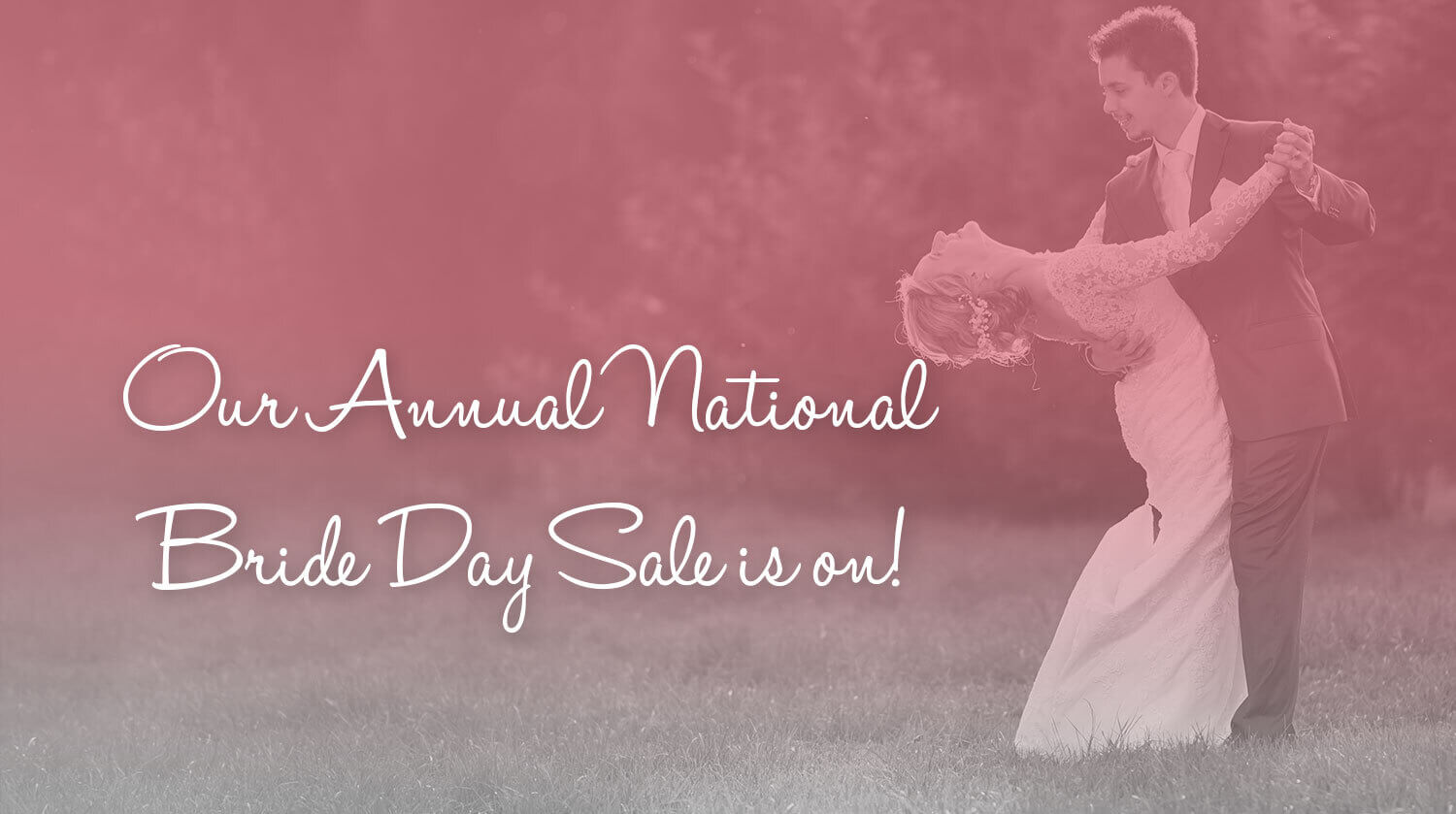 Our Annual National Bridal Sale Is ON!
Make a reservation to try on dresses from our annual National Bride Day sale, running July 21–25!
As a bridal boutique, we accumulate a lot of dresses. Each season, designers release a new line, and in order to make room for them, we need to retire some of the previous season's sample wedding dresses. That's why, every year, for National Bride Day, we run a special sale of all the sample dresses we have in store—as well as a few that are brand new!
It's a perfect chance for brides to come in and purchase a gown off the rack at a bargain price. If you're a bride who is shopping on short notice, this may be your only chance to get a dress in time for your wedding! Because these dresses won't be ordered in, there's no wait. All you have to do is find a dress in your size, and plan for a few alterations to achieve the perfect fit!
Sounds too good to be true, right? Just wait till you hear more of the details.
Over a hundred dresses in sizes 8–24.
This isn't a small sale with only a handful of dresses. We have over a hundred dresses that we're offering brides in sizes ranging from 8–24. They come in every style, too! From dramatic ball gowns to figure-hugging boho slips to little tea-length numbers, you can find a dress to fit any wedding style.
90% of our dresses are on sale for under $1000, and some are as low as $100! This is an unbeatable opportunity for a bride to get the dress of her dreams without breaking her budget. And just because these sample dresses are nearing the end of their run doesn't mean you can't find a statement couture dress! We may be offering you a great deal, but we still want you to look—and feel—fabulous!
Covid-19 requirements for visiting our bridal boutique safely.
Due to the coronavirus pandemic, brides who come to our boutique will need to follow a few safety protocols:
Appointment only. Brides must schedule an appointment as we are limiting the number of people in our store at any time.
1–3 people per group, bride included. In order to maintain social distancing guidelines, we are limiting the size of groups inside the store at any time. The bride can bring up to two companions along to her appointment.
Call or text upon arrival. Because we don't allow walk-ins, you will need to text us when you arrive. We will open the door for you and escort you to your fitting room!
Face coverings required. For the protection of our brides, their friends and families, and our TWD-ettes, we are requiring everyone to wear a face covering at all times. Thank you for being considerate!
Remain in the fitting room. Unfortunately, we cannot let our brides browse the wedding dresses at this time. However, our lovely fashionistas know our dresses by heart. They'll listen to what you have in mind and select dresses that match your vision!
Want to be prepared? Take a look at our Sample Sale dresses to see what we have on offer! We'll be doing our best to keep our list up to date with dresses as we add them to the sale, but because these are sample dresses, once we've sold them they're gone for good. So if you see a dress you love, book an appointment right away!
We look forward to welcoming you to our boutique!
Although we've had to make new arrangements to be safe during the coronavirus pandemic, we are so excited to be welcoming our brides back to our store. And with our National Bride Day sale, there's never been a better reason to schedule an appointment. So come on in! We'll be delighted to help you find THE dress—from a safe distance, of course!