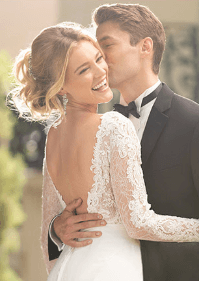 Stella York Designer Preview Trunk Show . July 17 and 18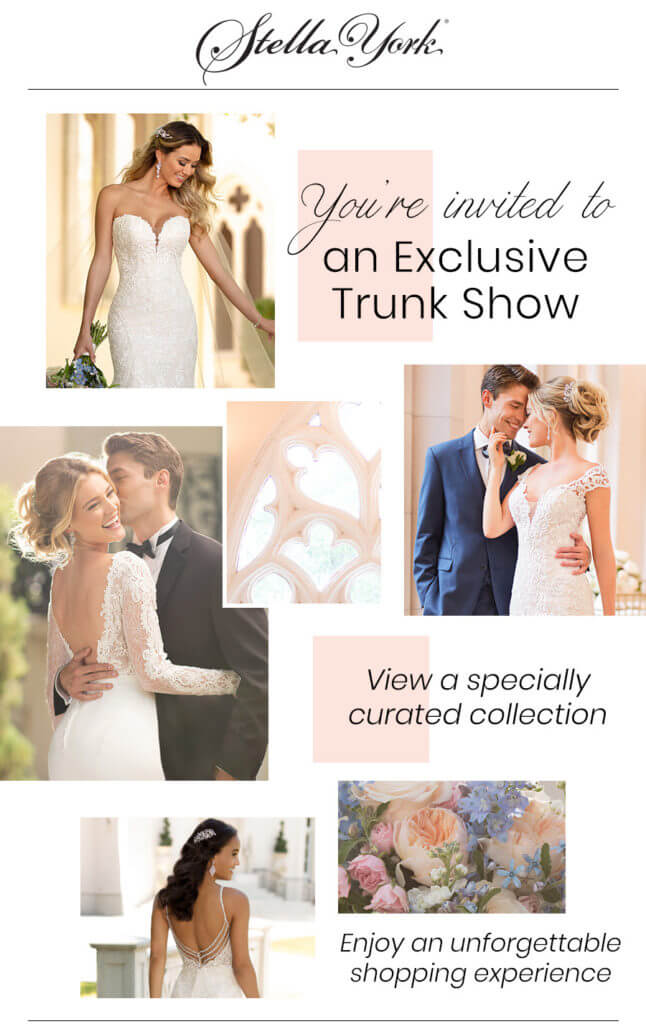 We couldn't be more excited to announce the next trunk show at TWD – and it's the very best kind – the Stella York Designer Preview show taking place Friday, July 17 and Saturday, July 18! Appointment slots go very fast, so book your appointment as soon as possible….and then read the below to ensure you know what to expect for your appointment during this very exciting event!
Traditionally a trunk show is where a bridal shop has an entire collection from one of their designers in house for a limited time.  While that is true in this case, what is unique and different – is that the collection of dresses in our shop is part of the unreleased, and in-progress, collection from Stella York and exists no where else in the world!  Yes, you read that correctly, the dresses in our shop are one-of-a-kind and will be able to be tried on and ordered for our brides that find their perfect dress!
If that fact isn't exciting enough, we will be lucky to have some Stella York designer representatives in the shop during the event and they will be around to give their insider expertise and to gather feedback from our brides!  You see, this collection is in progress and they are taking feedback direct from our brides to determine which dresses to keep in the collection, and which ones to cut, and which ones to modify.  Ah-mazing!
So, if you haven't read between the lines yet – if you say yes to the dress during this amazing event, you could end up with a complete one-of-a-kind dress!  (Meaning that if the dress gets cut from the collection, you are still guaranteed that it is the exact dress you said yes to, but it won't be available for any future brides to fall in love with.  Score!)
Since this is our 8th Designer Preview Trunk Show, we have some tips we'd love to share with you!  First off, because of the special nature of this show, the gowns do take a little bit longer to be made, so all brides coming to the trunk show must be getting married after February 9, 2021.  Secondly – and this one is important – because the gowns are in the shop just for two days and because the designer makes modifications to the dresses after our show, it is important to come prepared to say yes!  Unfortunately, there is no calling or coming back later for these gowns.
So that about sums it up!  We are thrilled to host this amazing event again and can't wait to meet our brides and see who ends up with a one-of-a-kind wedding dress!