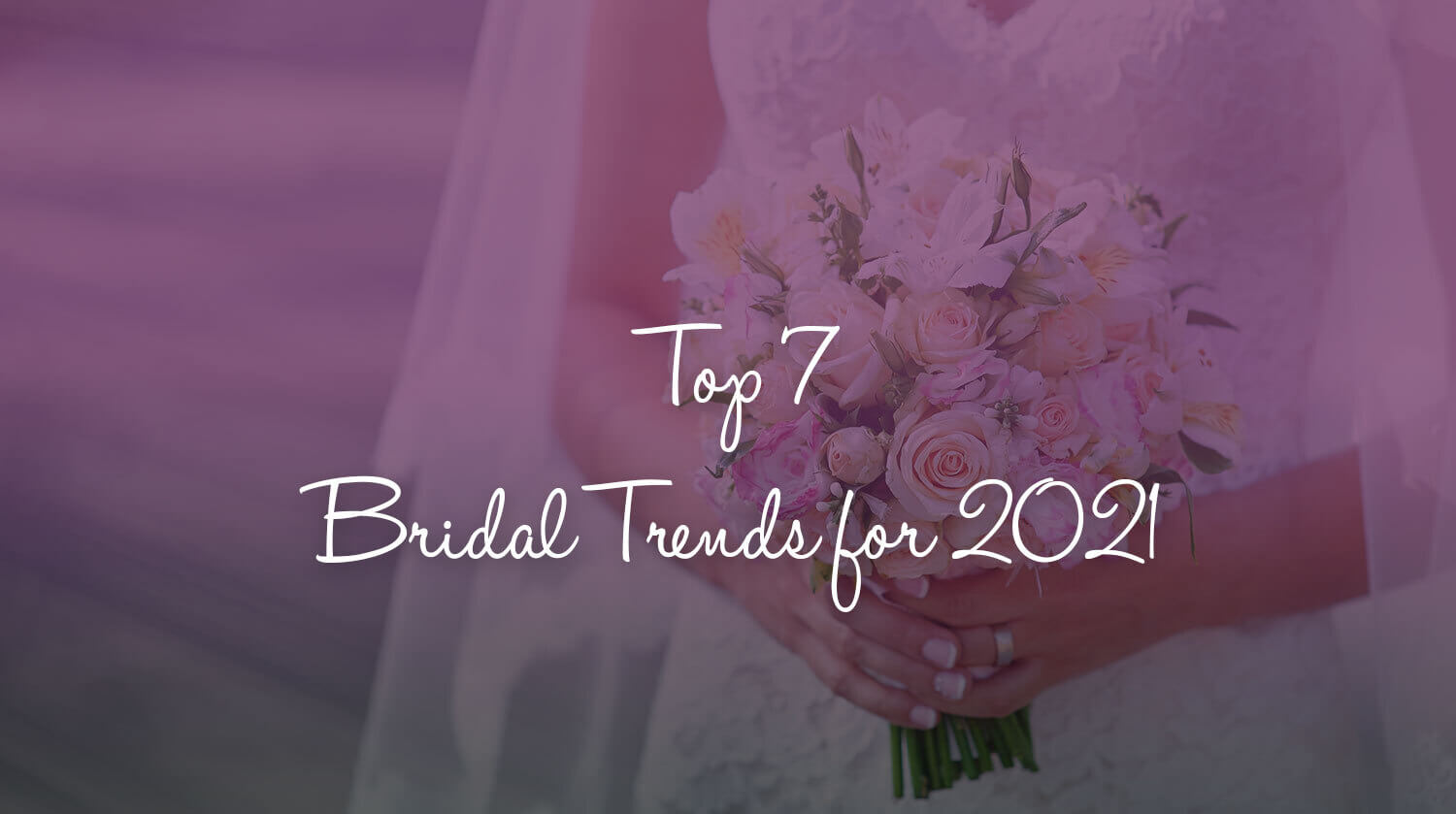 Top 7 Bridal Trends for 2021
The next year is bringing new trends in bridal fashion. Here are new looks.
The pandemic has caused a lot of brides to change their plans this past year, with many putting their ceremonies off entirely, and others pulling together a short-notice mini wedding with plans for a bigger bash when conditions are safe again. Not surprisingly, wedding dress trends are following suit.
Many of these dresses follow a similar theme, from rompers and mini dresses with removable overskirts, to boleros, capes, and other mix-and-match outfits. Brides are choosing simple styles for their micro weddings, but hoping to wear the same dress—with a switched up style—for their party celebration later.
In other cases, we're seeing brides who are using the delay in their plans to save up extra budget for their wedding. After a year of no parties, they're ready to welcome the post-quarantine world with a bang, and they want a dramatic look to go with it.
The happy irony is that between these trends with seemingly no middle ground, there are plenty of options for everyone. More budget friendly gowns for micro ceremonies are also perfect for brides who want two dresses, to switch up their looks between the wedding and reception. And versatile dress trends make it easier than ever for a bride to wear an elegant gown with a trailing overskirt for the ceremony, then take it off when it's time to start dancing.
There's a lot to look forward to in the coming year. Here are the top emerging dress styles to engage your imagination.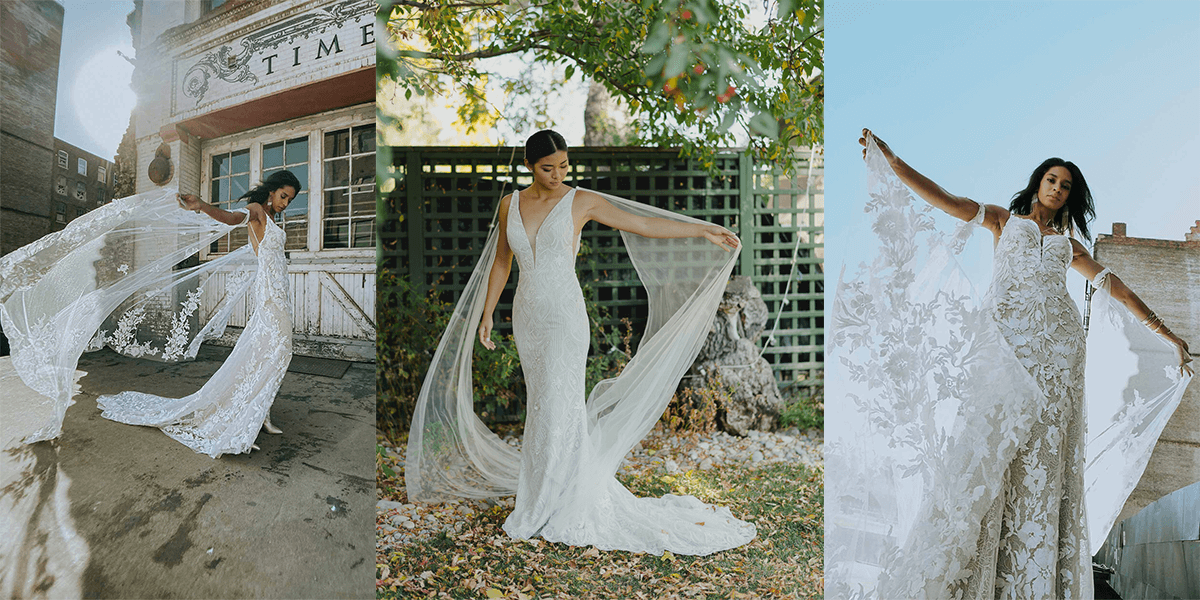 1. Capes and streamers.
Hello drama! A number of runway fashions this year have featured variations on capes, from long, trailing sleeves to sheer shoulder coverings, and we are here for it. Streamers are a statement choice for brides who are planning a winter or fall wedding and want something to keep them warm. They're also a good choice for brides who want something long and flowing, but don't want the traditional train.
Pictured: Lance, by Lis Simon and Bowie, by All Who Wander.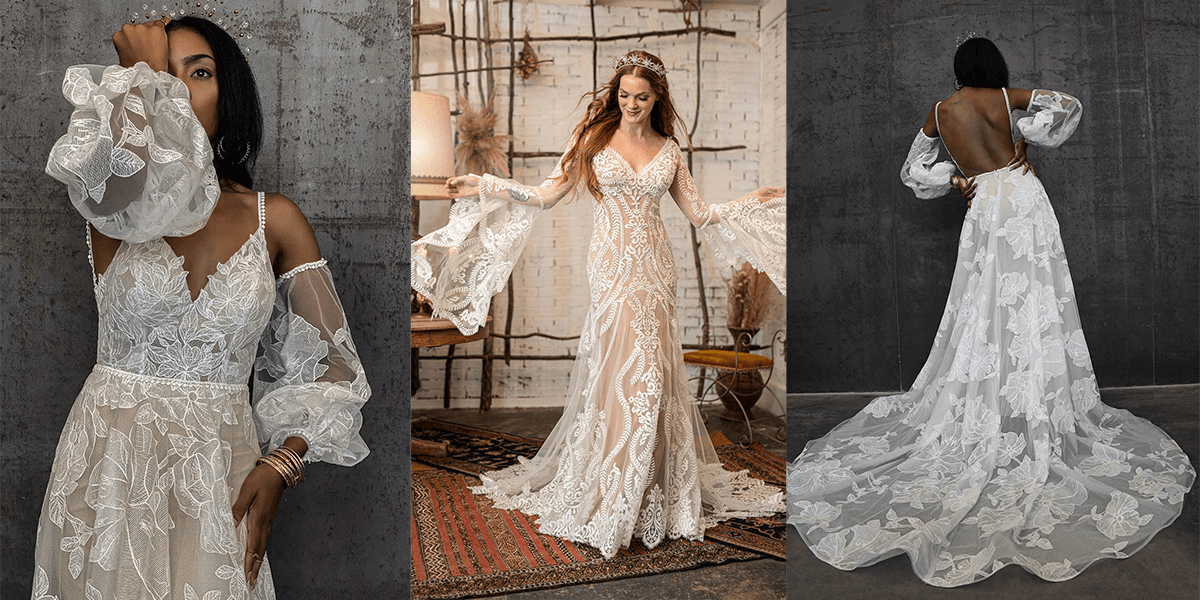 2. Full sleeves.
It used to be difficult to find a dress with sleeves, but in 2021, they're all the rage. While long, fitted sleeves have been the typical style, the latest trend is for bell sleeves, with their romantic princess vibes, or full bishop sleeves, which gather together at the cuff for an elegant finish. Whether in opaque chiffon or sheer lace, this is a stunning trend we hope sticks around for a while.
Pictured: Aspen, by Essence of Australia, and Lenox, by All Who Wander.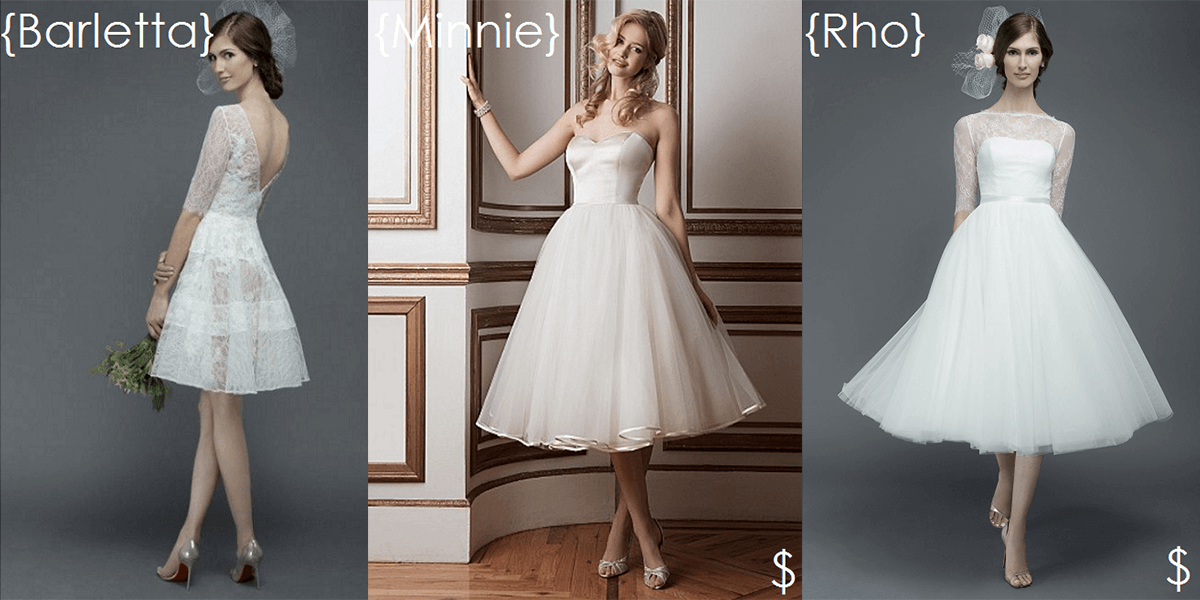 3. The Little White Dress.
It seems like only a few years ago, the idea of wearing a short wedding dress was nearly unheard of. Now LWDs are all over the runways, in everything from mini dresses to rompers (not technically dresses, we know). We think the tea-length dresses in particular are a cute style that would be perfect for a garden wedding, especially for brides who don't want to get their trains dirty. LWDs are also a classic choice for rehearsals, receptions, and even bachelorette parties and bridal showers.
Pictured: Barletta, Minnie, and Rho, from our recent sample sale.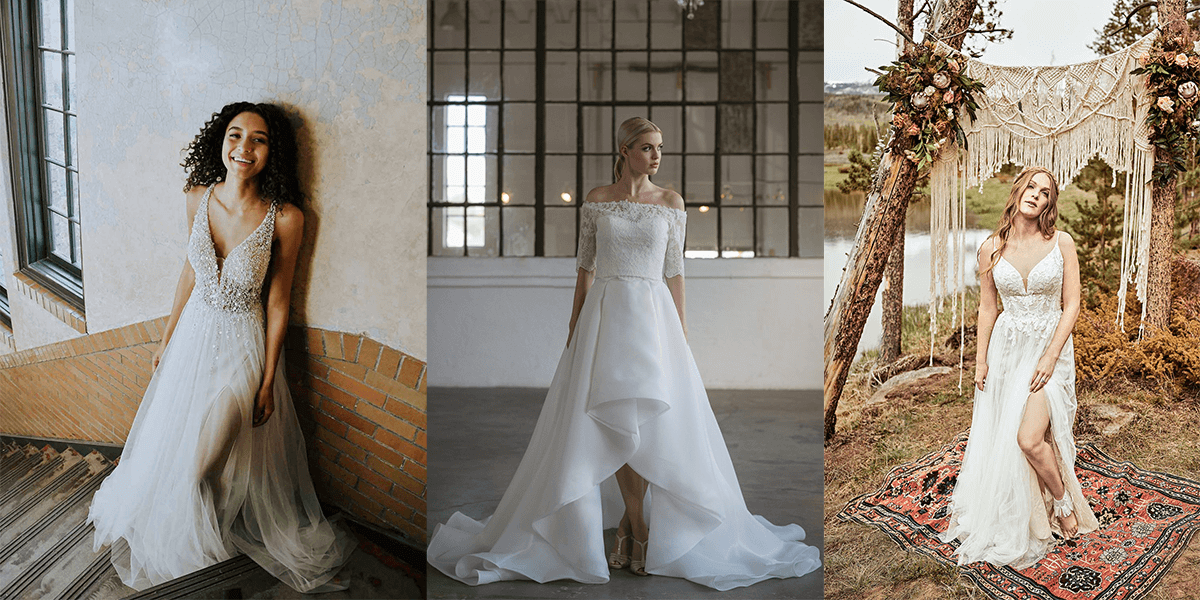 4. Hemlines that show a bit of leg.
Many brides can't seem to choose between a fun and flirty LWD and the drama of a gown with a train. And why should they, when they can have both? High-low hemlines continue to make a showing in many collections this year, as are gowns with a high slit, for brides who want a breezy, causal feel.
Pictured: 7328 by Stella York, SS110 by Lis Simon, and Marly by All Who Wander.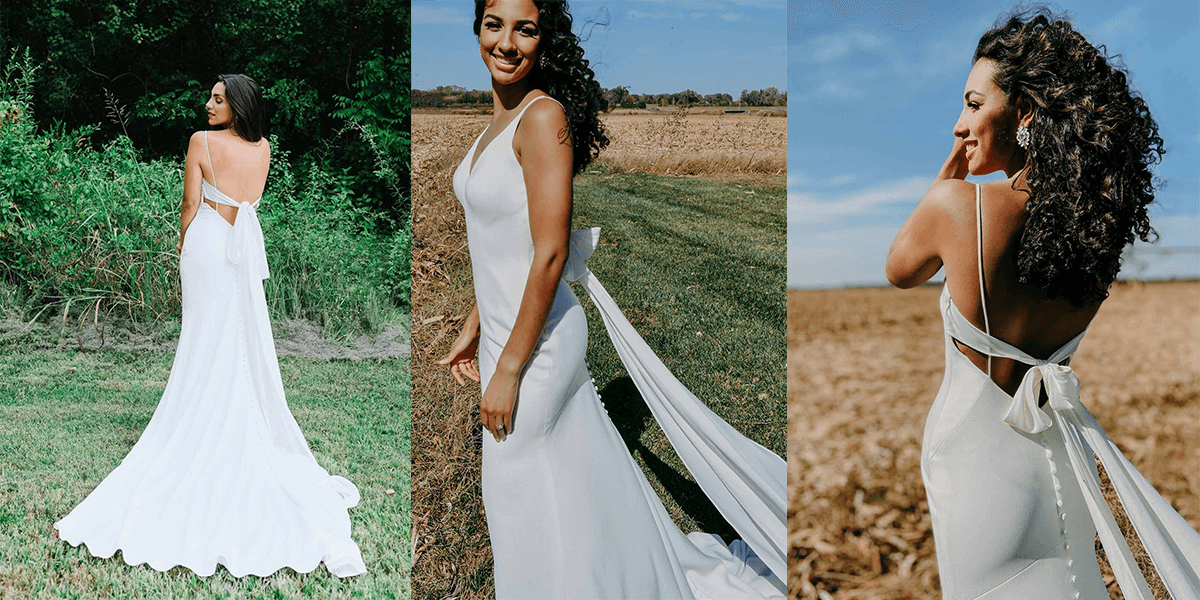 5. Backless.
We've seen a lot of low-cut and illusion backs over the years, but this year they seem to be particularly on-trend—especially when paired with higher necklines in the front and sleeves. It's another way in which brides seem to be playing with demure and sexy looks in one dress.
Pictured: 7290 by Stella York.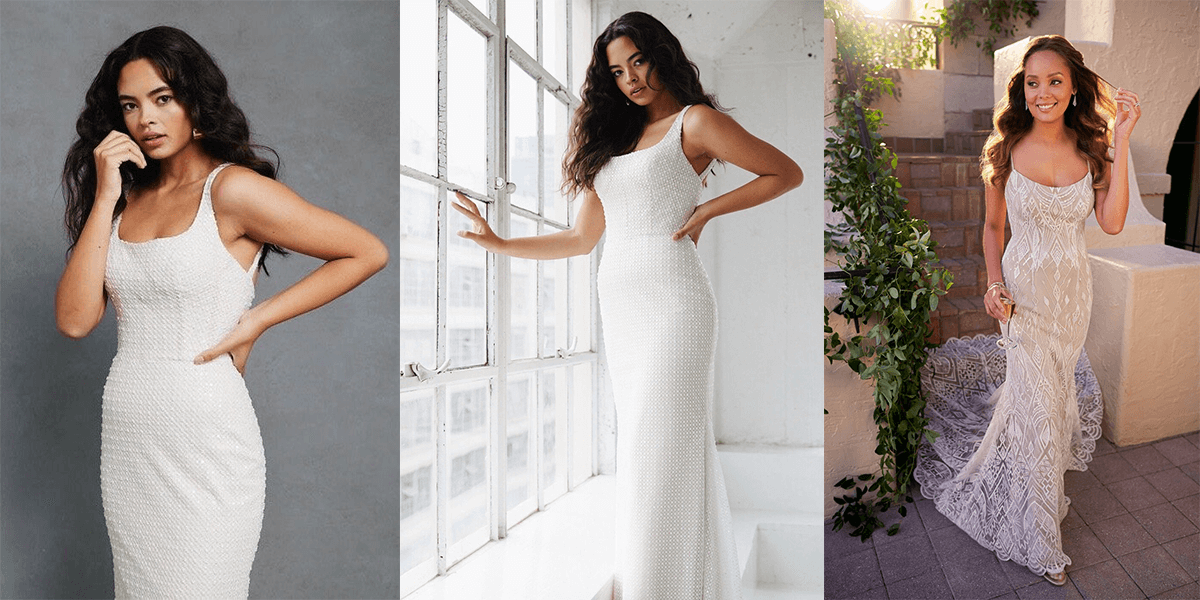 6. Square necklines.
It seems that the sweetheart neckline finally has some competition! Square necklines are making a strong showing this year, aided by the popularity of sleeves. (After all, you can't have a square neckline on a strapless dress!) This is a great choice for brides who have a special necklace they would like to frame.
Pictured: Lena, by Lis Simon, and 7130 by Stella York.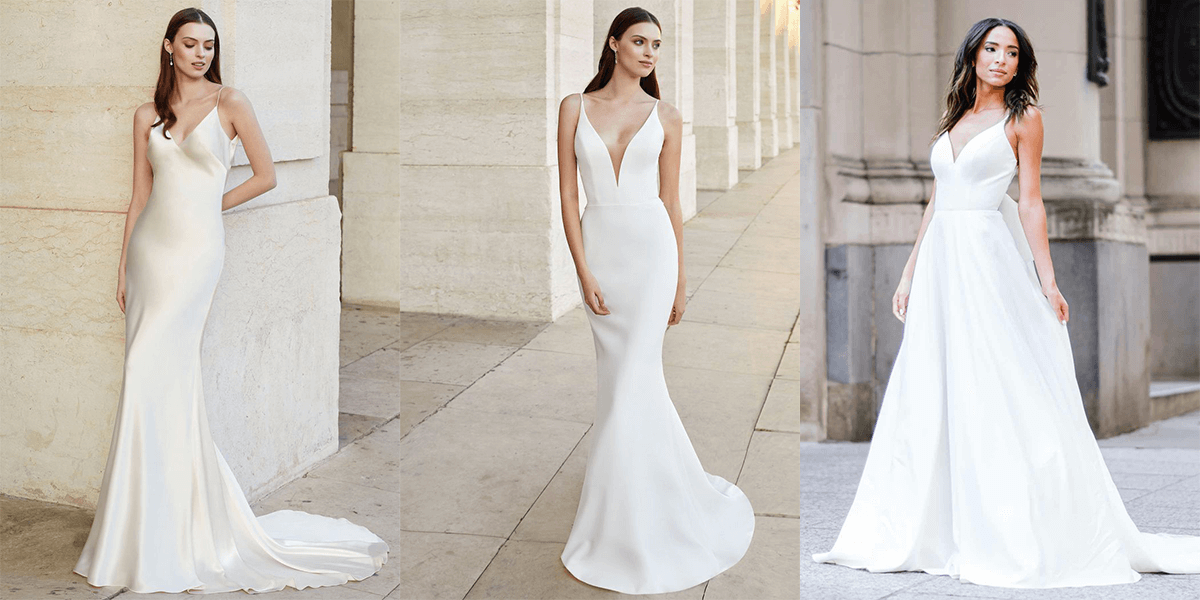 7. Slip dresses and minimalism.
Some styles come in and out of fashion, as brides reach for throwback looks to retro styles that were popular during or just before their childhood. This year, we're seeing the slip dresses and spaghetti straps of the 90s start to grow in popularity, in sleek, clean fabrics without a lot of adornments. This is in keeping with a minimalist trend that we've seen for a few years now, where lace and ruffles and set aside in favor of designs that put the emphasis on dramatic silhouettes or carefully constructed seam lines.
Pictured: 11159 and 11140 by Adore by Justin Alexander, and 7211 by Stella York.
2021 is going to see more versatility in bridal gowns that previous years.
Whatever trend attracts you most, we're here to help you find a dress that meets your dreams. With a vaccine around the corner, brides are beginning to plan their weddings in earnest, and that means finding their wedding dress.
While our boutique is still booking bridal appointments, with some covid-19 restrictions in place, we also offer private bookings for brides who want to reserve the entire store for their bridal appointment. The reservation costs $150, but will count toward a wedding gown, should the bride find her dress during her appointment. For a private appointment, the bride can bring up to seven guests for a total party size of eight, although we do still require the bride and her guests to remain masked.
Contact us today to make a special appointment with one of our stylists.