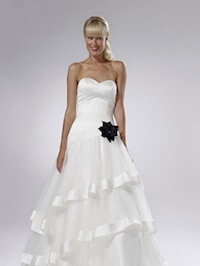 TWD : Opening Soon!
Written by: Kristy
Big, big, BIG announcement today!  We have finally decided to count down the days to our grand opening!!  I feel like I need to make it even more official.  So here it is, officially official:
The White Dress will be open for business beginning on December 1, 2011!
(Ok, now can I get a big ol' YIPEEEE?!  No?  Well, I am going to do it solo then!  YIPPPPEEEEE!!)
So, here are the deets:
For the first few weeks of our opening, we will be operating on a "By Appointment Only" basis.  So, if you are interested in shopping at TWD, give us a call or visit the website and we will get you on our books!
As we transition the shop from full-time construction mania to full-time bridal wonderland, we will begin operating under our normal shop hours.  When will this be?  Well, we aren't exactly sure.  But you can count on us to give you a head's up here on the blog when that time comes.
And of course we can't let the opening of The White Dress pass without a celebration!  But with the holidays being so hectic, we wanted to make sure that the Grand Opening Party doesn't get missed.  So this soiree will take place in early January!  (Oh yes, you lovely newly engaged holiday girls – this is for you!)  The White Dress Bridal Store Michigan Grand Opening Party will include lots of fun surprises for our brides and for the general public alike.  Stay tuned for more details on that – I promise it will be worth the wait!
So, are you ready future TWD brides?  Because we are beyond ready to meet you!