our style team
---
Want to know just who you will be shopping with when you visit The White Dress?  Read along to get to know more about the gals at The White Dress.  And because we just love nicknames, we call ourselves, the TWD-ettes.  Feel free to call us the bridal dream team if you wish.
Kristy, Owner and Bridal Style Expert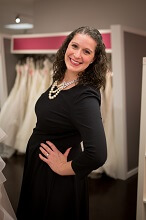 Kristy has been dreaming of wedding dresses since she was a little girl.  Never once did she think she would be lucky enough to be surrounded by their beauty on a daily basis.  But after lots of hard work, and a little bit of fate, her dream came true when she opened up The White Dress in 2011.  Though she loves all aspects of running her boutique, her favorite part is working with brides.  "Seeing the dresses come to life and be loved by another is so rewarding.  And making their dream dress a reality is the best!"  Kristy's loves outside of weddings?  Puppies, chocolate, and all things pink!
Marissa, Shop Assistant Manager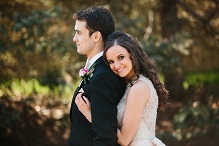 Marissa is one of the friendly gals that will greet you when you walk into our lovely boutique.  She wears many hats here at TWD, so you can spot her walking around the boutique keeping our little shop in order… as well as behind our front desk checking out TWD clients.  And if you have ever called TWD, you have most likely spoken with Marissa as well!  She is meticulous not only when it comes to keeping the boutique looking its best, but also keeping things organized behind the scenes as well.  Her favorite part about working at TWD?  "I love seeing the brides in all the dresses, especially when they have the dress on – they just glow!"  Marissa is an avid ballerina (and a good one at that), has a thing for cute shoes, and loves dessert so much, sometimes she skips dinner just for a sweet treat.
Meg, Shop Assistant Manager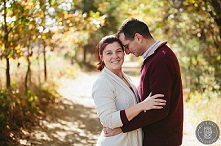 Meg is another friendly face that will greet you at The White Dress.   Brides love her positive and calming energy during bridal appointments – which is perfect for those brides that may be a bit nervous when trying on dresses for the first time.  But calm you will be with Meg at the helm of your appointment.  Her main goal?  "I just want to make each and every bride have a dream wedding dress shopping experience!  Every girl deserves to feel like a princess during their quest to find the perfect dress and I love to be able treat them that way."  Outside of TWD, Meg likes to hang out with her husband and two adorable daughters.  And when she can, she finds time to hunt down some fashion bargains!  (Talk about a master shopper!)
Ashley, Bridal Style Expert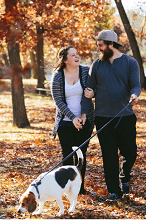 Ashley is another fabulous TWD-ette and Bridal Style Expert that you will meet when you come to our boutique.  Ashley has loved weddings since she was a little girl and has a stack of bridal magazines that will rival any wedding-enthusiast!  Her passion for bridal fashion shines through when helping our brides on their wedding dress journey – she has a knack for making everyone around her feels comfortable, especially the bride!  And we can bet that by the end of your appointment with Ashley, you will feel like you just had a fun time hanging out with a friend!  And that is what Ashley loves best about working at TWD – working with each bride to help find that dream dress by listening to each bride's likes, dislikes, needs, and wants.  Fun fact about Ashley?  She adores all animals and is even a foster parent to rescue dogs and cats!
Annie, Bridal Style Expert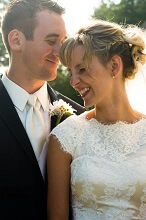 If you are looking for someone who was born to be in the bridal industry (really!), then Annie is your gal!  Annie joined the TWD team in 2014, but has been part of the bridal world since she was a little girl when her mother owned a local bridal boutique.  She learned at a very young age all the ins and outs of wedding dresses, the various customizations that can be done, and most importantly, just how very special being a bride actually is!  Annie is the perfect gal to guide you on your wedding dress journey – she has a vast knowledge of dress silhouettes, fabric types, and is oftentimes using that knowledge to pull the perfect dress for her brides.  Her interests outside of TWD include dance, crafting, and hanging out with her husband and sweet baby boy.
Katelyn, Bridal Style Expert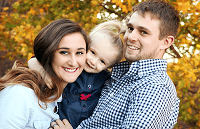 Meet Katelyn, another member of the TWD Bridal Style Team!  Her high energy and love for bridal is apparent from the moment you meet her.  "Wedding dress shopping should be fun!" she says.  This positive mentality always makes her appointments big on the fun-factor and low on the stress-factor.  Her favorite part about working with brides is, of course, that moment when the bride finds the one!  "I just love to see the emotion on a bride's face – whether it is tears of joy or just that lit up bright and excited smile – it makes me feel honored to have been part of such a major moment in her life!"  Outside of TWD, Katelyn enjoys spending time with her friends and family, including her young daughter and son.
Mary, Bridal Style Expert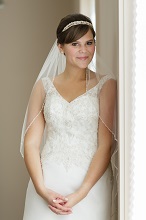 Meet Mary!  Mary joined the TWD Bridal Style Team in 2016 with a background in fashion design.  Her passion for bridal really shines when she is working one on one with her brides – she has that knowledge of fabrics, silhouettes, and styles.  Plus, she has a knack for pulling wedding dresses that are a little outside-of-the-box, but that brides instantly fall in love with!  Her patience and friendly nature will make your bridal appointment fun and stress-free!  So why does she love working with brides?  "Brides are the happiest people and I love making them even happier by creating a wonderful bridal shopping experience.  Bringing joy to them just makes me happy!"  Besides her love for bridal, Mary is an avid sewer (hello fashion design!), enjoys volunteering and a good relaxation session in front of the TV.
Emily, Bridal Style Expert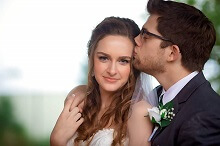 Emily started working at The White Dress in January 2018, but she was at TWD many times prior to her start as a TWD-ette because she is a former #realTWDbride!  Emily had her big day in September 2016 and had such fond memories being a bride at TWD that she decided she wanted to make other brides feel just as special as she did.  "I just love being able to make a bride's wedding dress shopping experience fun and enjoyable!  I also really enjoy hearing each bride's story and vision for their dress and their big day – it is amazing to be able to help bring that to life!"  Emily's brides love how great she is at helping them pair down their favorites and her ability to help them think practically about which dress is "the one"…all while having a fun time!  Outside of TWD, Emily enjoys hanging out with her family and being outside to enjoy the beauty of nature!
Hannah, Steaming and Receiving Assistant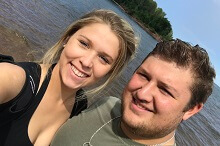 Meet Hannah!  She became an official TWD-ette in June 2018.  And – fun fact – she is yet another TWD team member who was an "official TWD bride" before becoming an "official TWD-ette"!  Her work behind-the-scenes is vitally important as she is one of our "TWD Steam Queens" and ensures all our client's dresses look perfectly pressed.  Her favorite part about working at TWD?  "Helping be a part of the TWD Experience and making each bride's dress perfect for them!  Even though I don't meet a lot of our customers face-to-face, I love helping their dresses look amazing!"  Outside of work, Hannah is busy planning her February 2019 wedding…and in any spare time that isn't occupied with that, she enjoys hanging out with family and hiking the beautiful outdoors.
Robyn, Steaming and Receiving & Bridal Style Expert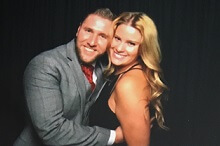 Meet Robyn, one of the resident "TWD Steam Queens"!  (Hey, it can be tiring steaming dresses all day long, so these ladies definitely deserve the royal title!)  Like many of her fellow TWD-ettes, Robyn is a huge dog-lover and we all love hearing the funny anecdotes about her fur-babies Desmond and Haviana!  Her flair for organizing, attention to detail, and fun personality make her a perfect fit for TWD!  Outside of work, she enjoys boating with her family and friends and, of course, snuggling with the puppies and husband …not necessarily in that order!
Cathy, Steaming and Receiving Manager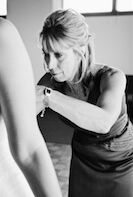 Though Cathy is Kristy's mother, she is well qualified for her position.  "I even had to interview for it!" she exclaims.  Though she has spent many hours working one-on-one with brides, these days she is more involved in all the background action that takes place behind the scenes.  Running the "TWD Back Room" is no small feat with all the dresses that come in and out of the shop…and steaming them to perfection is a big job!  While she does miss seeing that special moment when a bride (and her mother) light up when they just know that the dress is THE dress, she also appreciates the task of making sure that each bride's dress is steamed and pressed to perfection for her big day! More about Cathy?  She lives for the sun (with sunscreen, of course!), loves to sew, and enjoys winding down in tub filled with bubbles!
Find out more about The White Dress…