Want to know just who you will be shopping with when you visit The White Dress?  Read along to get to know more about the gals at The White Dress.  And because we just love nicknames, we call ourselves, the TWD-ettes.  Feel free to call us the bridal dream team if you wish.
Kristy, Owner + Founder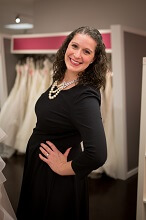 Kristy has been dreaming of wedding dresses since she was a little girl.  Never once did she think she would be lucky enough to be surrounded by their beauty on a daily basis.  But after lots of hard work, and a little bit of fate, her dream came true when she opened up The White Dress in 2011.  Though she loves all aspects of running her boutique, her favorite part is meeting the brides.  "Seeing the dresses come to life and be loved by another is so rewarding.  And making their dream dress a reality is the best!"  Kristy's loves outside of weddings?  Puppies, (vegan) chocolate, and all things pink!
Marissa, Shop Manager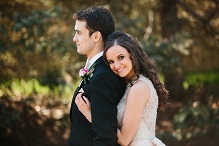 Marissa is one of the friendly gals that makes up our team and has worked at The White Dress since 2012.  She wears many hats here at TWD, and is meticulous not only when it comes to keeping the boutique looking its best, but also keeping things organized behind the scenes as well.  Her favorite part about working at TWD?  "I love seeing the brides in all the dresses, especially when they have the dress on – they just glow!"  Marissa is also a dance teacher and spends time each week working with young dancers.  Outside of all of this, Marissa spends any remaining spare time with family!  In fact, Marissa, along with her husband and daughter, keep a travel vlog where they travel to amusement parks across the USA!
Meg, Shop Manager + Bridal Style Expert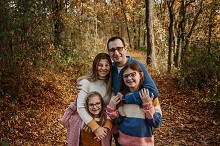 Meg is another friendly face that will greet you at The White Dress.   Brides love her positive and calming energy during bridal appointments – which is perfect for those brides that may be a bit nervous when trying on dresses for the first time.  But calm you will be with Meg at the helm of your appointment.  Her main goal?  "I just want to make each and every bride have a dream wedding dress shopping experience!  Every girl deserves to feel like a princess during their quest to find the perfect dress and I love to be able treat them that way."  Outside of TWD, Meg likes to hang out with her husband and two daughters.  She is often found either at Target or running very long distances; in fact, she is marathon training at the moment!  And when she can, she finds time to hunt down some fashion bargains!  (Talk about a master shopper!)
Annie, Shop Manager + Bridal Style Expert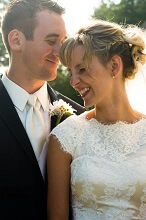 If you are looking for someone who was born to be in the bridal industry (really!), then Annie is your gal!  Annie joined the TWD team in 2014, but has been part of the bridal world since she was a little girl when her mother owned a local bridal boutique.  She learned at a very young age all the ins and outs of wedding dresses, the various customizations that can be done, and most importantly, just how very special being a bride actually is!  Annie is the perfect gal to guide you on your wedding dress journey – she has a vast knowledge of dress silhouettes, fabric types, and is oftentimes using that knowledge to pull the perfect dress for her brides.  Her interests outside of TWD include dance, crafting, and hanging out with her husband and two sweet little boys.
Katelyn, Bridal Style Expert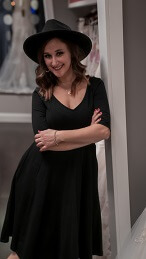 Meet Katelyn, another member of the TWD Bridal Style Team!  Her high energy and love for bridal is apparent from the moment you meet her.  "Wedding dress shopping should be fun!" she says.  This positive mentality always makes her appointments big on the fun-factor and low on the stress-factor.  Her favorite part about working with brides is, of course, that moment when the bride finds the one!  "I just love to see the emotion on a bride's face – whether it is tears of joy or just that lit up bright and excited smile – it makes me feel honored to have been part of such a major moment in her life!"  Outside of TWD, Katelyn enjoys spending time with her friends and family, including her husband and children.
Nerissa, Bridal Style Expert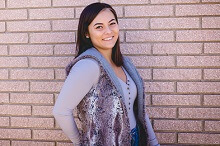 Nerissa started working at TWD in the Fall of 2018.  Because this gal has so much love and zest for the wedding industry, she decided to dedicate a few Saturdays a month at TWD, on top of her 40-hour a week "regular" job!  She absolutely loves working one-on-one with brides and is great at really listening to their bridal vision.  Her brides love her attentiveness and friendly nature, so much so that by the end of the appointment, they truly feel like they have been shopping with a new friend! "Being able to help women pick out their dream dress brings me as much joy as they have for their dress.  Knowing that I helped them find a dress that makes them look and feel their absolute best is an indescribable feeling!"  In her spare time – when she has it! – Nerissa loves going to concerts and taking barre classes at The Barre Code.
Jillian, Bridal Style Expert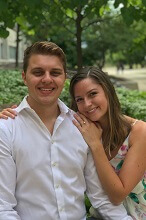 Jillian is another TWD Bride turned TWD-ette!  She joined our team in early 2019 after visiting TWD several times shopping for wedding gowns for both herself and several of her friends.  She enjoyed her experience so much that she decided to apply for our bridal stylist position, and we couldn't have found a more perfect and fun and friendly gal to help you find "the one"!  She has both a very calm demeanor and spunky energy that her brides love.  And you can bet that she will be almost as excited as you when you find your dream dress! "I absolutely love working with people, so being able to work with brides and help them find their perfect dress is such a special job to have.  There is nothing quite like witnessing that "yes" moment and all the joy that follows!"  Outside of her job at TWD, she works at a law firm.  But her true joy is hanging out with her friends, family, and husband, snuggling with her two adorable pups, going to musicals, and exercising.  She also loves pasta and a donut…or four…
Rachel, Bridal Style Expert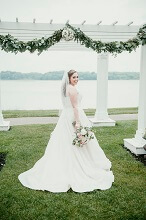 As someone who has always loved weddings and, most especially wedding dresses, Rachel has a natural passion for helping brides find "the one".  Plus, her decisiveness and logical thinking skills really help brides hone in on what they are truly loving in gowns, ultimately leading to that "yes!" moment. "Working with the bride is the absolute best part of the job – I love getting to know about her and her fiancé and hearing all about her wedding style.  It's all an important part of the experience.  Plus, there is something so magical about seeing the bride's face light up when she sees THE dress.  I want to make sure that they feel that when they come to TWD."  Rachel loves being outside!  She spends most of her time (especially in the summer) hiking, camping, and kayaking.  She is also an avid traveler.  And when she is not doing any of those things, hanging out with her husband, two dogs, and watching The Office is where you'll most likely find her!
Brittany, Bridal Style Expert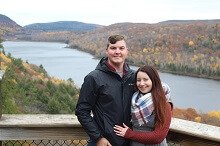 Another friendly face you'll find at TWD is Brittany!  She's been on the team since January 2021 and we know you'll love her positive, bubbly personality!  Brittany has a passion for working with brides and she really knows how to hone in on what her brides are looking for, all the while giving them the fun-filled experience our brides expect.  "I love working with brides to help them find their perfect dress.  Besides the added bonus that we get to hear so many love stories on a daily basis, working with brides and helping their vision come to life is the absolute best!"  Some of Brittany's favorite things to do outside of work are baking, crafting, and traveling as much as possible.  She also relishes time spent with her husband and daughter, along with their dog, Remington.
Katy, Bridal Style Expert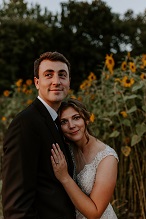 Katy started at The White Dress in March 2023, and she has a variety of jobs here at the shop.  Along with being a Bridal Stylist, she helps out in Steaming and Receiving, and also helps run our front desk!  We love having someone so well-rounded, and our brides love working with Katy – who has a calm demeanor, is super friendly, and is great at making your bridal appointment stress-free.  "I love working at TWD because I get to be around beautiful dresses and wonderful people all day!  It's also so much fun to be a part of someone's big day, especially with something so special as finding their dress."  Outside of work, Katy enjoys going on walks with her husband and dog, Piper.  She also loves traveling, reading good books, baking yummy treats, and sewing her own clothes.
Daniele, Steaming and Receiving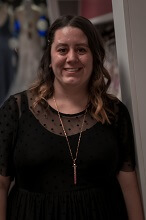 Being a part of the TWD Steam Team is no small job title – and Daniele has been rocking it since December 2021.  This team does it all, behind the scenes, from opening all the boxes that come our way (and there are A LOT of them!), to taking care of the gowns while they are here, to steaming all our bride's items to perfection!  It can take hours to steam out a wedding gown, and the Steam Team works hard to make sure everything is ready precisely when it needs to be!  Daniele says that she enjoys working at TWD because, "I love that I get to be a part of someone's big day.  My work is behind the scenes but seeing a dress from start to finish is fun!"  Outside of The White Dress, Daniele is a college student and likes to hang out with her family.  And where there is a spare moment, you can find her relaxing with good book and a cup of coffee.
Rhiannon, Shop Admin + TikTok Manager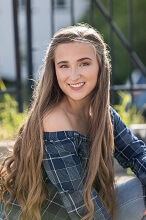 Rhiannon started at TWD in 2018 as a student intern from Brighton High School and has pretty much done every single job at The White Dress since then.  She is the queen of making our shop look perfect and helps behind the scenes in countless ways!  Through it all, she has been able to touch many aspects of the bride's experience at TWD!  "I love the work environment at TWD and that I get to do something new everyday.  The team here is like family and the fact that we get to work with stunning gowns and beautiful brides is icing on the cake."  Outside of work, this avid hockey fan likes yoga, hiking, and spending time with her family and pets!
Aurora, Shop Intern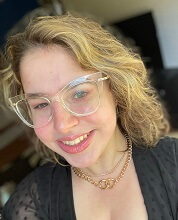 Meet Aurora, the gal who keeps our shop in tip-top shape!  Aurora started as our shop intern in February 2022 and we couldn't be happier to have her join our team.  And if you think it's an easy job to keep our busy boutique clean and neat, then just ask her.  (Spoiler alert: it's not easy!)  Why TWD?  According to Aurora, "Because it is an uplifting environment and I love being able to help people have their perfect day, even if it is in a small way."  Outside of The White Dress, Aurora loves to bake, do her makeup and collect trinkets.
Christy, Shop Intern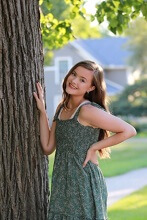 One of our newest faces at TWD, Christy helps keep the shop looking flawless!  Along with lots of odd jobs that creep up on a daily basis, she can be found straightening our dress racks and cleaning up the dressing rooms.  "I love working at The White Dress because of the kind and fun atmosphere!  Also it doesn't hurt that there are tons of beautiful dresses all around and I love that I can keep them looking extra special!"  Outside of her job here, Christy is a busy gal.  She is in her senior year of high school, is already taking a few college courses, is an avid ballet dancer and enjoys reading her Bible.
Find out more about The White Dress…