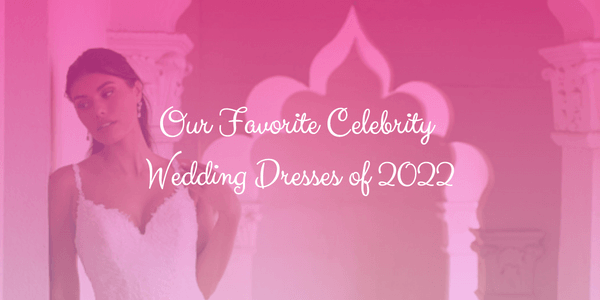 Our Favorite Celebrity Wedding Dresses of 2022
High-profile weddings set trends and establish the style of an era. Here are our favorites from the past year.
Celebrity weddings have been a source of public curiosity ever since famous people started getting married. Human beings just love to celebrate, and what better reason to throw a big, expensive party than when two people who love each other exchange vows? So it should come as no surprise that these weddings often come to exemplify the fashions of the era, with designers going all out to create a look that will be talked about and imitated by others for years to come.
A high-profile wedding often piques our curiosity because we know that many brides look to them for their own inspiration. And why not! If you want to make a particularly bold choice for your wedding gown, following in the footsteps of one of your style icons can help you feel more confident. (Plus, it's fun!)
2022 was a big year for both weddings and elopements, and not every celebrity chose to make their photos public. We've selected five gowns from our collection to match brides who did share their photos and included two extra picks in honor of a pair of style icons whose sartorial choices on the red carpet have made plenty of headlines in the past. Ready? Here we go.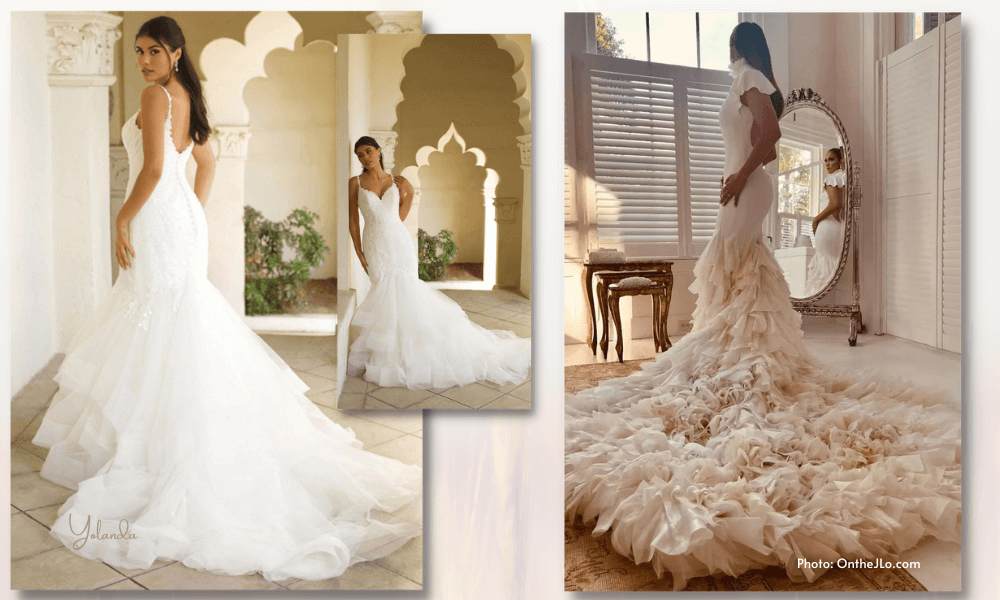 1. Jennifer Lopez and Ben Affleck
It might have been twenty years coming, but Jennifer Lopez and Ben Affleck are married. While they initially tied the knot at a Vegas wedding, their formal ceremony proved to be a more lavish affair. All the guests wore white, while Lopez herself changed between three different gowns.
For our dress choice, we focused on the dramatic ruffled hemline of Lopez's first dress, which reminded us of Yolanda, and it wouldn't be a Lopez-inspired dress without a trumpet silhouette.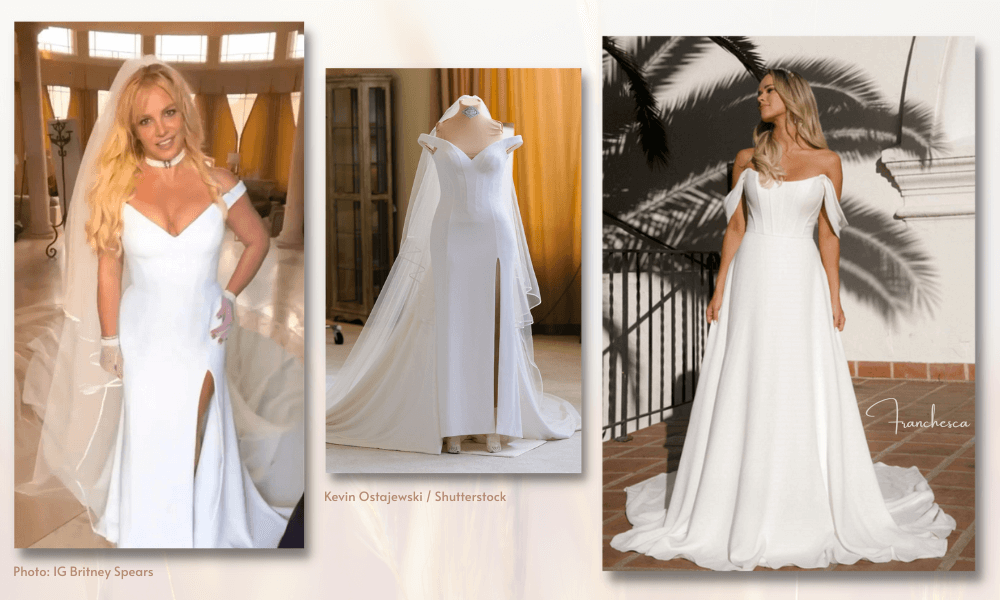 2. Britney Spears and Sam Asghari
Britney Spears also got married in 2022 in the second wedding to make us feel like it's the early 00s again. After getting engaged to her long-time boyfriend in the fall of 2021, Spears held the wedding at her home in June 2022. Her gown, designed by Versace, features off-the-shoulder sleeves, a boned bodice, and a thigh-high slit.
Brides who loved this dress definitely need to give Franchesca a look. The construction of the bodice has very similar seam lines to Spears' gown, and even includes off-the-shoulder straps.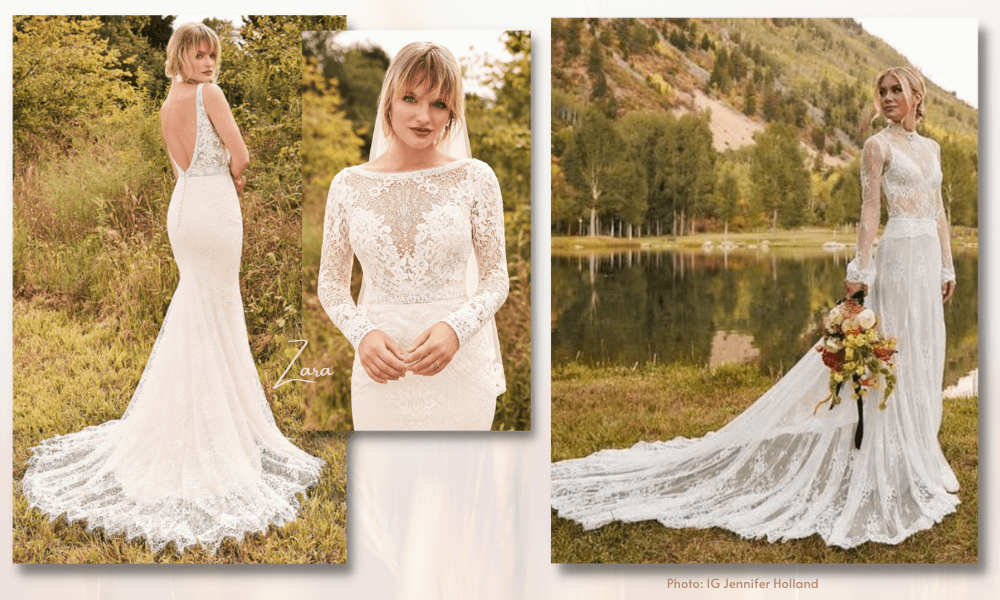 3. James Gunn and Jennifer Holland
After director James Gunn married his partner of seven years, the actress Jennifer Holland, both posted pictures of their Colorado wedding to Instagram. While Holland wore several looks during the event, the dress she chose for the ceremony was the obvious showstopper.
We think her gown is a dead ringer for Zara, which also features a high illusion neckline, long sleeves, and a trailing lace train, while the style of lace is a close match to some of Holland's other wedding outfits.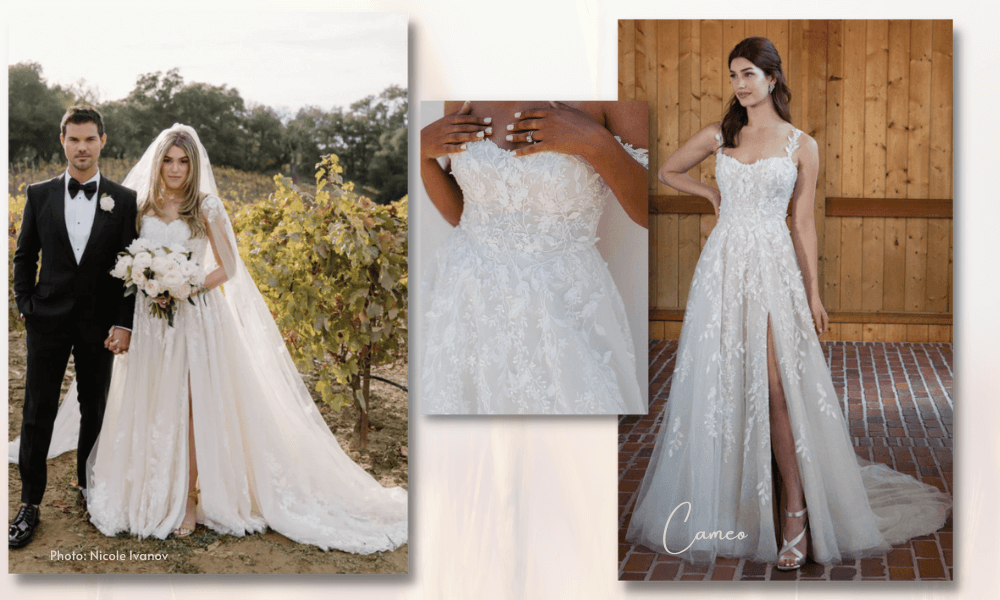 4. Taylor Lautner and Taylor Dome
When Twilight star Taylor Lautner married Taylor Dome, a registered nurse, this November, it was a year to the day from their engagement. Dome chose an all-over lace gown with a thigh-high slit, a sweetheart neckline, and trailing sleeves that hung from the shoulders like wings.
When we saw her wedding dress, Cameo came immediately to mind. The full skirt with layers of tulle brings the boho vibes, while the high slit makes it perfect for dancing. The vine pattern from the lace continues into the thin straps, which can be worn off the shoulder for a more romantic touch.
If you're in love with the trailing wings from Taylor's dress, we can recreate these with a simple add-on from our accessories. We call them Watteau streamers, and they can be attached to the shoulders of any dress, creating that ethereal look!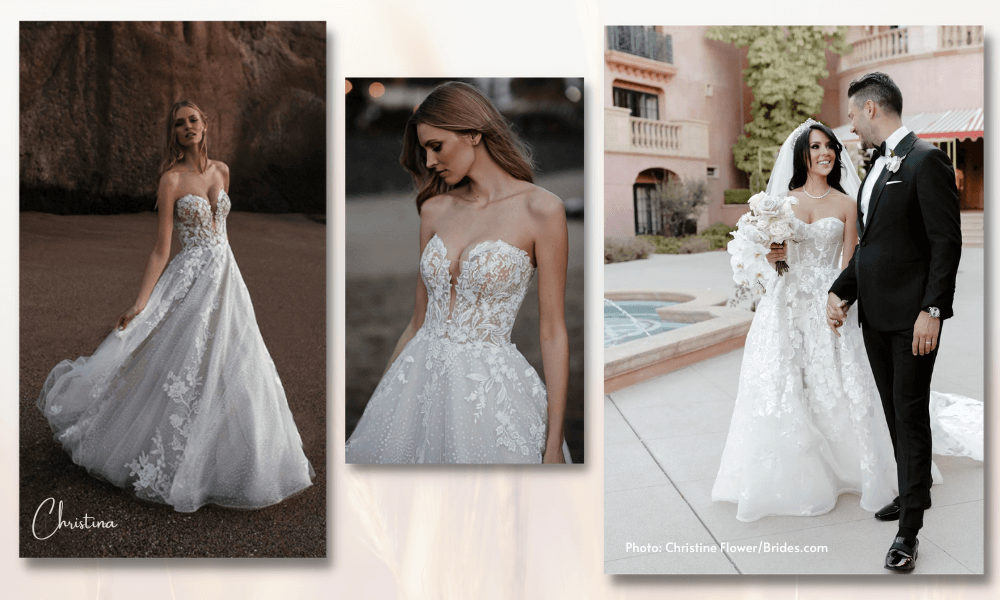 5. Vanessa Villela and Nick Hardy
You don't have to be fans of the reality series Selling Sunset to be invested in the wedding gown chosen by one of its stars, Vanessa Villela. Her style went full glamour, and we felt we would be remiss not to bring you a dress inspired by her wedding.
And for that, our pick is Christina. Did you love the sweetheart neckline and boning of Villela's bodice? Check. Were you in love with the unique lace? Check. Is your heart set on a ballgown silhouette? Check. This dress has all that, plus the sparkle and shimmer we've come to love from the Abella line. Come try it on for yourself.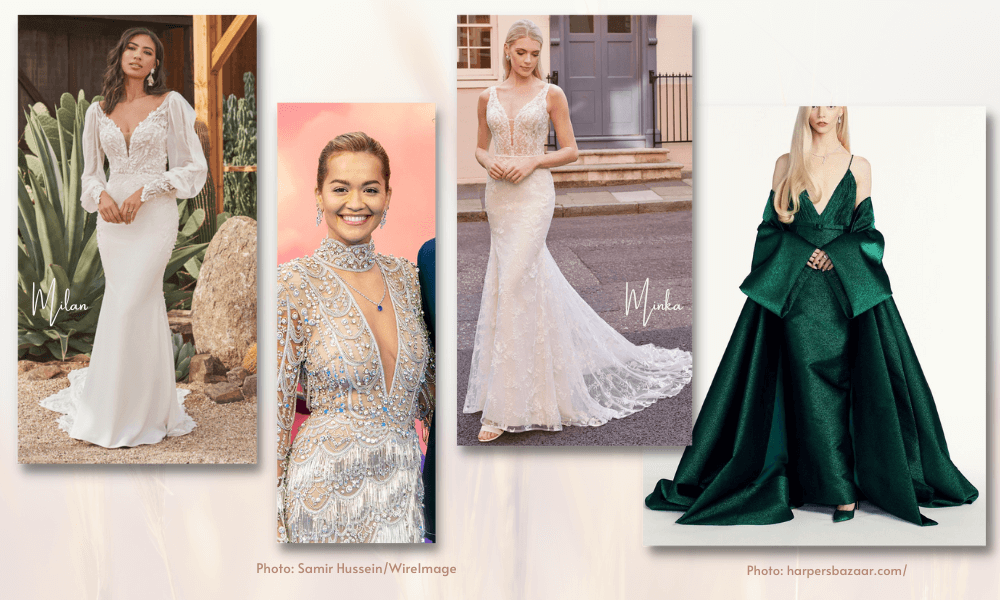 Honorable mentions: Rita Ora and Anya Taylor-Joy
Many celebrities this year chose to elope or held quiet nuptials away from the press. And to them we say: more power to you! Smaller weddings have been growing in popularity since the pandemic, and it's no surprise to see famous names embracing them along with the rest of us.
Two notable examples include Rita Ora, who eloped with director Taika Waititi after a month-long engagement, and Anya Taylor-Joy, who married musician Malcolm McRae in a courthouse wedding sometime last summer. While neither have shared pictures of their wedding dresses publicly, both have been known for stunning red carpet moments over the years, so we picked two of our gowns which we believe best represent their style.
Rita Ora is known for her daring style choices, which range from bold to downright risqué. Some of her more recent looks have embraced a power shoulder, so we took that as our inspiration in choosing Milan, which also features dimensional lace and a low back.
For Taylor-Joy, we chose Minka. The backless bodice and plunging neckline combined with the figure-hugging silhouette bring to mind the iconic emerald Dior gown she wore for the 2021 Golden Globes.
Ready to try these for yourself? Book an appointment!
Did any of our picks strike your fancy? Come try them on for yourself at our location in Brighton, MI. Or, if you have a celebrity fashion icon whose style you adore, tell us all about it and we'll help you find your perfect match. Book an appointment to get started.