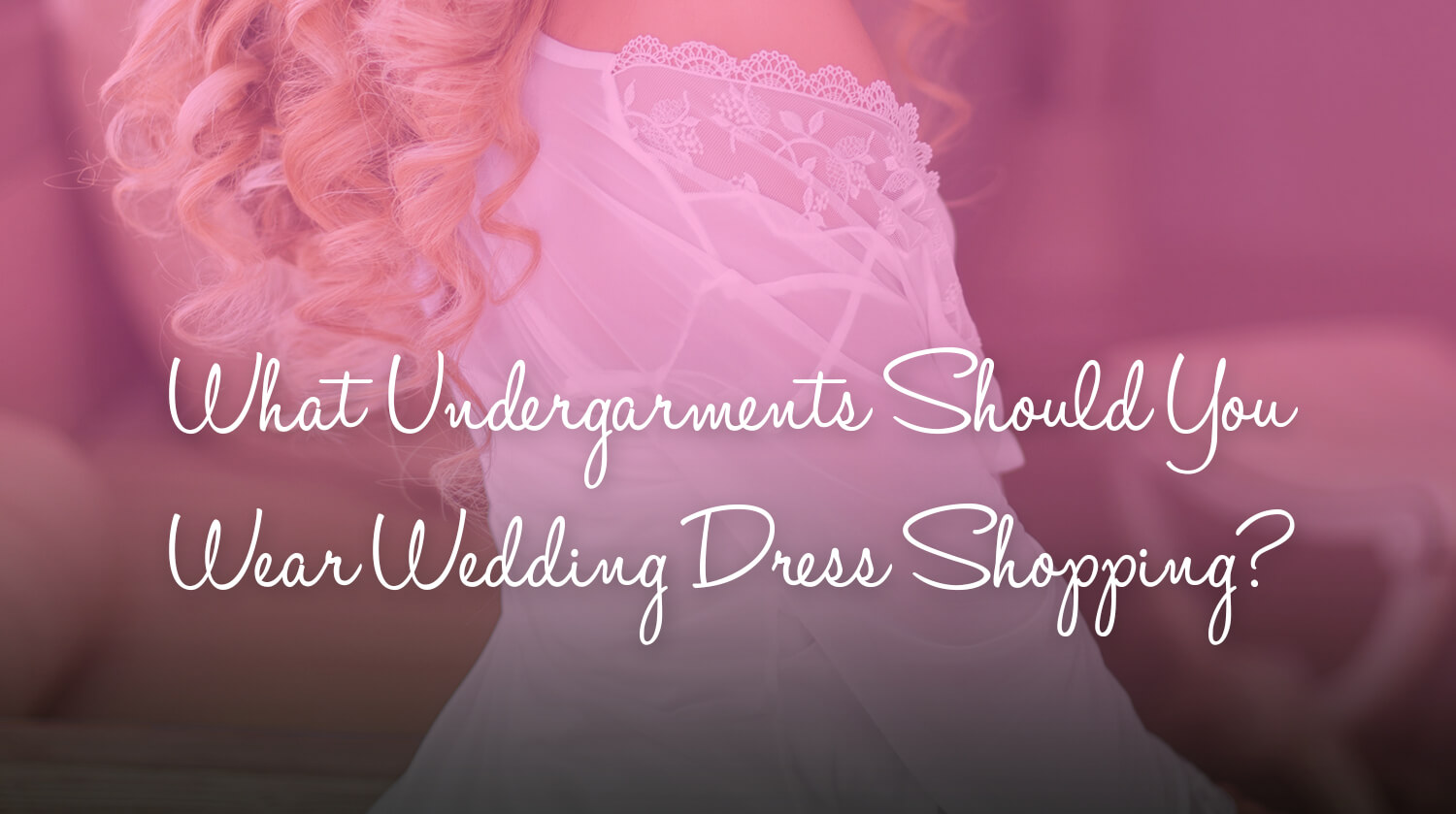 What Undergarments Should You Wear Wedding Dress Shopping?
Getting the basics right before your big day
We've talked before about how your bridal appointment will go better if you're prepared, so today we're stripping it down to the basics: undergarments.
Wrinkles, panty lines, and bra straps can make it hard to focus on the gorgeous gown you're wearing. In fact, the wrong undergarments can completely alter the appearance of a dress. Everything will go (and look) better with the right foundational pieces.
The key to choosing the right undergarment lies in finding the balance between too little forethought and too much. So, if you're worried about what undergarments to wear wedding dress shopping, we've got you covered. Here are some do's and don'ts to help you prepare for your big shopping trip.
Do: Have your bra measurements taken.
Yes, we know that having someone loop you with a measuring tape in a tiny changing stall isn't everyone's favorite experience. However, avoiding it for years means that a lot of us are wearing the wrong bra sizes. Have your measurements taken again before your bridal appointment, especially if you've been losing weight ahead of the wedding.
Your dress can't lay properly unless your undergarments fit like a glove. When your bra is too big or too small, the bust of a gown may fit quite differently than it ought, affecting your perception of the dress. The right bra will help you find the right gown.
Do: Bring a strapless bra.
Some dresses are so structured that you can skip the bra altogether, especially if you are a smaller cup size. However, this won't work for all of us. For those who need something more, a high-quality strapless bra is a must. Think of it as part of the cost of your wedding gown.
Before your bridal appointment, visit a specialty lingerie store and find a strapless bra that gives you the support and coverage you need. It can help to call ahead and make an appointment at the store, letting them know you are looking for a bra to go under your wedding gown. They attendants may have specific recommendations.
Do: Wear the right panties.
When you go to your bridal appointment, you'll have a bridal consultant helping you in and out of your various dresses. Because of this, you want to wear a style of panty that won't leave you feeling embarrassed or mortified in front of your stylist.
At the same time, you want to wear something that won't leave any visible panty lines underneath a slinky sheath dress, or show through the fabric of your dreamy romantic lace gown. Fortunately, there are so many choices today for seamless panties, it's not hard to find one that works. Try on a few different no-show styles and wear the undergarment you like best to the bridal appointment.
Do: Consider wearing shaping briefs.
Want some of shapewear's sculpting power but don't feel like wearing the full bodysuit? A high-waisted shaping brief is a good choice. It's less restrictive and it's relatively easy to manage on your own.
Bring this piece along to your appointment, so that you can wear it under any form-fitting or clinging dresses. Satin and silk will fall smoothly over it, giving you that bridal look. You can also remove it, if you decide to try a gown with an open back.
Do: Think about wearing a slip.
While you are at your bridal appointment, we may recommend a special kind of slip for your wedding gown. A slip supports your gown from the inside out, lifting the skirts and enhancing the shape.
Although you will not need to bring a slip to your appointment, you may purchase one at the same time as you select your gown. Of course, not every gown needs a slip. If you're exchanging vows on a beach, you may choose a more low key look altogether.
Don't: Choose a bodysuit before you've chosen your dress style.
A bodysuit provides full body shaping and sculpting. Whatever your dress-size, a bodysuit gives you a sleeker silhouette and a little extra security. It also can provide some extra support in the bust, eliminating the need for a special bra.
Although this is a staple undergarment, it isn't one to wear to your bridal appointment. These shaping garments come in a variety of styles and can be worn under gowns with plunging backs or deep sweetheart necklines. Choose one only after you know your gown style.
Don't: Come wearing a corset.
A corset has all the shaping power of a bodysuit, with some added romance. Usually a corset uses boning along with shaping spandex for maximum control and structure. They also often have lace or other decorative details, so that you look just as pretty in your shapewear as you do in your dress.
A corset can be a good substitute for a strapless or longline bra, but, because it covers your entire torso, you won't be able to wear it under a backless gown. That's also why this isn't something to wear to your bridal appointment – it may limit the variety of gowns you can try on that day.
So, what undergarments should you wear gown shopping?
Unless you know exactly the style of gown you want to buy, skip the corset or shaping bodysuit. A nude strapless bra (in the correct size) and a no-show pair of panties is the safest choice. You may purchase other undergarments later, after you've found your perfect dress.
If you just don't feel confident trying on certain styles without shapewear, you can bring some along to your appointment. That way you have the option of slipping into it under a form-fitting satin gown.
Don't forget that if you have any more questions about what to wear or bring to your bridal appointment you can reach out to one of our expert stylists. We're here to answer all your questions so that you have the best possible experience on your special day.