Monthly Archives:
March 2023
Through April 7th, we're offering amazing deals on off-the-rack dresses.
Spring is nearly here, and that means a new season of bridal gowns is about to drop. We're looking forward to shopping the collections and bringing in a fresh selection of dresses for our store, but before we can do that, we need to make room. And you know what that means: it's time for a sample sale!
Here are the details:
March 15–31: Clear the Racks Sale
Dresses as low as $250
Extra 75% off the discount price
April 1–7: Last Chance Sale
All remaining dresses on sale for $100
Remaining dresses will be donated to Brides Against Breast Cancer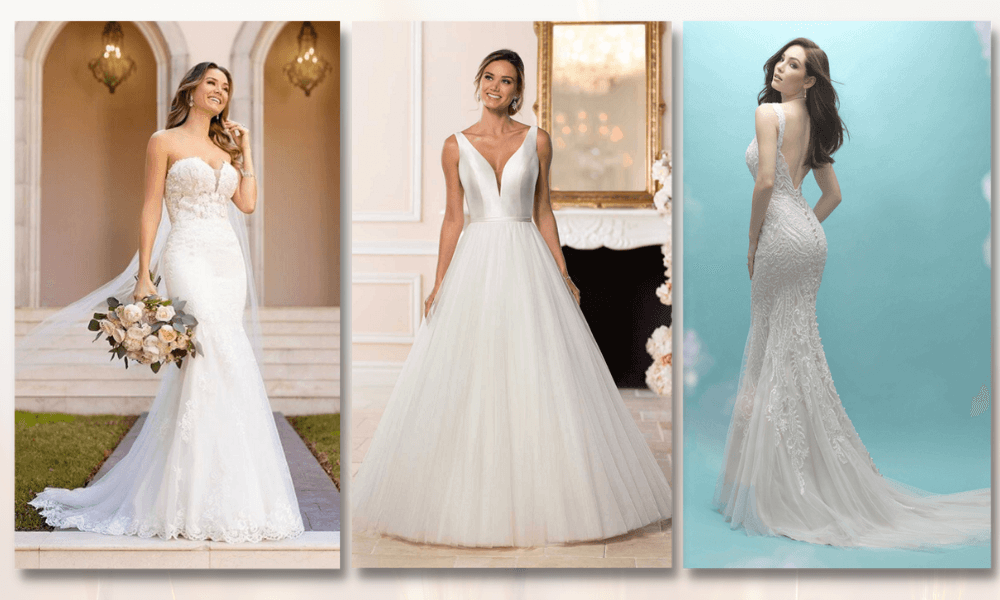 Why you should shop a sample sale.
Sample sales are a fantastic opportunity for brides who love deal hunting, or who need a gown on a short timeline. Buying off the rack means you can walk out of the store with your wedding dress that very day, making sample sales the perfect option for an elopement.
Our sample sale gowns are all of excellent quality and have been well cared for. Because the gowns on sale are the same ones tried on by brides who visit our store, there's usually some wear, but typically not more than what can be resolved by a good dry cleaning and some light mending (reattaching buttons, for instance). They also come in a limited size range, so we recommend budgeting extra for alterations.
That said, the lower price point can also relieve pressure from brides who want to be more creative with their wedding gown. Many brides would avoid doing anything drastic to a brand new gown, but a sample sale gown gives them the freedom to personalize the dress or take more daring photographs.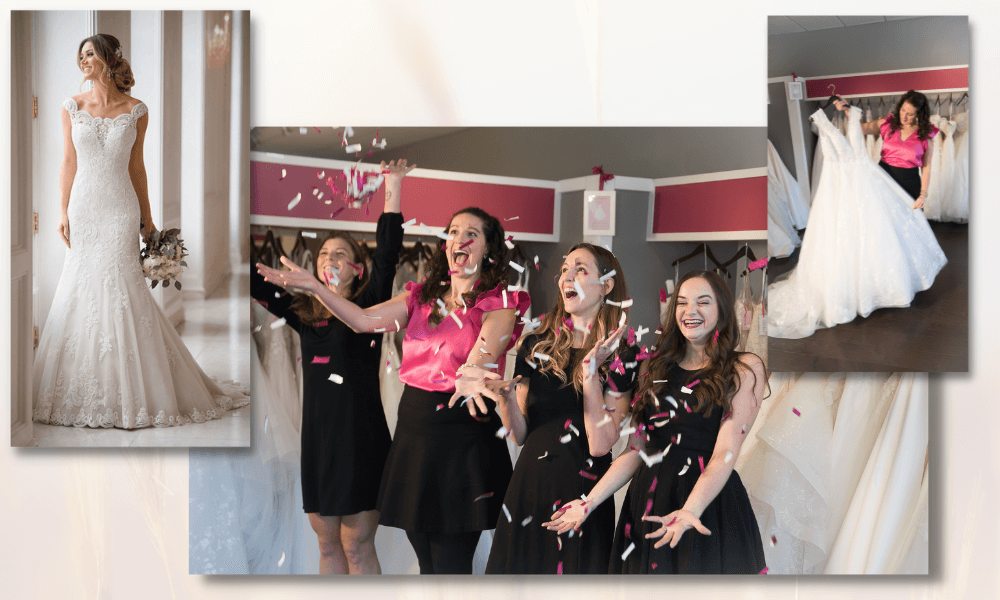 Brides Against Breast Cancer
Not every gown finds its bride at our store, which is why we donate all our unsold sample dresses to Brides Against Breast Cancer. This charity resells donated gowns at reduced prices to lower income brides, and then uses the profits to generate funds for early breast cancer detection awareness programs. We believe this is a beautiful way to help our gowns reach brides in need while also promoting fashion recycling.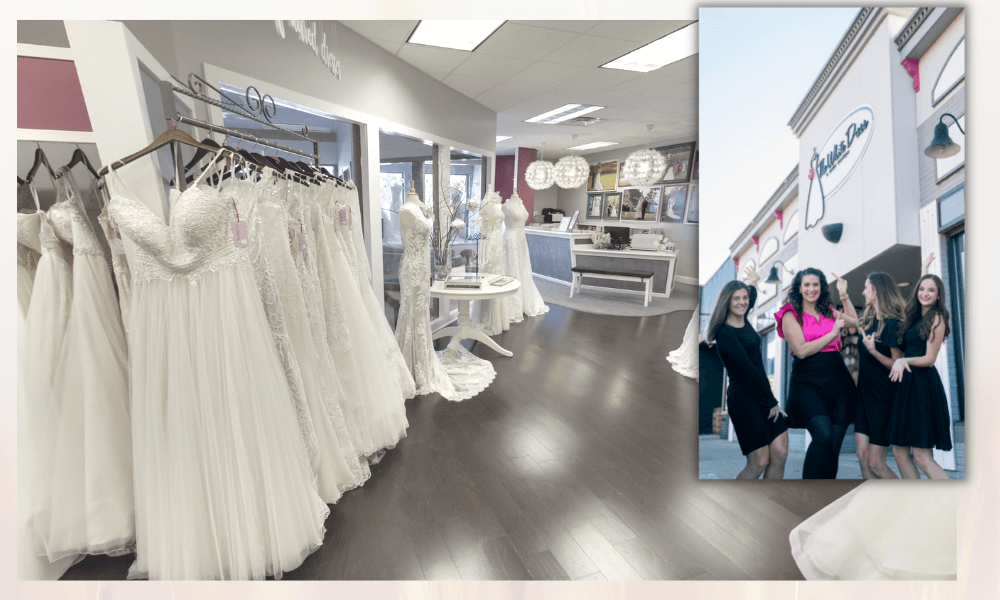 Book an appointment with us today!
We love sample sales in general, but when it comes to The White Dress, we think they are extra special. That's because we have made it a priority for our bridal boutique to bring in new stock regularly so that our brides have access to all the latest styles. And more inflow of new dresses means higher turnover, which in turn means that our sample sale dresses are newer and less worn than boutiques who don't bring in new dresses at the same rate.
Schedule an appointment today to catch our sample sale while it lasts!
Can't settle on just one look for your wedding? Good news: You don't have to.
Wedding traditions are in a state of flux. As couples reconsider how to create an experience during their day that reflects their values and priorities, they are also turning a critical eye toward assumptions about where and how to prioritize their wedding budgets.
For many couples, the most expedient way to cut down on expenses has been to reduce the size of their guest list. By focusing on a smaller ceremony, they are able to put more toward making each element of that ceremony more special. As it turns out, many brides are using those savings to invest in a second wedding dress!
We firmly believe that if there's any day you should treat yourself, it's on your wedding day. But we're also convinced that there are many practical reasons to choose a second gown, including comfort, convenience, and consideration for tradition. So, if this trend still seems counterintuitive to you, here are our top 4 reasons to consider buying more than one dress for your wedding.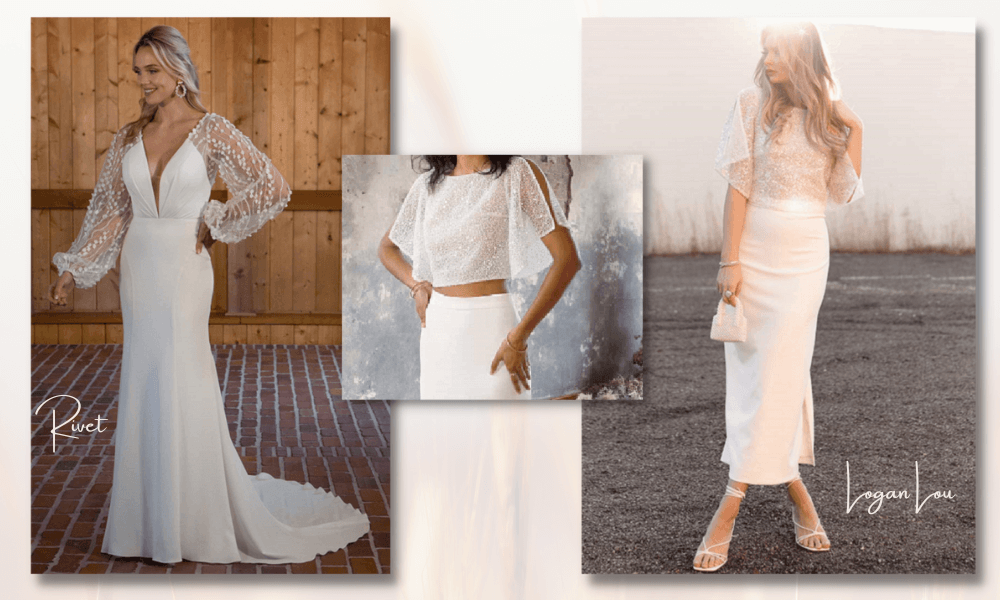 1. You can show off more than one look.
While some brides walk into their first appointment with a clear picture of a dress that they have been envisioning since childhood, many other brides quickly find themselves torn between two drastically different looks—a ballgown versus a more fitted silhouette, for instance. Well, why not both?
If you've always dreamed of looking like a princess when walking down the aisle but also find yourself drawn to more modern trends, two dresses gives you the freedom to showcase different sides of yourself. You're a multifaceted bride, after all. Why expect one dress to reflect your whole personality?
Our perfect pairing:
We adore the puffy, transparent sleeves of Rivet, but the rest of the dress is equally stunning with a deep plunge neckline and an open back. To go with it, Logan Lou offers plenty of options. As a two-piece set, you can enjoy the dramatic sparkling top and then pair it with different skirt styles, depending on your overall style.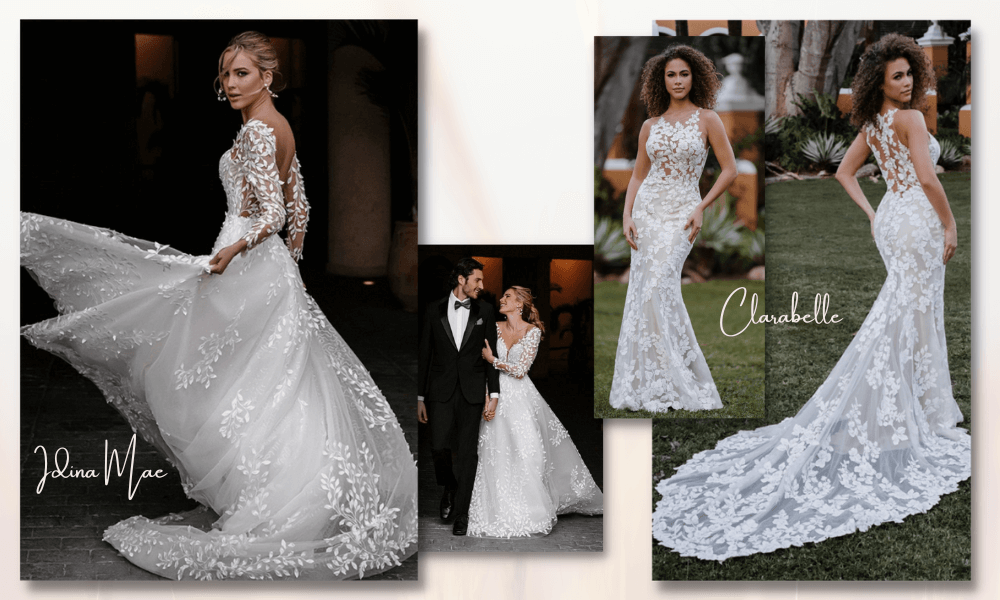 2. Different dresses for different events.
Sometimes switching gowns is a matter of fun, and sometimes it's a matter of functionality. For instance, if you're having your ceremony in a religious or otherwise solemn location, you may want to choose a gown that won't scandalize your grandparents or feel out of place given your setting. Similarly, some features (long sleeves especially) can restrict your movement, or leave you feeling overheated.
In these situations, switching gowns may be the most practical option. Choosing a more formal gown for the wedding and a fun and flirty one for the reception keeps everyone happy, and gives you a second opportunity for a big dress reveal (and who doesn't love that?).
Our perfect pairing:
For brides who want to look regal during the ceremony, you can't do better than Idina Mae. With its dramatic skirt and long sleeves, it offers a soft, romantic take on a traditional silhouette. When you're ready to change it up, Clarabelle continues the theme of allover organic lace, but with a figure-hugging curve and a sheer lace bodice.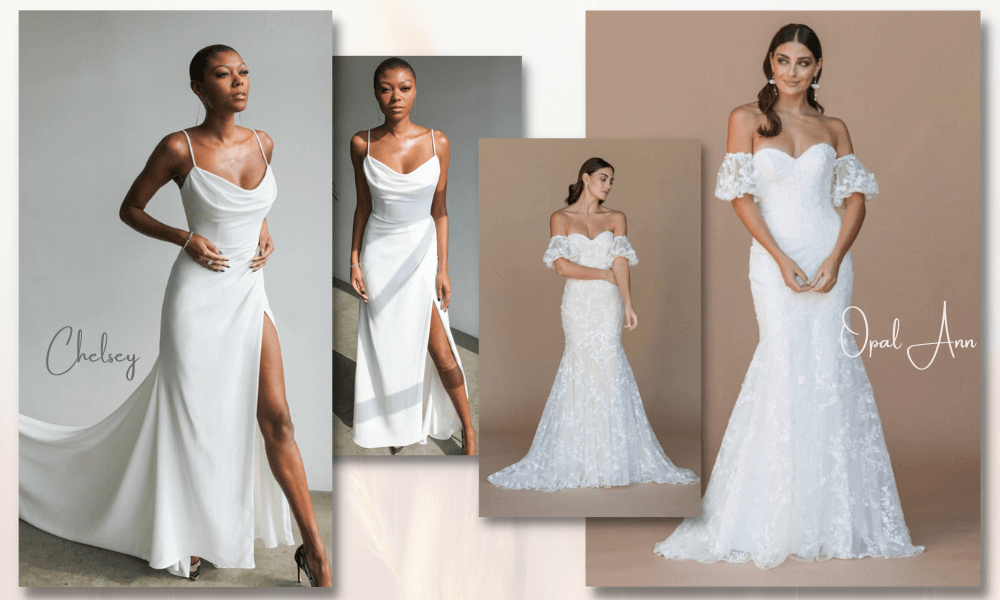 3. One dress to wear, one dress to wear out.
Many brides are torn between the desire to preserve their gown as an heirloom for future generations, and the impulse to get as much mileage out of it as possible on their wedding day—whether that means dancing till the break of dawn, or intentionally rocking the gown for the photo shoot.
We love the idea of choosing a timeless gown for your ceremony that you can keep safe for the future. But if you want to do more adventurous photos, a second gown can give you more freedom of movement, and open the door to possibilities that might not be compatible with dress preservation—an underwater photo shoot, for instance, or having a paint fight with the groom.
Our perfect pairing:
Opal Ann comes with loads of lace, as well as removable sleeves. We think it's a perfect gown for the boho era, and one that will definitely age elegantly. We like Chelsey for the second gown. Both dresses share a similar neckline, but the transition from lace to a more minimalist aesthetic provides a satisfying contrast. If you wanted to rehem Chelsey afterwards, we think it would make a sentimental choice for a first anniversary date!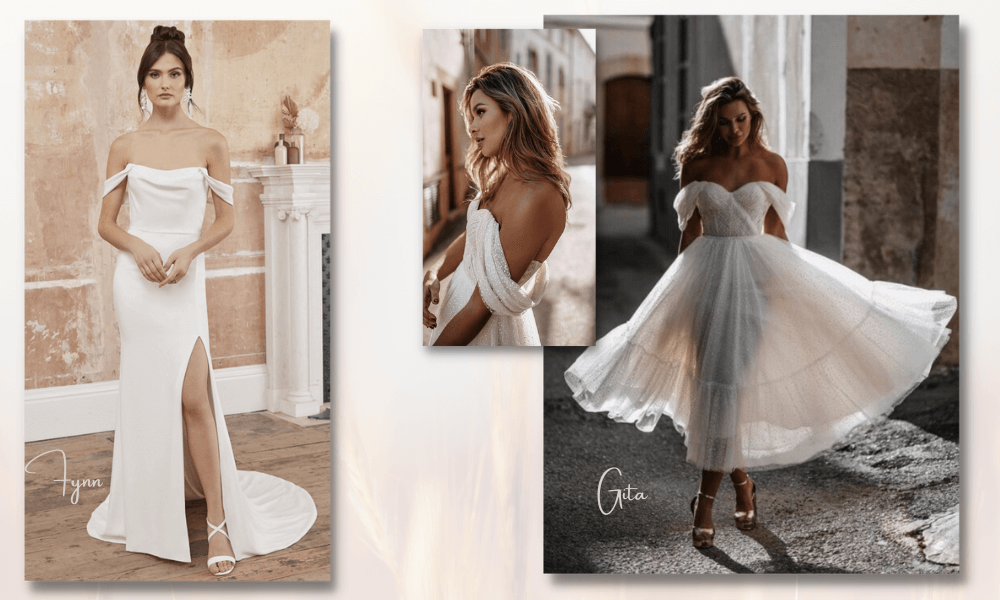 4. Make the most of your photography.
Finally, you're investing a lot in photography and videography for the day. Your photographer is going to be working with you to find good photo opportunities that will help you remember all these special moments. Some of those ideas will be guided by what you can do while wearing your gown or by the overall aesthetic you're trying to achieve.
For instance, if you've chosen a dark romantic aesthetic for your wedding, the gown you wear to the ceremony can follow more romantic lines, while you can choose an edgier look for your reception. If this appeals to you, you may want to consider one gown for the ceremony and another gown for the 'Gram.
Our perfect pairing:
Want to get the absolute most from two different looks? We love the slight edge that Fynn, with its thigh-high slit and off-the-shoulder straps, brings to an otherwise chic design. Meanwhile, Gita continues the off-the-shoulder style, but with a tea-length silhouette and a skirt that is made for twirling.
Who says you have to choose just one?
There's no rule that says you can wear only one dress for your wedding—and in fact, in many cultures multiple dresses is the norm! So if you're having trouble reconciling two looks and the different possibilities of each—don't!
Our TWD-ettes can help you find the right dress(es) for your big day. Whether you're committing to one dress for the whole day or switching up styles in order to pull off a second dress reveal (who doesn't love that?), we can guide you toward gowns that match your vision for every part of your day. Contact us today to set up an appointment!