Monthly Archives:
October 2022
There's a lot to love about this growing trend.
Listen—we know we're The White Dress, but that doesn't mean we limit ourselves when it comes to bridal fashion. In fact, the trend away from white has been around for years and we're constantly going the extra mile to stay on top of emerging trends so that our brides have all the latest options. (Fun fact: we have only 2 actual real white dresses at our shop! Our boutique name is really an ode to the color that brides have been wearing since the 1800s.) Over the years, we've seen a lot of styles come in and out of fashion, but if there's one that has us truly surprised (and excited!), it's the new black wedding dress look which we saw taking over the Fall 2022 Bridal Market in Chicago.
With the days growing shorter and the chill air setting in, we can't think of a better time to talk about this trend. Autumn naturally makes us think of more cozy aesthetics, whether that be a plushy velvet or a richer, warmer color palette. For many others, this time of year also feels more moody, and so conjuring a darker or more sultry vibe for their wedding seems more in keeping with the season.
Now, we know that for many, a black wedding dress may seem like a gothy gimmick. However, we think that once you see these gowns, thoughts of Morticia Addams will be far from your mind! Whether you're looking for a fashion-forward gown, or you're reveling in a dark romantic theme, there are as many reasons as there are brides to choose a black wedding dress.
If you've ever thought about trying on a black gown, here are a few great reasons to give it a shot!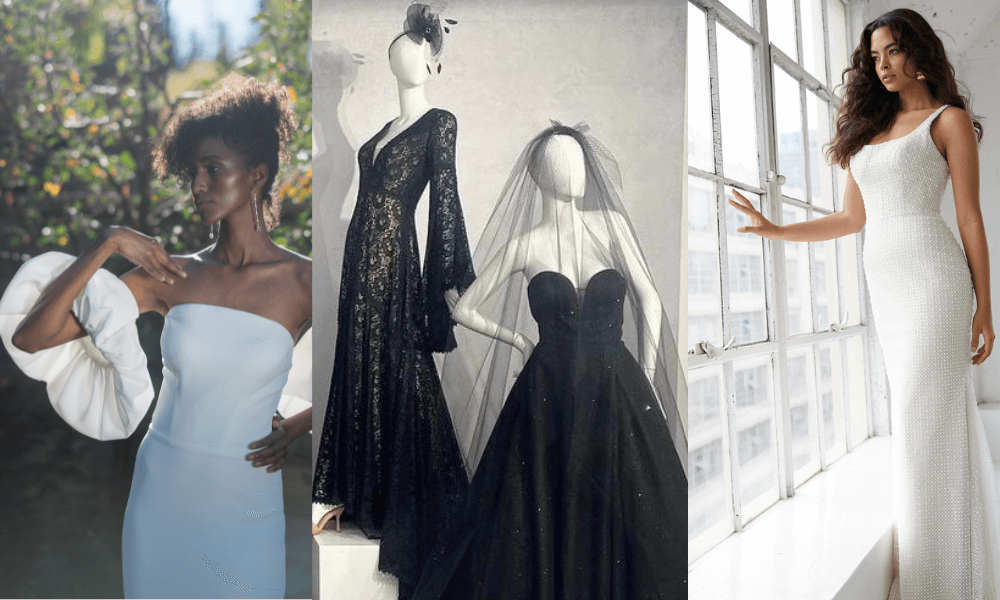 1.   Redefine "traditional."
If there is one thing that we know to be true, it's this: your wedding, and your dress, should represent you. And if that means challenging some norms, well, we say—so much the better! If wearing the traditional white on your special day doesn't fit your personality or your vision for the main event, then by all means, go off-script—and enjoy it. We're all for forging your own path, and if the growing popularity of black wedding dresses is any indication, so are a lot of folks.
However, it may also interest you (or members of your family) to realize that wearing a white wedding dress is a tradition with more recent origins than many realize. It was Queen Victoria who made white the go-to choice at her wedding in 1840, firmly establishing it in Western cultures as the go-to color for subsequent generations. However, before the Victorian era, brides wore rich fabrics in bold colors—and in plenty of cultures worldwide, that's still the case.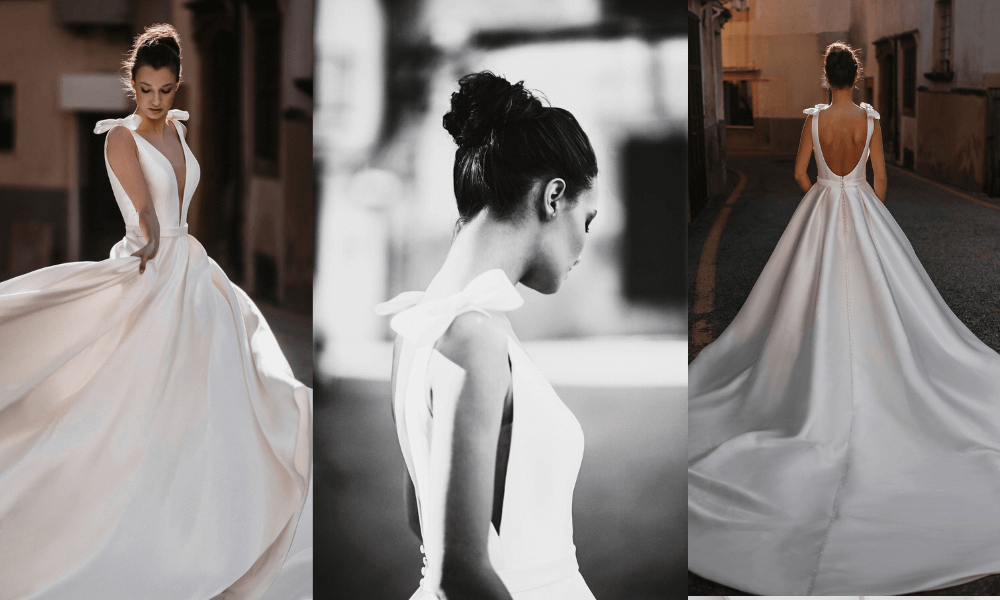 2.   Amp up the moody romance.
Maybe your dream wedding has a little more of an edge. We've seen dark romantic wedding themes cropping up a lot lately, and we get why: who doesn't love a little danger, a little mystery, a lot of passion? If your aesthetic trends toward romance with a twist, opting for a black wedding dress might be just the thing to add that ambience.
One of our favorite romantic looks is Molly by Allure Bridals, a sweet ballgown with bows on the shoulders and miles of gleaming Mikado satin. And it's also available in all black, so you can enjoy all the romance—with some added mystique.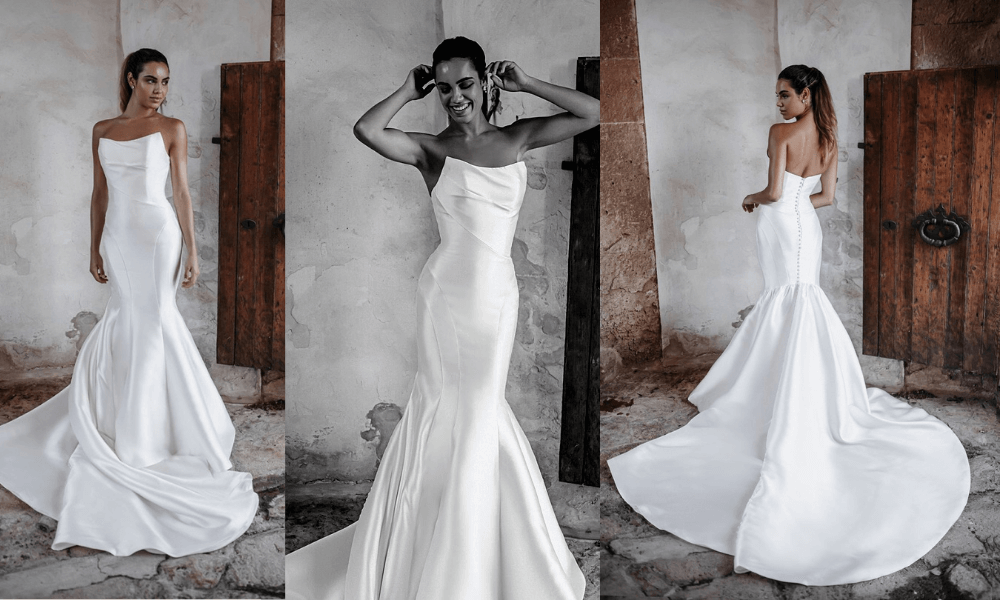 3.   Black is the new black.
We all know the value of a little black dress—that piece that looks elegant in any context, from the office cocktail party to the club. A black dress says effortless sophistication, and that's a vibe that's never out of place.
There are a ton of designers creating gorgeous, fashion-forward wedding dresses. In particular, we love Carmen for its clean lines and dramatic, structured neckline. Now picture the all-black version, and the impression you'll make in it.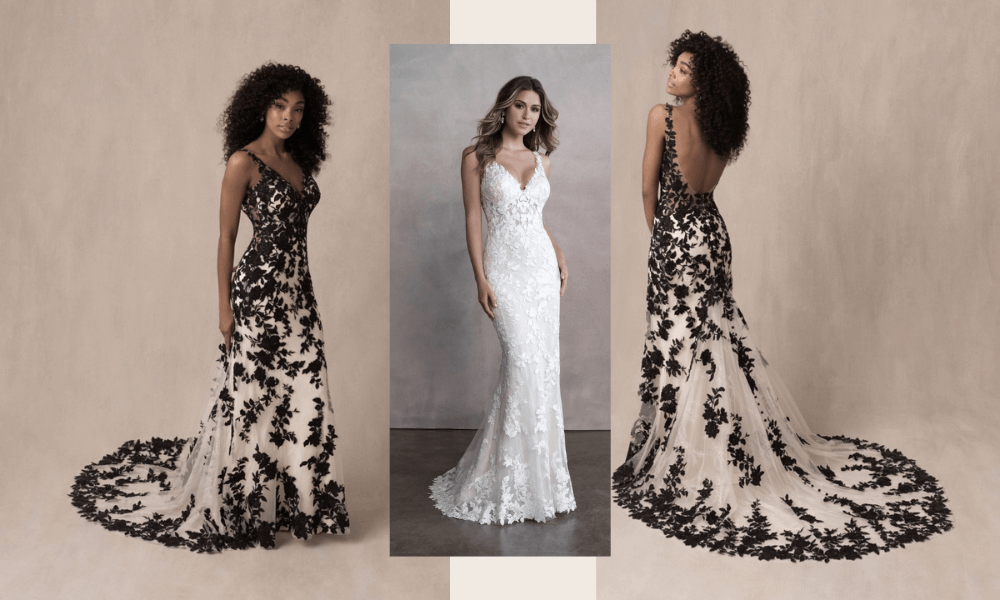 4.   Experiment with bold colors and textures.
There's no law that says wedding decor has to be pastel! If you're feeling maroons or deep greens, then a black dress may be just the thing to cap off your design choices. Even with a lighter palette, a dusky rose or soft violet may be just what you need to set your black gown off to perfection.
A black dress can accentuate bold elements like dark makeup, and add drama to textures like velvet or lace. It also gives you an opportunity to explore richer autumn colors like burnt orange or dark brown in your floral arrangements, or to experiment with metal tones like old gold or hammered silver.
Style 9808 from Allure Bridal is a perfectly classic sheath with an illusion back. But in all black, the lacy patterns carry a totally different—and gorgeously intriguing—vibe. This stunning style will be in our shop soon and we can't wait to not only see it in all black, but also to come up with a uniquely creative name for the gown at TWD!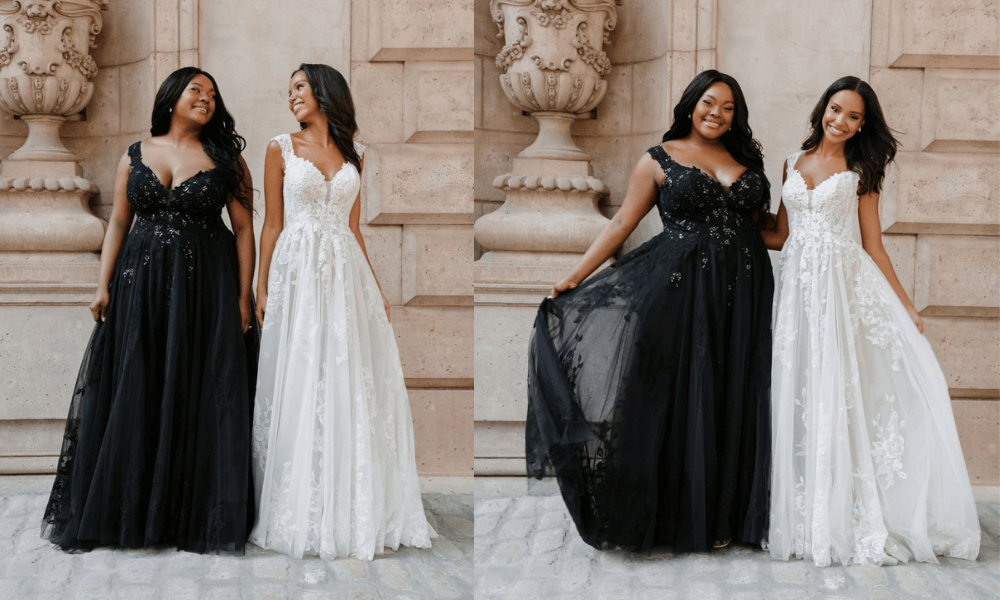 5.   Create some contrast.
Another trend we spotted at Bridal Market was the integration of pearls and solid sequins into bridal fabric. A black dress adds a whole new background for these lustrous elements, making them stand out in a unique way. High-contrast patterns like white on black, or black lace over nude layers, are also eye-catching and will fit right in with vintage-inspired style.
One great example is Bellatrix, pictured in both all-black (with sequins!) and all-white. We have Bellatrix in champagne and black, so that the roses on the gauzy skirt stand out in all their glory.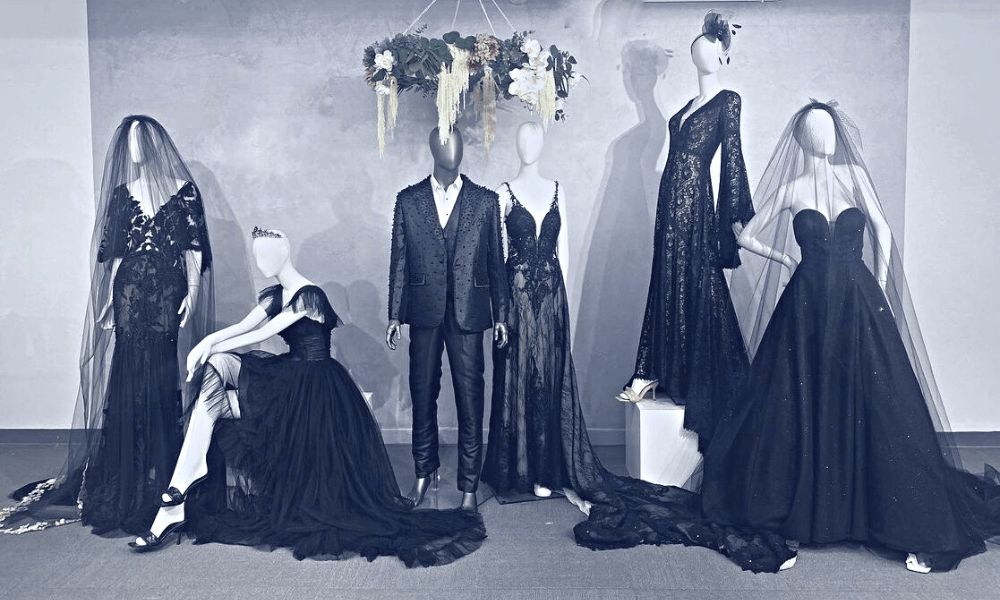 Let our TWD-ettes help you find the dress that says you.
The traditional white or ivory dress isn't for everyone. If you've had your doubts about it, we think you should explore! Nothing beats trying a dress on in person and seeing if it sparks that special something. We currently have Bellatrix in our store in the champagne-and-black combo, and it can also be ordered in all black. We also have the ivory version of Carmen in our store, with an all-black version available for order.
"Molly," from Abella, and the yet-to-be-named Style 9808 are on their way, both in all-black version. However, given the length of current bridal timelines due to supply chain disruptions, we urge you not to wait! There's no better time than the present to schedule an appointment with our expert TWD-ettes, who can show you the current black options available in our store, and help you determine whether this trend is right for you.
Knowing that you have your perfect dress brings peace of mind, and lets you focus on building the rest of your wedding around your personal style, whether that's dark and moody, or distinctive and chic. So don't wait—book an appointment today!
This isn't the first time we've hosted Stella York for a trunk show, but it never stops being exciting.
It's that time of year again: we're hosting a Stella York trunk show, and we couldn't be more thrilled! Only thirty shops in the world take part in Stella York's trunk show circuit, and while we've hosted them before, we're always honored to be part of that select few. More importantly, we love being able to offer our brides this inside look at one of our industry's leading labels.
Trunk shows are when designers preview their upcoming collections with brides, but this Trunk Show is even more! Stella York uses her Designer Preview Trunk Shows to collect brides' first impressions and incorporate that feedback into the next iteration of the collection. They're high-energy events, so you'll want to be as prepared as possible if you plan to attend. (Read about our last Stella York trunk show for more details!)
To make the most of our upcoming trunk show, check out these 4 tips and 5 reminders.

Tip 1: Expect things to be moving quickly!
Trunk shows are obviously an incredibly popular event. Because of this, our appointments have a strict 90 minute limit and are booked back to back. While we don't want to pressure you or make you feel rushed, you should also set your expectations with that time limit in mind.
Instead, when you find your dress, be prepared for a quick celebration before changing back into your regular clothes. If you're concerned that the hustle will disrupt your big moment, never fear. We do have an area set aside in the boutique apart from the dressing room area where you will be able to sip champagne and bask in the glow of bridal success while we proceed with the checkout process.

Tip 2: Come ready to say yes!
When we say trunk shows are exclusive, we really mean it. The dresses that come into our store only stay in that form for that weekend and that weekend only. After they leave our shop, they undergo alterations based on feedback and are modified before the next trunk show—which is generally the very next weekend.
This is part of why trunk shows are so thrilling to experience. If you find a dress you love, it will be a one-of-a-kind gown. But because the dresses change so fast, you have to be decisive. You won't have another opportunity to try it on!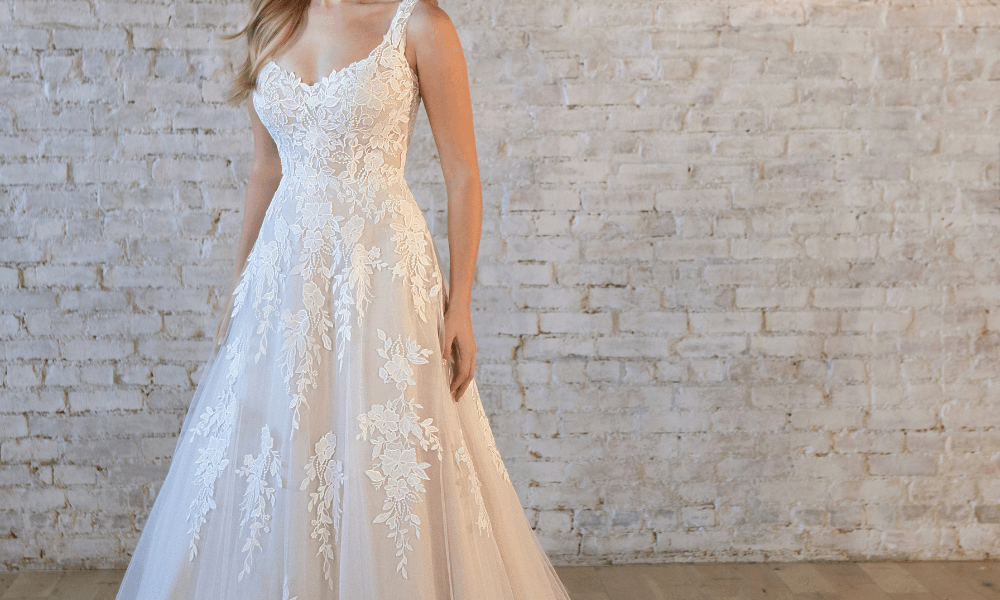 Tip 3: Come ready to give feedback directly to the designer.
Stella York designs the trunk shows so that they can see how brides react to their dresses in person and modify their collection accordingly. Designers are mostly focused on your immediate reaction: does this dress strike wedding bells in your heart or not? So don't feel pressured to offer a lot of detailed feedback.
Instead, make it your goal to try on as many gowns as you can. Remember, trunk shows are a fast-paced environment. The longer you linger, the fewer dresses you'll be able to try in order to find "the one."

Tip 4: Be prepared for LOTS of people (and dresses!) to come in and out of your room.
Because this is such an important part of Stella York's design process, there will be more people than usual in the shop at that day. We try to give as many brides as possible a chance to try on these dresses, and then of course there are Stella York's team and our own TWD-ettes, who are all running full steam ahead.
We will always do our best not to invade your privacy, but with so many people coming and going, and with the dresses passing between so many hands, there will be more people entering and exiting your room than usual.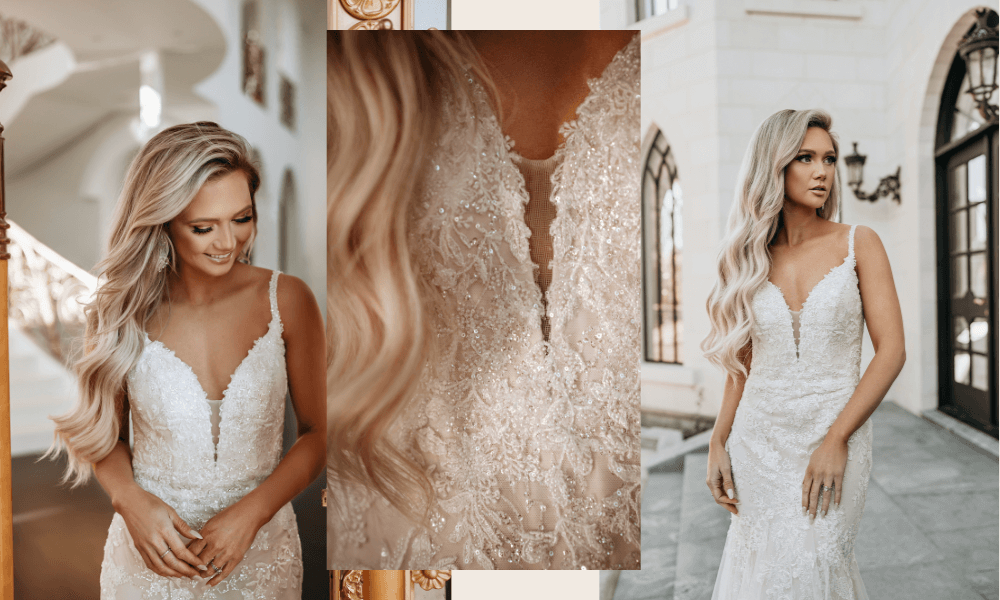 Reminder 1: No photos to protect the designs of Stella York.
No matter how excited you are to show off you trying on dresses to friends and family, remember that these are still early designs. These gowns truly are a sneak peek at the collection, so it's up to you to protect the secret! However, that all changes if you say yes! You are welcome to take any and all photos you need in the dress you said yes to!
Reminder 2: Let the stylist bring the dresses to you.
Trunk shows are always days when there's a lot of bustling around the shop, so it's not a good time for you or your entourage to have a look around. To ensure everything goes smoothly, we do ask our guests to remain in the room and let the stylist do the hard work and heavy lifting.
Reminder 3: The wedding date must be after 5/14/2023.
This is a longer than usual order timeline for our trunk show dresses, so we are not able to work with a shorter time frame. Seven full months are needed, which as all readers of our bridal timelines article know, is already pretty tight. We cannot accept any orders for a shorter turnaround time, especially as this timeframe is built to allow for two months of alterations.
Reminder 4: We don't choose the sizes that come to us.
We do our best to stock a range of sample sizes in our store, but when it comes to a trunk show, what comes in is entirely up to the designer. In the past we have seen many size 10s, with a few in larger sizes.
Reminder 5: Trunk shows are not a sale!
However, the prices are GOOD. They always increase by the time the collection comes out, so this is a chance to get a great deal on two fronts: an exclusive dress at a comfortable cost.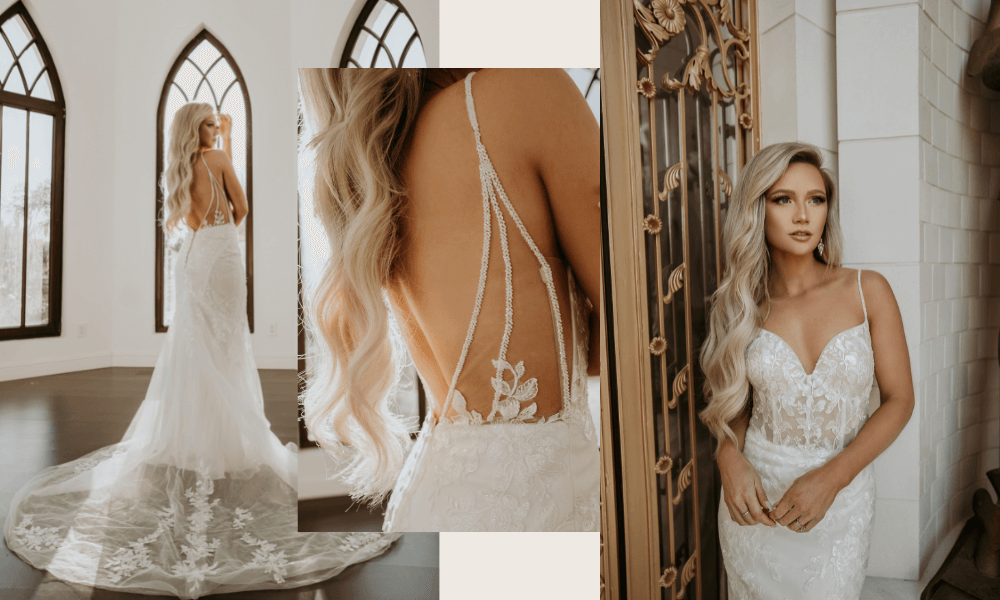 Come and join us at the heart of the action!
There's really nothing like an event like this to build up the bridal hype. With all the excitement in the air, we like to think it's easier for brides to step beyond some of their wedding jitters and instead immerse themselves in the fun of it all.
To be part of the trunk show, book an appointment with us on October 14–15th (that's a Friday and Saturday). We'll be thrilled to have you in our store, and we hope you enjoy the behind-the-scenes glimpse of what life as a bridal designer is like!