Monthly Archives:
September 2019
Fresh, breezy, and romantic, these dresses are the perfect look for a modern boho bride.
Effortless and natural, the trademark look of a boho bride is to make it seem as if she took all of ten minutes to look like the goddess of spring. There's a lot of appeal to this aesthetic, especially for a bride who wants something unusual for a gown, but doesn't want to stress about whether every hair is perfectly in place.
That said, while many brides want an unconventional look, that doesn't mean they want to hunt through vintage racks and secondhand shops to find their wedding gown. Some brides do! But many others still want that moment in the bridal boutique with their mother and their maid of honor where they try on their dream dress and the realization that they're getting married settles in for the first time.
The good news is that you can have both. While you may not have thought of finding your boho dream dress at a bridal boutique, our location in Brighton, MI has a selection of gorgeous boho gowns to match your wildest dreams. Here's a selection of our favorites.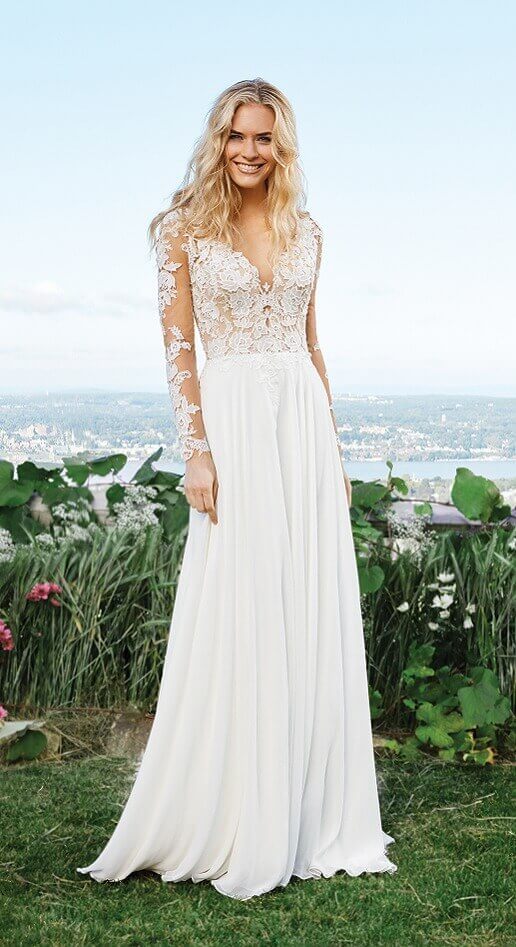 1. Jelena
A barely-there lace top with a flowing chiffon skirt, this gown is the perfect choice for a summer wedding. Simple yet stunning, if your wedding plans involve walking barefoot down a beach rather than in heels down an aisle, this is the dress for you.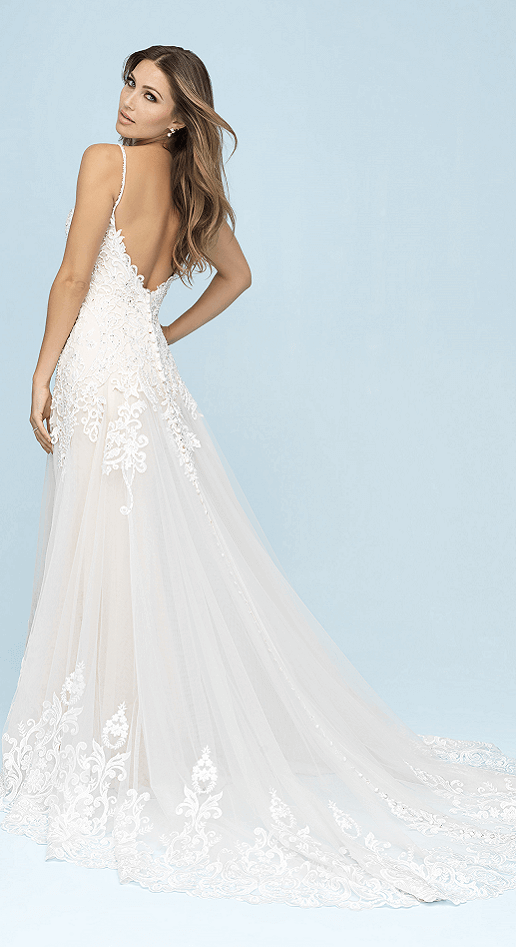 2. Beatrix
Want the whimsy but have a hard time letting go of that traditional train? Beatrix combines the boho style you're looking for with the dramatic effect you want to achieve as you walk down the aisle. Best of all, it's still breezy and lightweight enough to transition effortlessly from church to a garden reception.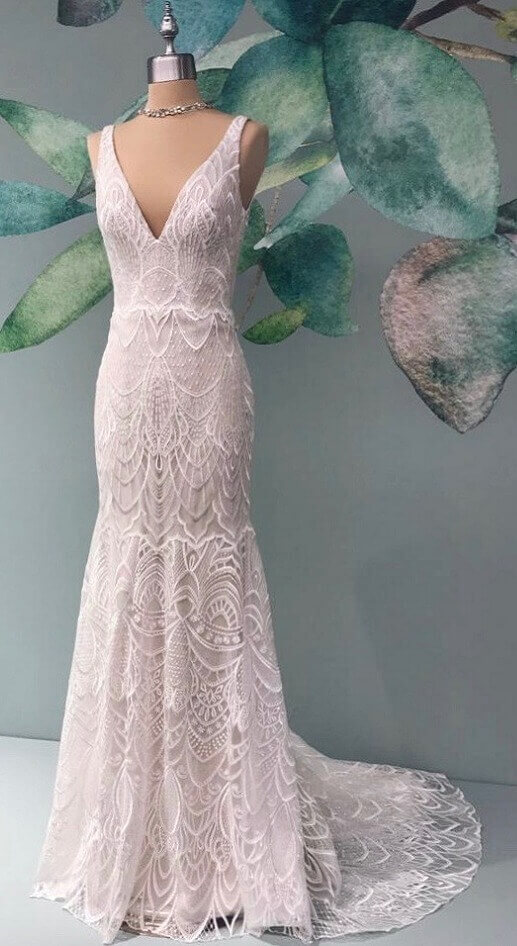 3. Caydence
Beaded boho dresses are some of our favorites, combining the delicacy of lace with a subtle, pearly sheen. The art nouveau patterns on this dress give it a slightly 1920s vibe—an era well-known for bohemian living. If you want a light look with just an edge of glamour, this one's for you.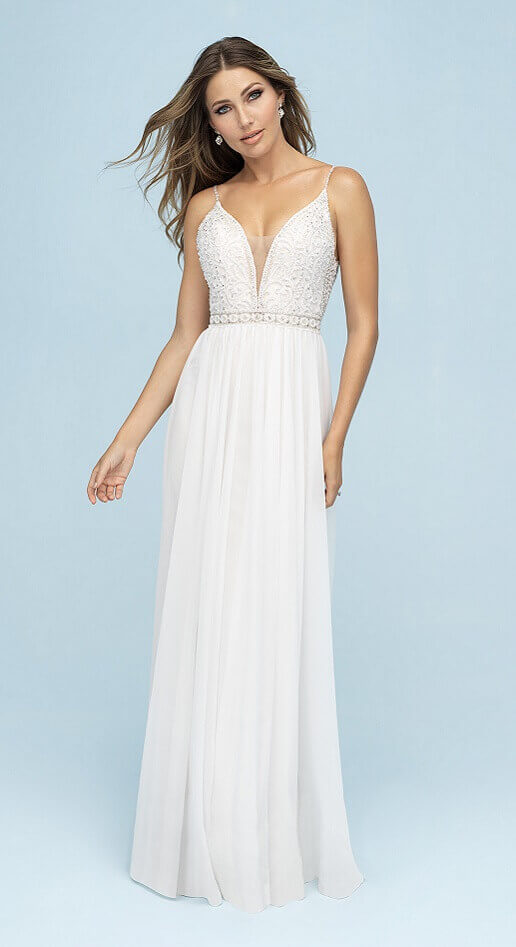 4. Casia
If you want a gown to make you feel like a Grecian goddess, Casia is the one you're looking for. A bedazzled lace top with delicate crystal straps and a breezy column skirt that won't weigh you down, this dress combines the natural beauty of the boho style with the elegance and grace of a classic muse. Simply inspirational.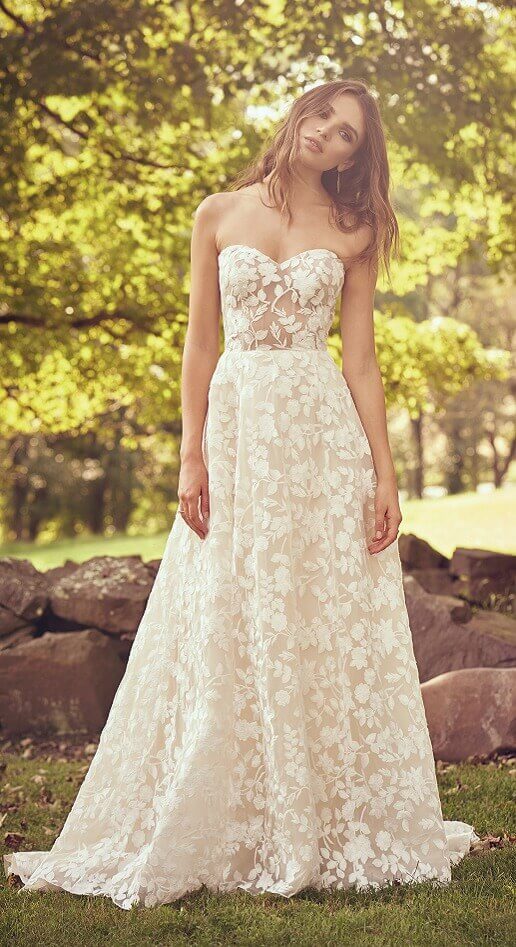 5. Clarice
Boho wedding dresses are identified as much by their unusual use of lace as by their clean lines and simple styling. Clarice is our favorite example of that kind of look: a bold lace overlay with an oyster underlay gives this dress a memorable look. And the sweetheart neckline combined with an A-line skirt keeps the overall style from becoming too complicated.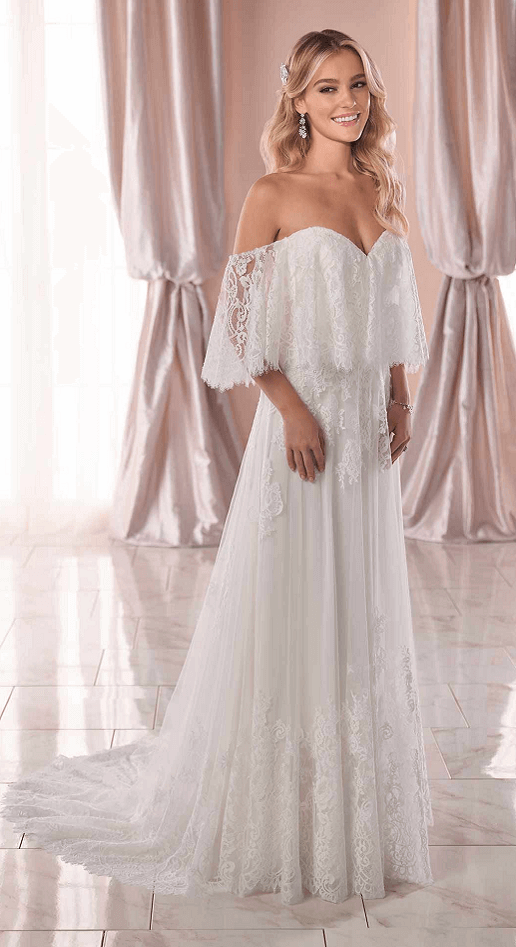 6. Nala
Nothing says "boho" like off-the-shoulder Bardo sleeves, as seen in our lovely Nala dress. Combined with clouds of lace, this gown feels airy and delicate—just what you want on your perfect day. While this dress can certainly be accessorized for a more elaborate look, we recommend keeping it styled down for the true boho vibe.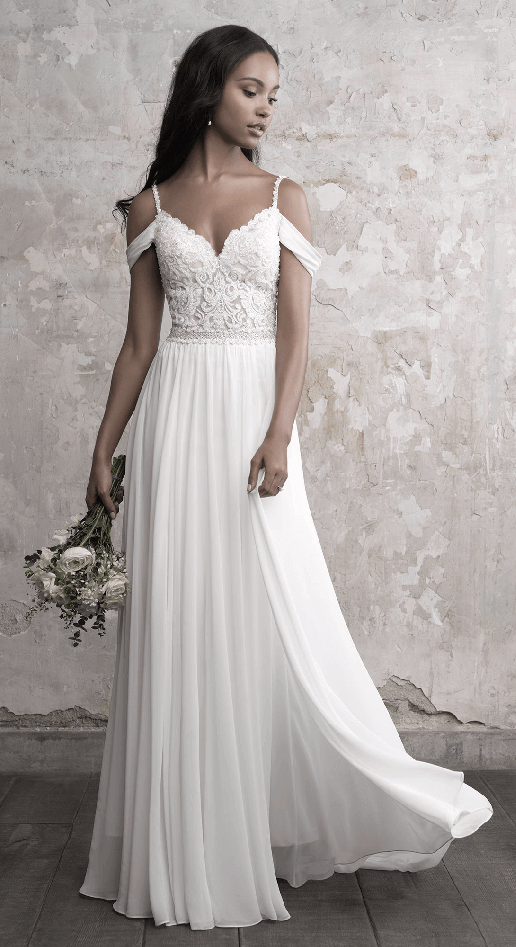 7. Tamara
Speaking of off-the-shoulder, we love Tamara for that detail and so much more. The flowing chiffon skirt pairs perfectly with the fitted lace top, and the sweetheart neckline adds the perfect touch of romance to this dreamy dress. We can imagine this dress in almost any location, from beach to barn, making it a great choice for any bride who is eager to buy her gown but hasn't picked her venue yet.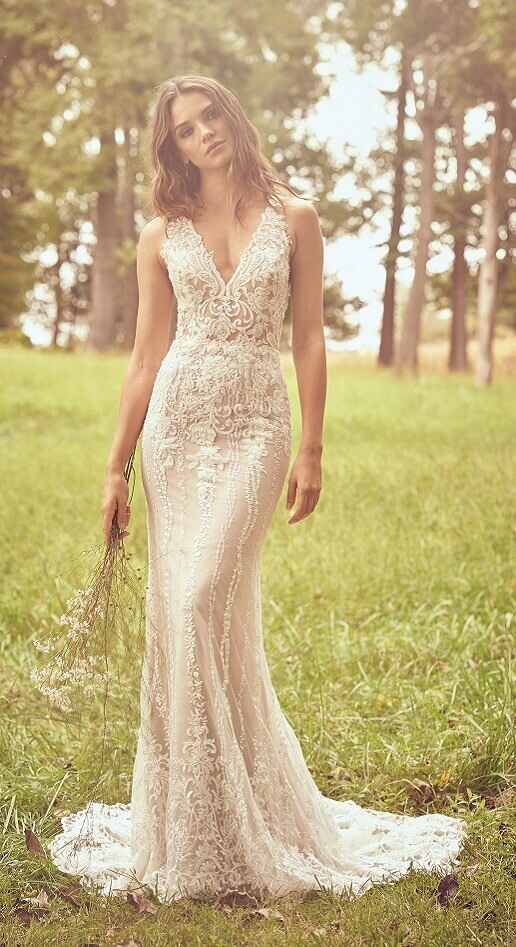 8. Jesibel
Boho dresses aren't all flowing columns. We like this elegant sheath for its curve-hugging style as well as for its intricate lace patterns. It has an undeniable allure while remaining light and essentially effervescent. Keep your hair loose and pair it with just the right headpiece, and you'll hit just the effect you're aiming for.
9. Robyn
Robyn is another weightless sheath dress that we love. This white-on-white-on-white gown pairs a beautiful lace underskirt with a sheer, embellished overskirt to create a multi-layered silhouette. Meanwhile, the plunging back takes this dress from pretty to downright sexy. Simple jewelry and a flower crown would give this the perfect style for your boho wedding.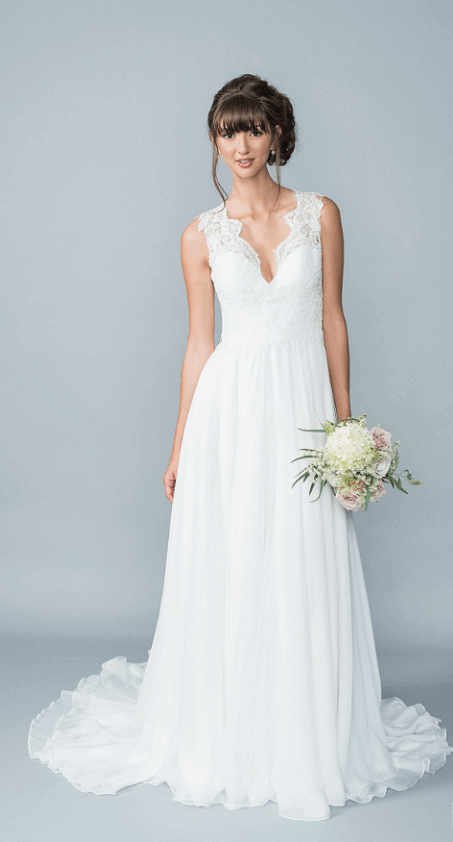 10. Hayden
While we're on the subject of flower crowns, we think that would be the perfect boho wedding accessory to style Hayden. With its simple lace bodice and flowing chiffon skirt, we couldn't imagine a gown more carefree and spring-like. And if the train is too long, taking the hem up would be a straightforward alteration to give this exactly the look you want.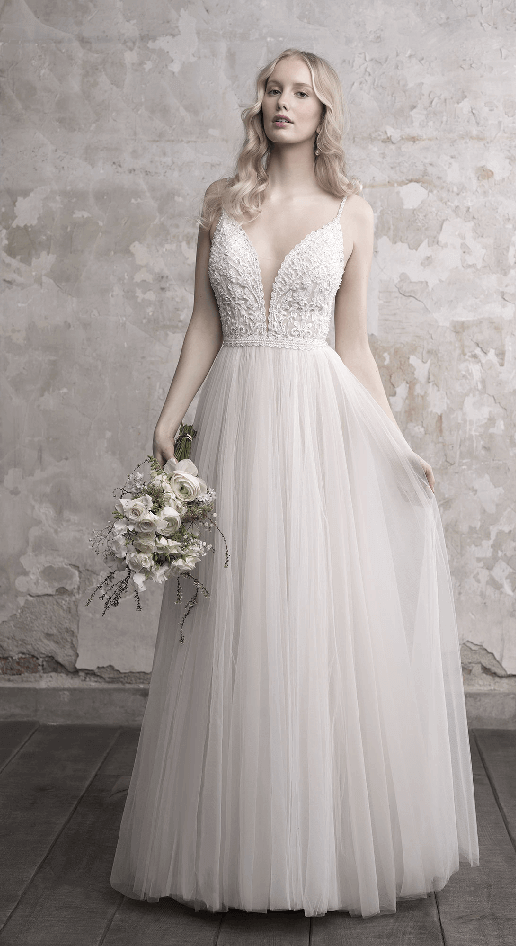 11. Trudy
The gauzy tulle on Trudy combined with the plunging neckline of the top strikes a perfect balance between innocent and daring. The embellished bodice adds just the right amount of structure and detail, while the warm fabric tones give it a slightly unconventional feel.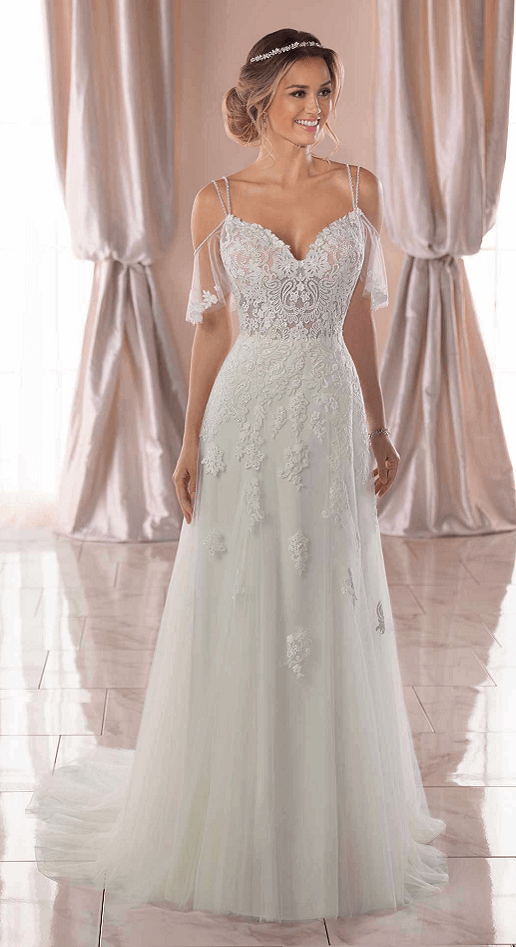 12. Clementine
The fluttery off-the-shoulder straps on Clementine are the perfect boho touch you're looking for in your wedding gown. We love how the layers of lace and tulle add dimension and depth to this dress. Absolutely elegant.
Let us make your search for the perfect boho wedding dress as effortless as the look itself.
One of the best advantages about shopping at a bridal boutique is that it allows you to relax and enjoy the experience while the style experts at the store help make your dream a reality. If that's the experience you're looking for, come book an appointment with us. We can bring out these or any number of similar boho gowns for you to try on.