Monthly Archives:
November 2020
Tiny weddings, elopements, and last-minute ceremonies are on the rise. How can you find the perfect dress for the occasion?
The Covid-19 pandemic has changed wedding plans for brides across the country. Many are postponing their ceremonies until they can have the big party they always dreamed of. Others are making more practical decisions—moving their wedding date forward, planning smaller ceremonies, or simply eloping.
Even before the pandemic began, elopements were becoming a trendy marriage choice, as more and more brides, turned off by the high costs of extravagant weddings, chose a simpler option instead. But, despite the desire to tighten wedding budgets, one area where brides are still willing to make an investment is their wedding dresses.
This makes sense, if you stop to think about it. The biggest wedding costs are the venue and the catering—each of which are usually several times the cost of a dress. Unlike either, the dress will feature prominently in wedding pictures. And many brides still dream of having a gown that they can pass down as a family heirloom—something their own daughters might want to get married in, or something that might be repurposed into baptismal clothes.
A bride looking for a wedding dress to elope in usually wants something budget friendly and that can be delivered on a shorter turn-around than the 6 or more months required for a typical wedding dress. This poses a challenge for brides—but not one that can't be overcome. If you're a bride planning an elopement—or simply a smaller wedding—here's what you should look for.
1. Delivery time: how fast can you get your dress?
The first and most pressing question most brides have when they begin looking for an elopement dress is: will it arrive on time? Brides who are planning a smaller ceremony on a short timeline can't wait six or seven months for their dress to arrive. If you're looking for a dress that needs to be custom ordered for you, this could be a major sticking point.
Instead, look for dresses that can be delivered more quickly. Some bridal boutiques may have some dresses in stock that they can sell to you that very day. You can also look for sample sales, or ask your boutique about any dresses that could be ordered within your timeframe.
2. Location: what do you plan to be doing on your elopement day?
Some brides are very low-key about their elopement. They just want to walk down to the courthouse, sign the wedding registry, and call it a day. But a growing trend among many brides is to choose destination elopements that add an element of adventure to their story. They're ready to hike five miles down a mountain trail to get married in front of their favorite waterfall at a national park. And they won't be doing that in a mermaid dress.
Fortunately, many of the styles that are favored for elopement dresses are also in the more affordable price range, which often also means a faster delivery. If you're not getting a bling-covered gown with layer upon layer of petticoats, you'll have a much better chance of finding something that will work for you—and your location.
3. Style: what does your dress NEED to have that special "wedding" feel?
Even though elopement dresses tend to be simpler than one a bride might choose for a large wedding, a bride still wants to feel like a bride when she wears one. The wedding is still a real wedding, even if it is an elopement. The wedding dress shouldn't feel like just another dress.
For elopements, however, we recommend brides think about what details they need their dress to have to still feel wedding-appropriate. For you, is a sweetheart neckline essential? Is your heart set on a certain style of lace? Is it boho or bust? Determining that essential detail can help you look past dresses that aren't fitting the bill.
4. Budget: can you find a good deal on your elopement dress?
Finally, while many brides are happy to set aside a comfortable budget for their elopement dress, most still aren't ready to pay multiple thousands of dollars for it. The appeal of an elopement is that it gives the new couple more room to plan for their future life together, after all.
If you're looking for a good deal on your wedding dress, keep an eye out for sample sales. These usually happen when boutiques are trying to clear their stock in preparation for the new wedding season. You may be able to find a gorgeous gown, right off the hanger.
Our recommendation: the Adore line by Justin Alexander.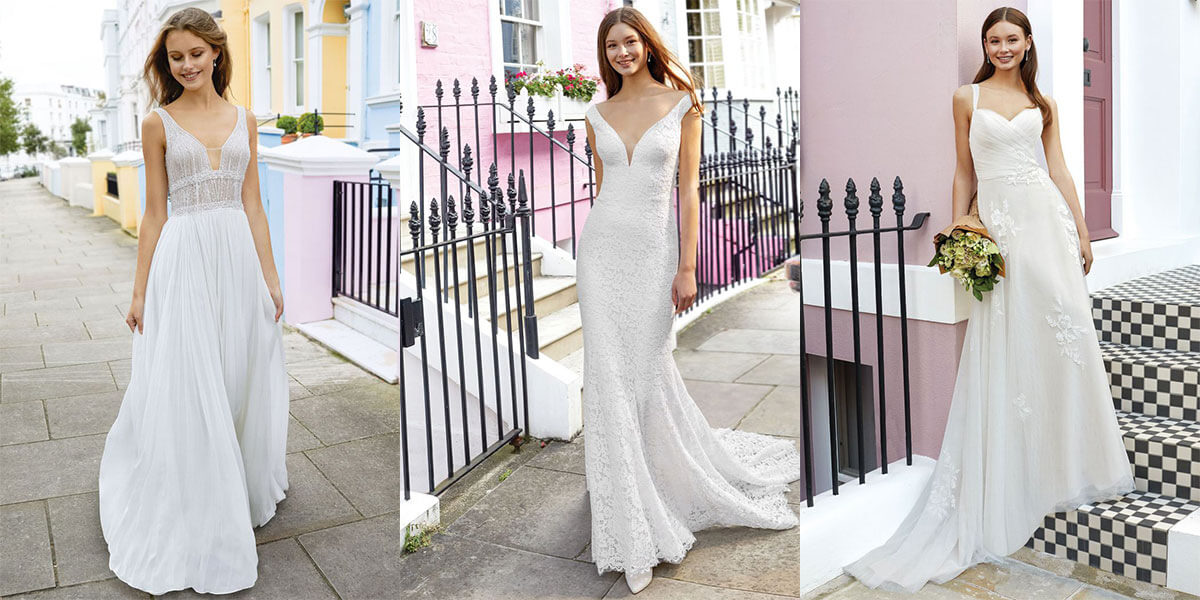 If you're starting to feel like finding your perfect dress might be more difficult than you'd first envisioned, let us offer you a lifeline. Wedding dress designer Justin Alexander has recently released a new line of wedding dresses, Adore, that offer the perfect balance of budget, style, and timely delivery for brides who want to elope, but don't want to compromise on style.
The gowns are designed with simpler details so that they are more budget friendly and have a faster delivery time. This also makes it easier for boutiques to carry dresses in stock for brides who want to walk out of the store with a dress that same day.
Choose a wedding dress you want to keep with you for a lifetime.
You may only wear your wedding dress on your big day, but it will stay with you for a long longer—as an heirloom and as a reminder of the love that brought you and your spouse together. If you're going to invest in something special, this is it. And you can have a dress that lives up to your dreams without breaking the bank.
The new collection for uncomplicated brides on a deadline.
Every now and then, a designer releases a collection of gowns that are perfect for the moment. That's what we believe the new Adore line is, from Justin Alexander. At a time when many brides are rearranging their weddings at the last minute, planning smaller ceremonies, or trying to get married on a tighter budget, this collection offers the perfect solution.
Adore gowns deliver simple, uncomplicated designs that come in at a very attractive price point—around $1000 for most dresses. And they do this without compromising on quality or delivering anything less than that show-stopping moment every bride dreams of. Wondering what makes these gowns different? Let's take a closer look.
Less bling means less budget.
One thing you may notice if you examine the Adore collection is that it features less beading and bedazzling than other collections. There's a reason for this! Sewing crystals, sequins, and pearls to a dress is costly. Lots of sparkle on a dress may be a must for some brides, but those who can do without can save themselves a lot of budget.
Simpler designs mean faster turnaround.
Another advantage to a less extravagant design? You can get your gown faster. Custom ordering gowns traditionally means waiting six months or more for the dress to be made according to measurements. With simpler sewing lines, most of the Adore gowns have a much faster turnaround.
Affordable gowns mean more options for elopements and rehearsals.
One final advantage to this gown collection? By choosing a dress with a lower price point and fast sewing cycle, you have more flexibility in your overall wedding plan. Did you want to order different dresses for the rehearsal and ceremony? Or for the ceremony and reception? Did you want to save expenses with a mini wedding, or did you plan to elope? These dresses let you do whatever you want, without feeling guilty about the price tag.
Take a look: Our favorite 6 gowns from the Adore collection.
As great as all this sounds, it still leaves the most important question of all: are they wedding-worthy? As much as you want a good deal, you don't want to choose a dress that is anything less than perfect for your wedding day.
To our mind, the answer is a resounding yes! And to prove our point, we selected our favorite six gowns to demonstrate that you really can have it all.
1. A plunging neckline paired with flirty back.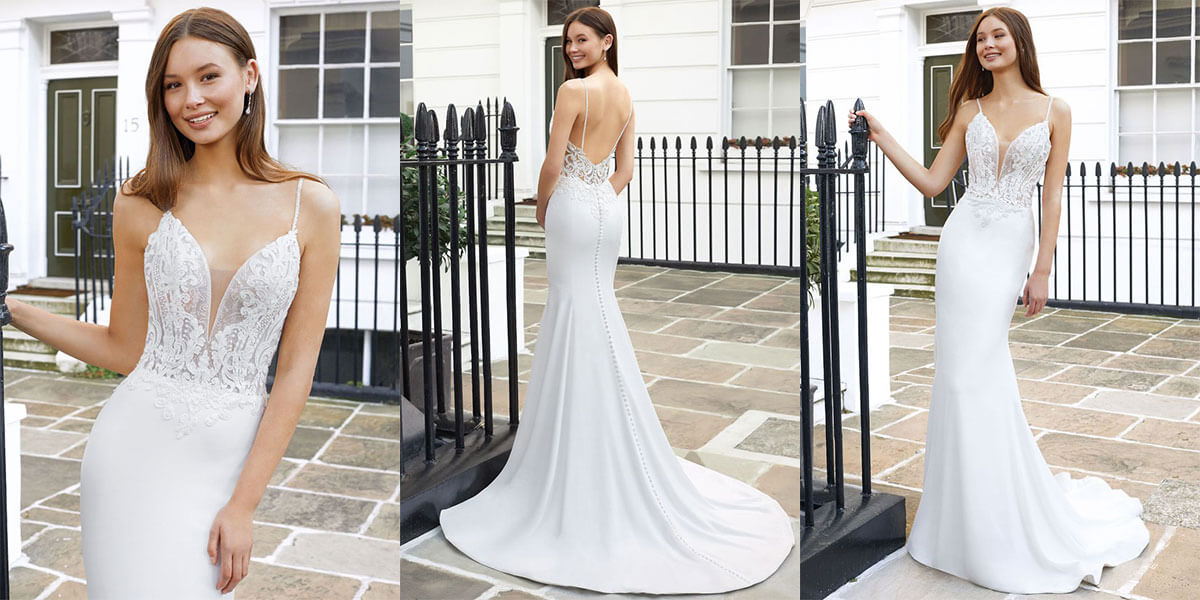 If you were in any doubt about these gowns being absolute stunners, set your mind at rest. This gown has everything: a deep plunge at the neckline, lace detailing in the bodice, and a figure-hugging silhouette that will leave jaws on the floor. It's the perfect spring look for brides who want to combine an elegant and chic aesthetic with just a little bit of fun.
2. A full ball gown with a deep V neckline.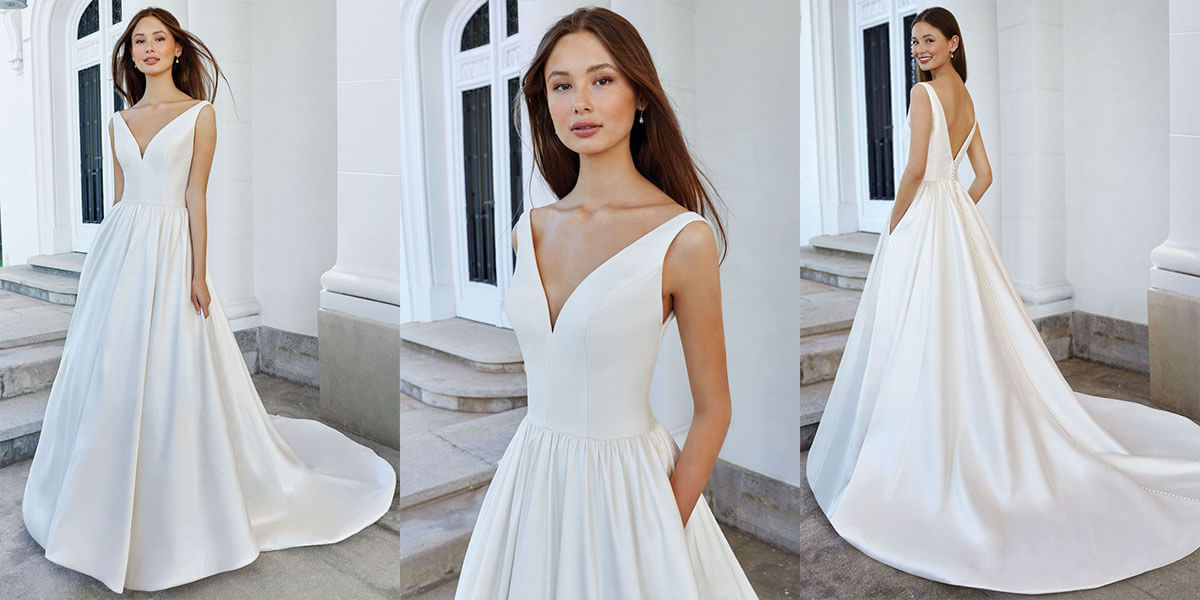 Another style that isn't off the table? The ball gown. That's right, you don't have to break the bank to enjoy a million-dollar silhouette. We love how the structured bodice pairs with the mikado skirt. The buttons down the back give this dress the ultimate princess finish.
3. English net with a flowing skirt.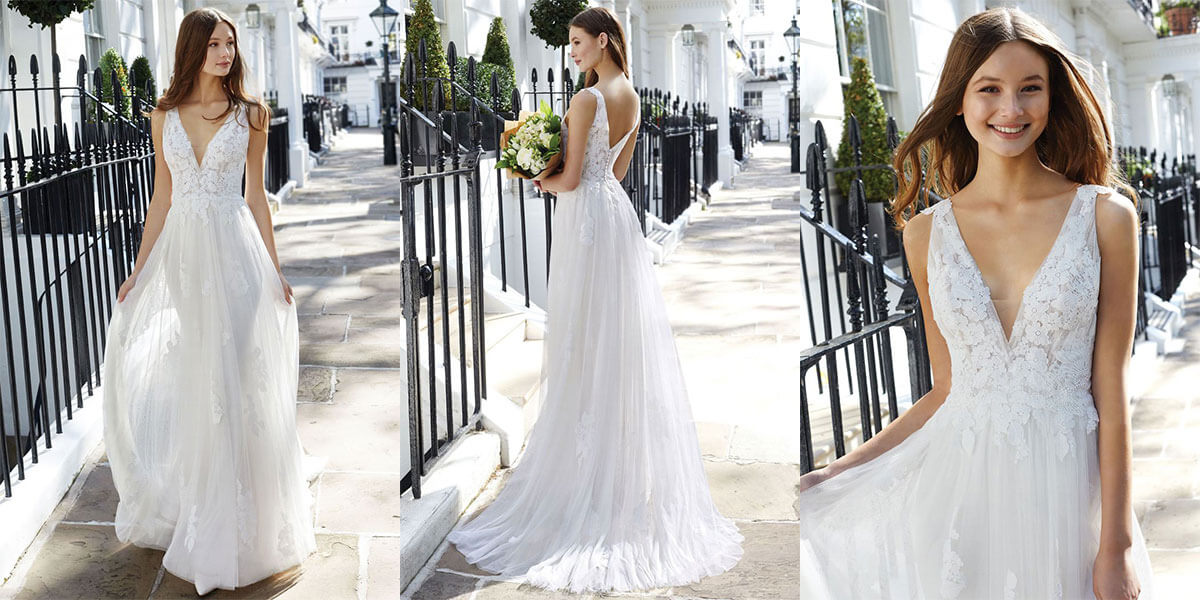 Is light and airy more your style? We love the gauzy look of this English net skirt. With a low V neckline in both the front and back, this dress would be perfect for warm weather—either in the spring or summer, or at a sunny destination. Whether at the beach or in a garden, this gown will make you feel as if you're walking on air as you float down the aisle.
4. Off-the-shoulder crepe with figure-flattering silhouette.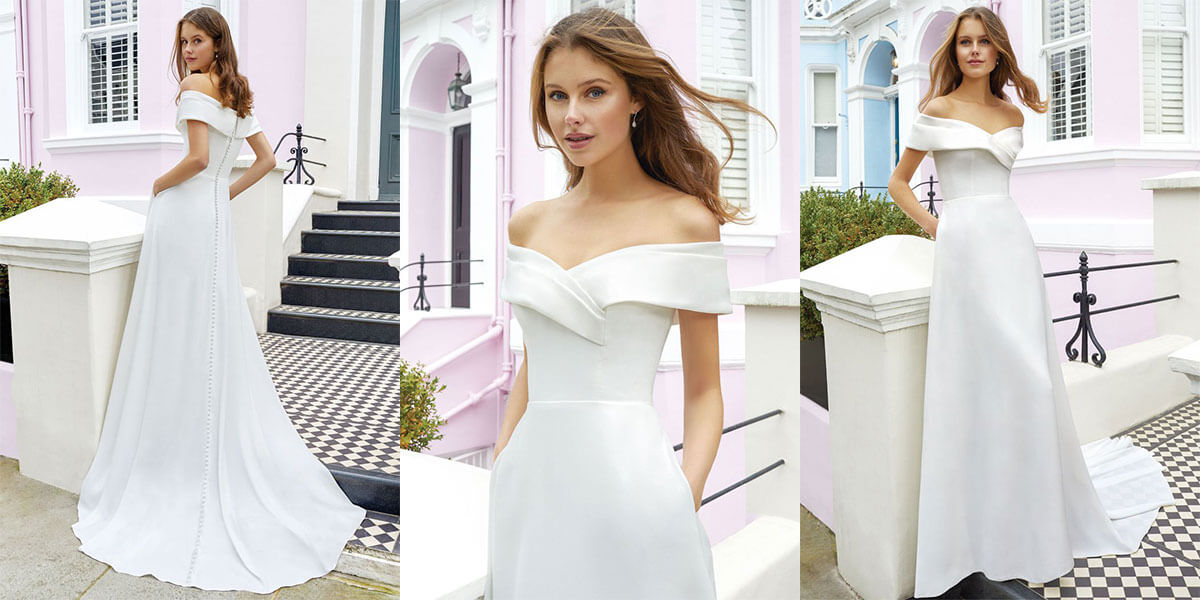 This gown is an absolute bombshell if ever we saw one. With its Bardot sleeves, asymmetrical neckline pleats, and A-line skirt, it flatters every curve. And the best part? It has pockets! It's the perfect blend of alluring and practical—just what you want for a sultry summer ceremony.
5. A sheer lace bodice with waist cutouts.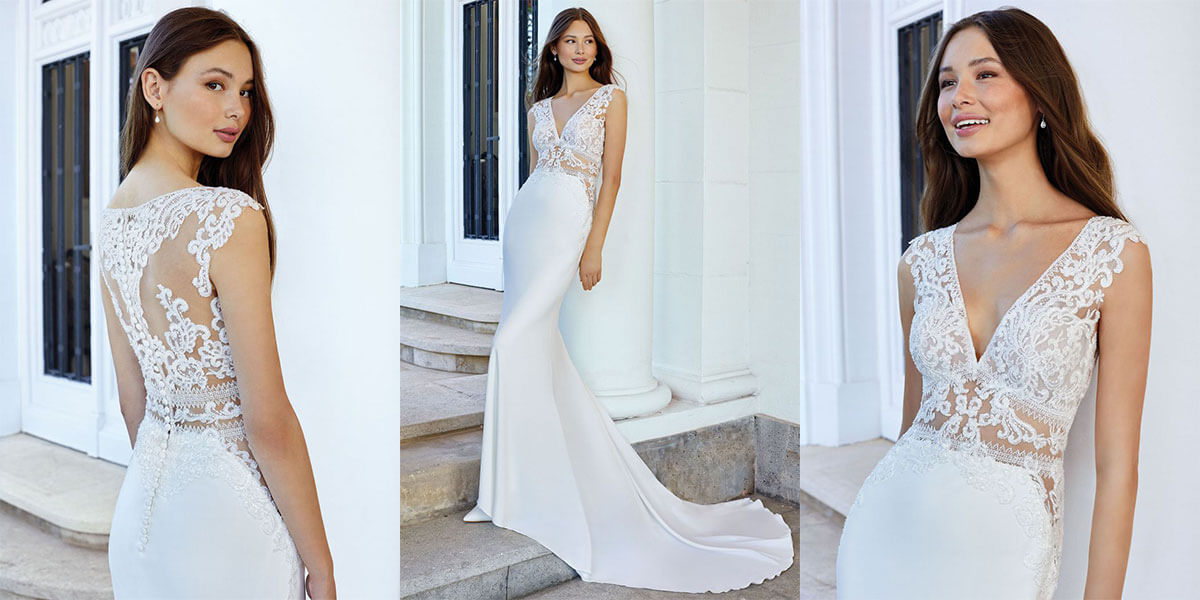 This gown packs a punch! With beaded lace on top and a long, crepe train, it presents a traditional silhouette with a sexy modern twist. We think the lace on this gown is especially exquisite, and the designer offers the option to line the bodice to the back for brides who prefer a little more coverage.
6. Boho lace for vintage glam.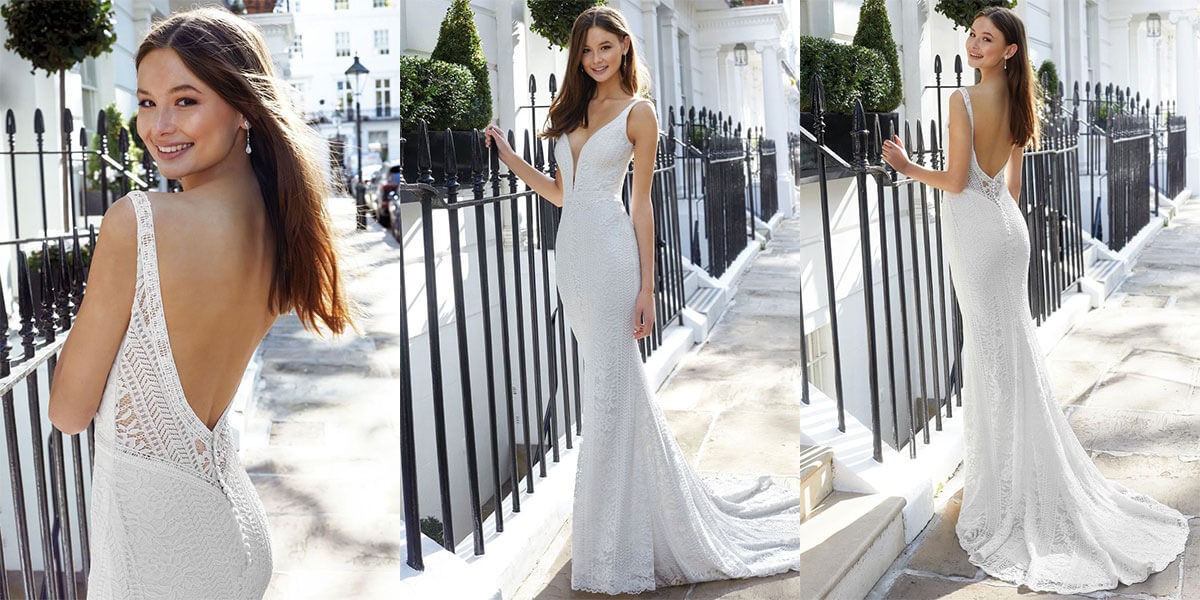 Do you want to bring a bit of glamour to your rustic chic wedding? We envision this as the perfect choice for brides who want to get married in a garden and dance the night away in a barn. The all-over lace gives this gown a light-weight, bohemian feel that feels both trendy and vintage.
Simple doesn't mean boring, and affordable doesn't mean cheap.
If there's anything this collection shows us, it's that brides can get a lot of bang for their buck without compromising on style. The Adore collection delivers a well-rounded set of gorgeous gowns in every silhouette, complete with delightful details and sumptuous fabrics. It's a sophisticated collection that savvy brides should seriously investigate.
One thing we appreciate about these gowns is that their lower price point makes it easier for us to keep a wide range in stock at our store. If you would like to try one on, contact us and let us know! You can view the whole collection on the Justin Alexander website, and if there's any dress you would like to try on that we don't happen to have on-hand, just let us know. For a small fee, we can request a dress through the designer's loaner program, which we then reimburse if you choose to purchase any dress at TWD!