Monthly Archives:
January 2020
Bring old-timey glitz and glam to your wedding with these 20s-inspired gowns.
It's the twenties again, and for many brides that's an inspiration point for vintage venues and roaring receptions. When it comes to style and fashion, most of us have immediate associations with each decade of the 20th century. The 40s are pin curls and birdcage veils, the 50s introduced tea-length swing dresses, the 60s mod fashion and miniskirts, and so on.
But of all these styles, the 20s are some of the most iconic, bringing to mind opulent parties and Gastby-like extravagance. It's a fun decade to choose as a theme for a wedding at any time of year, and is likely to be especially popular this decade.
So, are you looking for the perfect 1920s vintage-inspired gown for your wedding? Here are our top picks from our store.
1. Kendell.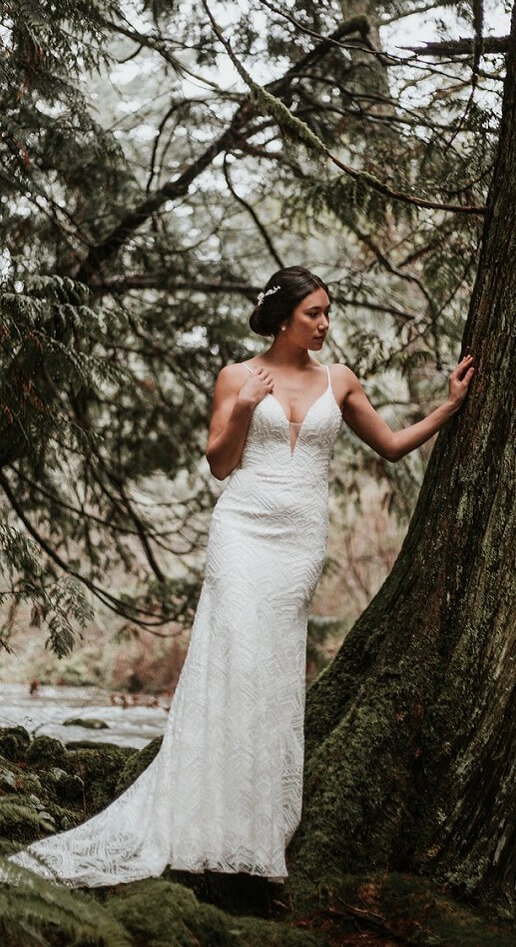 For a classic 1920s look, Kendell ticks all the boxes. The sheath style mimics the drop-waisted look of flapper dresses, while the beaded lace of the skirt recalls the classic art deco style. Pair this with a beaded headband, and you'll look like a fashion plate from last century.
2. Kayleigh
This dress is all about that lace (and, OK, the perfect sweetheart neckline, too). The large, detailed design of the lacework on Kayleigh is perfect for your vintage wedding, and the silhouette leaves plenty of room for a piece of statement jewelry—like large chandelier earrings.
3. Josey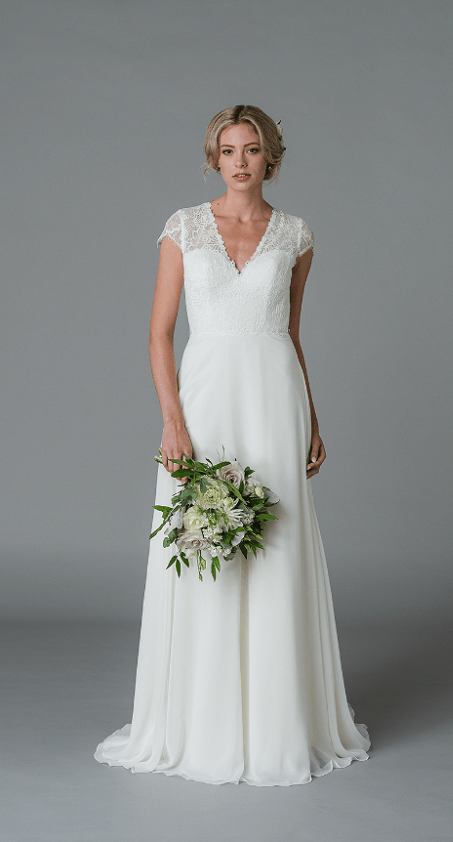 The 1920s might be best known for its extravagance, but that doesn't mean the whole decade was that way. We like Josey for an alternate take on the decade that still conjures up feelings of a time gone by. Perfect this look with a cap veil, simpler jewelry, and finger waves.
4. Clarice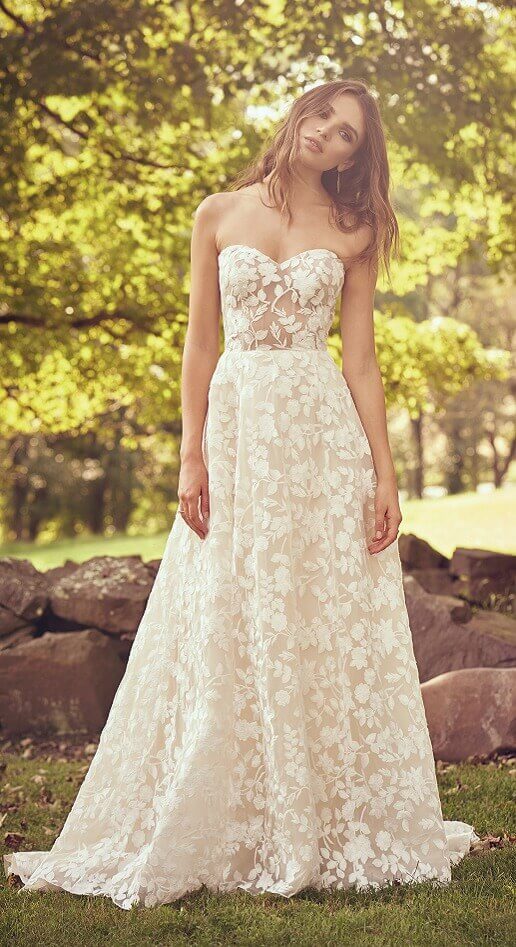 Sometimes you want to evoke a feeling about a decade without directly copying every element. This is what we think when we see Clarice. The sand-colored under-dress gives the dress the sepia tones of an old photograph, while the lace overlay has an heirloom quality that can't be denied.
5. Kirstie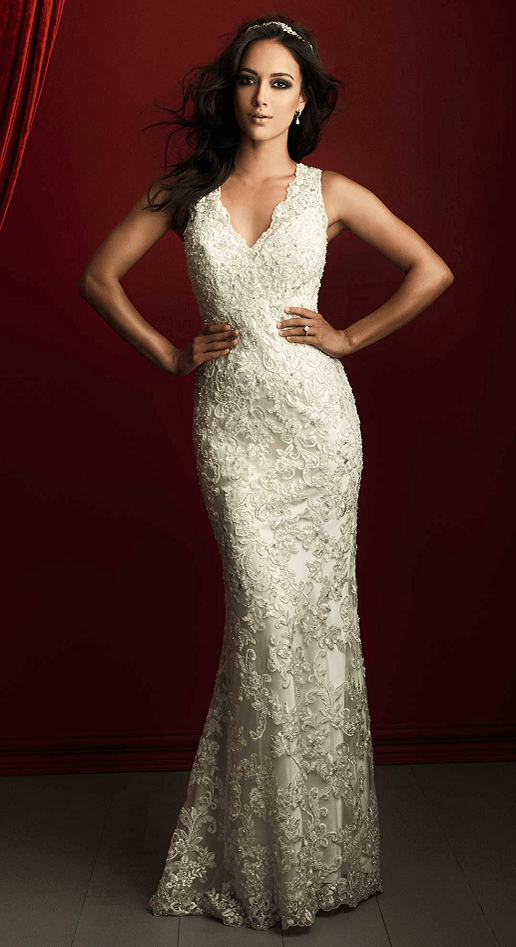 The 1920s were a golden decade, so what better than a golden dress to remember it by? We think Kirstie brings just the right kind of luster to your wedding day, with a gorgeous lace overlay that is era-perfect. Combine your smokey eye makeup with dark lipstick, and you'll have just the right style to match the theme of the evening.
6. Jude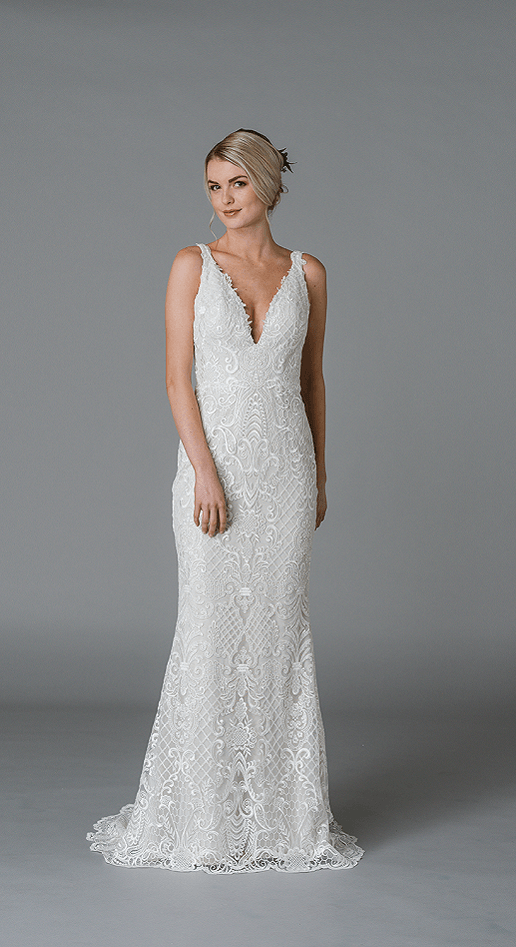 Looking for a gown with a relaxed fit and statement deco lace? All we can say is: Hey, Jude! This dress combines all the elements you need for a 1920s theme. From the loose silhouette to the vintage lace pattern, no one will be able to mistake this dress as being a throwback to any other decade. To make it perfect, plan on finger curls for your hair and a feathered headband.
7. Nala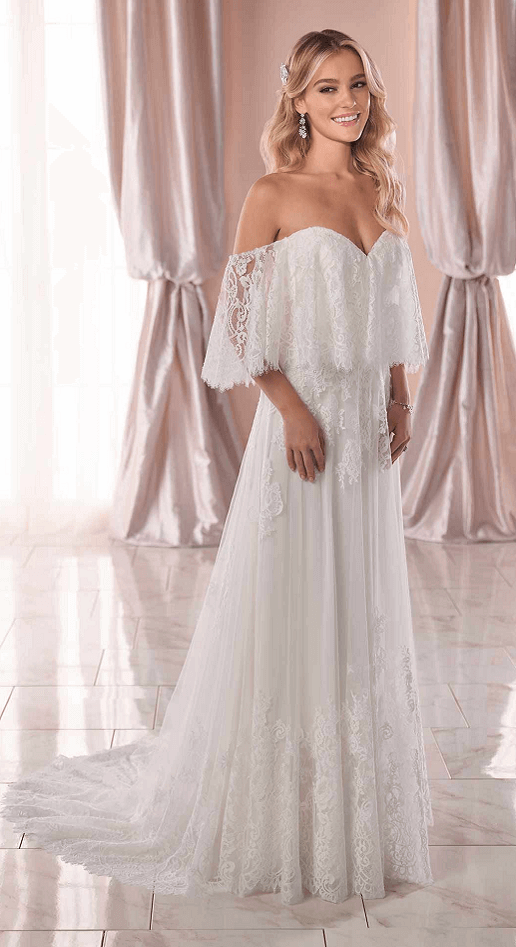 If we're being honest, Nala seems to span decades. The silhouette has the long, column design and layers on layers of lace that were familiar in the post-Edwardian decade (although you can bet no dress from that time would have had bare shoulders like this one!). Fashions don't change overnight, which makes this the perfect dress for stepping from one decade into the next.
8. Reagan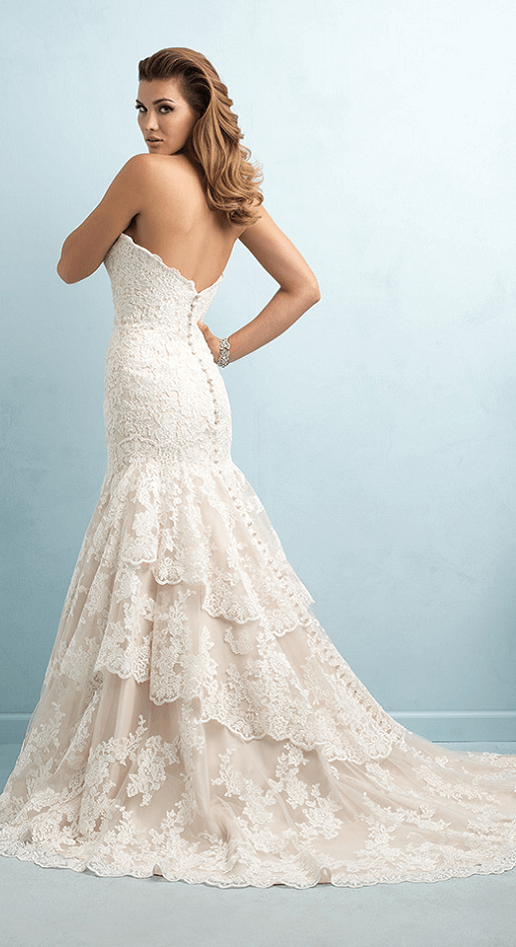 That classic drop-waist 1920s style isn't for everyone, but if you want to still call up that look, we suggest going for a dress dripping in vintage lace. That's Reagan for you. It'll be more of a stretch to tie this dress in with your theme, but we think this is a clever cross-over for anyone who wants a 20s vibe but can't let go of the mermaid silhouette.
9. Caydence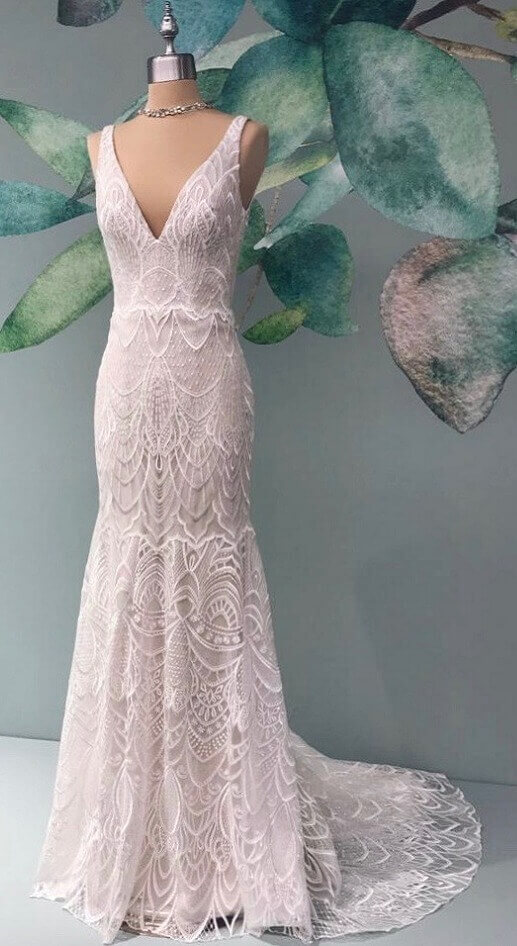 It's hard to beat Caydence for that perfect 1920s vintage wedding dress look. This dress has everything: a beaded art deco overlay, the illusion of a dropped waist, and a deep V neckline that is perfect for showing off strings of pearls. We'd love to see this paired with over-the-elbow gloves for an ultra-glamorous finish.
10. Keegan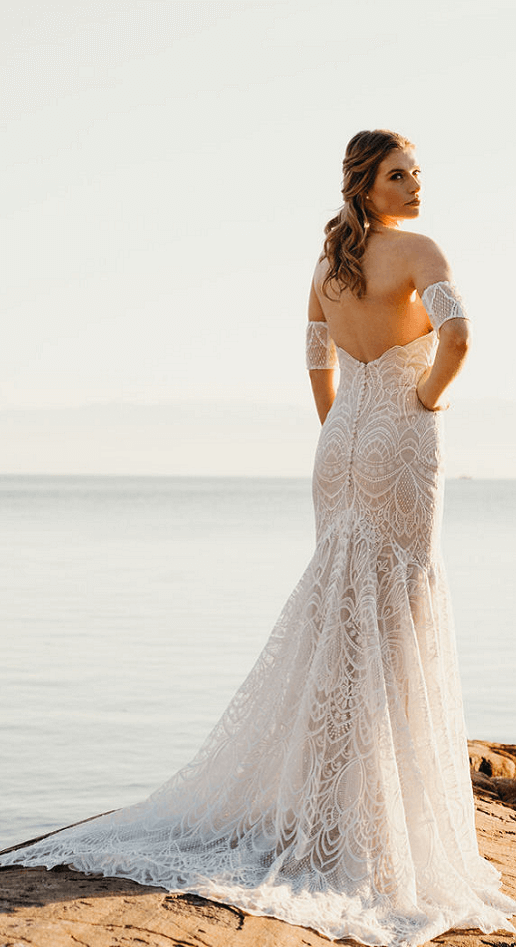 We've shown you plenty of dresses with that iconic 1920s beaded lace look, and we're not done. However, we think Keegan takes it to a new level with a gorgeous train and detachable sleeves in a variety of styles. There's all sorts of ways you can change this look up to match your theme, so it's a great choice to let your creativity shine.
11. Nerissa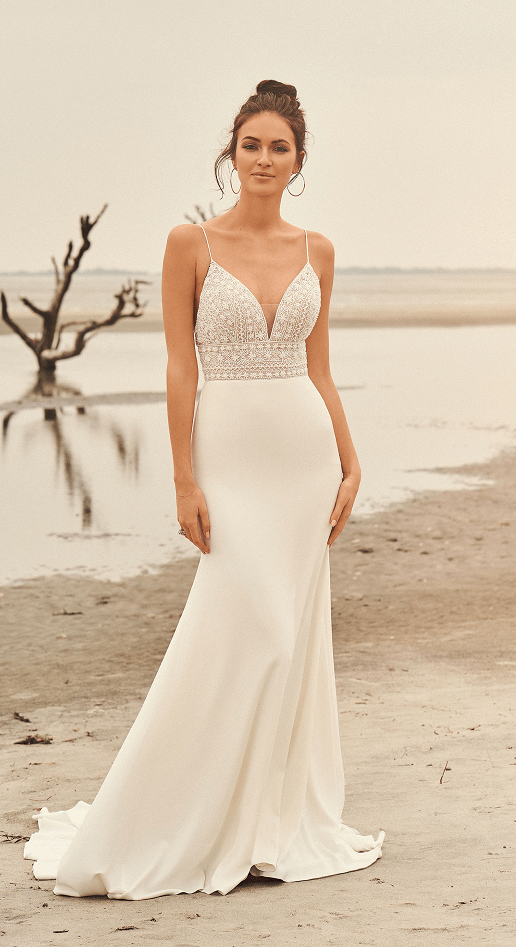 Like many of our previous selections, Nerissa is a modern twist drawing on 1920s themes. In this case, we've chosen it for the flowing skirt and statement beadwork on the bodice. We believe this dress will look perfect when styled with some era-appropriate jewelry or a vintage headpiece.
12. Aimee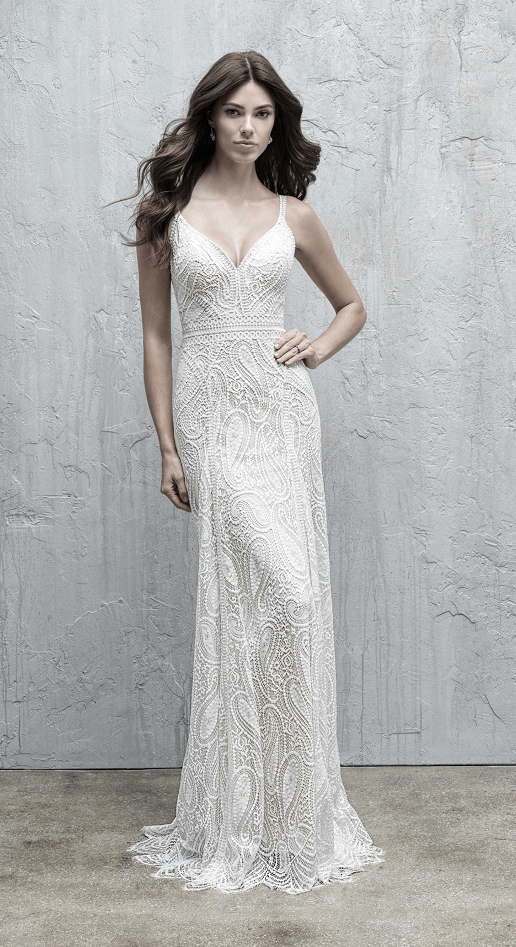 The column silhouette on Aimee combined with the beaded overlay is the perfect combination of elegance and glamour. This dress can be styled simply for a more subtle evocation of the 1920s, or you can add any variety of accessories to match the look to perfection.
13. Carolita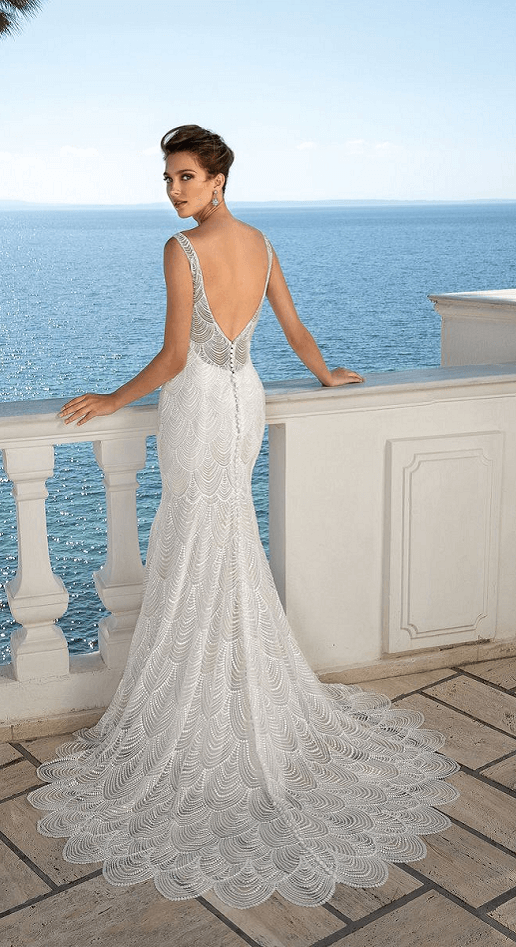 The train on Carolita is everything we could ever have hoped for in a vintage dress, while the low back provides a sexy, modern edge. We see this look pairing well with statement jewelry and a long, dramatic veil.
14. Indra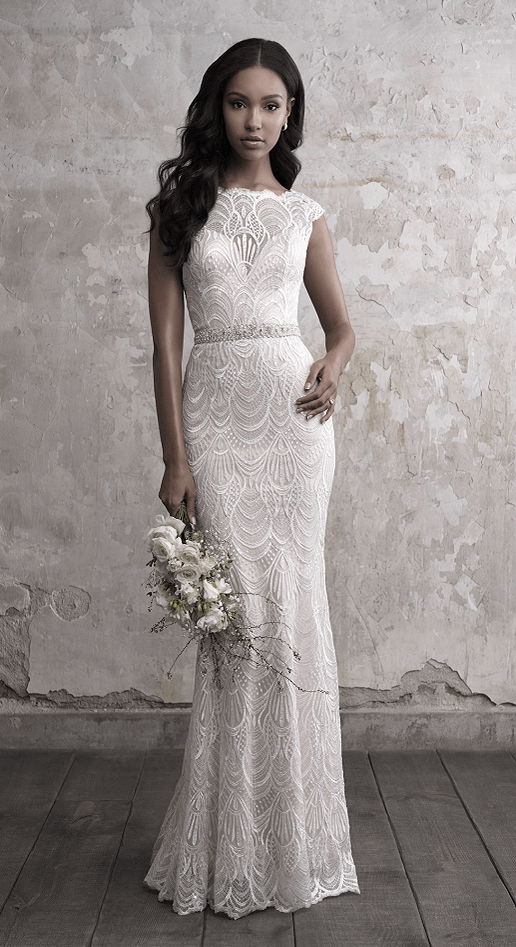 Indra is yet another dress that includes the perfect scalloped lace detailing for your 1920s theme. Add sparkle to this dress with a bejeweled belt, and finish off with chandelier earrings or a beaded headdress.
15. Lynley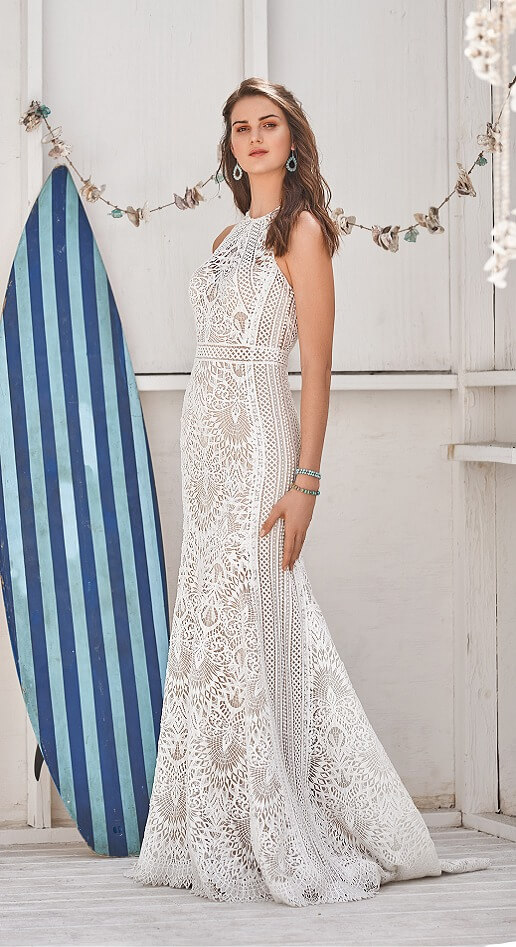 Like many of these dresses, we chose Lynley for the lace. However, we also like the trapeze neckline, which gives this style a more modern vibe. Try stacking some bangles along with an upper arm cuff to finish off the look.
16. Sasha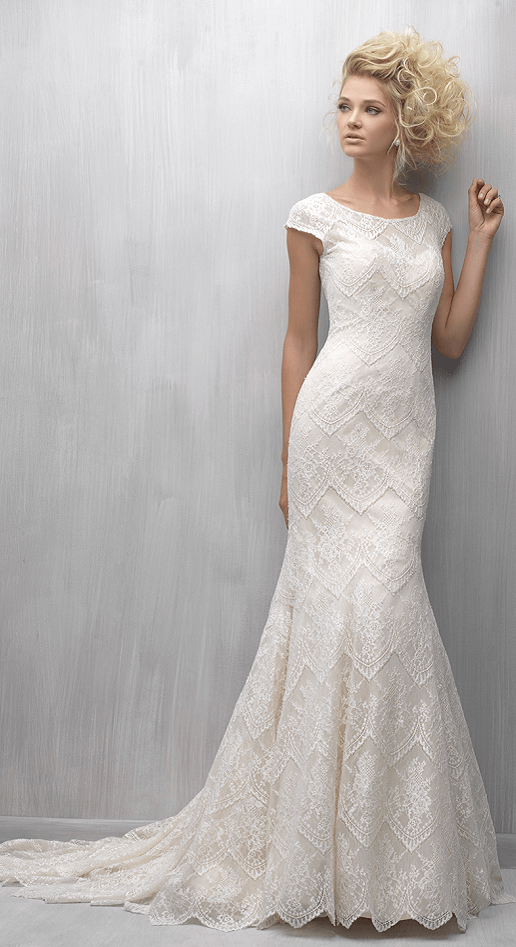 Finally, Sasha. We love the simple lines on this dress, the cap sleeves, and the scoop neckline. While the lace brings in that vintage look, we think a cap veil would top this off nicely. Don't forget to add some glamour with era-appropriate makeup.
Chose the perfect accessories to be sure you nail your 1920s vintage vibe.
As with almost any dress style, choosing the right accessories is key. The right veil, head piece, earrings, or statement necklace can tie everything together and sell the vintage look you're going for. They're also the perfect way to incorporate your "something old."
Talk to your family about any heirloom jewelry pieces that may have been passed down from a great-grandmother. Or, if you don't have anything in the family, think about hitting up some antique stores and looking for statement pieces. You might even be able to find something form the right era to bring some authenticity to your outfit.
If you'd like to try on any of our gowns, book an appointment. We'd be thrilled to help you try on our wedding dresses and offer personalized style tips to pull everything together for your big day.