Monthly Archives:
May 2022
Wondering what it's like to visit our boutique? Here are 7 ways The White Dress is not your typical bridal store.
When many brides start shopping for their wedding dress, they naturally spend the most time focused on the dress itself: what silhouette they want, what style will go with their wedding theme, which gowns fit into their budget, and which designers have an aesthetic or an ethos that resonates with their own preferences.
However, where you shop for your wedding dress is just as important a consideration. It will affect which designers you will be able to try on, how broad your selection of gowns is, and (most importantly) how comfortable you feel in the store.
Most brides expect to have their big bridal moment when they try on their dream dress. But we know that the environment we create in our store is the number one factor in helping brides have that moment. We've spent a lot of time thinking about the experience brides have in our store, and have identified six factors that we believe set us apart. If you're looking for a bridal boutique, these are some of the factors you should think about!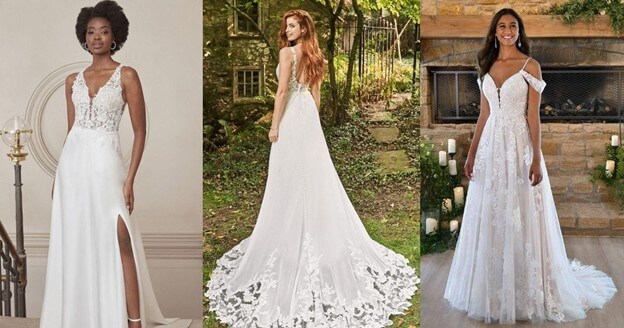 1. We promise a no-pressure environment.
Nothing stifles a bride's ability to have a comfortable experience in the store more than a pushy consultant trying to make a commission. Even bridal boutiques who are trying to do right by their brides can unintentionally undermine their efforts by incentivizing their staff to focus on sales.
That's why we don't operate on commission. We want our TWD-ettes to be able to devote their full attention to what's best for the bride. That means we'll always respect your budget and we'll never pressure you to make a decision before you're ready.
We've seen over and over again how this approach changes a bride's experience in our store. When a bride knows that our TWD-ettes aren't trying to upsell her on her gown, it puts her more at ease to look at dresses with an open mind—and that's the best space to be in if you're hoping to capture that "wow" moment when you find THE dress.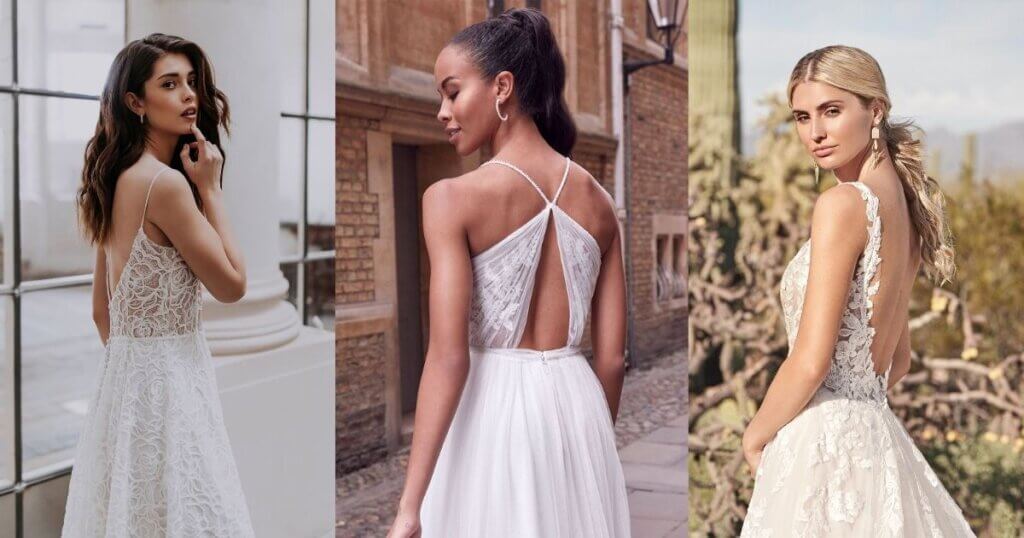 2. We run a new promotion almost every month (and they're super fun!).
If you've been following us for a while, you've probably noticed that we love a good promotion. For us, it's not just a sales technique to encourage brides to come through the door—it's also a way we keep things fresh and fun around our boutique.
Case in point? For the past two months we've been running an "April Showers Bring May Flowers" promo, where every time a bride says yes to her dress, we ask her to pick either from a glass of little cocktail umbrellas or from a bouquet of roses. Each umbrella or rose comes with a discount on the dress, ranging from $50 to $150.
Our brides appreciate the discount, but it's also fun for our team, and leads to an overall more positive experience in our store. We've had any number of promotions over the years, with prizes ranging from free jewelry to a sample sale giveaway.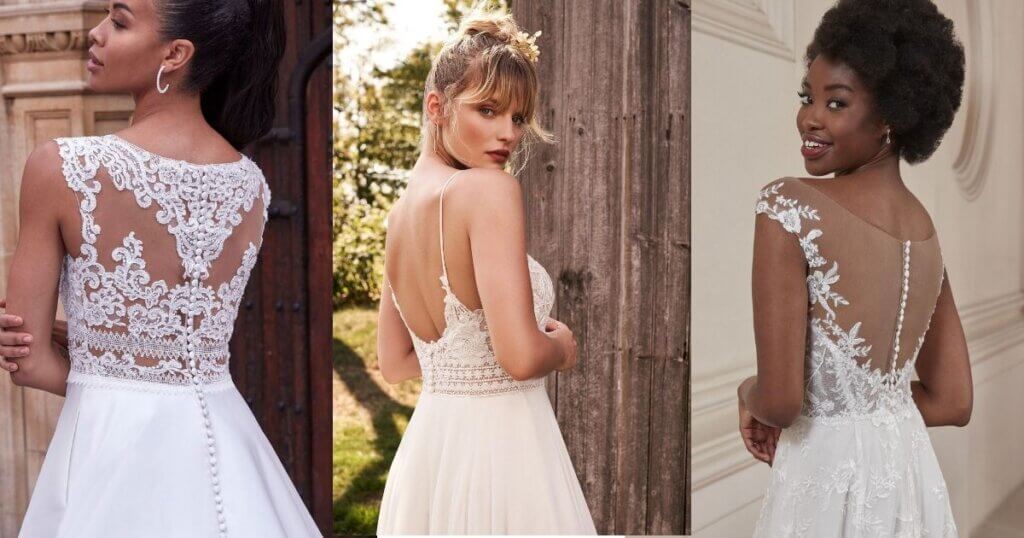 3. We're not a chain.
Not to name names, but it's hard to have the personal, intimate experience you're looking for when wedding dress shopping at a chain wedding dress store. While these shops have brand recognition, they're also operating at scale across a broader geographical region, which means they don't have the same feel for the local market that we do.
We spend a lot of time talking to our brides and paying attention to what's on trend for our area. Michigan is a state known for its natural beauty, with an abundance of orchards, vineyards and lakes making outdoor venues especially popular.
Many brides also plan fall weddings, hoping to take advantage of the changing leaves. And while beach weddings are certainly a destination in our state, getting married with the Great Lakes as your backdrop isn't the same as standing on a beach in California.
As for our lovely Detroit brides, we know that one of the popular trends is to match the classic Art Deco theme of downtown venues with a gown that has a more vintage bohemian look.
We know these things, and spend a lot of time tailoring our selection to meet local needs in a way that larger stores who have to appeal to tastes around the country can't.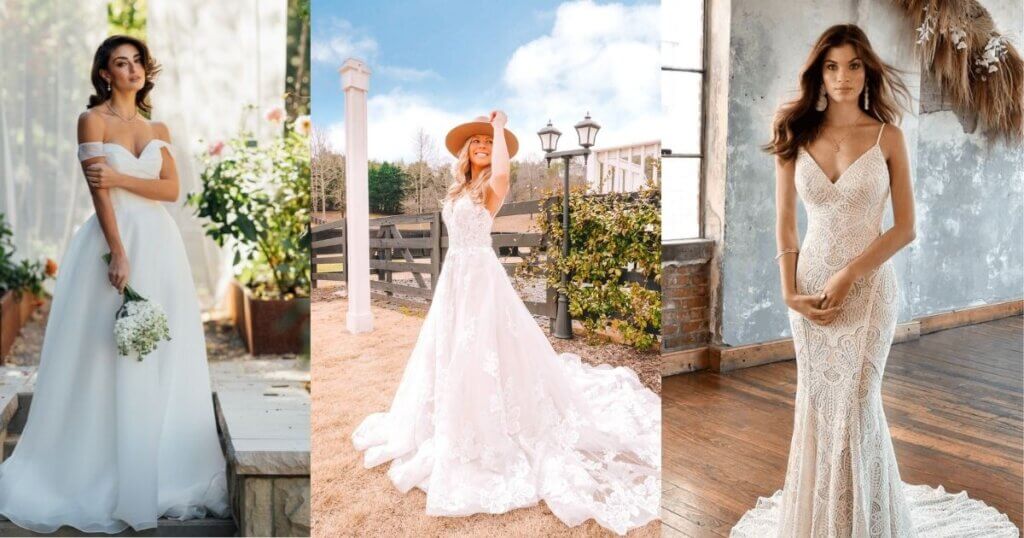 4. We're woman-owned!
Hey, ladies! Did you know that we're a woman-owned business? It's true. Being woman-owned means that the decisions being made in our store all come from someone who has been in your shoes before and understands first-hand what it takes to make a bridal shop feel comfortable and relaxing for visitors.
In fact, it's because we have had this experience that we place such a high value on things like a pressure free environment and on keeping our collection up to date. It's more than just good business—it's how we would want to have the experience ourselves.

5
. We're proactive about building relationships in our industry.
If you read our recent post about our trip out to Chicago for the semi-annual Bridal Market, you know how dedicated we are to going the extra mile (or in this case, two-hundred and sixty miles) to stay at the top of our industry. Bridal Market is where we see the latest collections of dresses, but it's also where we meet designers and make the connections we need to host trunk shows and designer spotlights throughout the year.
In particular, we believe that trunk shows are the best way our brides can truly experience a designer's collection—and maybe even score a completely unique gown. But having a close relationship with our designers is valuable in other ways as well, especially when it comes to bespoke alterations or ordering in a sample dress through our loaner program that we don't usually carry in our store.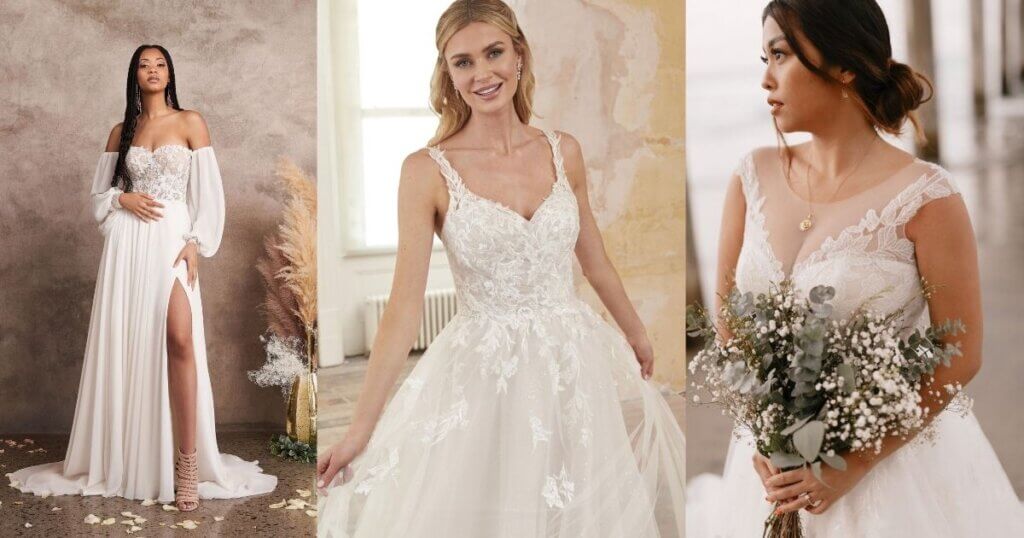 6. We carry a broad selection of plus-sized sample gowns in our store.
Gowns can be ordered in almost any size, but it's hard to get an idea for what that gown will actually look like on your body if the sample sizes available aren't even close to your shape. Well, we wouldn't be serious about our desire to make each and every bride in our boutique feel comfortable if we weren't also dedicated to offering a generous selection of plus-sized sample gowns to try on.
We also firmly believe that every woman's body is different, and that there are no rules for which dresses you can or can't try on. Our plus-sized collection carries a full range of silhouettes and styles, so whether you want a princess ballgown or a slinky lace boho dress, you will have options in our store.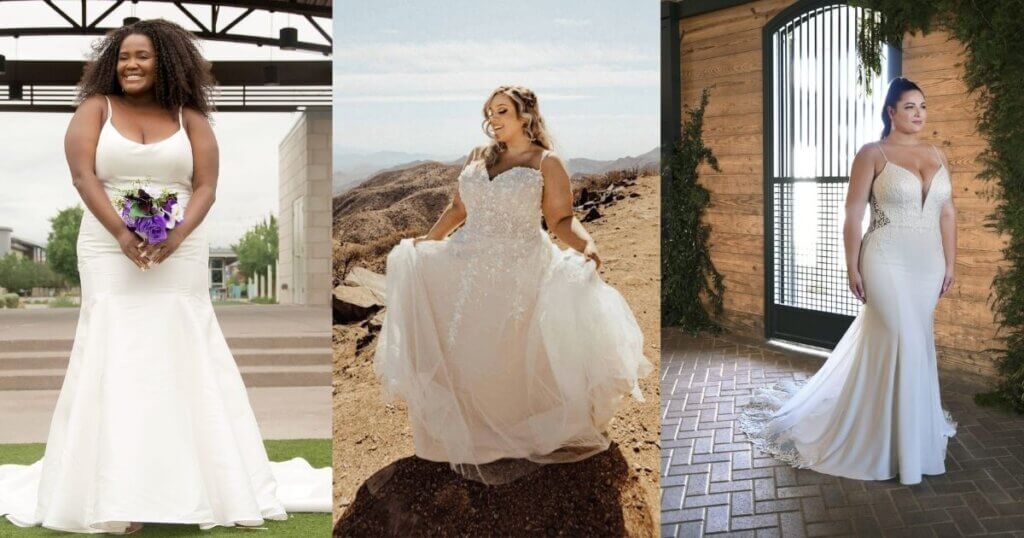 7. Our TWD-ettes are absolute rock stars.
Last but not least, we truly wouldn't be who we are without our fabulous team of TWD-ettes. So many customers have commented on how working with our TWD-ettes made them feel instantly at ease. That feedback is something we take to heart, and it inspires us to always do our best to put our brides first. 
The women in our store are truly indispensable for creating the kind of environment we want for our guests. They know our collection of dresses front to back, have a near encyclopedic knowledge of the latest bridal trends, and are ready to offer style advice to any bride who can't decide between a veil or tiara.
So if you have any doubts, anxieties, hesitations, or questions, come on in and talk to our team! By the time you leave you'll feel at peace in your heart and confident in your choices.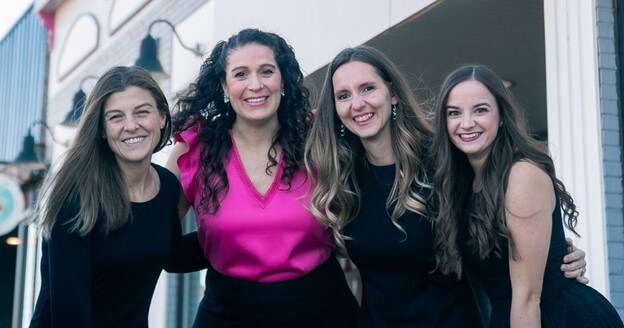 Schedule a visit to experience our store for yourself!
At The White Dress, we're committed to two things: providing a first-class selection of wedding dresses for our brides here in Michigan, and making sure that each bride feels comfortable and confident during her time in our boutique. Book your appointment with us, and let us make your wedding dress experience just as special and magical as you always imagined.