Monthly Archives:
September 2020
This Canadian designer has an unmistakable esthetic with unique customizations.
One of the great pleasures of running a bridal boutique comes from getting an inside look at up-and-coming designers who bring with them fresh ideas for bridal wear. We pride ourselves on the care we take in selecting gowns for our store, and when we have an opportunity to cultivate a closer relationship with one of these designers, we take it.
This is why we're taking a moment to feature Lis Simon and her gowns. Since 2009, this Calgary-based husband and wife design duo has grown their bridal collection from their small apartment in Canada to a brand with a presence in select bridal boutiques all across North America.
They've accomplished this by blending tradition with modern sensibilities for designs that feel timeless and current at the same time. The results are unforgettable.
Clean lines with an artistic flourish.
If there's anything about a Lis Simon dress that makes it stand out from the crowd, it's the ease with which these dresses can hold the attention of a room—without being too loud or showy in the process. These gowns are graceful, with the emphasis on silhouettes that are striking from a distance and details that only become more absorbing the closer you look.
The fabrics in Lis Simon's collections are also exquisite, with lace designs both large and small that are simply beautiful to behold. Soft and dreamy, they're the perfect choice for brides yearning for a bohemian touch to their special day.
Separates sewn together for a customizable dress.
Another thing that separates Lis Simon from other designers is their line of… well, separates! When ordering from Lis Simon, you can customize your wedding look by picking from a range of bodices and skirts, then mixing and matching till you find just the right combination.
Here's the twist, though: you don't have to wear them as separates on the day! Instead, you can have the bodice and skirt sewn together to form a complete gown for the classic wedding look.
Or, if you're feeling adventurous, you can mix and match tops and bottoms for different looks throughout the day! Try a high-necked bodice for the ceremony but pair it with a lacier top for the reception. Or wear a fitted skirt for your walk down the aisle, but exchange it for a looser number when the time comes to hit the dance floor.
Separates allow you to switch up your style throughout the day without having to purchase two different dresses. Here are a few of our favorite combinations.
Boho romantic.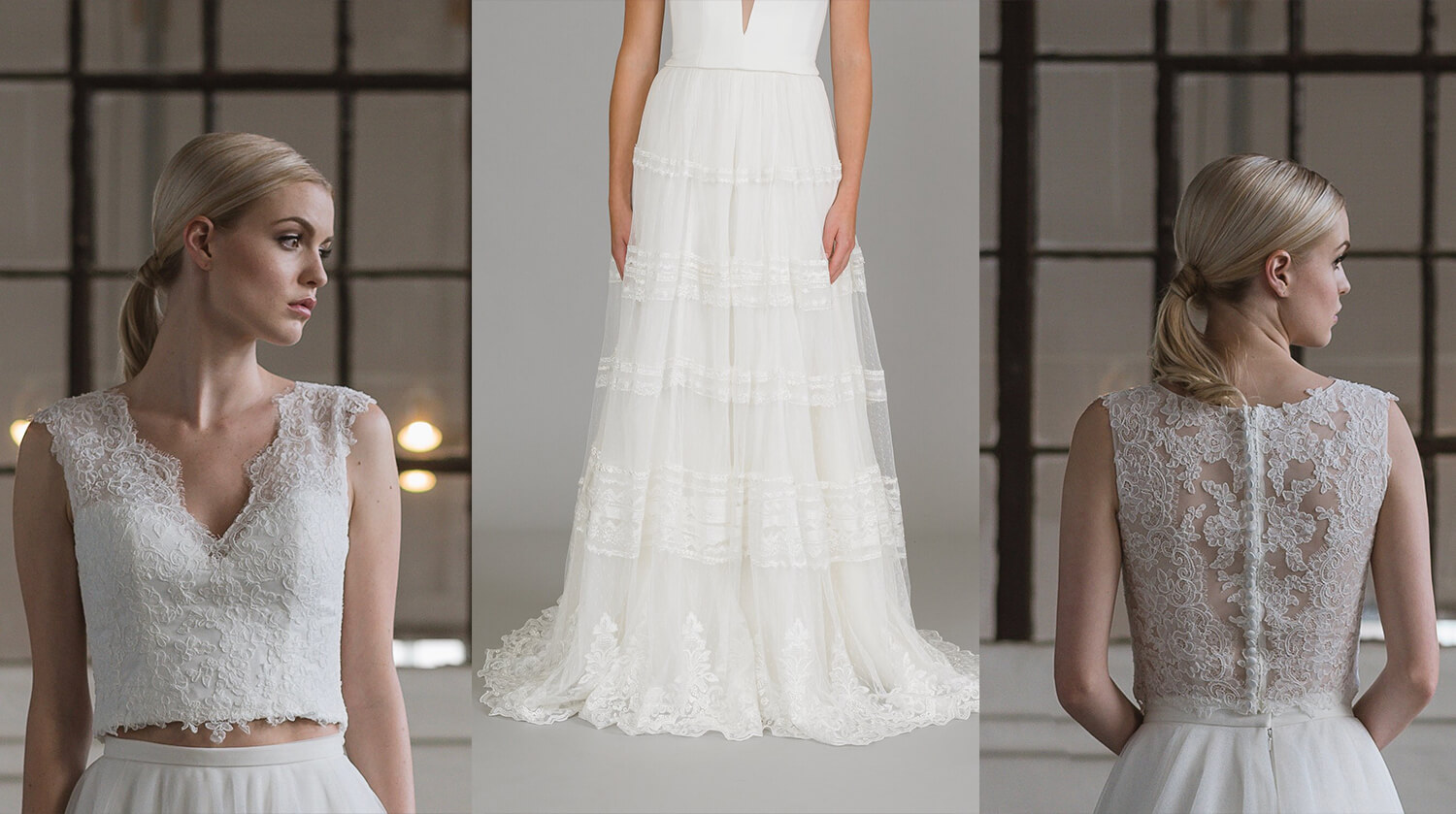 Want a flowing dress in lace? We love how these separates combine a breezy skirt of custom lace with a top that combines a sweetheart neckline with a sheer back. Light and willowy, this style would be a perfect combination for a spring wedding.
Double the drama.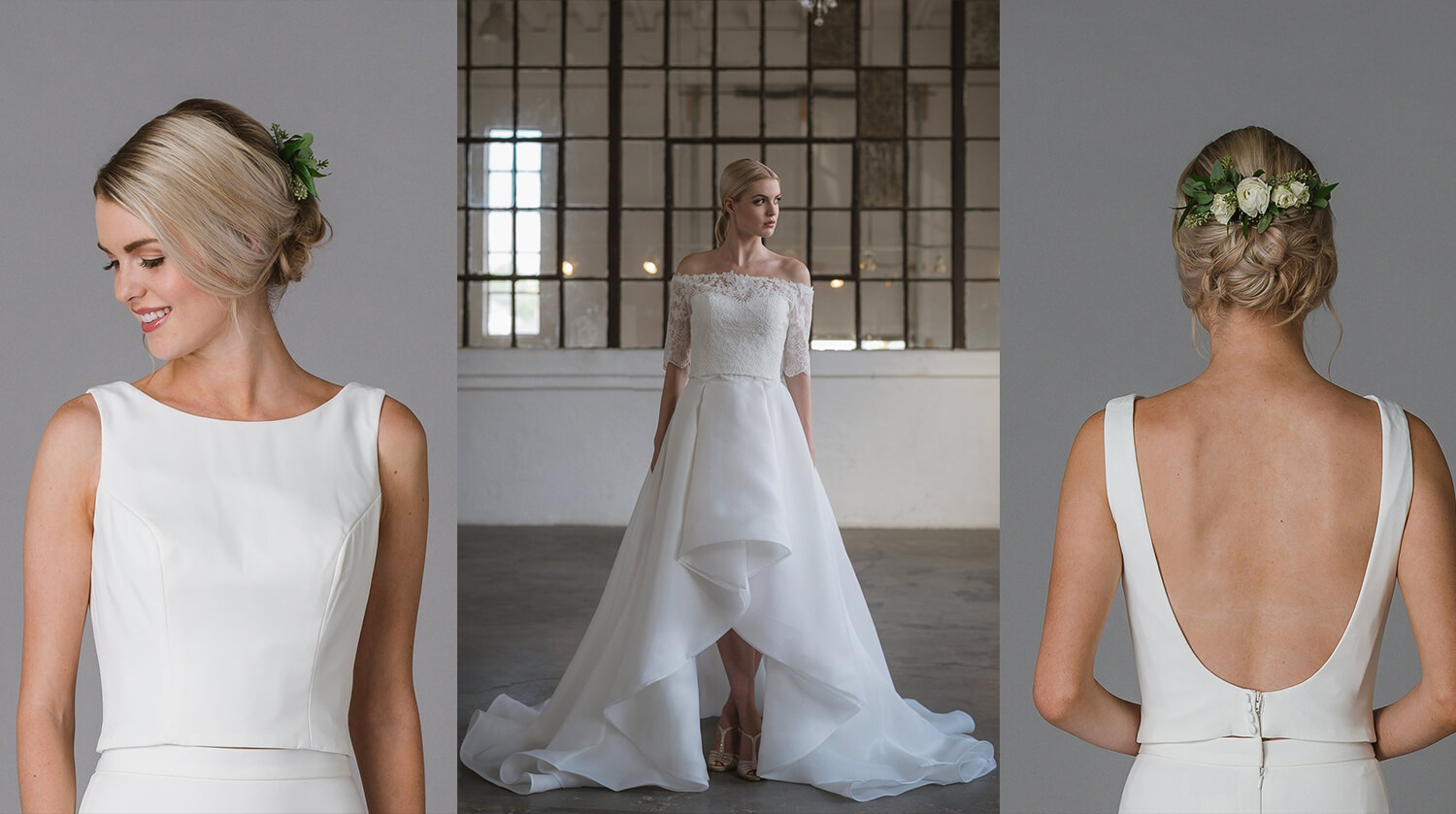 What's better than a dramatic high-low hemline? Pairing it with a boat neck in the front and a plunging back. We love both the bodice and skirt of this separate pair equally, and could see them each paired with any number of styles.
French chic.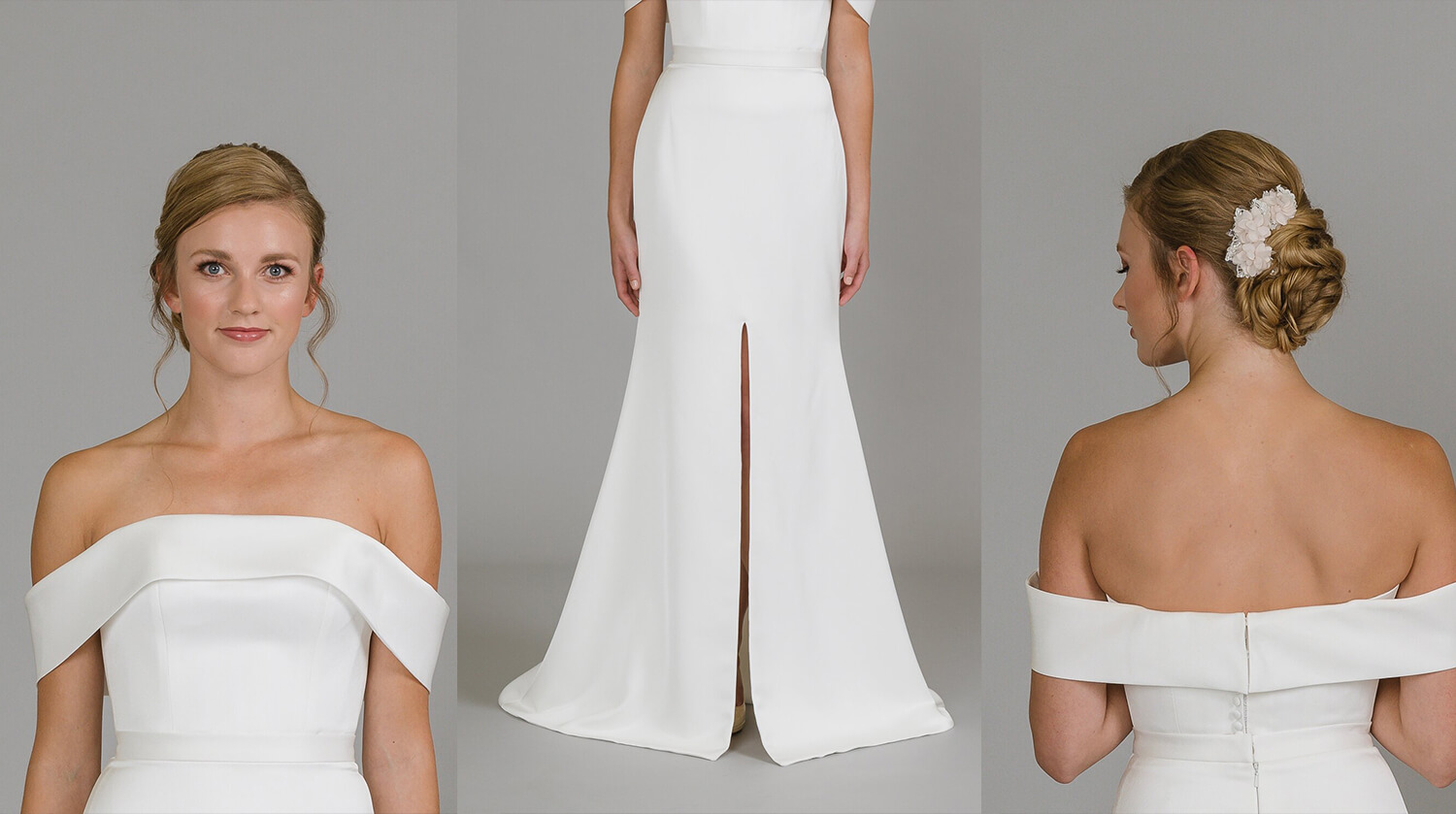 This off-the-shoulder Bardot neckline deserves a stylish skirt to match, and we think this skirt delivers. Fitted through the hips with a long slit in the front, this pairing is perfect for a bride that wants a sleek silhouette that doesn't hinder her movement.
Come take a look at the 2020 collection in our store.
Not every Lis Simon design can be divided into separates. The line also offers a range of traditional gowns that are sold as one piece. Here are a few of our favorites.
Leslie: Long-sleeved spring romance.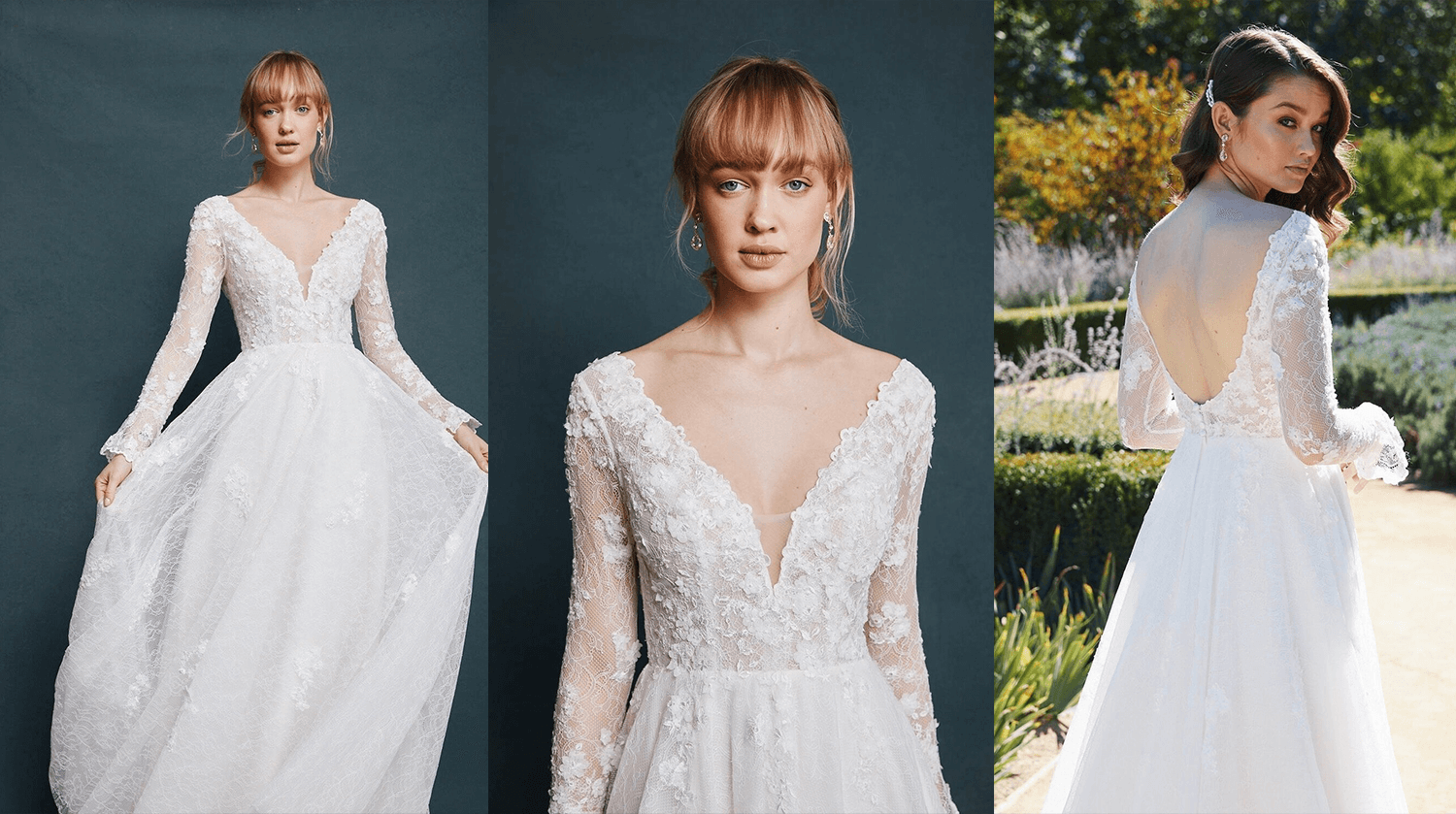 We so rarely see long-sleeved dresses that when we see one as perfect as this we can't help but give it some extra attention. Everything about this dress evokes the light and warmth of a carefree spring day, and the sleeves are perfect for that time of year when the weather could turn suddenly chill while the sky stays sunny.
Lyon: Ball gown drama with statement lace.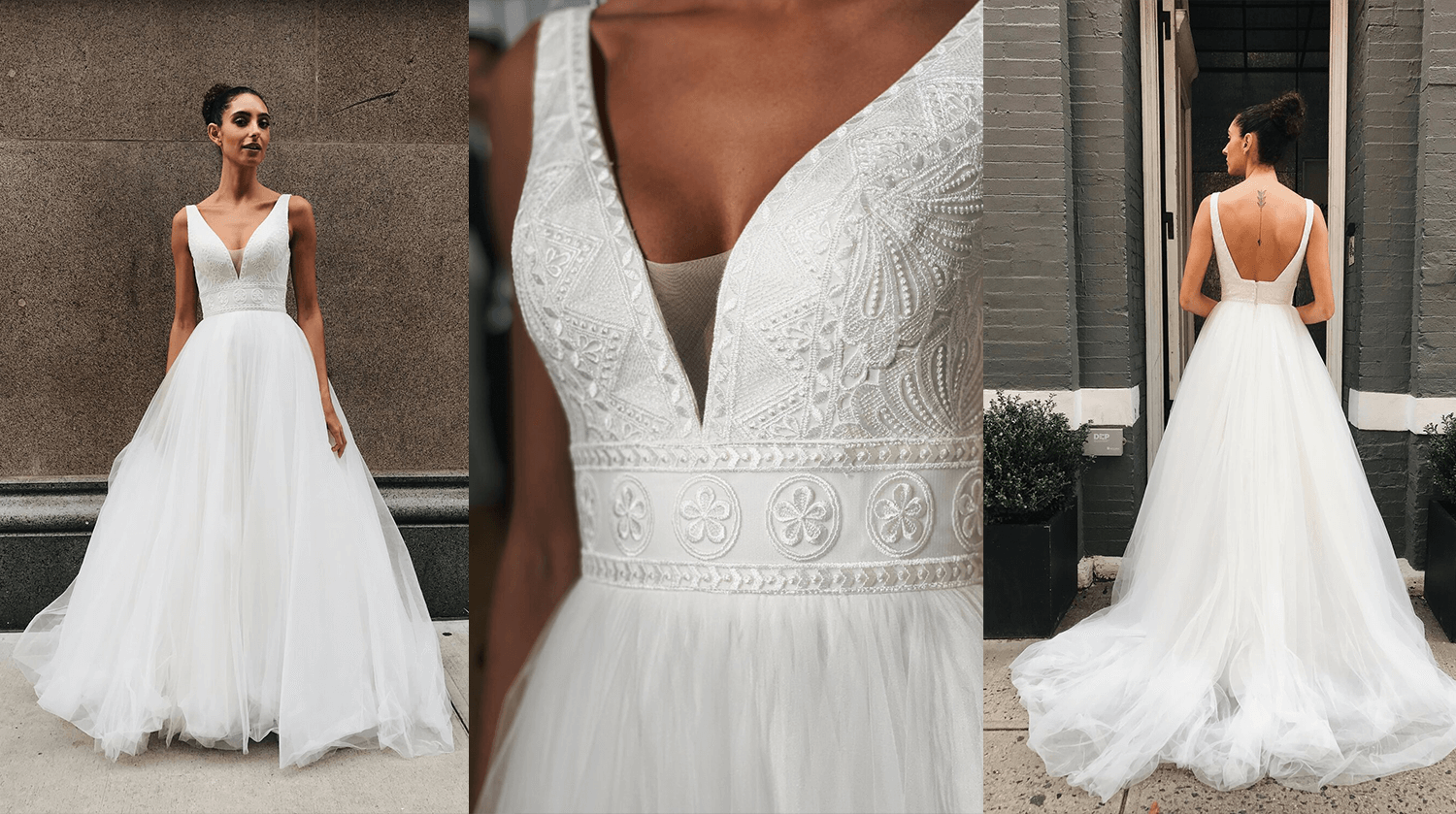 Sure, the silhouette on this dress is amazing, but what really takes our breath away is the intricate lace details on the bodice. This dress combines the ethereal grace of the floating tulle skirt with the modern sophistication of the plunging V neckline and square back.
Lucia: A figure-hugging sheath covered in sparkles.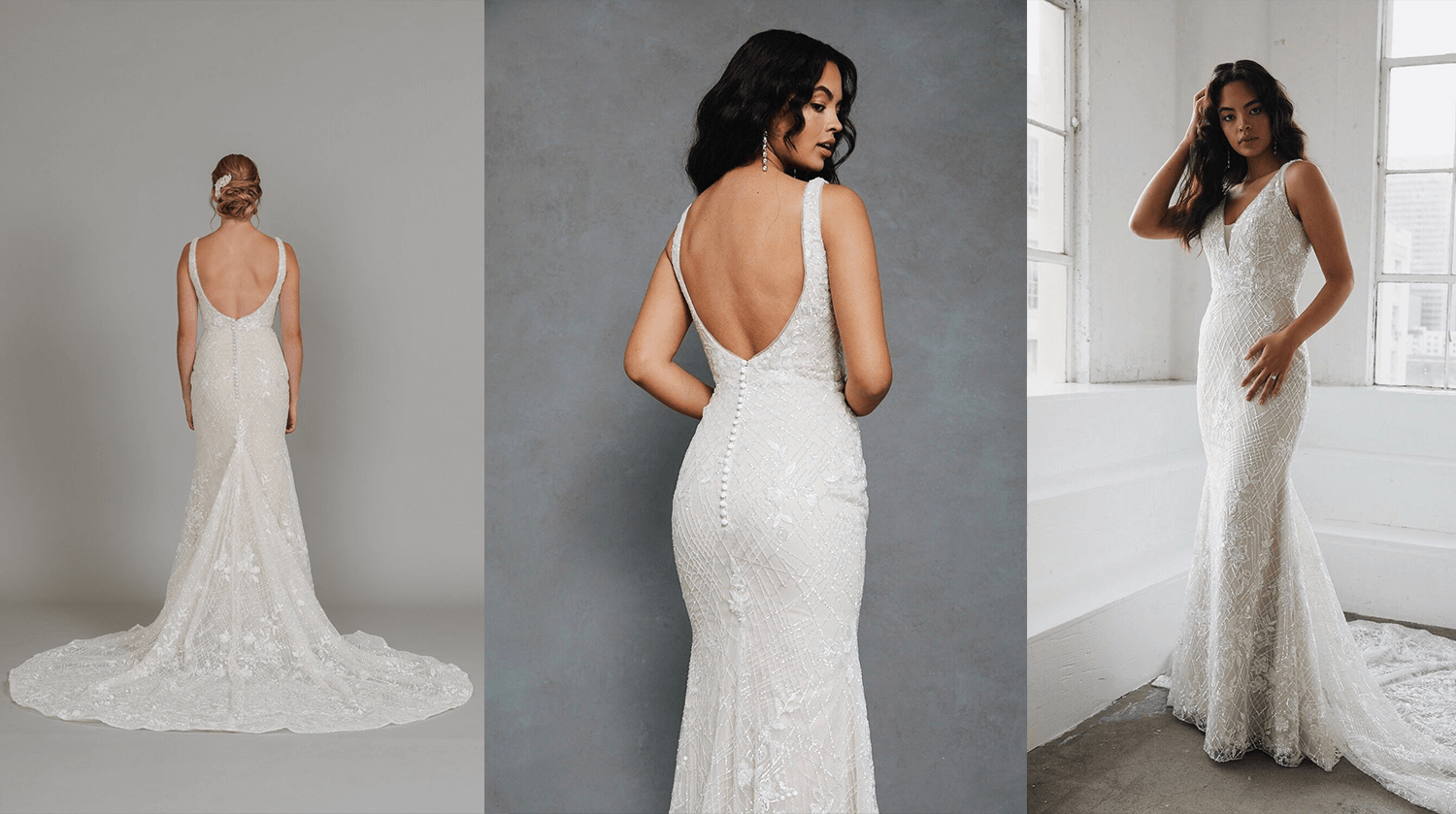 Finally, for brides who love a fitted shape, the Lucia gown combines an alluring, low-cut back with a beautiful chapel train. We love the clean, flowing lines on this fit and flare silhouette, and paired with the lace, the results are simply stunning.
Want to try on a Lis Simon dress that isn't at our boutique? We can get it for you!
Eager to try on the 2020 collection or try your hand at mixing and matching separates? We're ready for you. We have a range of Lis Simon dresses available for you to try on in our boutique, and if you see a dress in her catalog which we don't carry, we can order a sample direct from the designer! We charge a $40 fee to order in dresses, but it is credited against a purchase in our store.
We are currently accepting bridal appointments and are taking extra precautions to keep our brides and our staff safe during the pandemic. While the party size is limited to three (including the bride), we do have one of our windows set up for brides to show off their gowns to family and friends waiting outside. And for brides who want more family and friends to join them, we offer a limited number of bookings for brides who want to reserve the whole store for themselves.
So make your appointment with us today! We can help you find your dream gown from one of our favorite designers.
Welcome back to another TWD bride of the month! We are excited to share the love story of one of our brides, Corrielyn. She looked absolutely amazing in her Allure Bridals gown and we are in awe of all her beautiful photographs from Brittni Marie Photography. The fall wedding took place at Crystal Gardens in Howell, Michigan. (more…)
Our crowdfunding event this summer raised enough funds for us to giveaway four dresses to our brides!
In July, we ran a crowdfunding campaign to raise money for our bridal boutique and to help keep our lovely TWD-ettes employed during the pandemic. We promised that for every $250 we raised we would be donating a bridal gown to a bride in need. Our event raised over $1000, meaning we were able to give away four dresses to brides who entered our contest!
We asked our brides to tell us stories about their engagement and the affect Covid-19 as had in their lives. The stories they shared are heartwarming, courageous, and inspiring. We're so excited to share them with you!
1. Tara Berenjian: finding and giving support as a front line ICU nurse.
Tara's love story sounds like it comes straight from a rom-com! She met her future fiancé, Michael, while sitting in a coffee shop trying to get over a horrible break up with her ex. She and Michael clicked immediately, and the rest is history!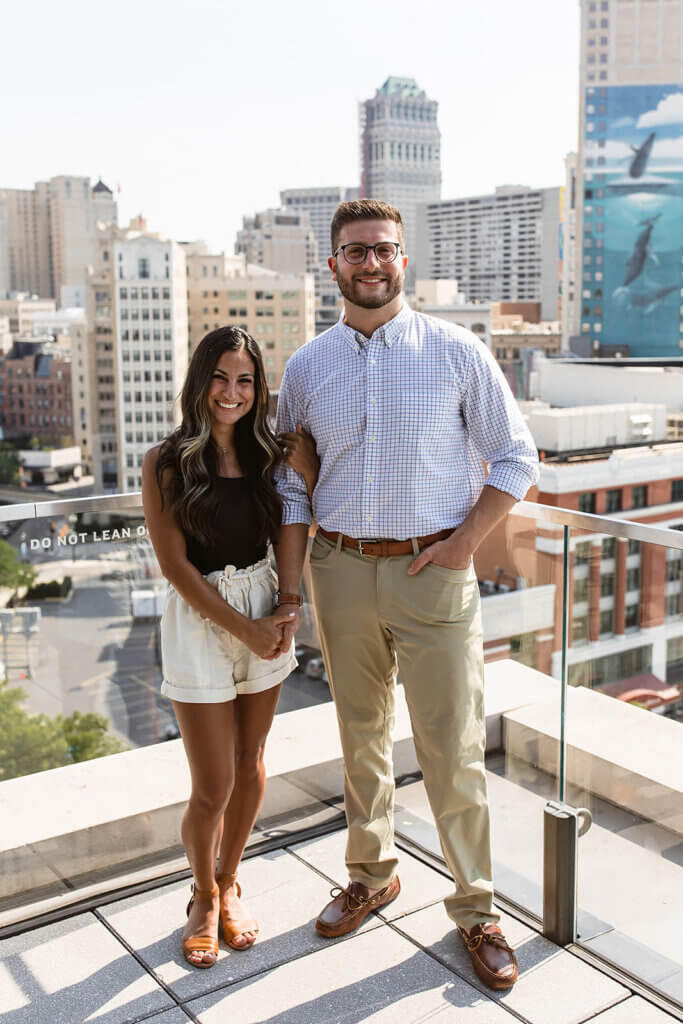 Tara and Michael became engaged in June, shortly after many of the restrictions lifted. Tara works as an ICU nurse, and has been on the front lines for most of the crisis, even though she is only a year out of school. Because she was worried about contracting Covid and passing it on to her family or to Michael, they were not able to see each other during the early weeks of the pandemic. Even though they weren't physically together, Tara says Michael was her rock through it all, helping her overcome long days in the ICU ward as she comforted patients during their last hours.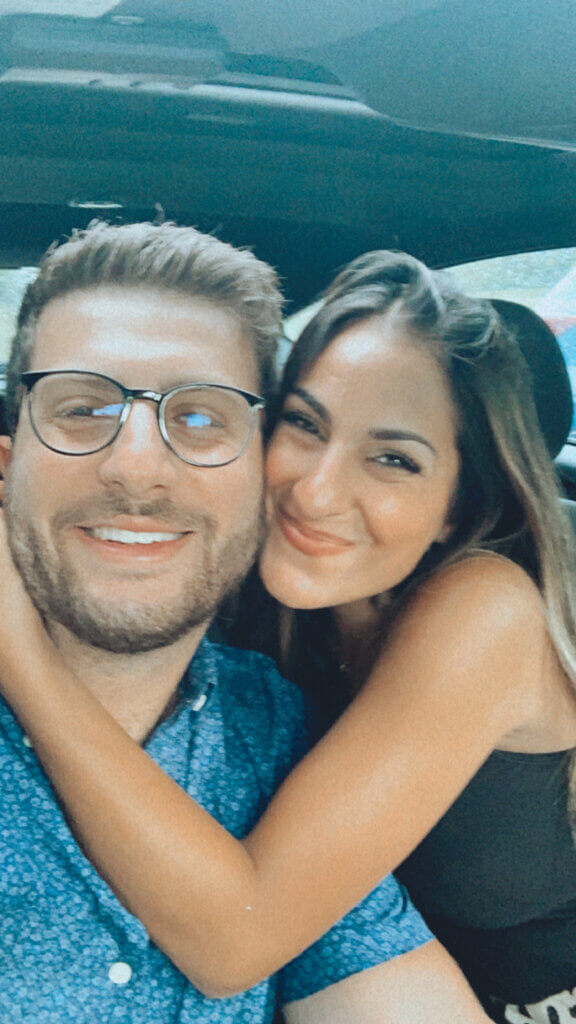 After everything Tara has been through, we were so excited to be able to offer her a dress from our store. For Tara, she knew she had found the perfect wedding dress the moment she tried it on.
"I knew my dress was the one because it was the first one that actually made me feel like a real life bride! I never wanted to take it off! I loved other dresses I put on too but this one really gave me the bride feel!"
As for her experience in the store, she said, "my favorite part about wedding dress shopping was all the enthusiasm and excitement of everyone working at TWD! They were all so helpful in helping me find my dream dress & they were equally as excited as my mom and I when I found it!"
2. Jennifer Lee: bringing her bridal experience to family in Korea.
Jennifer met her fiancé, Christian, on the dating app Bumble and have been inseparable ever since. Christian popped the question in the middle of a rose garden while they were on a trip to Kansas City to stay with his brother and his wife.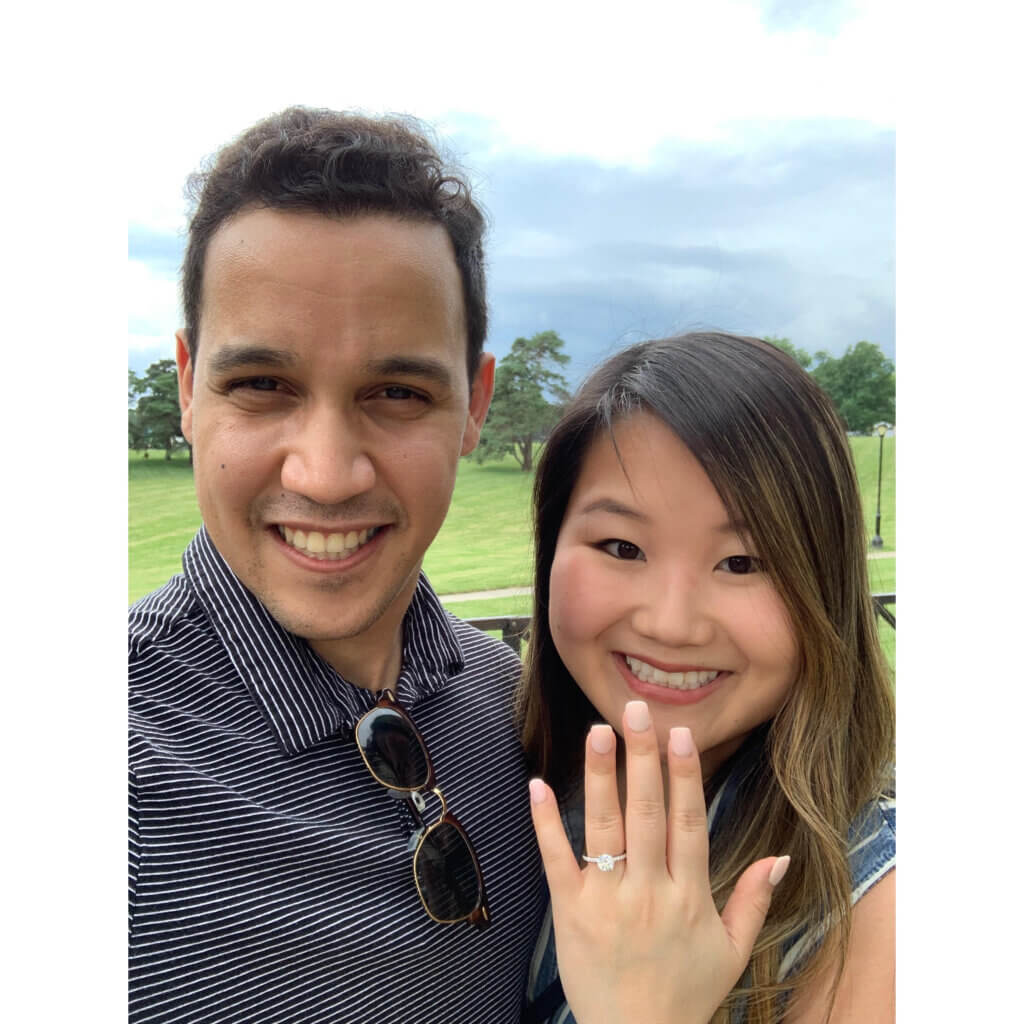 Jennifer's heritage is Korean, and the coronavirus pandemic has disrupted many of her culture's traditions surrounding proposals and engagements. And as Christian's family is from Trinidad, this moment of their lives has been bittersweet, as they've navigated the joy of betrothal amidst the loss of the shared celebrations they might otherwise have had. Because of this, they are planning to hold second ceremony in Korea so that Jennifer's relatives, and especially her grandmother, can be there with them.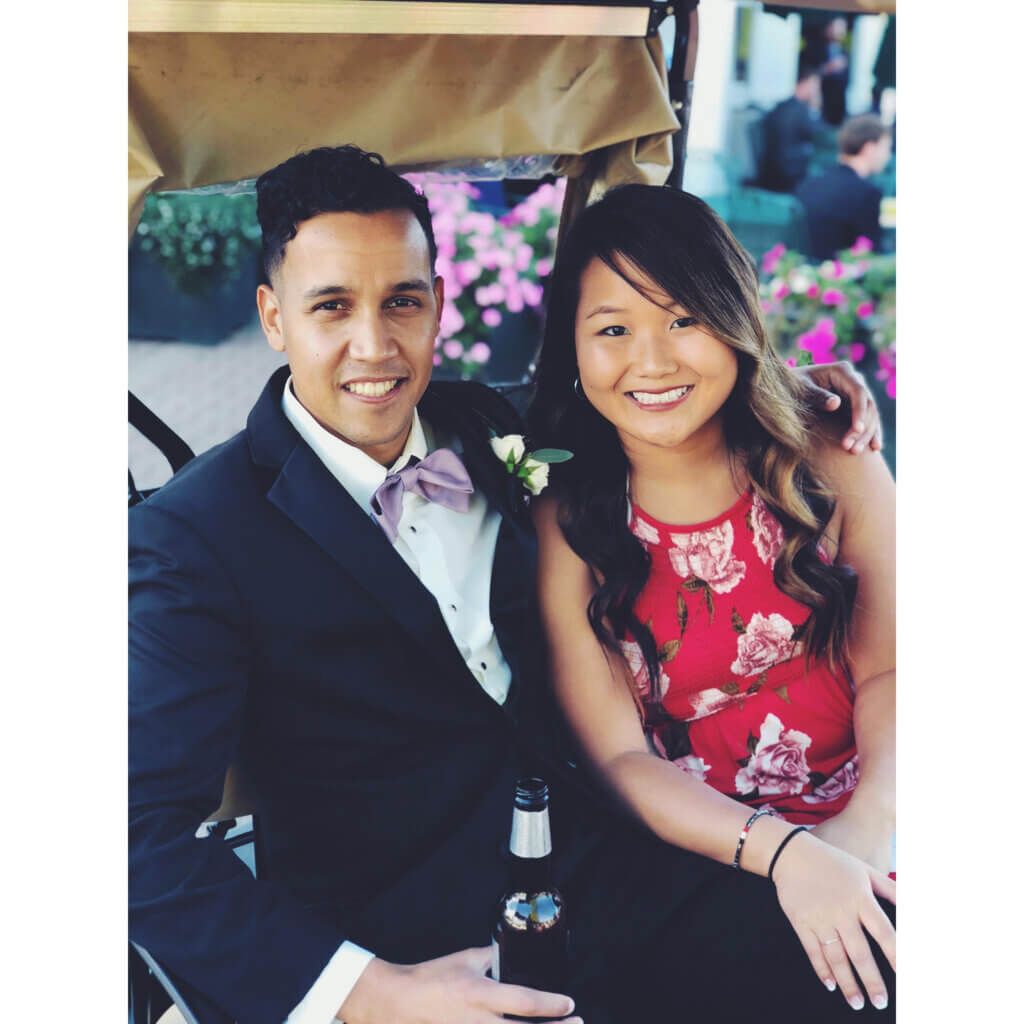 Jennifer found her perfect dress while browsing our selection of gowns before the appointment. The moment she saw it, she knew she had to try it on.
"As soon as I put the dress on, I instantly fell in love with the dress. It fit perfectly on me and knew that it was the ONE. I also knew my mom and my sister knew it was the one the moment I stepped out of the dressing room."
We loved having Jennifer in our store, and where happy to help her find her dress. Jennifer said her favorite part about being in the store was "my stylist being the absolute best and bringing me all the dresses that I would've never picked out to try on and making everything go smoothly."
3. Tori Finazzi: high school sweethearts who have been together through thick and thin.
Tori's submission came to us through a friend who knew her story and wanted her to win a dress. Tori and her fiancé, Jordan, have been together since middle school, and they already know what the words "in sickness and in health" mean from first-hand experience. For the last three years, Tori has been battling a tumor in her hip that has limited her mobility, interfered with work and school, and required multiple surgeries.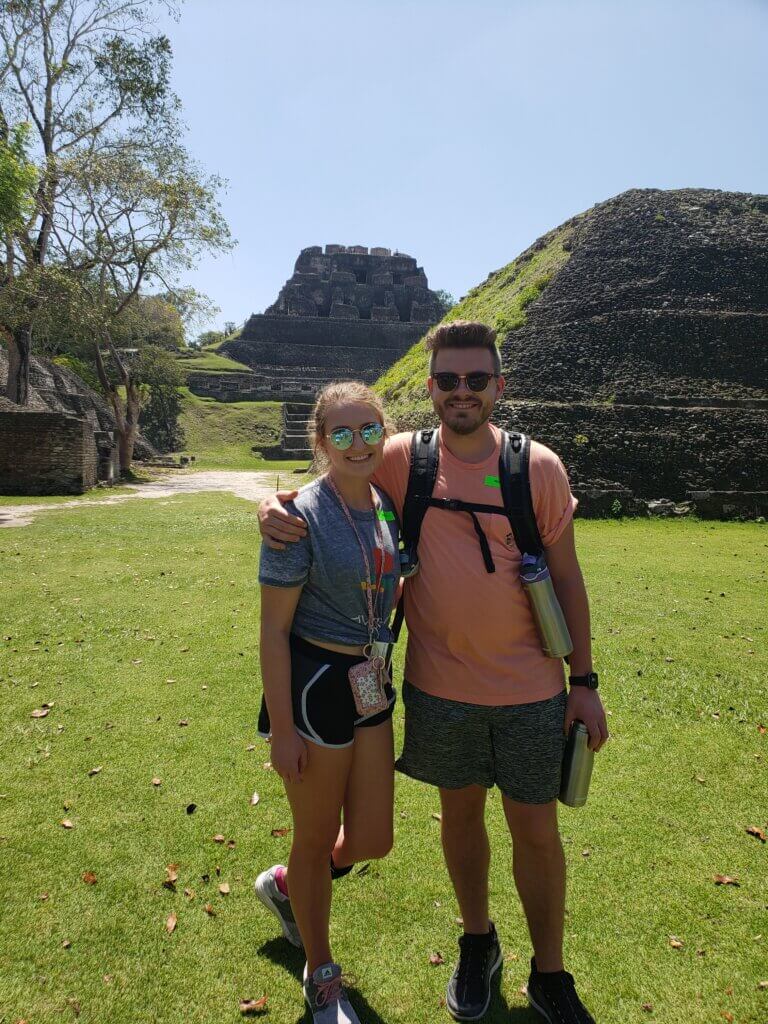 Throughout it all, Jordan has been by her side, sometimes sleeping on a cot next to her couch to be with her after surgery. And despite her struggles, Tori recently completed her undergrad with degrees in both biology and psychology. Unfortunately, Jordan was laid off due to the Covid pandemic, and Tori has been working as a receptionist and medical assistant at a Covid testing center, despite her condition.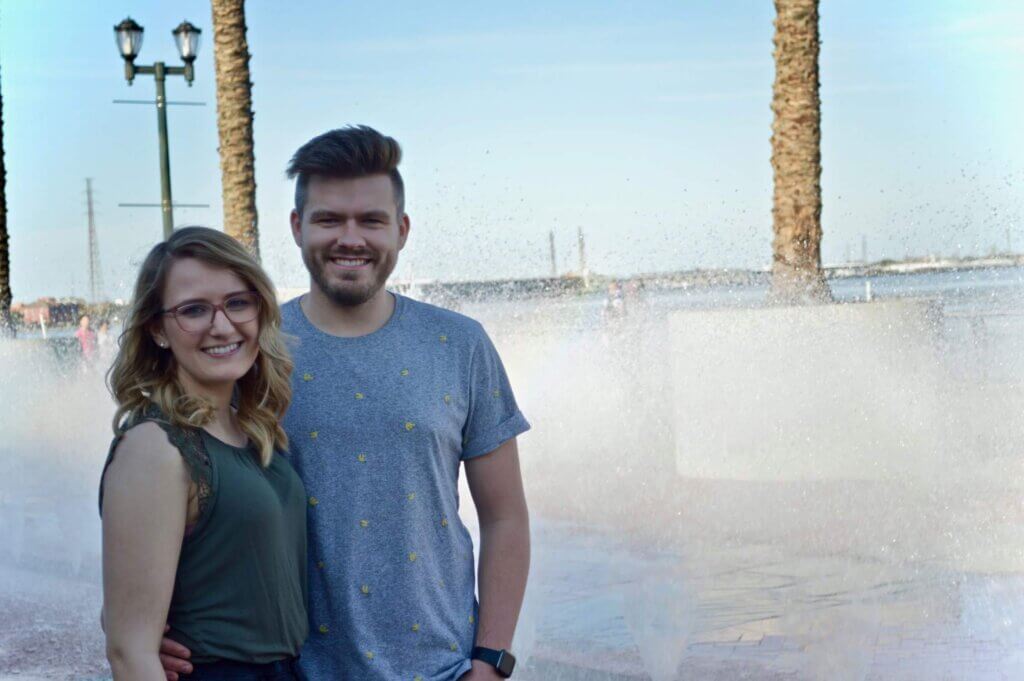 We clearly felt this couple was deserving of a dress to help them through their difficulties, and we were so excited for Tori when she found her dress at our store:
"I knew I had found the perfect dress for me when I could not stop smiling in it. I couldn't stop touching the dress or keep my eyes off of it. I found something new I loved in it every time I looked at it. Plus, the look on the faces of my support I had brought with me just sealed the deal!"
As for her experience with us, Tori said, "Thanks to my TWD stylist, Meg, I had so much fun trying on so many beautiful dresses! Every time I think about my experience there I smile because I felt really loved and special that day."
4. Angela Rizzi: a Tinder love story come true!
Angela's fiancé, Maciej, proposed while they were on a romantic holiday in Mexico back in March. By the time they returned to Michigan, the coronavirus pandemic had arrived in full force. As an ICU nurse practitioner, Angela was immediately deployed to work night shifts in a Covid unit. She contracted the virus and became sick, but was fortunate to experience a quick recovery that allowed her to get back to work.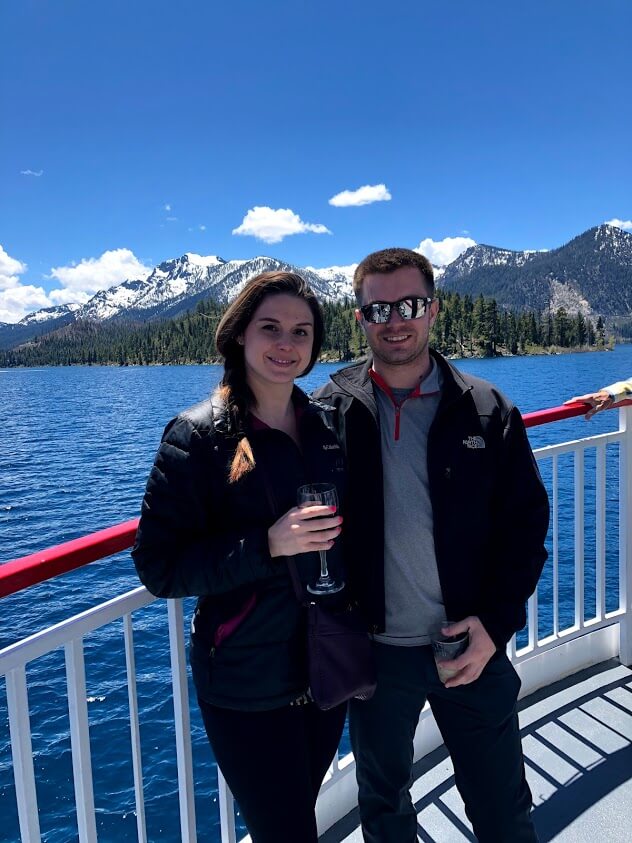 Unfortunately, as a new airline pilot, Maciej was put on furlough, adding stress to their wedding plans. Throughout it all, Angela has been determined to plan a beautiful wedding, without letting fears about Covid or their financial situation interfere with their big day. We were so happy we could relieve one pressure point by helping her find the perfect gown without needing to worry about the price tag!
When she came to our store, Angela knew she had found the perfect dress when she tried it on:
"I did the walk to show my guests at the front of the store and when I came back to my fitting room, I stepped right back up on the pedestal and found myself staring into the mirror. I didn't even realize what I did initially, but I felt really beautiful and did not want to take the dress off! My mom, sister, future sister-in-law and I all cried when I came out in this dress, which I honestly did not expect; however, I had a real bridal moment in this gown, confirming it was the perfect choice!"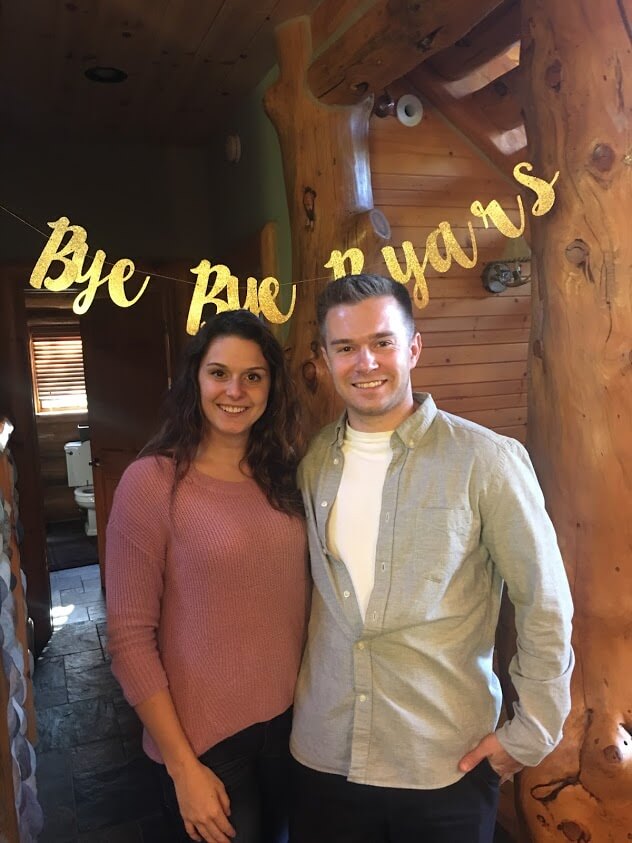 As for her time in our store, we were so delighted to hear that Angela had a wonderful experience, despite the Covid requirements:
"I wanted to take a minute to tell you about how thrilled I was with the entire White Dress experience. Even with all of the COVID restrictions, my guests and I were able to have a very memorable and fun time! All of the staff at TWD was great, but especially my consultant, Mary. She was truly WONDERFUL! I hope you know she is a gem!!"
(Yes, we do know, and we agree!)
Yes, our bridal boutique is open!
Many brides have been hesitant to search for their dress given the uncertainty of the pandemic. However, we want to reassure all our lovely brides that our store is taking every precaution to keep them and their loved ones safe. This has meant creating new store policies for the pandemic, but by doing so, we have been able to keep our boutique open.
And, despite the uncertainty, now is actually a really good time to look for your wedding dress! It takes months for a wedding gown to be made, as each one is sewn specifically to the bride's measurements. Brides who are hoping for a Covid-free wedding next summer, but are putting off buying a gown until the pandemic dies down, may not have enough time left to purchase a gown before their wedding. And, once conditions become safe for us all to resume to normal life, we expect a boom of brides booking appointments, which may make it difficult to reserve a slot.
So go ahead and book your place today! We would love to help you find your dream dress.