Monthly Archives:
February 2020
Everything you need to know about bridal fabrics as you shop for your wedding gown.
So you're engaged! Congratulations! And now you're ready to start searching for your dream dress! It's an exciting time, when most brides love to immerse themselves in the world of styles, themes, silhouettes, and designers as they search for their perfect gown.
However, one snag for many brides comes when they first encounter descriptions of different fabric types. A fashion aficionado can easily describe the difference between chiffon and crêpe, but other brides would better recognize these terms applied to cakes and French pancakes.
Even those who stick to the more familiar world of lace can quickly become overwhelmed by the variety of lace available. Embroidered and appliqué lace sound familiar enough, but what about Chantilly or Venetian?
It's a confusing world out there, which is why we've put together this guide to bridal fabrics. Read up, and once you've gained a better understanding of what you're looking for, come into our boutique to see what these fabrics look like on a dress!
A note on fabrics and fibers.
Before we begin, it's important to make a distinction between fabrics and fibers, because in discussing cloth, these two terms can get confused. Fibers, such as wool, silk, linen, cotton, rayon, and polyester are spun together to create threads, out of which fabrics are woven or knitted.
Fibers can come from natural sources, such as silk and cotton, or synthetic sources, such as polyester and rayon. They can also be blended together for different advantages. A silk/wool blend will feel softer against the skin than pure wool, but warmer than pure silk, and synthetic blends add strength and durability to fabric helping it last longer.
Meanwhile, how these fibers are woven together can lead to very different results. Crêpe is a woven fabric which can be made from wool, silk, or polyester. Dupioni is only ever made from silk, while tulle is most commonly made from polyester.
What we'll be describing in the rest of this post are the kinds of fabrics that can be woven from various fibers. Silk is often considered the most luxurious fabric, but that doesn't mean that a dress made from silk is automatically of higher-quality than one made from polyester. Each fiber has its advantages and disadvantages, and the quality of a garment depends more on how well these fabrics are used than on the fiber content itself.
The best way to decide if a fabric is right for you is to try on a gown. If you like the feel of the fabric against your skin and the way it flows when you move, then don't worry about the fiber content.
1. Chiffon.
One of the lightest fabrics available, chiffon is almost a gauze. As a sheer crêpe (which we'll get to next), it needs to be layered over an opaque lining fabric, or used in several thicknesses to achieve the desired effect.
Most often combined with lace, chiffon is the perfect choice for a summer wedding dress that will look light and breezy as you walk down a wooded path to your garden venue.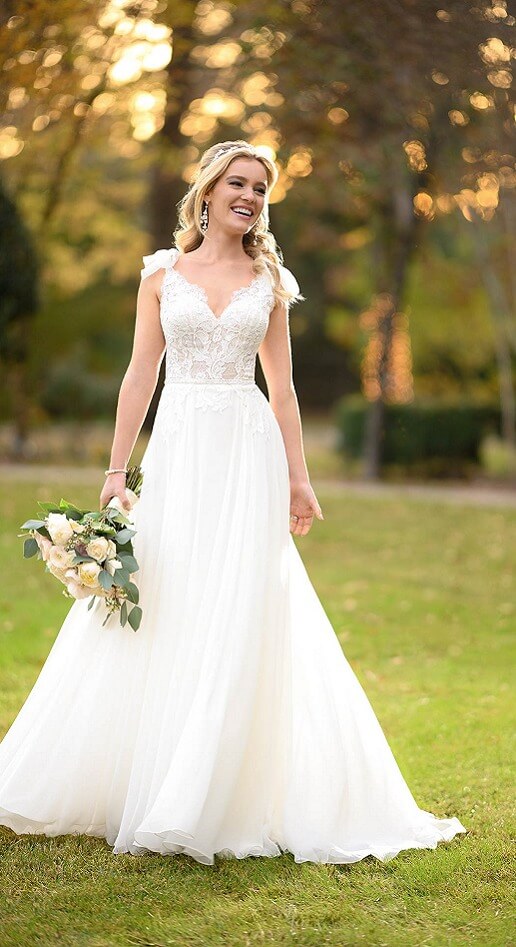 Hattie is our choice for a beautiful gown that builds on layers of chiffon and lace for a flowing, romantic finish.
2. Crêpe.
Traditionally, crêpe has been made of tightly-wound fibers, which give it a bunched and slightly crinkly texture that absorbs light for a matte finish. The weight of the fabric can be flowing and light (as with chiffon, which is a type of crêpe), or heavier, leading to a smoother drape. A heavier crêpe also lends itself to more constructed patterns without the shine of satin or the stiffness of dupioni.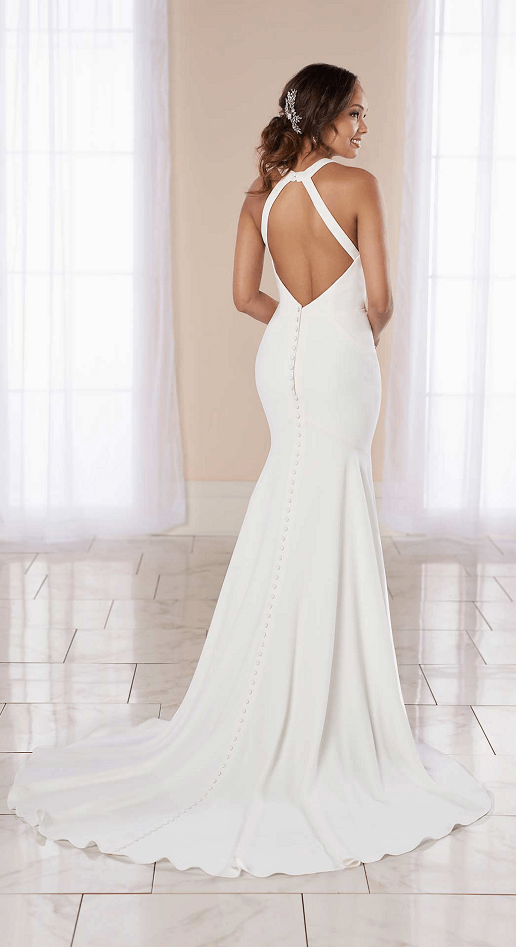 To try on a beautifully designed dress of crêpe, we recommend Brooklyn. This sheath silhouette is elegantly structured with a beautiful halter neckline and a clean, plunging neckline in the front.
3. Dupioni.
Crisp and stiff, dupioni has long been a favorite for dress silhouettes that require a lot of construction and a clean finish. Dupioni is made from fine, tightly woven silk fibers in which the threads running the width of the fabric are slightly uneven, leading to a finish with a slight texture and an unmistakable luster.
Despite its tight weave, dupioni is surprisingly lightweight, making it a perfect choice for dresses that require boning or other structured finishes.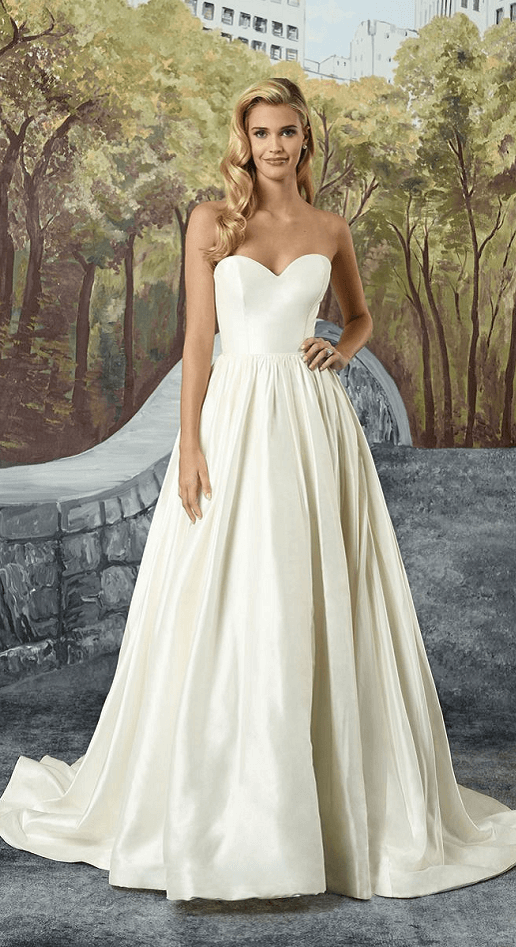 Odette uses the fineness of dupoini fabric to create a tightly-gathered waist for a skirt with all the volume of a classic ballgown. Combined with the tailored bodice and a sweetheart neckline, it has all the elements a bride could ask for in a timeless gown.
4. Lace.
We all know what lace is, but the variations in style can make even the most fashion-forward brides feel lost. Furthermore, lace has a long history in countries around the world, and the techniques used to create it are as varied as the styled themselves. Here are just a few of the most popular found in bridal fabrics.
Sheet lace.
The most common and affordable lace, sheet lace is made of repeating patterns that form a length of fabric that can be cut and sewn like any other. It's useful as an overlay, although the edges require finishing.
Lace appliqué.
Lace appliqué is made by sewing lace shapes onto netting or some lighter form of fabric. This allows for some freedom in the placement of the appliqués, which can be arranged to be more esthetic, or to cover seam lines and other construction details.
Chantilly lace.
Chantilly is a traditional French bobbin lace, so-called because it was made by winding and weaving threads from several bobbins around a pattern of pins. Chantilly has a fine mesh background with detailed, outlined patterns.
Venetian lace.
Unlike bobbin laces, like Chantilly, Venetian lace is stitched using needle and thread. Traditional patterns for Venetian lace feature scrolling and floral motifs. The style has an elegant, Old World feel to it, but tends to be heavier than Chantilly.
Embroidered lace.
Finally, embroidered lace is stitched onto a base using a needle. This construction makes it easier to layer on additional elements, such as beading and sequins, which results in a significant variety among styles.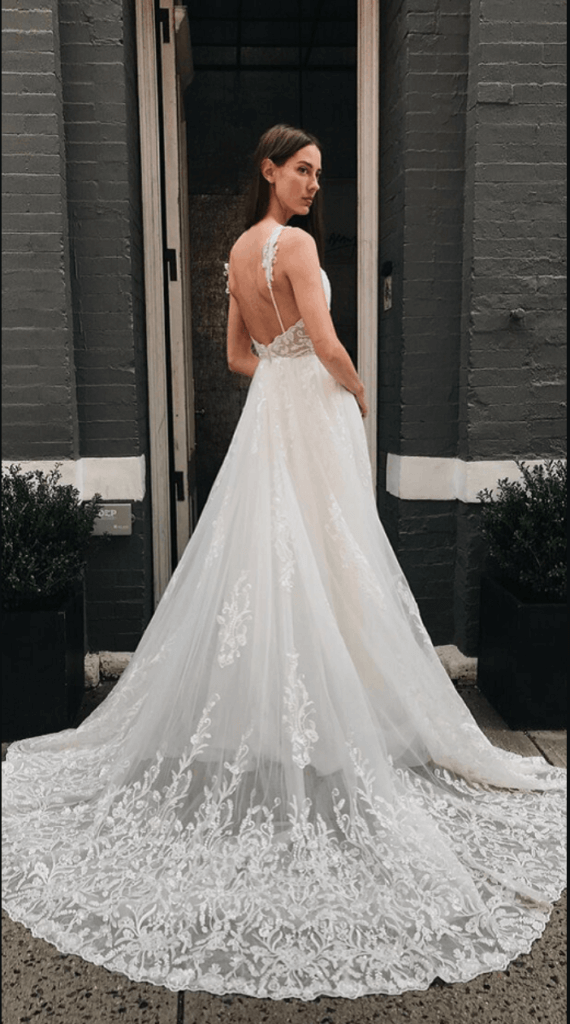 From designer Lis Simon, Loren is a gorgeous gown featuring sequined lace in the bodice and lace appliques through the skirt and train.
5. Mikado.
Mikado is a heavy, lustrous fabric with a beautiful drape that has a long history in bridal fabric. As a twill weave (meaning threads are woven over and under two or more threads at once), Mikado has a slight, diagonal grain that lends itself to a particularly smooth drape.
Its sheen is brighter than crêpe, but subtler than satin, making it an excellent choice for brides who want to show a sophisticated flare without too much drama.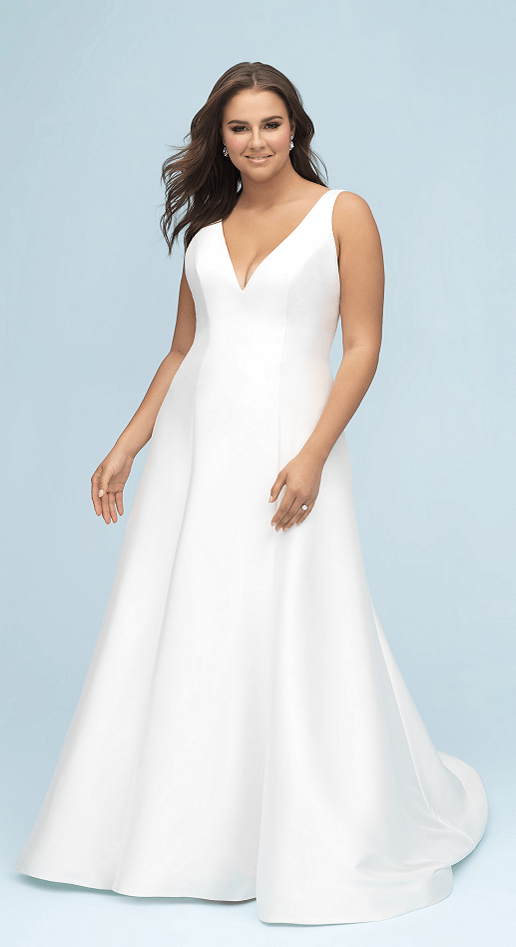 Laila shows off all the best qualities of Mikado, from its clean lines to its smooth drape. We believe it is a perfect choice for brides who want to revel in understated elegance.
6. Organza.
What do you do when you want the structure of dupioni but the translucence of chiffon? You turn to organza, of course. Organza has long been a staple of bridal and eveningwear gowns. The crispness of its weave means that it can be layered for maximum volume without adding too much weight to a dress.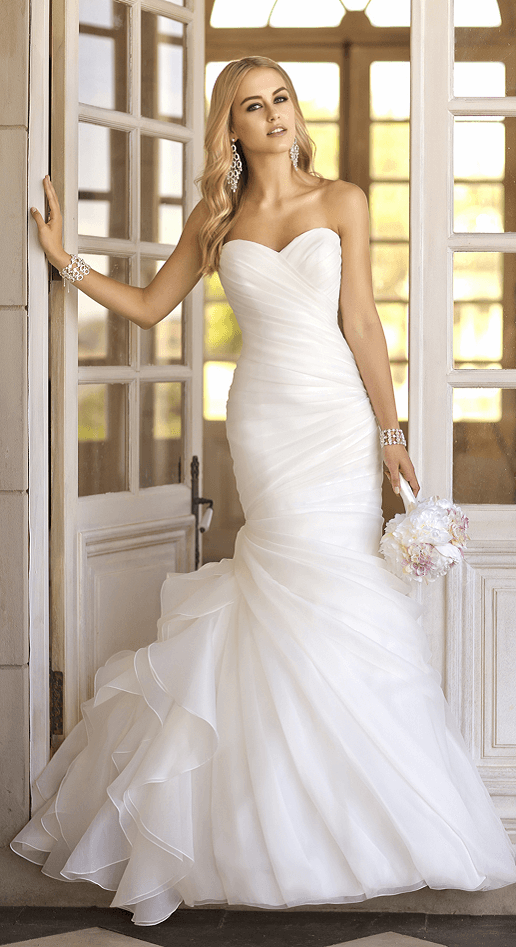 Brittany is a perfect example of how to create a dress that is voluminous and light all at once. We love the wrapped construction throughout for the classic mermaid silhouette.
7. Satin.
People often use the word "silky" to describe smooth textures, but in the world of fabric, silk is a kind of fiber. However, the smooth, shiny fabric you're probably thinking about when you think about silk satin.
Satin is a kind of weave that is made by crossing a thread over several other threads at a time, but under only one. This is what gives satin its smooth finish and soft drape. Dove satin, in particular, is known for its lush texture and soft hand.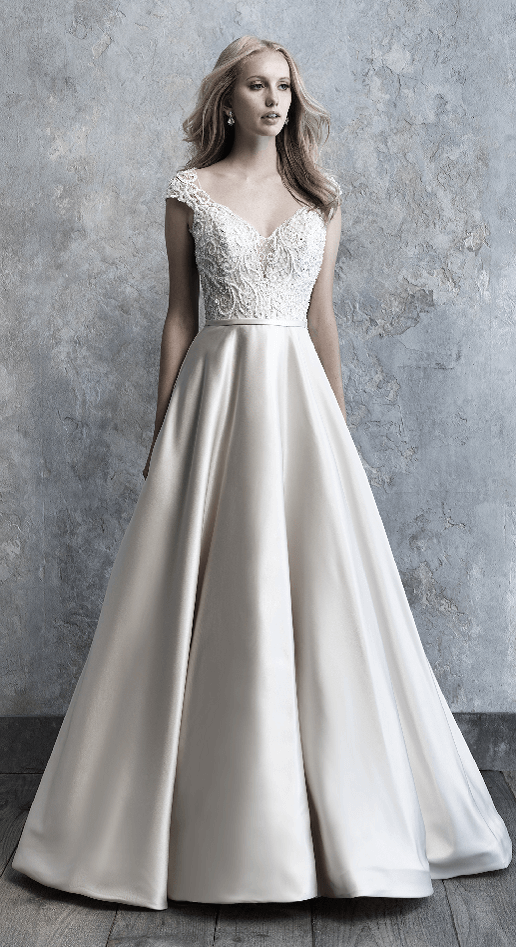 For an ultra-luxe gown, we recommend Luciana. Combining the rich feel of dove satin with the romance of beaded applique lace, it's a gown fit for a princess.
8. Tulle.
Traditionally used as fabric for underskirts and ballet tutus, tulle has recently grown in popularity as a fashion fabric in its own right. Stiff and lightweight, it is more of a netting than organza, and can have a very puffy appearance. Its edges are usually left unfinished, giving dresses a more floating appearance.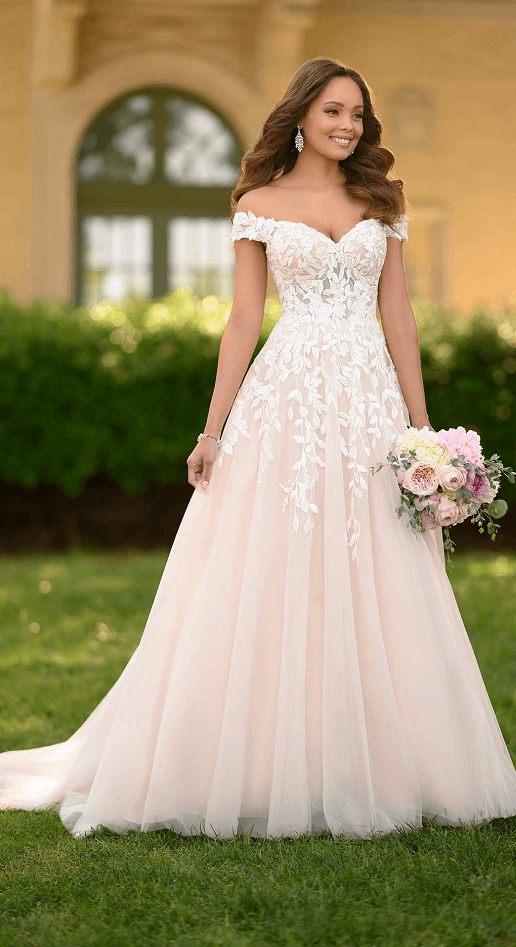 Claudine combines layers of light, rosy tulle with applique lace to create a stunning gown that is the vision of spring.
Navigating the world of bridal fabrics can be confusing, but knowing what all the terms mean can help you narrow down your options.
Finding your dream dress can take time, but it helps to go into your bridal appointment knowing what you want. If you're set on a light, flowing gown, then peruse lace, chiffon, and tulle to your heart's content. And if you want a dress with lots of luster but low shine, then head for the Mikado.
That said, don't be too quick to cross anything off your list. If you're having trouble envisioning your dream dress, a different fabric can entirely change the look of a silhouette. Let your new fabric knowledge inform your decision, and it may just guide you to the gown you've been searching for this whole time.