Monthly Archives:
August 2021
It's a fine line between the look of the moment and a style that transcends. Here's some tips to find your way to what you truly want.
When choosing a wedding dress, many brides are conscious that their choice will be one of the most visible style decisions they ever make. Not only is it the dress they will wear on their big day, it's also the one which will end up in all their wedding photos. They may even dream of preserving their dress as a family heirloom. Naturally, they want to make a choice that will stand the test of time.
But bridal gowns—more than most other dresses—are drawing on a lot of shared cultural references. And with trends constantly turning to the past to bring back popular styles, it can be all too easy for your own vision to get lost in the mix.
We want all our brides to walk down the aisle confident in their decision. So, to help you find your way, here are four tips to guide you toward a statement gown that you'll never grow tired of looking at.
1. Look to the past for inspiration, not imitation.
It seems like every few years another decade comes back into style. That's no surprise. The past is a catalog of iconic styles, and it would be a shame to let a good idea die. But if you're going for a retro look, avoid copying too much. If your gown looks like an exact replica of the era it came from, you may feel like you're wearing a costume on your wedding day.
The full skirt on Tawny gives it a 1950s silhouette, while the illusion lace bodice is a distinctly modern twist.
You want your look to feel cohesive and harmonious, so it will be natural to accessorize in ways that fit the period as well. But look for ways—from your makeup to your hairstyle to your shoes—to modernize your style.
2. Pick one style element to anchor your look.
Another trick to keep you from going overboard is to find one style element that follows a trend that you love and incorporate that with more minimalist or traditional elements. If you love the 1980s, choose a dress with power shoulders, but with more modern details.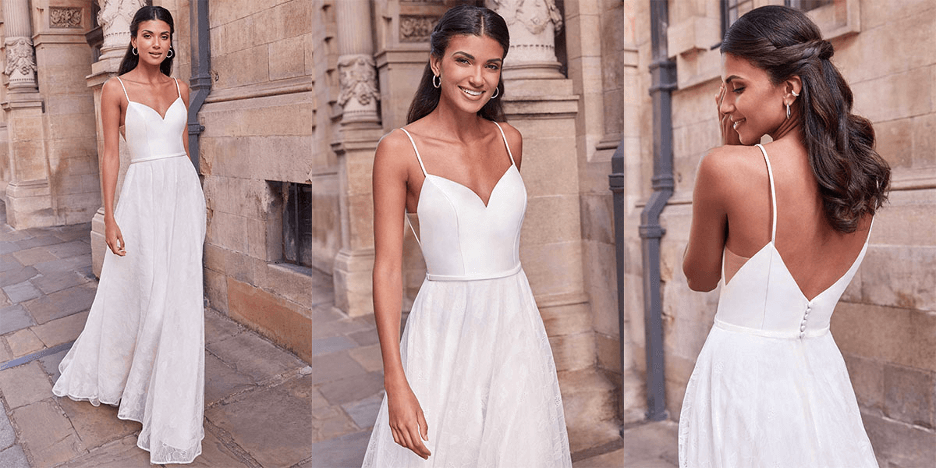 Leta combines a minimalist bodice with an overskirt in a modern lace pattern for an effortless, slightly bohemian vibe.
This can work in reverse as well. If you prefer a traditional look but don't want to play it too safe, find one area of your style where you'll intentionally push yourself.
3. When in doubt, find a minimalist ideal of your desired style.
Sometimes, brides have a hard time identifying what they want in a dress because a single era can mean so many things. If you love 60s fashion, are you thinking about Jackie Kennedy, Twiggy, or Sophia Lauren? When you think about the 1920s, do you want a drop waist, art deco beading, or finger curls in your hair?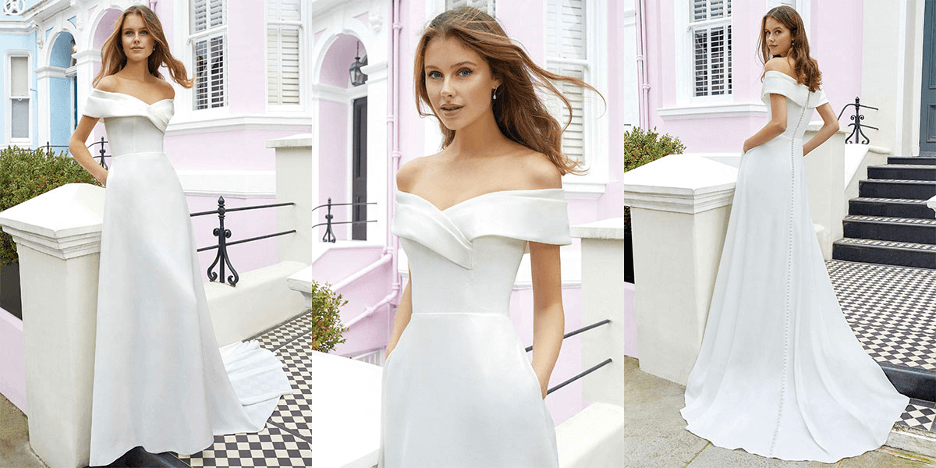 For a dress with such clean lines, Kyla makes a big impact. The Bardot neckline is a self-contained fashion statement that lets the rest of the gown speak for itself.
If you can pick the one element that represents the ideal you have in your mind, that can help you identify a dress that fits that trend without going overboard on a retro look that may look out of place a few years down the road.
4. Throw the rulebook out and follow your heart.
Feeling like all these rules are getting between you and the dress of your dreams? Don't let anyone talk you out of it. The heart wants what it wants. When you find a dress that sparks joy in your life, stop worrying about what others will think, and go for it.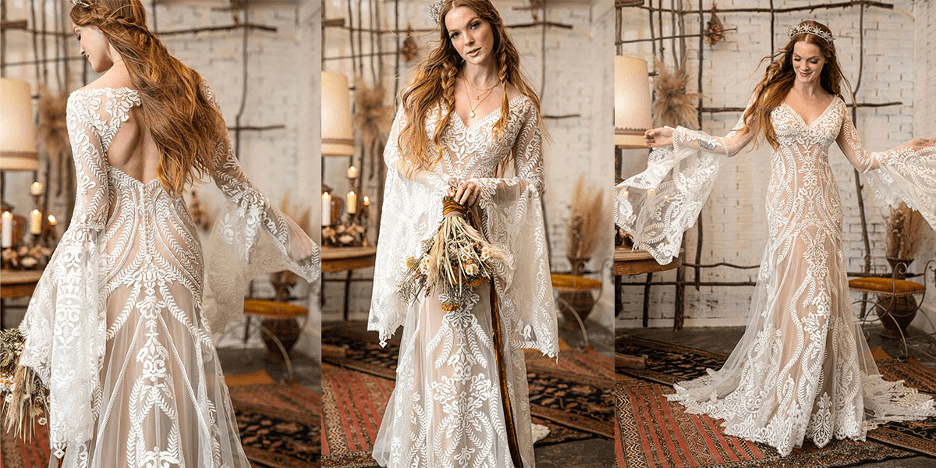 Unapologetic: Lennox is the epitome of 1970s bohemian flower-child romanticism, from the bell sleeves to the quirky lace. It's also one of our favorite dresses.
After all, if your dress is supposed to make a statement, it should be a statement about what you love. If there's a trend that has successfully tapped into something that gives you butterflies, then that's what you should choose.
There's nothing wrong with chasing trends.
Trends come and go, but the most resilient trends also define an era. In a decade or two, the dress you choose today that seems trendy may be a vintage showpiece. However, if you're worried about making a choice you'll regret later, the most important rule of thumb is: Don't pick a trend just because it's trendy.
Trends can be fun, especially if you want to be able to nail the "in" look of a season. But your gown should represent more than "spring 2022." If you love a trend, make that choice because it's what you love, not because it's what's on trend.
Need help navigating the wide array of bridal styles at your finger tips? We're happy to help. Come in to our bridal boutique, tell us what inspires you, and we'll help you find a dress that will make you feel like a fashion icon in all your wedding photos.
For the month of August, we're adding a little something extra to our referral program!
Being in the bridal business is bitter sweet. First we help our brides make one of the most exciting and emotional decisions of their wedding, then we see their faces when their dress finally arrives and they try it on for the first time. But once the fittings are over, the last we see from many of our brides are the joyful pictures on their wedding day. Unlike many other businesses, we're not hoping for repeat customers!
That's why there's nothing we love more than when our brides remember us when their friends are getting married. We've had a long-standing referral program in place, where if one of our brides refers another bride to us, we send them a little gift in the mail. This month, we're extending our referral program to the friends they refer as well!
Our referring brides will still get a gift in the mail, but for this month, if the referred bride says yes to a dress from our store, we will take $100 off her ordered gowns. (Sample sale wedding dresses and off-the-rack gowns are not included in the promotion.) And, to sweeten things a little more, we're also sending both brides our signature T-shirts!
Keep up with us on Instagram and Facebook for more updates!
Want to stay up to date on all our exciting news? Follow us on Instagram and Facebook, where we post updates on each month's special promotions as well as other announcements. We also share the latest posts from our blog, where we cover bridal design trends and the latest collections from our favorite designers. There's something for everyone, whether you're planning a wedding, feeling nostalgic about your big day, or simply love everything bridal. Follow us and don't miss out!