Monthly Archives:
March 2022
Explore the best new fashions for spring-inspired bridal gowns.
As one of the premier bridal stores in Michigan, we know that springtime in the Midwest is an exciting time to be a bride. The gloom of winter is lifting, a full summer of lush, lazy days lies ahead, and the first crocuses to push their way through the snow hold the promise of a beautiful year. Who wouldn't want to get married?
In the past, bridal timelines didn't line up neatly with the seasons. A bride planning a wedding in the spring of 2023 might not be shopping for her dress until pumpkin spice latte season was just around the corner. This is no longer the case. As we covered in a recent post, bridal dress timelines are longer than usual because of complications from the pandemic and the current global supply chain crisis. For all you brides out there, this means that the time to start looking for a dress is now.
So, if you're feeling that spring fever, breathe it in and let that inspire you as you explore our selection of gorgeous wedding dresses, each of which would be a perfect choice for a 2023 spring wedding.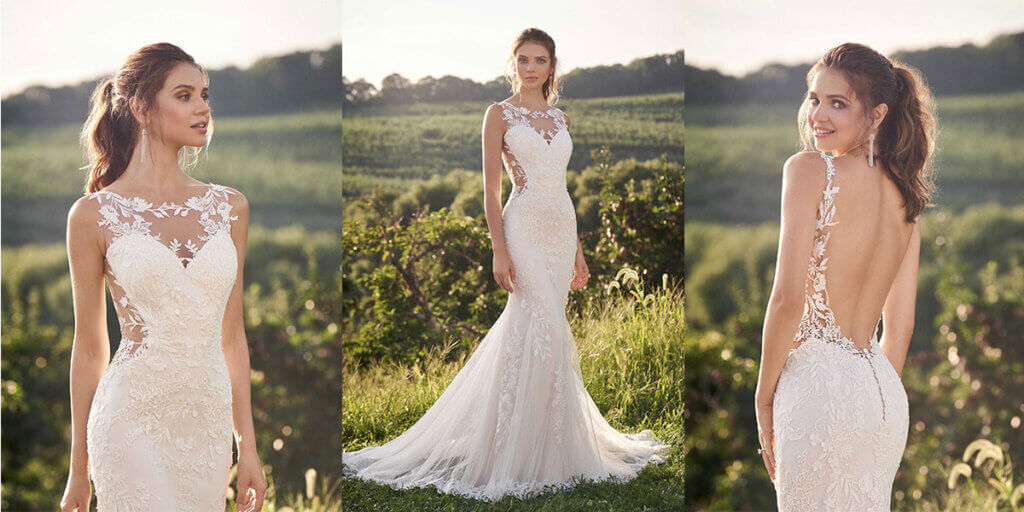 1. Aniella: soft and sexy boho gown.
Float like butterfly in this boho wedding dress by Lillian West. This stunning jersey fit and flare style features a low-cut back and illusion side cutouts. If you prefer more coverage, you also have the option of lined sides.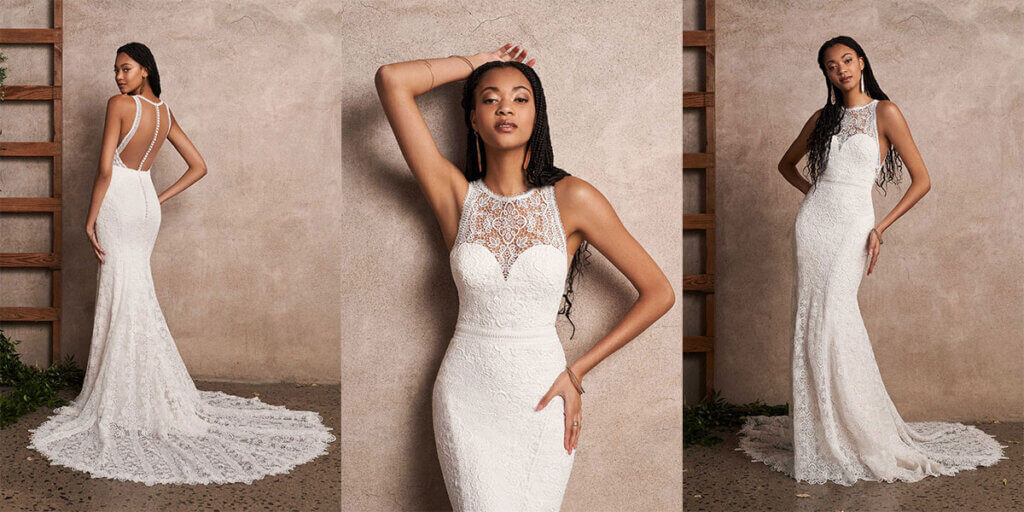 2. Laken: stand apart in allover lace.
You have lovely curves and you're not afraid of a gown that hugs them. This bold fit and flare gown features a unique allover Guipure lace and illusion jewel neckline. A soft line of tulle-covered buttons trickles down the sexy illusion back and draws the eye to the chapel-length train.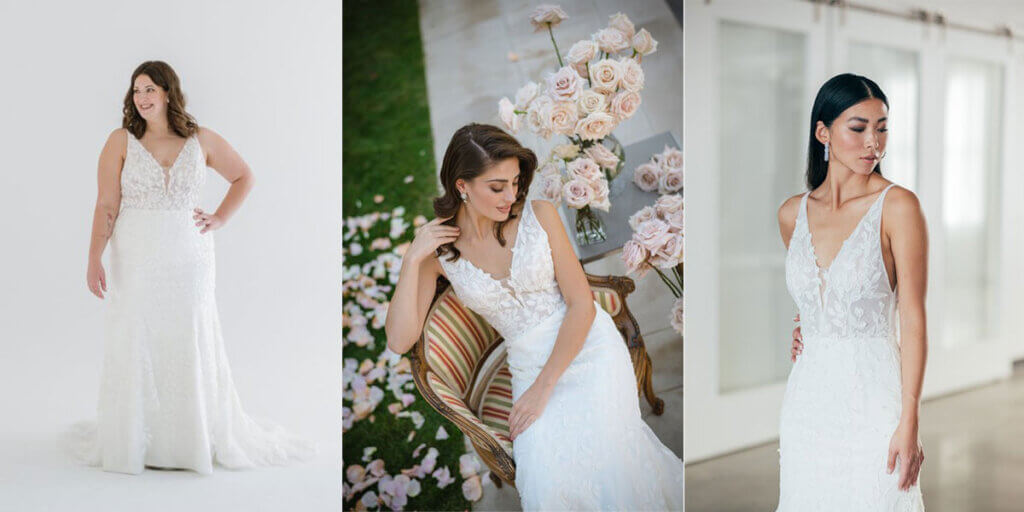 3. Neve: easy-breezy breath of fresh air.
This lovely fit and flare by Lis Simon truly embodies the spirit of a spring wedding. Feel the season with a leaf-patterned, 3D-lace applique over Swiss-dot tulle. The sheer bodice is enhanced by the deep-plunging neckline in the front and the open V-cut of the back. The lining is available in ivory, white, almond, mocha, or oyster, and all are designed with the lace in ivory.

4. Lulu: beauty in full bloom.
Breathe new life into a classic bridal beauty with this stunning plus-sized wedding gown by Stella York. Inspired by traditional glamour, this lace and soft crepe dream features a voluptuous V-neckline and sheer back detail. Fabric colors for this dress are available in ivory or white, and tulle plunge options are available in ivory, mocha, porcelain and white.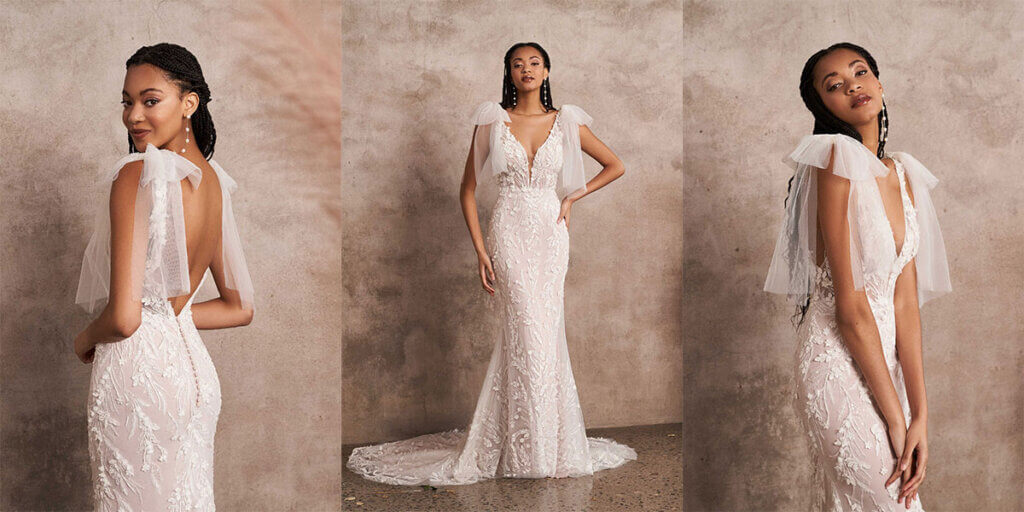 5. Verona: she walks in beauty.
You'll be walking poetry in this unbelievably beautiful beaded sheath Justin Alexander wedding gown. The daring neckline and sheer bodice is accented with illusion side insets and a V-back. Exquisite appliques combining sequins, beads, and 3D laser-cut chiffon float throughout the dress to give it a dreamy and ethereal feel. The stylish tulle shoulder bows, which are removable, add a delicately feminine detail.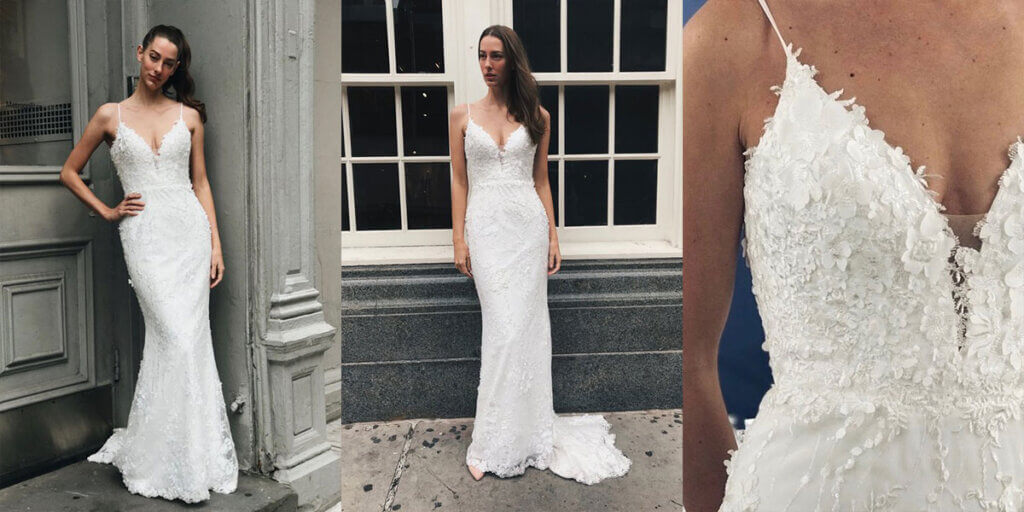 6. Kasey: flower power.
Let love bloom in this romantically pretty spaghetti strap sheath gown. The 3D floral lace and crystal tulle is lovely enough for any season, but it's especially delightful for the spring bride.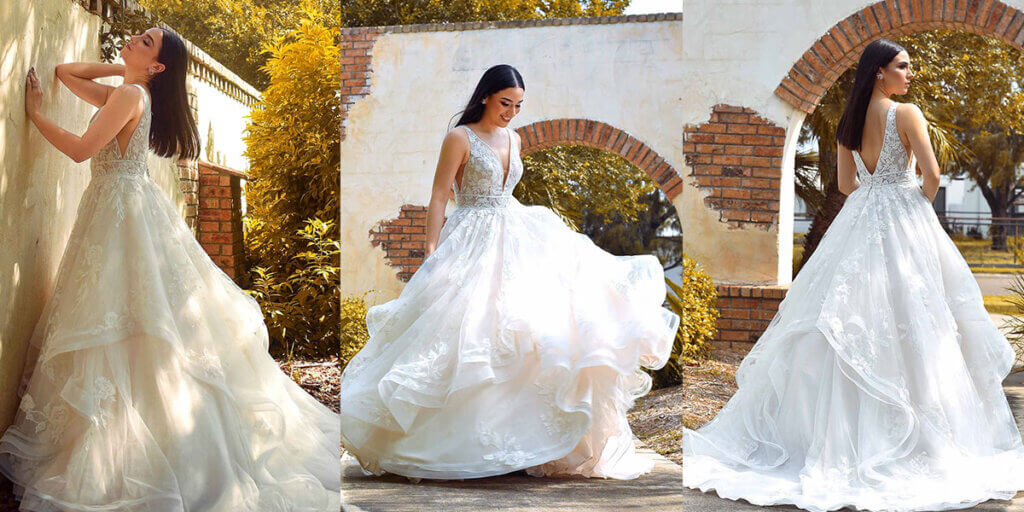 7. Michele: the main event.
Make the entrance of a lifetime in this vintage-inspired, yet modern, floral-lace ballgown wedding dress. The shimmering beadwork and voluminous layers of the tulle skirt will dance with light as you walk through the sunbeams of your spring wedding venue.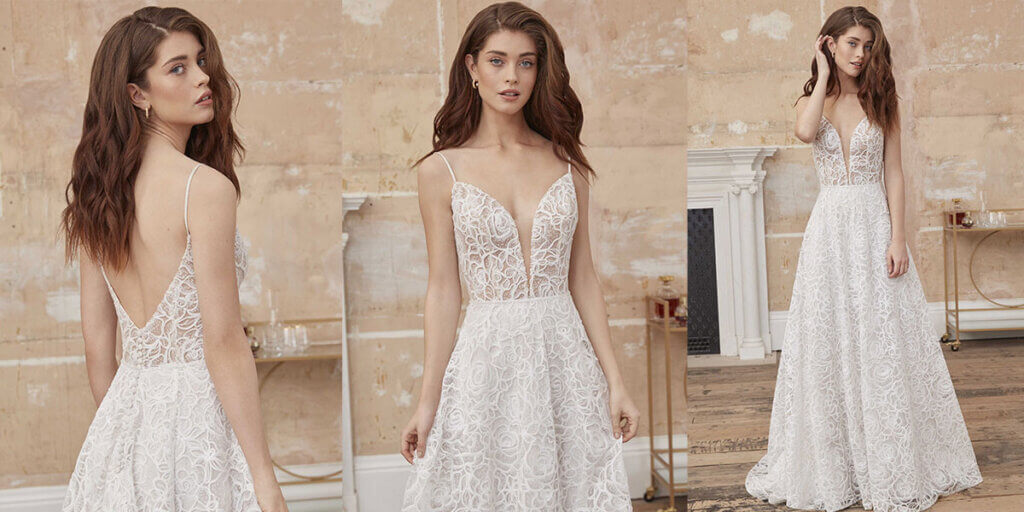 8. Zinedine: own the aisle.
Irresistibly romantic, this A-line Adore by Justin Alexander wedding dress in soft sequined chenille features a spring-inspired allover floral motif that will have you walking on air. From the tops of your delicate tulle straps to the tip of your lovely chapel-length train, you'll embody the essence of spring.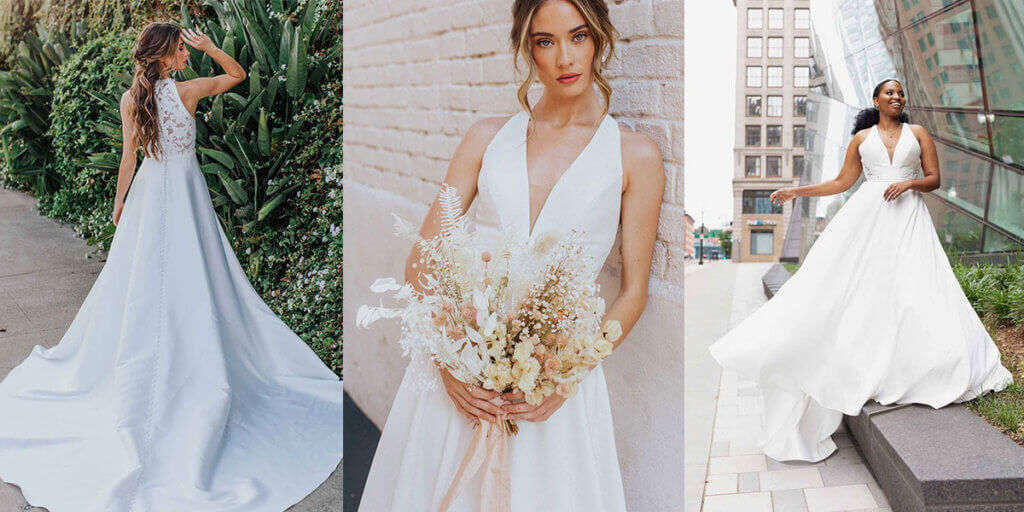 9. Maisy: simplicity is genius.
The timeless glamour of this classic ballgown wedding dress is fit for a princess. The flattering voluminous skirt and wide straps of the halter neckline are simultaneously traditional and modern. While the silhouette may be simple and chic, the full train brings all the magnificent drama.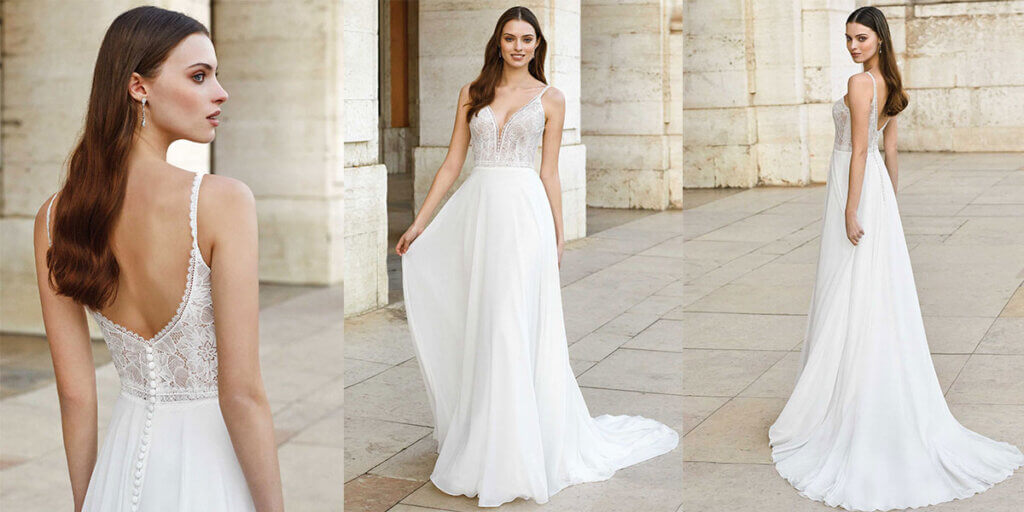 10. Rachel: easy, breezy beauty.
Take their breath away with this flowy A-line gown in delicate Chantilly lace. Beautiful trim defines the neckline, straps and waist above an airy chiffon skirt that glides like clouds in a springtime sky. Enjoy the easy-to-wear casual elegance of this gown from Adore by Justin Alexander.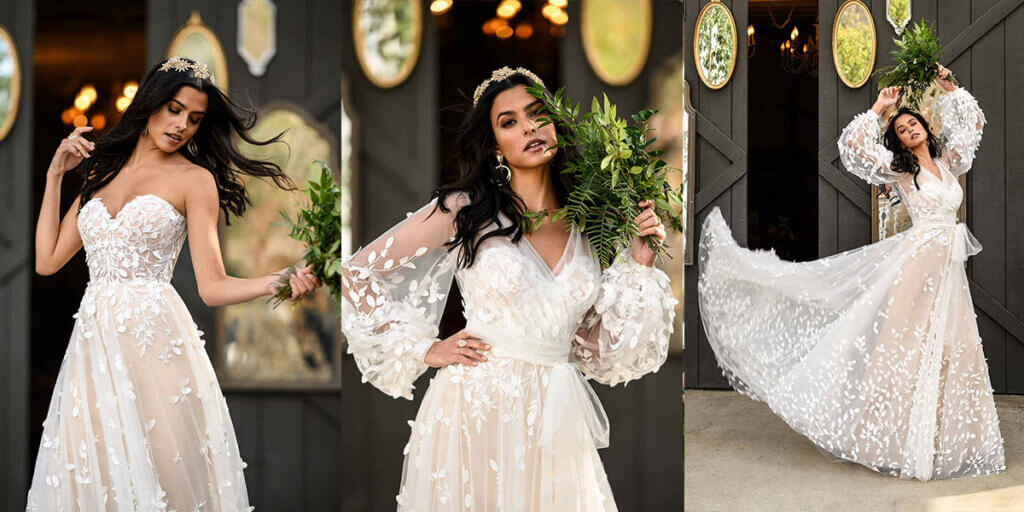 11. Raine: the boho princess bride.
Can't decide between the romance of a long sleeve bridal gown or the drama of a strapless sweetheart neckline? Get the best of both worlds with this lace and tulle A-line boho wedding gown. The romance of the organic-shaped leaves and dainty blooms give gorgeous movement to the voluminous bell sleeves of the Neve jacket, while adding figure-flattering patterns to the sheer bodice underneath.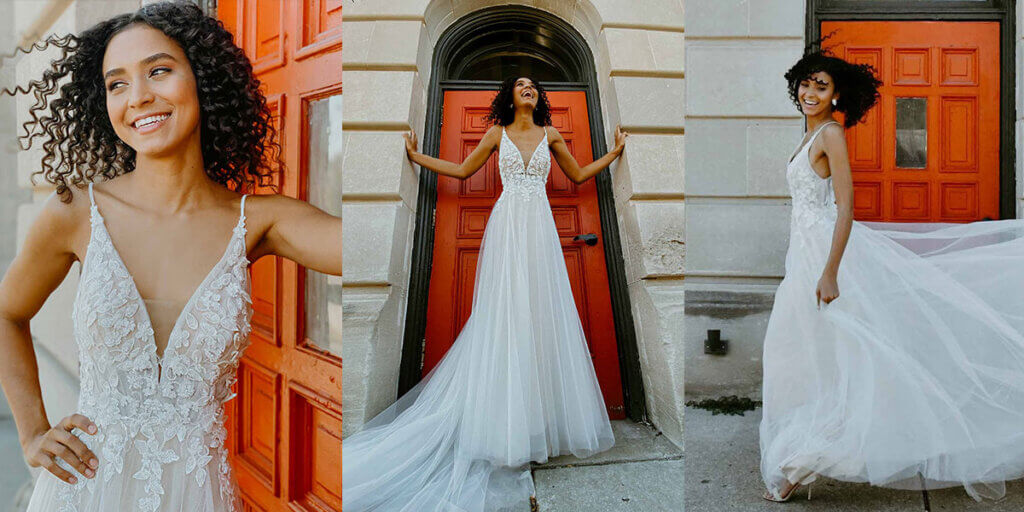 12. Rhiannon: romance for days.
Catch every eye for miles around in this beaded boho wedding dress with glitter tulle. Dreamy and dramatic, a slightly sheer bodice features a gorgeous, leafy lace design. The classic scoop back and beaded elements of the 3D floral applique over glitter tulle give the style a magical flair.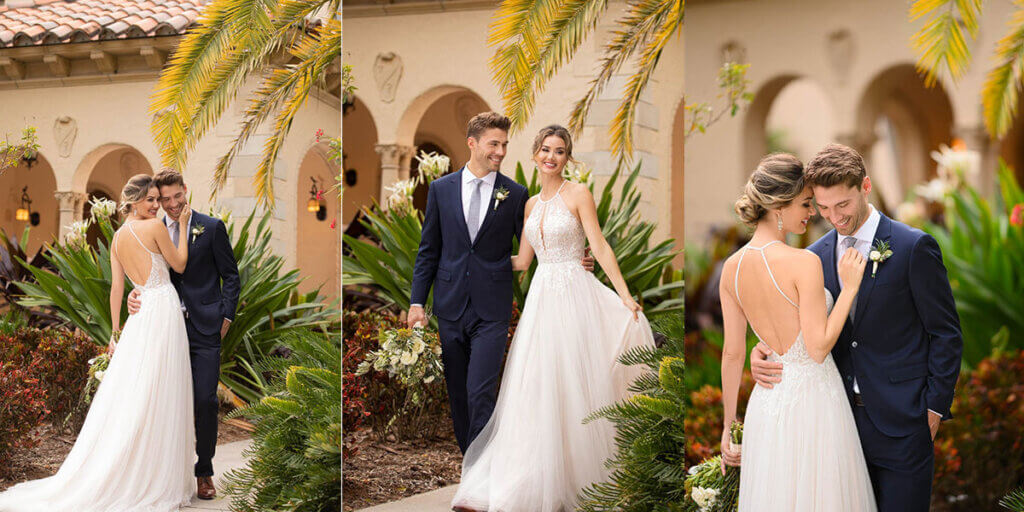 13. Freya: fashion-forward, floral masterpiece.
It's hard to pick a favorite element on this sheer lace halter dress by Stella York. The distinct center front plunge neckline accents the stylish high halter neckline, while the subtle ruching of the sheer organza creates flattering and interesting detail. The flowing skirt of lace and French tulle give you a floating, weightless beauty.
Your wedding may be a year away, but spring is just around the corner.
Planning a wedding is such a big ordeal, that the big date can seem at once too far away to be real and on you before you know it. But for many brides, finding their dress and knowing that, at least, has been taken care of takes a lot of the stress of planning off their shoulders.
So don't put off shopping any longer. Instead, let the changing season inspire you! Set up an appointment today, and let our expert team help you find your spring wedding dream dress.
Let your dress inspire the perfect arrangement of flowers for your wedding day.
You put so much thought into choosing the perfect wedding dress – the one that was simply meant for you. So it should come as no surprise to learn that there are also many factors to take into consideration when choosing the perfect bridal bouquet to match your gown.
To find the perfect dress, you thought about things like choosing a style that matches your personality and picking fabrics and cuts that would be flattering to your body type. You considered the time of year, the venue, and your own personal flair.
You'll take all of this into consideration when designing the perfect bouquet as well, but the most impactful element will be the inspiration that comes from your dress.
Matching your bouquet to your dress is about following through with all the instincts that you used to find your way to the perfect gown. But there are also some basic guidelines that you can follow. To ensure your whole look is picture perfect, try these 5 great tips for matching your bridal bouquet to your dress.
1. Complete the look of your dress, don't compete with it.
Your wedding dress more than likely has certain features that stand out above others. Consider these details and be careful not to choose a size or shape for your bouquet that overshadows or competes with it.
Let's say you've chosen a chic gown with sheer long sleeves and a beautifully buttoned cuff, like our Aisla gown from Allure Bridals. You don't want to choose a medium or large cascading arrangement that covers the details of the cuff. Be sure your arrangement works with your dress, not against it.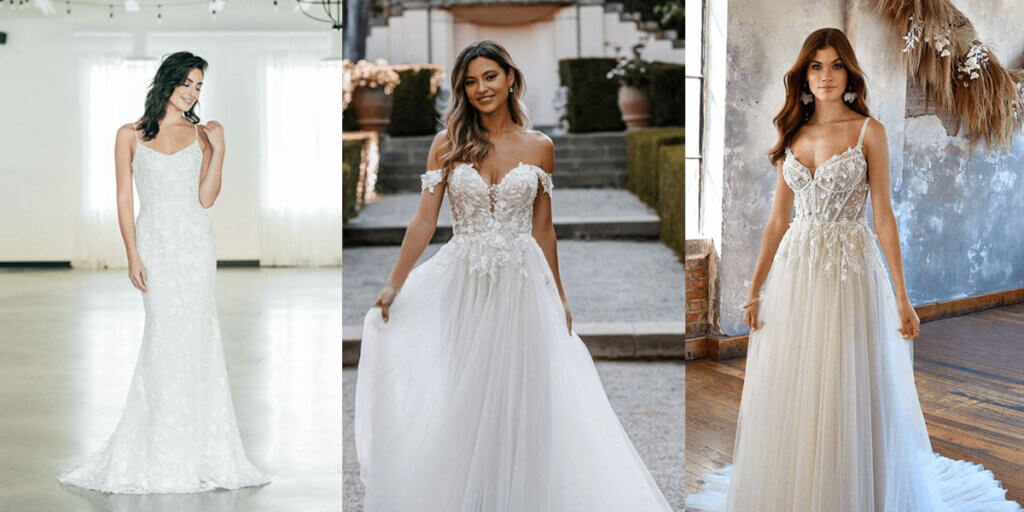 2. Create balance between shapes and sizes.
There are no hard and fast rules about which shape and size bouquet to choose for specific dress styles. But it's important to be mindful about balance. Your dress will give you the clues you need.
If you opted to make a grand entrance in an opulent ballgown like Astrid Ann, your choice of bouquet should match the magnitude of the ballgown. If you're concerned the arrangement will be too much, scale back on another detail of the bouquet. Choose a classic cascading arrangement, but keep the color scheme to one or two. Or choose domed arrangement, but fill it with lush and colorful flowers like a variety of roses, peonies, lily and protea.
For an A-line like Ilana or form-fitting sheath dress like Nicole, try to match the simplicity of the dress's silhouette with a smaller size and shape. Choose a small to medium tightly rounded arrangement, or something that is visually bold, but not bold in size. You can explore some of the dramatic colors that are trending in 2022, such as bright pinks, purples, reds and oranges.
When considering the shape and size or your bouquet, consider also how they will match your own proportions as well. If you're very petite, will an oversized bouquet be too overbearing? Or will a delicate nosegay feel diminutive in your hands?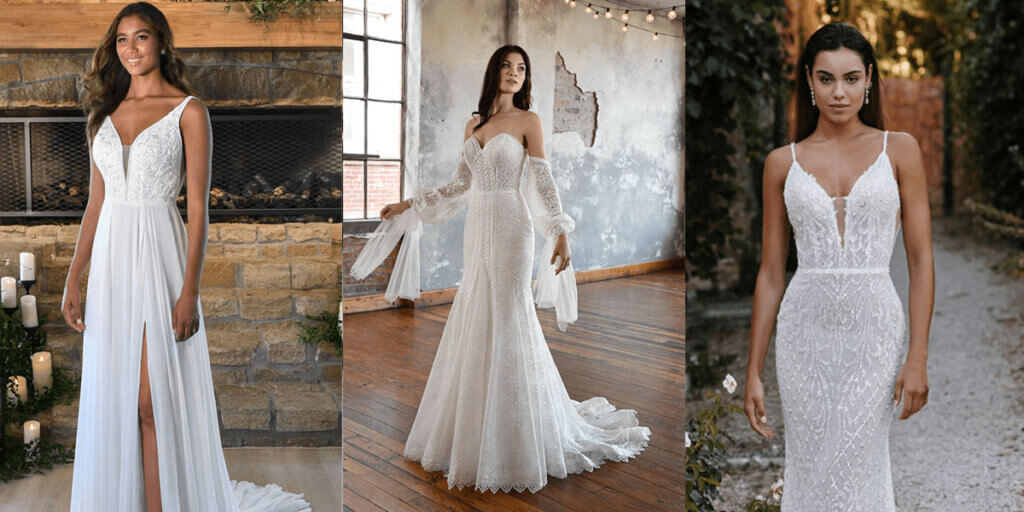 3. Mirror an accent color from your gown.
Muted earthy tones are also a popular influence for this year's bridal color palette. If you're not drawn to the bold, statement colors that are trending this year, try pulling an accent color form your dress. Mirror the amber tones of a sash, or the mocha hue of your dress's lining. You can do this with the color of the flowers, tinted leaves, or simply wrap the handle in a matched satin. When your dress is being made, if you can get a piece of leftover fabric, incorporate that as a wrap or a draping ribbon. The effect should be subtle, but polished.
4. Take a cue from your dress's texture and detail.
With the huge array of options of flowers, foliage (and even feathers!) that can go into a bouquet, it's not hard to match your arrangement to the textures and fabric of your dress. You just need to know what to observe and what to work off of. Depending on the dress, you might opt to enhance a detail through a contrasting texture or by mimicking it.
Imagine walking through your garden wedding in a lovely A-line gown with an eye-catching, spring-inspired floral applique (Katina or Luca would be great options!). A light and airy bouquet with daintily dangling white and pink cosmos not only compliments the seasonal vibe of the venue, but it also accentuates the primary detail of the dress by delicately mirroring it. If, instead, you wanted to bring attention to the detail of the dress through contrast, you could choose a larger, more impactful flower, like cala lilies, and carry a single-flower bouquet.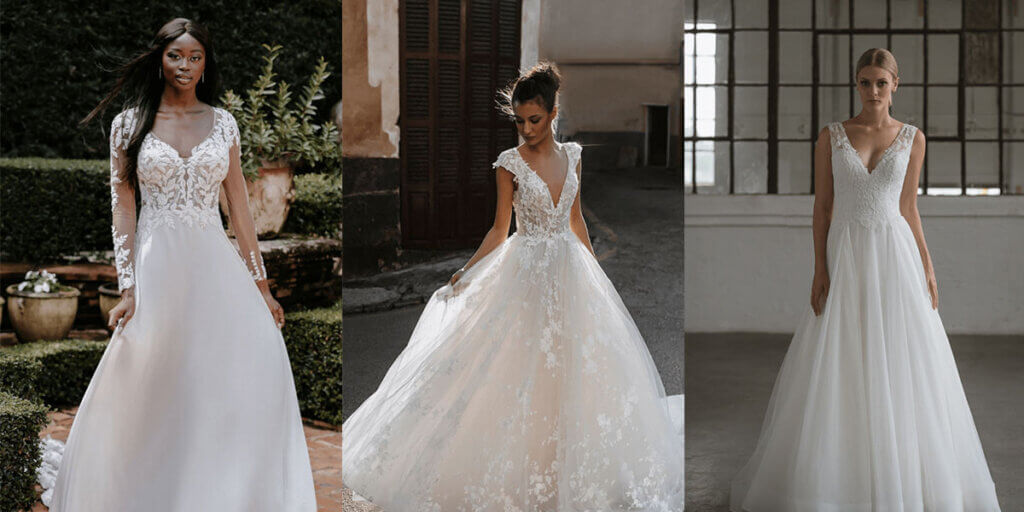 5. Try a strategically chosen contrast.
If you have a flair for the dramatic, make a statement with a striking contrast. Pair a simple, flowy, A-line chiffon gown with a bountiful arm-full of colors and textures, filled with wildflower foliage, luscious peonies and greenery. Spotlight your strikingly sexy lace boho gown with a small bouquet of white roses and pampas grass and eucalyptus. Or perhaps a single velvety, fully bloomed red rose against the silhouette of an elegantly beaded fit and flare with a daringly plunging neckline – oh, be still our beating hearts!
Bonus tip: Spend time with your floral expert.
The more your floral designer knows about you, the better they can help you navigate how to best match your bridal bouquet to your wedding dress. Be sure to bring pictures, not just of your dress, but of your venue if possible. Take time to talk about your style. Why and how did you choose the colors of your bridesmaids' dresses? Is there a significance to the season for the overall theme of your wedding? Is there an overall effect you are hoping to achieve? These questions will help you achieve the perfect look with your floral arrangement.
Your wedding dress is a reflection of who you are. Using the tips and guidelines we've outlined for you here, you'll walk down the aisle on your special day with a bridal bouquet that not only matches your dress, but it will also match you.