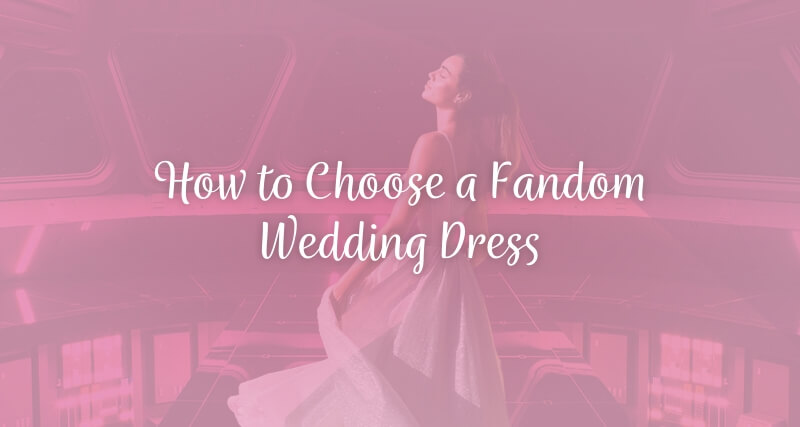 How to Choose a Fandom Wedding Dress
Themed weddings can feel bridal, and fandom wedding dresses don't have to look like cosplay.
Some of the most creative weddings we've seen over the years have been ones where the couple chose to celebrate their love for a particular fandom as the main theme of the day. Fandoms hold a special place in the hearts of many. They can be places of community and belonging, where strangers bond over worlds and characters and stories—and sometimes find their own love stories in the process.
That said, throwing a wedding themed around a fandom does come with one major risk: that the bride and groom will end up looking like they're wearing costumes rather than wedding clothes.
Avoiding this faux pas usually lands on the bride's shoulders, as her dress is the star of the show as far as the theme is concerned. Fortunately, we believe that navigating this scenario is more than possible. We'll take it a step further: we believe that the right dress can nail the fandom theme while also elevating the look of the ceremony.
To prove it, we've selected seven of our recent gowns that we believe would be a gorgeous match for some of the most popular fandoms out there. Take a look at our choices and let us know what you think!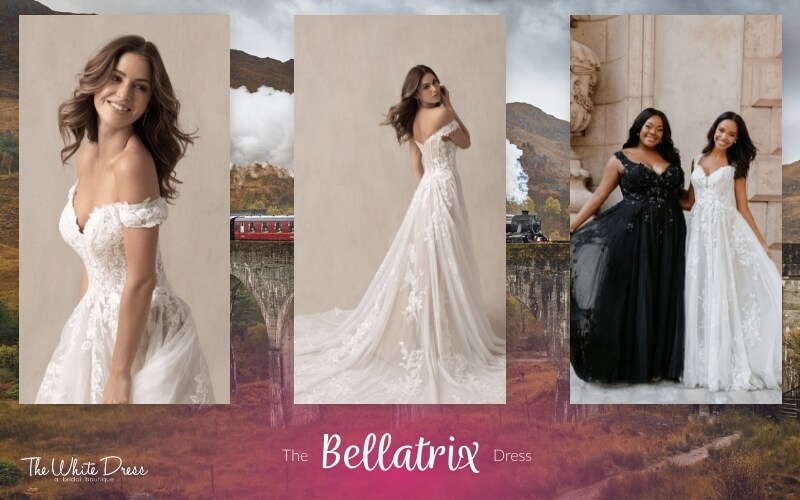 Harry Potter
Starting off bold, may we introduce you to Bellatrix? This gown charmed us from the start with its black dimensional lace that is highlighted with champagne undertones. The floral lace appliques climbing up from the hemline make this gown look enchanted, while black is of course the most appropriate choice for a witchy wedding.
A fun behind the scenes fact: we know we are in the presence of a true HP lover after we announce the name of the dress as any true fan immediately identifies with the name of the gown! Let's just say that many bonds have been formed in-store over Bellatrix and our brides who have said yes to her!
We especially love this choice for a winter wedding, where we think it would pair nicely with a cloak and a scarf in your Hogwarts colors. And of course, leading the opening dance of your very own Yule Ball in this gown would be absolutely magical.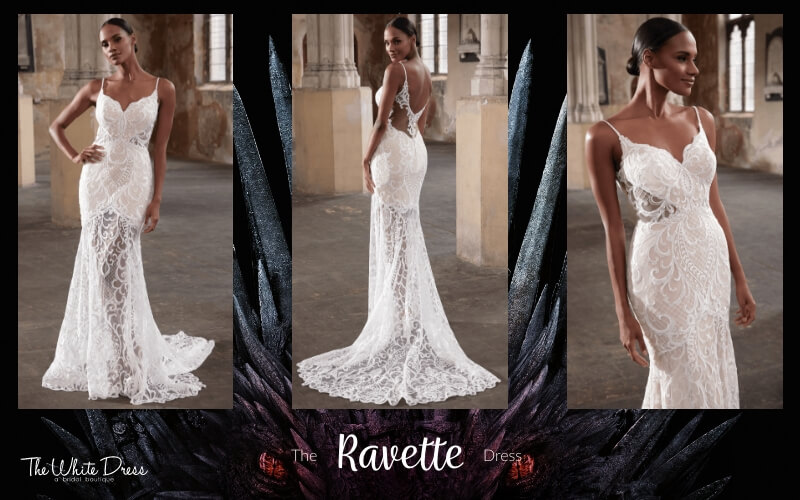 Game of Thrones
Few shows have ever given us such a rich array of powerful women dressed in every variation of noble attire, so picking one dress to sum them all up is a trick. Nevertheless, we believe Ravette is the top contender. This sultry, body-hugging silhouette is the perfect power move for any bride who wants to give queen more than princess. And is it just us, or does its elaborate lace pattern mimic many of the intricate braided hairstyles seen throughout the show?
This gown comes with a floor-length underskirt which snaps off to miniskirt length for brides who want a surprise reveal for their wedding.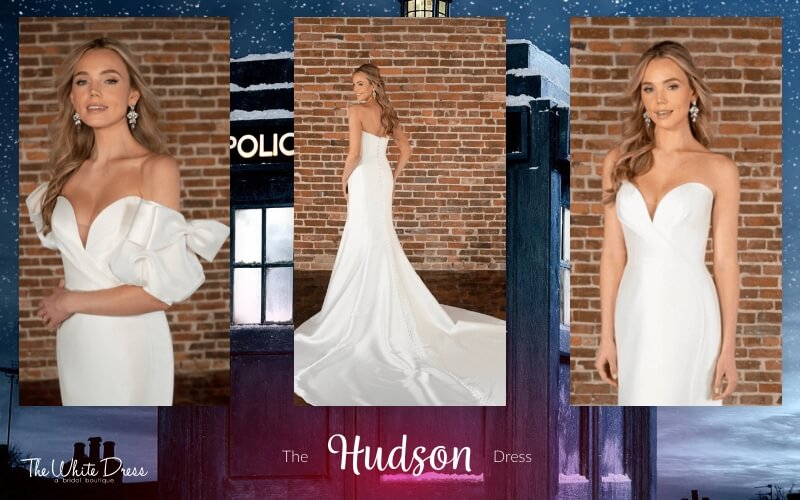 Dr. Who
For us, a fandom based around a star-traveling Time Lord had to have two key elements: it had to feel both timeless and quirky. Hudson solves the puzzle. With a dramatic trumpet silhouette, this dress has an iconic design that can transcend any era. Plus, we love the detachable train and so-extra arm cuffs which give the gown lots of reincarnations. We think these add on features nicely represent the constantly evolving Dr. Who.
We think the clean lines of this gown provide the perfect palette to customize according to your whim—be it opera gloves or an extra long scarf or even a pair of trainers. The true quirk of this gown is the arm cuffs, however, which feature an oversized bow (a fitting nod to one of the Doctor's favorite accessories).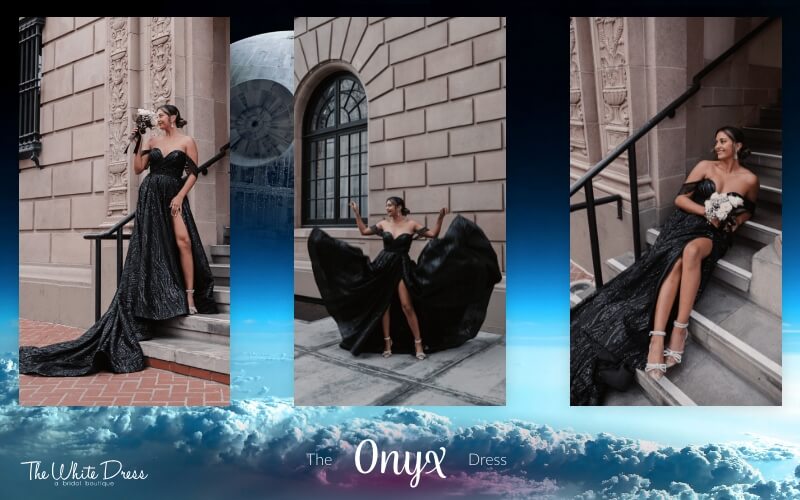 Star Wars
Star Wars has always drawn inspiration from an eclectic range of sources, which is perhaps why we're drawn to the dark side of Onyx. We have to say there is nothing so essential to the Star Wars story than Darth Vader himself. Plus, the bold pattern of this gown is on theme as well—reminding us perfectly of hyperspace.
To accessorize, you might consider some subtle jewelry options indicating your allegiance to the Rebel Alliance. Just be sure to have your tissues ready when you and your partner exchange "I love you" and "I know" at the altar.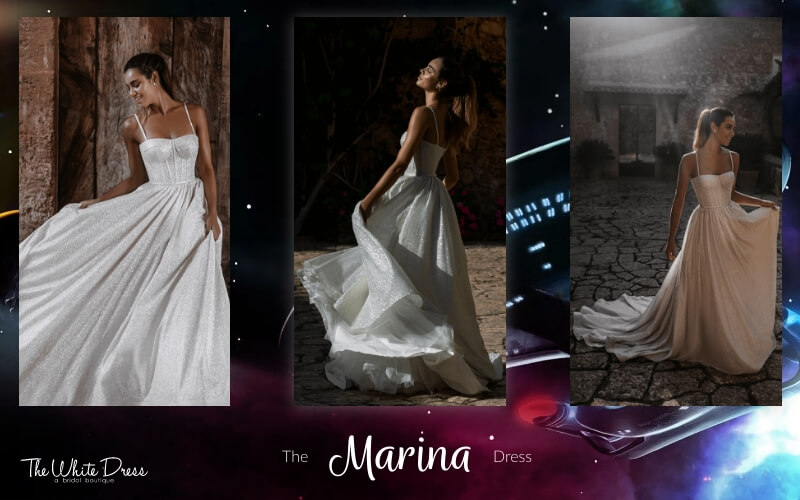 Star Trek
While their uniforms may be iconic, Star Trek is not known for its eveningwear. Nevertheless, we felt Marina fit the bill on two levels: first, the corseting on the bodice felt clean and well-tailored—perhaps a stylistic friend to a sharp uniform. But mostly, we were sold on the fabric—we think it goes boldly where no gown has gone before.
If you dream of embarking upon a romantic mission of discovery and exploration through the stars, then we're sure you'll be drawn to the sparkle of this shimmer tulle just as we were. It will certainly have you lighting up the room as you greet guests and give them your best wishes to live long and prosper.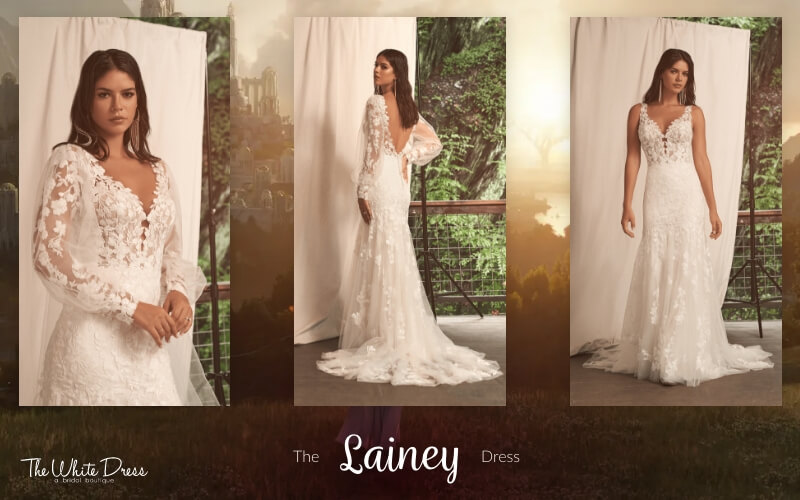 The Lord of the Rings
This wouldn't be our first pick if your style inspiration is Eowyn, shieldmaiden of Rohan. But if your wedding goals are to shine with the unmarred light of the two trees of Valinor, then few gowns give off elven radiance quite like Lainey.
We adore the leafy floral motif on the lace throughout, which is embellished with sequins for that little extra sparkle. The long sleeves on this gown make it an especially elegant choice for a church wedding, and for an added otherworldly effect, we recommend pairing with a cathedral-length veil.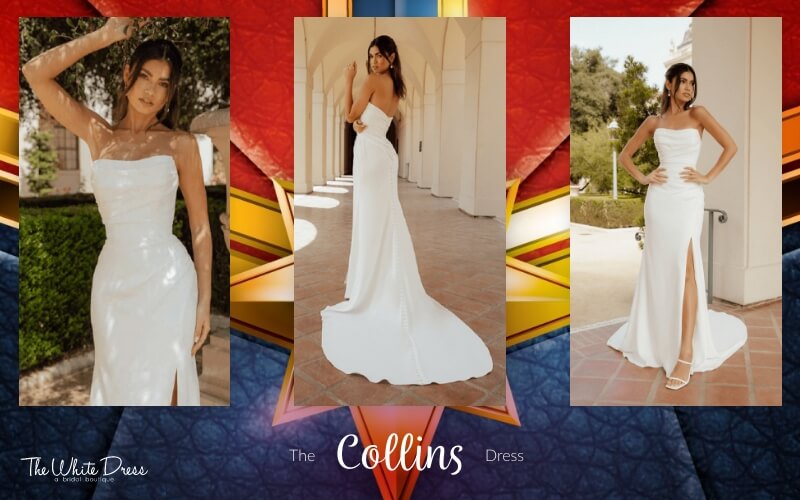 Superheroes
We're not going to wade into a Marvel vs. DC battle here (besides, do we need to choose?). What we will say is that whether you want to feel like Wonder Woman or Captain Marvel, Collins is the dress that will have you look ready to leap into action at a moment's notice.
The figure-fitting bodice recalls many a crime-fighting bodysuit, while the thigh-high slit allows for plenty of movement. If you're looking to accessorize for photos, we think this design would match well with a utility belt.
Let your inner nerd out of the closet—and introduce it to ours!
Who are we kidding. If you're planning a fandom wedding, we doubt your inner nerd is very well hidden. Nevertheless, we'd love to be the ones to make your fantasy wedding a reality. No matter your fandom, come to our store in downtown Brighton, MI, and let us dream with you. Bring pictures and any other inspo, and we'll cheerfully search our selection for the gown that brings your vision into focus. Book an appointment with us today.