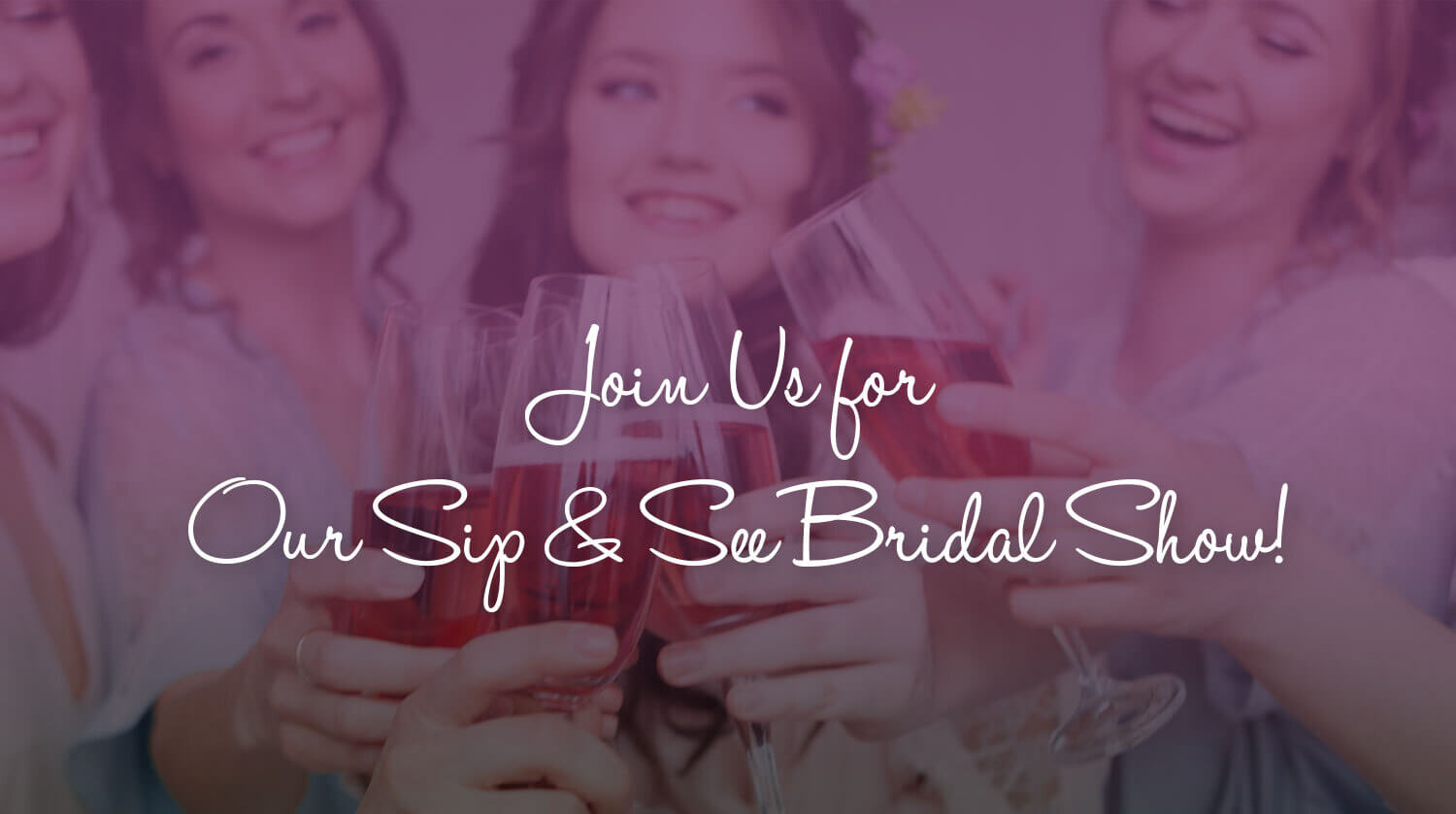 Join Us for Our Sip & See Bridal Show!
Don't miss our special Instagram Live fashion show, July 9th, from 8–9pm!
Getting ready to go dress shopping but aren't sure what to look for? There's no better way to get acquainted with the range of styles and designers out there than through a fashion show! And while we still can't hold large events in person, we are delighted to be able to bring you our very own Sip & See bridal fashion show, which you can enjoy virtually from the comfort of your own couch.
Out TWD-ettes will be modeling some of our most popular gowns, from a range of designers, and in a selection of styles and silhouettes. You'll have a chance to see the way these gowns move, and can ask questions for more info. All you have to do is curl up, pour yourself a glass of wine, and tune in on Instagram!
Here are the gowns we'll be featuring, in case you want a sneak peek. 😉
Princess Ballgowns: For when you want drama and a classic style.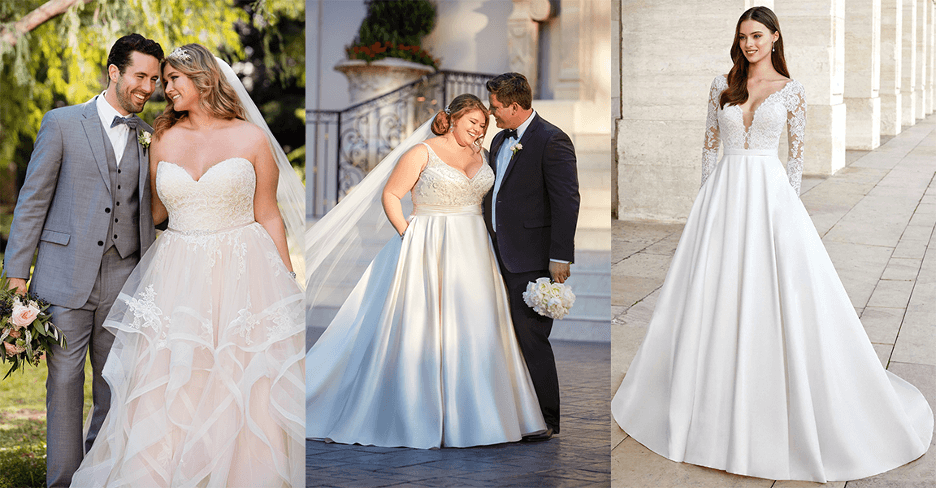 Ballgowns are a timeless silhouette, but that doesn't mean you can't find one that keeps up with the latest trends! Our Sip  & See will feature three ball gowns, each with their own special details. Lucia features exquisite beading in the bodice, Martha has long lace sleeves for that Kate Middleton look, and Marlowe comes in pink with a textured skirt that looks like a cascade of ruffles.
Dresses pictured:
Lucia, Essense of Australia
Martha, Justin Alexander
Marlowe, Essense of Australia
Boho: For when you want a free and easy dress, without compromising on the details.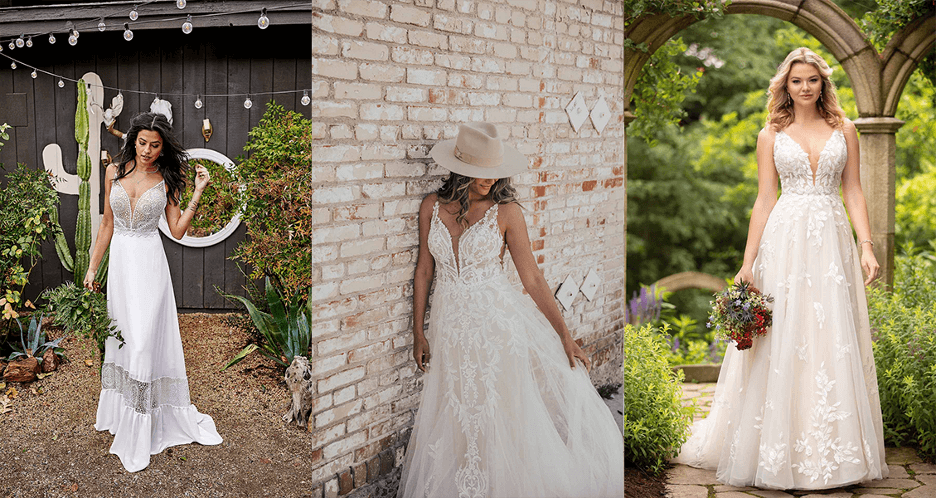 Boho styles continue to be a big trend in bridal, and we couldn't be more pleased. We love how these gowns are light and airy without sacrificing any of the little details that makes a wedding dress special, like beading, clouds of lace, or breath-taking design elements. Above are three of our favorites, but several of the ones pictured below also fall into this style. And of course, there's more where this came from at our store!
Dresses pictured:
Rivera, Essense of Australia
Cairo, Essense of Australia
Emmaline, Essense of Australia
Fit and Flare: For a silhouette with maximum curves.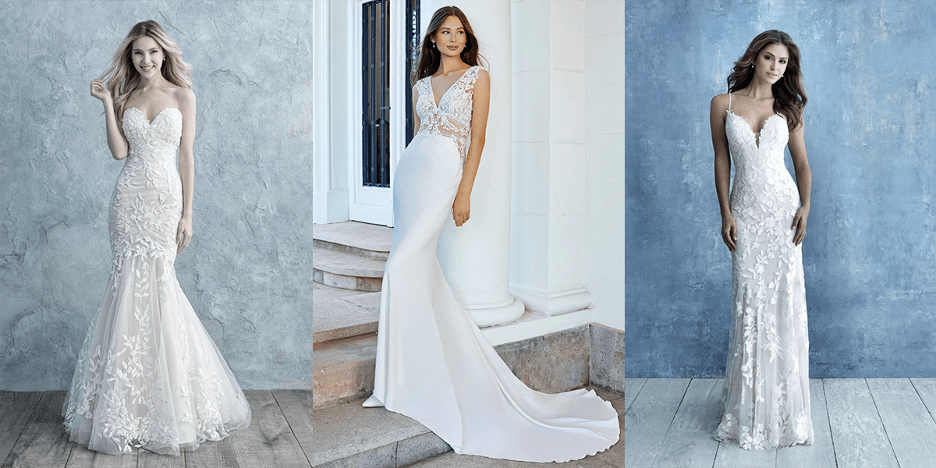 If you're ready to knock 'em dead, these dresses are real show stoppers. We love the vine lace on Cherise, and the lace back to Lolita is one of the most beautiful we've ever had in our store. And as for Cambria, the lace train on this gown is Instagram perfect.
Dresses pictured:
Cherise, Allure
Lolita, Justin Alexander
Cambria, Allure
Flowing A-lines: For a flattering silhouette with romantic charm.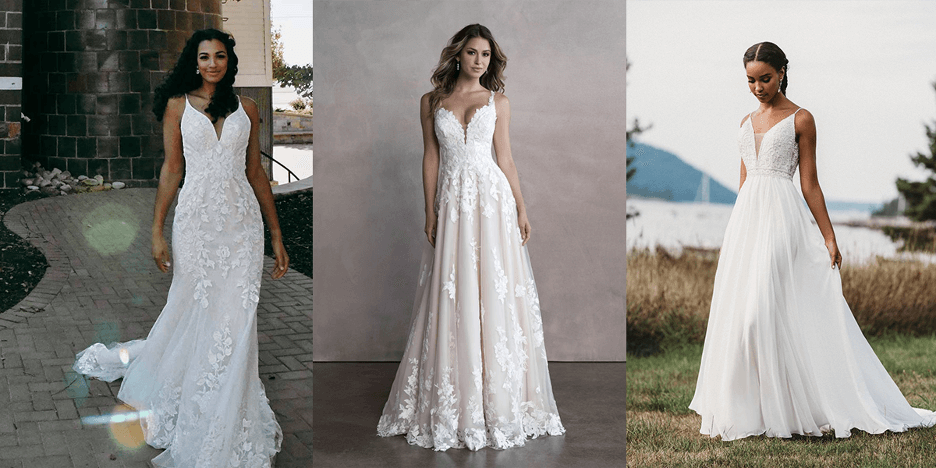 Finally, for brides who want to feel dreamy and romantic in their gowns, we will be showcasing several that will make you feel like an utter goddess. Bristol has the boho vibe we love while also featuring a classic fit-and-flare silhouette. Casia has a plunging sweetheart neckline that is set off by delicate lace straps, and Ellora combines a chiffon skirt with a beaded top for an almost Grecian look.
Dresses pictured:
Bristol, Essense of Autralia
Casia, Allure
Ellora, Allure
Spot a dress you like? Come in and try it on.
Seeing our dress selection virtually can help you get an idea for what you want. But there's nothing like trying dresses on in person to help you make up your mind. If you spot a dress that makes your heart sing—or even just piques your curiosity—schedule an appointment with us to come try it on. We'd love to give you a closer look!