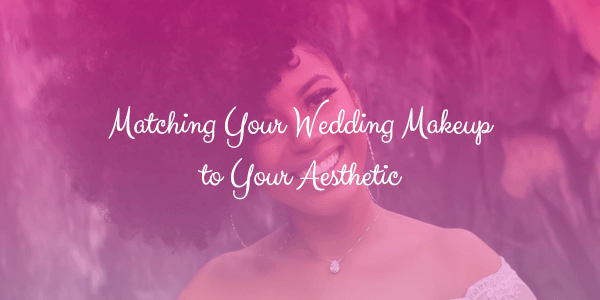 Matching Your Wedding Makeup to Your Aesthetic
Brides are finding wedding inspiration in all sorts of places. Why not makeup?
There are plenty of paths to travel as you search for your dream dress, and if you've watched as many makeup tutorials as we have, you may have formed some strong opinions about your lipstick before even considering a dress. And why not! The makeup industry has exploded in the past decade as social media has provided more opportunities to show off dramatic makeup looks that we've perfected in private before ever wearing them out of the house. Greater confidence has led to greater creativity, and with novel products hitting the market every week, brides have everything they need to achieve their dream look on their wedding day.
This explosion of products has also expanded who has access to high-quality cosmetics. Makeup brands both old and new have done a lot of work in recent years to develop formulations for a broader range of skin tones. In particular, we love Monica Ravichandran's videos discussing brown girl color theory, while Nyma Tang digs deep into product reviews to help dark-skinned ladies find formulations that will work with their coloration.
All this has certainly gotten our creative juices flowing, so we pulled together some of the top wedding makeup trends and paired them with dresses. Let us know what you would choose!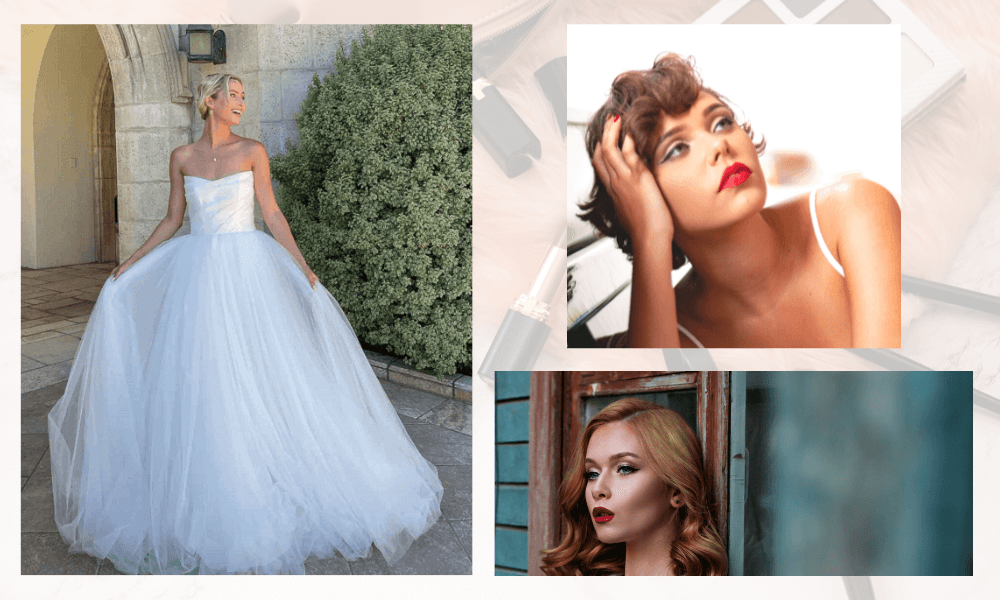 1. Statement lip.
There's just something about a power red that won't go away. A pop of color combined with a winged eyeliner creates a bold aesthetic that looks good on just about anyone. If red's not your color, you can also go into berry, bright pink, or peach tones for a similar effect. As for our dress pick, we think Charlote brings some 1950s glamour while keeping with the minimalist theme.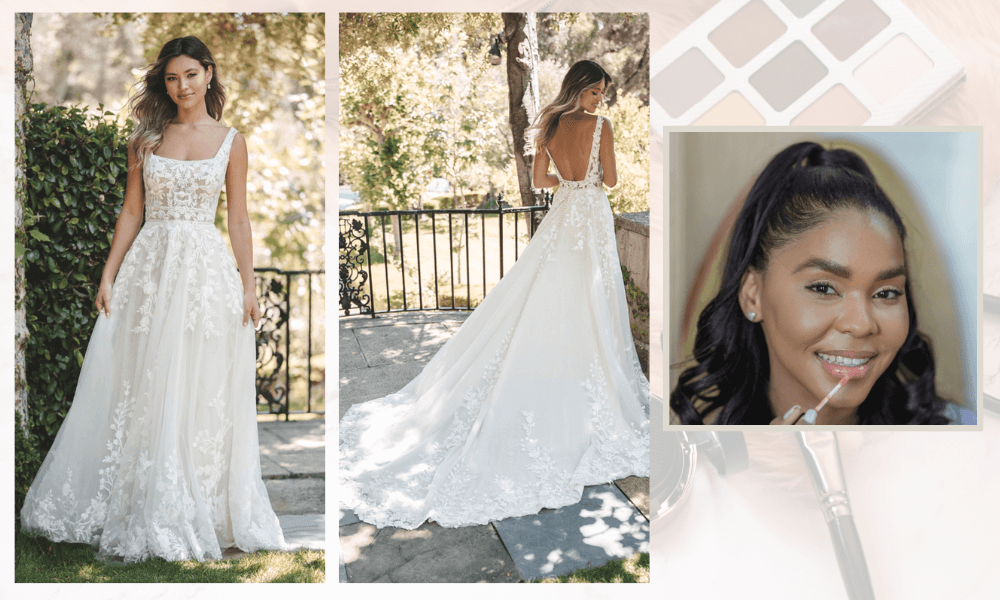 2. Fresh and dewy.
Do you want to walk down the aisle looking like you woke up with bright eyes and a glowing complexion and only had to run your fingers through your hair to get ready? Then the fresh and dewy look is for you, relying on brown eyeliner and mascara, glossy lip tints, and dewy skin serums to keep everything understated but still camera-ready. To go with this look, we chose Briar. The square neckline and botanical lace on this dress combine old world charm with modern simplicity.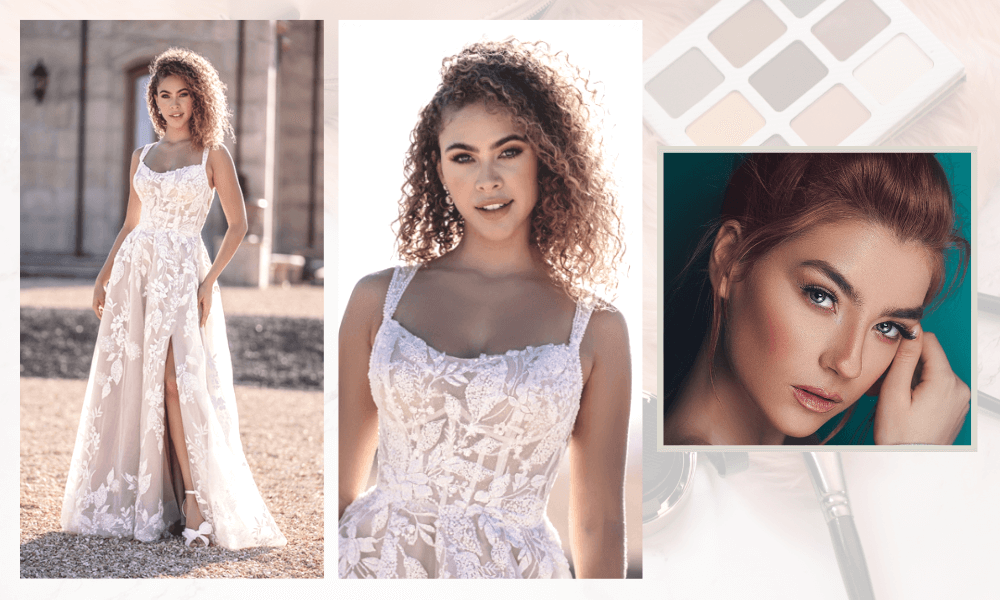 3. Soft glam.
If your goal is for something in between the high contrast of a statement lip and the all-natural look described above, soft glam is your answer. This style avoids defined lines, and instead blends and smudges everything into a more diffused look that is still noticeably a cut above your everyday routine. In other words, no one is going to look at you and think you aren't wearing makeup, but they will think your makeup looks effortless. Our dress match for this look: Rue. We love the wide straps on this and the way the sand underskirt makes the lace pattern pop, while the high slit adds a glamorous edge.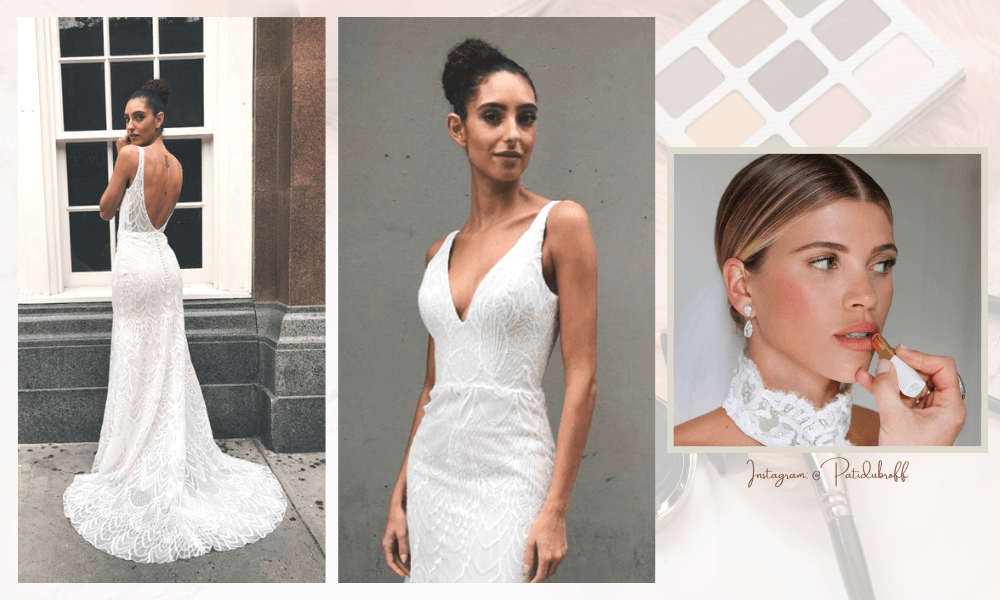 4. Sun-kissed.
Getting married on a beach at the height of summer? Then you may be envisioning a more bronzed look set off by coral blush along your cheekbones and the tip of your nose to go along with your perfectly tousled locks. We think Caydence is the perfect fit for this breezy vibe, with the lace pattern on this dress calling to mind the bohemian crochet styles of the '70s.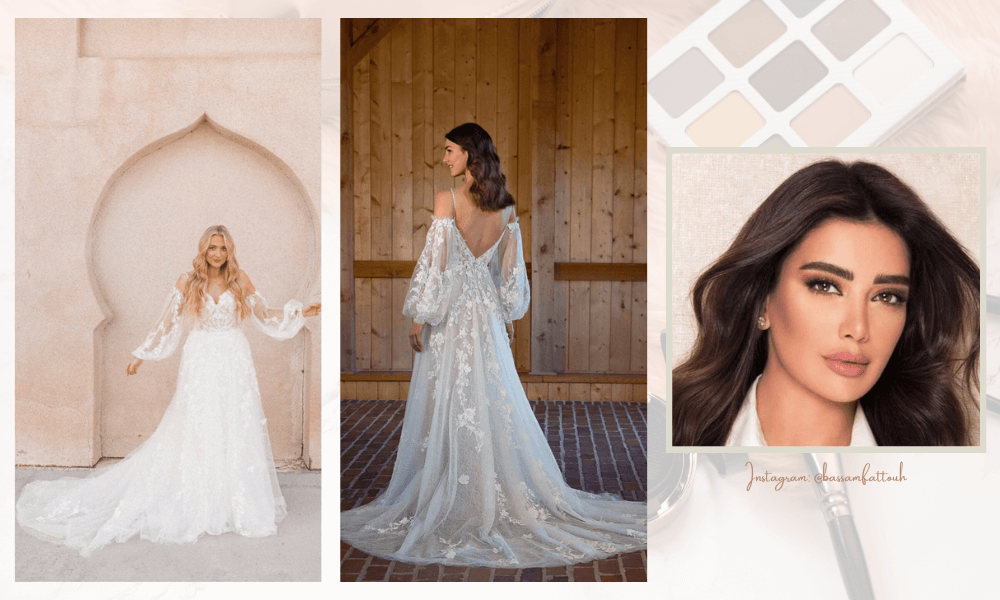 5. Dark romance.
For this look, you'll want to combine a smokey eye with a sultry lip. Unlike the vamp look of the '90s, however, this style usually employs some of the same blending techniques as the soft glam. We love this makeup look especially for fall and winter weddings, when deep shades create a warm, rich atmosphere. To match, we've chosen Indigo for its voluminous sleeves and the lingerie-style bodice. Now that's a dress that could easily grace the cover of a steamy romance novel.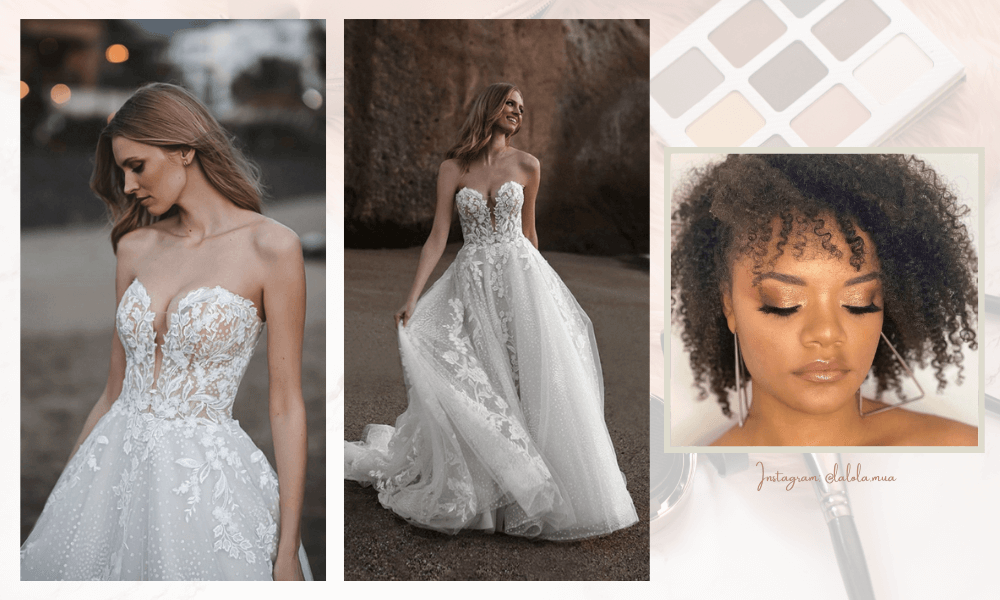 6. Gold and glitter.
Ready for modern glamour? Metallics are becoming a more prominent feature in makeup palettes, as are glue-on crystals. These looks can add a little bling to a makeup aesthetic without becoming overdone. To match, we've chosen Christina, a true showstopper of a gown if we ever saw one. Along with the ballgown silhouette, it features a deep plunging neckline and dazzling fabric.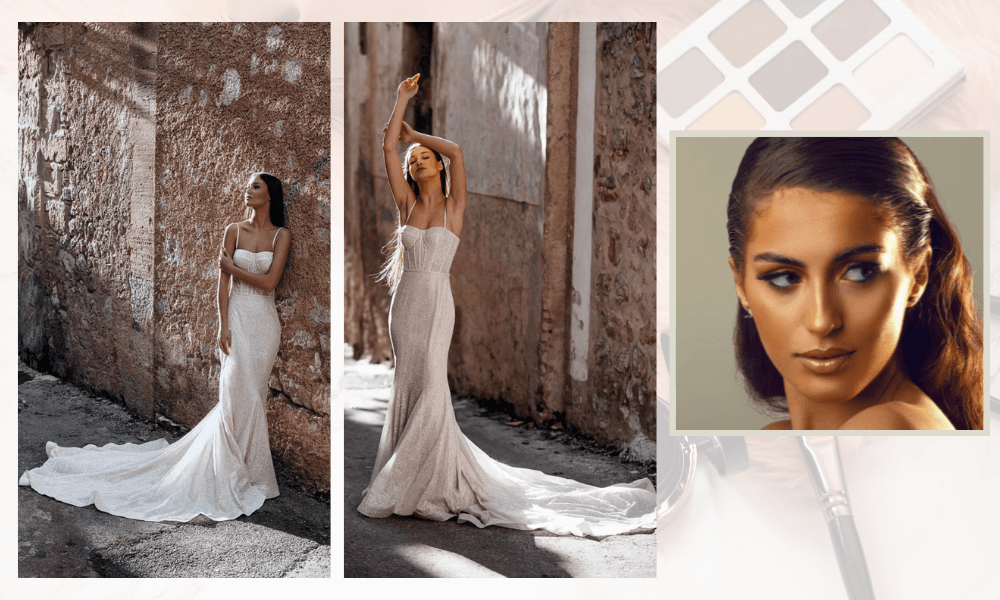 7. Shimmer and shine.
Going for a more subtle take? Many makeup products offer a softer sheen, such as highlighters or pearlescent eye palettes. The overall effect is a radiant glow that brings the magic to your big day. We've chosen Karina to finish the look. An elegant sheath with a corset bodice, the dress is also made of diamond sparkle tulle—what more can we say?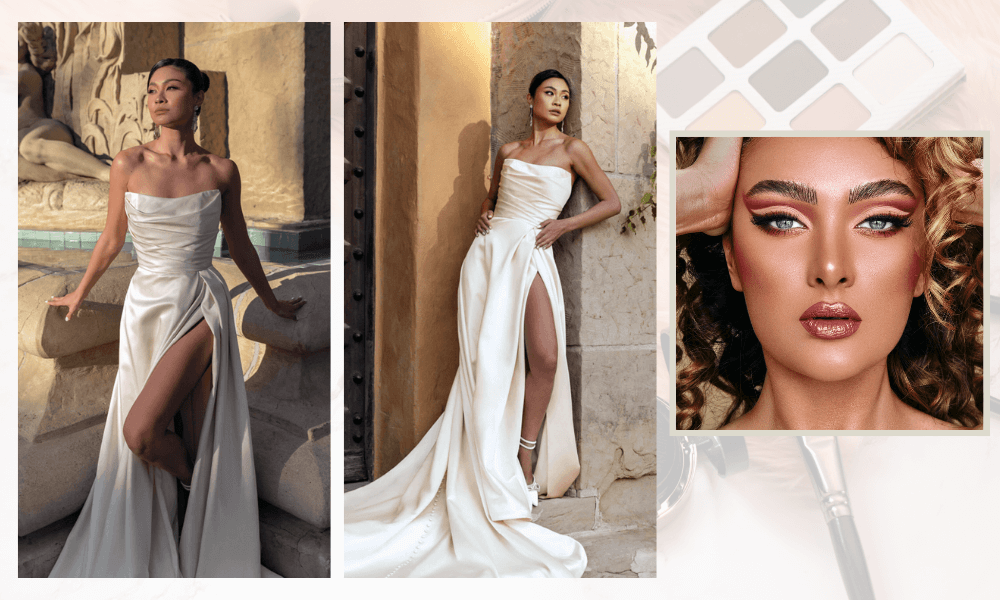 8. Bold color, graphic style.
Do you plan to try something really unconventional? Graphic eyeliner? A fuchsia smokey eye? As much as this may not sound like wedding makeup, brides from all decades have followed the trends for their wedding, and many more are breaking rules and reshaping traditions to build a ceremony that matches their unique selves. If that's you, we say: Go for it! As for the dress, we pick Landon. The satin A-line may seem like an understated choice, but we think the high slit brings plenty of spice while letting your makeup make the statement.
Feeling inspired? Come try on a dress.
One of the best things about makeup is that you can play around with it as much as you like. Your wedding dress, however, is a much bigger decision—and it's one you'll have to make sooner rather than later. It's good to have an idea in mind of how you'd like to look on the day, especially if it can help guide you toward a dress. But you'll have a lot more fun settling on your final makeup once you know what gown you'll be wearing.
Also, we do recommend keeping your overall makeup light when you come in to try on dresses. You'll be pulling gowns on and off, and if you're wearing a full glam look, it's more likely to get smudged, and could also end up on the sample gowns.
So keep your look light, but bring in all the inspo you need to help you find your dress! And of course, our TWD-ettes will be here to help you out as well. Book an appointment with us today—we look forward to seeing you!