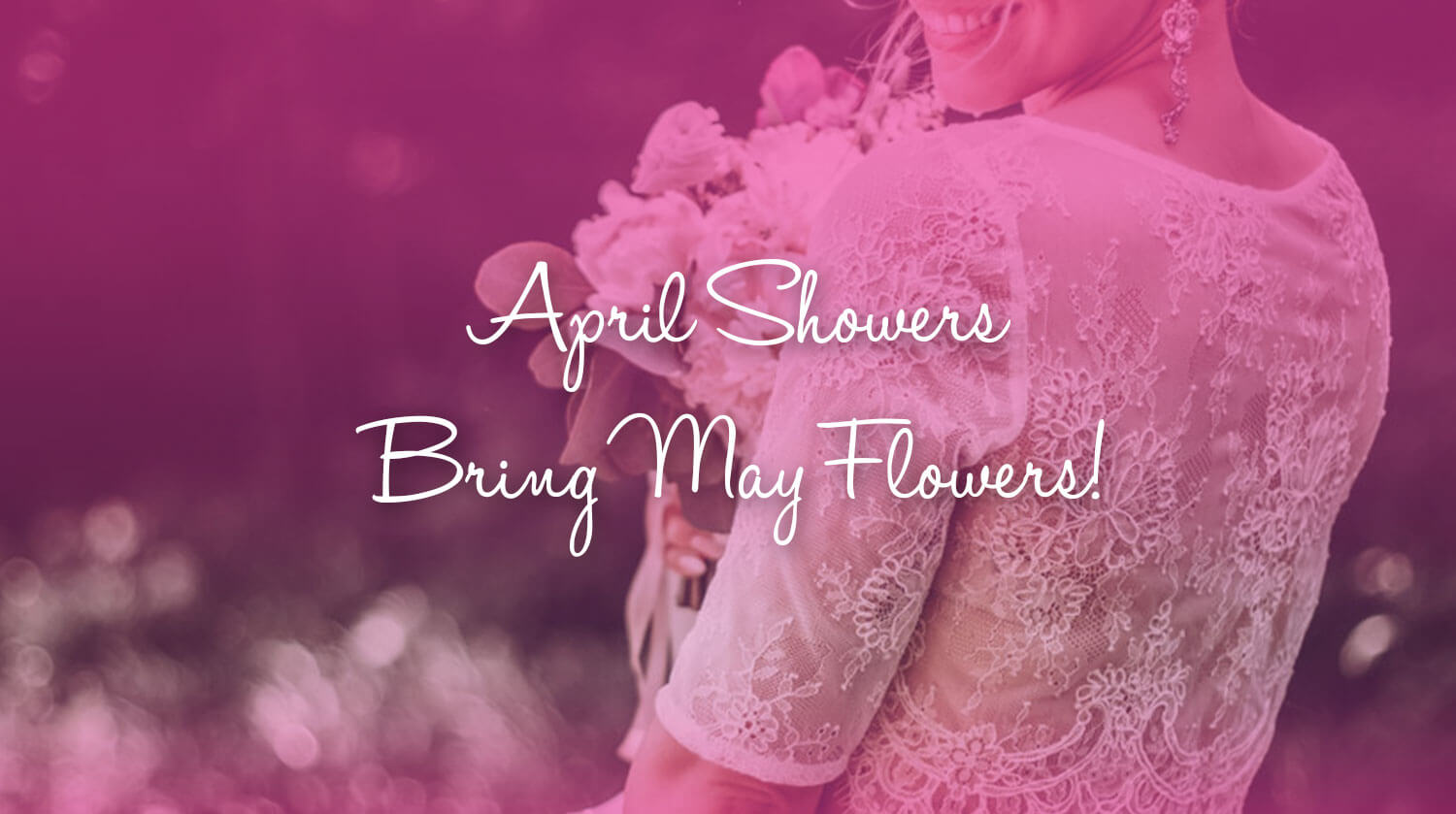 New Bridal Promotions: April Showers Bring May Flowers!
Choose a dress from us in April or May and win a special surprise.
Spring is well and truly here, and we expect many of our newly-engaged brides are experiencing a storm of emotions equal to the season. Amid the whirlwind of excitement and anxiety, one of the earliest and biggest decisions brides have to make is, of course, the dress. For some brides, shopping for the dress is an experience they've been looking forward to for years. For others, it's a nerve-wracking event that fills them with equal parts joy and trepidation.
We want all our brides to feel like finding their dress is a highlight of their wedding planning journey. So, to add a spot of sunshine to the experience, we've planned something special for our spring brides.
Umbrellas and bouquets—oh my!
For the months of April and May, we're running a special promotion to celebrate the change of seasons and make everyone's appointments that much more fun. Each month, brides who choose their dream dress and place an order with us will have a chance to earn a prize.
In April, we will offer brides a selection of cocktail umbrellas. Brides will make their selection and pop the umbrella open to reveal her  special discount, with savings ranging from $50 to $150 off. In May, we will be offering brides a flower from a bouquet which will offer  similar savings.

Make the most of your bridal appointment.
As exciting as wedding dress shopping can be, it can be equally exhausting. No bride wants to go to a dozen stores and try on a hundred gowns before she finds the one. This kind of experience just adds to the stress of shopping and can make the bride second-guess every decision she makes. That's why a huge part of a good bridal experience begins before the bride even arrives. Here are three tips to help you feel confident and prepared before you even set foot in the door.

1. Be familiar with bridal timelines.
Pre-COVID, brides could order their dress nine months in advance and be assured it would arrive on time. With supply chain delays and other pandemic disruptions, this is no longer enough time. We currently recommend our brides order their dress at least twelve months in advance to be sure it arrives on time for necessary alterations.

2. Take a look at our gown selection ahead of time.
Our TWD-ettes know our entire collection front to back and can guide you toward the dress of your dreams. But it also helps to come to your appointment with an idea of what you would like—especially the silhouette and style. Fortunately, we have all our dresses up in our Look Book so you can see what we have available and pick some favorites before you arrive. Check out some of the latest spring trends if you're planning a wedding for Spring 2023.

3. Come relaxed and ready to enjoy yourself.
We know that just telling you to relax isn't enough in itself. This is a big decision, and it's almost impossible you'll be able to approach it without your emotions running high. That's why we promise all our brides a pressure-free appointment. When you're with us, your attention should be entirely focused on your own experience—not on whether we want you to buy a dress.
Start your wedding dress search with us.
Between the sunshine and snowflakes, springtime in Michigan can be a rollercoaster—but wedding dress shopping doesn't have to be. Schedule a visit at our bridal boutique in Brighton, MI, and see just how easy and breezy finding your perfect gown can be. We look forward to seeing you.