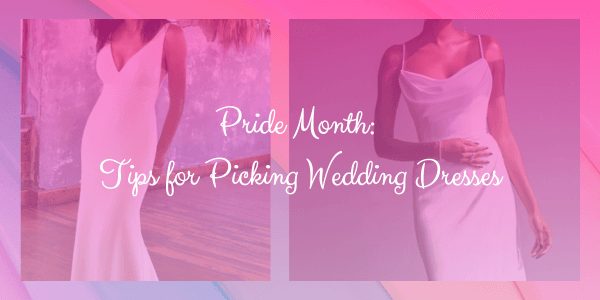 Pride Month: Tips for Picking Wedding Dresses
Hello, ladies and they-dies! Wondering how to shop for a double-bride wedding? We got you!
When it comes to LGBTQ+ weddings, couples have a beautiful opportunity to revisit old traditions and give them a modern twist or invent new ones. We're seeing this in the venues couples choose, the ceremonies they create and—of course—in the clothing they wear!
We love helping members of the queer community here in Michigan find their dream dress, but when both parties plan to wear a wedding dress, it can create some unusual scheduling situations! Here's a few ways we've seen brides shop:
Same day, same time. Bride couples want to be sure their dresses work well together, but if one bride chooses first, it can limit the other bride's options. To avoid conflict, many brides prefer to book their appointments at the same time, so that they can both be sure of their dress and share the moment together. We can arrange for brides to be in separate rooms where they can't see each other if they want to maintain the surprise, or in fitting rooms where they can see each other, if they want to be fully prepped for the other's choice.
Same day, different times. Of course, some brides are perfectly comfortable with one partner finding a gown first but may want to share the day-of experience of wedding dress shopping. Booking back-to-back appointments on the same day can also let the brides invite a larger circle of friends: one group can spend time together over lunch or cocktails while a smaller party accompanies each bride in turn to her fitting.
Different days, shopping solo. Finally, there's the tried-and-true option of doing the wedding dress search as a solo experience. Brides may enjoy this most if they are hoping to bring along just a few close family members and want to keep the dress reveal for the big day.
Of course, if you have any other creative ideas for how to do wedding dress shopping, we would love to hear them! In the meantime, to celebrate Pride month, here are some of our favorite wedding dress combos to offer you inspiration!
Nataleigh and North: Aesthetics in harmony.
One of the surest ways to keep a look in alignment is by settling on an overall aesthetic first. For instance, both Nataleigh and North fall straight into the boho trend—and as a result, the dresses feel like they belong together, even when many of the specific elements don't line up.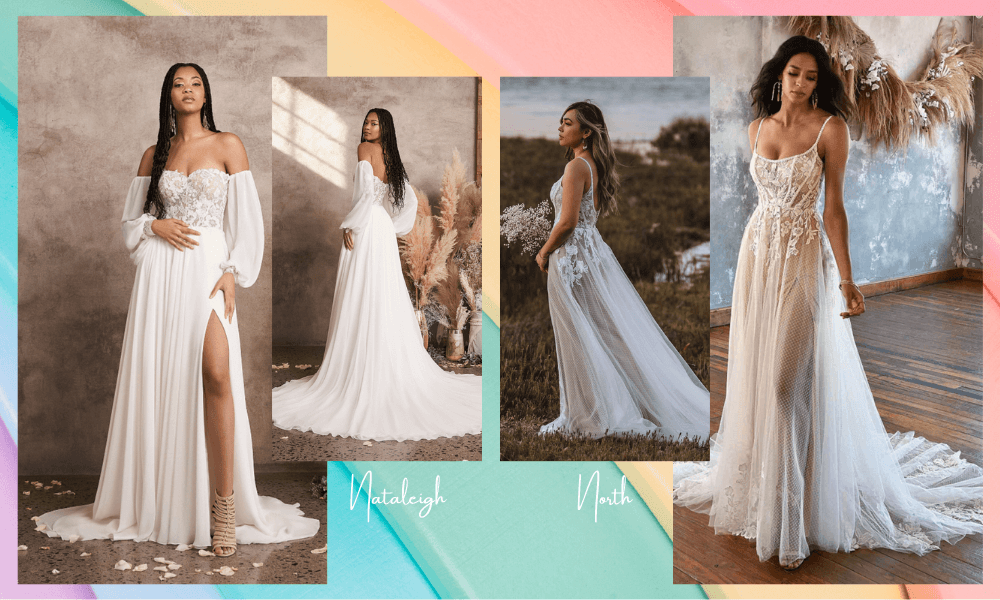 What makes this match work:
Both dresses are flowy A-line gowns with thigh-high slits, floral lace bodices, and visible boning. These similarities hold the look together even though the dresses feature different fabrics, necklines, and sleeve styles. We like how the net tulle on North contrasts in texture with the clean chiffon on Nataleigh.
Iona and Astra: Different riffs on the same theme.
If the assignment was to bring goddess vibes, then Iona and Astra are a power duo. We love how Astra balances long, sheer sleeves with a high slit skirt. Meanwhile, the minimalism of Iona's profile is set off by the pearl-encrusted cape. Both dresses bring drama, but in entirely different ways.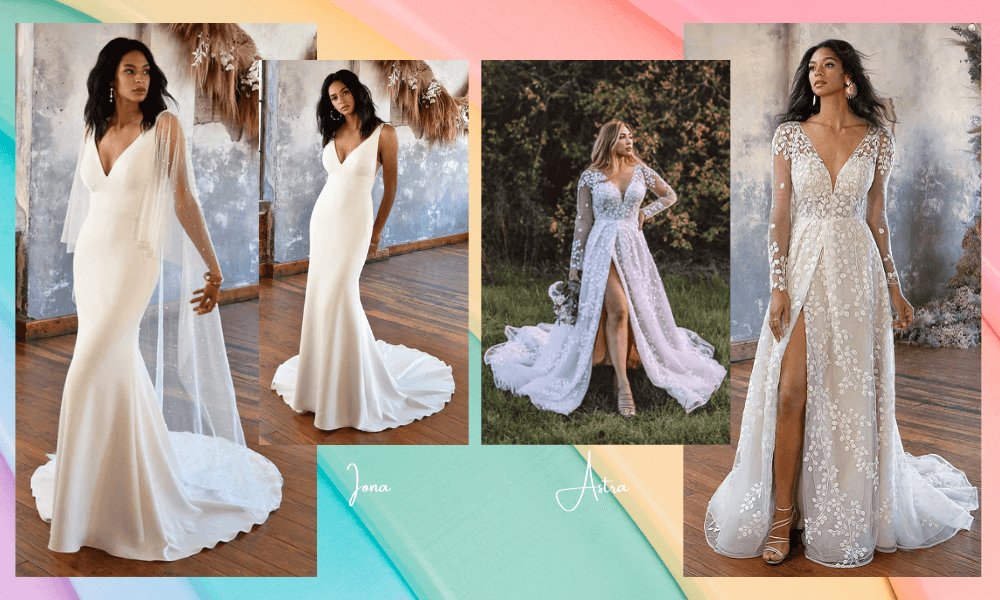 What makes this match work:
Astra and Iona both share deep V necklines and similar silhouettes, which help the dresses look intentional together. While the fabric for Iona is crepe, the sheer cape mimics the sleeves on Astra. Furthermore, the round pattern of the leaves on Astra's lace is a better fit for Iona's pearls than a more floral or traditional pattern would be.
Chelsey and Clarabelle: A study in contrasts.
Opposites attract. If that's true for couples, then surely it can be a rule for wedding gowns as well. In this case: Chelsey and Clarabelle. While Clarabelle features all-over lace and an illusion bodice, the head-to-toe crepe of Chelsey leaves the details to the construction: a cowl neckline, flattering gathers at the waist, and a high slit in the skirt.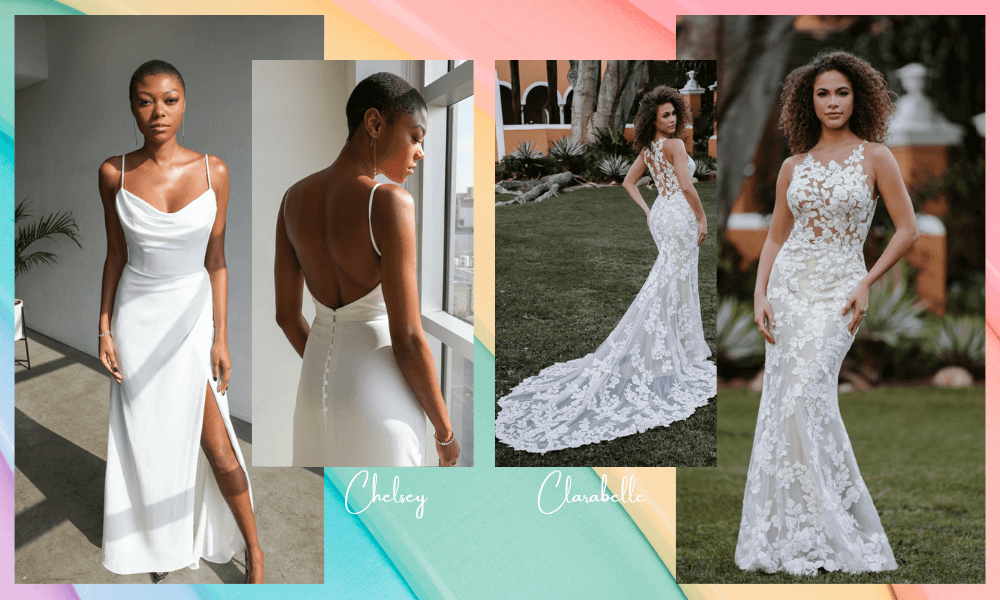 What makes this match work:
At first glance, the only thing these gowns share is a silhouette, but both dresses offer sly details that are worth a closer look. Clarabelle gives the appearance of a high neckline, even though the lace is sheer, while the drapey, relaxed look of Chelsey's neckline is offset by the subtle boning giving structure to the waist. Somehow both gowns seem to say, "everything is under control."
Maya and Opal Anne: Perfectly paired.
If there's one rule we stand by, it's that you and your bride shouldn't show up to your wedding wearing the same dress. However, when done well, similar dresses amplify each other—as is the case with Maya and Opal Anne. A trick to pulling off this look? Picking dresses from the same designer.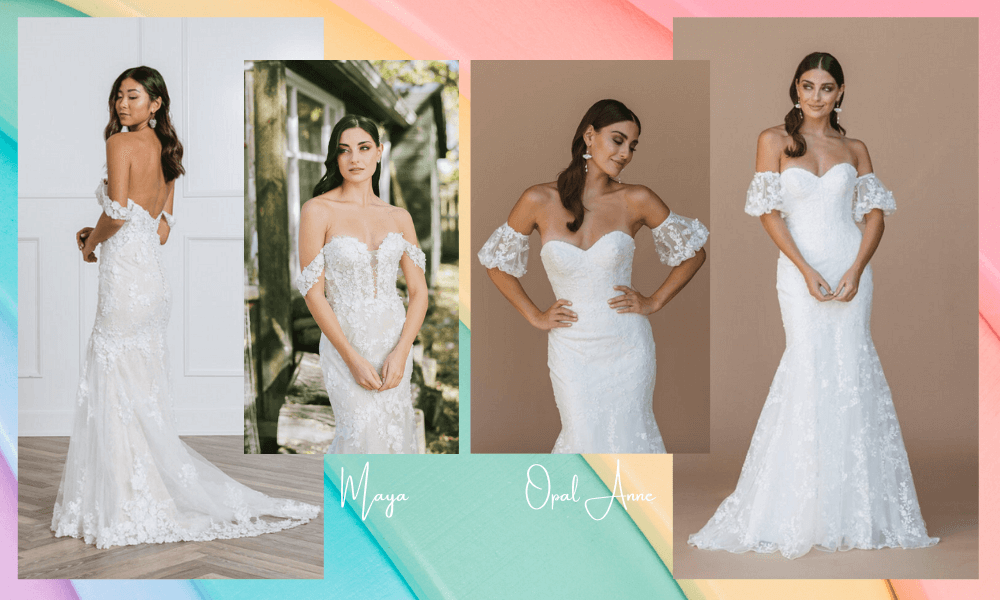 What makes this match work:
Both Maya and Opal Anne have sweetheart necklines, off-the-shoulder sleeves, similarly proportioned lace, and near-identical silhouettes. They're set apart by the details: Maya's neckline includes a deep plunge, and Opal Anne's sleeves are not attached to the body of the dress. Maya also has slightly more flare in the lower skirt where the lace pattern changes from an all-over design to an appliqué.
Audrey Kay and Kennedy: Sugar and spice.
Finally, we love the combination of Audrey Kay's softer look with Kennedy's non-traditional romper. The sweetheart neckline and oversized beaded pattern on Audrey Kay bring the romance, but Kennedy keeps it cool with spaghetti straps and wide-legged trouser bottoms—complete with pockets.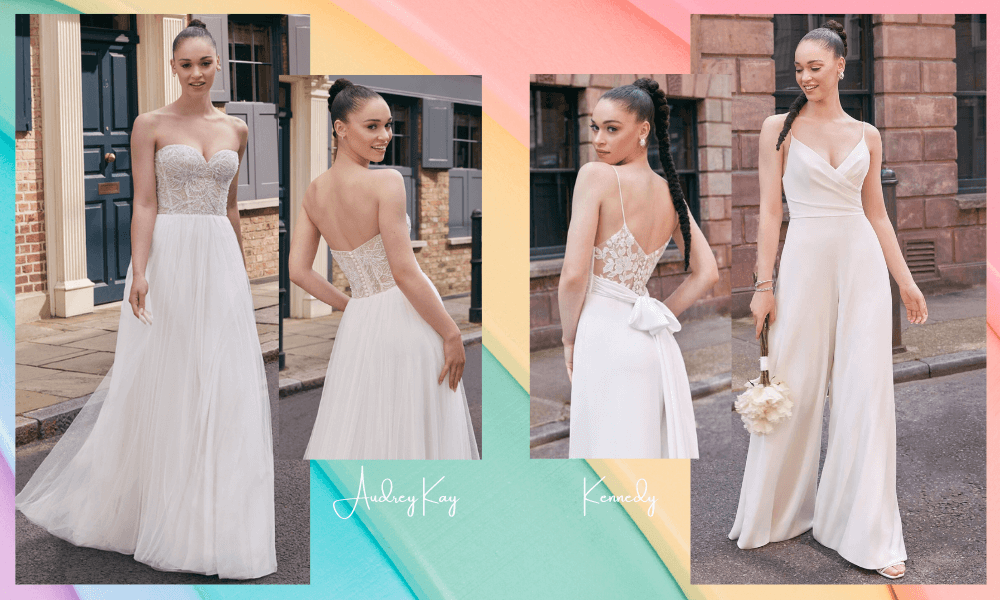 What makes this match work:
Both the dress and the romper have a very flowing appearance, so while the one is made from crepe and the other from tulle, they both give off an easy, breezy air. While Kennedy keeps it simple in front, the floral lace in the back along with the line of covered buttons is a detail shared with Audrey Kay.
What to avoid when picking your dresses:
Of course, while it's helpful to know what you want in a dress, it's also good to have some guidelines about what to avoid. Here are the top three.
1. The "knock-off" bride.
If your dresses are too alike, or if a particular style suits one bride more than the other, than you may end up with one bride looking noticeably second-best on the wedding day—a bad look for both brides! Because of this, pulling off a matching look can be surprisingly difficult. It isn't hard to find two dresses that are nearly identical. It's much harder to make the subtle differences feel intentional.
2. Discord in the details.
Even with guidelines like "boho" or "vintage" or "chic," subtle differences can derail the final look. One particular danger zone: lace. The brides can be on the same page about wanting flowing lace, but if one dress has traditional lace appliqués and the other has a more modern organic pattern, the result will be visually awkward.
Similarly, consider the color of your dresses. Different colors can work if the differences are clear enough, but if the dresses are just subtly different shades of white, it could make one gown look dingy or the other look ultra-bright.
3. Clash over contrast.
Contrasting brides make their choices in reference to what the other is doing. Like yin and yang, there's a hint of one side in the other. Clashing brides look like they haven't communicated at all: one chose a lace sheath, the other chose a satin ballgown. This is especially noticeable if one bride is more in line with the wedding aesthetic than the other.
To avoid this, make sure both brides are on the same page with regard to how their dress will fit with the other. Talk through what you're each looking for and try to pick one element that will tie the looks together.
Your day, your way.
At the end of the day, you and your partner are together because you have found something in each other that resonates. If you each choose a gown that expresses your truth, is it too idealistic to suggest that harmony will shine through?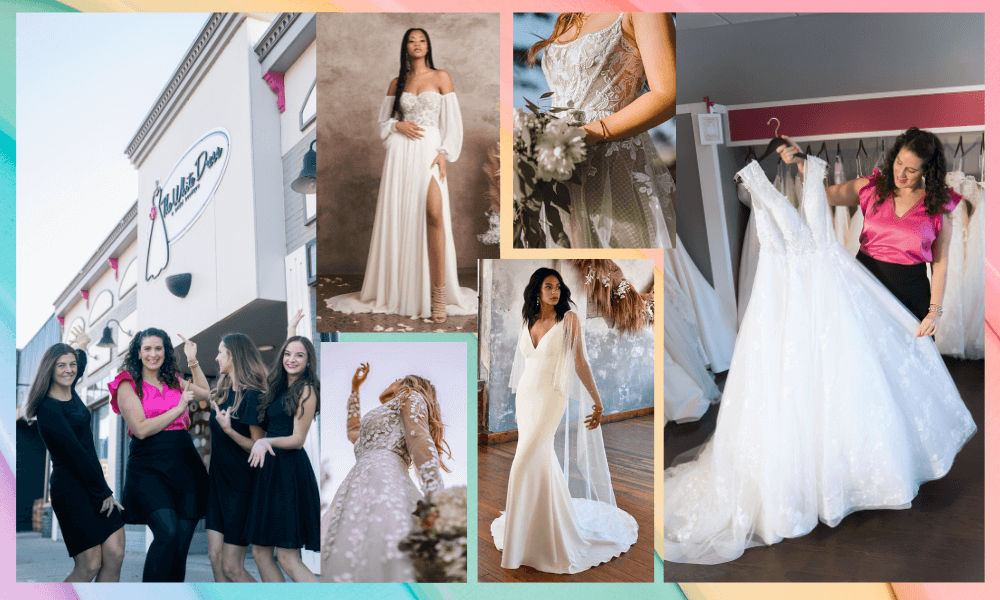 Maybe. But matching wedding dresses is a tricky business—which is why our TWD-ettes are here to guide you. Ultimately, we do believe that you will feel your best in a dress that makes your heart sing. But we're also here to help quiet the nerves and tame the anxiety that may make your inner voice hard to hear.
Both you and your bride deserve to walk down the aisle with confidence. If you're looking for a supportive space to help you and your partner find dresses that look as good with each other as you do, book an appointment with us today.