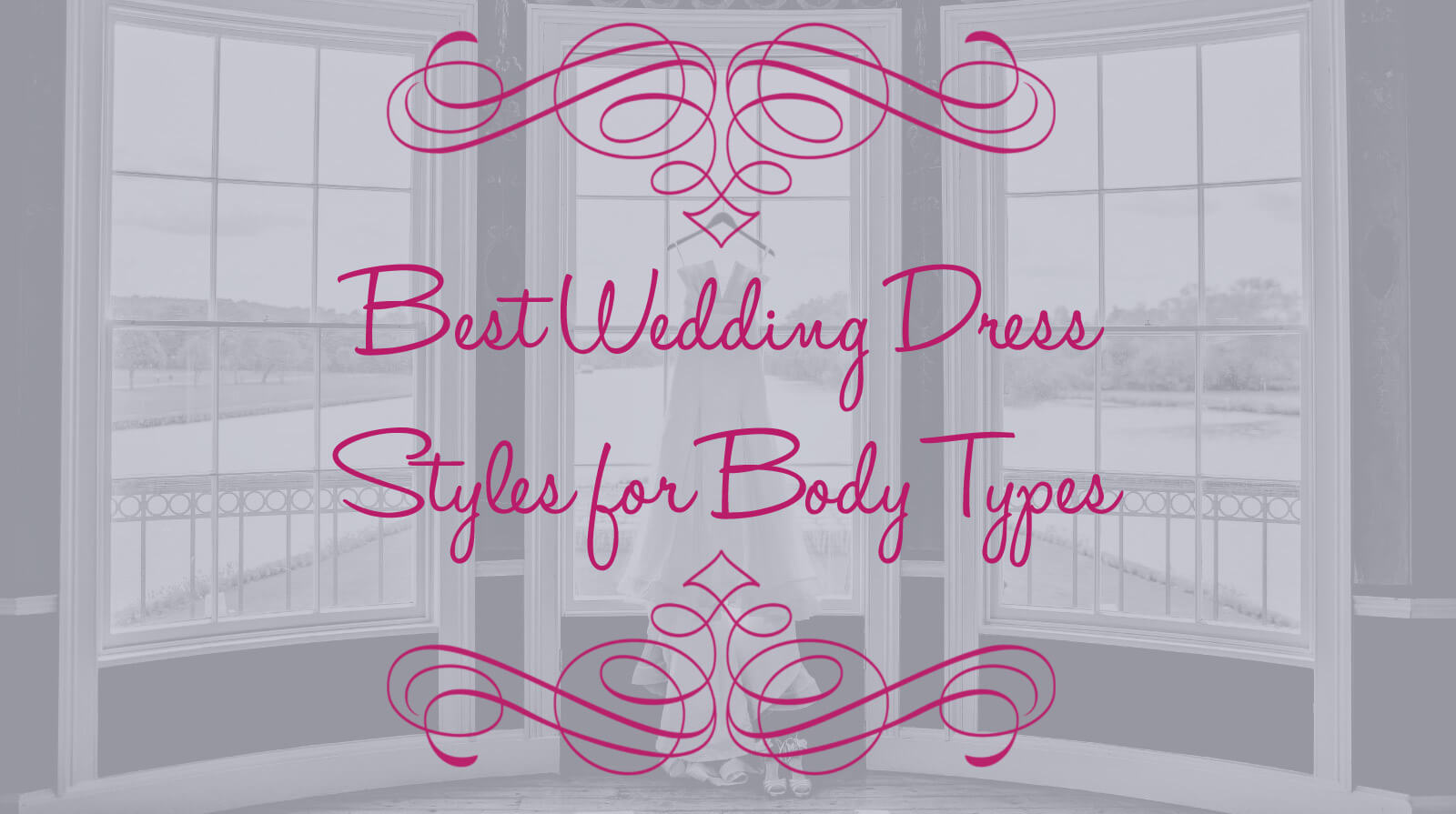 The Best Wedding Dress Styles for Body Types
Finding the best wedding dress style by body type
Your wedding day is all about you! That means everything should suit you perfectly, from the appetizers to the dress. There are some things that you likely know already about your dream wedding gown, like whether it will be traditional or modern, casual or formal. But how can you know what dress style will be the most flattering?
First of all, what is or isn't "flattering" will partly depend on what you want to draw attention to. One woman may feel shy about her décolletage while another might prefer to flaunt it. Similarly, one woman may love her hips, while another woman may feel more self-conscious. Remember that suggestions on "flattering" styles are often designed to enhance some features and downplay others, but it's up to you to decide which features you want to be the focus.
But even when you know what you want to emphasize, some dresses simply aren't cut in a way that will fit that figure. That's not your body's fault—it's just how the dress style was made. Choosing the right dress for your body type is less about trying to conform your body to a dress, and more about picking a dress that's built for your body.
So, with that in mind, it's important to remember that there are no hard-and-fast rules. However, there are certainly some general guidelines that can help you find a wedding dress style that works with your body type, and not against it.
A-Line: The universally flattering dress
Like a rosy pink blush, there is one dress style that looks good on everyone. The A-Line silhouette is the most traditional and universally flattering wedding dress style. It has a fitted bodice and a skirt that flares out to form an 'A' shape at the waist, which gives the style its name. It's easy to wear and, with different details, can look either fresh and modern or romantic and traditional. The neckline also has a big impact on the look of this dress – a plunging V can make the otherwise traditional style quite sexy, while a high neckline makes the shape fit for a modern princess.
Wedding dress styles for an Hourglass
An hourglass figure is curvy but proportional, with a small waist and equally balanced hips and bust. If this describes you, you should look toward a mermaid or trumpet wedding dress that will flatter your curves. A ball gown can also look stunning by cinching in right at your waist. However, you should avoid empire waist dresses and sheath styles, which won't give your figure enough definition or balance.
Wedding dress styles for a Pear Shape
If you have a small waist but hips that are wider than your bust, styles that highlight your waist and skim over your hips can create a balanced, proportional effect. A ball gown or A-line dress will both flatter, regardless if the skirt style is more bell shaped or flowy. Pretty details on the bodice and neckline will also help draw attention toward your face, like beading or lace applique.
More fitted styles, like trumpet or mermaid dresses, can be an option for women who love their hips, but keep in mind that you will likely need to alter the bust down after choosing a size that will work with your hips; this can be a challenge depending on the fabrication of the bodice. Also, you should avoid boxy, drop-waist styles, as these will hide your best curves.
Wedding dress styles for a Rectangle Shape
Slender women with smaller busts and slim hips can wear a variety of dress styles. The question is what look you would like to achieve. A ball-gown or trumpet style dress can create the illusion of a more curvaceous figure, while a sheath or flowy A-line dress can look elegant and understated. While you may have an enviably wide range of options, you should consider details carefully. Large embellishments, like giant ruffles or flowers, can overwhelm a slim figure.
Wedding dress styles for an Apple Shape
An apple shaped woman is fuller in the middle. The best wedding dresses for this body type create the illusion of a waist while skimming the hips and emphasizing the bust. For instance, you may find an empire waist or flowy A-line silhouette, which nips in at the narrow part of the ribs, is a good choice, as well as the classic A-line. The dramatic lines and small waist of a ball gown can also flatter, but the material and neckline matter. Depending on how they are cut, some ball gown styles can make you appear larger than you actually are, or they can pinch in places and feel uncomfortable.
Wedding dress styles for the Heart Shape
A heart-shaped woman, sometimes also called an inverted triangle, has a full bust and narrow hips. Like the pear-shaped woman, the important thing is to create a proportional look. You can try for a ball gown or an A-line dress to balance your frame. Scooping necklines can be particularly flattering on heart-shaped women, who should avoid high necked dresses. Also similar to the pear-shaped woman, if you go with a trumpet or mermaid style, be aware that you will likely need to alter the hip down to fit your shape.
Wedding dress styles for petite women
Petite women stand under 5' 4". They may struggle to find the best wedding dress for their body type, because some of the figure-flattering tricks that suit taller women won't work as well on their small frames. For instance, the ball gowns that balance a pear-shaped figure, may overwhelm you.
The key for petite brides is all about where the waistline hits – too high and it will shorten you while too low can lead to a disproportionate top and bottom half.   We also recommend embracing drama on a smaller scale. For instance, an A-Line dress will have a similar feel to a ball gown on a petite woman. A sheath or flowy A-line dress with understated details will also flatter. Simple designs with fluid lines elongate the frame and help the bride stand tall.
Knowing your body type shouldn't limit you
Finding the best wedding dress style for different body types means celebrating every bride and her unique beauty. We want every woman to shine on her wedding day and feel confident in the dress she chooses. Still, just because we can make recommendations based on our professional experience, doesn't mean you shouldn't wear the dress that you want. After all, the best wedding dress for your body type is the one that makes you feel like a beautiful bride!