TWD Turns 10!
Written by: Kristy
I can hardly believe that we are less than one month away from the 10 year anniversary of The White Dress – December 1, 2021!  What once was a figment of my imagination – a hope and dream – has come into fruition and has evolved and grown in ways in which I never could have even imagined all those years ago!  It truly brings me such joy to go to "work" on a daily basis with an incredible team by my side, all while being able to create amazing memories for our brides – as they say yes to their dream wedding dress!
So, as you may imagine, we have A LOT in store for December – social media contests, giveaways, in-store promotions and savings, a special window display – basically a month long celebration!   This is the THE post that gives you the break down of what you need to know to win, save, and celebrate with TWD!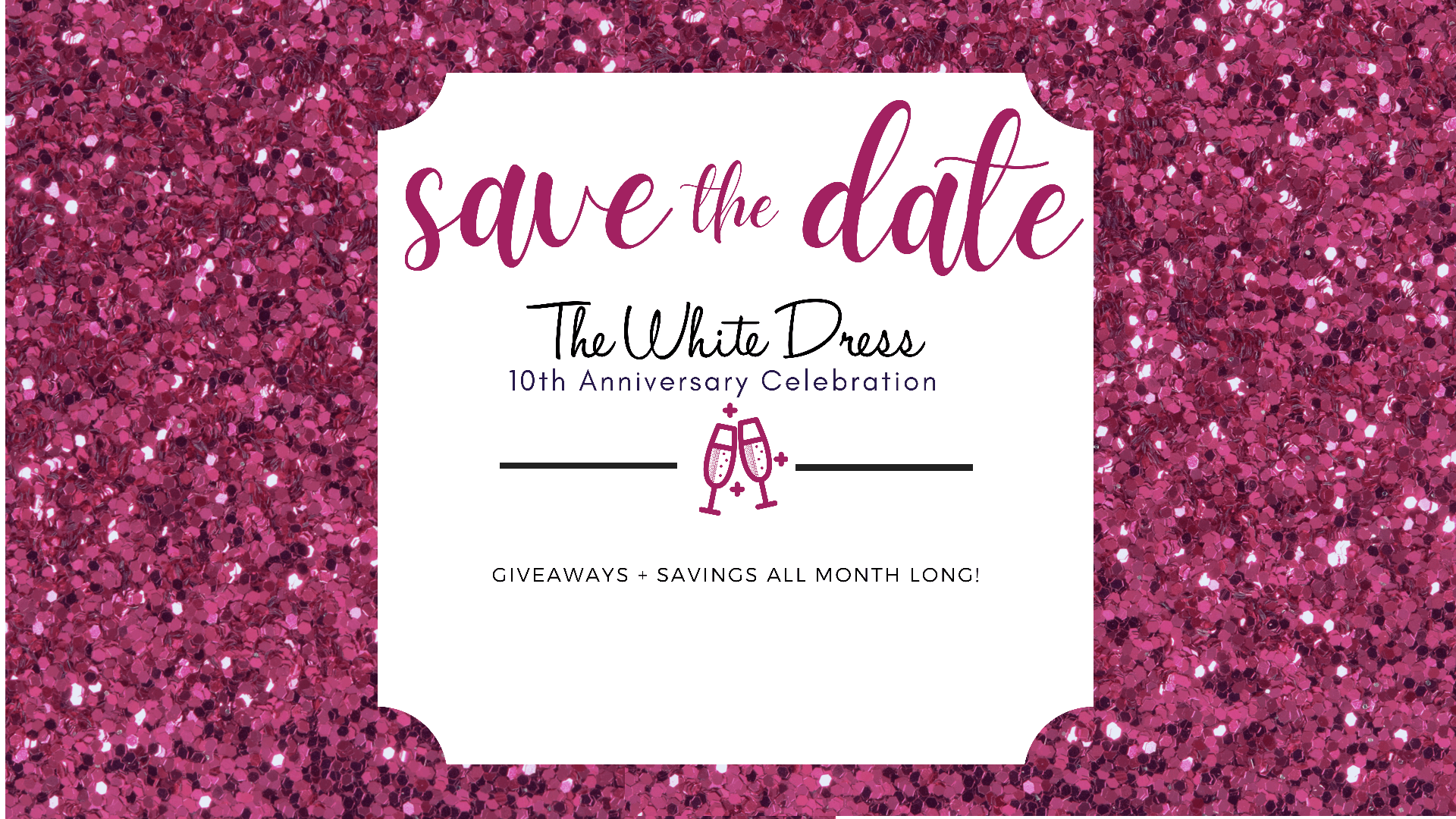 In-Shop Promotions and Savings
The first 10 brides to say yes to the dress and purchase her dream dress will get a swag bag filled with 10 fun gift items (think champagne, coffee tumblers, makeup, wedding day emergency kit, and more!)
The first bride, and every 10th bride thereafter, will get 10% off her purchased and ordered wedding gown!  10% off!!
Social Media Giveaway
We are giving away 2 giant tote bags filled with goodies worth $300!  Every bullet point below gets you one entry into the giveaway:
Send us a quick video (via Instagram DM) wishing us a happy 10th anniversary!  Get creative – if you are a former or current bride, share your experience or a fond memory that you have of shopping at TWD.  You could even share a tip for future brides, or give a shout out to the stylist who helped you find your dress!
Send us a physical copy of one of your wedding photos!  We are hoping to fill our windows with the past 10 years of brides.  These can be mailed to TWD (Attn: Photo Contest, 209 W. Main Street, Suite 101, Brighton, MI 48116)  or dropped off at our front desk!  Be sure to include your name (including a maiden name, if you changed your last name), and the date of your wedding.
Tag us and send us (via Instagram DM) a photo series of you in your wedding dress….1) the day you said yes to your dress, 2) on your wedding day, and 3) NOW!
If you happen to find yourself walking in downtown Brighton,,,, take a photo and tag us (on Instagram @thewhitedressmi) using our interactive window display!
We can't wait to celebrate with you!