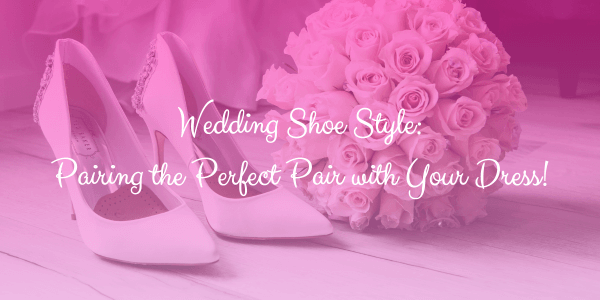 Wedding Shoe Style: Pairing the Perfect Pair with Your Dress!
Your shoes will determine how you look and feel on your big day. Here's how to pick the right ones!
There are so many elements that determine your final wedding looks, from your hairpiece to your accessories. But if we could pick the one with the most impact on your wedding day (after your dress, of course), it would be your shoes. After all, your shoes, if visible, will surely draw attention, and even when they aren't visible, they will determine your comfort for most of the day.
Of course, the shoe style you choose will also depend a lot on what dress you want to wear. But, before we get into dresses, let's run down a few recommendations:
Generally, we recommend keeping the heel height to 3" or less if you're planning to wear the same shoes all day. Taller heels can be painful, and you don't want your feet to be worn out before the dancing starts!
Think about how your hem height will change if you're planning to switch between heels and flats at your reception. Depending on your style of dress, you may want to have it hemmed for the shorter shoe height to avoid having it drag or cause a tripping problem.
If you're wearing stiletto heels and are going to be on grass, consider getting a pair of heel protectors. These will go over the spike end of your heels, shielding them from dirt, and provide a slightly wider surface so they don't sink into the ground too easily.
Speaking of grass, if you're planning anything outdoors, realize that your shoes will get dirty. This may affect what you choose, especially if you're outdoors all day and want them to be clean for the pictures.
We love a cute shoe for the camera, but remember that you're playing the long game. Keep comfort top of mind, and if the shoes you're planning to wear are likely to cause you pain after a while, keep a more forgiving pair nearby to change into.
Finally, some dresses will show your shoes off more than others. There's many a bride who chose a full ball gown specifically so that they could hide their sneakers underneath. But if you're going for a dress with a slit, your shoes will be visible!
Ready? Let's run down some of the classic shoe choices along with our favorite dress picks.

1. Classic pumps.
Pumps (picture Cinderella's glass slipper) are probably the most iconic shoe choice, given how sleek and stylish they are. They work well with most dresses and are a refined way to add elegance without drawing too much attention. Our choice of dress? Oceane. We think the sweetheart neckline and the clean lines on this gown would pair well with a simple, ankle-strap pump.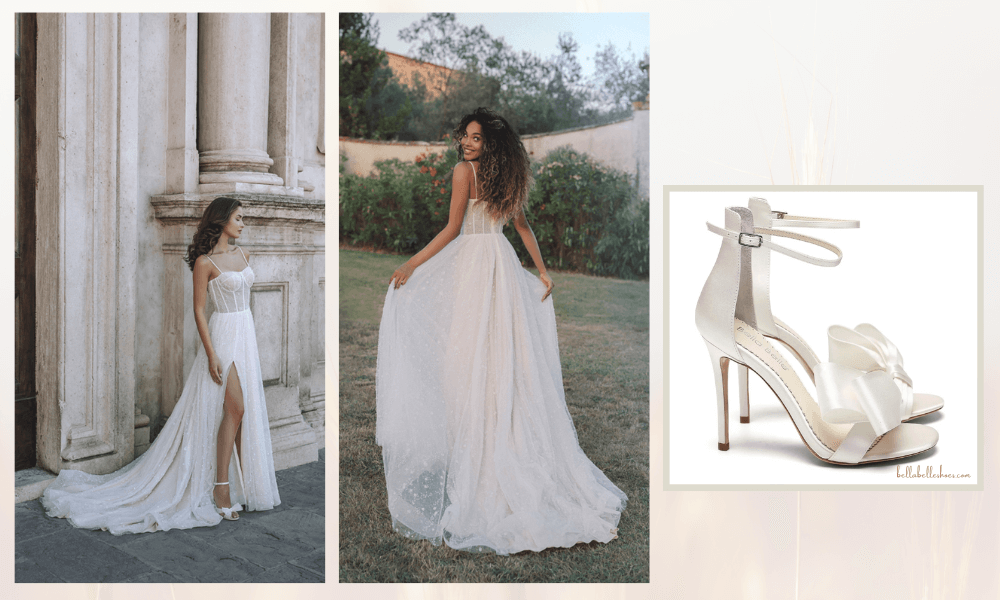 2. Strappy heels.
If you're wearing strappy heels, you'll want to show them off—and that means a dress with a high slit. For this, our pick is Zuma. The visible boning in the bodice is a good match for your shoe's straps, plus the sequins and beading would pair well with a more sparkly shoe. If you want to bring the bling, this combo is it!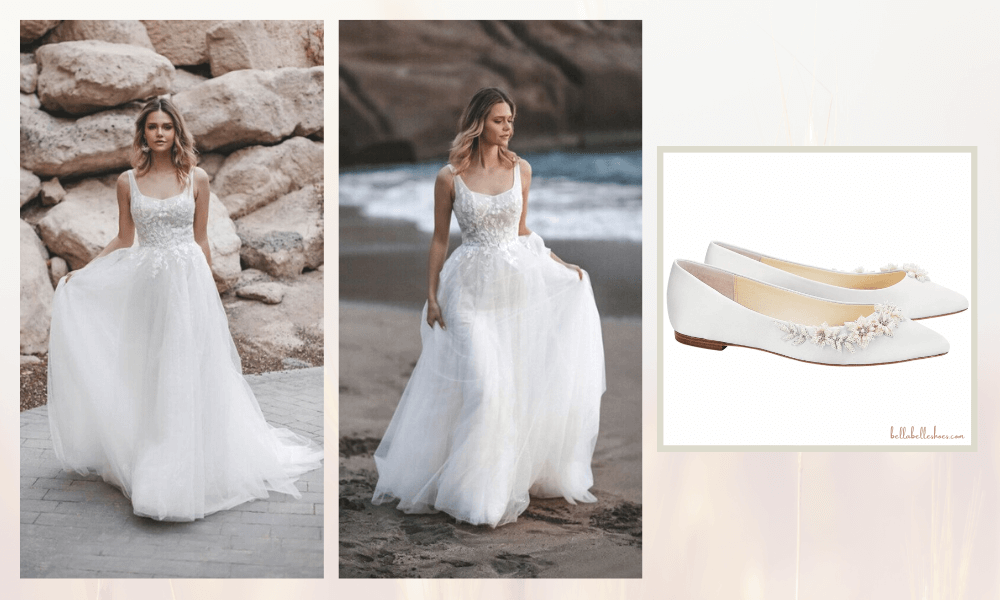 3. Ballet flats.
Want a graceful look but with a shoe that will be more forgiving to your feet? Ballet flats are the way to go—and for this style, we've chosen Sonia. The full tulle skirt already has the floating layers of a tutu, while the low backline calls to mind a leotard. The length and coverage of the skirt would most likely hide your shoes for most of the day, but we think that this would make ballet flats a dainty choice for any time they did manage to peek through.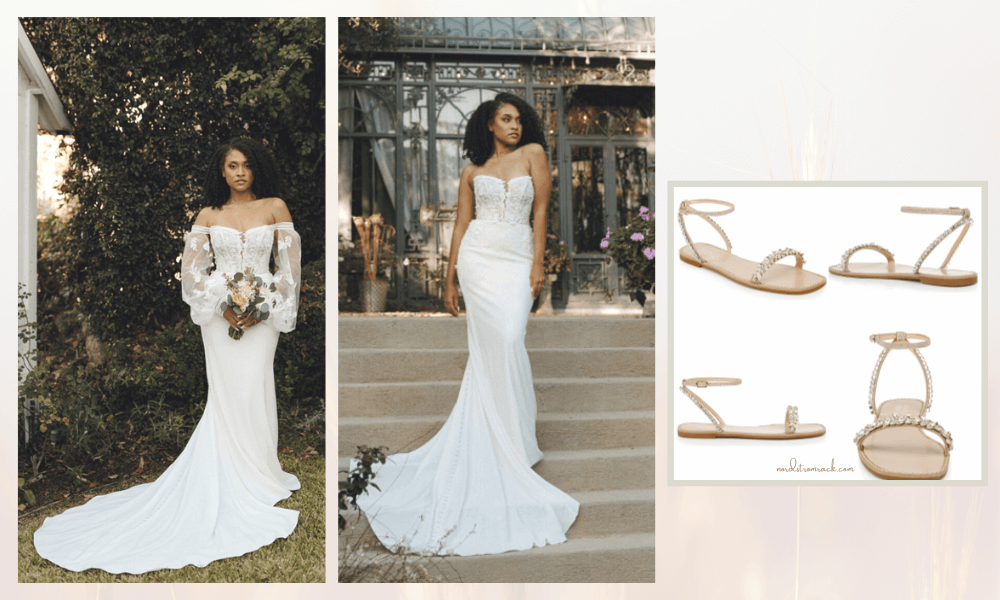 4. Sandals.
Here's the thing about Amethyst: she's versatile. Did you want sleeves for the ceremony? Done. On the shoulder or off—you choose. You want them off for the reception? Done. Getting married in a park? The botanical motifs on the lace appliqués will be on-theme. Ready for the beach? That figure-hugging silhouette will bring the mermaid vibes. To go with it all? Sandals. Good for grass, good for sand, cool and classy at once. What could be a better match?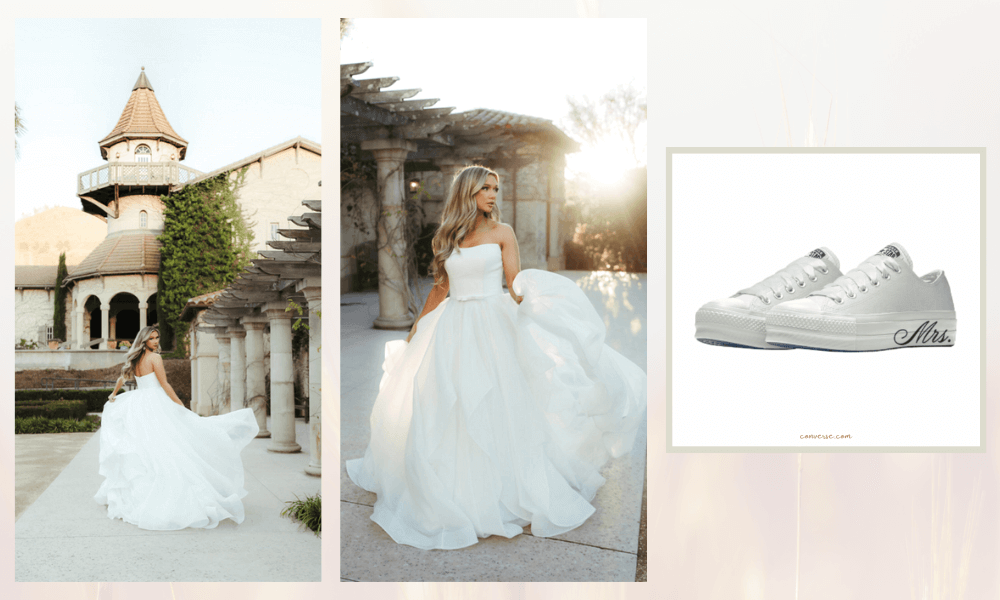 5. Custom sneakers.
For several decades, sneakers have been the choice for brides who want to buck convention, keep it casual, or simply maximize comfort on their wedding day. In particular, we've seen custom sneakers trending lately, with Converse even offering a line of wedding sneakers that say "Bride," "I Do," or "Just Married." Another trend? Early aughts fashion, which is probably why we're so drawn to Eugenia. With a strapless neckline, handkerchief hem, and full ballgown silhouette, this is the perfect dress for a modern fairytale.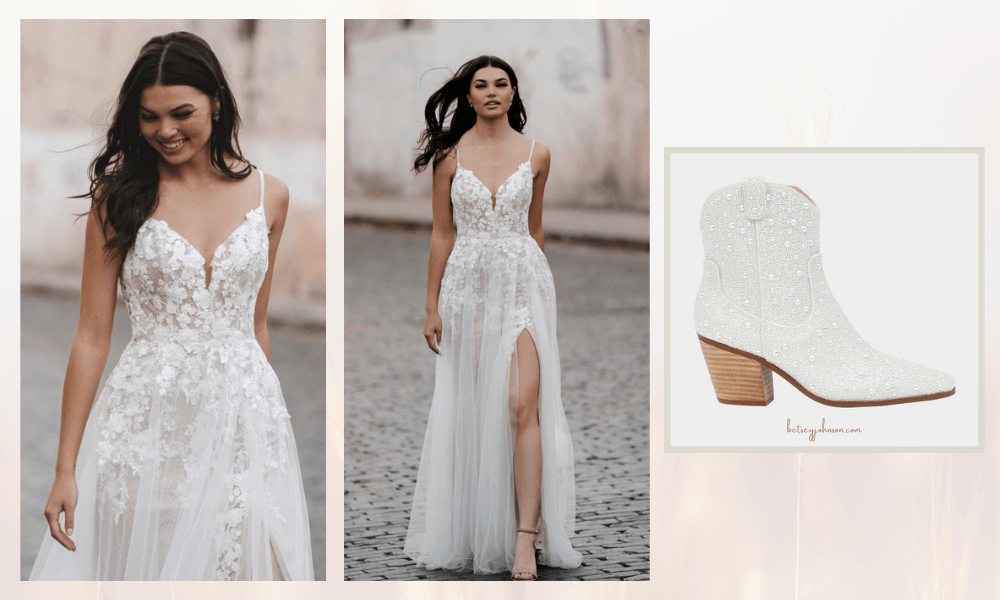 6. Cowboy boots.
Once a staple of the southwest, the spread of cowboy boots seems by now to be unstoppable. And given how much we Michigan brides favor a rustic chic barn wedding, there seems no better place to pull them off! For this style, might we suggest Izzie? The lightweight look of this dress makes it perfect for brides who are interested in a more boho feel, while the high slit will make sure everyone can see that your boots are made for stompin' and dancin'!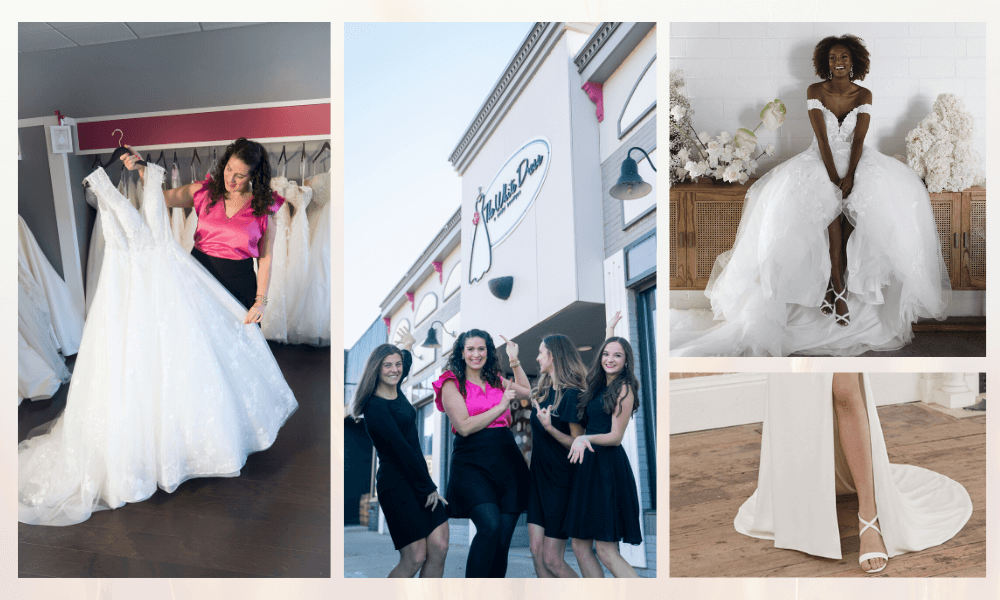 Bring your shoes—or something similar—to your appointment!
You may not have your exact bridal shoes picked out, but we'd bet you have a similar style! After all, we'd like to meet the bride who wants to get married in cowboy boots but has never bought a pair!
If you do know what shoes you want, we would encourage you to bring them with you. We all move differently depending on what shoes we're wearing, and the closer you can get to your final look, the more confident you will be in selecting your dress.
But, if you're not sure about your shoes, don't let that stop you, either! Your dress may determine what direction you go, and you won't need your shoes until it comes time to do fittings and alterations. So go ahead and book an appointment, and our TWD-ettes can help lead you in the right direction!