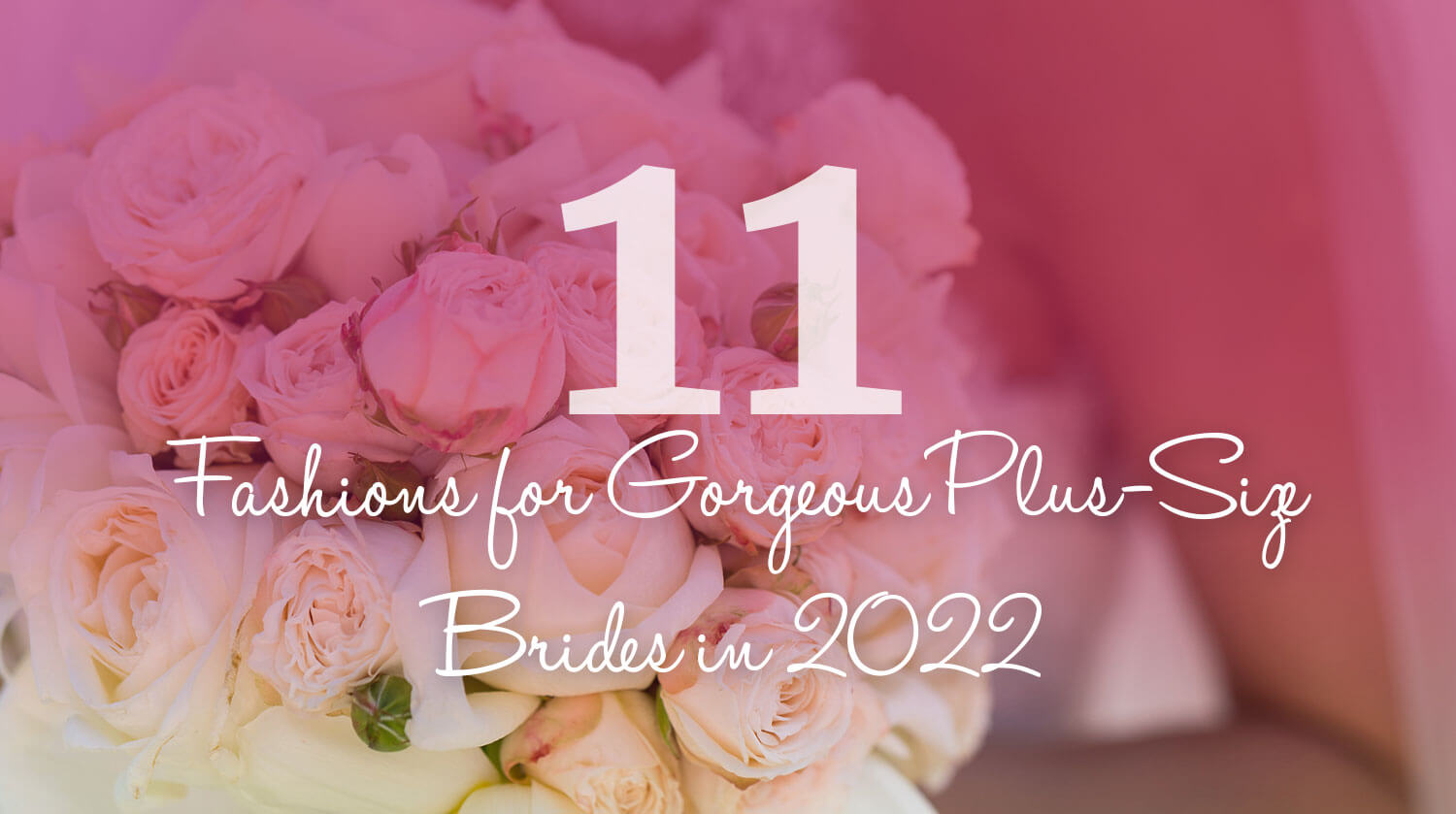 11 Fashions for Gorgeous Plus-Size Brides in 2022
Which wedding gown best reveals your personal style?
There are countless wedding fashions to explore when you're shopping for a wedding gown, but how do you find the dress that best reflects your personal style—the one that not only looks beautiful on the outside, but also makes your confidence shine and your inner beauty sing?
It's helpful to go into the experience with some introspection. Ask yourself a few questions, such as what are you looking for in a dress? Are you conventional or a risk taker? Is your style big and dramatic, subtle and elegant, or somewhere in between? Perhaps you're willing to let your search for the perfect wedding dress become an exercise in self-discovery itself.
Whichever road to the dress you land on, one thing is certain—the more beautiful options available for you to choose from, the better your chances are of finding that "perfect for you" dress.
But don't worry, we've got you covered! We've already got some of the best fashions for 2022 ready for you to try on in plus sizes—and we'll continue to have more coming in through March.
Here's a sampling of our 2022 Spring fashions.
1. Rashida: a modern take on the classic fit and flare.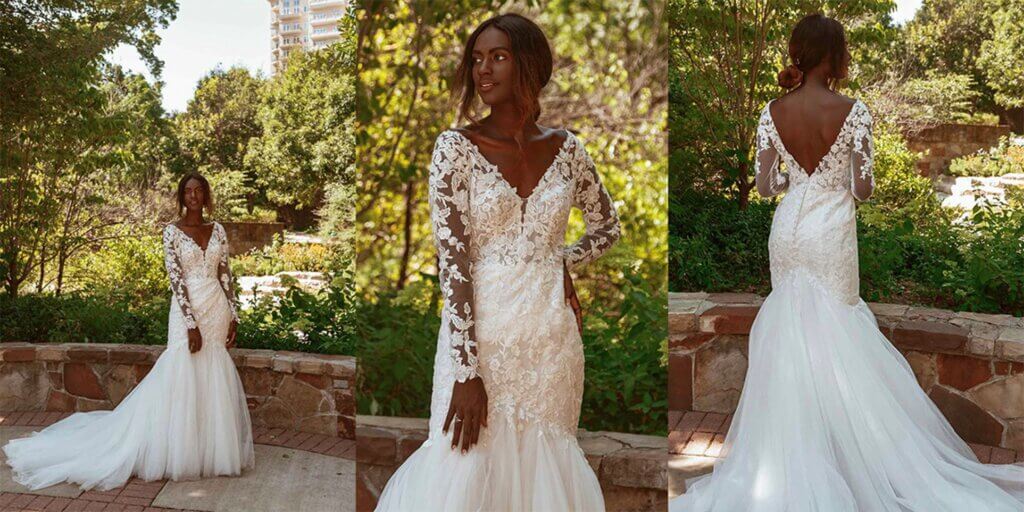 Whether you're swaying romantically through your first dance as a married couple or walking it out to the Cupid Shuffle, this stunner was made for your moves on the dance floor. Lovely floral-patterned lace along the sleeves, bodice and over the upper legs gives you a flatteringly elongated line, while a flare of voluminous tulle below the hips adds a splash of drama to your every step. Go ahead, twirl! Sample size available in size 22.
2. Mary Ann: softly flowing and utterly romantic.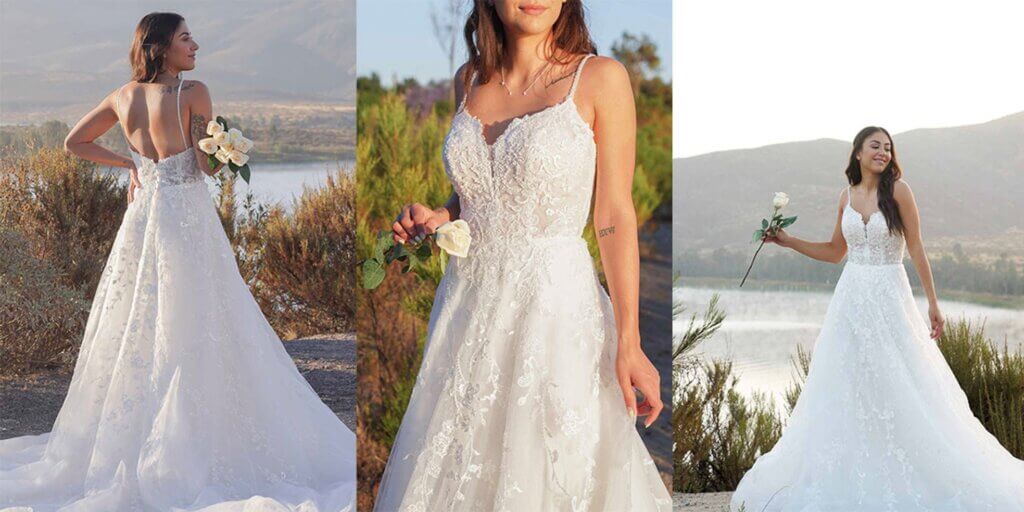 If you're planning the perfect fairytale wedding, you need the perfect fairytale dress. Mary Ann is beautifully embroidered with delicately patterned sequins and swirling floral lace from the bodice on through an enchantingly full and flowing skirt. Get ready to shimmer with romanticism in this dreamy gown. Sample size available in size 18.
3. Kenna: dramatic in all the right ways.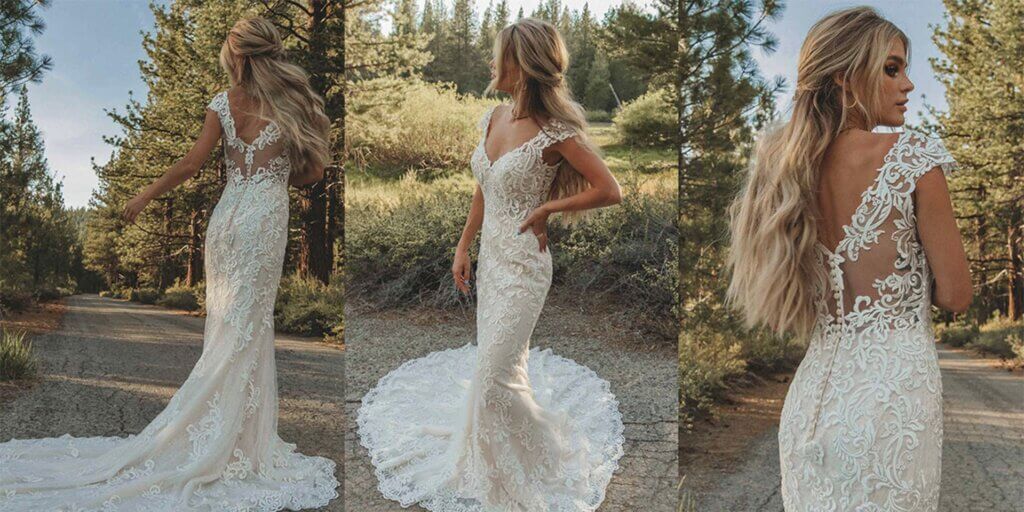 You'll be a vision of timeless glamour when you walk into a room in this stunningly beautiful fit and flare gown. From the flattering cap sleeves to the elegance of the scalloped train, you'll be ready for the spotlight. The illusion lace give this mermaid gown an extra va-va-voom that will set your curves off to perfection. Sample size available in size 20.
4. Mari: simple A-line elegance and beauty.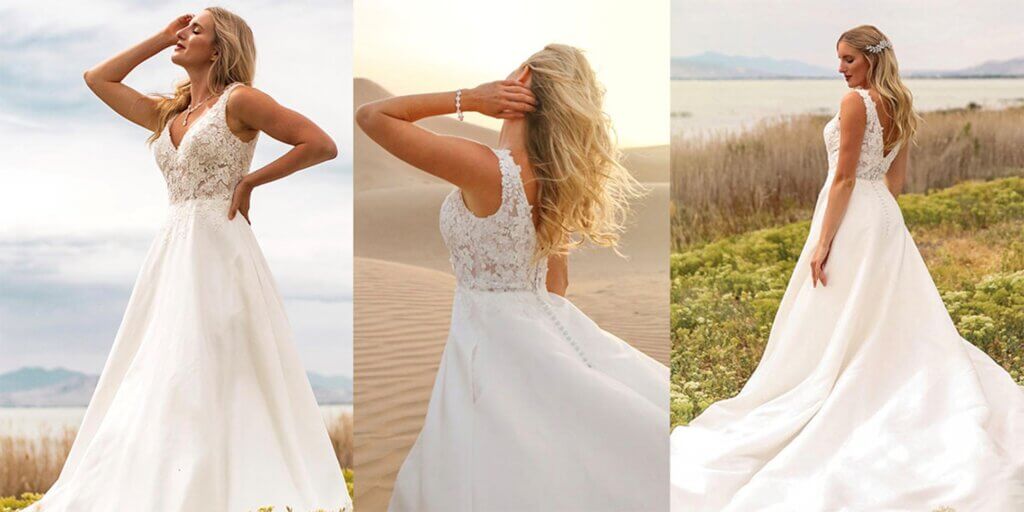 Your quiet sophistication in this deceivingly simple A-line gown is balanced by effortlessly striking details. Voluminous layers of tulle under the skirt create body in the dress's silhouette while the plunging neckline and sheer details on the bodice will give you elegance with just a hint of sexy. Sample size available in size 22.
5. Fawna: flowing A-line with a modern slit.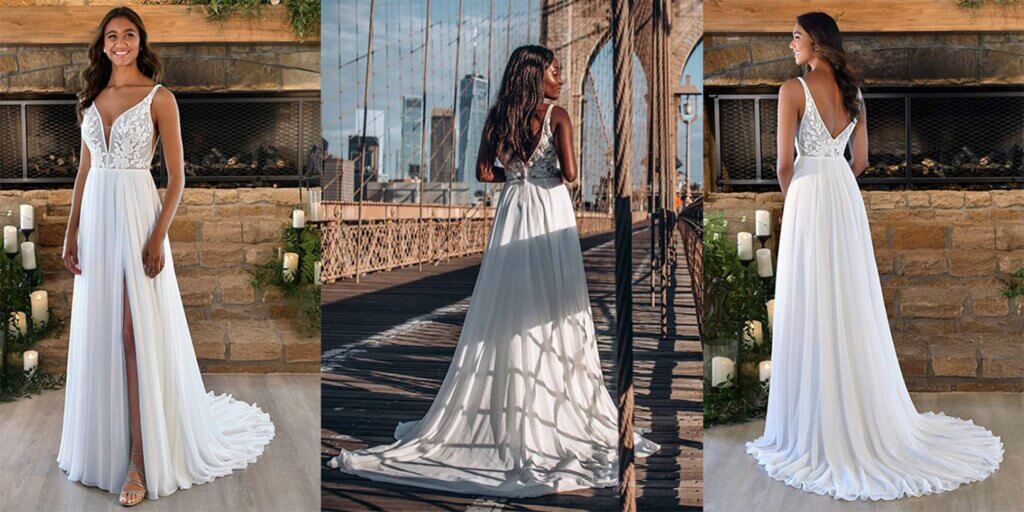 Sometimes less is more, as with this simply gorgeous flowy A-line gown. This dress features sparse but striking details to keep you looking and feeling sleek and modern, including the delicate beading and illusion tulle of the bodice, a plunging neckline, and sexy slit in the skirt. Sample size available in size 20.
6. Bellatrix: stunning lace over tulle.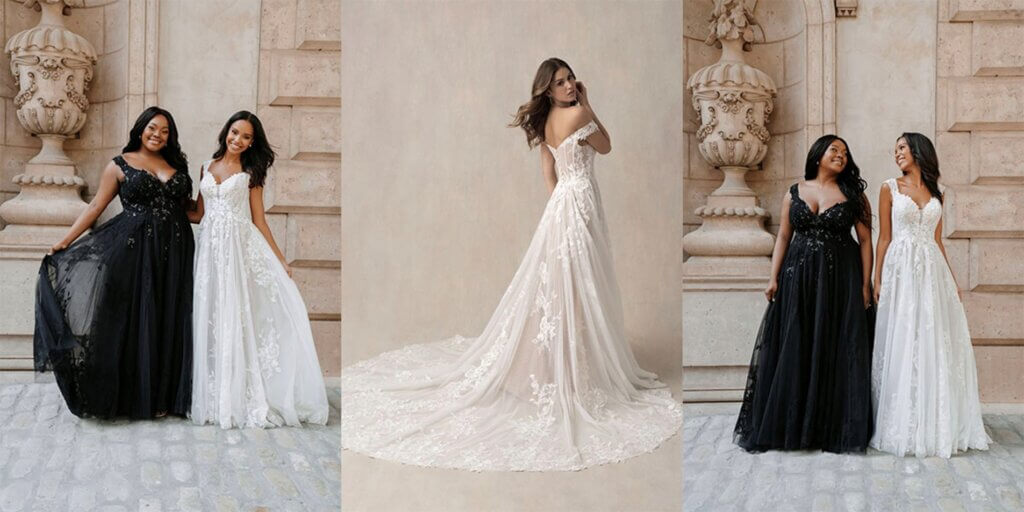 You'll look and feel stunning in this off the shoulder beautifully embroidered gown. Our favorite details are the visible boning, which brings to mind corsetry, and the way the oversize lace trails into the skirt. Try it in classic ivory or champagne, or for a truly bold look, go full-on dramatic in black. Sample size available in size 20.
7. Alma: gorgeous lace over English net and organza.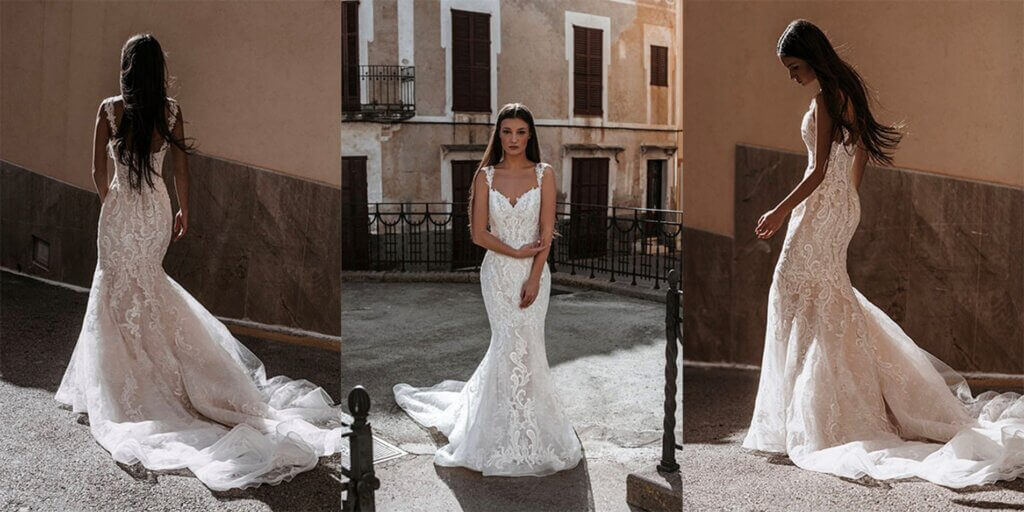 With beautiful lace and off-the-shoulder straps, this champagne and ivory fit and flare style dress is perfect for summer. Exquisite lace detail over English net and organza accentuates the flattering lines of this dress. Sample size available in size 22.
8. Emery: tulle and lace A-line with lots of movement.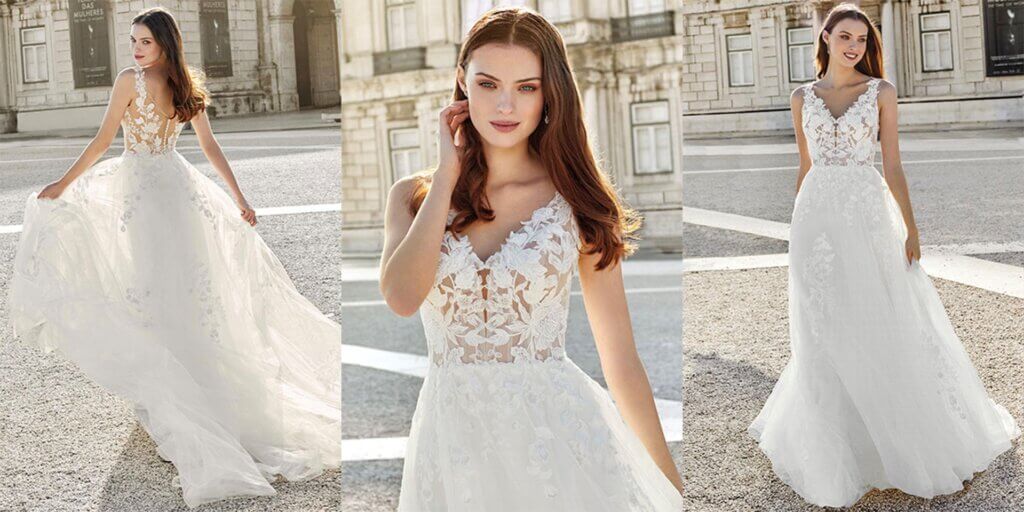 Float into the room in this sumptuously airy A-line gown with a sexy illusion back. The thinly plunging neckline accentuates the delicate bodice without overshadowing its detail. Sample size available in size 18.
9. Oceane: a wave of beauty and delicate detail.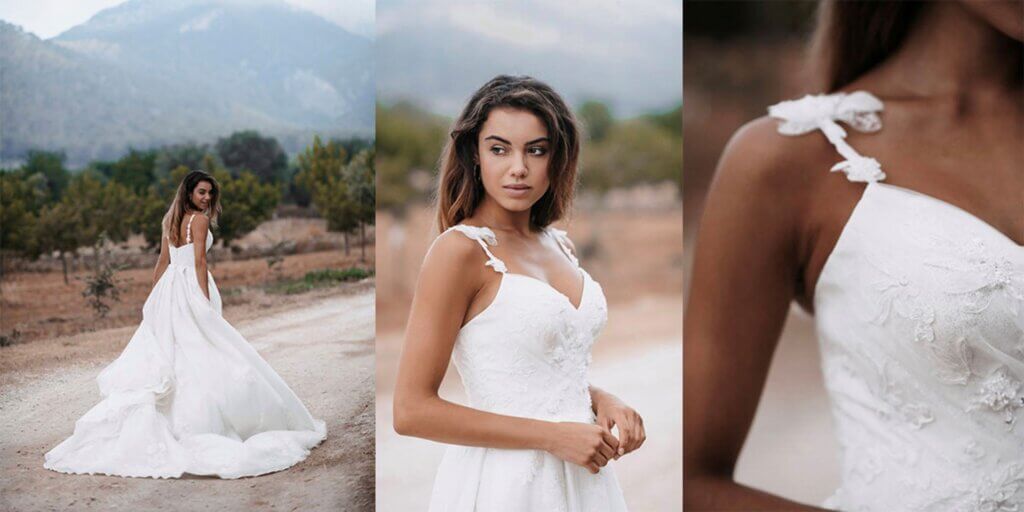 This gown is otherworldly with its subtle floral appliqués across the bodice and train. The delicately embroidered straps add yet another layer of visual interest to an already breathtaking fashion. Sample size available in size 22.
10. Allure Bridals, style 9912: timeless shimmering lace ballgown.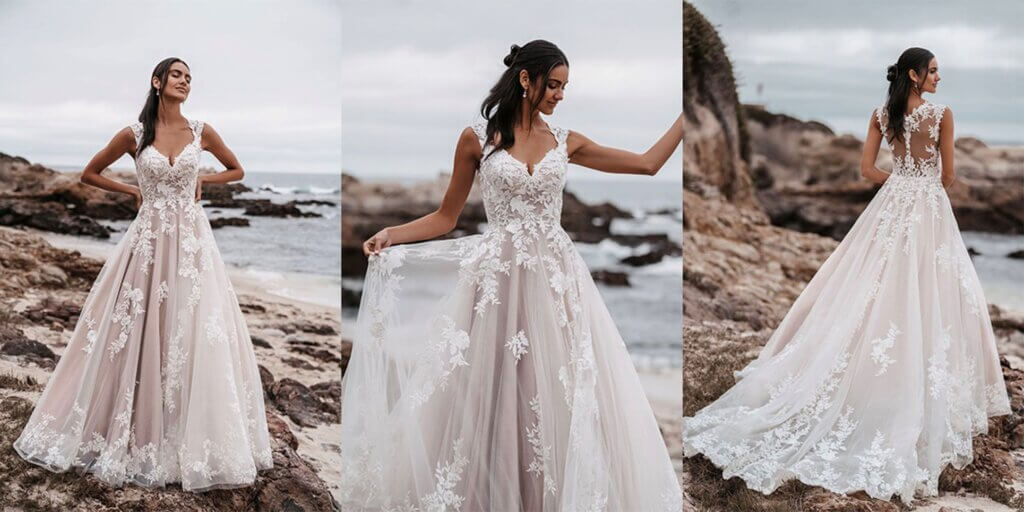 Make an entrance they'll never forget in this divine two-toned ballgown of lace and tulle. If it didn't already have a date with you, this showstopper looks like it could stroll across a stage in search of an Oscar. Sample size available in size 18.
11. Suyana: delicately layered bodice and sequined tulle underlay.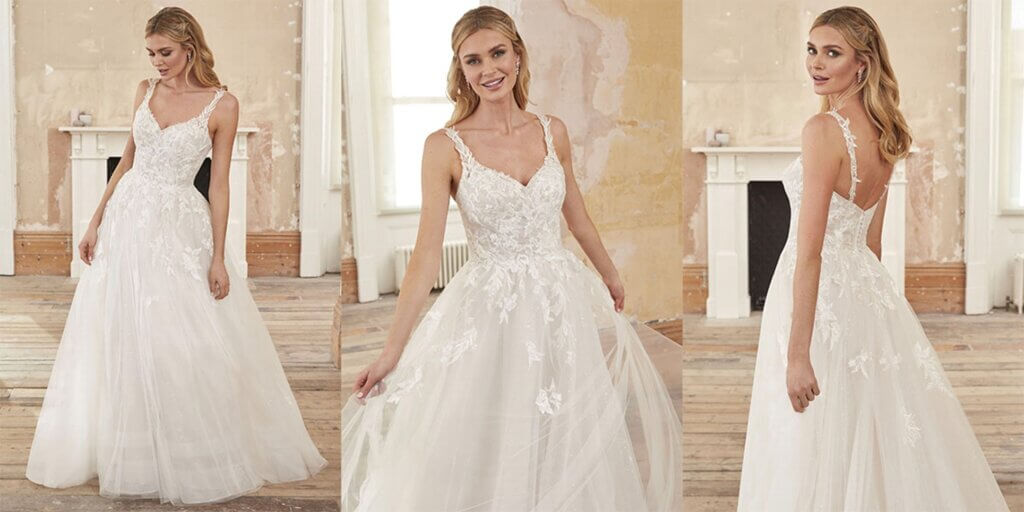 Shine bright like diamond in this heavenly A-line gown. Airy and pretty, it features a delicately draped layer of sequined lace appliqués on the bodice, and a sequined tulle underlay to catch light that will leave you shimmering through your big day. Sample size available in size 20.
No bride should feel limited in the fashions she can choose from.
If there's anything we love more than helping our brides try on a beautiful dress, it's seeing the look on their face when they finally get to see themselves in a sample gown that shows off exactly how beautiful they will look on their big day. If any of these gowns strike your fancy, we carry them all the dresses in plus-size samples. Many of these gowns are brand new for 2022, and we expect more to come in over the course of the spring, so there may be more by the time you're ready to come looking.
So don't hesitate! Schedule an appointment today, and come discover your dream wedding dress with us!