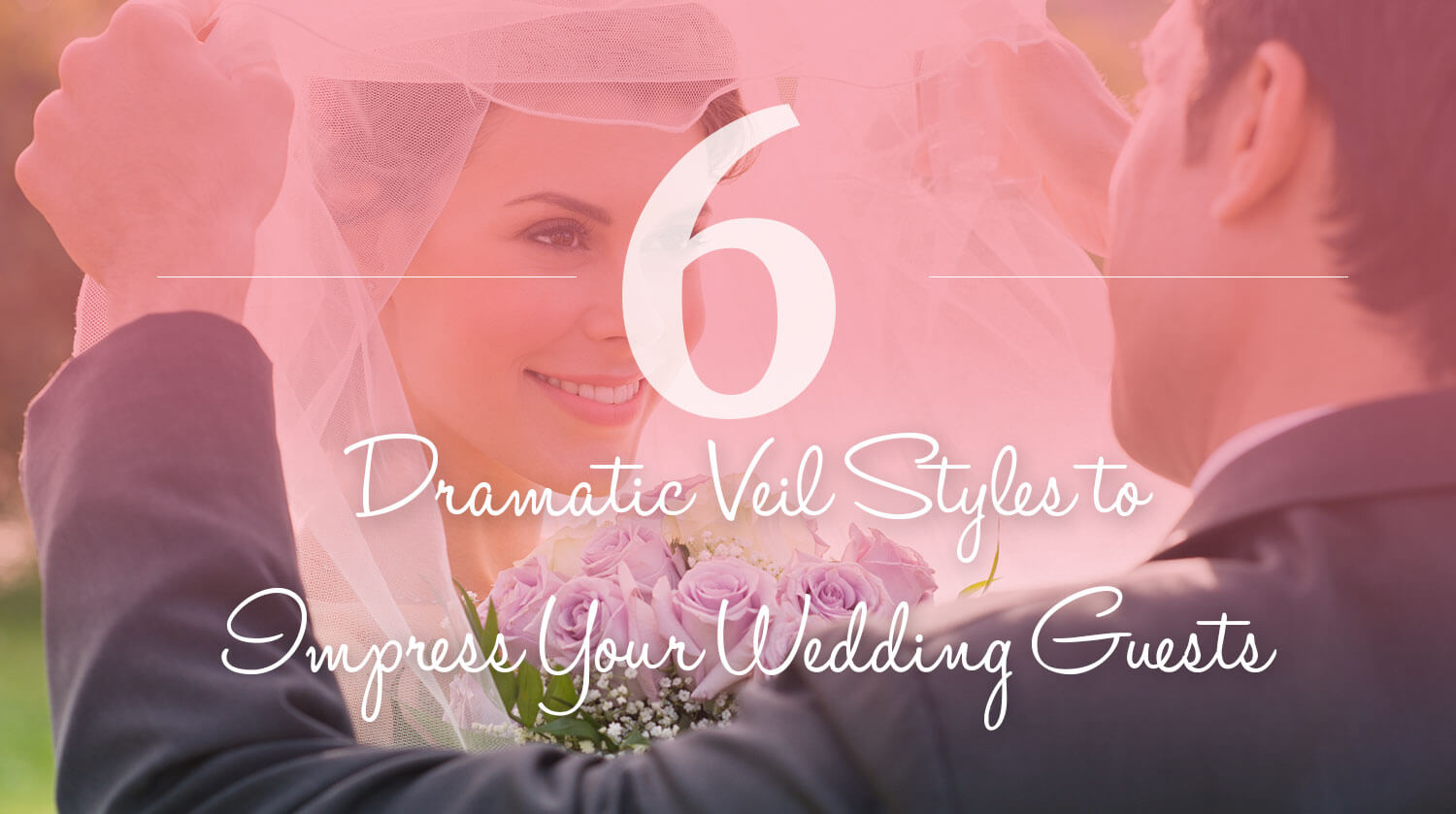 6 Dramatic Veil Styles to Impress Your Wedding Guests
Everything you need to know about choosing, wearing, and styling a jaw-dropping veil.
Every bride wants to have that moment when they try on the perfect dress and know that it's the one. For many brides, however, that moment doesn't come until they try on the veil. That's the moment they first feel like a bride, and the reality sinks in that they really are getting married.
Veil styles change just like wedding dresses, and most recently, the biggest trend is for long, dramatic veils. Floor length, chapel length, cathedral length—anything long and sweeping. However, there's more to veil styles than length, and it's important to find the right one for your dress to have the right effect. Here are six different styles of long, dramatic veils to inspire your search.
1. Long and ultra-sheer.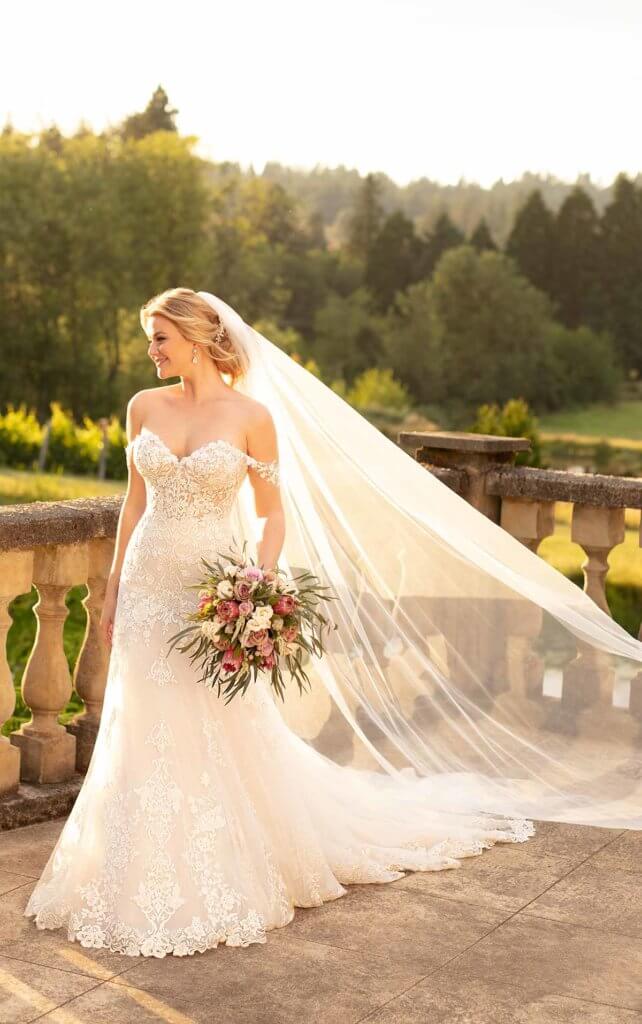 One of the magical qualities of ultra-long veils is that, unlike birdcage or blusher veils, which tend to be of stiffer tulle to generate height, long veils are made of soft fabric so that they can drape beautifully and flow out behind the bride as she walks.
The simplest style of these veils is usually worn farther back on the head, and has few embellishments—if any. Because there isn't any beading or lace to weigh it down, these ultra-light veils form a billowing backdrop to the bride in all her wedding pictures. Simple, yet stunning.
2. Elegant edges.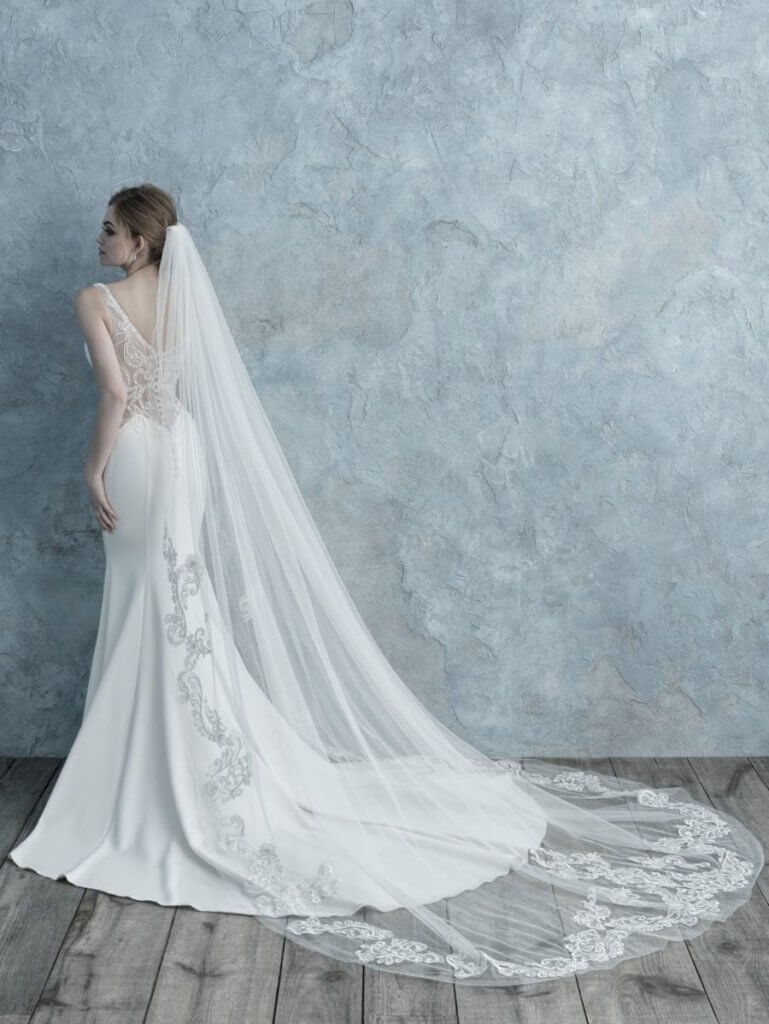 A simple veil has its charms, but what if you want something with a little more embellishment? Finding a veil with lace appliqué edging will have a slightly less billowing and ethereal look, but that may be just right if you want your veil to fan out behind you in a shape that repeats the cut of your train.
For instance, we love how this style from Allure Bridals pairs with the train of this figure-fitting gown. The added lace helps give shape to the veil and balances the otherwise simple cut of the gown.
3. Dotted with appliqués.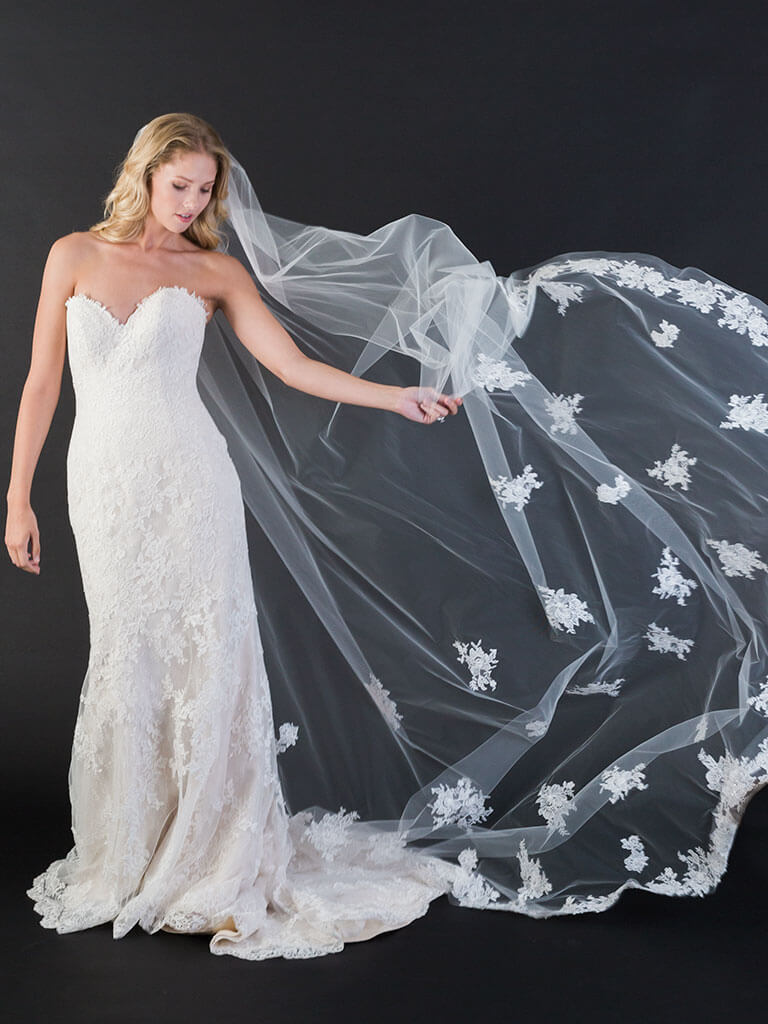 One of the more modern veil trends is a dotted style—one in which lace or bits of sparkle are scattered down the entire length of the veil. Depending on the design, the decoration can look like stars, falling snow, or flower petals.
Case in point: this beautiful veil from Belaire Bridal, features a sprinkling of lace appliqués throughout that add depth and interest to the veil. It's a beautiful look that looks charming with form-fitting or A-line silhouettes.
4. Romantic mantillas.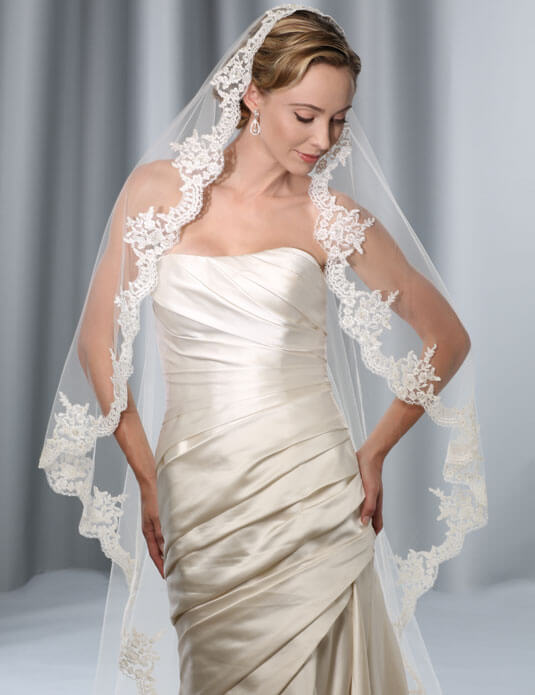 A mantilla is a veil of Spanish origin that is worn further forward on the head, but which does not cover the face. The history behind them has made them a romantic and popular choice for many brides, especially those who are planning on a more traditional church ceremony.
A traditional mantilla is often all-over lace, often with a scalloped edge to frame the face. This beautiful mantilla veil from Belaire Bridal is a perfect example of this style. We love how the lace edging frames the face for a beautiful old-world look.
5. Heirloom lace.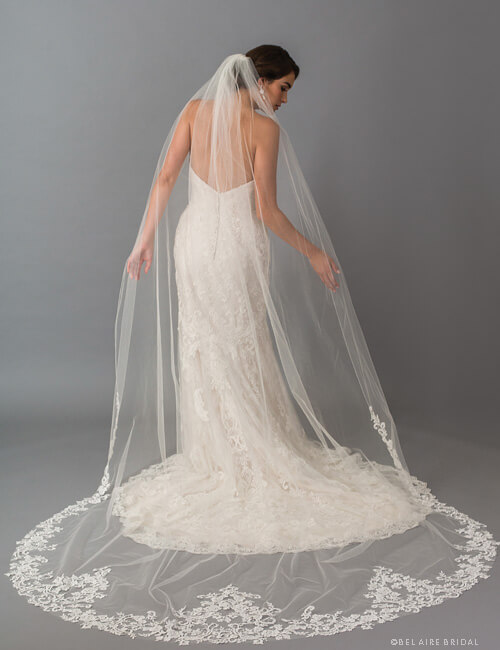 You may have to turn to your family for this one. Many brides decide to have their veil be the "something old" of their wedding, choosing to wear the same veil as their mother or grandmother, or else having pieces of lace from these veils incorporated into her own.
If you can't find heirloom lace from your family, look for a style that uses vintage-quality lace, such as this one from Belaire Bridal. After all, with Venice lace of this quality, it may be your own wedding veil that supplies the heirloom lace for future generations.
6. Cathedral-length for full drama.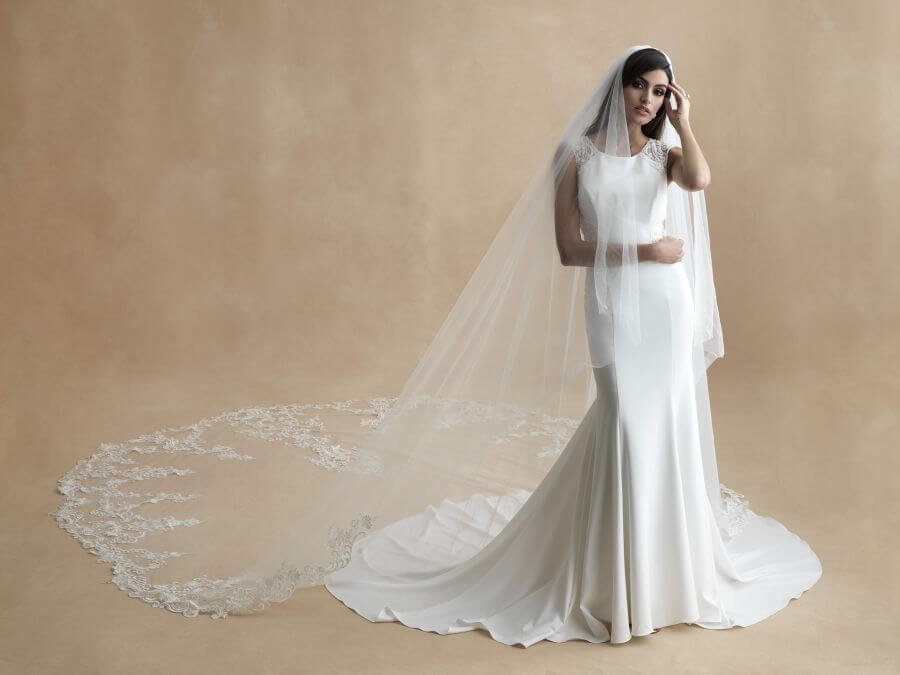 Finally, if the deepest desire of your heart is to wear a long veil that trails the entire length of the aisle, a cathedral-length veil is for you. As its name implies the length of this veil is designed to help the bride from being lost when surrounded by a large cathedral.
Because of this, think carefully about your venue before you jump on one. If you're planning a ceremony in an outdoors location, a veil of this length is likely to get caught on undergrowth, or become filled with sand. And if you're getting married in a smaller chapel, be sure there's enough space for your wedding party to be able to step around your veil during the ceremony.
That said, if your venue is grand enough to allow it, then don't hold back. This veil from Allure Bridals goes all-out, with a veil long enough to impress Princess Kate herself.
Budget wisely for your showpiece accessory.
A super long veil is sure to impress your wedding guests and leave your groom speechless. Keep in mind, however, that longer veils cost more than shorter ones. As such, you may find the veil of your dreams competing against your perfect dress for a portion of your budget.
To avoid this, think about dress styles that are simpler so as not to compete with the drama of your veil. A flowing A-line dress will likely cost less than a ball gown, due to the and is more likely to compliment the draping, figure-hugging silhouette of a long, soft veil.
Most importantly, find a veil that you're comfortable wearing, and that suits your gown. No matter how exciting the trend may be, remember that your veil should be a reflection of your own personality, not a sign of the times.