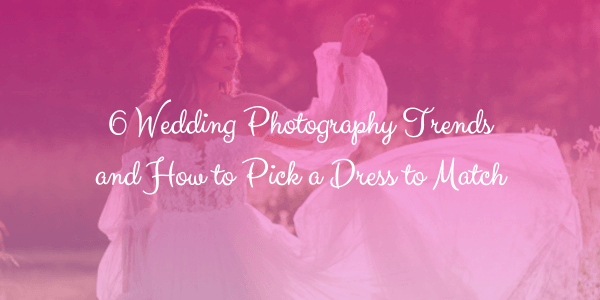 6 Wedding Photography Trends and How to Pick a Dress to Match
Your choice of dress can enhance how your photographs turn out. Here's how.
From disposable cameras to editorial shoots that look like they're straight from a lifestyle magazine, photography trends are changing. Couples are foregoing a setlist of overly posed photographs and instead embracing a more natural approach that better reflects the spirit of the day.
The latest photography trends are in line with this ethos, with more candid shots taking precedence over the usual collection of posed bridal party photos. Many wedding parties are even inviting guests to participate by passing out disposable cameras or ones that use Polaroid-style film.
This doesn't mean the bridal couple don't have any prestige shots. In fact, storytelling has become a greater aspect of a wedding shoot, with couples intentionally choosing a setting or theme that reflects their personality, and then working with a photographer to capture a more creative set of photos. Sometimes these sessions even take place on a different day from the wedding, and not everyone is involved!
As always, we love the creativity and joy couples bring to their big day. And of course, any couple planning to invest in photography will want to consider how their dress will fit into their vision for the shoot. To give you inspiration, we've looked at six trends in wedding photography and picked a dress to go with each style. Take a look at the gowns we chose and let us know what you would choose!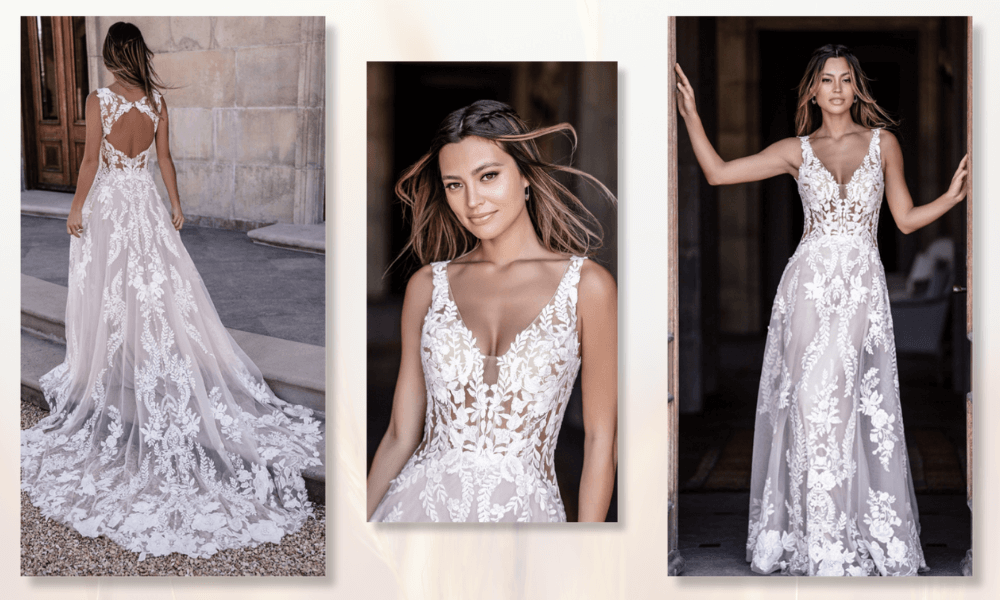 1. Dark Romance.
For years, wedding photography has been bright, almost over-exposed—a literal expression of the happy couple's happiest day. However, more recent trends have taken a dramatic turn, toward moodier images where the bride and groom may be striking a bold or confident pose, but where not every photograph features a beaming smile.
We love the brooding tone, which can lend itself to a more passionate aesthetic. Moreover, the darker filters on the images increase the contrast of the white gown, creating a more dynamic image. Our gown choice for this photography style is Rylan, a gorgeous lace dress with plenty of sheer cutouts and an open back. We carry Rylan in our stores in a plus-sized sample.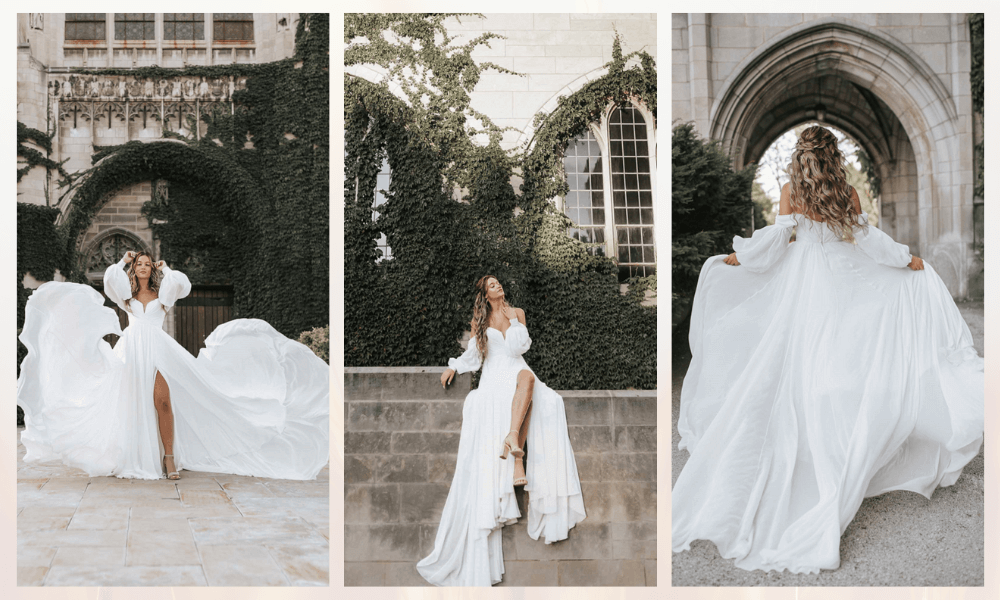 2. Soft Romance.
As fun as an edgier photography style can be, it's not everyone's vibe. For those of a sunnier disposition, soft romance tones down the vivid imagery of ages past into a more natural glow. Brides interested in this photography style may time their wedding shoot for sunset, or ask their photographer to play around with double exposures or blurry shots.
For a soft romantic gown, we wanted to maintain the flowy silhouette and were attracted to Thea for the billowing layers of chiffon. With removable off-the-shoulder sleeves and a thigh-high slit, we can imagine this gown lending itself to any number of gorgeous poses in golden, late afternoon light.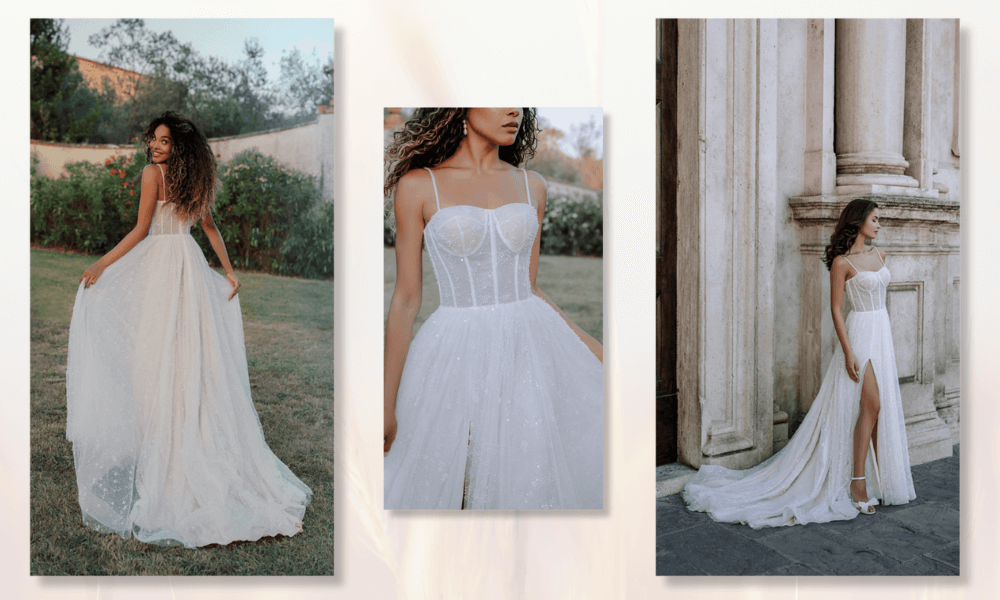 3. Flash Photography.
One of the big trends of the last few years has been an increased use of direct flash to give photos a paparazzi-style glamour. While the bright flash adds a hard edge to some images, it also allows photographers to capture a broader range of nighttime or low-light photographs, which are fun to mix in with the rest of the photography set, especially as the reception moves into the later hours.
We chose Zuma for this trend because we think the pearl-encrusted glitter tulle is perfect for catching the bright light of flash photography. The corset boning and high slit also give this dress a nighttime aesthetic that would be perfect for the dance floor.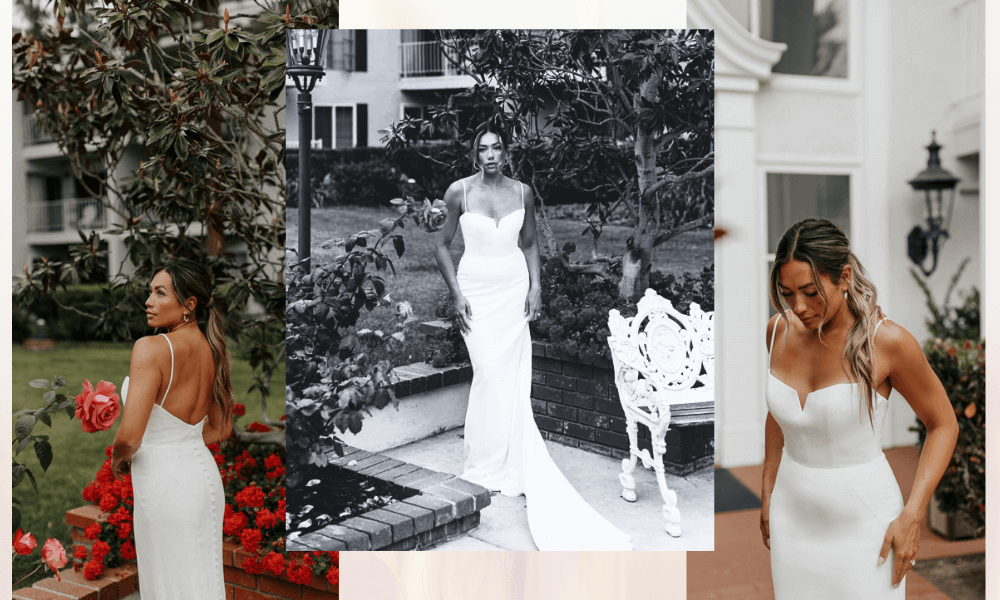 4. Black and White.
Every now and then, photography trends away from black and white—but it can never stay away for too long. It's not just that they feel timeless (a connection to when black and white was the only option), or because they have an unmistakably artistic feel. Black and white simply offers a kind of clarity that full color photographs do not. Sometimes you want the warmth and lush tones of a colored image, and sometimes you want to strip it all away and go back to basics. It's as simple as that.
What better gown to illustrate this point than Vicki, a masterclass in minimalism. As much as we love lace and tulle and sparkles, there's an undeniable draw to crisp lines and a clean silhouette. As with black and white photography, however, the details matter. In Vicki's case, they include a crisp V at the neckline, and covered buttons down the length of the train.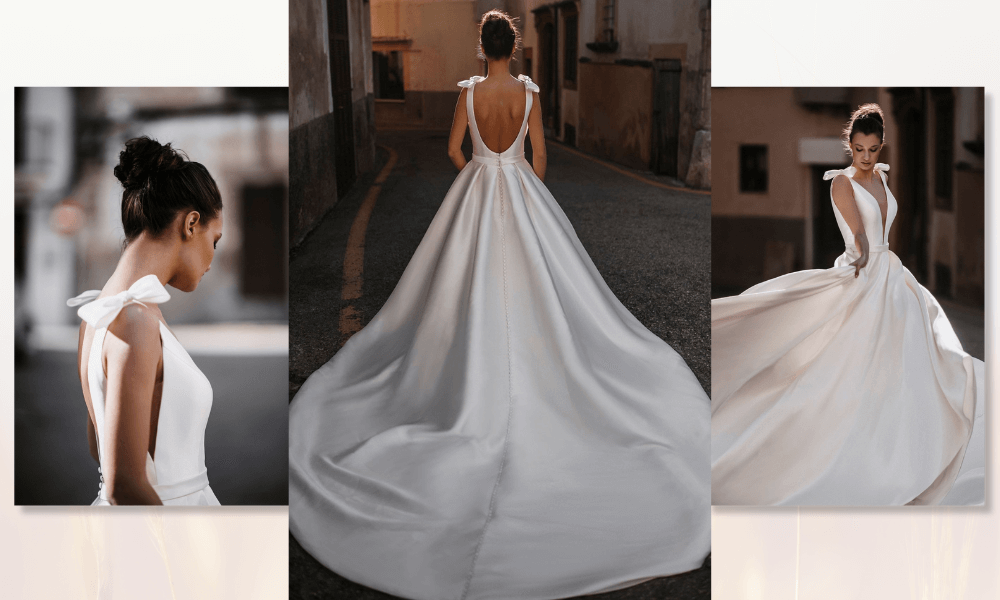 5. Vintage.
We live in a nostalgic era. Gen Z is treating previous decades as a style playground, and even late-marrying Millennials are having fun with trends that would have been popular in their high school or early college days. It's really anything goes in terms of which era you want to conjure.
For us, we love the full skirt on Molly, which we feel is a throwback to the famous 1950s Dior silhouette. The Mikado satin gives this dress structure and elegance, and the shoulder bows are just the touch of charm this gown needs to bring it to life.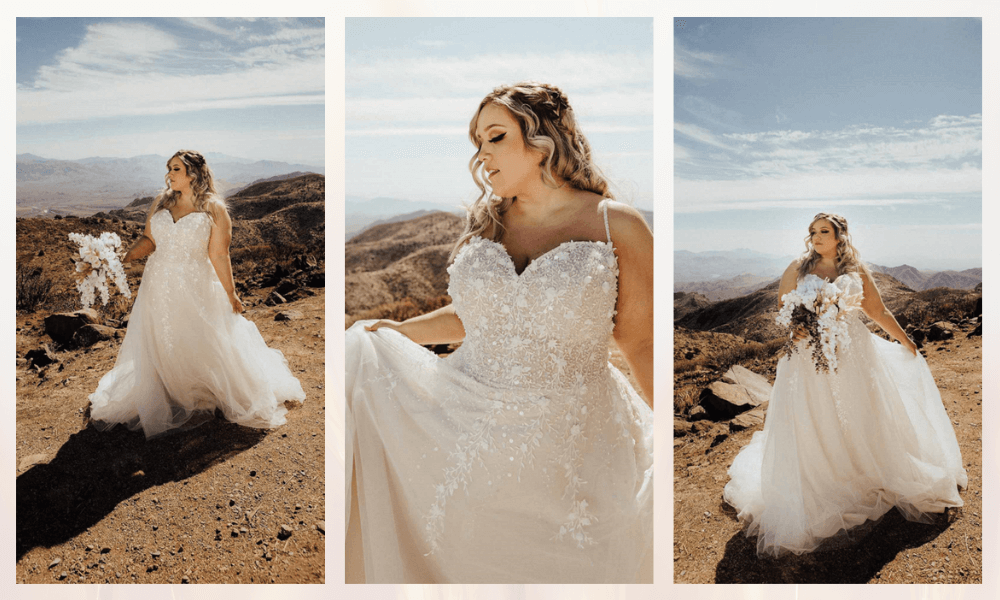 6. Editorial Gloss.
There are all kinds of brides, and as a result, trends sometimes develop alongside each other that may at first seem opposed, but are actually different responses to the same generational shifts. Instagram filters, for instance, frequently create soft or low-res effects while existing on a platform that has trained users to carefully curate and edit their photographs.
So, while some brides are emphasizing soft, candid, or lo-fi photography, others are moving toward a high gloss finish, worthy of a fashion magazine. These are for the detail-oriented brides, who have thought every aspect of their wedding through carefully, and want it all captured in high resolution.
When it comes to details, Calista has everything: layers of lace and tulle, dimensional appliqués on the bodice, sequins and other embellishments for that hint of sparkle, and a flattering sweetheart neckline. If a lifestyle shoot is what you're interested in, she can withstand the scrutiny.
For the visually oriented, photography is a natural inspiration point to begin wedding dress shopping.
If you've already developed strong feelings about how you want your wedding photography to look, that's as good a starting point as any to begin your hunt for a wedding dress. While your photographer will help you achieve your ideal no matter which gown you choose, some gowns will feel more natural with certain photographic styles than others.
That's why we encourage our brides to bring their inspiration photos with them! If you have a specific mood or photographic style you're considering, our TWD-ettes are more than happy to work with you toward meeting that expectation. And if you've recently been engaged, there's no better time to schedule an appointment with us!