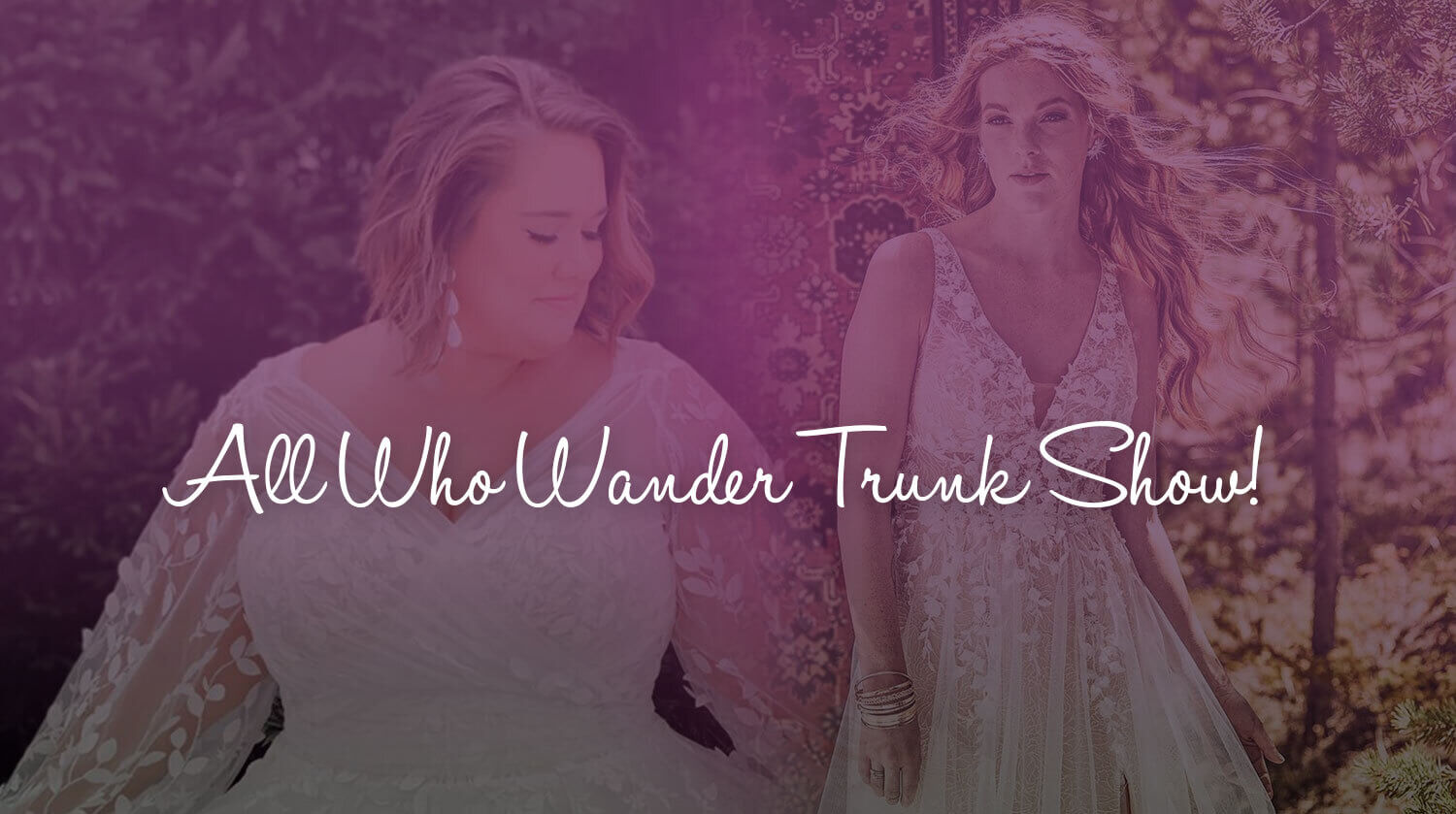 All Who Wander Trunk Show!
Stop by our trunk show, March 5th and 6th, to indulge your boho wedding dreams with the full range of new All Who Wander gowns!
Breezy silhouettes, statement lace, and flirty design elements that are sure to make you look twice, there's a lot to love about boho wedding dresses—and no one does boho like All Who Wander. That's why we're excited to announce that we're hosting an All Who Wander trunk show at our boutique on March 5th and 6th!
While we usually only stock a few dresses from each new collection from any of our designers, trunk shows are a chance for brides to try on gowns from the entire new collection. Take a look at the gowns we're going to have in our shop and see if there are any that spark your imagination.
1. Tasma: breezy ruffle top over a stunning sheath.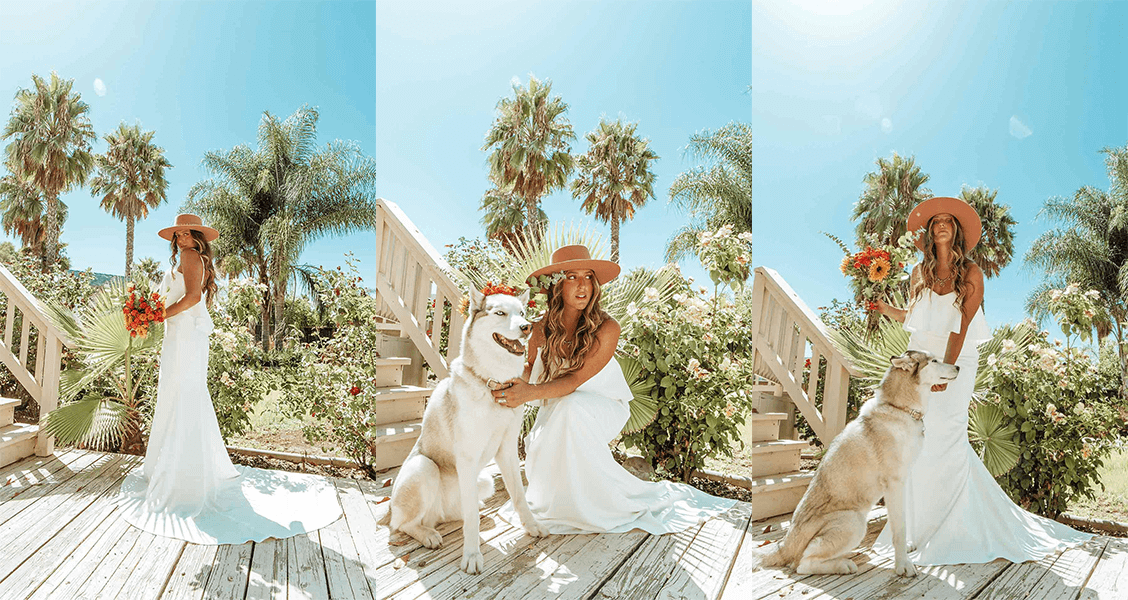 "Minimalist" isn't a word we often see associated with the boho style, but Tasma manages to combine the two perfectly. A graceful sheath combined with a ruffled top encapsulates the carefree aesthetic of bohemian fashion without going overboard on details.
2. Thea: A playful gown with plenty of surprises.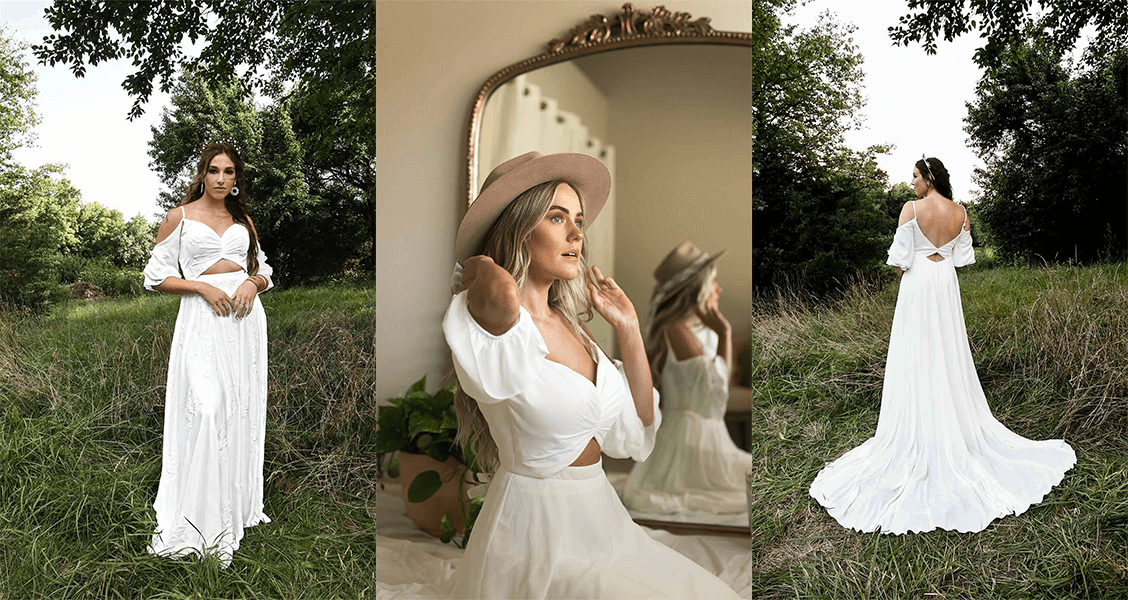 Thea has so many cute design details, it's hard to pick our favorite. From the ruched bodice to the cold shoulder to the mirroring cutouts in front and back, this dress is fun and flirty in all the right ways. Perfect for a summer wedding at the beach.
3. Bowie: angelic lace in a flowing, effervescent style.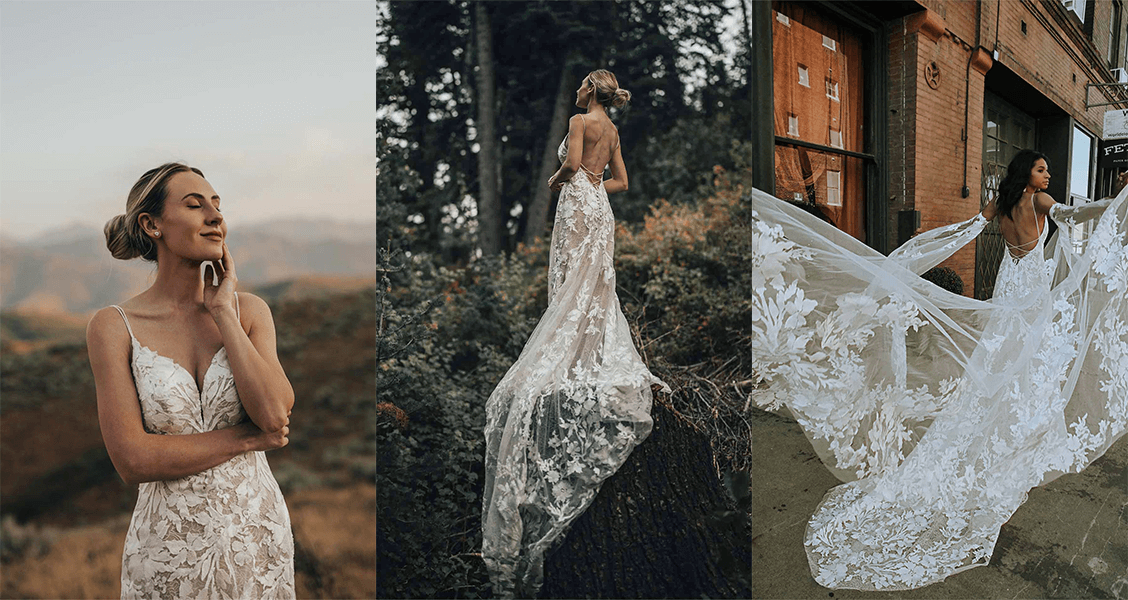 If you're looking for a statement gown, Bowie is an unforgettable choice. With gorgeous botanical lace designs layered over a neutral sheath body, this dress has a multidimensional look even before you add the long flowing sleeves. And if that weren't enough drama, the low back and narrow plunging front make this dress a show stopper from any angle.
4. Bodhi: Illusion lace with a voluminous silhouette.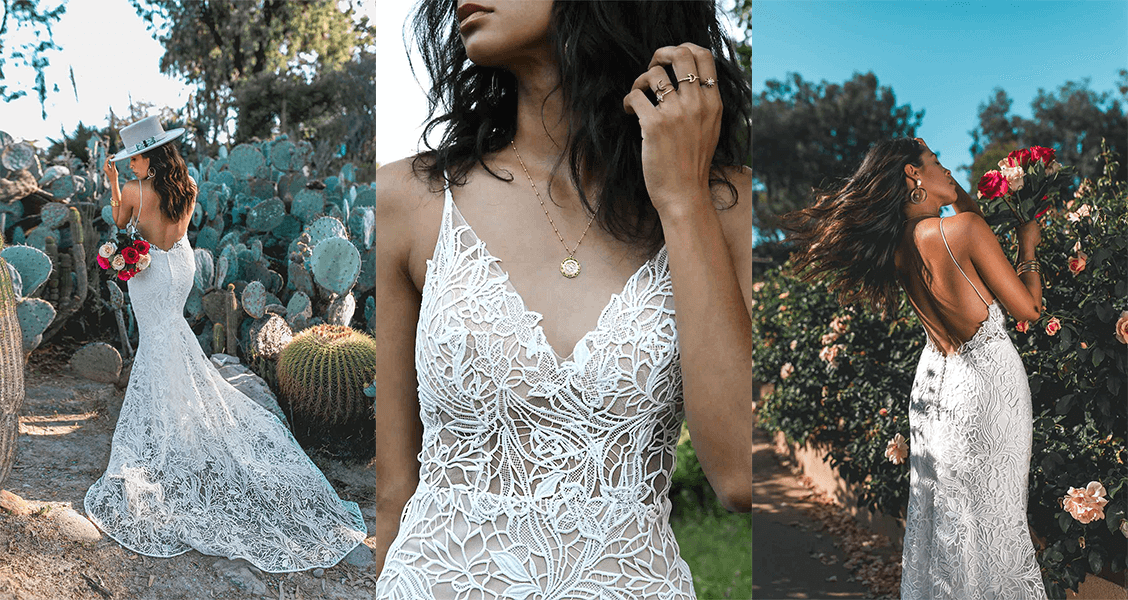 The under fabric on this dress really makes the top stand out. Choose neutral fabric for an all-over illusion silhouette, or line the skirt in white for a two-piece effect. The relaxed fit of the skirt leaves plenty of volume for brides who want a dramatic look that doesn't restrict their movement.
5. Aspen: Voluminous sleeves with oversized lace.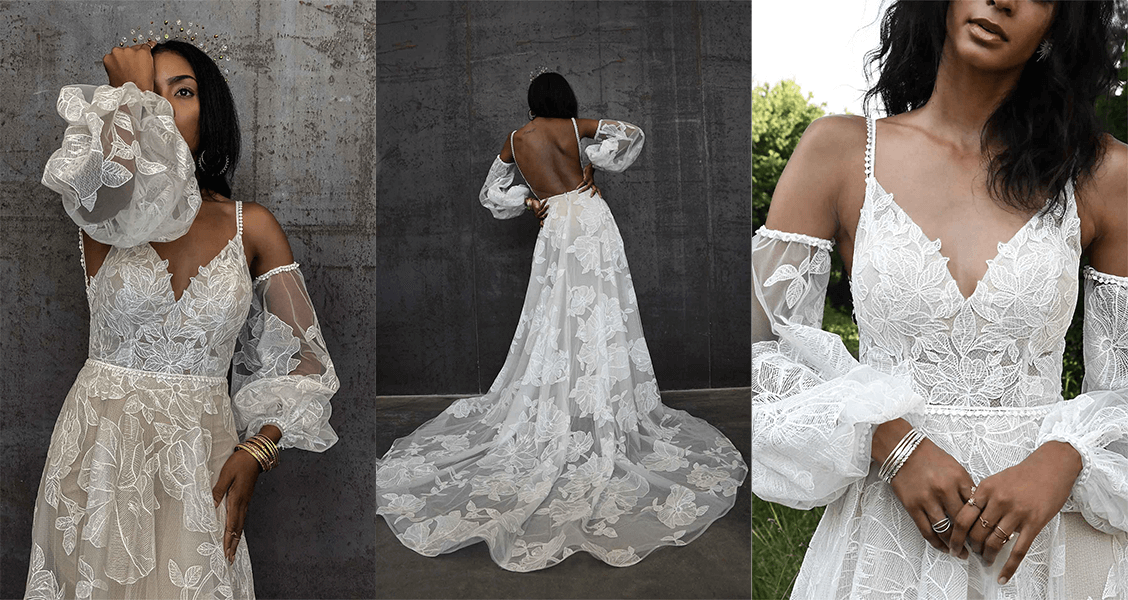 We're in love with this dress for so many reasons. From the optional puff sleeves to the large print lace of the gown, the details are breathtaking. And that's not even mentioning the low V neckline supported by delicate straps that frame an exposed back. This dress is one of the ones we stock in our store, so if you miss it during the trunk show it will still be waiting for you!
6. Arlo: A high slit and tassels for a boho twist on the slip dress.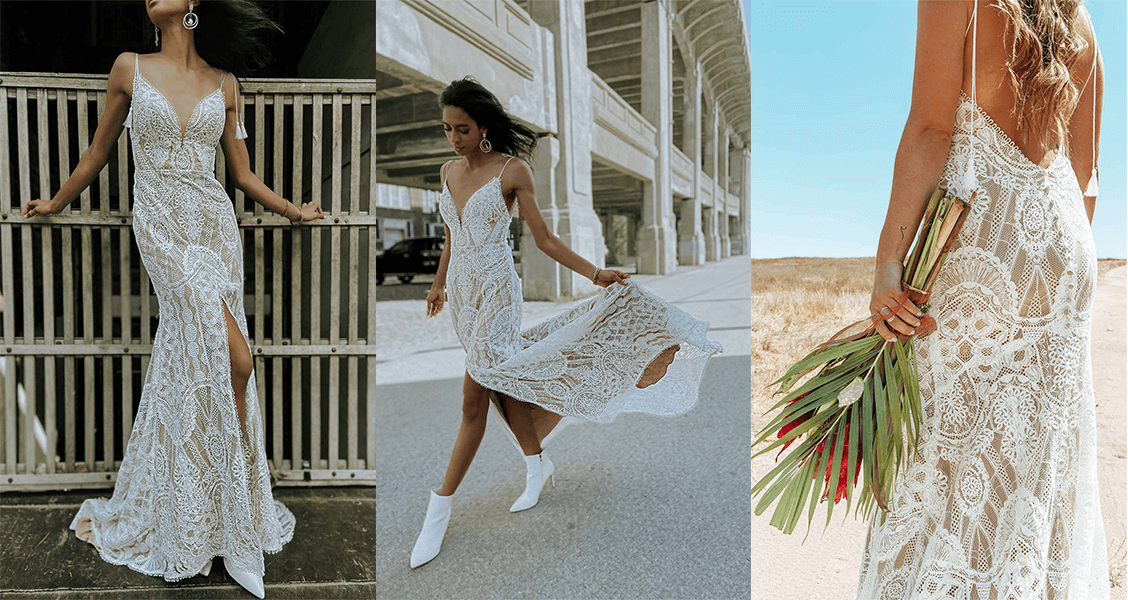 We love how this dress brings us straight back to some of the best looks of the 70s. The simple silhouette lets the lace on this gown hold center stage, while the high slit is perfect for brides who want to stay cool while dancing the night away. Don't miss the tassel details on the straps of this classic vintage dress.
7. Alyx: Layers of lace on a gown that epitomizes country chic.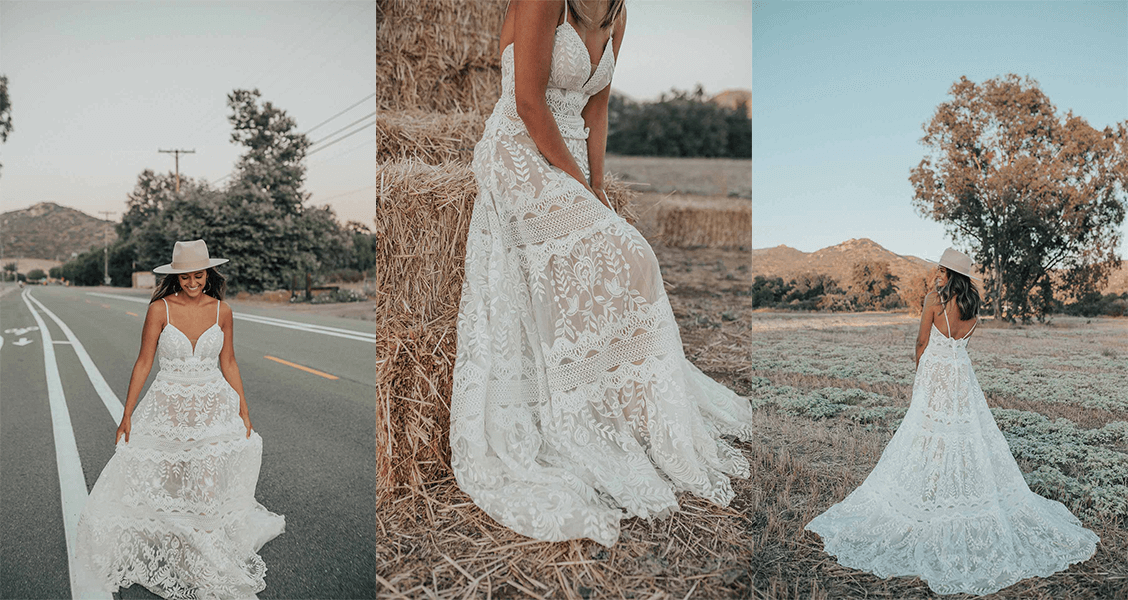 Do you dream of a rustic barn reception? Then this is the perfect gown for you. We love how the lace on this dress is sewn together to add more and more volume to the skirt without weighing it down. The neutral underdress can be cut to knee or floor lengths depending on your preferences.
8. Jaden: Graphic lace with an exposed back and side cutouts.
This dress is for bold brides only. With large print lace, wide, crisscrossing straps, and side cutouts that show a little bit of extra skin, this is a gown perfectly suited for bright blue skies and sultry summer nights.
9. Delta: Lace windows on an ultra dramatic train.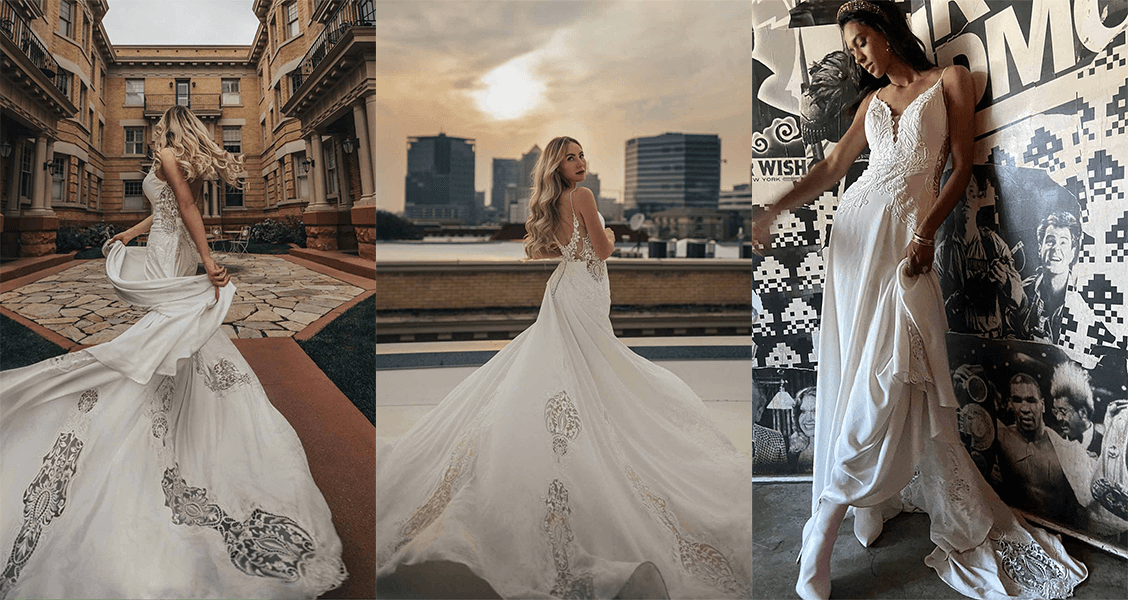 We've seen a lot in bridal, but Delta has something new, even for us. The lace windows on this gown combined with the unique cutout windows at the waist give this dress a style that few are likely to have seen before. Don't let those details distract you from the low, scooping neckline in the back or the plunge in the front!
10. Muse: A weightless gown designed to unleash your inner goddess.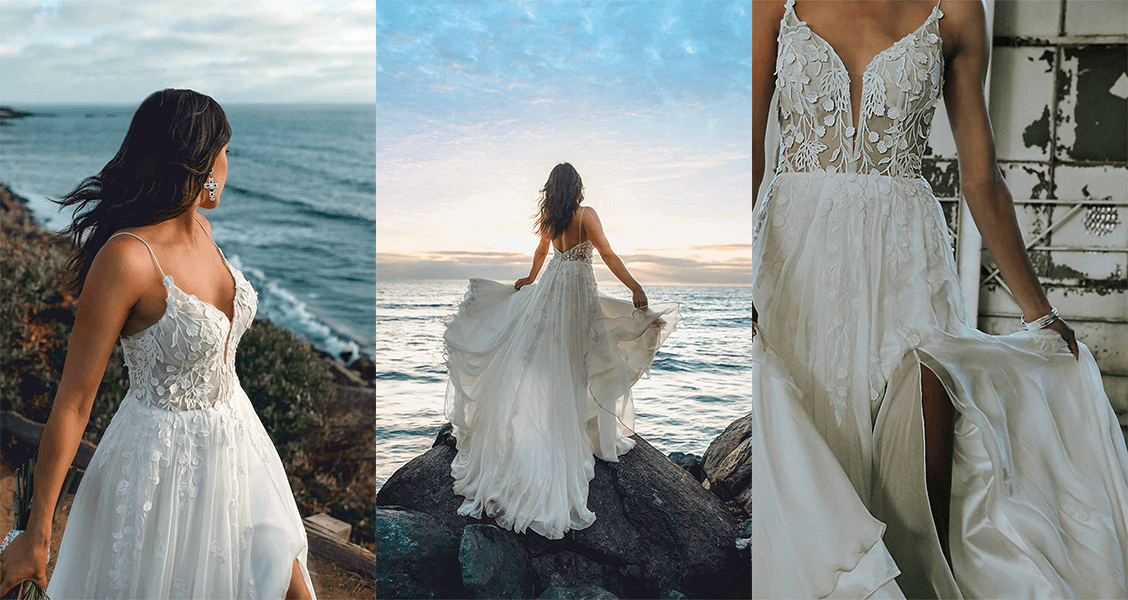 This ethereal gown is a study in dimensional detail! We love how the sheer layers provide volume and add movement to the skirt, while the delicate lace flowing from the bodice to the skirt create added depth. All together this is a perfect gown to catch the breeze at the beach.
11. Rory: A form-fitting gown with dramatic cape.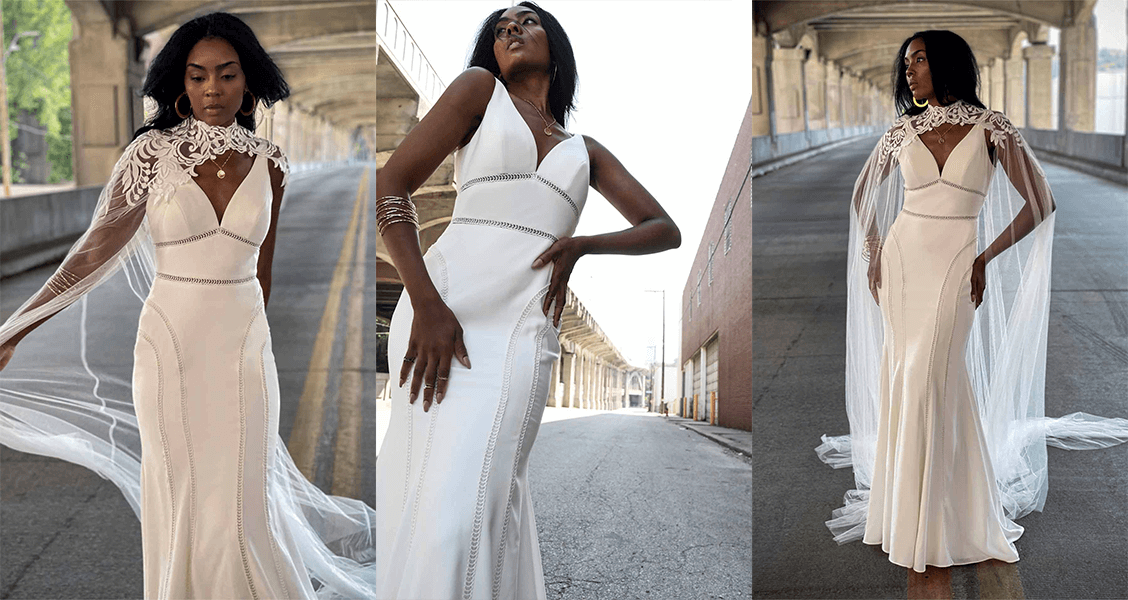 Capes are in this year, and we are here for it. We love the drama added by this regal look, and are obsessed with the lace collar, which pairs perfectly with the deep V of Rory's neckline. A gorgeous look for anyone who wants to feel like a queen on her wedding day.
Can't make it to our trunk show? We can help you out.
If you can't make it to our trunk show, don't worry. We carry several of these gowns in stock at our store, and can order in any of the other gowns, for a fee. The gowns we carry in our store include Bowie, Aspen, Jaden, and Delta. For gowns we do not carry, our sample loaner program lets brides order a sample of a dress by any of our designers for a fee of $40 per dress. However, the entire amount you pay in loaner fees is credited toward a purchase if you buy a dress with us (even if it's not one of the ones you ordered in!).
During our trunk show, the usual Covid safety requirements will be in place. This means that our brides can bring up to two guests with them to their appointment, and that all members of the party must wear masks for the duration of their visit. Those who want to bring a larger party can reserve the entire store, for a fee.
The boho wedding gown trend is huge right now, and we expect appointment slots to try on these dresses will fill up fast. Contact us today to schedule yours!