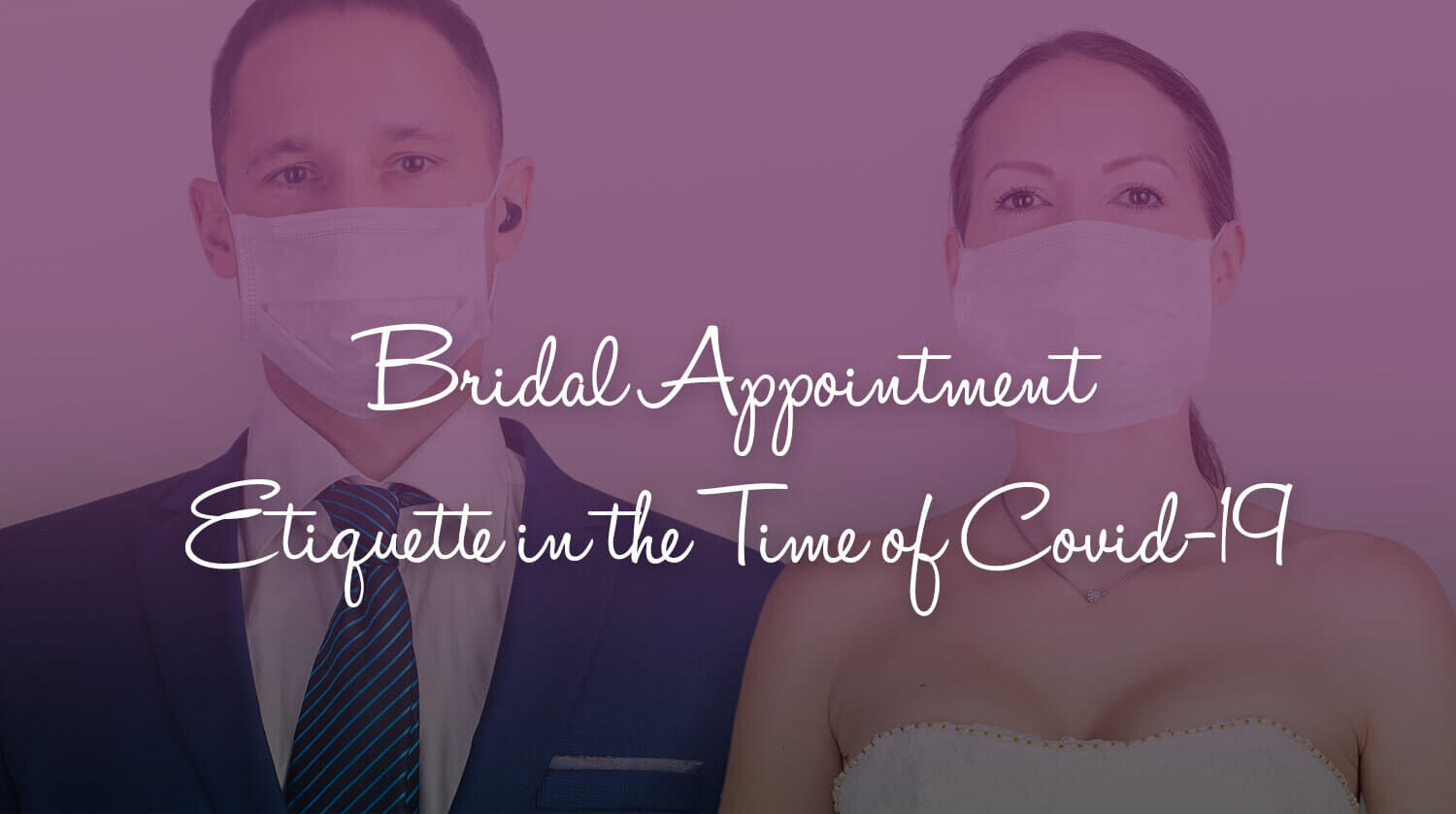 Bridal Appointment Etiquette in the Time of Covid-19
It's a strange time to be trying on wedding dresses. Here's how to have a safe and enjoyable appointment.
The Covid-19 pandemic has changed bridal plans for many. Some brides have postponed their weddings, hoping to hold their celebration once the crisis has passed. Others have decided to use the pandemic as an excuse to elope and have the scaled down wedding they always wanted in the first place. But regardless of these plans, most brides still want the one unmistakable thing that shows the world that this special day is unlike other days: a wedding dress.
Fortunately, it is still possible to have a gorgeous gown for your wedding. Our bridal boutique, like many others, is taking appointments during this time. But, due to the pandemic, there are some new etiquette guidelines that brides and their guests should follow to keep themselves and others safe.
1. Always book an appointment.
Booking a bridal appointment is always a must, even before Covid-19 happened. However, it is even more essential during a time when appointment slots are limited, and space in the store is tight. Plus, booking an appointment gives our bridal team a chance to learn about your ideal dress and have some options pulled when you arrive.
2. Text when you arrive—don't walk in.
When you come for your appointment, text before you enter the store so that the stylist can prepare the way for you. Your fitting room may still need a few minutes to prepare, or there may be another bridal group in the store preparing to leave.
3. Wear a mask.
One of the most important things we have learned about the novel coronavirus since the pandemic began is that many people may be infected without being aware of it or showing any symptoms, and that they can spread the virus to many other people while in his state.
This is why masks are so essential to slowing the spread. All our TWD-ettes wear masks inside the store to contain the virus, in case any of them are asymptomatic carriers, and we require all our guests to as well, for the same reason. We do keep our boutique well ventilated and cooled as well, to increase comfort.
4. Only bring one or two guests.
Large bridal parties—like you may have seen on Say Yes to the Dress—are never a good idea, because people can have so many different opinions, and it can prevent the bride from making the decision for herself. However, during the pandemic, it is even more important to keep your entourage small. If you need your mother, sister, or maid of honor in the room to pick out your dress, that is still acceptable. However, don't bring your entire bridal party, as the store will have to turn many of them away.
At The White Dress, our store policy is only to allow the bride plus two other guests into the boutique at a time. While we recognize that many brides may wish to have more guests, we also need to ensure the safety of our TWD-ettes, as well as that of other brides in our store.
5. Let your stylist pick out the dresses.
When you first arrive for your appointment, you may be tempted to browse the dresses to see if anything catches your eye. Unfortunately, part of restricting the spread of the virus means limiting the opportunities it has to come into contact with others, and having brides perusing the gown selection increases the possibility of transmission.
Fortunately our TWD-ettes know our gowns by heart, and can pull a range of options based on your description of a dream dress. You can also look at our selection online prior to your appointment to see your full range of options. This is especially helpful if you're worried about your ability to describe your ideal gown, or if you're worried your stylist might miss a potential favorite.
6. Respect social distancing.
It's hard to keep your distance within a fitting room, but nevertheless, it is important to be respectful and try your best. If you've brought members of your entourage who are part of your household, social distancing may not be necessary. However, it is important to respect the comfort zones of others, especially other guests in the store, and the stylists who are working with you during your appointment.
In most places, your stylist will still be there to help you get into your dress, but you should be cautious about the distance being maintained by others, and in general let your stylist approach you when needed.
7. Have a conversation with your entourage about etiquette.
Finally, before you invite guests to the store, talk to them about expectations at the store and make sure everyone is on the same page. This moment is about you and your special day, and you don't want it ruined by a friend or family member who is offended or hurt by the new rules. Having this conversation early can help ease any tension on the day, and keep everyone feeling happy for the appointment.
Your stylists are doing their best to give you the bridal experience.
We want all our brides to walk away from their bridal appointments with memories they will treasure for a lifetime. We know that this can be difficult, especially when everyone has to wear a face covering, and when movement and contact are limited. For many, navigating these social situations can add stress and anxiety to what is already an important decision.
This is why bridal appointment etiquette is so important, especially when there is any uncertainty about what is or isn't polite behavior. When everyone knows what is expected, it can remove any awkwardness or misunderstanding and help everyone relax and feel more comfortable.
Bridal appointments during the Covid-19 pandemic are certainly unlike at any other time. But there are still many things that haven't changed: the love between two people as they prepare for their wedding, the support of family and friends, and the feeling of wonder and joy a bride experiences when she tries on her dress for the first time.
We hope you'll have that experience with us.