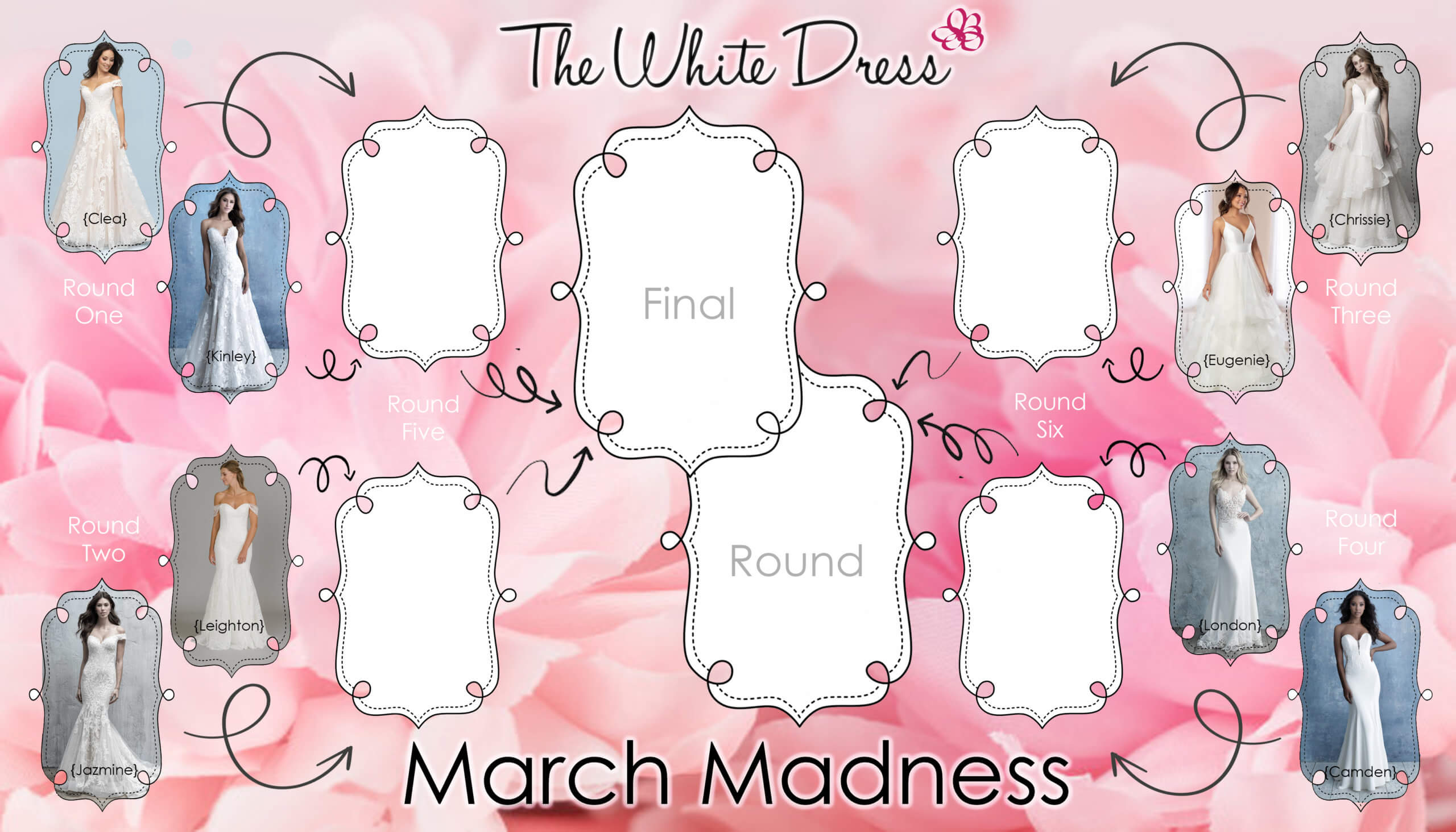 march madness . wedding dress style
Sporting events across the world have cancelled their events, including the beloved NCAA March Madness tournament. Well, here at The White Dress we wanted to bring a little bit of "sport" to the wedding dress world. We have taken it upon ourselves to create a bracket featuring our dresses! There will be a 24 hour voting period for each round via Instagram and Facebook and the gown with the most votes will advance in the bracket!
Round One Line-up:
Clea vs. Kinley
Clea is a classic off the shoulder A-line dress that has an intricate lace pattern on top and a chantilly lace layer underneath. The dress has tons of structure including boning, a higher back, and many clasps to give a corseted feel. Kinley is a strapless A-line with a deep plunge and floral pattern. The subtle sequins really make this one shine in the sunlight!
Update: Kinley won!
Jazmine vs. Leighton
Jazmine is a trumpet off the shoulder gown with unique embroidery and a long, whimsical train. The horse-hair edge of this dress allows the bottom to flow smoothly when walking. Leighton is a trumpet gown that borders the mermaid tail shape. It features a delicate off the shoulder strap and a swirl pattern complete with sparkly sequins.
Update: Jazmine won!
Chrissie vs. Eugenie
Chrissie is a full ball gown with tons of ruffles and sparkle. The back of the dress is complete with a removable bow and gorgeous train. Eugenie features a mikado top, slimming waist band, and fluffy ruffles. This go-to style combines classic and chic with fun and trendy.
London vs. Camden
London is a sheath gown with a sparkle top that can come lined or unlined. The train of this dress is a show-stopper with lace and sparkle. Camden is a strapless sheath with fabulous cutouts and a deep v plunge. The crepe material on the bottom is super soft and gently hugs the body. 
We can't wait to see who will advance to Round Two, and eventually, the Final Round!
Be sure to follow along on our social media for lots of pretty things and to vote for your favorite gown. The competition is on for the TWD dresses!